Some achievements cannot be measured through plaques and certificates but in real happiness.
Good day everyone. It's been a long time since I had my last post. I was not feeling well and a bit busy lately. Thank God I feel better today and have the time to write again. This time I want to share our visit to Jewel's Endocrinologist for her regular check-up.
---
Once every three months, Jewel needs to have an HbA1c laboratory to know the average blood glucose in her body within three months and a regular check-up visit with her doctor for her autoimmune disease. At the same time, I consider this as an opportunity for our family to have time together, a long ride, and for the kids to visit their favorite place, the SM City 😁. But we made it 6 months to lessen the expenses..hehe.
The first thing to remember every visit to Endo is to prepare a lot of things needed on our way. It is an approximately 4-hour trip, so we need to leave as early as 4:30 am to have her blood extracted at 8 am and have the result before 1:00 pm which is the scheduled time of her Endo.
---
Things To Bring
The night before, I packed up all the things and these are what I prepared.
The glucometer, glucose strips, lancets, alcohol pad, and syringes.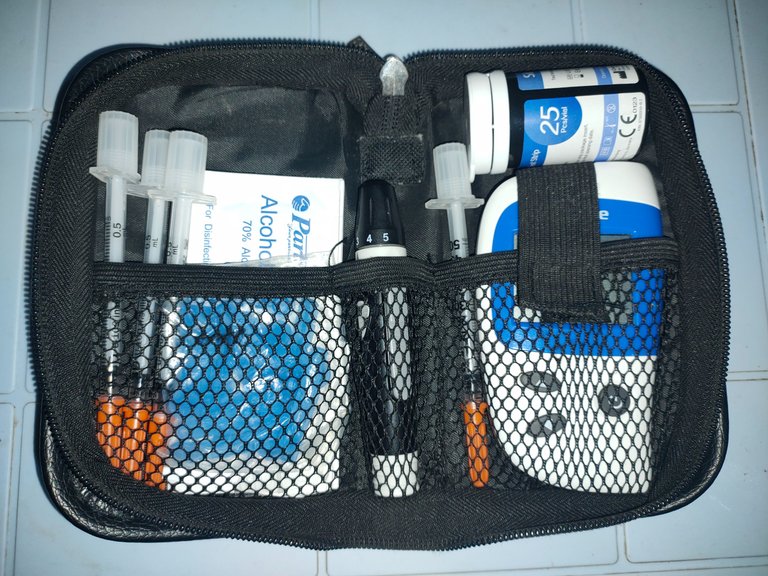 ( I put extra two syringes just in case)
These things play a vital role in a Type 1 Diabetic, especially during hours of travel. Monitoring the blood sugar every now and then is a must because it always fluctuates (just like the value of Hive 😂).
Insulin, Vitamins, and Juices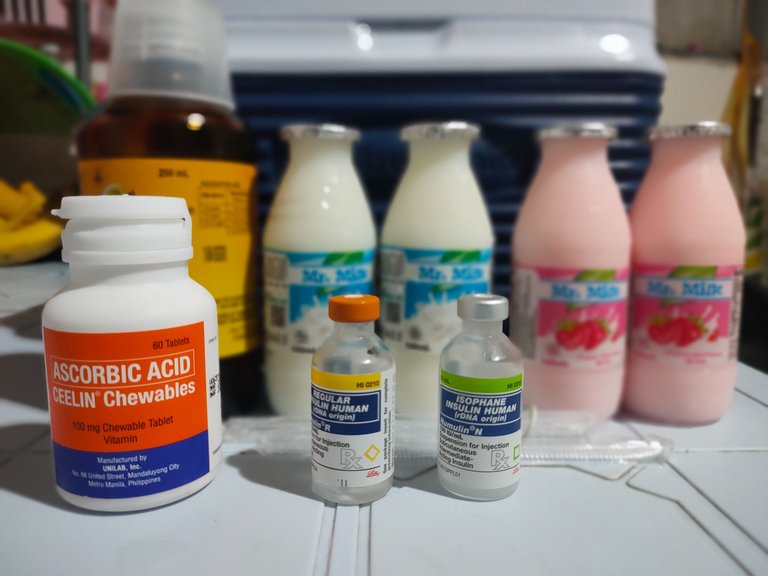 These need to be put in a cooler (except for the ascorbic acid) because it is a long ride and high temperature may ruin their effectivity, especially the insulin.
Those two little bottles are the reasons why she is still alive now, so I should not forget these. On our way at exactly 6:30 am is her morning shot and on our way back home at 6:30 at night is her evening shot also.
Since blood glucose always fluctuates, I always have juices in case her BG turns low. Usually, from the morning to noon time when the heat of the sun hits high temperature, blood glucose will surely drop.
Our Vitamins and Other Medications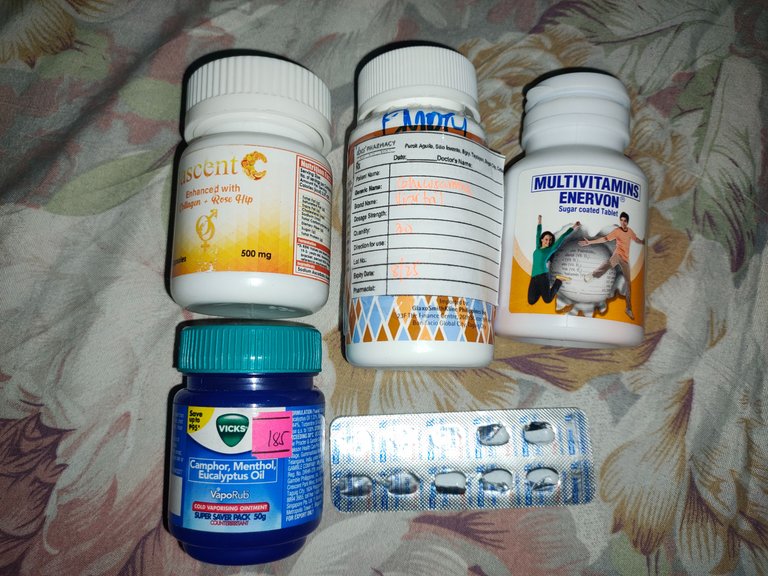 We also have our medication. For my Uric Acid and my husband's Thyroid Problem.
Masks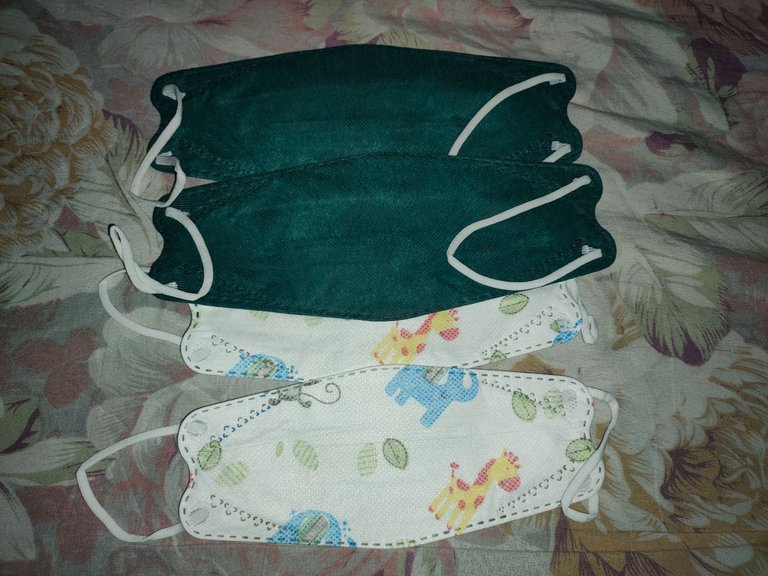 Of course the guards will not let us in without wearing these.
Biscuits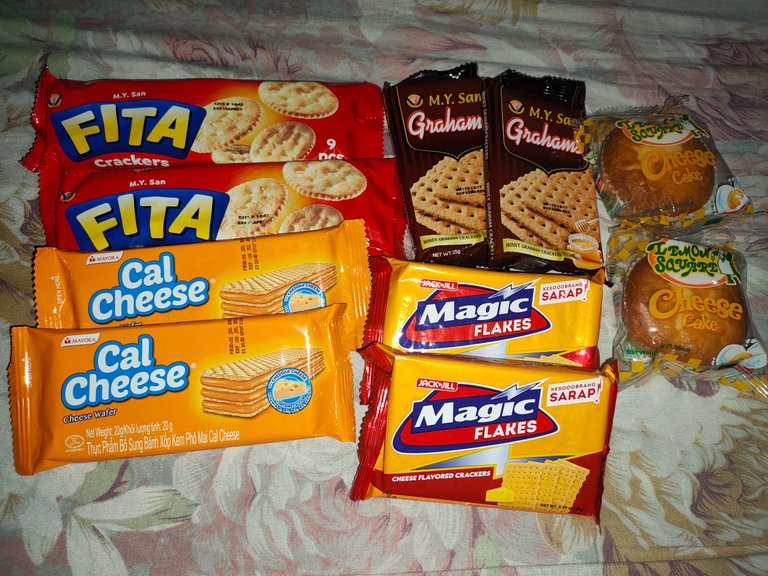 For morning and afternoon snacks.
In the morning, I also prepared our food for breakfast. It was scrambled eggs and ham for the kids.
---
On Our Way
At 3:45 am, I woke up first, prepared food for our breakfast and some other stuff like extra t-shirts for the kids, and then woke them up after everything was ready.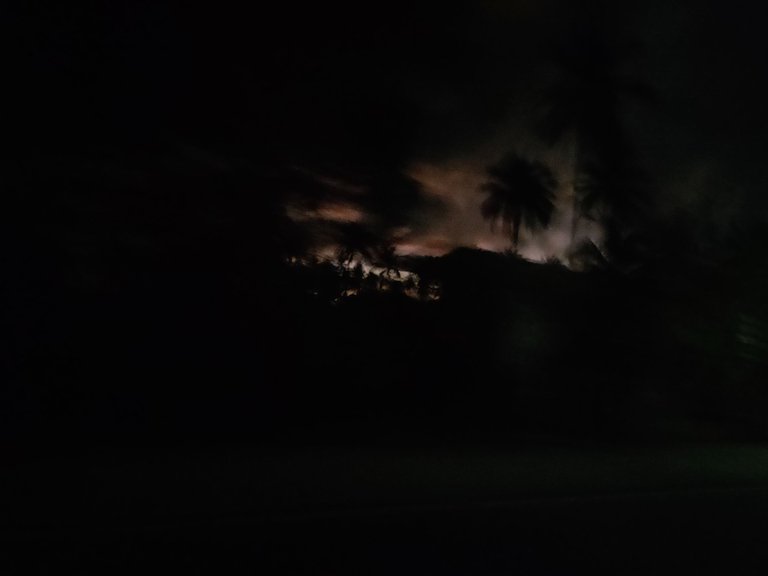 It was still dark and cold outside when we left the house. Thanks to the family close to us who let us borrow their car, it could be hard for us to travel without it because of the things we carried.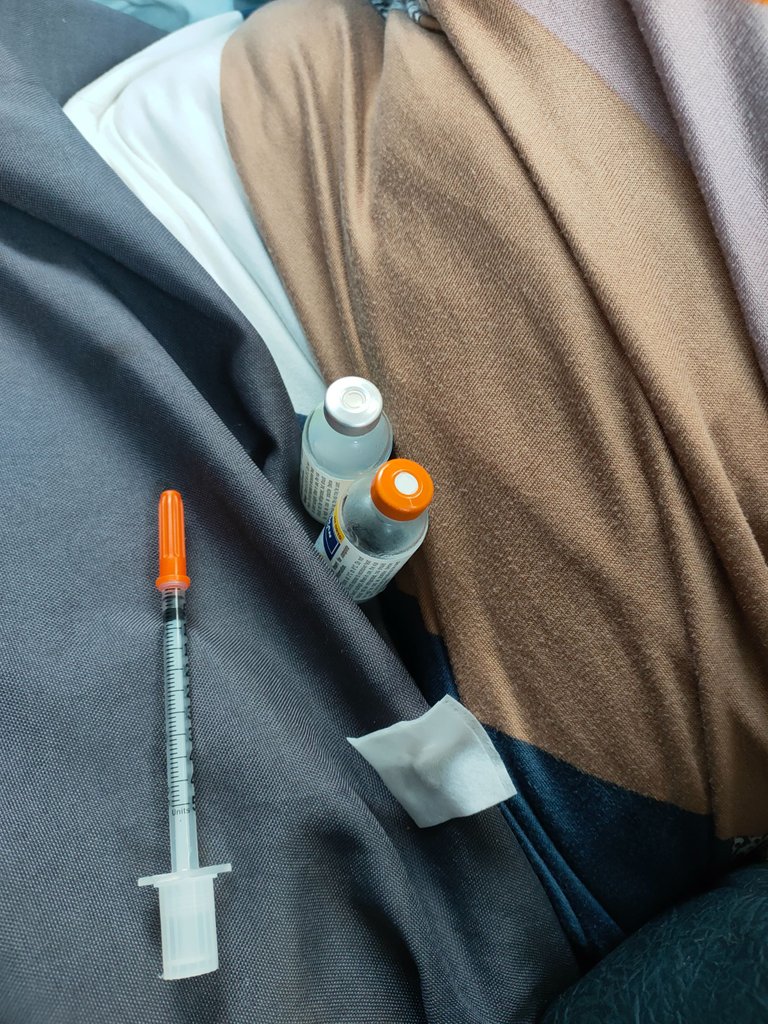 We had a stopover for Jewel's morning insulin shot and did eat our breakfast.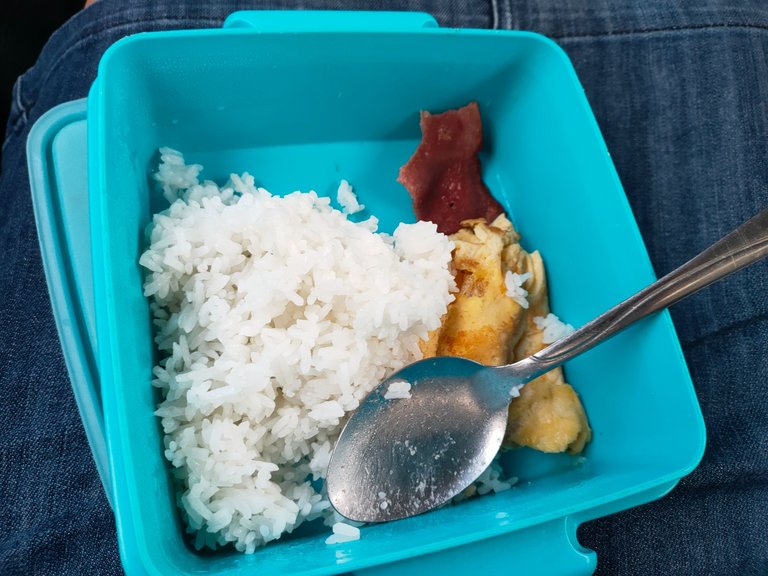 Since time was running so fast, we had to go on and have the kids eat inside the car while on our way.
---
We Were There
We seldom rode in an air-conditioned car, and because of that, it made us feel dizzy..haha. It even made our youngest daughter throw up.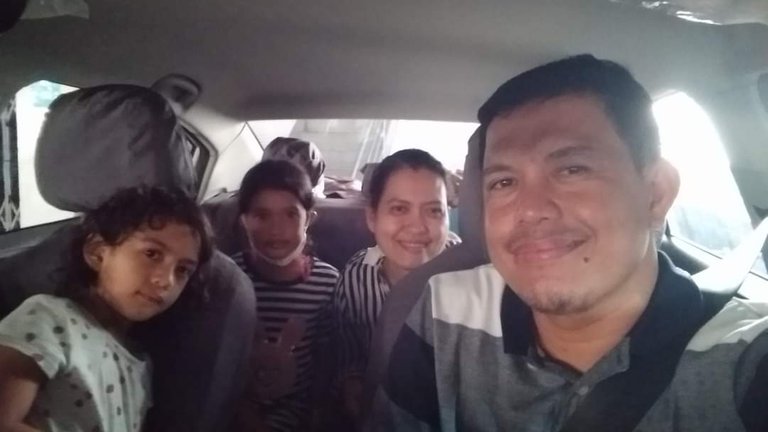 Thanks to this only man in our family for all his sacrifices. You are the best driver Daddy 😍.
We arrived at Hi-Precision Diagnostics and laboratory at 8:45 just on time. Took a picture before heading to the laboratory.
Our Little warrior is so brave. She didn't even cry when the Med-Tech administered the blood extraction. The attending Med-Tech was so amazed at her reaction. It was her fifth time in this Lab by the way.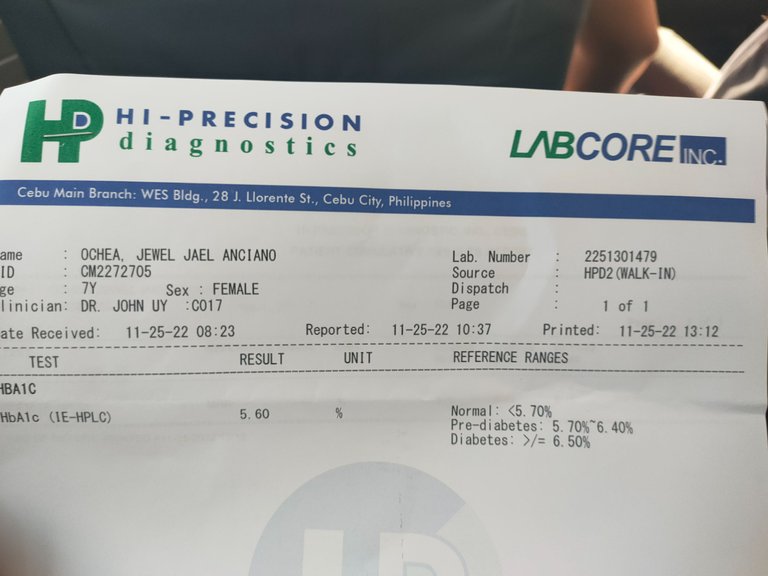 After four hours of waiting, the result was released. And I was so happy to see the numbers. It was normal. For six months, we handled her Diabetes well. Am I now a good nurse 😅. Hopefully, the same result would be seen next time.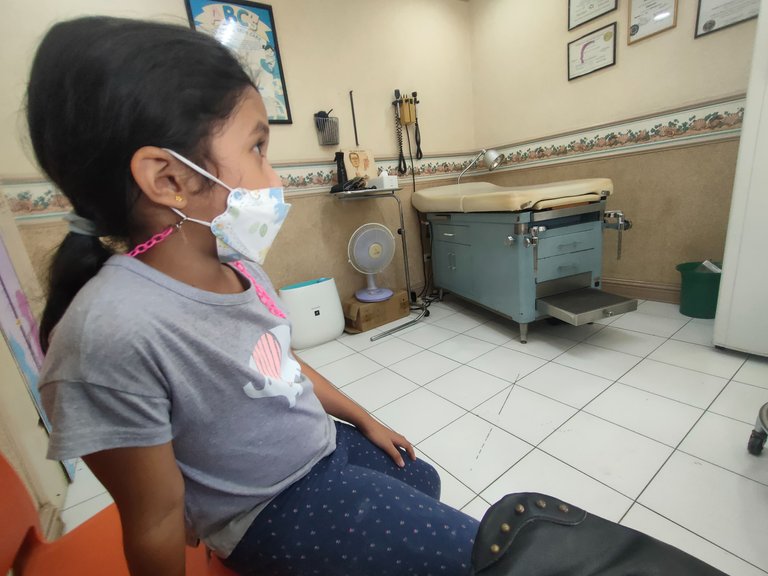 We went to the Doctor's clinic at 1:35 pm and he was so impressed with the result. Did a check-up and gave us a new prescription for Insulin. He added that after six months would be the next schedule since her HbA1c was good and we did a good control on her blood glucose.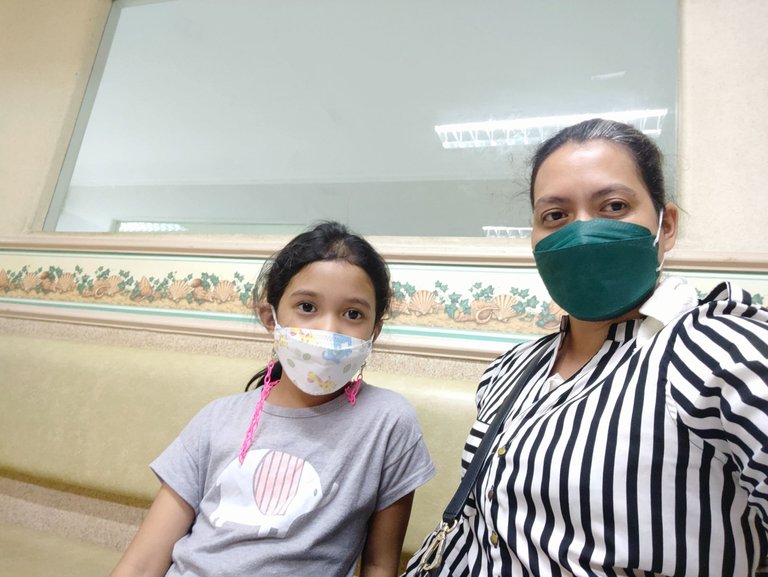 I was more than a proud mother to this Little Warrior. I know we still have a long journey of Diabetes ahead but seeing the result of those sacrifices made me feel I did a great achievement in life.
Thank you for bearing with me in this post. May you have a good day.