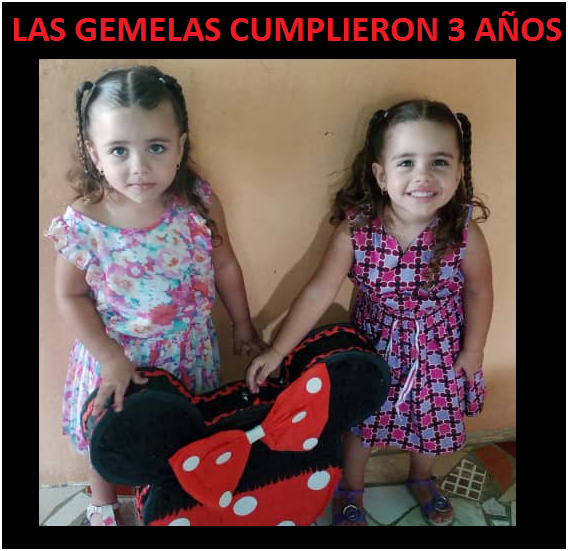 Y en un abrir y cerrar de ojos ya mis gemelas fantásticas como yo les llamo cumplieron 3 años, años de cuentos sin fin, de historias inimaginables, como mi embarazo de ellas.
Recuerdo ese mayo del año 2019, cuando el doctor al hacerme el eco me dijo que efectivamente estaba embarazada, pero que mi embarazo era de 6 meses y como si fuera poco por partida doble, es decir, que eran una gemelas.
Después de esas palabras lo primero que hice fue agradecer por estar acostada, porque de haber estado de otra forma me hubiese ido al piso de inmediato, creo que mi tensión arterial debió haber llegado como a 4 porque en ese momento no sentía ninguna parte de mi cuerpo, 3 años después de eso pienso que como la iba a sentir si prácticamente tuve un embarazo de 3 meses y de paso gemelar jajajaja.
Recuerdo salir de la consulta llorando, serán aproximadamente como las 10 de la mañana, pero también recuerdo que cayó la noche y aún estaba llorando, de verdad que la noticia no fue nada fácil de asimilar.

And in the blink of an eye my fantastic twins, as I call them, turned 3 years old, years of endless stories, of unimaginable stories, like my pregnancy with them.
I remember that May 2019, when the doctor told me that I was indeed pregnant, but that my pregnancy was 6 months and as if that were not enough double, that is, they were twins.
After those words the first thing I did was to thank for being lying down, because if I had been otherwise I would have gone to the floor immediately, I think my blood pressure must have reached about 4 because at that time I did not feel any part of my body, 3 years after that I think how could I feel it if I practically had a pregnancy of 3 months and in passing twins hahahaha.
I remember leaving the doctor's office crying, it must have been around 10 in the morning, but I also remember that night fell and I was still crying, the news was really not easy to assimilate.
---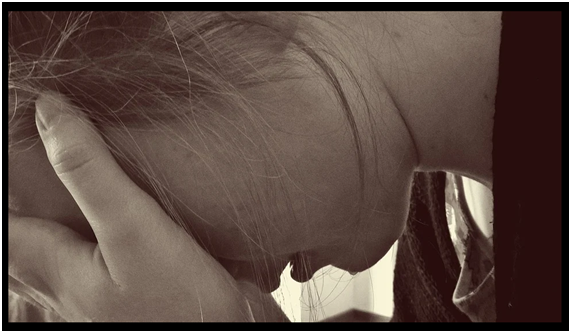 FUENTE/SOURSE
---
Es que no podía ser fácil, mi hijo menor apenas tenía 1 año y 2 meses de nacido, y yo tenía 6 meses de embarazo, jajajajaja ahorita me río de la situación, pero en ese momento era para volverme loca.
Después de haber planificado la cesárea y la esterilización en el hospital de la ciudad dónde vivo, de haber pasado las pocas consultas por una especialidad llamada "Alto Riesgo Obstétrico" debido a que soy de las mujeres que le da hipertensión gestacional, es decir, mi tensión arterial se eleva solo en los embarazos, también por haber tenido una cesárea previa muy reciente me enviaron a esa especialidad, tanto así que mi cesárea fue planificada para un día específico, que me lo dio el perinatólogo que me vio, Dr. Pablo Hernández especialista en embarazo de alto riesgo, mi cesárea debía hacerse el día 11 de agosto de ese año, de no ser así y pasar un día más, unas de mis gemelas podía tener daño cerebral.
Y pues llegó el día de la cesárea, me fui a la hora que la doctora me citó, con cada uno de los materiales que debía llevar, (cabe resaltar que son todos los materiales que tanto médicos, como enfermera necesitan para realizar las cesáreas) y es que lamentablemente aquí en Venezuela todo eso hay que llevarlos a los hospitales para que un bebé pueda nacer.
Cuando estoy casi lista para ser subida a piso y luego a quirófano, de la nada llega una doctora pediatra, dónde me decía que no me podían hacer la cesárea en ese hospital, ya que una de mis gemelas venía con poco peso (1,750 kg) y de necesitar incubadora no se iba a poder, porque en el hospital solo habían 3 y estás estaba ocupadas.
Mi explicación hacia ella era que mis gemelas venían bien, sus pulmones estaban lo suficientemente maduros para nacer, primero porque era un embarazo a término a pesar que era múltiple y segundo porque la ampolla de Betagen, que es la que colocan a cierto tiempo del embarazo cuando hay complicaciones para desarrollar los pulmones más rápido ya me la había colocado, siempre le recalqué que todo lo que ahí decía no era por decirlo, es porque en todo momento mi médico de cabecera, que además era especialista en embarazo de alto riesgo me lo había dicho, sin embargo está doctora se negó, a las 12 del medio día, ya con la tensión alta por los nervios empecé a buscar hospitales en otras ciudades e incluso en otros estados para poder tener a mis bebés ese mismo día.
It could not be easy, my youngest son was barely 1 year and 2 months old, and I was 6 months pregnant, hahahahahaha now I laugh at the situation, but at that time it was to drive me crazy.
After having planned the cesarean section and sterilization in the hospital of the city where I live, having passed the few consultations for a specialty called "High Risk Obstetric" because I am one of the women who gives gestational hypertension, that is, my blood pressure rises only in pregnancies, also for having had a very recent previous cesarean section I was sent to that specialty, so much so that my cesarean section was planned for a specific day, which gave me the perinatologist who saw me, Dr. Pablo Hernandez specialist in high risk pregnancy, Dr.. Pablo Hernandez, specialist in high risk pregnancy, my cesarean had to be done on August 11 of that year, otherwise, if it was not done and another day passed, one of my twins could have brain damage.
And so the day of the cesarean arrived, I went at the time the doctor had scheduled me, with each of the materials that I had to bring, (it should be noted that they are all the materials that both doctors and nurses need to perform cesarean sections) and unfortunately here in Venezuela all that must be taken to hospitals so that a baby can be born.
When I was almost ready to be taken to the floor and then to the operating room, out of nowhere a pediatrician doctor arrived and told me that they could not perform the cesarean section in that hospital, because one of my twins was underweight (1.750 kg) and she did not need an incubator because there were only 3 incubators in the hospital and they were full.
My explanation to her was that my twins were fine, their lungs were mature enough to be born, first because it was a full term pregnancy even though it was a multiple pregnancy and secondly because the Betagen ampoule, which is placed at a certain time of pregnancy when there are complications to develop the lungs faster, had already been placed, I always stressed to her that everything she said there was not to say it, it was because my family doctor, who was also a specialist in high risk pregnancy had told me so, however this doctor refused, at 12 noon, and with high blood pressure due to nerves I started to look for hospitals in other cities and even in other states to have my babies that same day.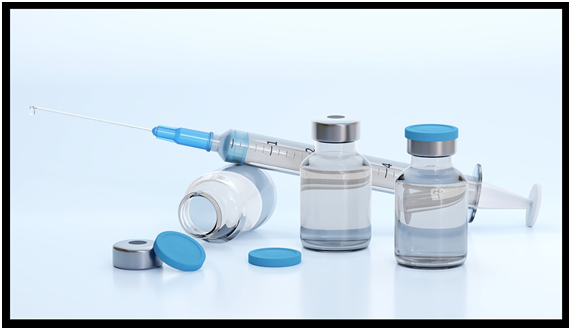 FUENTE/SOURSE
En el hospital del estado vecino por llamarlo de alguna manera, no había pediatra, así que tampoco podía ir para allá, nos fuimos a todo riesgo para el hospital central del estado, exponiendo mi caso, fue allí donde me atendieron y a las 5:03 minutos de la tarde llega a este mundo Georgette, con un llanto bastante fuerte cabe resaltar y a las 5:06 minutos, 3 minutos más, llega Sabira.
En el hospital del estado vecino por llamarlo de alguna manera, no había pediatra, así que tampoco podía ir para allá, nos fuimos a todo riesgo para el hospital central del estado, exponiendo mi caso, fue allí donde me atendieron y a las 5:03 minutos de la tarde llega a este mundo Georgette, con un llanto bastante fuerte cabe resaltar y a las 5:06 minutos, 3 minutos más, llega Sabira.
---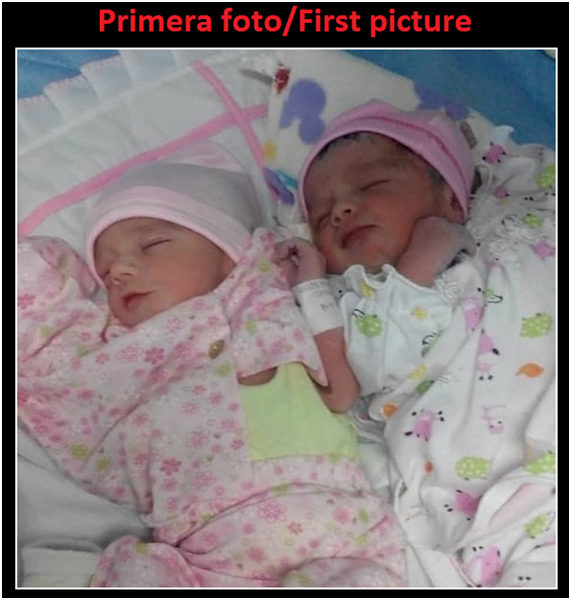 ---
No les voy a negar el miedo tan grande que vino a mí, no por ser primeriza, porque previo a mis gemelas ya tenía a Anna y a Mathias, pero por separados, me preguntaba en muchas ocasiones como iba a hacer con 2 bebés al mismo tiempo.
Y las respuestas me la dieron ellas, otro de mis miedos era no poder dar lactancia materna exclusiva hasta sus 6 meses, ya que era más la demanda, cosa que si pude.
Al pasar el tiempo ellas me han ido enseñando las diferencias entre ambas, porque si, son gemelas, muy parecidas, pero solo físicamente, su personalidad y carácter son extremadamente diferentes.
I will not deny the great fear that came to me, not because I was a first timer, because before my twins I already had Anna and Mathias, but separately, I wondered many times how I was going to do with 2 babies at the same time.
And the answers were given to me by them, another of my fears was not being able to breastfeed exclusively until they were 6 months old, since it was more on demand, which I was able to do.
As time went by they have been teaching me the differences between them, because yes, they are twins, very similar, but only physically, their personality and character are extremely different.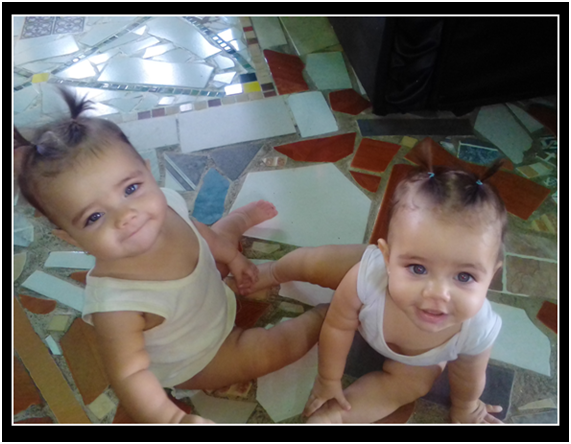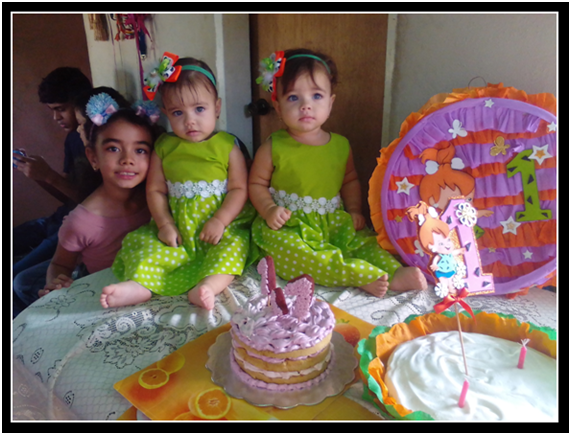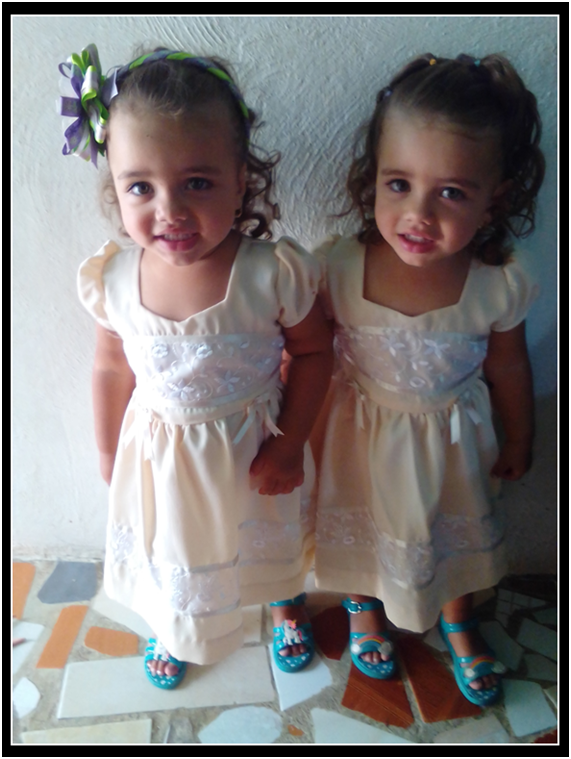 Ellas vinieron con todo, para cerrar la familia entre mi esposo y yo, son las más tremendas, las más inventoras, las de carácter más fuerte, la que hacen que mamá cuente hasta 1000 y luego hasta 1000 más.
Muchas personas me criticaron, muchas personas aún me critican, juzgado que como es posible que yo tenga 4 hijos, pero a Dios gracias puedo decir que a nadie le he pedido nada para ninguno de mis hijos.
They came with everything, to close the family between my husband and me, they are the most tremendous, the most inventive, the ones with the strongest character, the ones that make mom count to 1000 and then to 1000 more.
Many people criticized me, many people still criticize me, judged that it is possible that I have 4 children, but thank God I can say that I have not asked anyone for anything for any of my children.
---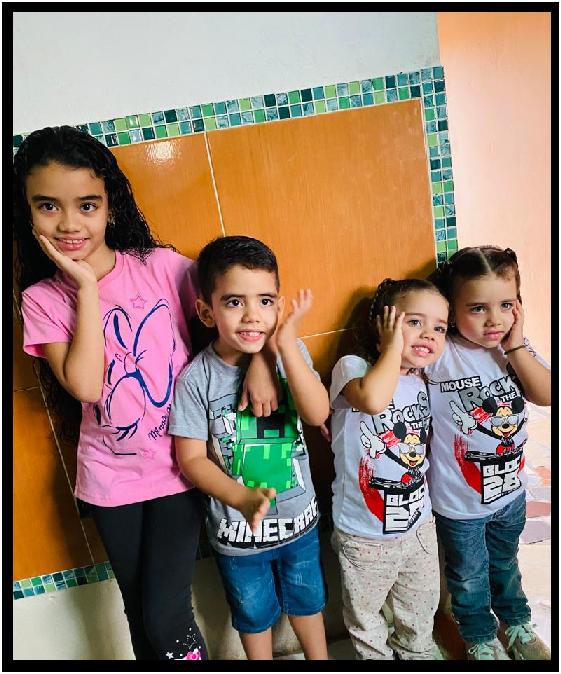 ---
La maternidad es la etapa más bonita por la cual una mujer puede pasar, pero a veces, las personas confunden lo bonito con lo fácil, fácil no es, pero a pasar el tiempo las cosas va agarrando su propio ritmo.
Hoy solo pido a Dios que las colme de buena salud y me las bendiga.
Feliz cumpleaños para mis gemelas fantásticas.
Motherhood is the most beautiful stage that a woman can go through, but sometimes people confuse the beautiful with the easy, it is not easy, but as time goes by things take their own rhythm.
Today I only ask God to fill them with good health and bless them.
Happy birthday to my fantastic twins.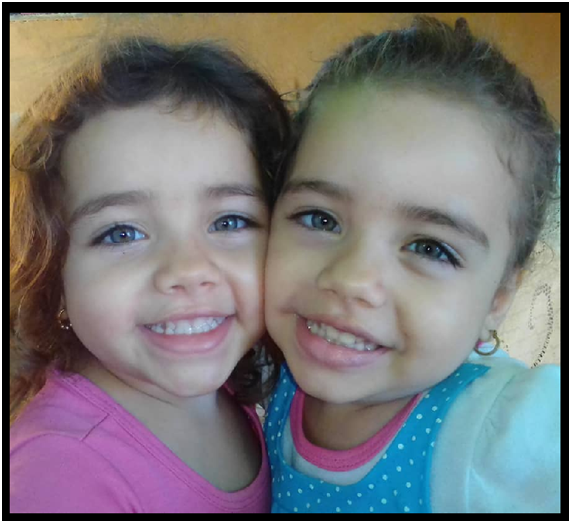 Gracias por leer parte de mí

Thank you for reading part of me

Les envío un abrazo cargado de bendiciones

I send you a hug full of blessings

fotografías y edición: propias, tomadas desde mi teléfono móvil y editadas en el programa Paint.

Photos and editing: my own, taken from my cell phone and edited in Paint.