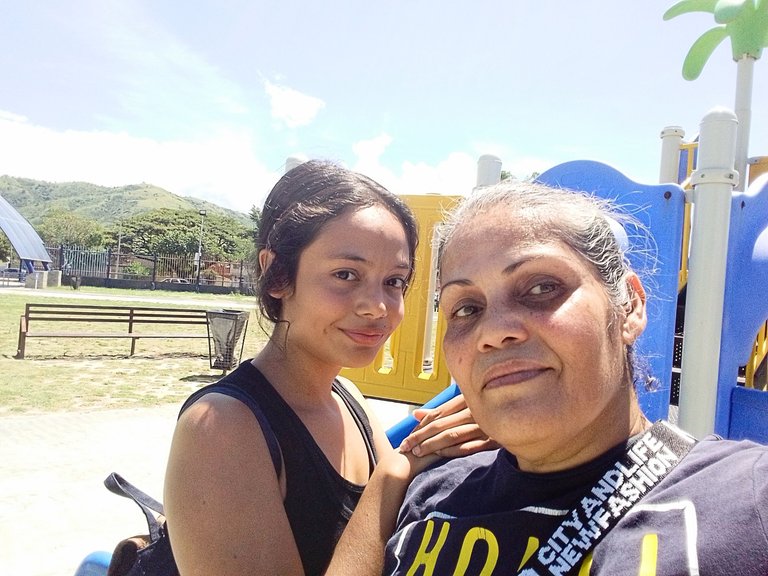 A medida que vamos creciendo algunos hijos se distancia de su progenitora tal vez por las nuevas responsabilidades,por la falta de tiempo ( aunque siempre hay tiempo para mamá) o por diversas razones cada caso es diferente pero sin duda es importante mantener esta lazo con nuestras madres ,son esos seres humanos que nos dieron la vida es imposible no estar agradecido con tan solo ese primer acto de amor en la concepción, es por ello que hoy vengo a compartir con ustedes este artículo titulado " un día con mamá".
As we grow up some children distance themselves from their mother maybe because of new responsibilities, lack of time (although there is always time for mom) or for various reasons each case is different but certainly it is important to maintain this bond with our mothers, are those human beings who gave us life is impossible not to be grateful with only that first act of love at conception, which is why today I come to share with you this article entitled "a day with mom".
Nos levantamos temprano a esos de las 7 am y decidimos dirigirnos a un parque un poco alejado dónde residimos actualmente pero que teníamos muchas ganas de visitar, cuando entramos había una cantidad considerable de niños jugando por todas parte, situación que me sorprendió porque cuando se trata de parques y diversión los niños siempre tienen mucha energía aunque sea las 8 AM 😂
We woke up early at about 7 am and decided to go to a park a little far from where we currently reside but we really wanted to visit, when we entered there was a considerable amount of children playing everywhere, a situation that surprised me because when it comes to parks and fun children always have a lot of energy even if it's 8 am 😂.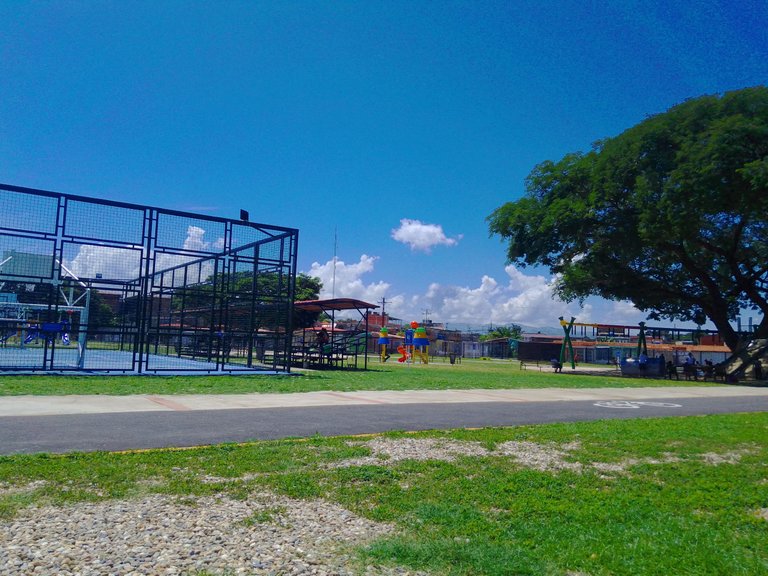 Mientras nos encontrabamos alli empezamos recordar los viejos tiempos cuando mi mami me llevaba al parque y me compraba el característico helado de chocolate,ella se sentaba en una banquito y se me quedaba viendo entre tanto jugaba con los demás niños me subía y me bajaba del tobogán sin parar para luego decirle "mamá tengo sed" como buena mamá siempre preparada tenía en su cartera además de dulces una botellita de agua congelada.
While we were there we started to remember the old times when my mom would take me to the park and buy me the characteristic chocolate ice cream, she would sit on a bench and watch me while I was playing with the other kids, she would take me up and down the slide without stopping and then tell me "mom I'm thirsty" as a good mom always prepared she had in her purse besides candy a little bottle of frozen water.
cuando recorrimos el lugar llegamos a la atracción de los columpios también me hizo recordar esos momentos donde me balanceaba de atrás hacia adelante con la ayuda de los empujoncito de mi mamá por la espalda para mecerme de una forma más rápida ya que por mis propios medio era difícil porque mis piecitos ni siquiera alcanzaban tocar el piso de tierra o de piedras pequeñas.
When we walked through the place we arrived at the attraction of the swings, it also made me remember those moments when I was swinging back and forth with the help of my mom's pushes on my back to rock me in a faster way, since it was difficult because my little feet couldn't even touch the dirt floor or the small stones.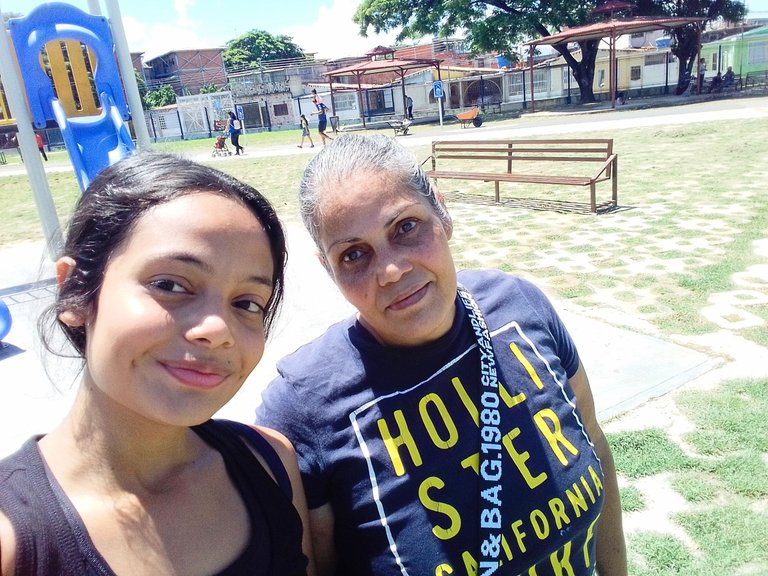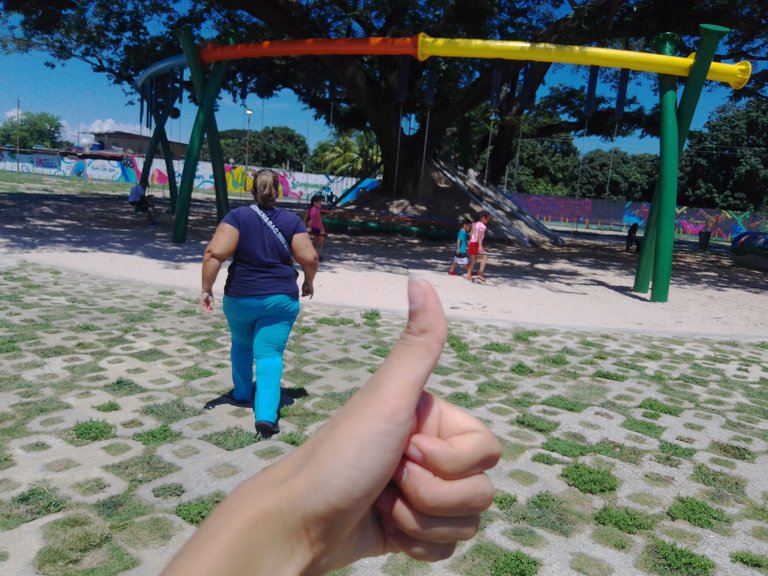 Esa horas para mí fueron los máximo ya que nos divertimos demasiado las risas nunca faltaron y explorar ese pequeño pero atractivo parque fue lo mejor tiene instalaciones muy bonitas desde canchas de básquet, fútbol hasta máquinas para realizar ejercicios y espacios recreativo al aire libre para fiestas-eventos.
Those hours for me were the best because we had a lot of fun, laughter was never lacking and exploring that small but attractive park was the best, it has very nice facilities from basketball courts, soccer fields to exercise machines and outdoor recreational spaces for parties-events.
Desde mi punto de vista está visita además de ser una forma de pasar tiempo con mi mamá y distraernos un poco de la vida cotidiana fue como transportarme en una máquina del tiempo que me regresó un rato al 2007 cuando tenía aproximadamente unos 4 añitos de edad esas épocas dónde solo pensaba en jugar y jugar ,tengo que confesar que la nostalgia me invadió un poco al observar la grama con la misma tonalidad sorprendentemente verde y las risas tan marcadas de los niños correteando por todo el sitio y es que esos son los pequeños detalles que siempre se mantienen presentes en mi mente.
From my point of view this visit besides being a way to spend time with my mom and distract us a little from everyday life was like being transported in a time machine that took me back to 2007 when I was about 4 years old when I only thought about playing and playing, I have to confess that nostalgia invaded me a bit to observe the grass with the same surprisingly green hue and the laughter so marked of children running around the site and those are the little details that always remain present in my mind.

Pero bueno hay que volver a la realidad 😂 luego de ese lindo esparcimiento fuimos al mercado con la finalidad de hacer las compras pertinentes de la semana para nuestro consumo y por supuesto en nuestro lugar favorito ,me gusta hacer este tipo de cosa que pueden parecer insignificante pero a su vez estrecha lazos inimaginable con la persona con la cual estás compartiendo.
But well we have to get back to reality 😂 after that nice recreation we went to the market in order to make the relevant purchases of the week for our consumption and of course in our favorite place ,I like to do this kind of thing that may seem insignificant but in turn tightens unimaginable ties with the person with whom you are sharing.
Particularmente mi mamá y yo siempre hemos tenido una conexión realmente buena creo porque ha sido unas de las pocas personas que me han apoyado de forma incondicional y es la que siempre está presente en cualquier situación,lo que más admiró de ella es la capacidad que ha tenido de desempeñar el rol de madre- padre a la vez ,la verdad es que no se cómo le hace pero de lo único que estoy segura que es un ser humano increíble.
Particularly my mom and I have always had a really good connection I think because she has been one of the few people who have supported me unconditionally and is the one who is always present in any situation, what I admire most about her is the ability she has had to play the role of mother-father at the same time, the truth is that I do not know how she does it but the only thing I'm sure is that she is an incredible human being.
Este post lo elabore con el propósito de expresar los sentimientos de amor y cariño que tengo hacia mi madre y también como una forma de reflexión, destacando la importancia que tiene el simple hecho de pasar tiempo de calidad con nuestro padres , recuerden siempre que la calidad es mil veces mejor que la cantidad.
I wrote this post with the purpose of expressing the feelings of love and affection I have for my mother and also as a way of reflection, highlighting the importance of spending quality time with our parents, always remember that quality is a thousand times better than quantity.

Esto es todo por hoy gracias por leerme nos vemos en una próxima oportunidad bye bye ♥️
That's all for today, thanks for reading, see you next time, bye bye.