( EN / DE ) The theme of the current FOOD PORN Photograhy Contest is "EINTOPF" (Stew) and I think there is nothing easier to cook than stews.
Strictly speaking, you can put everything in such a pot, which also only somehow fits together. It reminds me that once upon a time, in the days when the hearth fire burned day and night in a house, there was a pot hanging over the fire into which something else was always added.
Das Thema des aktuellen FOOD PORN Photograhie Contests ist "EINTOPF" und ich finde es gibt nichts einfacheres zu kochen, als Eintöpfe.
Genau genommen kann man alles in so einen Topf hineintuen, was auch nur irgendwie zusammenpasst. Es erinnert mich daran, dass früher einmal, in den Zeiten als in einem Haus Tags wie Nachts das Herdfeuer brannte, ein Topf über dem Feuer hängte, in den immer wieder etwas anderes zugefügt wurde.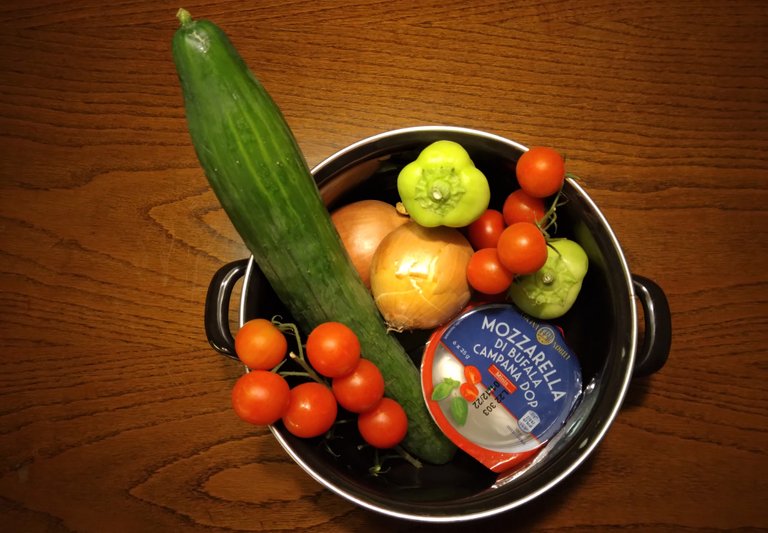 For my contest stew I have looked what can be found in the refrigerator: onion, bell bell pepper, cucumber, tomato, mozarella! Yay! So first of all, fry the onion in a little olive oil until translucent:
Für meinen Contest Eintopf habe ich mal nachgesehen, was sich so findet im Kühlschrank: Zwiebel, Paprika, Gurke, Tomate, Mozarella! Juhu! Also zuerst einmal die Zwiebel in etwas Olivenöl glasig braten: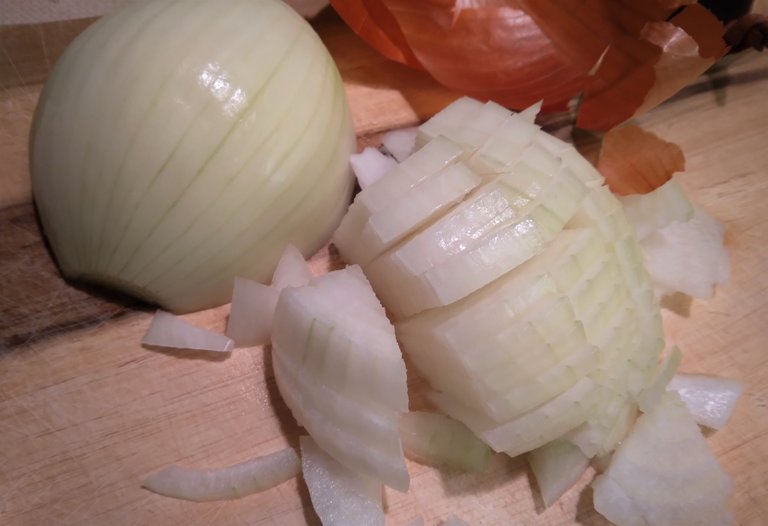 What I like so much, while everything is roasting, you can calmly add one ingredient after the other and also have time to take photos ;-)
Add the vegetables, salt, oregano and a little water as needed. I also decided to add some cumin and marjoram. When everything is in the pot, cover and simmer very gently in about 30 minutes.
Was mir so gefällt, während das nun alles vor sich hin brät, kann man in aller Ruhe eine Zutat nach der anderen zufügen und hat auch Zeit um Fotos zu machen ;-)
Die Gemüsesorten, Salz, Oregano und je nach Bedarf ein wenig Wasser zufügen. Ich habe mich auch noch für etwas Kreuzkümmel und Majoran entschieden. Wenn alles im Topf ist zudecken und in etwas 30 Minuten ganz leicht köcheln lassen.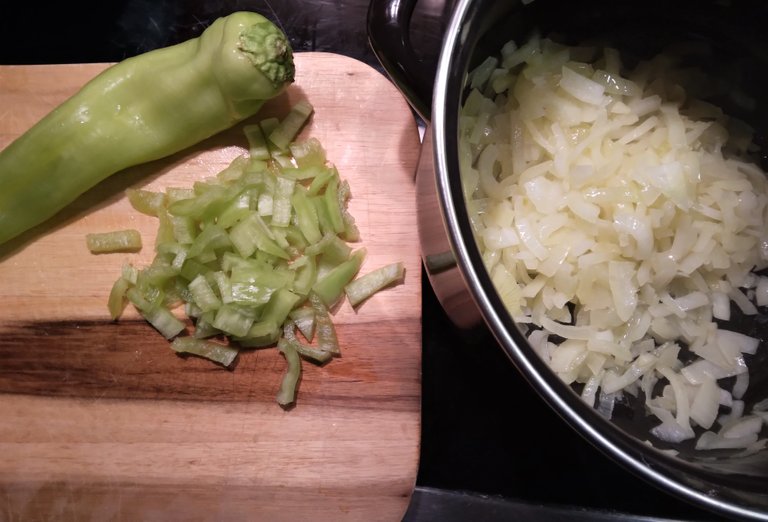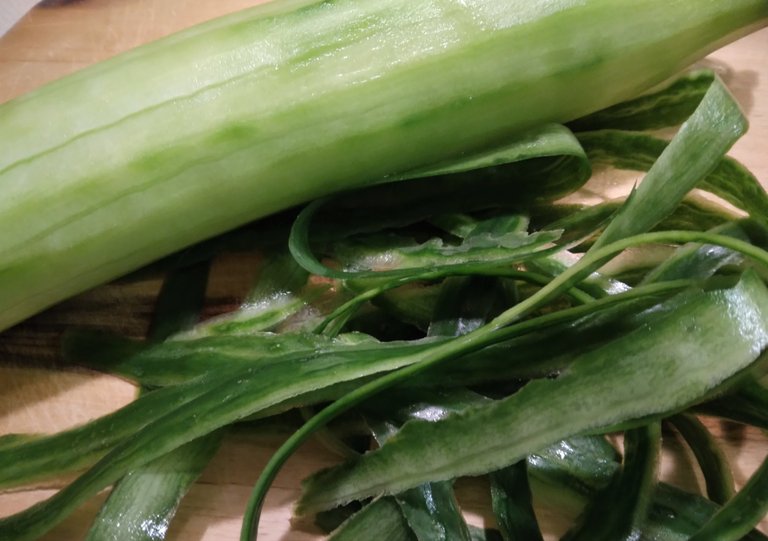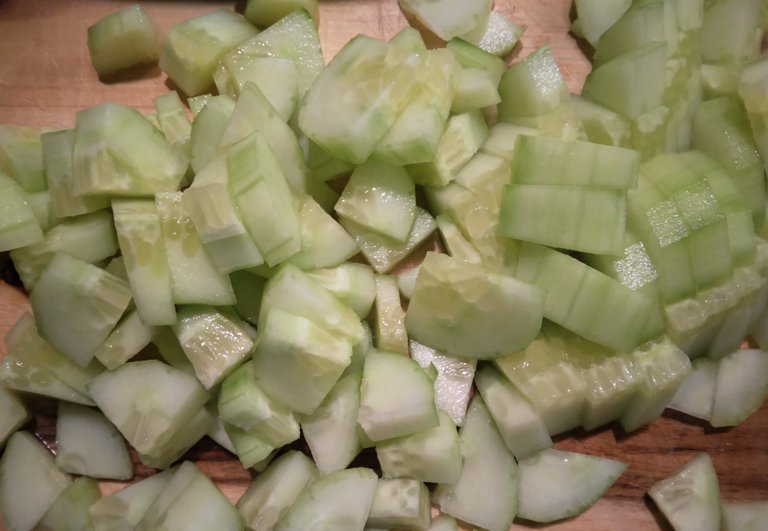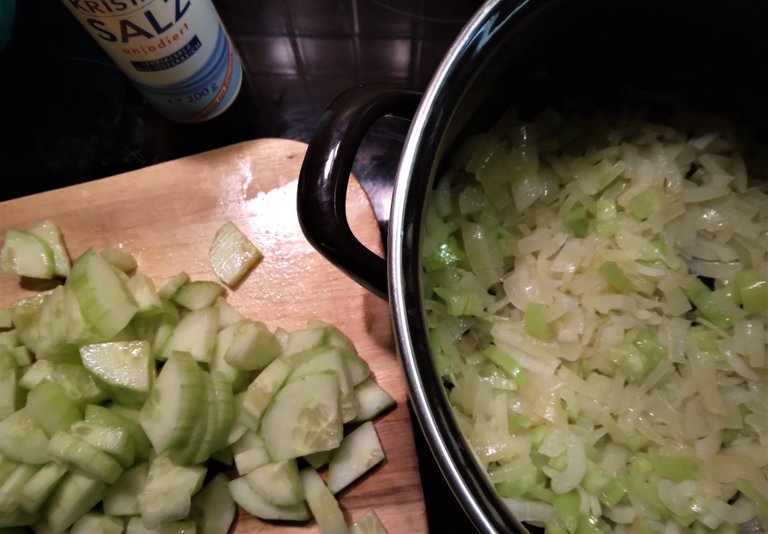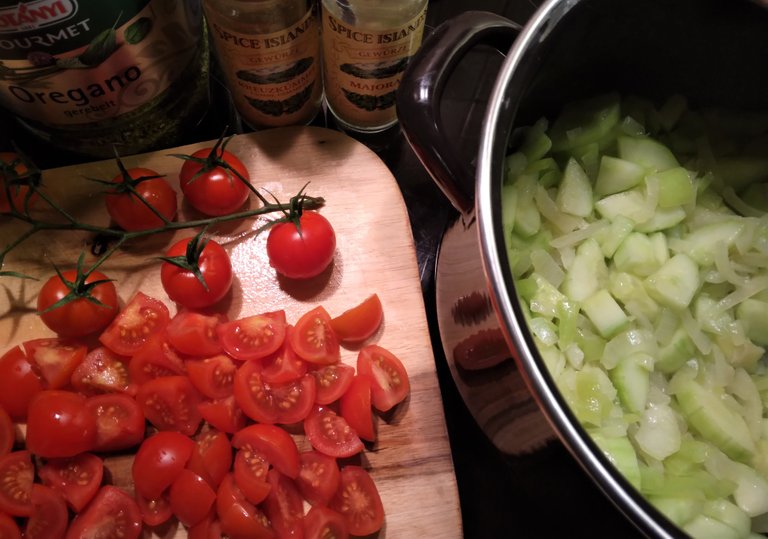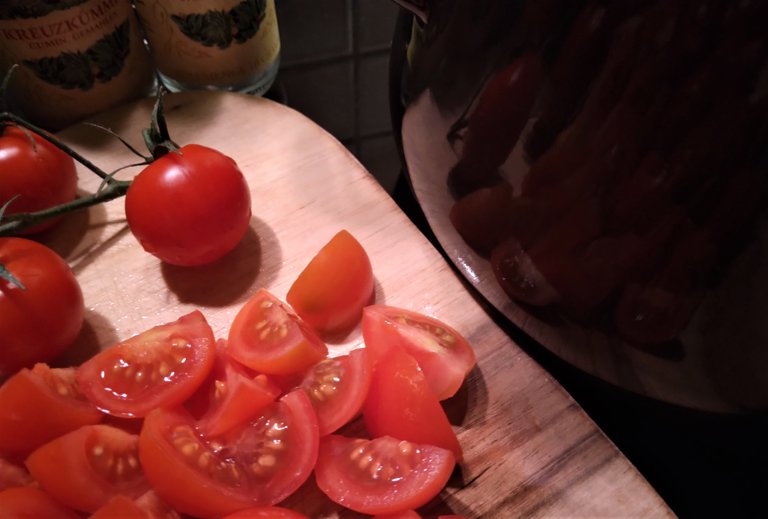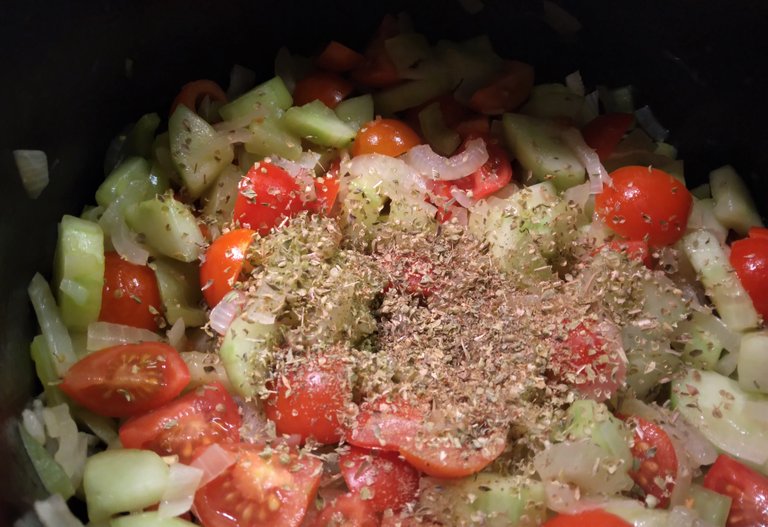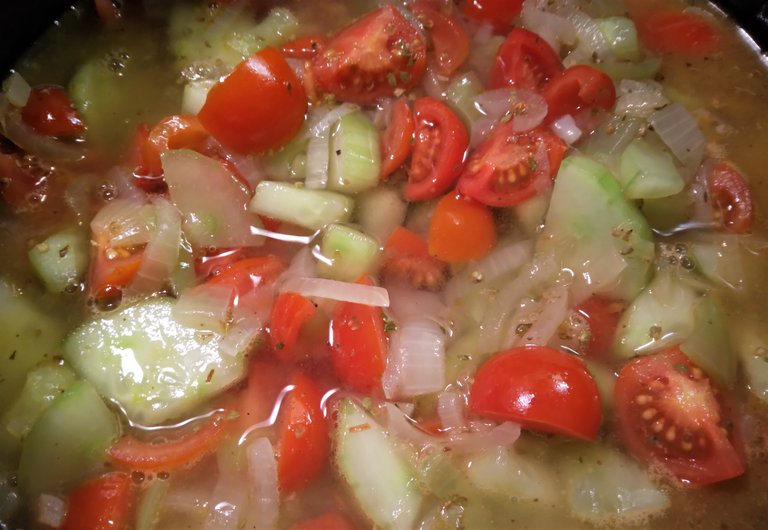 After that, the stew is basically ready, but I still had the mozarella! And I find it so delicious to have the taste of cheese with it. Other varieties such as feta or Emmental should actually also fit well.
Danach ist der Eintopf im Prinzip fertig, ich hatte ja aber noch den Mozarella! Und ich finde es so lecker, den Geschmack von Käse mit dabei zu haben. Anderes Sorten wie Feta oder Emmentaler müssten eigentlich auch gut passen.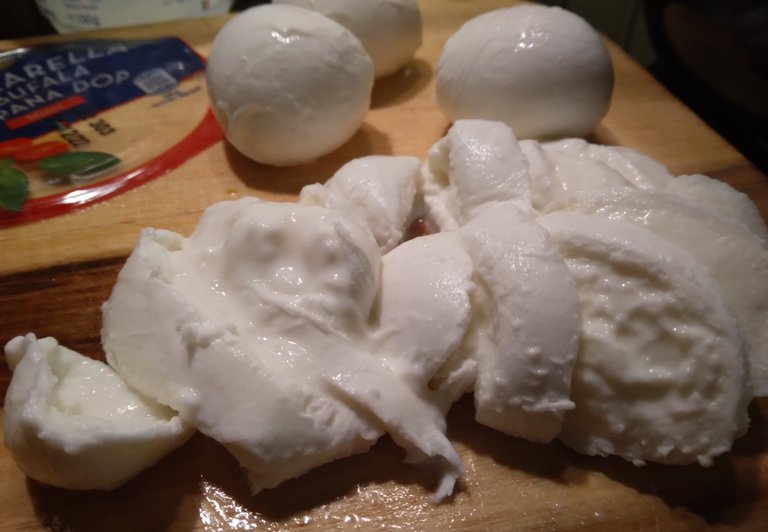 Now stir the stew again well, because after the cheese comes on top is NO MORE STIRRING! Only sprinkle with a little oregano. It is important to have the stove on a very low heat.
Nun den Eintopf noch einmal gut umrühren, denn nachdem der Käse obenauf kommt wird NICHT MEHR GERÜHRT! Nur mit nochmals mit etwas Oregano bestreuen. Wichtig dabei eben, den Herd auf ganz kleiner Hitze zu haben.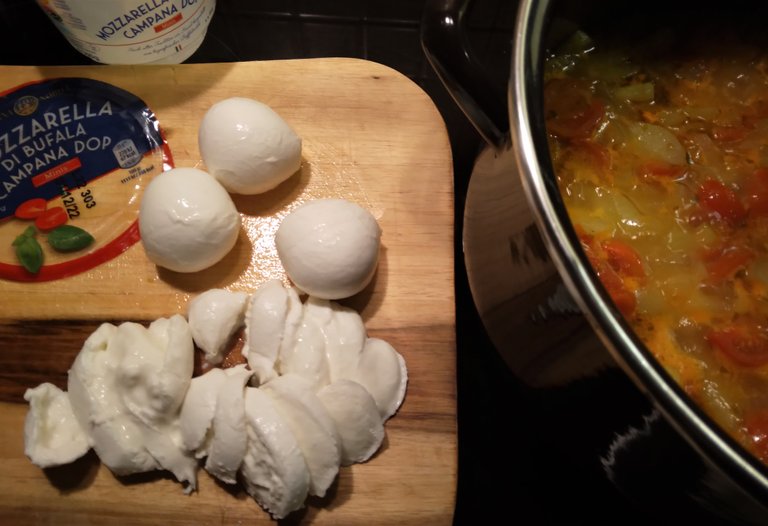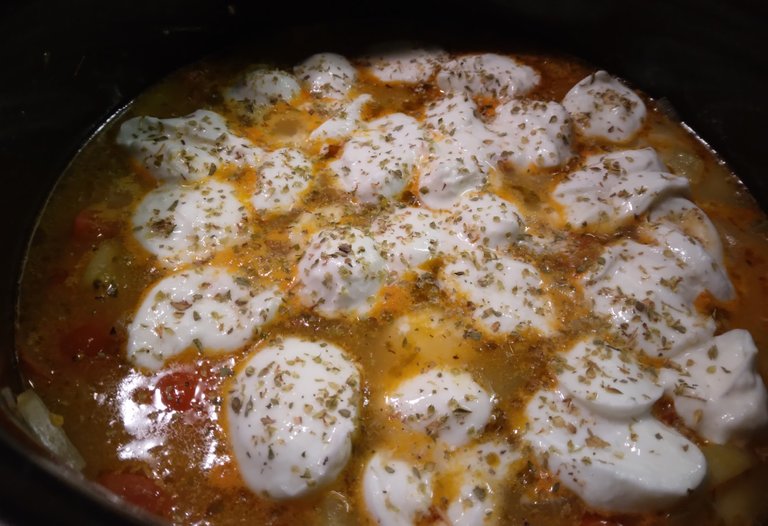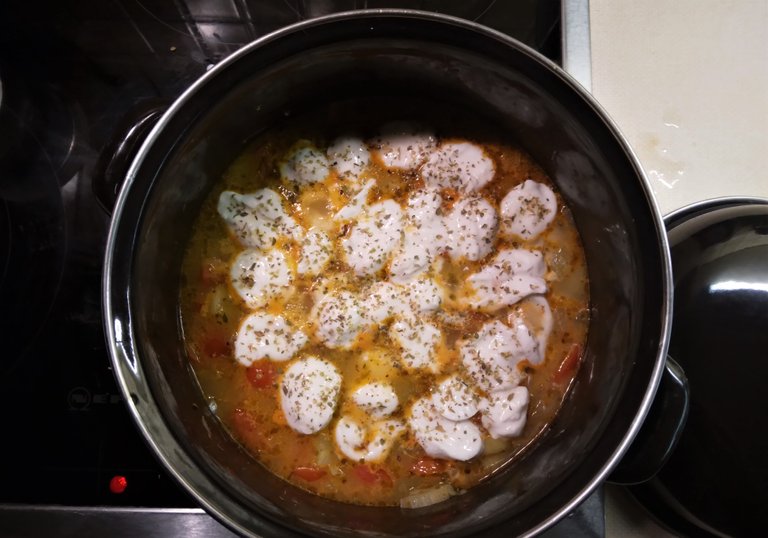 Cover on - wait 10 minutes - cover off again - done!
Deckel drauf - 10 Minuten warten - Deckel wieder weg - fertig!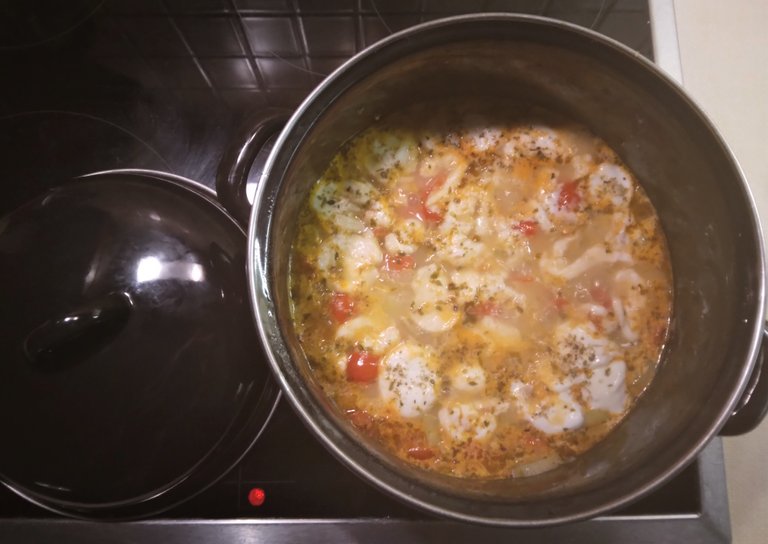 Another thing I love about stew is that you just put the pot in the middle of the table and everyone can help themselves.
Ein weiterer Punkt, den ich am Eintopf so sehr liebe ist, dass man einfach den Topf mitten auf Tisch stellt und jeder kann sich bedienen.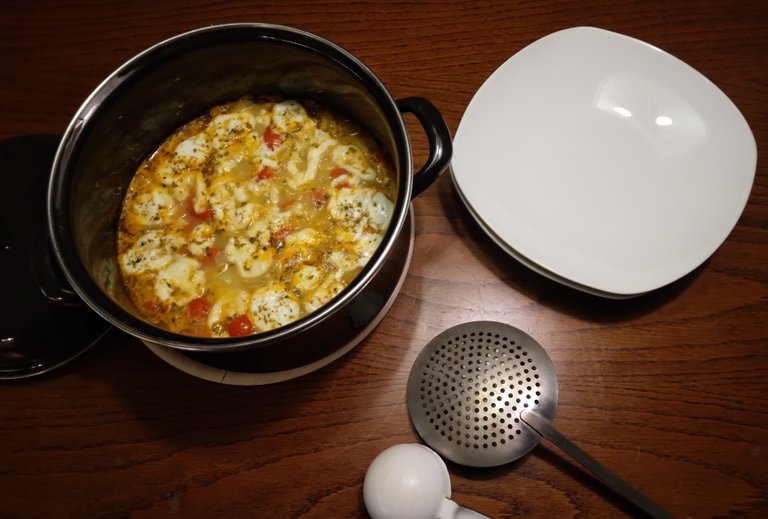 Now when scooping out I dont want the mozarella below but again on top, so I first lift with a ladle the mozarella up, now scoop with the other hand the vegetable stew into the plate and put the mozarella there again on top :-)
Um nun den Mozarella beim herausschöpfen nicht unten, sonder wieder obenauf zu haben, hebe ich zuerst mit einer Schöpfkelle den Mozarella hoch, schöpfe nun mit der anderen Hand den Gemüseeintopf in den Teller und positioniere den Mozarella dort wieder obenauf :-)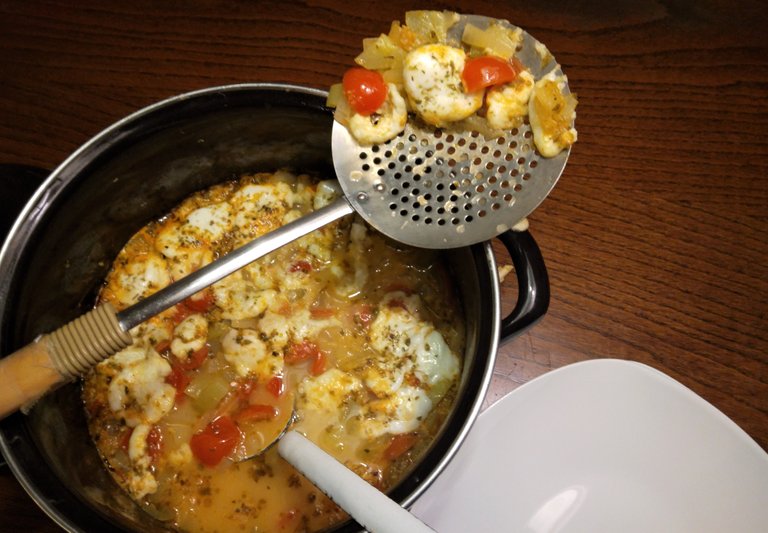 Another point of the FOOD PORN Photography Contests is also to have something homegrown with you if possible. Hmmmm, difficult at this time of year, so I remembered that I had put the basil stick some time ago from the balcony indoors.
This basil has provided us with delicious fresh leaves throughout the summer. Now, well.... the warm heating air does not seem to him very well:
Ein weiterer Punkt der FOOD PORN Photography Contests ist es auch, nach Möglichkeit etwas selbst angebautes mit dabei zu haben. Hmmmm, schwierig um diese Jahreszeit, also fiel mir ein, dass ich ja den Basilikum Stock vor einiger Zeit vom Balkon nach drinnen gestellt hatte.
Dieses Basilikum hat uns den gesamten Sommer über mit leckeren frischen Blättern versorgt. Jetzt, naja.... die warme Heizungsluft scheint ihm nicht sehr zu bekommen: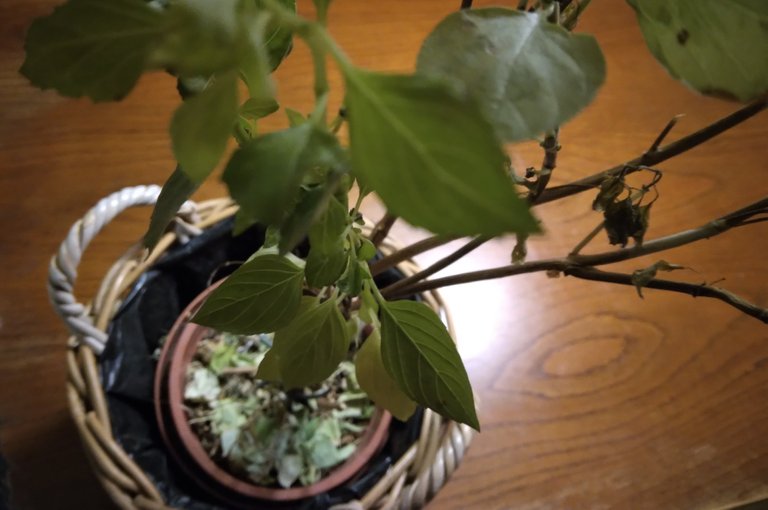 But it was still enough for two small leaves for decoration:
Aber für zwei kleine Blätter zur Deko hat es noch gereicht: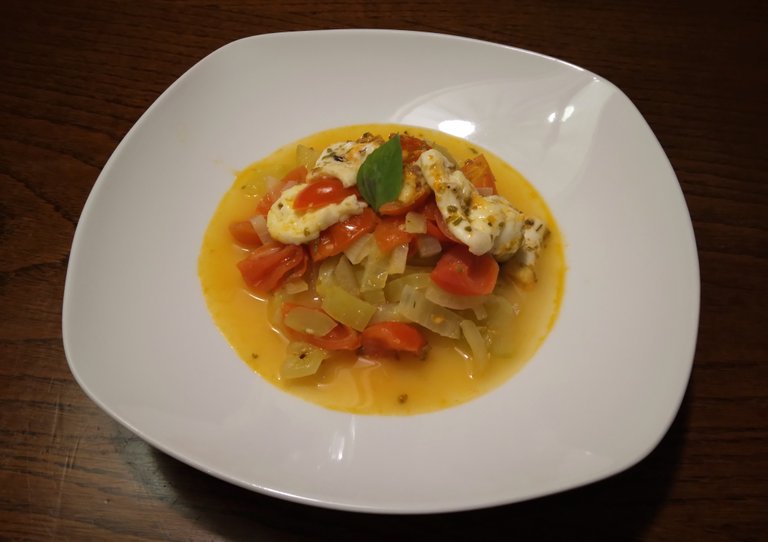 If you have any left over from this stew, it's just good to know, stir in the mozarella because if it's kept on top it will get very dry and tough.
You won't have that eye catcher the next day, but the cheese dissolves in the stew and the flavor remains.
Falls von diesem Eintopf etwas übrig ist, dann ist es nur gut zu wissen, rühft den Mozarella unter, denn wenn er obenauf aufbewahrt wird, dann wird er sehr trocken und zäh:
Ihr habt dann am nächsten Tag nicht mehr diesen Hingucker, aber der Käse löst sich ja im Eintopf auf und der Geschmack bleibt erhalten: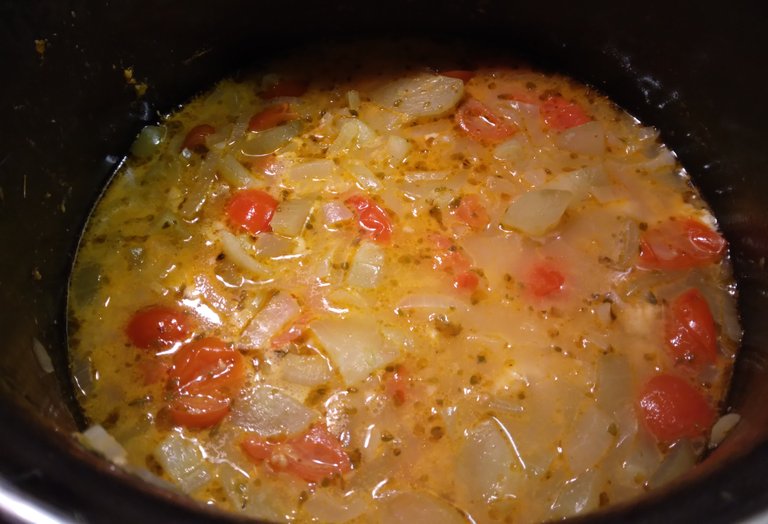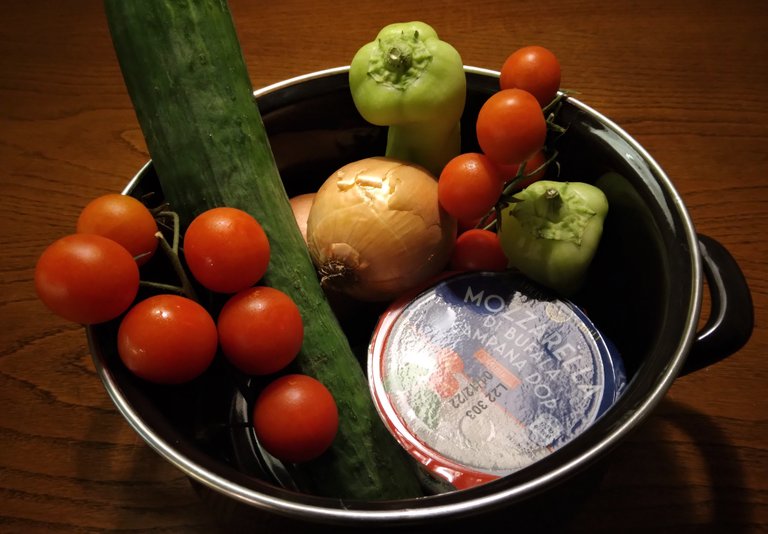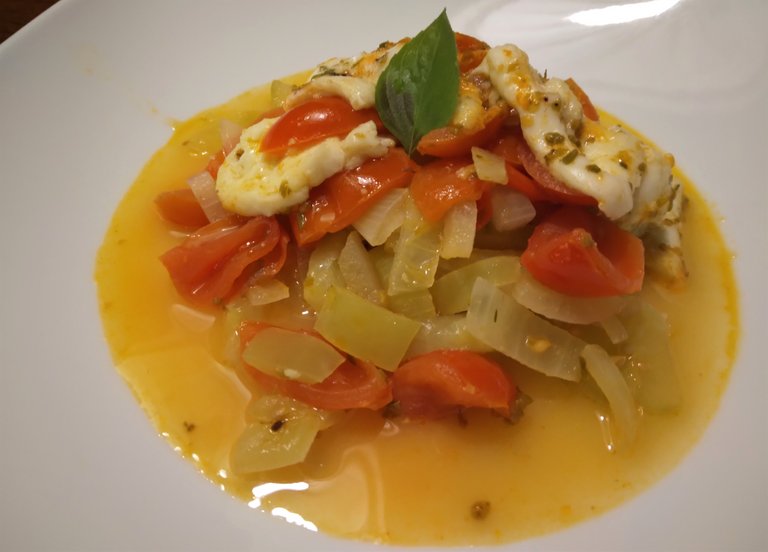 This was my colorful mozarella gratin stew for the FOOD PORN Contest hosted by @karizma and @blue-rabbit more infos: @karizma/2-foodporn-community-contest-7000-photo-delegation-to-win-hive-164234
---

beebers crazy advents calendar - day 3
Until Christmas I will choose one daily winner from the comments on my advents calendar post of the previous day. (8pm CET the next day after the posting day) The one comment that I love the most, that makes me smile, that was very interesting or whatever pleases a woman like me at that moment ;-)
Bis Weihnachten werde ich jeden Tag einen Gewinner aus den Kommentaren auf meinen Advents Kalender Post des vorigen Tages auswählen. (20h MEZ am nächsten Tag nach dem Posting Tag) Der eine Kommentar, den ich am meisten liebe, der mich zum lächeln bringt, der sehr interessant war oder wonach auch immer einer Frau wie mir in diesem Moment der Sinn ist ;-)
There have been 7 comments on day 2 from:
@mypathtofire @mein-senf-dazu @jane1289 @reiseamateur @eddwood @treefrognada @music-nature
There was that ONE comment, that really took me out of my "blue feeling down state" ! It was a very simple coment, but you know, often MUSIC is the best to heal you.
So I think @mypathtofire is the well deserved winner! 1 HSBI and 100 ecency points will be sent soon.

This was December 3 and you have roundabout 20 hours time for a comment to participate :-) Yours, B.
all photos by @beeber edited with www.canva.com free version