Things I will never do for Love
Good day friends of the comedy Openmic community, am glad to write to you all from my end about the things I won't do for Love. This post was inspired by a little conversation that ensured between me and my neighbor yesterday evening while I was on my way going to my friend's house.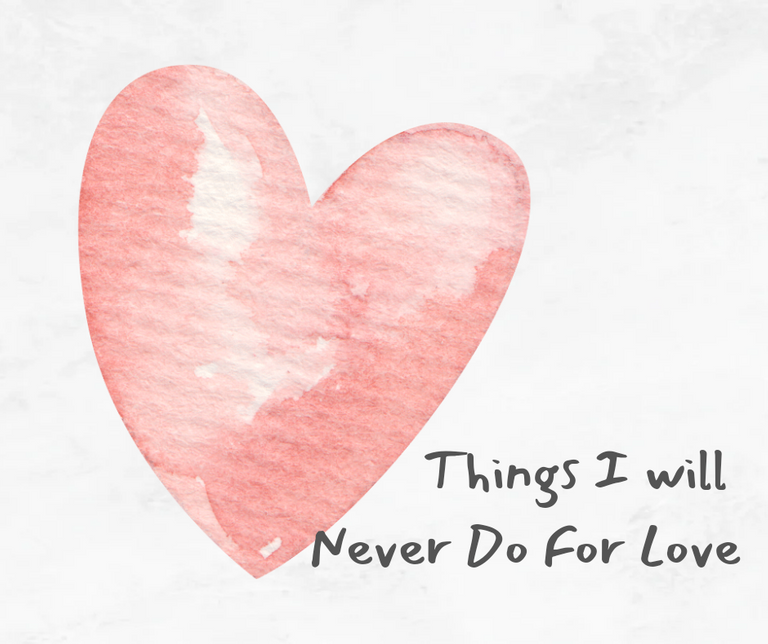 Image edited by me through Canva app
Walking together with my neighbor yesterday evening was more of a coincidental meeting because we didn't have an initial agreement to walk down the streets of our area together. We were gisting and I decided to tell him where I am heading to. I told him I'm on my way to Patience house one of my friend how about him?.
I felt for him when he told me He was going to meet a girl in the nearby town, she called him that she's has closed from work and so He was going to go and see her off to her house before coming back home. I asked my friend if he had another thing he wants to do outside that evening but am surprised he said, that is the exact reason why he is going out, he wants to go and meet the girl whose working place is almost 1km away from our house and to see the girl off from the place of work down to her house is almost a kilo metre away from the place of work too. I became more curious so I asked him if He is dating the girl or something because the huge sacrifices to me was too much of a casual stuff to do by a Bro who is not into a relationship with her. I don't know if I acted silly but I burst out into laughter when this dude told me he was only doing it and no string attached at the moment but he is hoping things work out good for him and her someday.
I already understood where the guy is heading to, he is planning on asking the girl out thou he hasn't, but he feels he is obliged to the things he is doing to earn her love someday. I asked him, Bro, what if at the end she didn't agree to date you what else will become of you? The guy couldn't answer me but I knew from his reaction that he wasn't even thinking about if she might give him a "No" for an answer. I didn't wanted to talk further more because I know very well what Love can do to a man specially at its foundation stage. Those dude's use to go crazy and don't even imagine any other thing apart from what is in their minds. That was risky and I wouldn't dare to do that for a lady that I don't even know if at the end she will give me a big "No" for an answer.
I don't believe experience is the best teacher but it will teach you of course if you fail to take corrections from other people's mistake. I was once a victim of the "Love is Blind" something and the later experienced opened my eyes very wide. If you claim love is blind, when love will open your eyes, you will see it as thou it's a nightmare to you.
I use to follow this young lady to her father's farm, I will farm and want to impress every of her family members in the farm including her too. I will farm and sweat rivers into my boxers but Bro will not want to rest because he is after making his lover proud, I wanted her to love me more and see reasons why I am fit and capable of being the man of her dreams. I remember the countless times I will refuse to eat in my house because she told me she hasn't eaten. I wish I had the sense I'm having now my people, I was carried away by emotions but thanks be to God my emotions carried me back home safe and sound. Love has opened my eyes and so I want us to use my neighbor as a point of contact to every other guy out there doing the same thing that they shouldn't end up crying the way I cried like a new born baby who wants to suck. I can't dare to treat you like my wife when I know just within a twinkle of an eye you can cut the relationship. If we are playing we surely have to play safe and smart so that we won't end up looking like dried starched clothe just brought out of the sun for ironing
Thank You