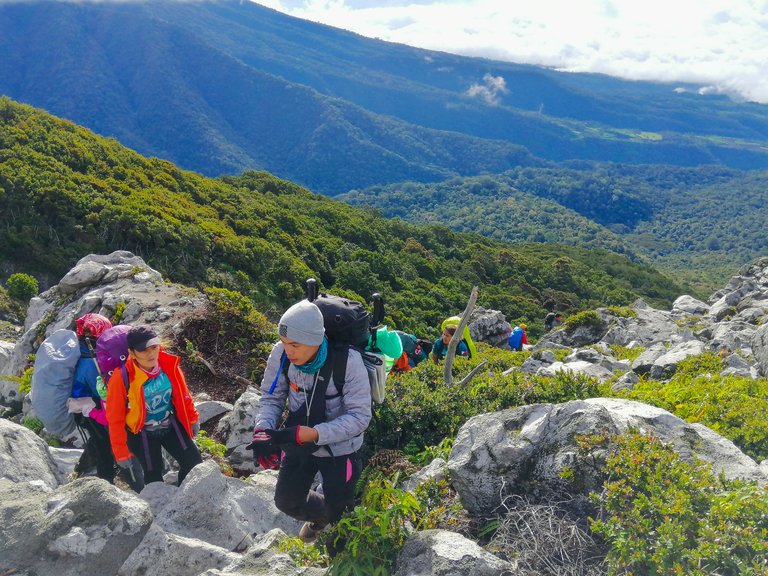 Hello everyone!
I was trying not to post about Mt. Apo because I still have a lot of travels before this one, but I saw this small community from @erikah's
list of communities
. It's time to promote
Mountaineering Community
. I like that they don't have rules except "behave as if you're in the mountains". If you're a mountaineer, you know what that means. Behaving appropriately in the mountains sometimes spells a difference between life and death.
Another reason I'm posting this ahead is that I have been watching many mountaineering videos on YouTube these past few weeks. There are a lot of answers when mountaineers are asked why they climb mountains, but the most common answer is because it's there. Mt. Everest has claimed more than 300 lives since expeditions began and it is said that more than 200 bodies are still there. Mountains are still there and they're not friendly especially if you're not prepared.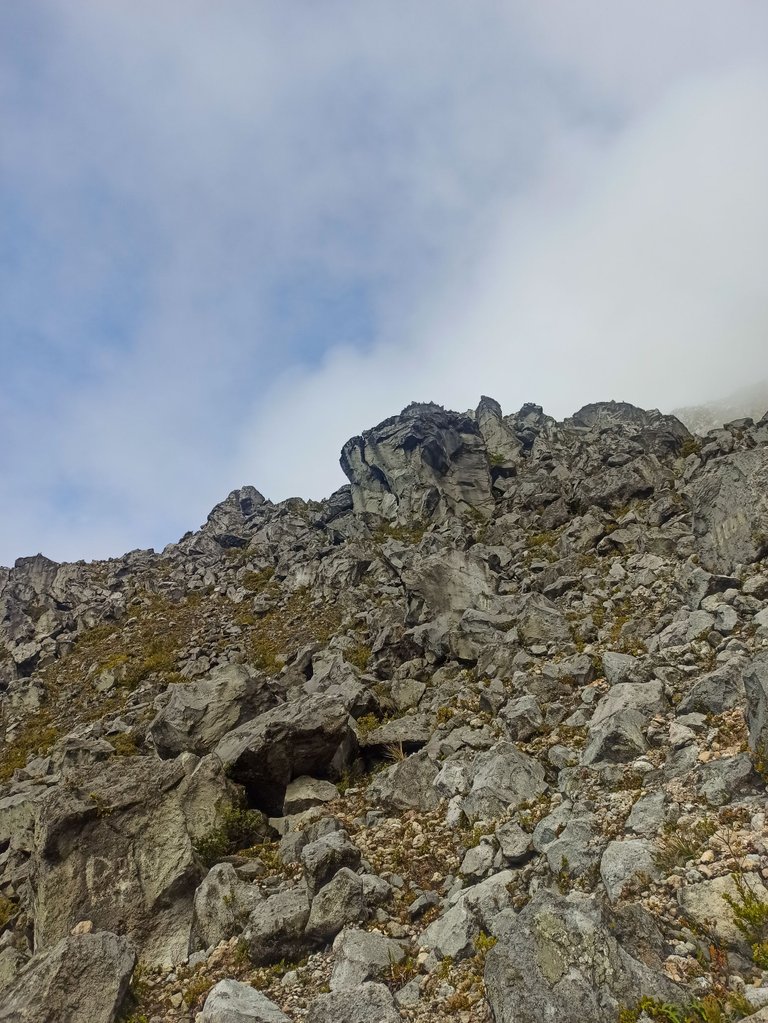 When I was still starting to climb mountains, I often posted on Facebook that I conquered this peak, but as I grow more mature, I realized that you can never really conquer mountains. You just climb it, reach its peak, and then go back down. The mountain is still there, standing as a monument of time. You didn't conquer the mountain, you conquered yourself. As I said in my
Mt. Mandalagan
post, you will go down a different person from when you climbed up.
There's a lot to chronicle in this climb, especially since I dared to scale the highest mountain in the Philippines and considering it's just my second major climb. My first major climb is in
Mt. Kalatungan traverse Mt. Lumpanag/Wiji
- the fifth highest mountain in the Philippines. My goal is to climb the Top 5 here in the Philippines and then maybe try the more technical ones.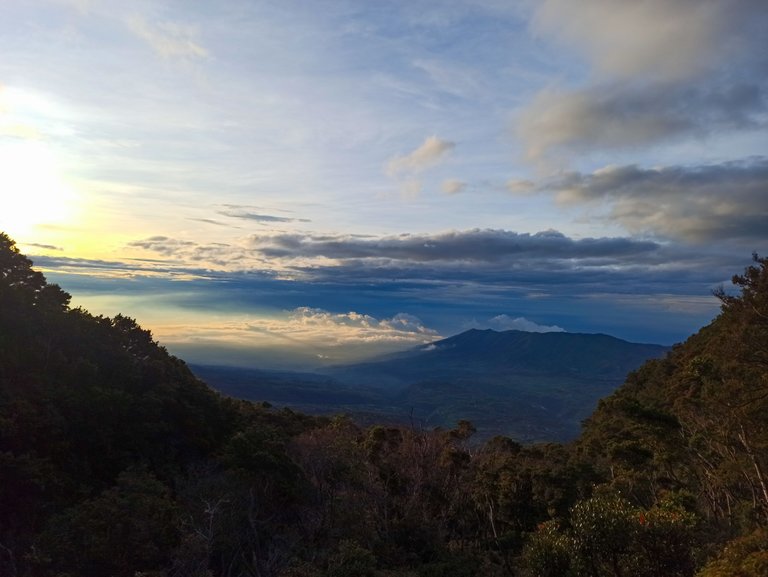 For now, I will have to skip to this specific portion of the climb - the Boulders. I felt that this community is for my more technical climbs, delving deeper into the details and features of the mountain. Don't worry though, I will still post every single detail of this climb in a different series.
After breaking camp at 2:00 AM and starting to climb to the summit on our second day, we reached the solfataras of Mt. Apo at around 5:30 AM. We had a group photo at the bottom of the smoking part of the ravine which is also the start of the boulders.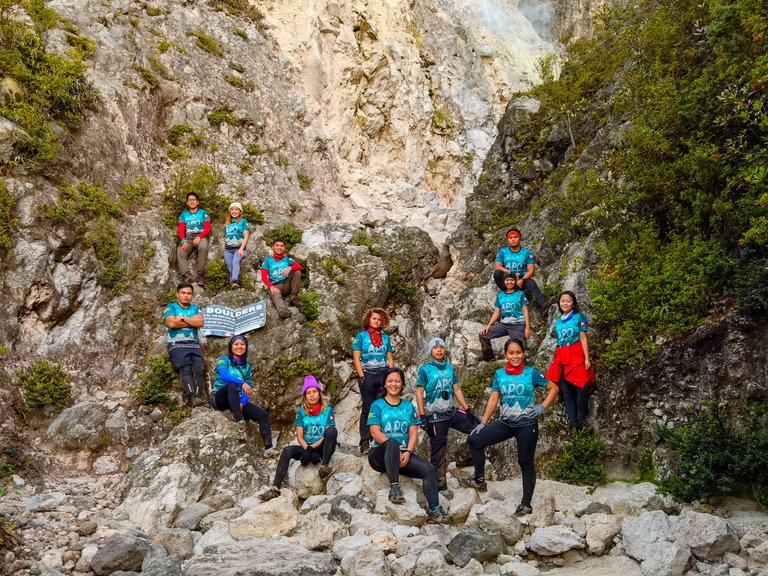 Here's a serious pose before the grueling 6 hours of continuous ascent before reaching the summit of Mt. Apo.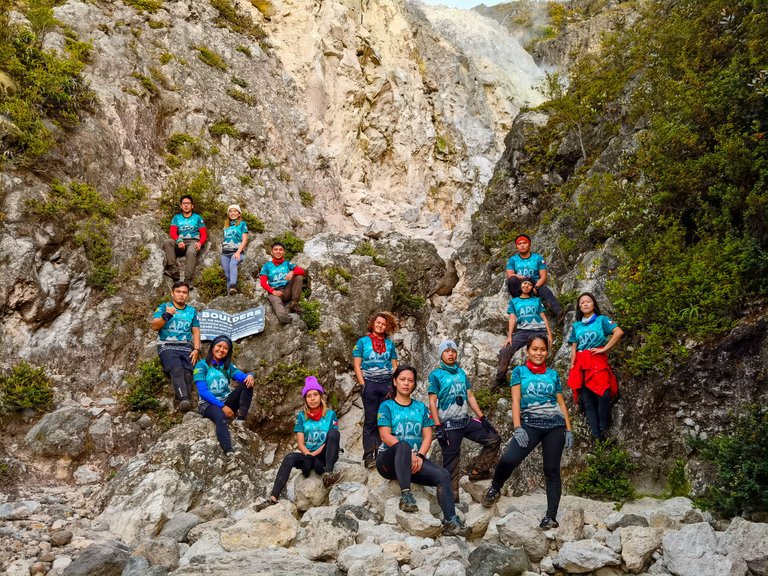 As we started to slowly make our way to the steep face of Mt. Apo, the sun was also starting to rise and illuminate the surroundings. That's when we started to appreciate the beauty of the place. Climbing for almost four hours in the dark is extremely tiring. I felt this surge of energy when I saw the smoking solfataras, but with the renewed energy comes a new challenge. The guide told us that the Boulders of Mt. Apo is the most difficult part of the climb.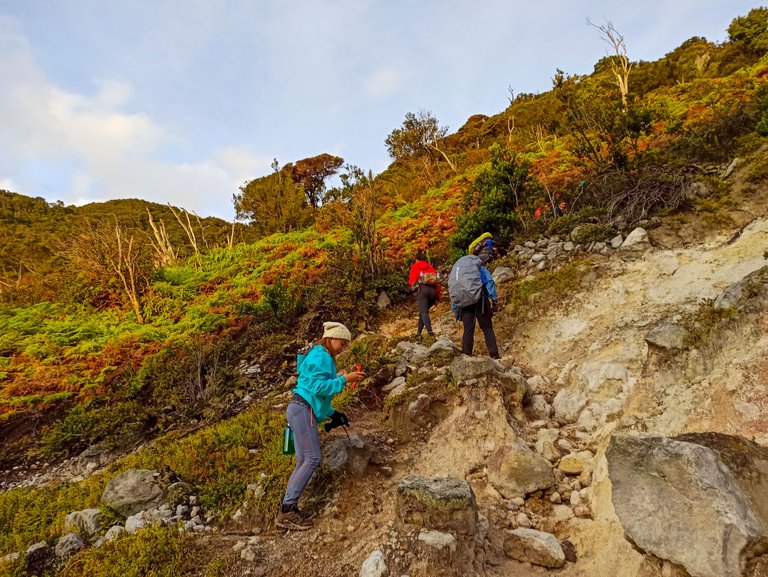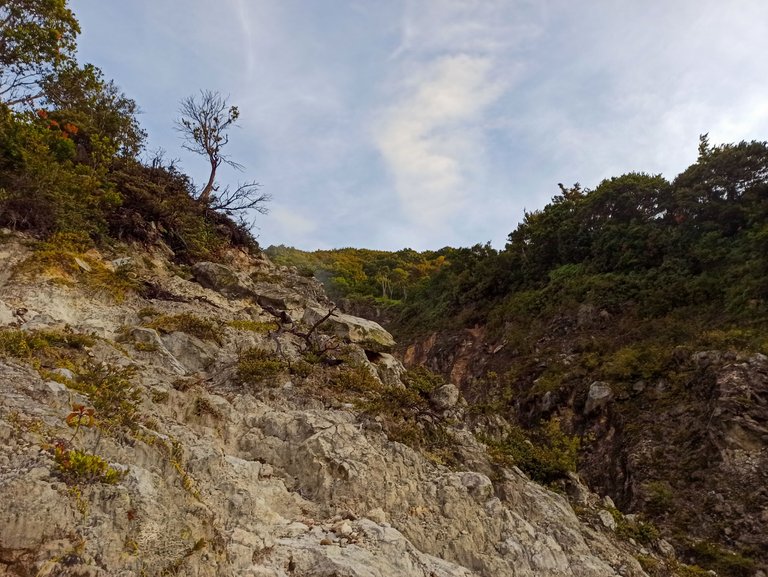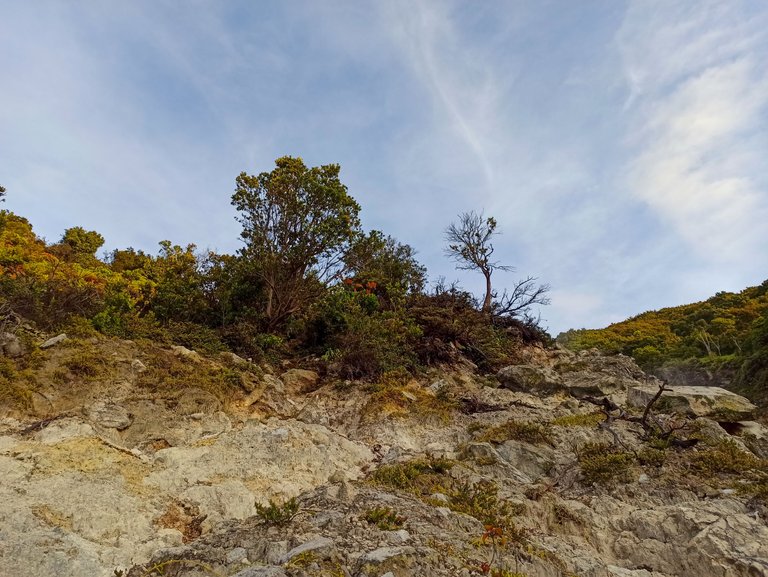 ---
At first, we were still laughing at ourselves for why we always choose to climb mountains knowing that it will always be difficult. But there's this beauty that no amount of muscle pain can stop me from climbing from one mountain to another. While the scene was magnificent, it was a challenge to continue climbing the near 90 degrees trail.
As I looked back to the trail we just traversed, this is what I saw: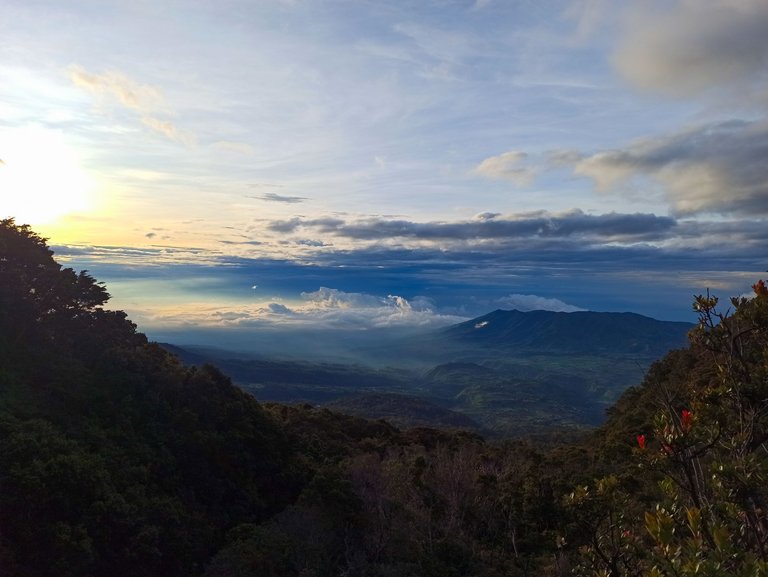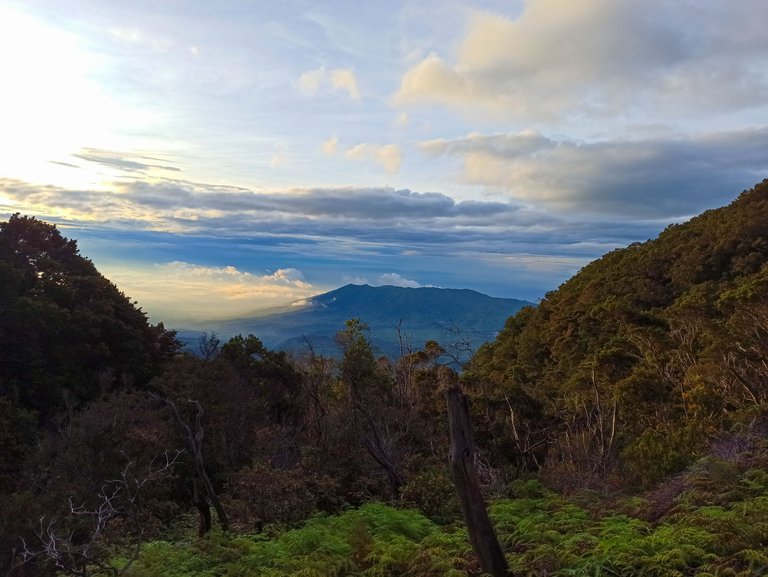 ---
If we just had all the time in the world, I would have stayed in that place for at least an hour and had a timelapse as the sun was rising. Sadly, we had to continue climbing that steep trail until we reached the top of the smoking solfataras. Another moment to take a lot of photos for Instagram.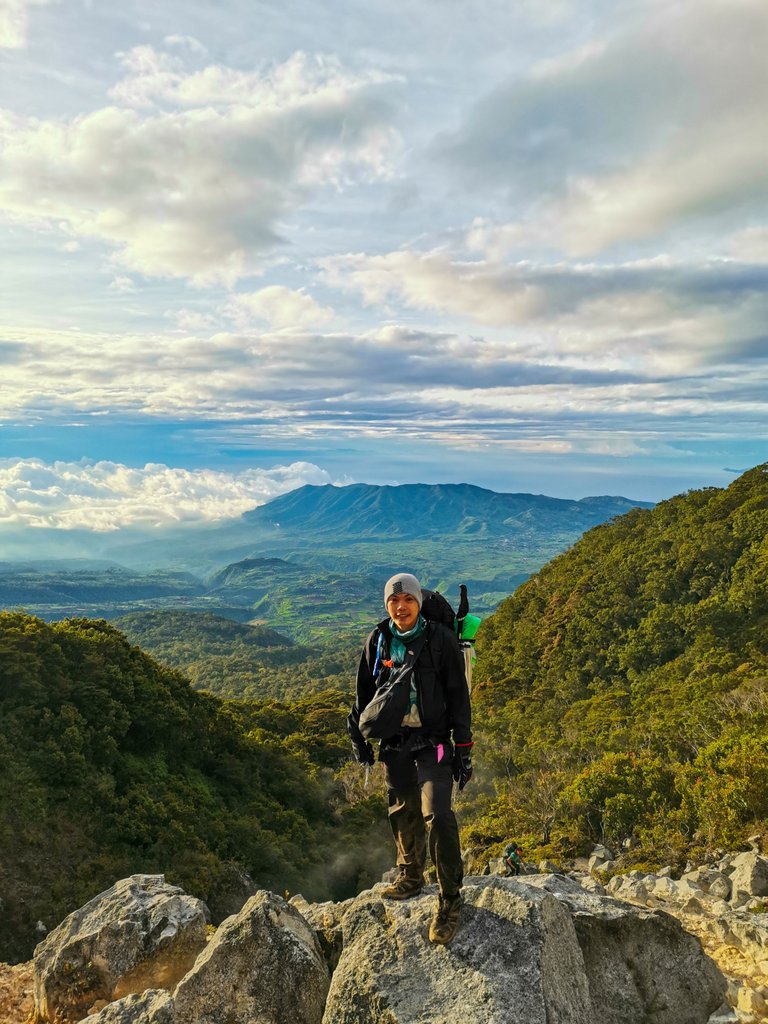 Mt. Apo is actually a dormant stratovolcano. The boulders, the smoking face of the mountain, and the yellow sulfur deposits are proof of volcanic activity. I was always looking above the trail because I was paranoid of falling rocks. Just imagine, a slight tremor can dislodge some rocks that could trigger a disastrous rock fall. That part was the most dangerous portion of the trail for me.
I was standing at the edge of a deep smoking chasm, carrying a 15-kg backpack, with less than four hours of sleep the night before, but I never felt so alive. I knew it was adrenaline. My shoes and trekking pants were full of solidified mud from the rainy trek the day before. I didn't mind though. It's a sign of survival. As my friends would always say, we were always greeted by rain in the mountains on the first day, but the sky would clear up on the second day.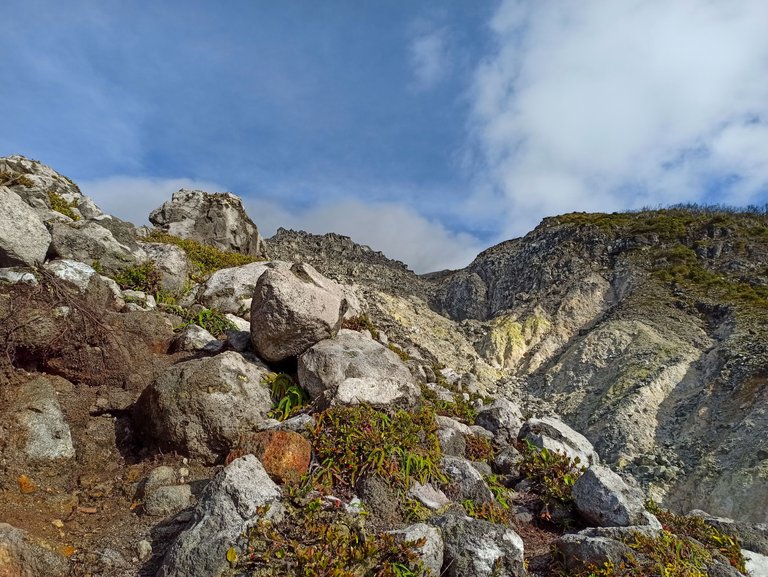 Just look at the scale of what waited for us. The summit was still at the back of the farthest rock you can see in the photo above. It's a grueling ascent in those boulders. There's no established trail in that part. You just have to follow your guides.
At some points along the trail, you can find sulfur deposits. Some even have sulfur columns indicating present volcanic activity. I just find those yellow deposits interesting. It means we were standing on top of a volcano that might erupt at any time. I was being paranoid, but there were a lot of scenarios playing in my head.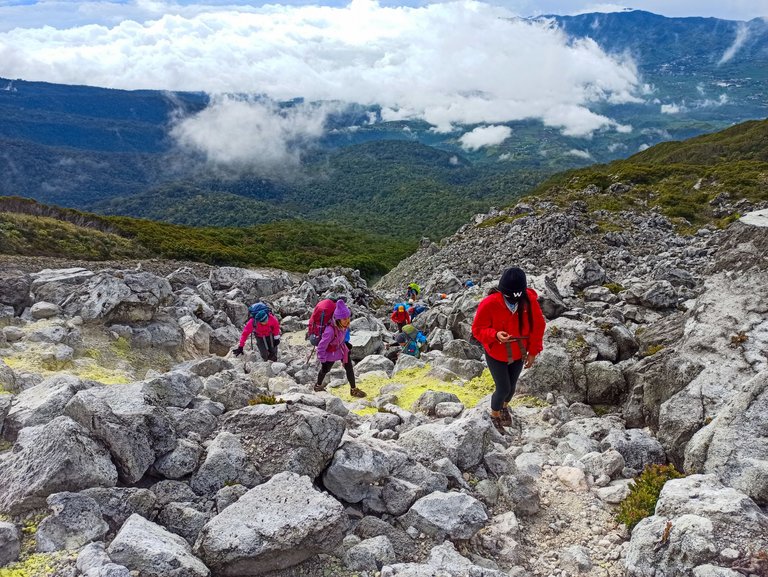 We had breakfast somewhere along the trail and we foraged some berries as our trail food. As we went higher and higher, it felt like our pace was slowing and we took more rest than usual. The bright and sunny morning slowly became foggy. The fog that was below us slowly crept upwards and caught up with us.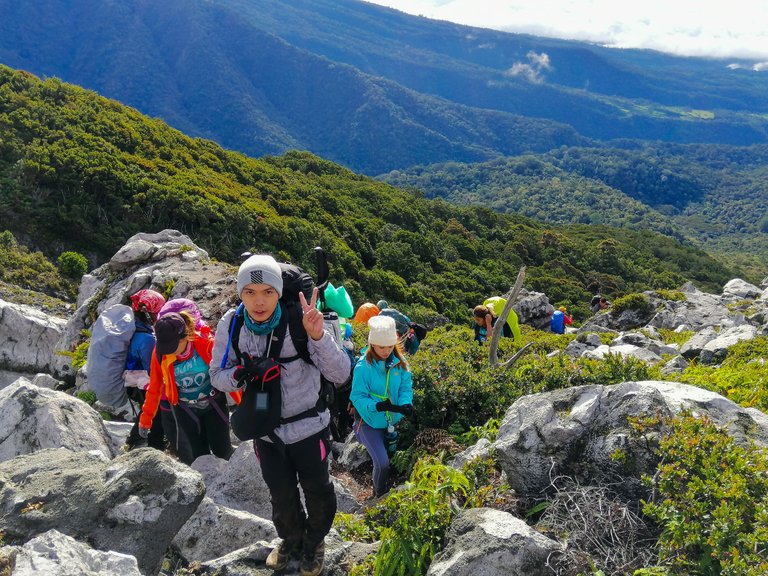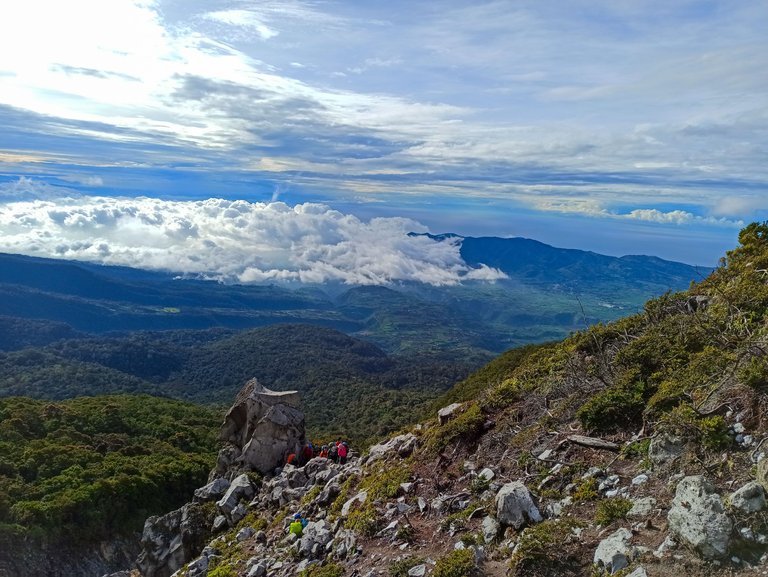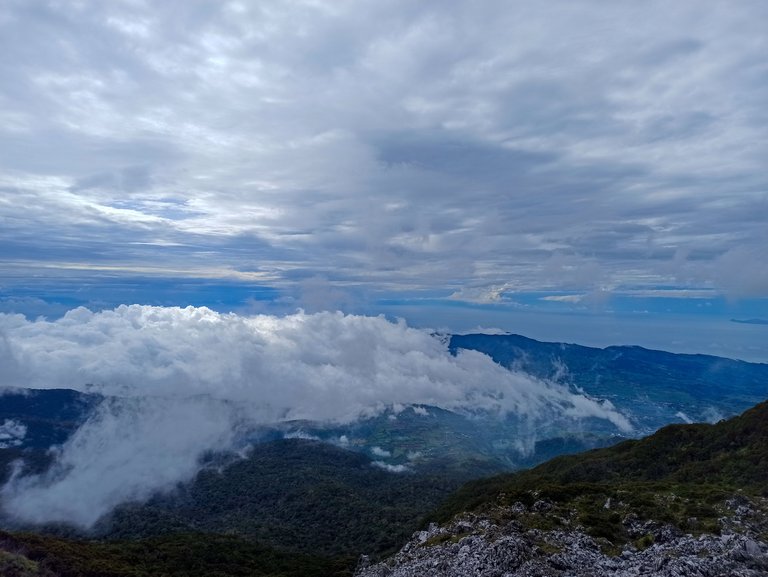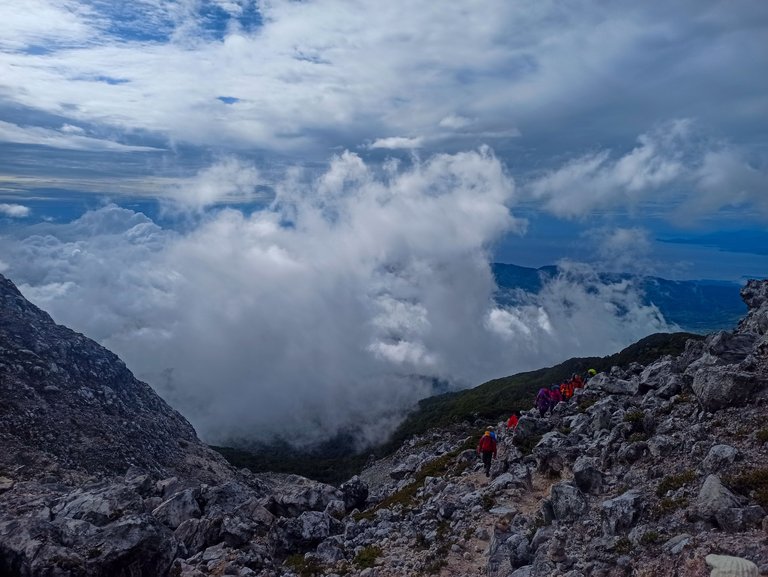 While we slowly made progress, I realized that it was the most difficult climb I had so far. I knew we made progress, albeit slow, because the vegetation was receding from sight.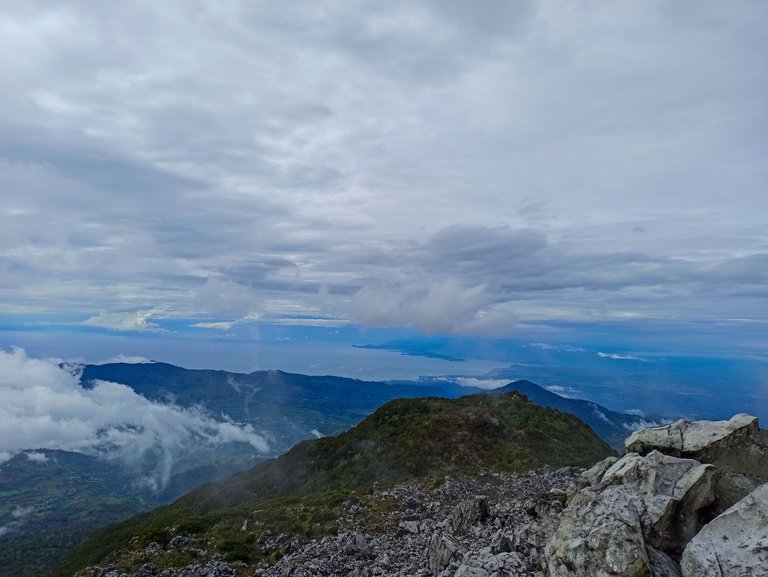 While we celebrate small wins by eating some trail food and sipping some water, we recognized that the summit was still not in sight. It would still take hours to get there.
I started to feel light-headed and I was constantly catching my breath. It was a sign of altitude sickness, but it was nothing serious. We could rest anytime we wanted, but we decided that it would be better to slowly work our way up and have a big rest at White Sand E-Camp. It's the part of the trail where there are white sands, hence the name. But I sneaked rest from time to time to take photos and selfies.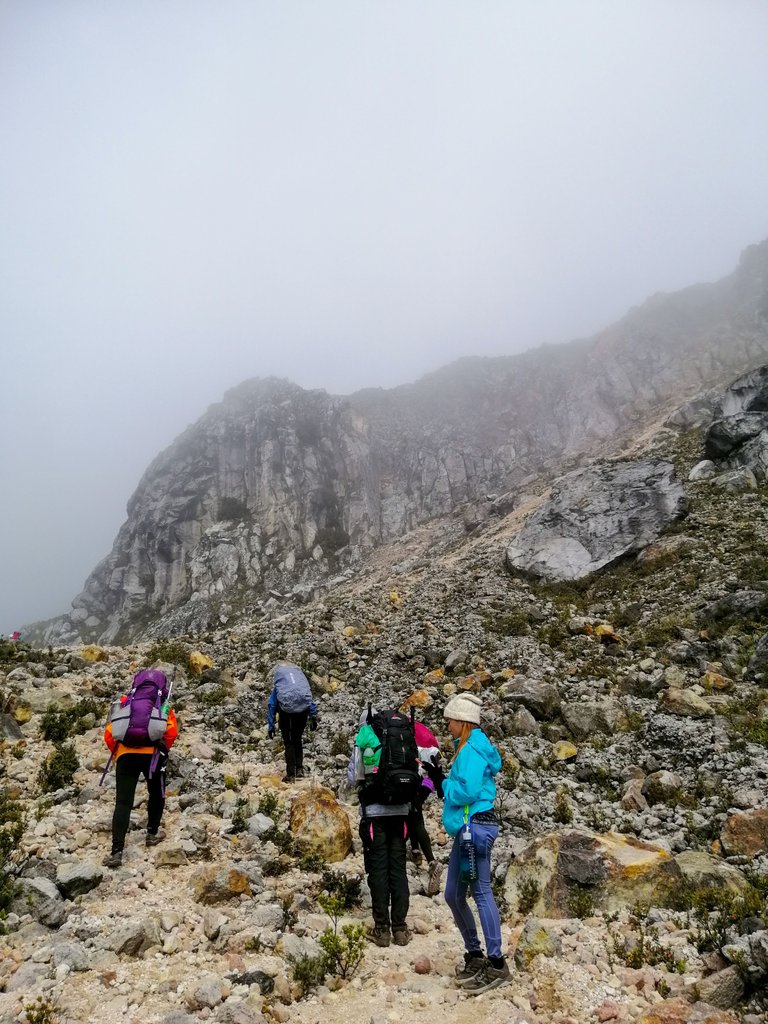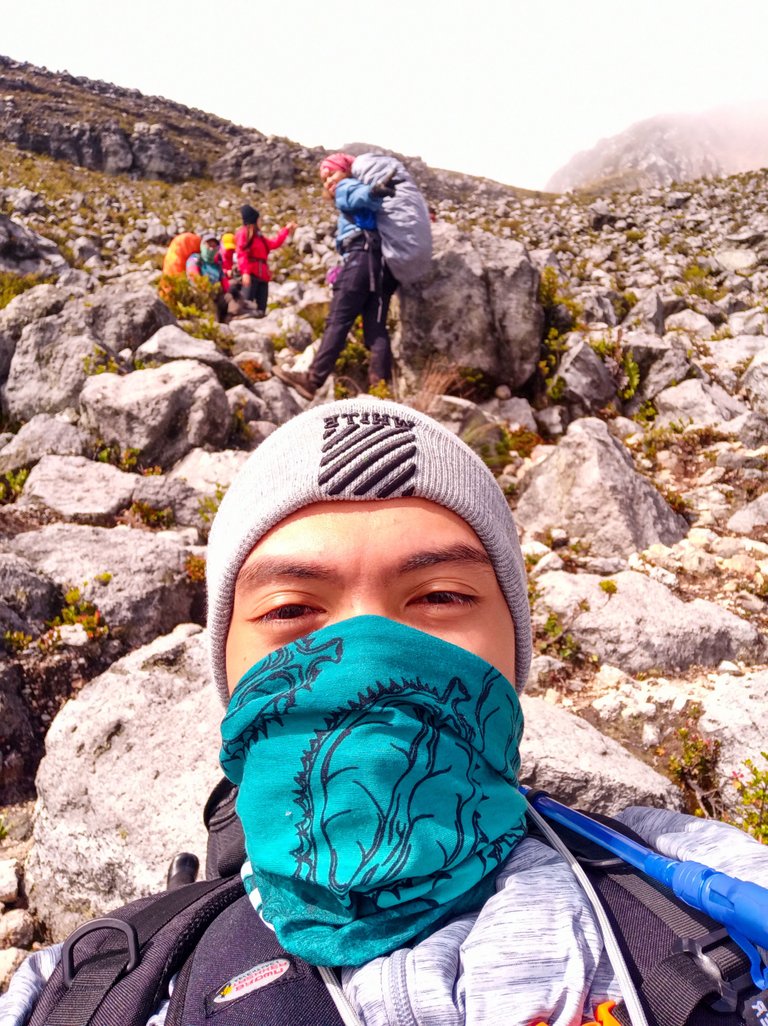 ---
We finally reached White Sand E-Camp after more than five hours of scaling those boulders. From the camp at 2:00 AM, we have already walked more than nine hours and my body's pain indicated I would need to put pain reliever patches all over me.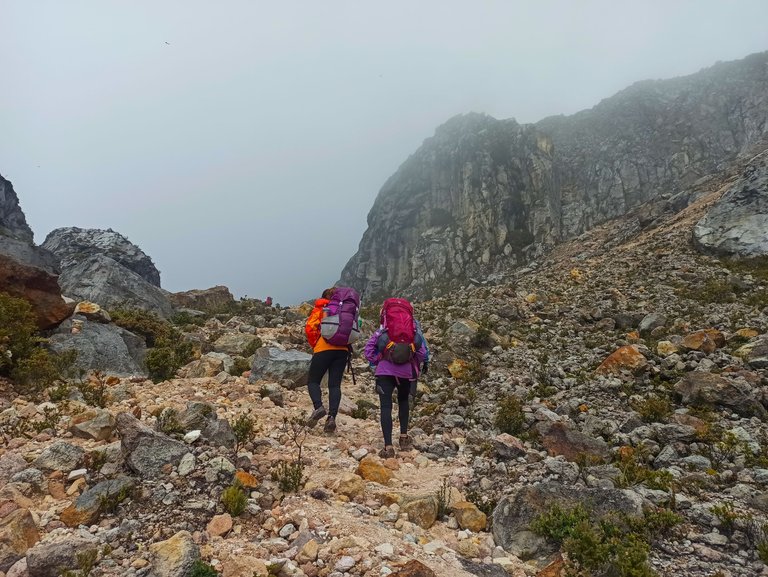 We were still an hour away from the summit, so the climb was not yet over. But we rested a little bit longer at the E-Camp. I have some interesting photos to share soon.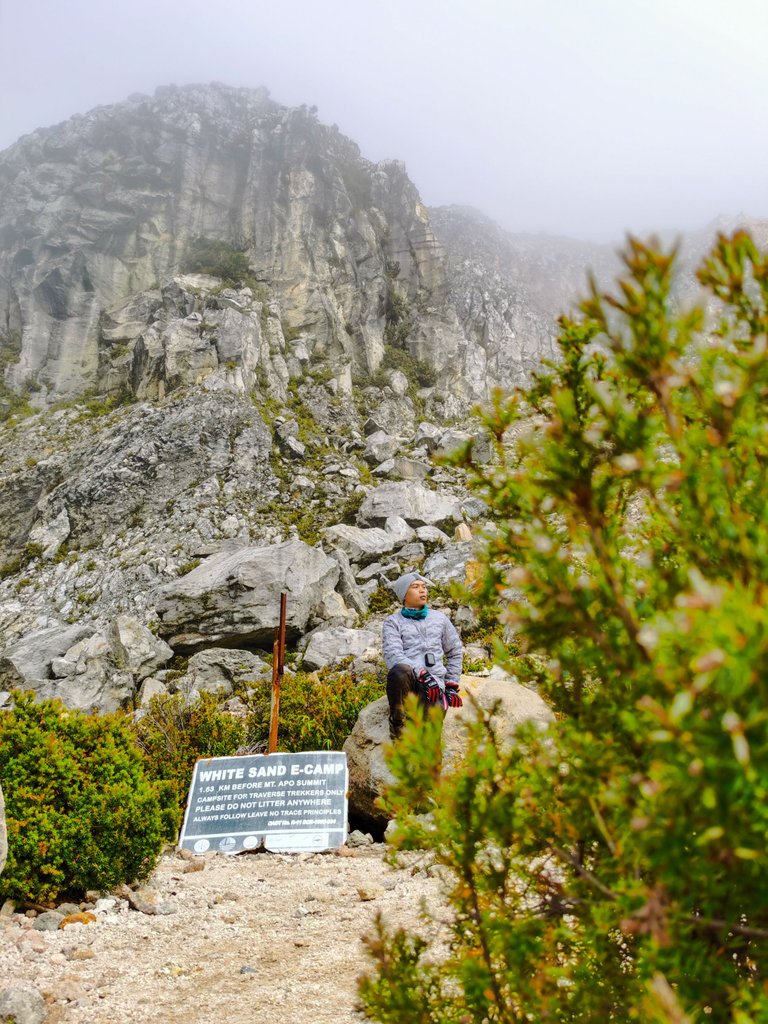 In case you're wondering, the photos came from different phones that's why they're in different color tones and qualities. We agreed to share our photos, so I guess it's okay to use them here.
I guess that's all for this post. See you at the next one!
---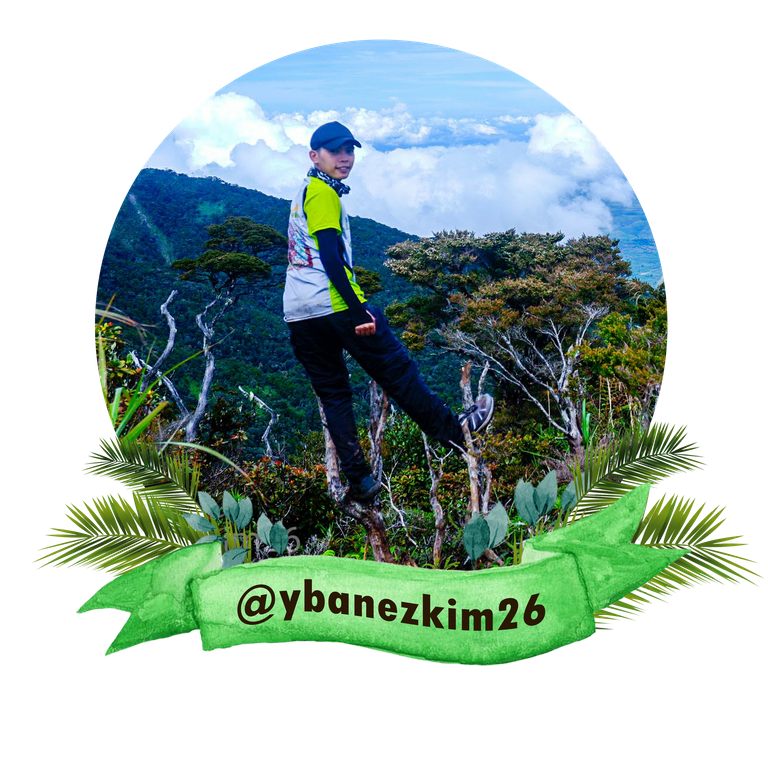 Kim Ybañez
Welcome to Kim's small corner in Hive. He is a chemical engineer by profession, but a blogger by passion. He is a wanderlust and an adventure seeker. Join his quests as he visits secluded destinations, climbs mountains, tries new and exotic dishes, and explores his country (The Philippines). He's also a trying hard photographer so stay tuned as he shares his photos and his thought process while creating them.
If you like his content, don't forget to upvote and leave a comment to show some love. You can also reblog if you want to. Also, don't forget to follow him to be updated with his latest posts.