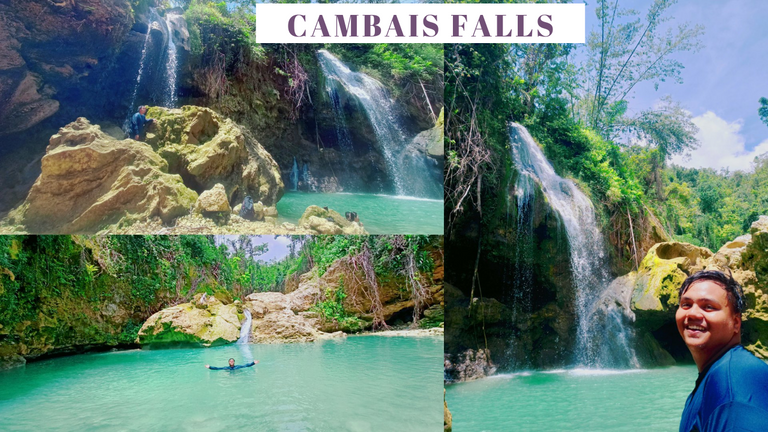 Long vacation has started so Rex and I decided to go on our nature adventure. This time we decided to chase waterfalls in the southern part of Cebu province.
Cebu is known for its magnificent waterfalls with turquoise color. One of the famous falls here in Cebu is the Kawasan Falls in Badian.
I can say that this waterfall is also one of the bests. However, we have been there before and a lot of tourists already because of its popularity so we continued searching for other falls.
Upon searching, we saw some underrated waterfalls. One of these is the Cambais Falls.
WHERE IS CAMBAIS FALLS?
Cambais Falls is a two-leveled, turquoise waterfall and swimming spot located in Alegria, Cebu Philippines.
The best way to get here is by car or motorcycle. It will take you 3-4 hours from Cebu City to get to this place. This place is also close to famous tourist destinations like Moalboal and Oslob.
Let's start our adventure!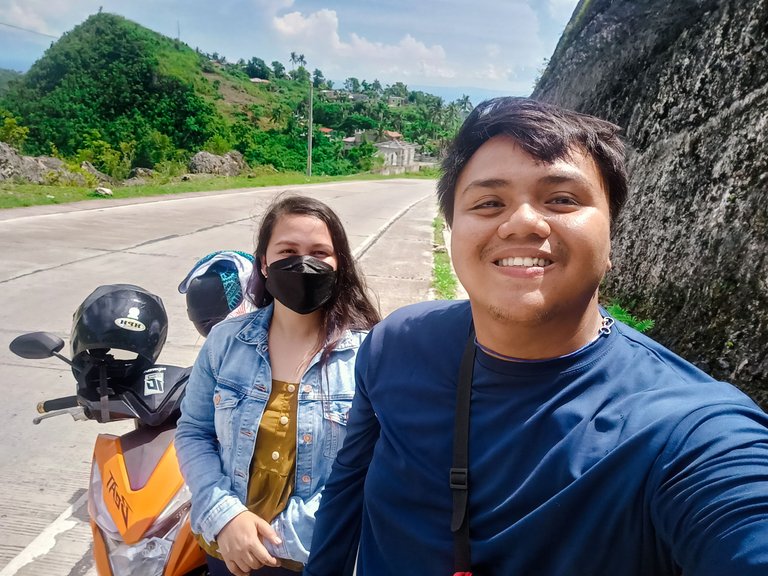 Woke up early in the morning. Rex and I were so excited to start the day. Good thing, the weather was fine for a long drive towards Alegria, Cebu. It was our first time traveling on our scooter this far since Rex got his driver's license. We were a bit anxious because what if we'll get lost? Thanks to the advent of technology and online platform. After a very long ride, we arrived at our destination safe and sound.
One of the local sari-sari store vendors approached us and asked if we wanted to have a guide on our way up. We told her that we already knew the way because this was Rex's second time here. Then, she told us that there were some changes in the way due to the previous typhoon Odette. We thanked her for the information, bought food from her store, and started our trek.
By the way, there was no entrance fee here due to typhoon Odette but if you wanted to have a guide, it's up to you how much you will pay for him/her.
The locals here told us that the waterfall was destroyed by the typhoon. Nevertheless, we were still so excited to see it.
Let's burn some fat!
Our hike started and after several walks, we saw this man-made forest and a beautiful wild orchid. We stopped for a while and enjoyed the view.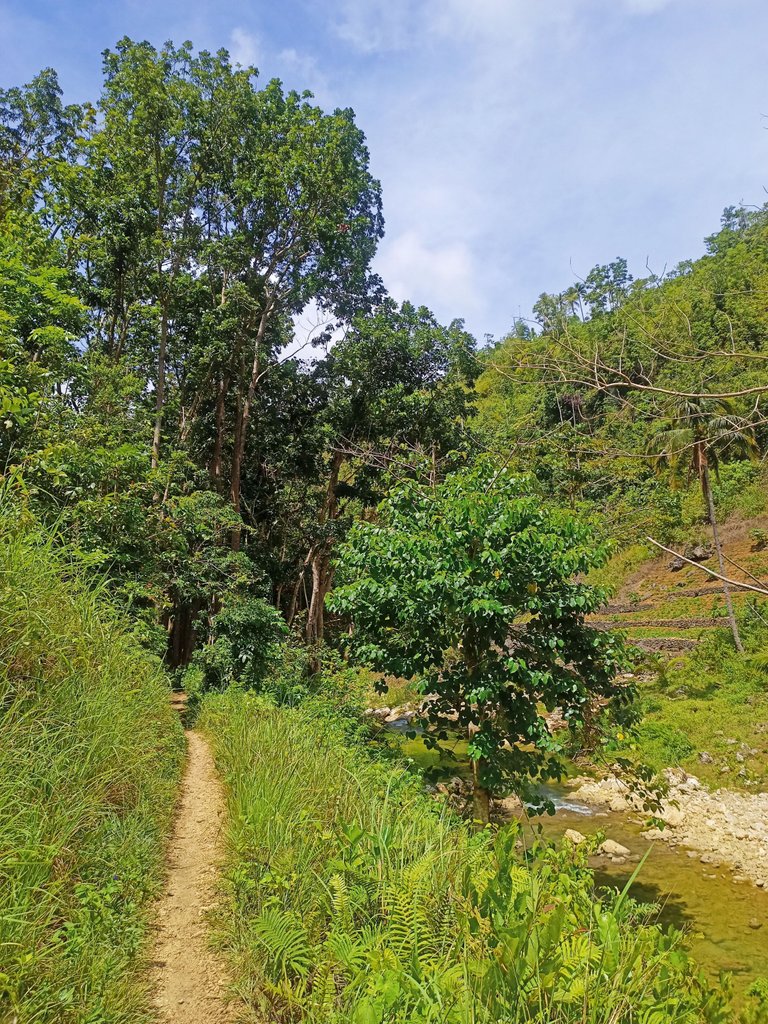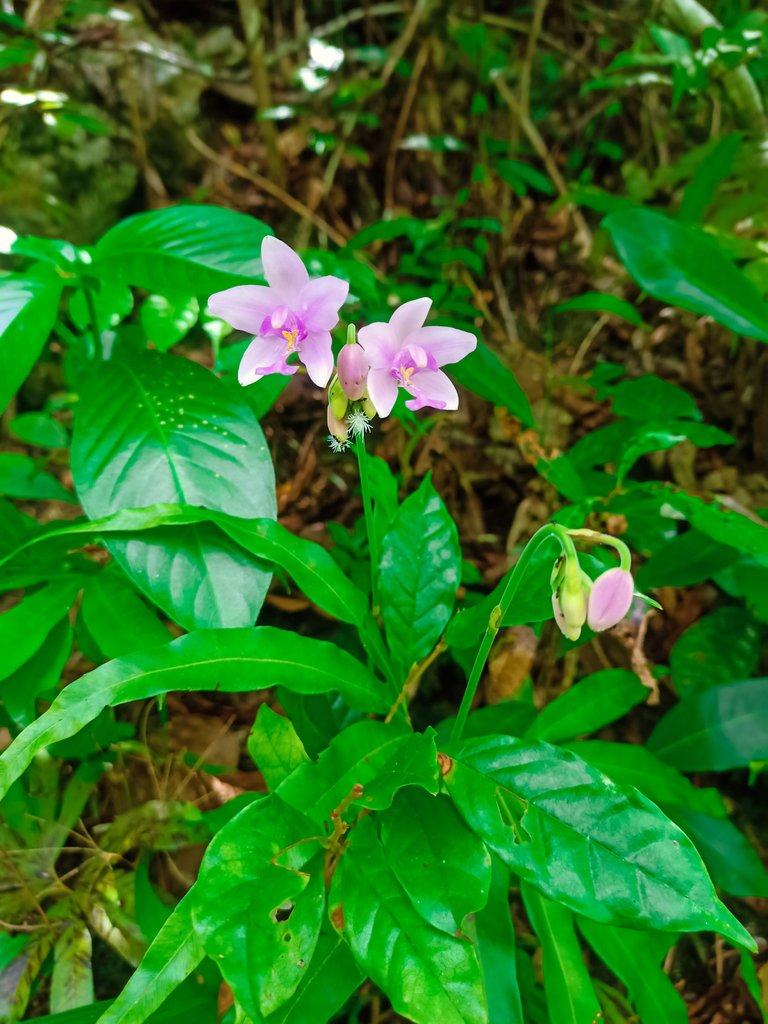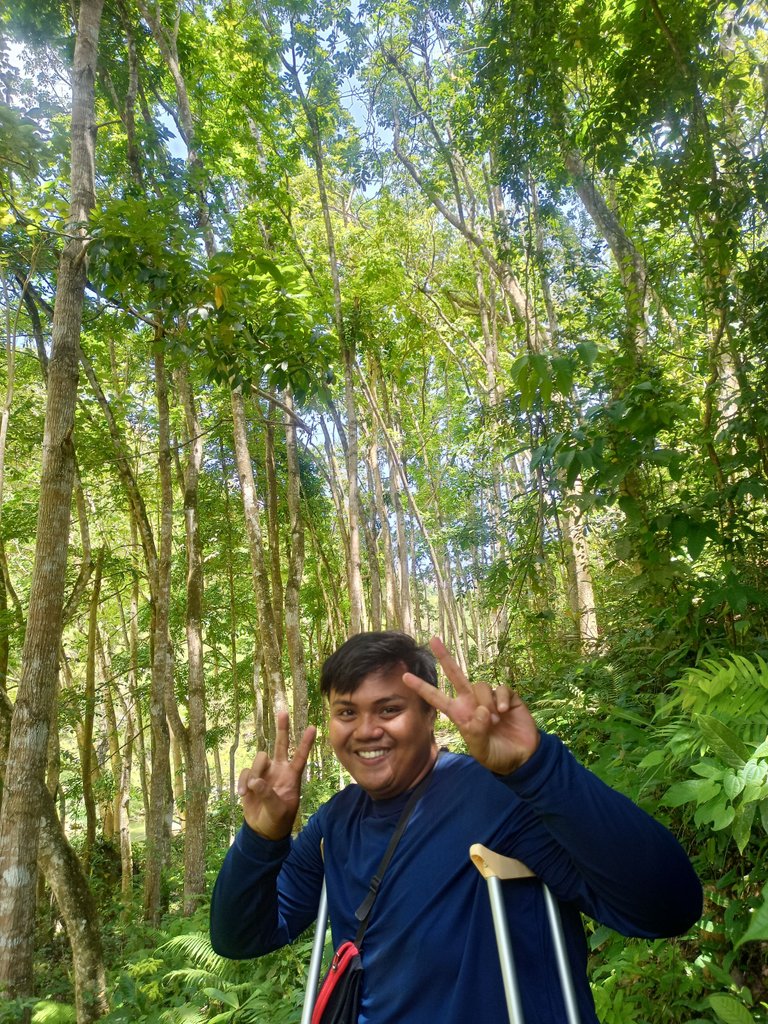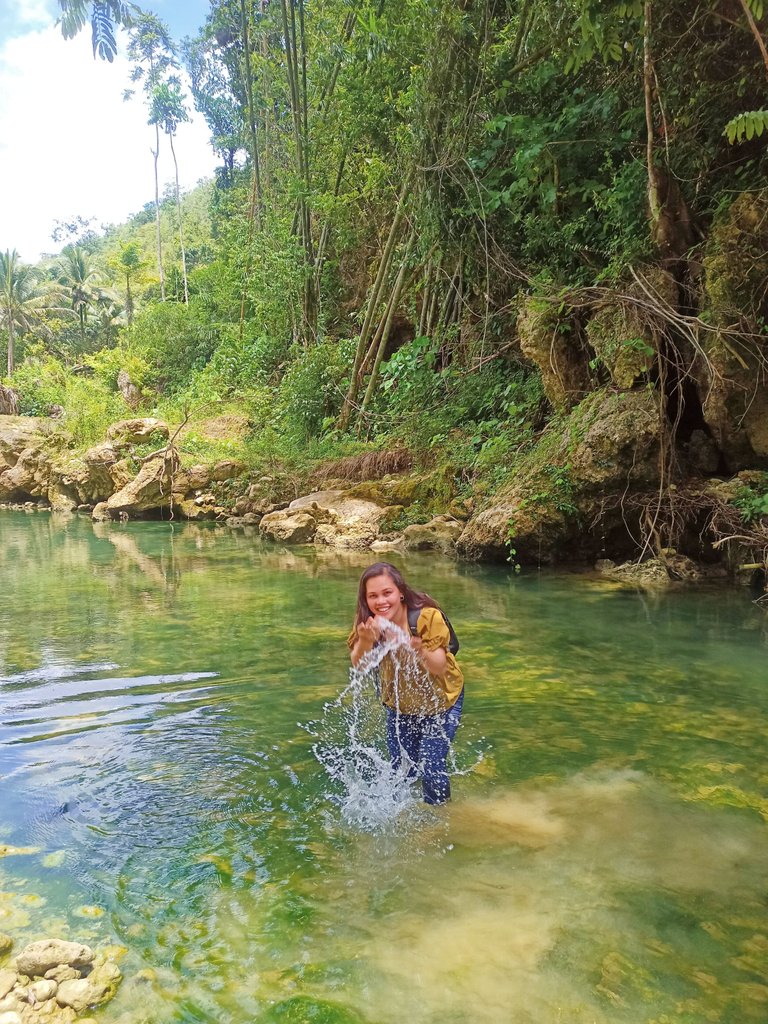 Then we continued walking until we passed by the river and we saw few houses here. They're lucky because they are living in a place with abundant sources of water.
Rex was so excited to jump in the river that he already practiced his jumping position. 😁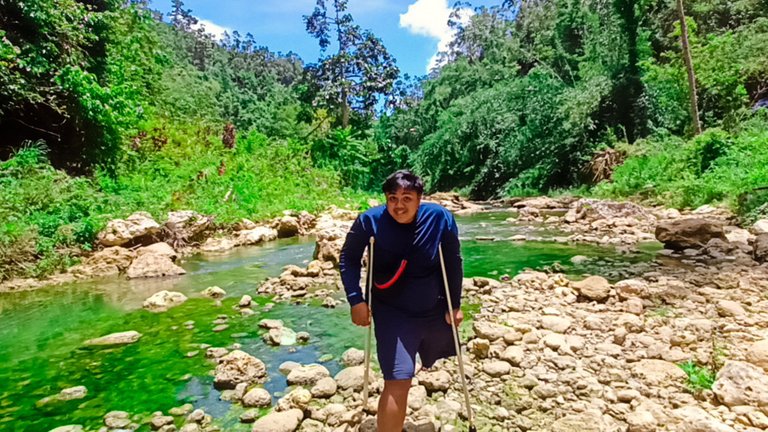 After about 20 minutes, we finally arrived. Cambais falls has 2 distinct levels.
FIRST LEVEL
On the first level you'll see a wide swimming spot. We were in awe when we saw this place. It feels like we were in a vast swimming pool.
Look at the color of the water!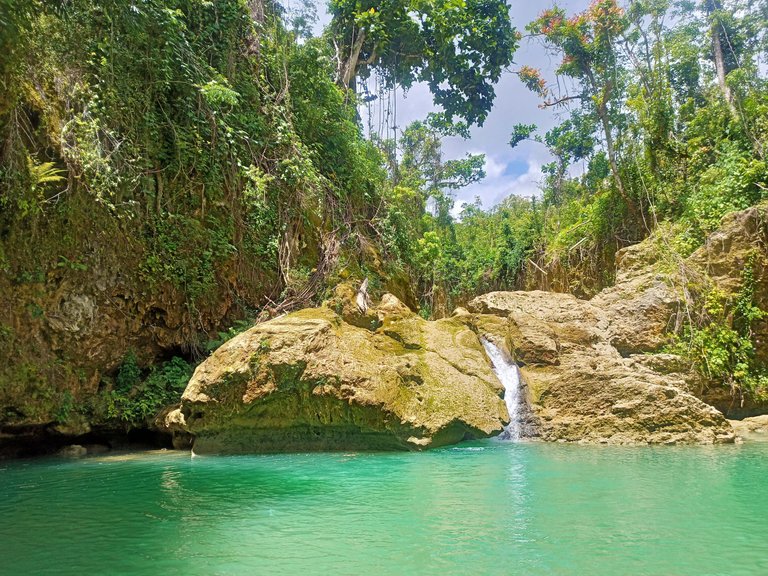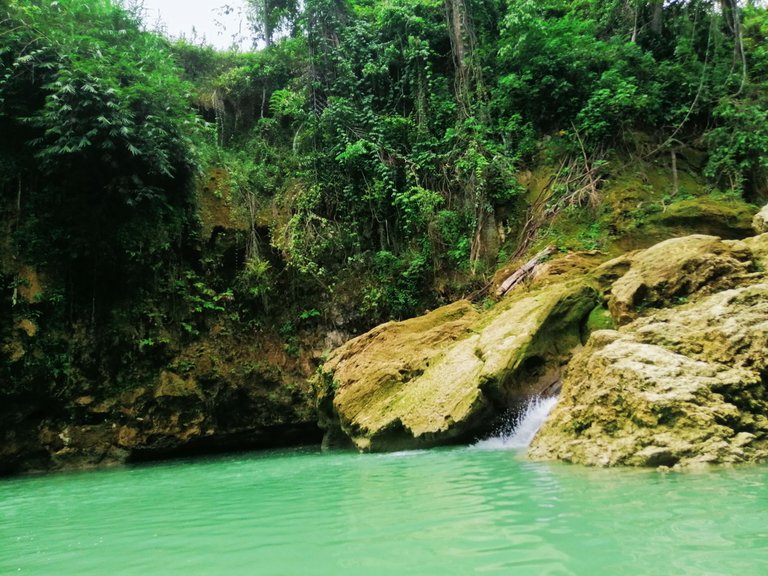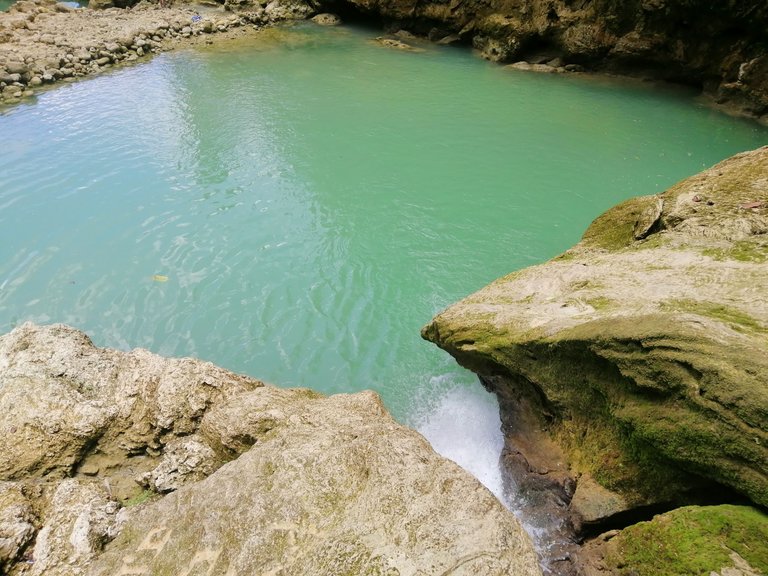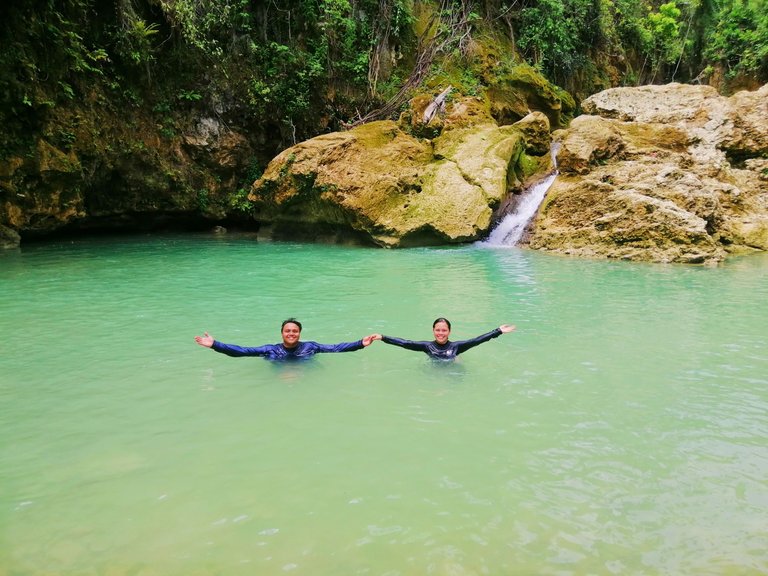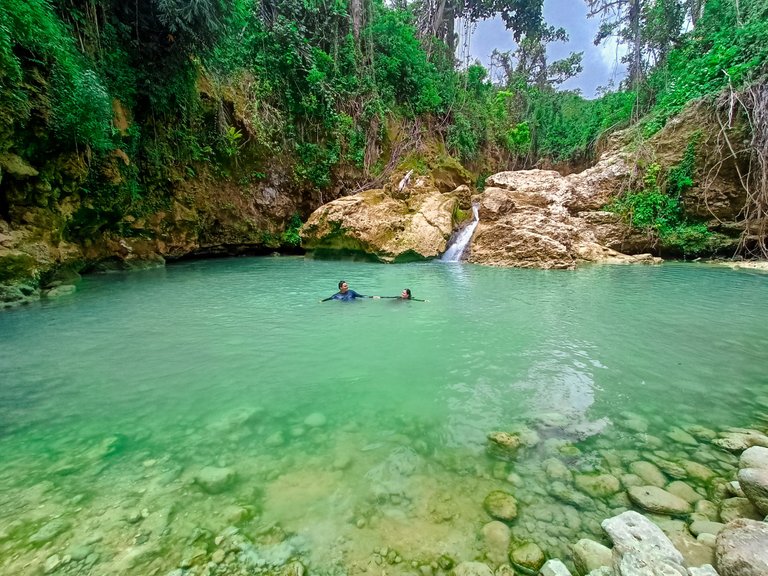 When we were swimming, I asked Rex why he really loves beaches and waterfalls. He said that when he's in the water, he feels like he has two feet because he doesn't need crutches for him to stand.
His answer made me silent for a while. Then, I told him that he is unique and like me and other people, we are all unique in different ways.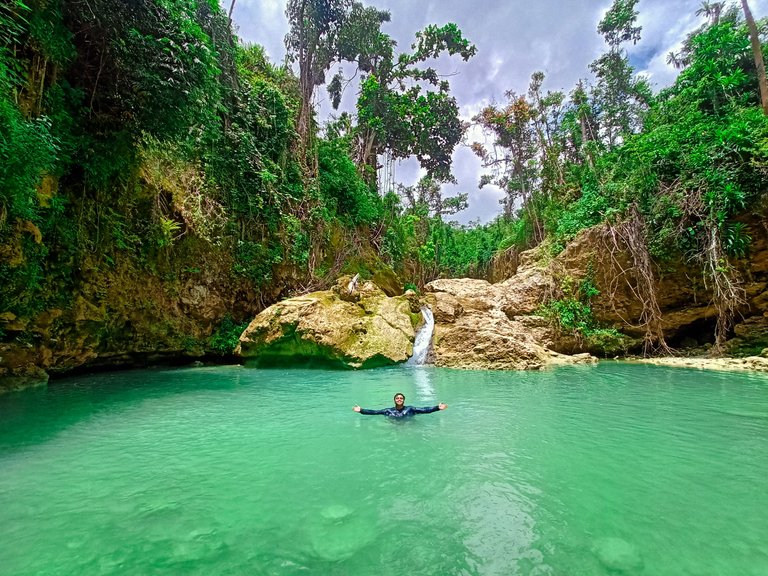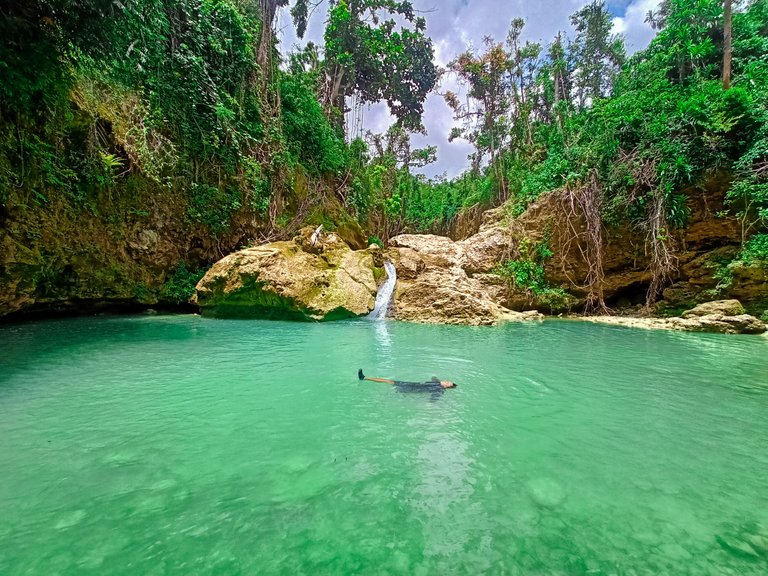 Before going to the next level, we ate first our snack from Jollibee.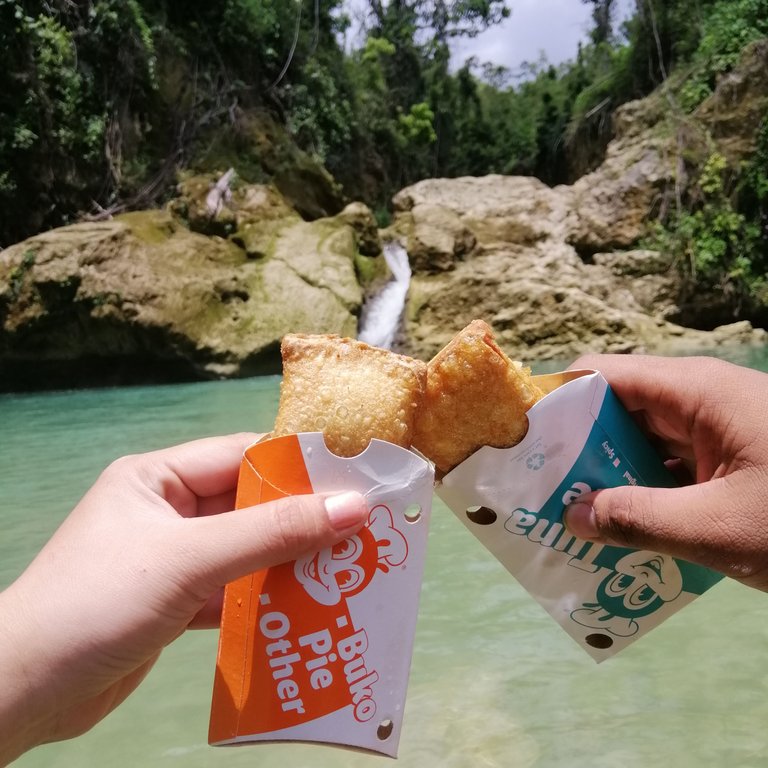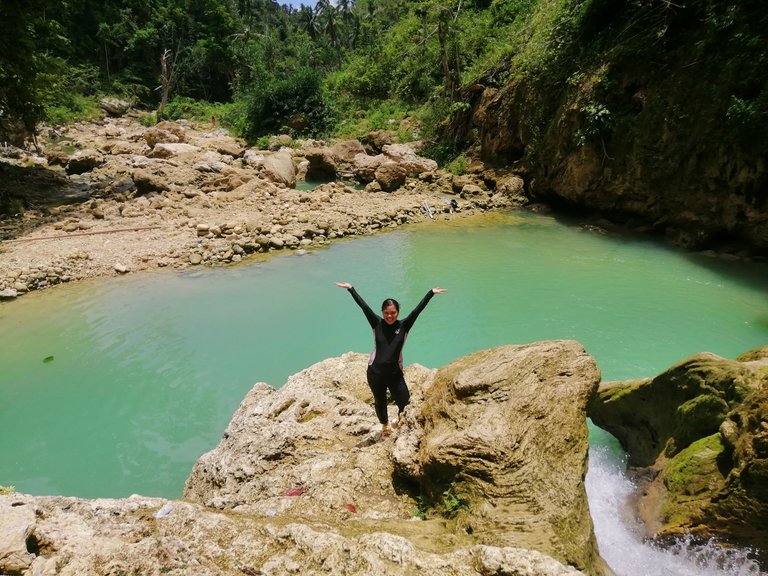 SECOND LEVEL
Now, we headed to the next level. Some teenagers were cleaning the river. The way here was quite difficult because we needed to climb the big rocks for us to be able to see the beautiful waterfalls.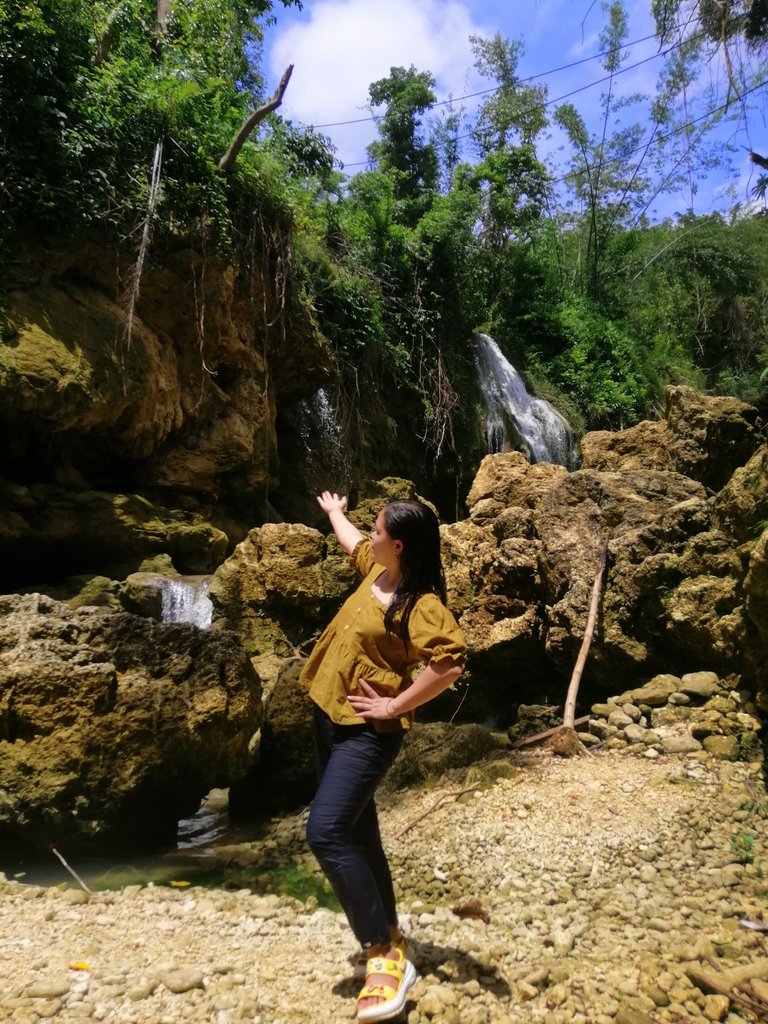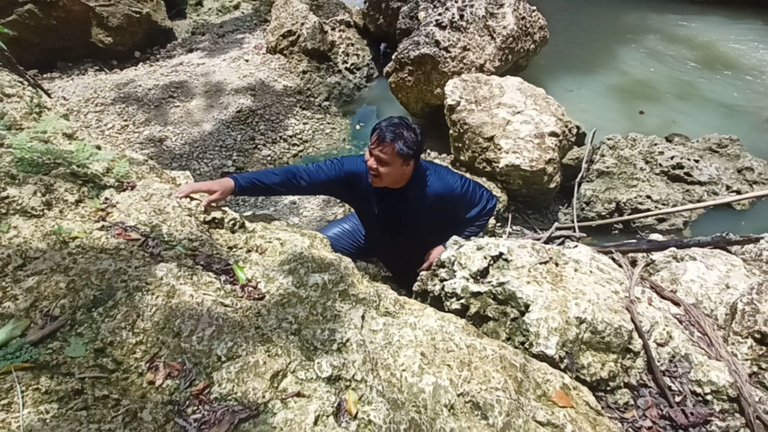 According to Rex, this place was really different before than today. On the second level, we saw 2 falls. There were 2 strong typhoons that hit Cebu so this rock here collapsed. Though that happened, when we saw the place, it was still impressive.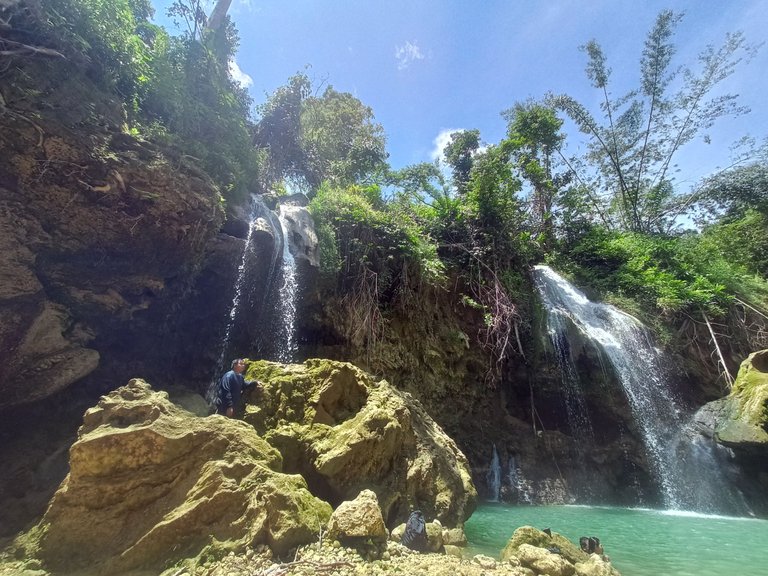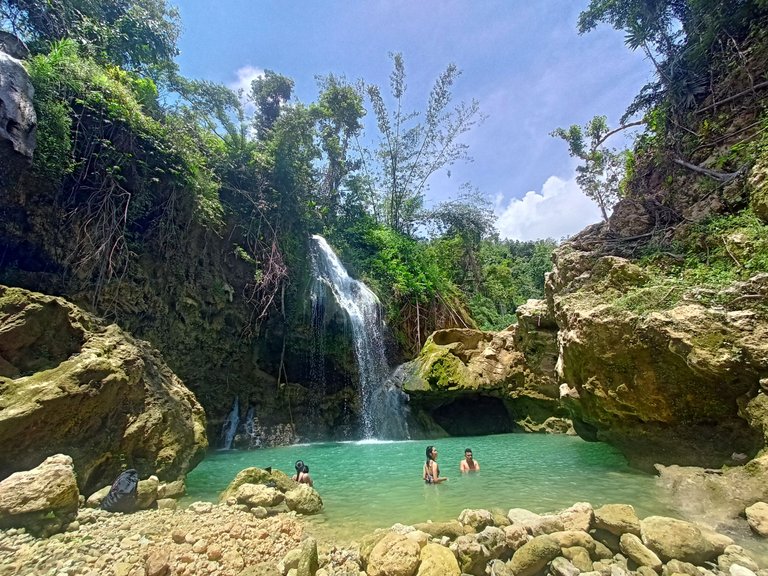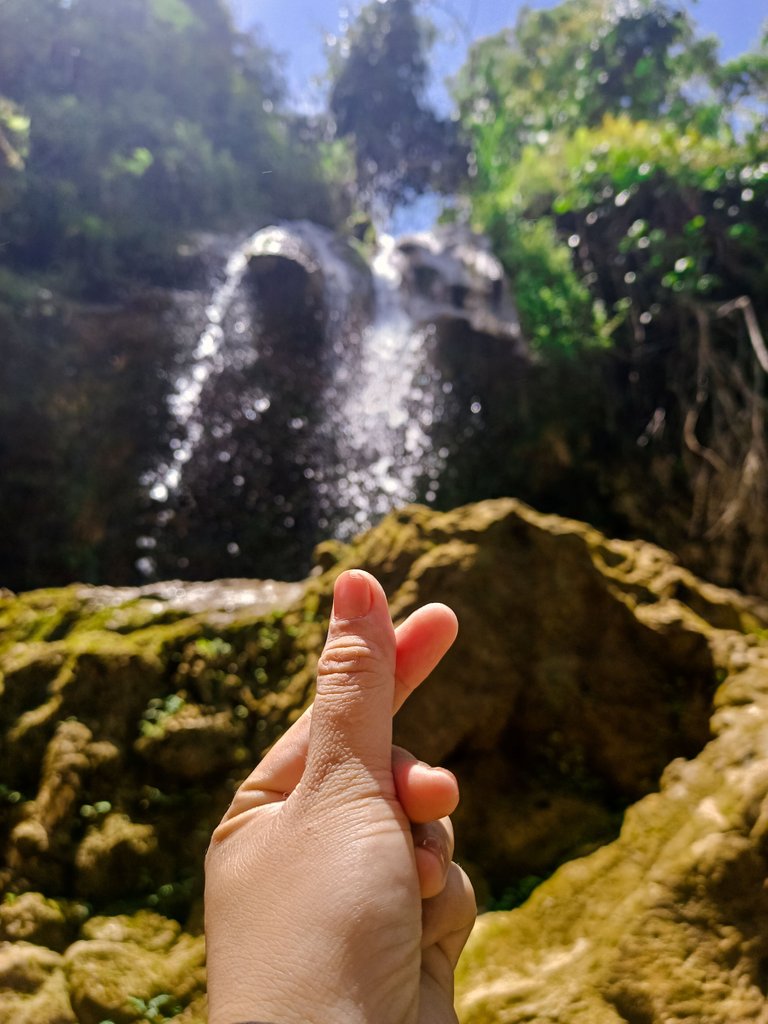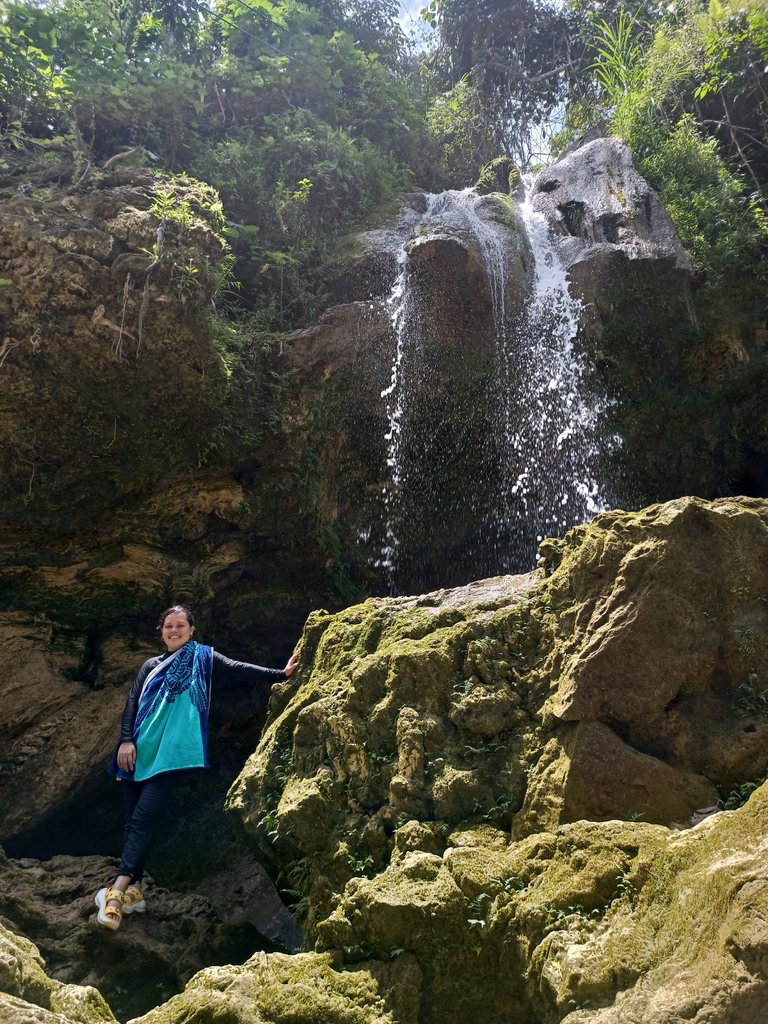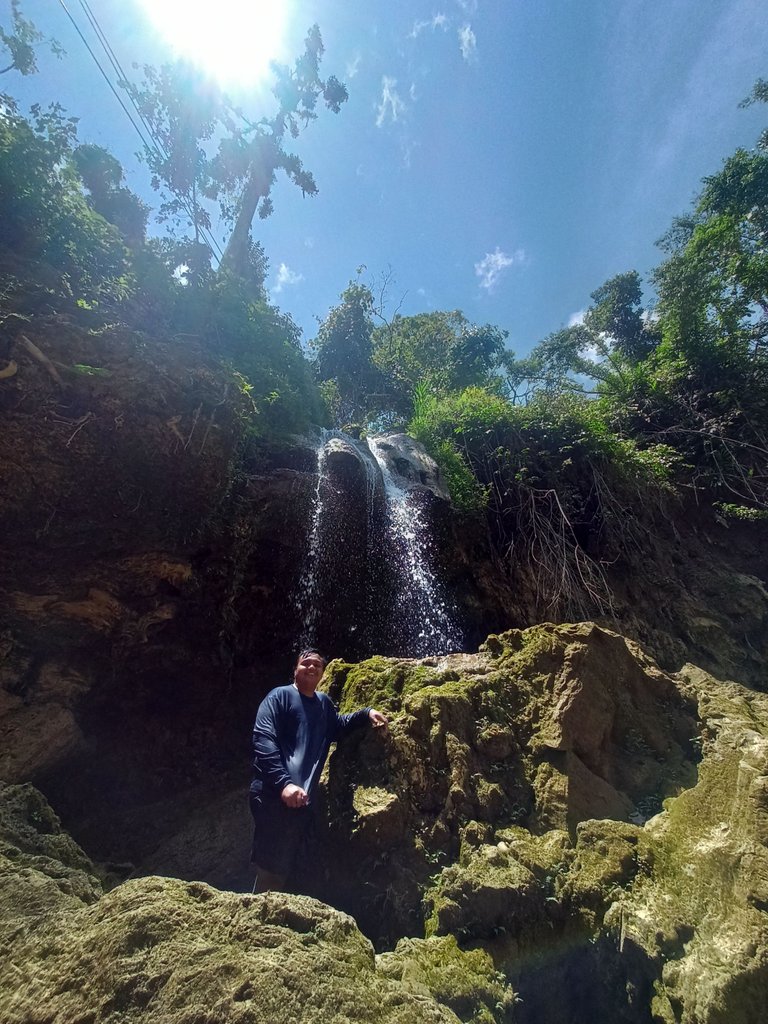 Look! Rex was enjoying the nature shower. It felt so relaxing.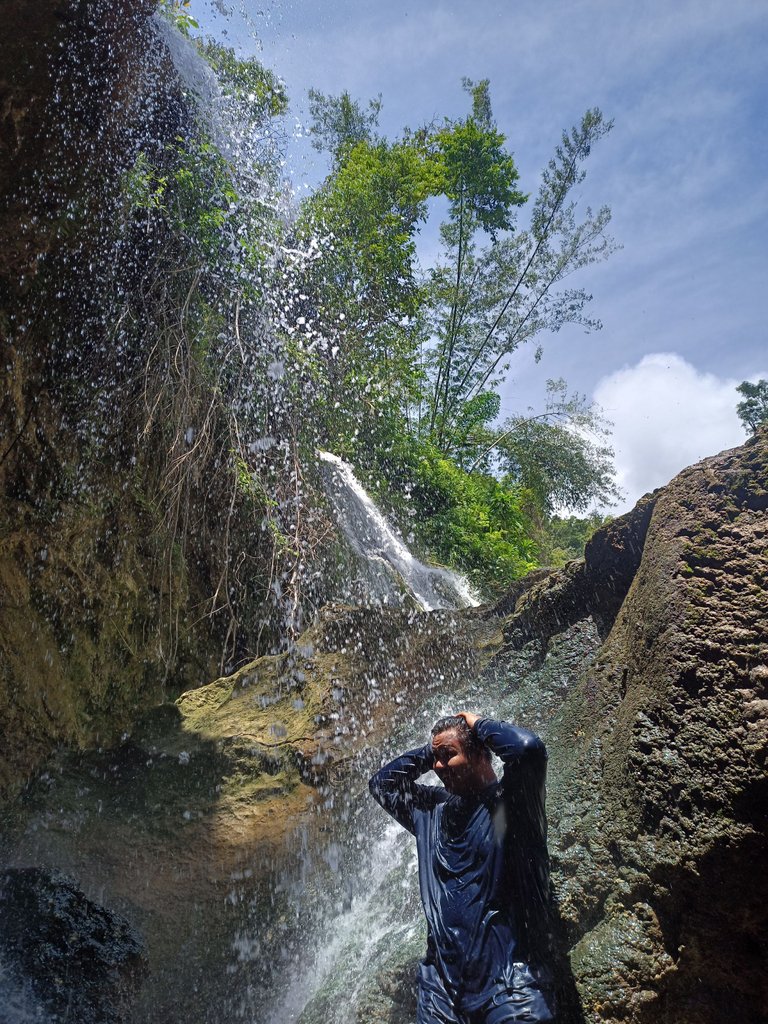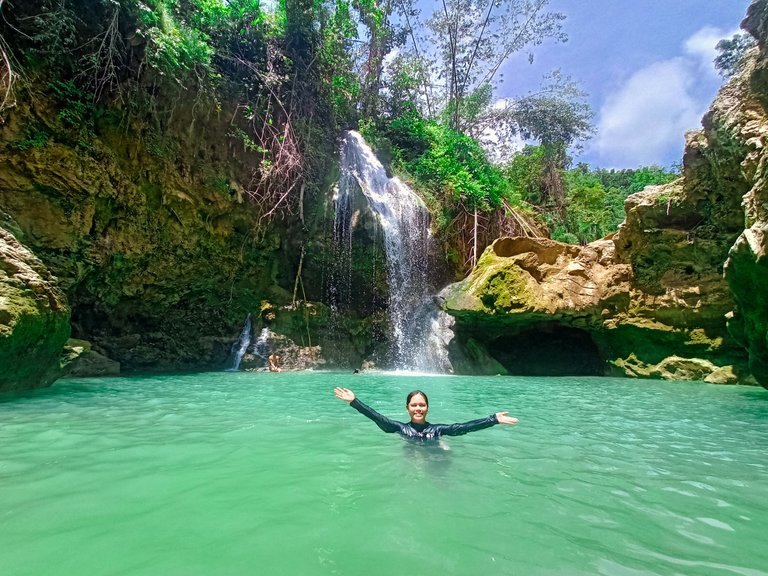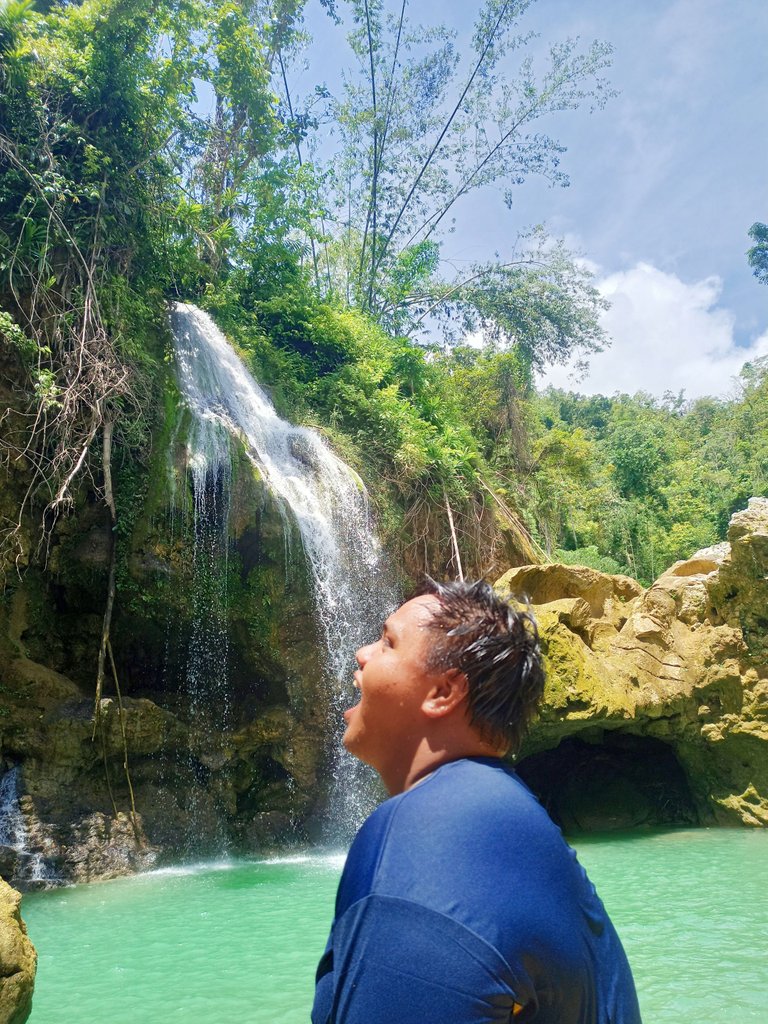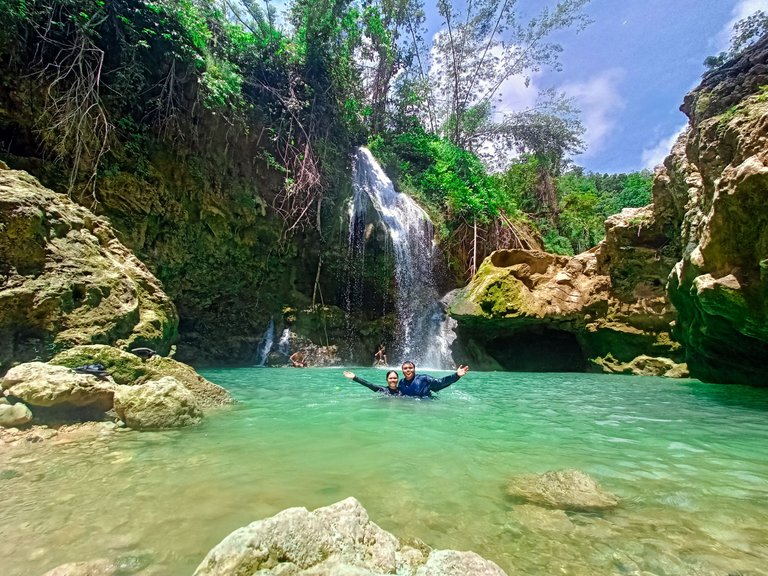 HOW TO GET HERE?
By far the best way to get to Cambais falls is by motorbike. Make sure to follow google maps. From Moalboal, it will take you about an hour to reach the waterfall.
WHERE TO STAY?
There are plenty of options for you to stay after your trip. You can stay in Moalboal or Oslob.
Moalboal Beach Resorts
FFG Eden Beach Resort
Moalboal Tropics
Oslob Beach Resort
Issa's Haven
Country Home Resort
Blue Water Sumilon Island Resort
---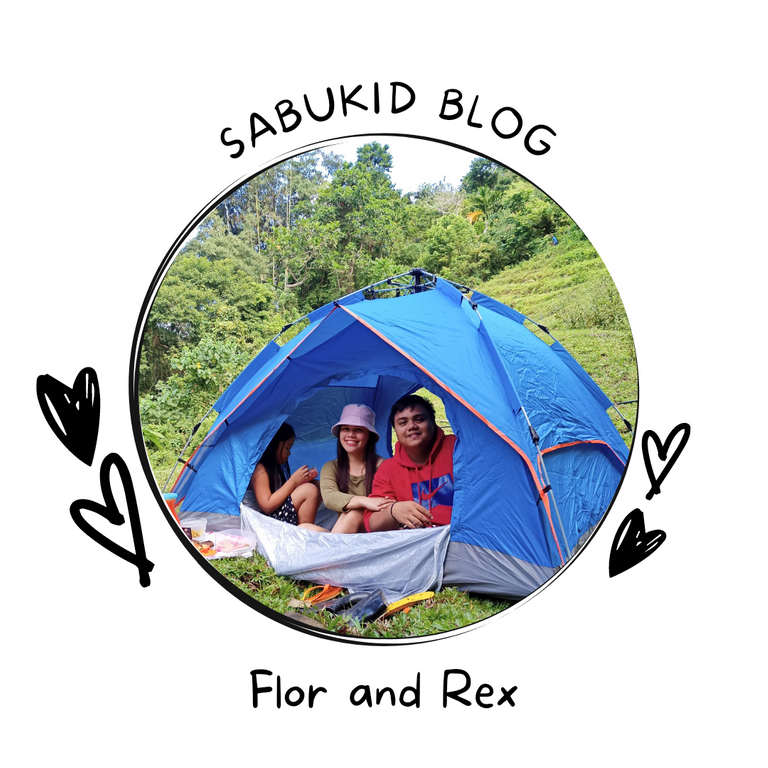 THANK YOU FOR READING THIS POST!
Sabukidblog is a blog of a couple who lives in the countryside of Cebu, Philippines. They decided to create a place where they could inspire their readers by sharing their life experiences, food trips, and travel adventures. They will also be sharing their simple life in the rural area.
If you want to read more stories from sabukidblog- an upvote, comment, follow and reblog would mean a lot to them. Join them as they share their stories together. God Bless everyone.