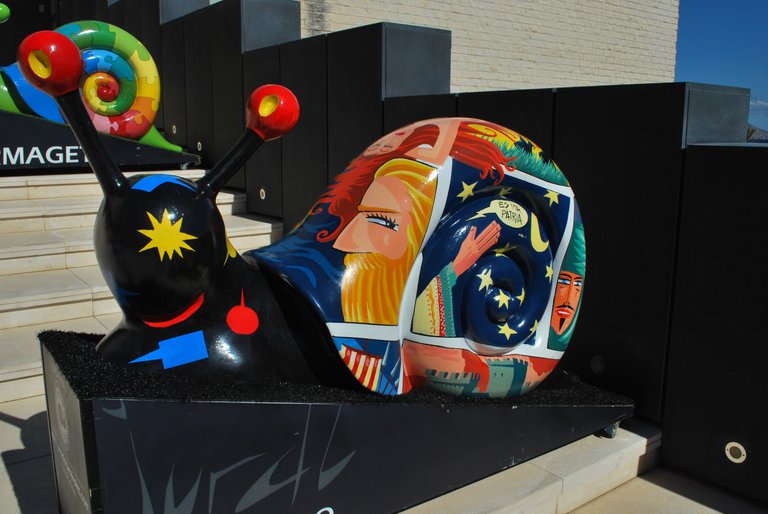 Everything started with a mysterious hand-painted board that José saw next to a road when traveling towards Bilbao... It stated: I sell snails. What you would think seeing the same? I would be at least surprised, but thinking that snails can be used for culinary purposes, it is not anymore that weird. However, the artist who saw it, José, was intrigued and it seemed surreal to him. But little by little, the idea was rolling in his mind and it took shape. He will make snail stickers. He will make resin snails!! Wood snails. Fluffy soft snails. Bigger and smaller ones. Adapted to different environments. All kinds of snails, that just our imagination could create.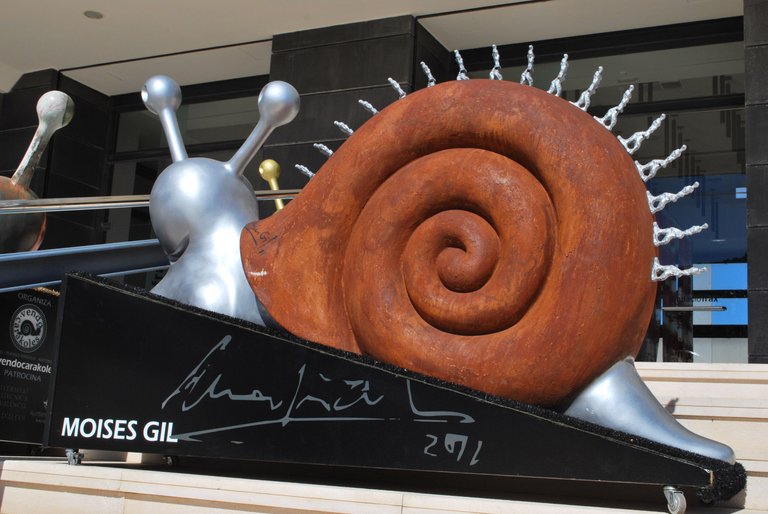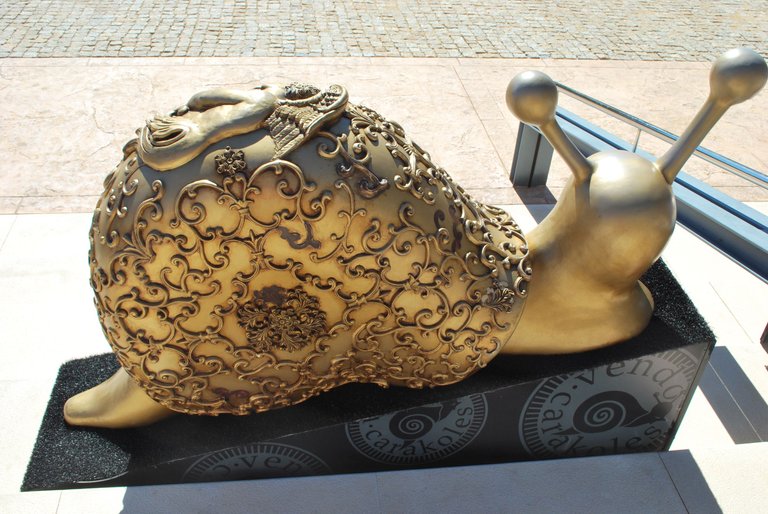 José Miguel Piñero is an artist from a town, Alcoy, in Spain, not so far away from our place. As I mentioned, he got the idea from seeing that hand-painted board, and a whole bunch of different snail-personalities came out from his workshop, well, first from his mind. As the mushrooms in my post from a few days ago, where all they had a secret life, and they were singing and hanging out and telling me stories, these snails were telling their adventures already with their appearance.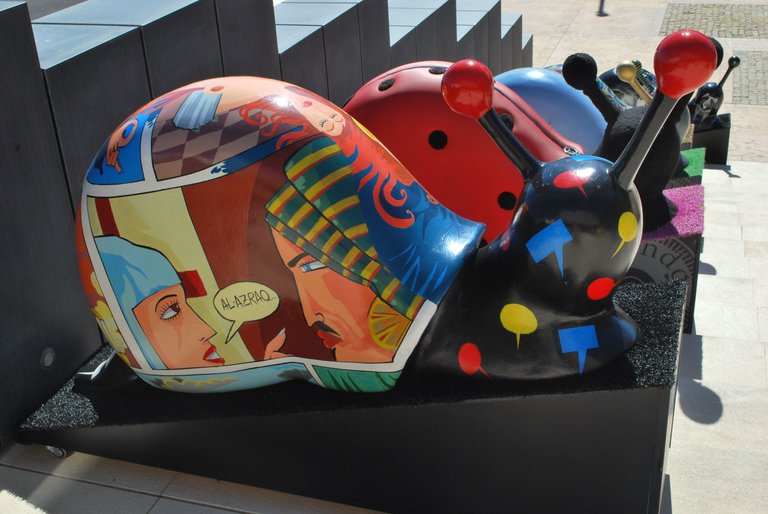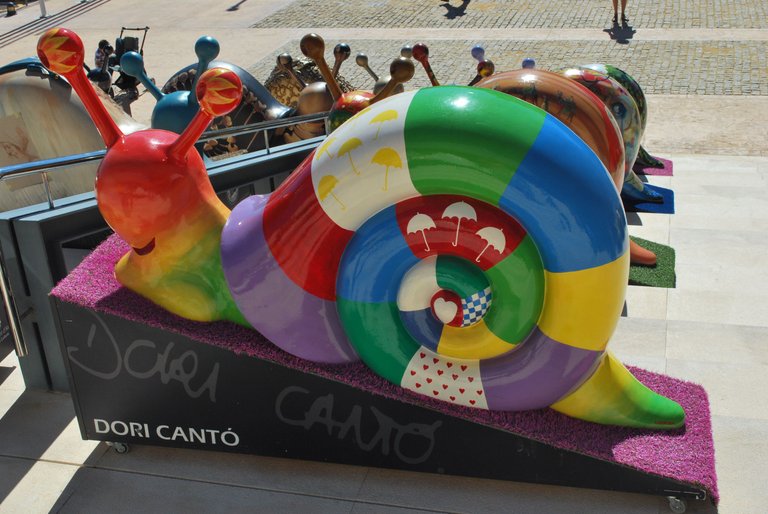 Some of them were old... very old, from the times of black and white movies. They came from Hollywood. Imagine, how much time they needed to arrive, at Albir in Spain? And, the real enigma is, how did they cross the ocean? Ah, ok. in movies is all allowed and possible... I understand now.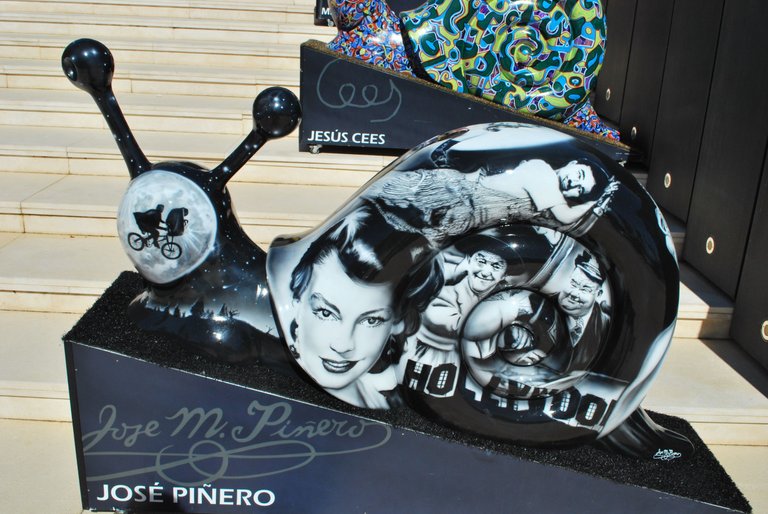 Some snails were musicians also, clown-musicians....playing some funny music there and entertaining the crowd. Others wanted to be scary. Showing their bones and asking me, why not see another thriller movie right now? However, some soft toy appearance, very cute snail got the attention of a small boy, who was playing around with them. I am wondering, what the snails said to him? I will have to ask that young man.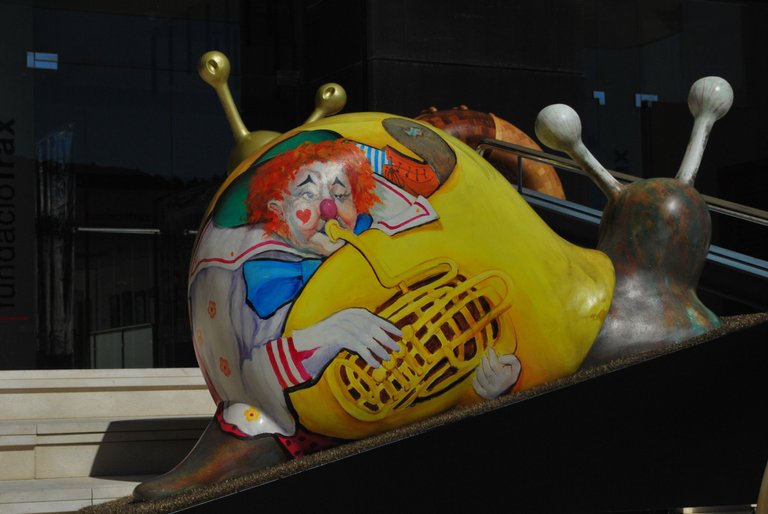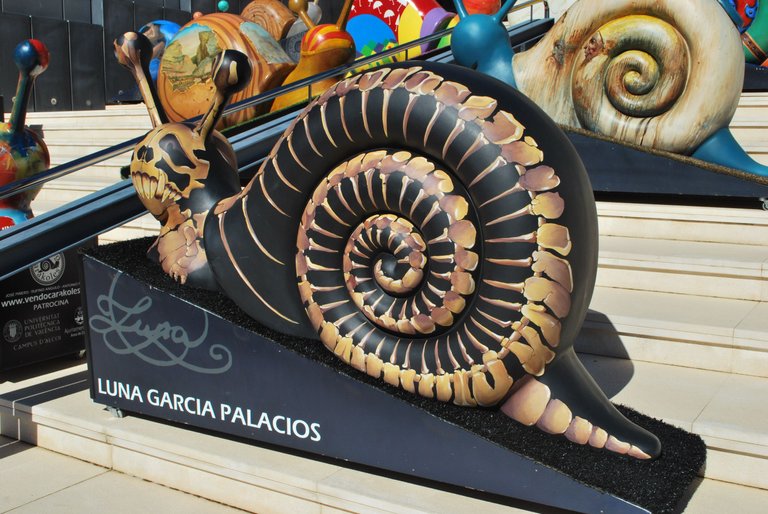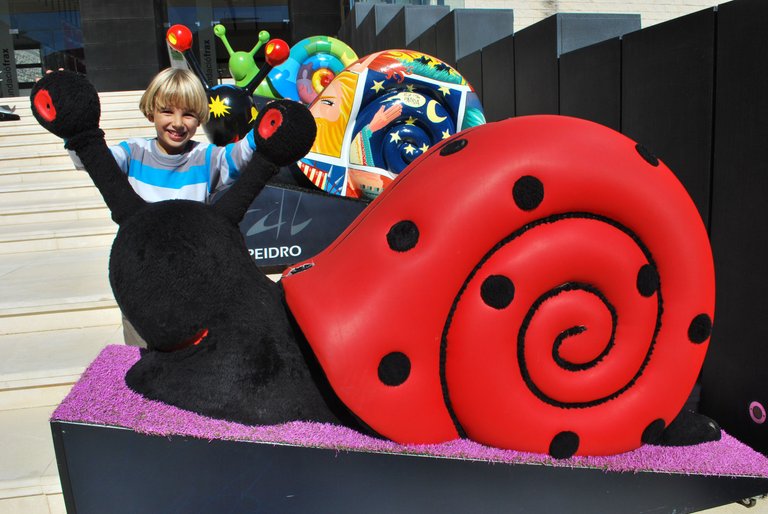 And still, there were so many other differently designed snails, that they ended in a collage. Hope they like to be together this way, as otherwise, this post would be a long scrolling down because of the quantity of the photos. So we have also puzzle-snail, nature-snail, wood-snail...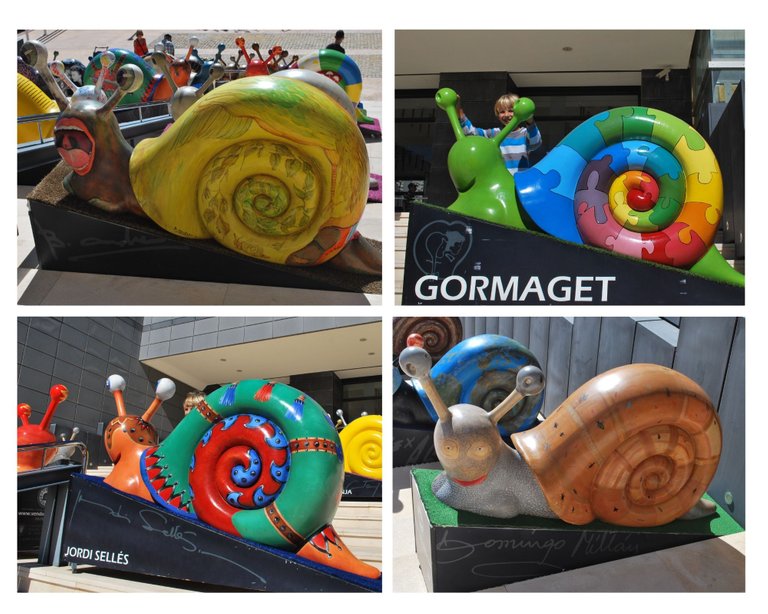 ...abstract shapes-snail, Santa-snail, planet Earth-snail...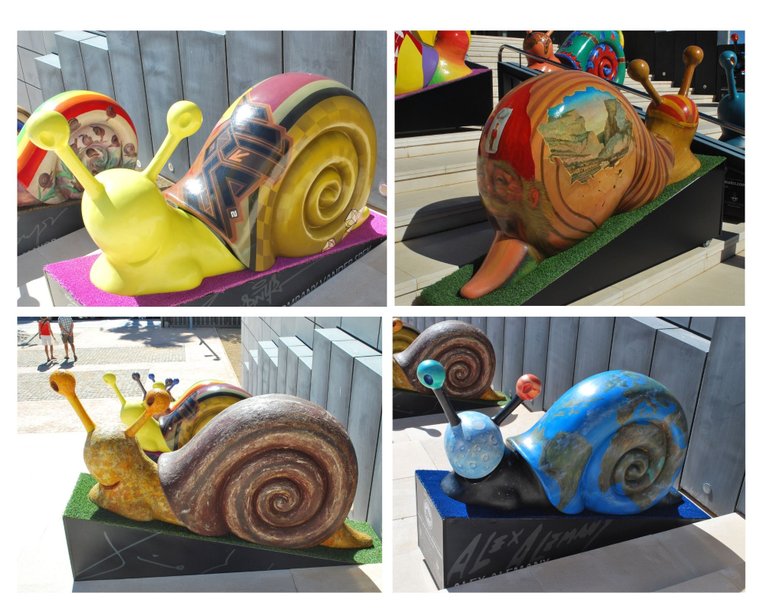 ...roses-snail, mini-snails, sunset-snail....or even a person wanting to come out from the shell... How cool is that one? There is another similar one, and it is even more interesting.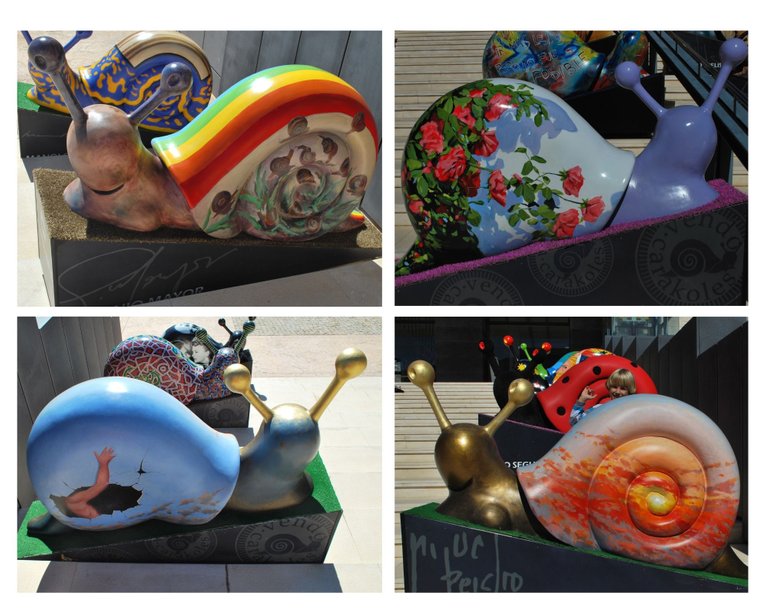 ...mosaic-snail, a person coming out from the shell-snail, lizard-snail.....all of them sunbathing in one sunny day in my small town, somewhere on the coast of the Mediterranean sea.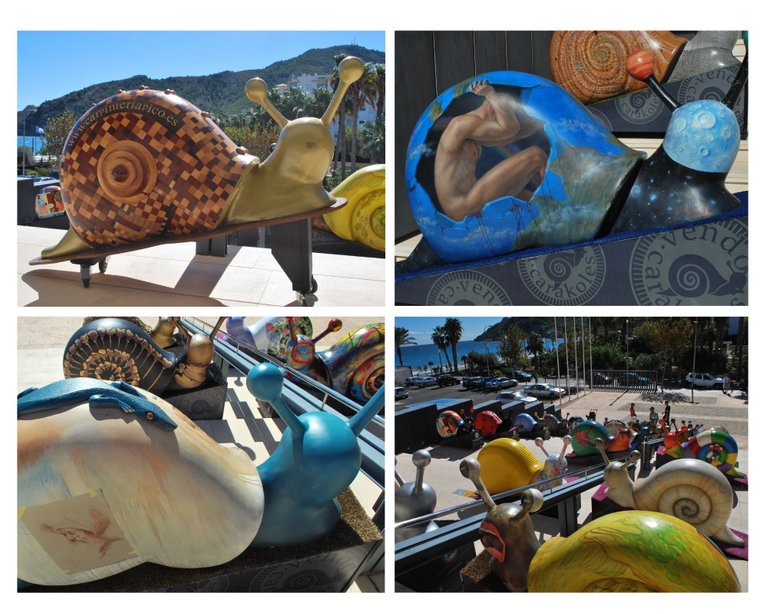 Well, I left two of them in big size, as how could I put into the collage this one that is responsible for taking measures and sizes... so it stays in this form. Also, the Santa-snail. I have to think and behave well, so he doesn't skip us when he decides to show his generosity, soon.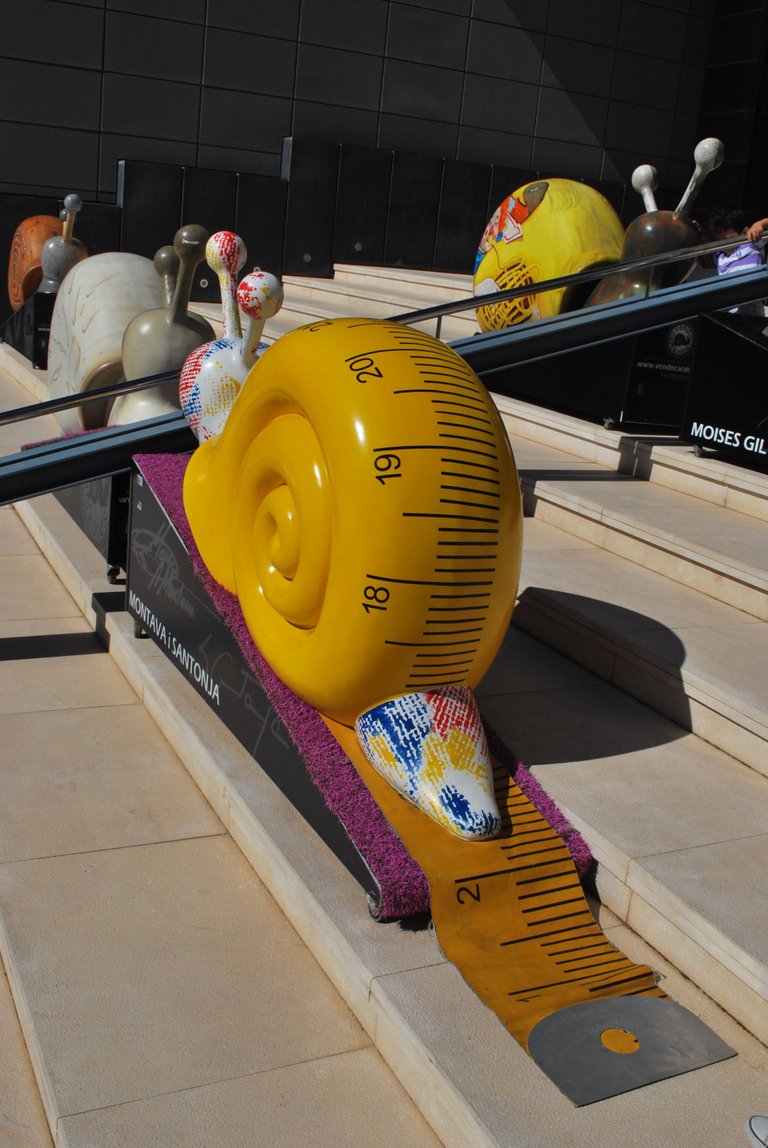 Quisimos ir más lejos pero no fue posible...
We wanted to go further but it was not possible...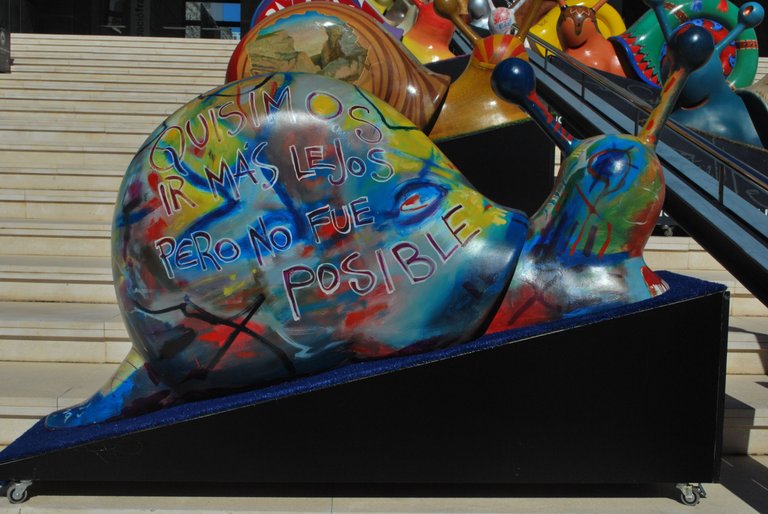 We wanted to go further but it was not possible... That is the last snail that comes in this post, as well, which gave the title to this post... I would like to show more of them, however, it is not good either if too many nice things come in one post :) But you can always decide on a small trip to Spain, and visit the artistic snails! So, for now, we say goodbye and I hope you liked this slow walk among these interesting creatures! Which one was your favorite snail and would you like to have some of these in your garden or house? Feel free to let me know in the comment section of this post, I would be glad to read from you!