Feeling really stifled last week, we simply had to get out on the road and take a drive; yes, you've guessed right, our noses once again led us to the place we would like to retire to one of these days.
We're actually officially retired from the corporate world, but fate had other plans for us when I decided to list our garden cottage on Airbnb.
This soon turned into a full-time small business called Lily's Cottage, named after Mom Lily who used to live there.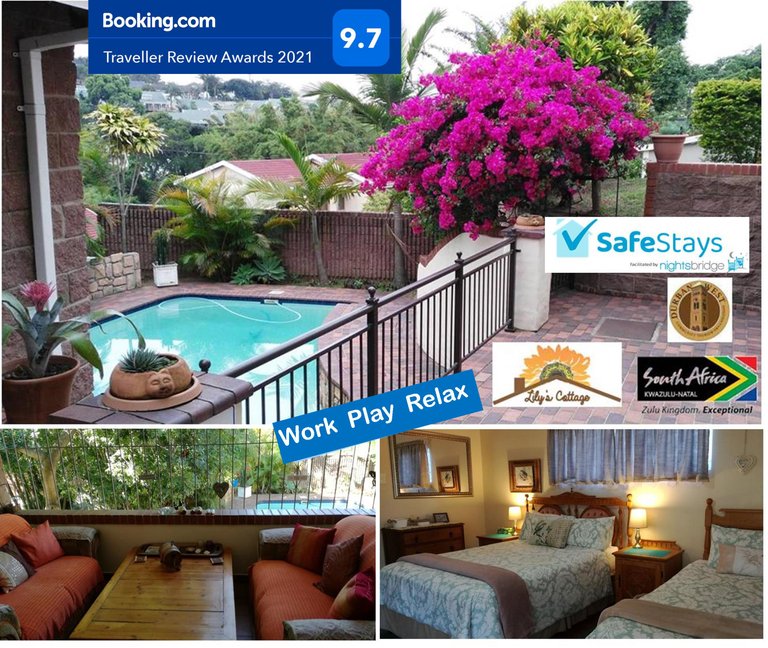 Despite Covid lockdowns and riots, we're still being kept REALLY busy but enjoy the experience of running a small business in the hospitality industry way too much to give it up now, so fully retired has to wait!
There's something special about people who enjoy traveling that just appeals to us, and although most of our guests have been here on business trips, the leisure guests are suddenly starting to come back; everyone is fedup of lockdowns!
The interaction which we avoided at all cost prior to our vaccination was awful and made me want to just sell up and move down the coast. Of course we still have to practice social distancing, but can now have little chats outdoors, something we really enjoy about this business.
People are so interesting and I find it fascinating when our guests open up and tell us a little more about what makes them tick and what they do to make a living. Of course the international guests are still not back.
Something else that I miss is our comments book which is a great memento of some awesome guests.
We had to do away with magazines, books, board games and many decorative items in order to comply with Covid Safety Certification.
An extract of some of the comments from people all over the world.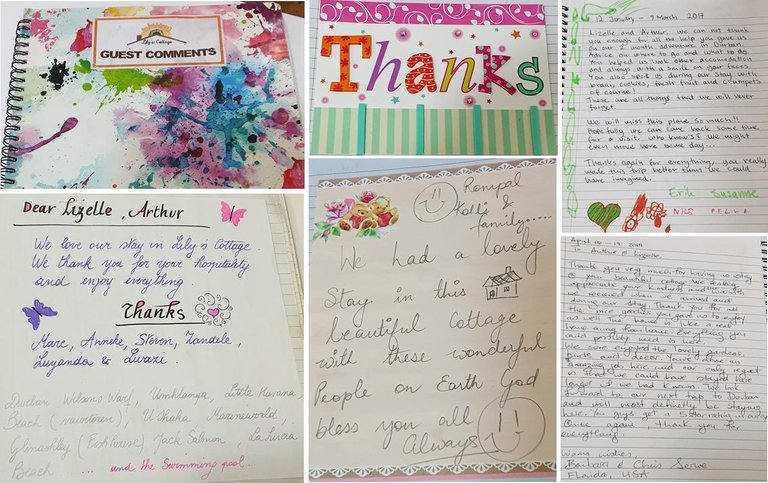 ---
We however also need to get away every so often, so we took a drive down the coast but turned off the highway much earlier and saw some different sights.
Driving into the little town of Umkomaas along the river after which this little coastal town is named rewarded us with a beautiful view of the river and the landscape beyond.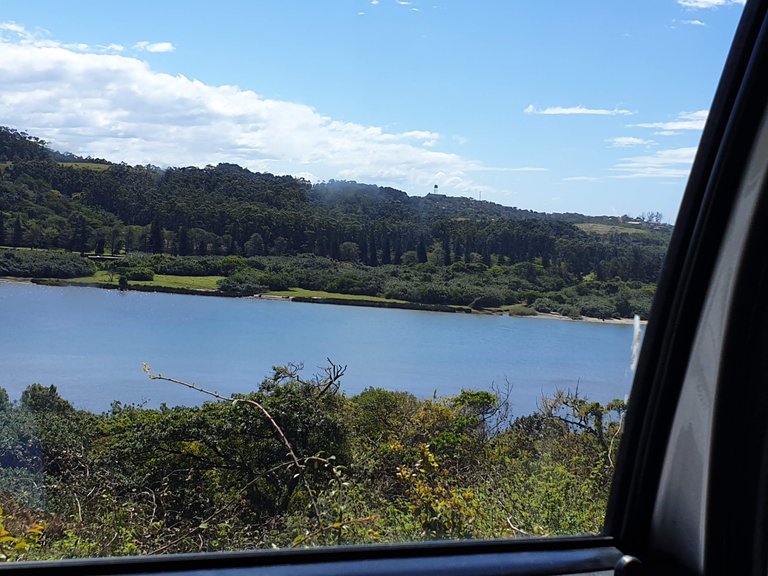 Seeing the white horses on the ocean should have warned us that stormy weather was on the way, but the sun was out and it was a beautiful day so nothing was going to stop us.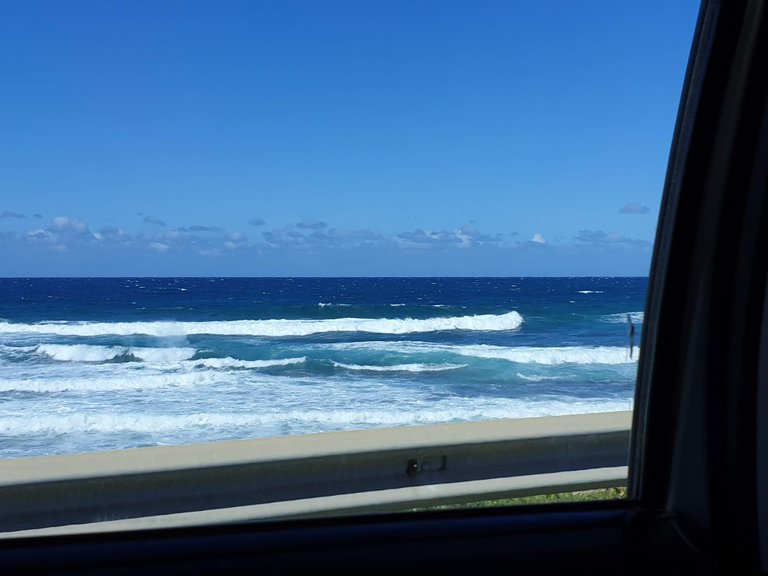 Arriving at the little town of Pennnington, where we want to eventually go and rest one day, we stopped at Botha House which used to be the holiday home of the old South African Prime Ministers; this is now run as a bnb. The wind was howling by this time, but I tried to get a glimpse of this gracious old home; not very successful!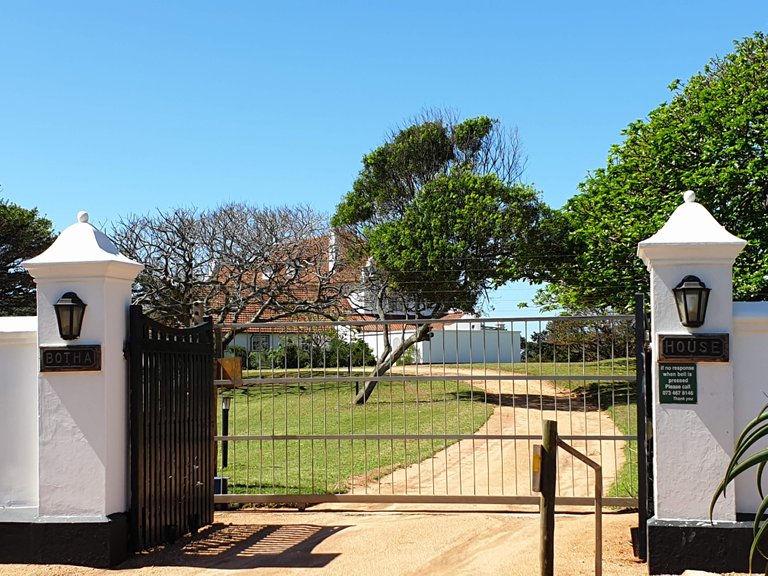 Views of the Umdoni Golf Course from here were absolutely gorgeous but with the strong winds, we decided to take a drive somewhere more sheltered to have lunch!
The smoke in the distance is from the Sezela Sugar Mill and the strong winds blew the pleasant smell of the burning sugar our way; something we really enjoyed while having lunch a little later.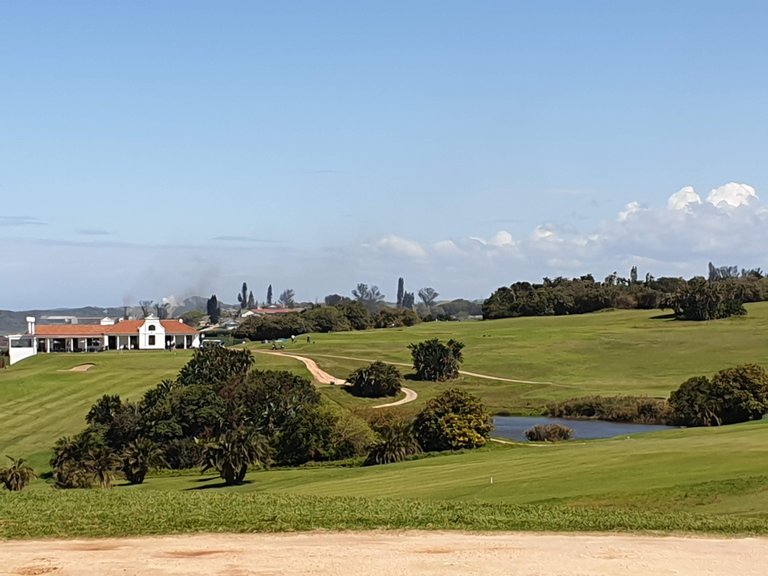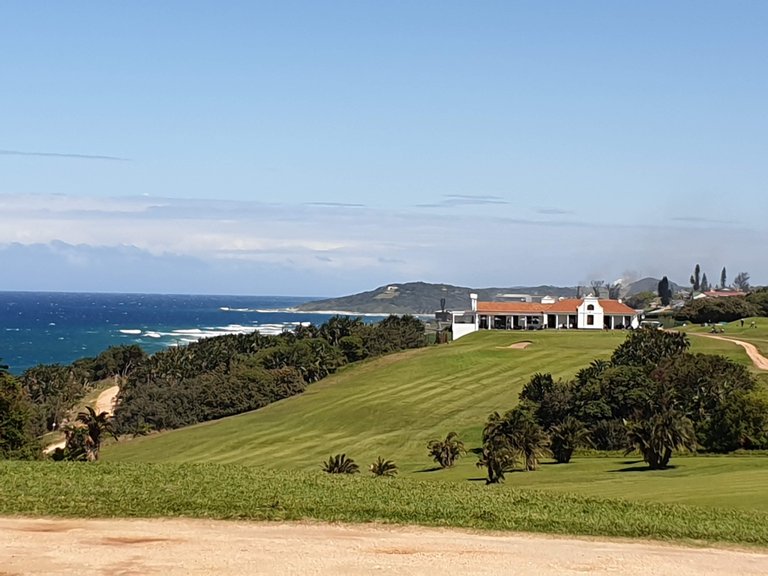 We found a safe haven at the Doghouse Cafe which is on a farm with trees around to protect one from the strong winds; this is becoming a firm favourite as they serve excellent craft beers manufactured right on the premises and offer a real nice menu; hubby's favourite is the Oxtail Pot Pie; I always choose something different and have never been disappointed; we knew we were at the right place for lunch on this windy day!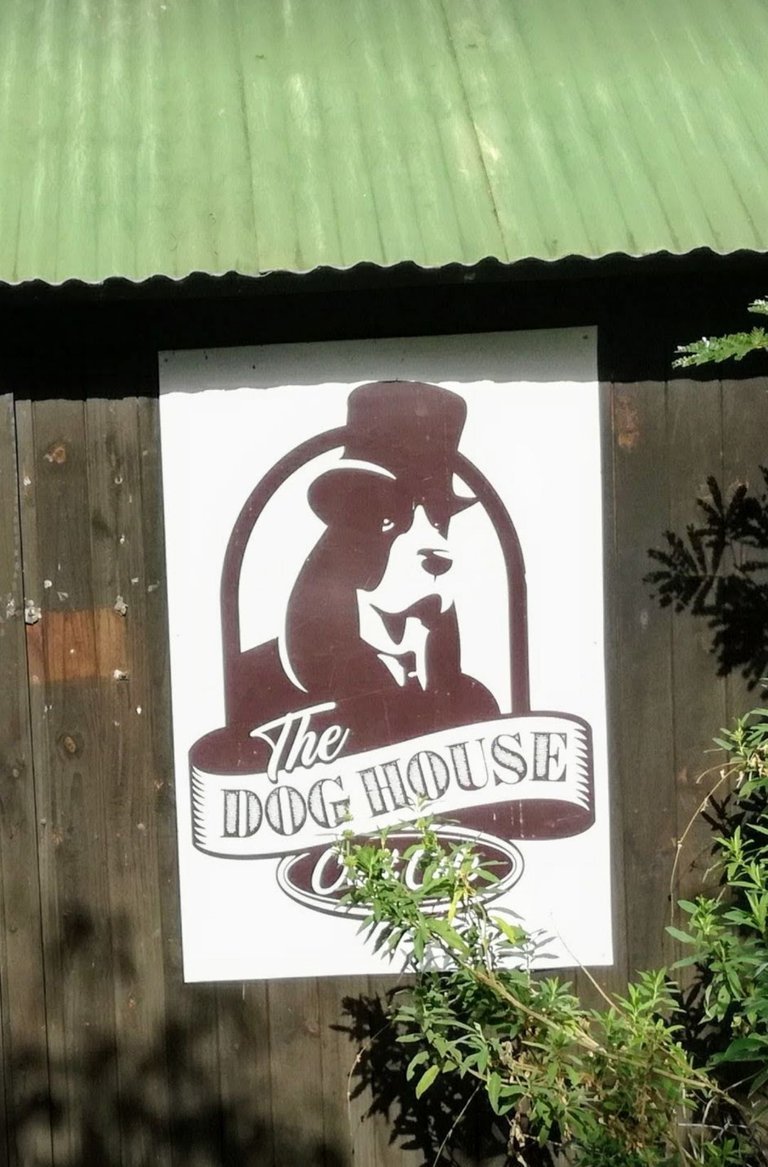 Our food was served in takeaway containers so we could go and sit next to the dam which still looked tranquil with only a lone duck swimming. This dam is stocked with bass and one can fish from here but have to book beforehand.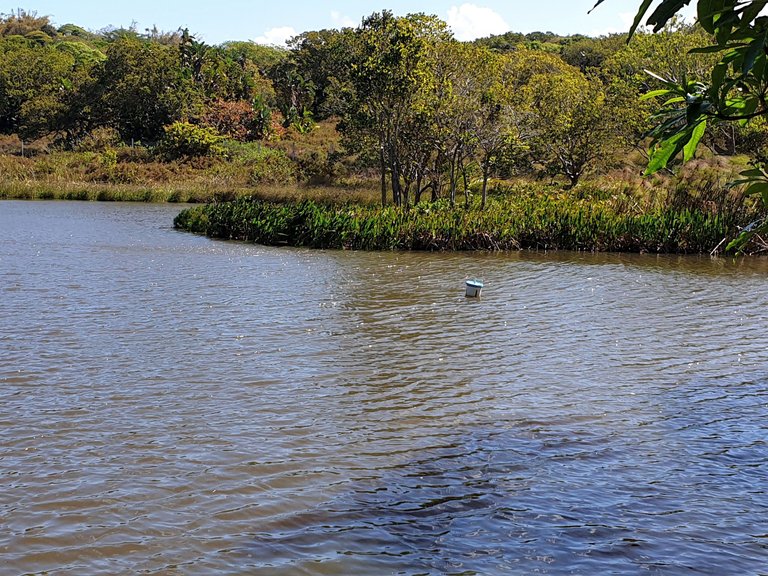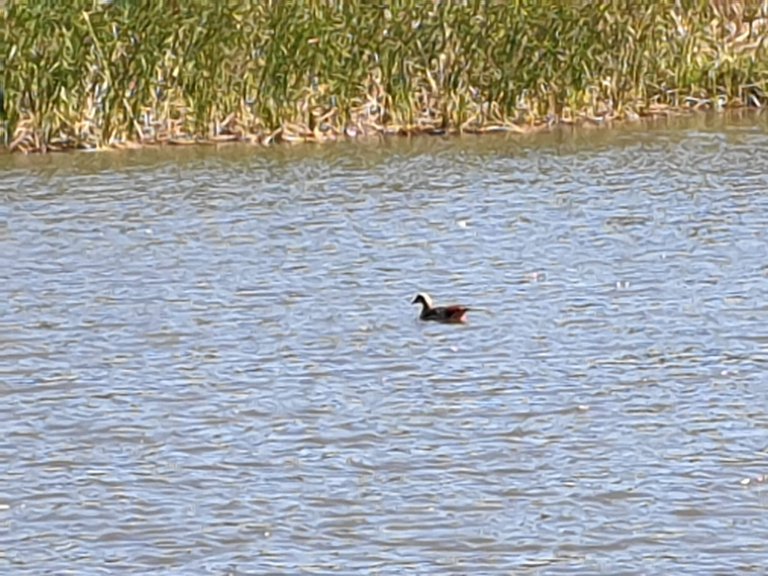 Pets are welcome at this establishment and this gorgeous fluffy beauty came wandering over to us to make friends and say goodbye as we were leaving.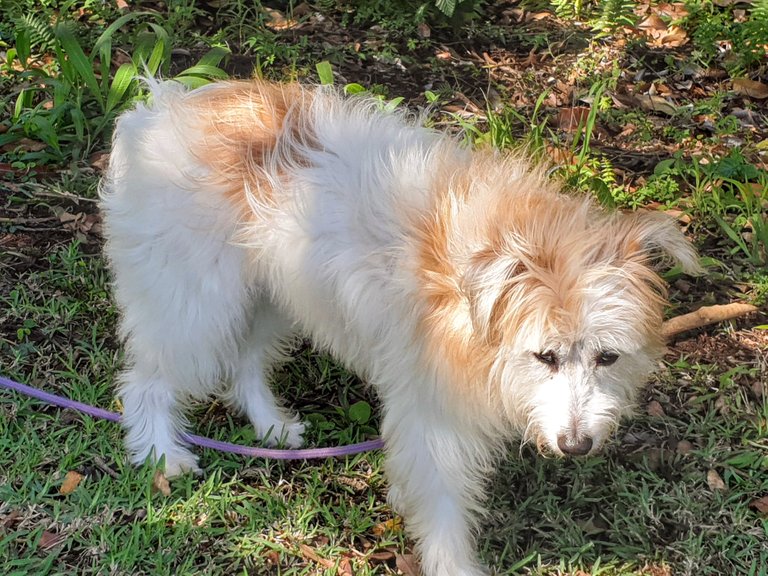 By the time we drove back home, the wind velocity had picked up intensely, and we were very happy to be back home at Lily's Cottage, but felt refreshed after our little day trip!
--- Banner created by @zord189


Original Content by @lizelle
Thank you for stopping by
Copyright @lizelle – All Rights Reserved


Do you know this Badge?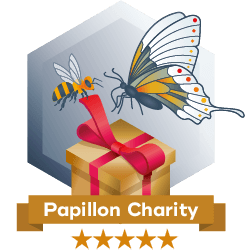 It says "Thank you for partnering with the Papillon Foundation by participating in the
Weekly Hive Charity Giveaway."
Do you want this Badge?
If you like this badge and if you want to help too, you can learn more about @combination and the badge in their blog post:
Some Exciting News! Badge release!


CLICK IMAGE IF YOU WISH TO JOIN SILVER BLOGGERS: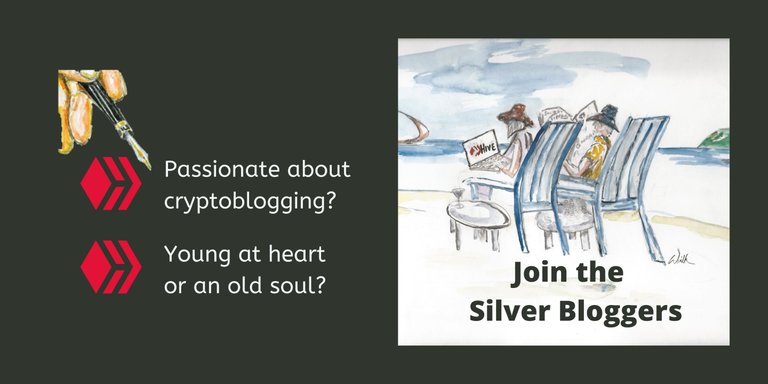 Artwork by @artywink
---

Banner created by @derangedvisions
JOIN Hive using my referral LINK