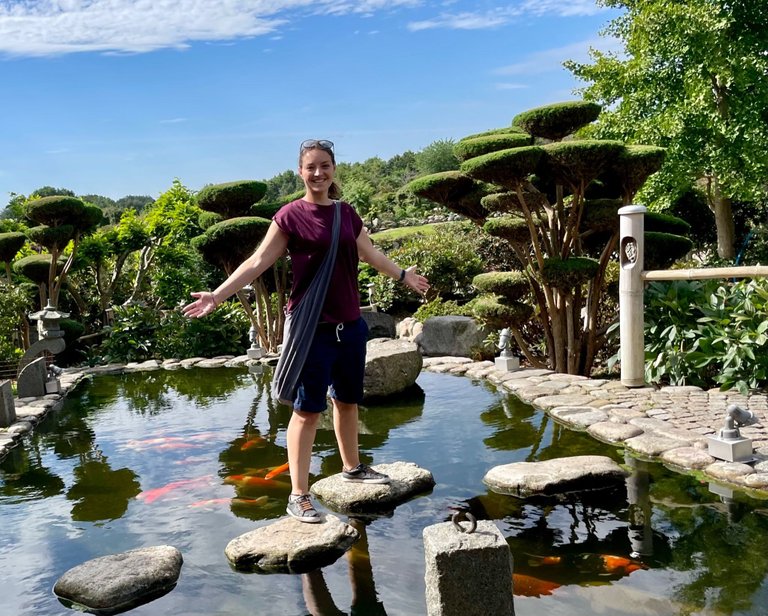 We have been to Denmark several times now, but mostly visited the capital, not so much the surroundings, which is a shame because there is so much to see!!
So this time we decided to stay way outside of Copenhagen and check out the "secret spots". Of course, I will take you with me on this adventurous trip.
After our 11 hrs in the car, drivinig all the way from the south of Germany to Ugerlose, Denmark, to start easy, we first visited a "secret spot" close by: The Zen Garden of Stenlille.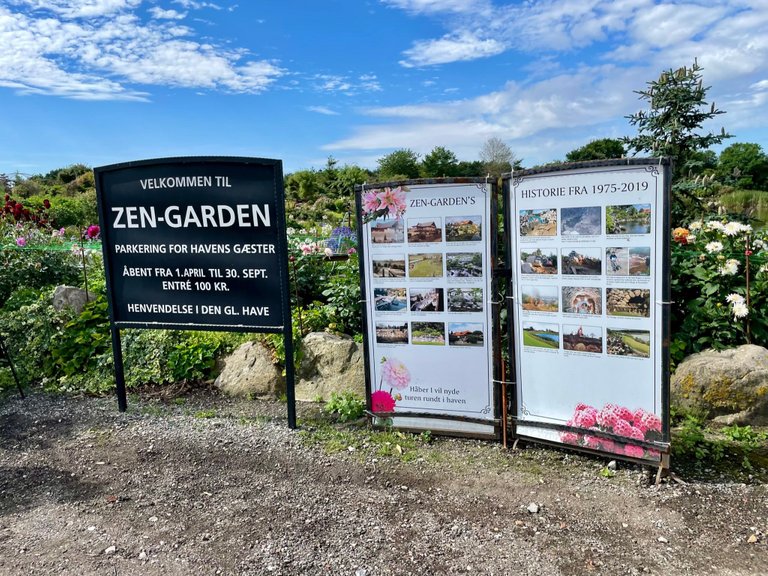 The Zen garden is a paradise with waterfalls, caves, trickling streams, beautiful rock formations and a multitude of plants, trees and flowers.
It is a privately owned garden and was built up by Jørgen over 35 years. The garden is still cared for today by Jørgen and his daughter Mette. There are no employees and it is also Jørgen or Mette who welcome the garden's guests just in front of the parking.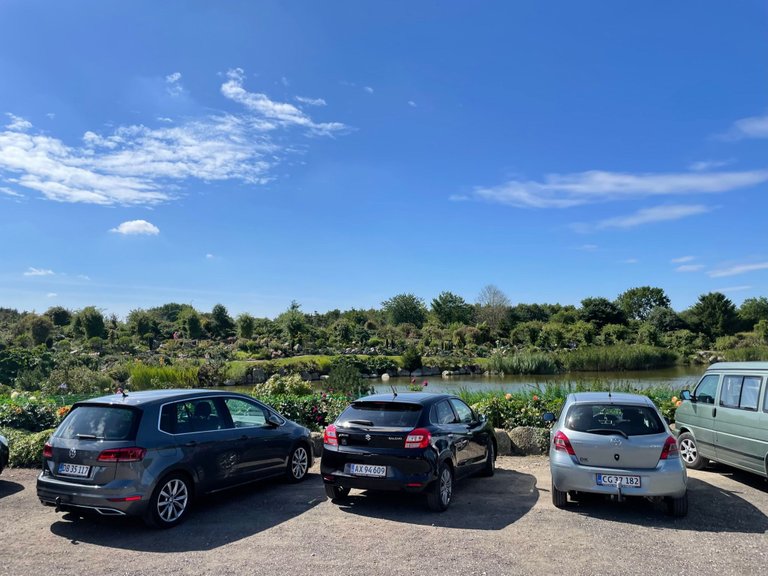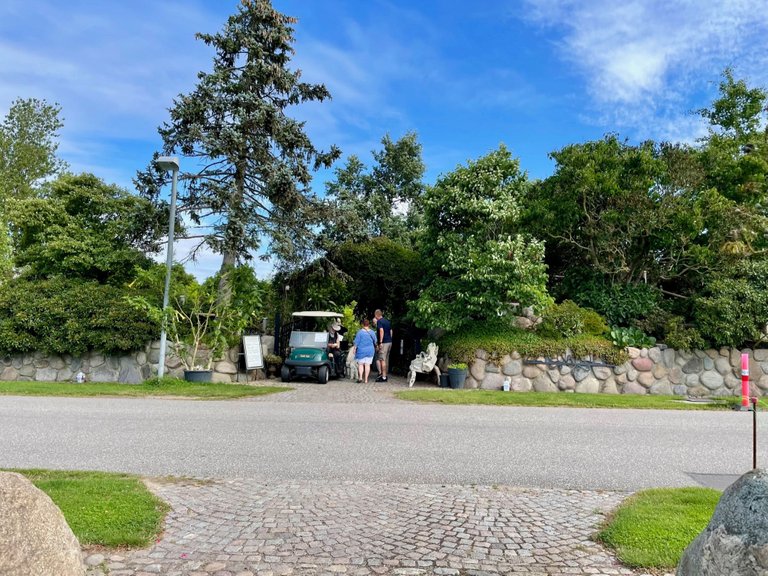 The entrance for adults costs about 13 EUR/person and dogs are allowed on the leash, so we took Chapo with us :)
The Zen garden consists of two gardens, the old garden and the new garden. They are about 24,000 square meters together. The gardens are made up of approx. 8000 tons of granite stones, which corresponds to 600 loads on a truck. Jørgen has traveled a lot in the East, e.g. the Himalayas, from which much of the inspiration for the garden's mountain formations has come.
We first started with the "old garden". This one they started to do in 1975 already. At the parking there is already a sign showing the progress over the years.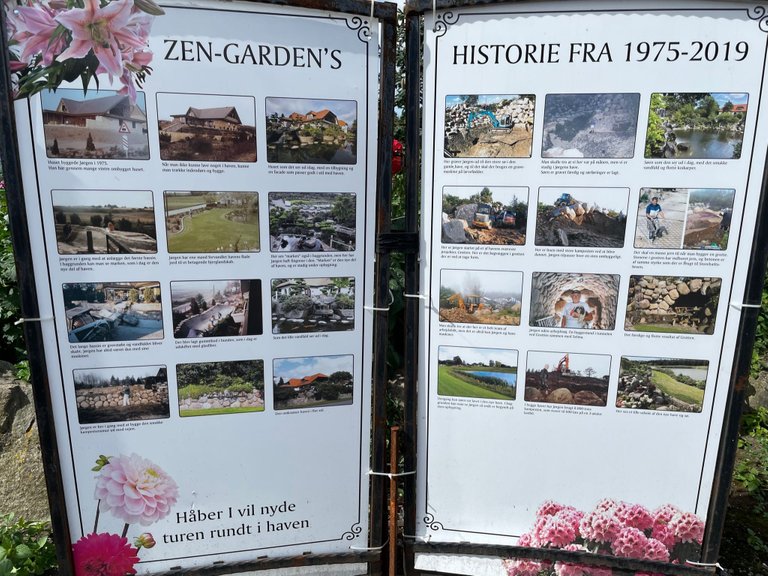 After we paid the entrance we went in right away and already saw the big waterfall with water, stones, all kind of plants and the Kois. It is just awesome how peaceful this place is!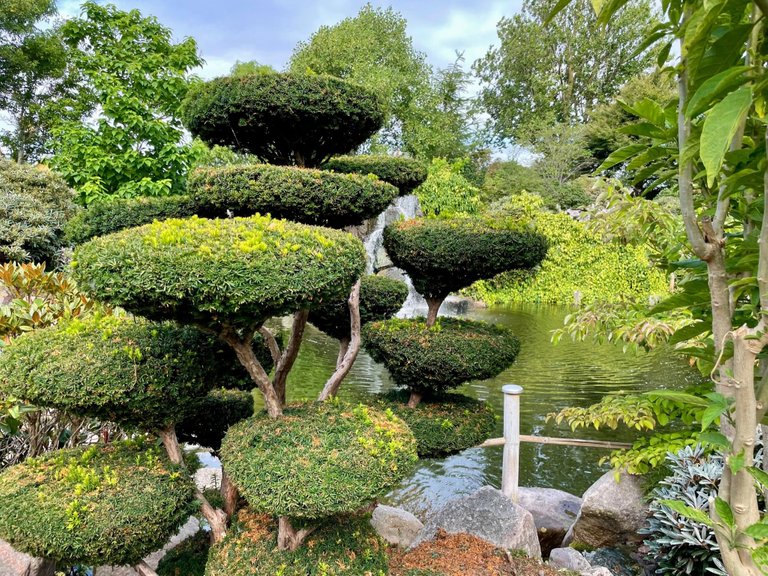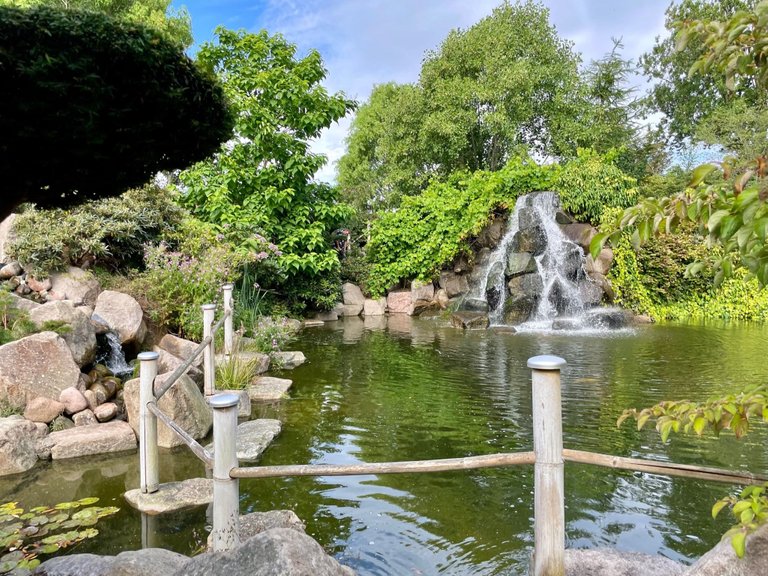 Along small paths crossing the nature, we reached several new places. On some it is possible to sit down to make a break. It is even allowed to bring your own food and drinks and consume them there, which I find super nice, because it is so peaceful to sit here and get the good energy.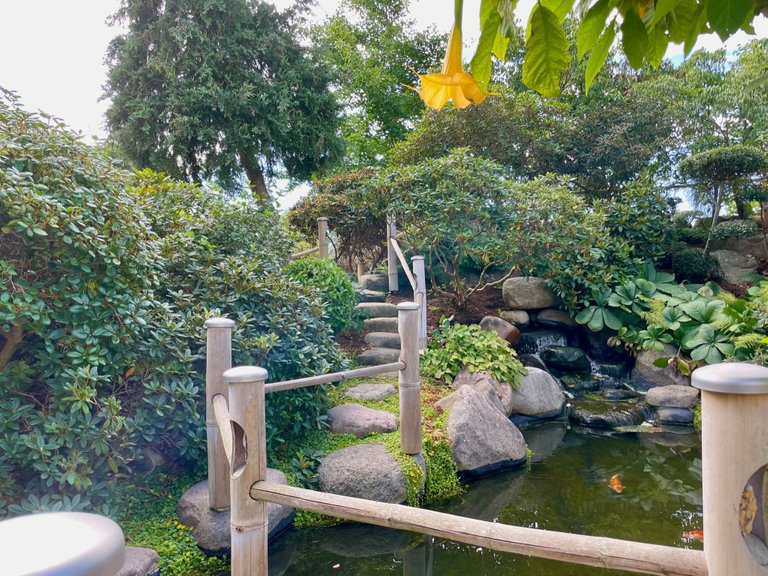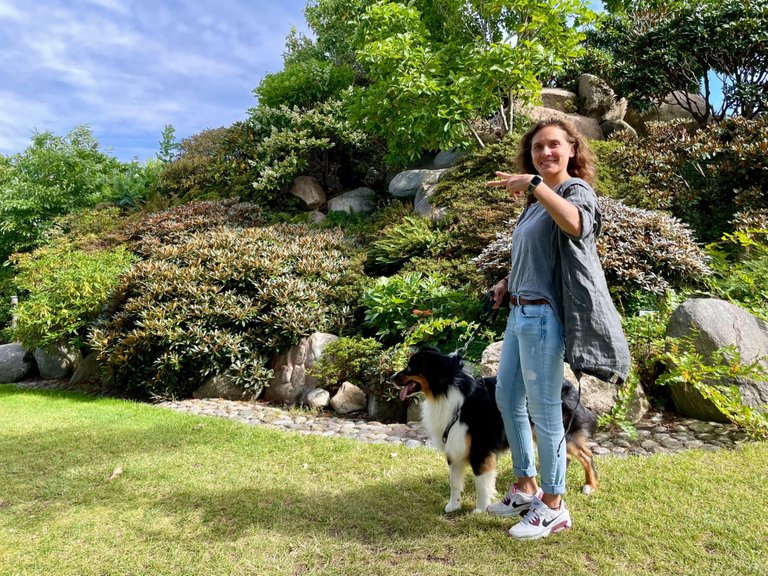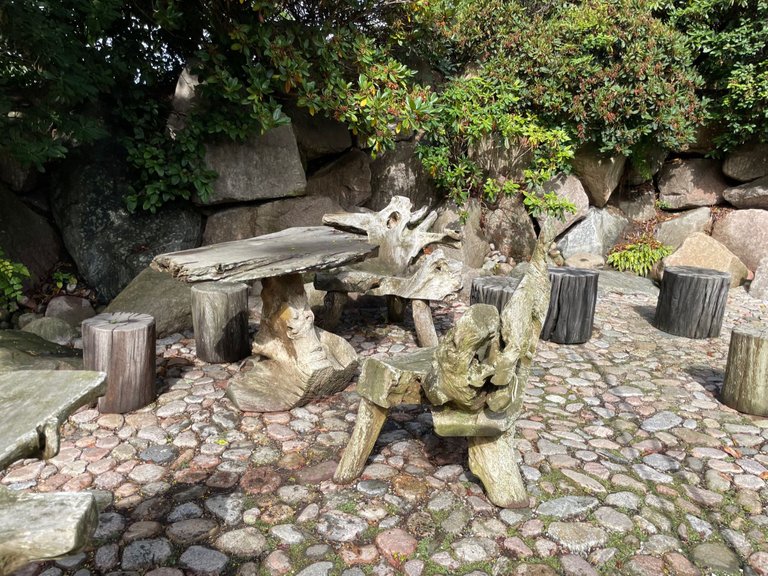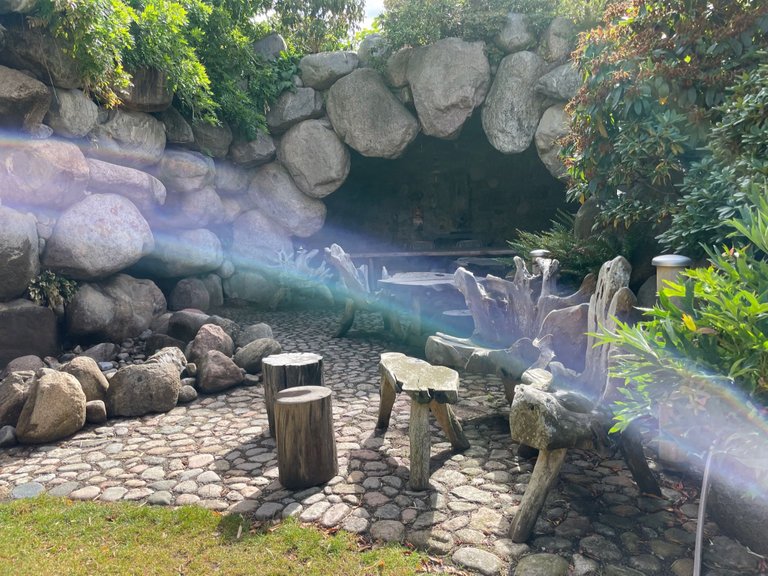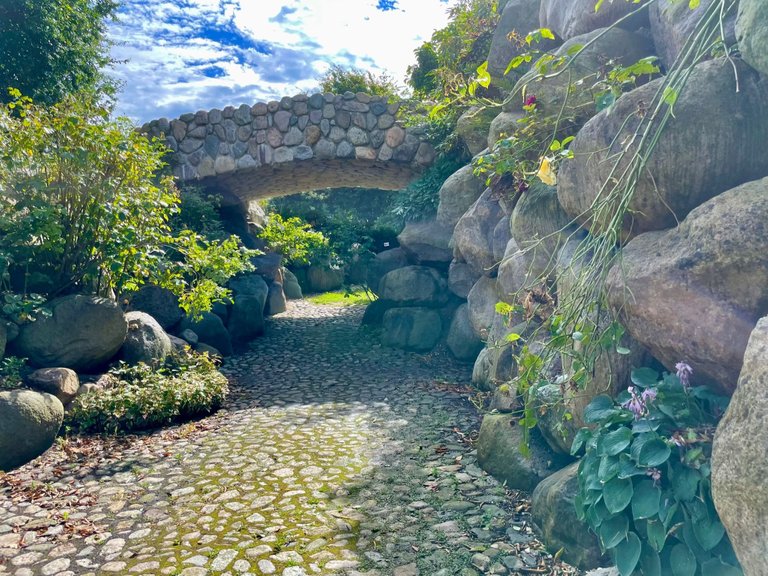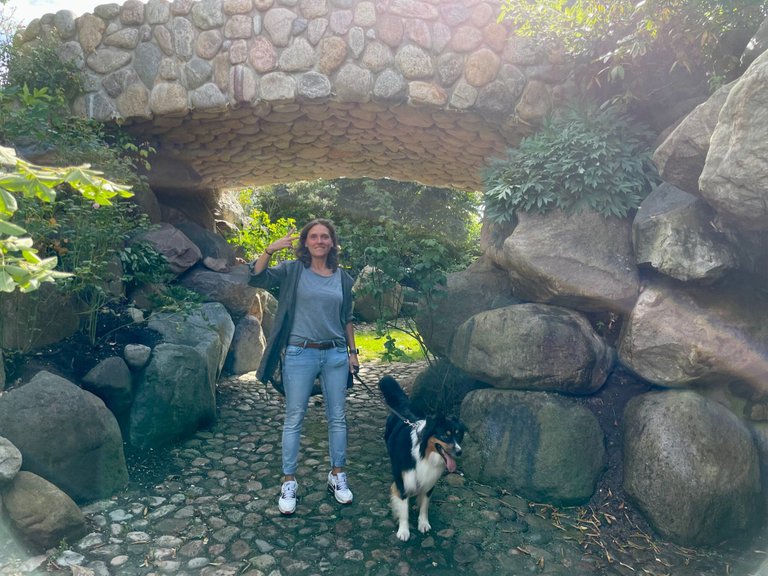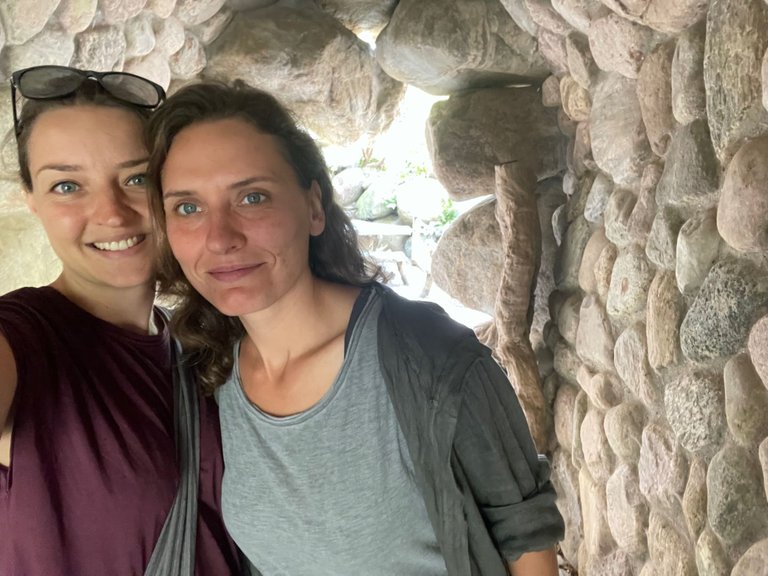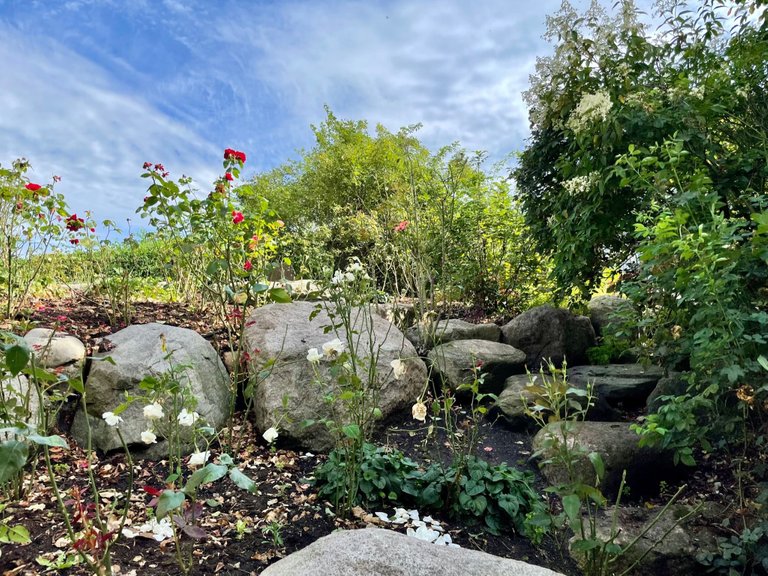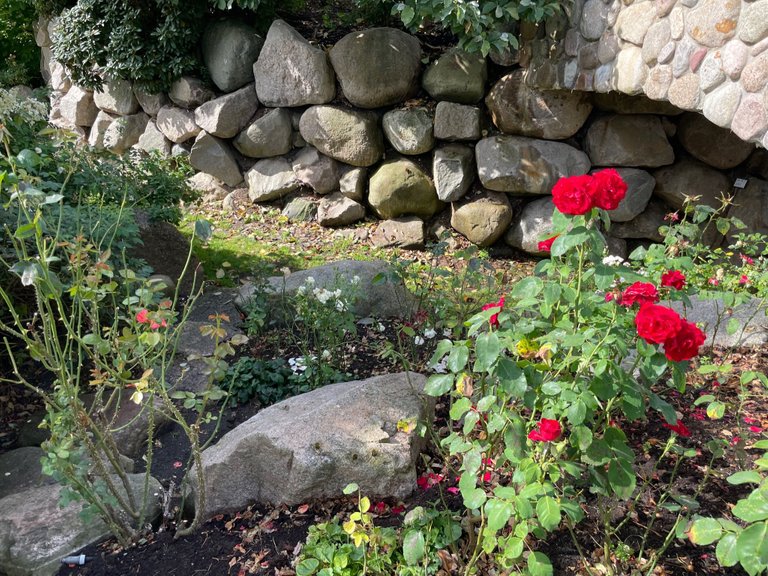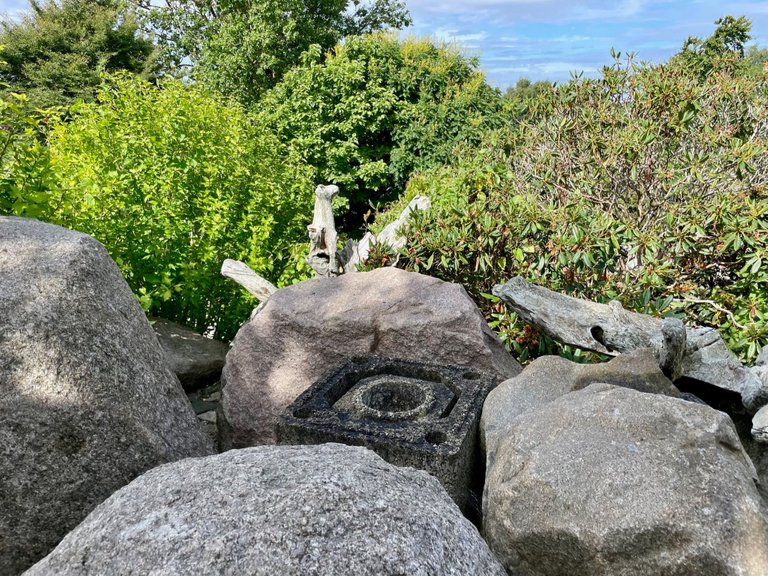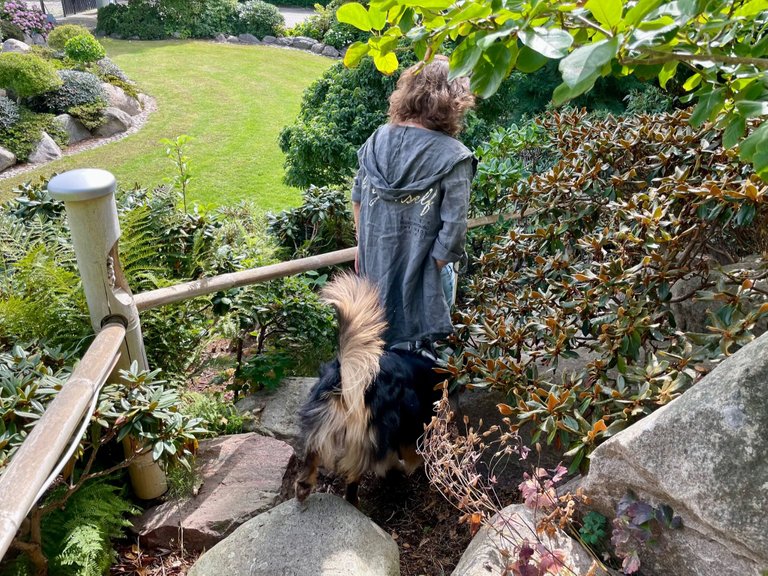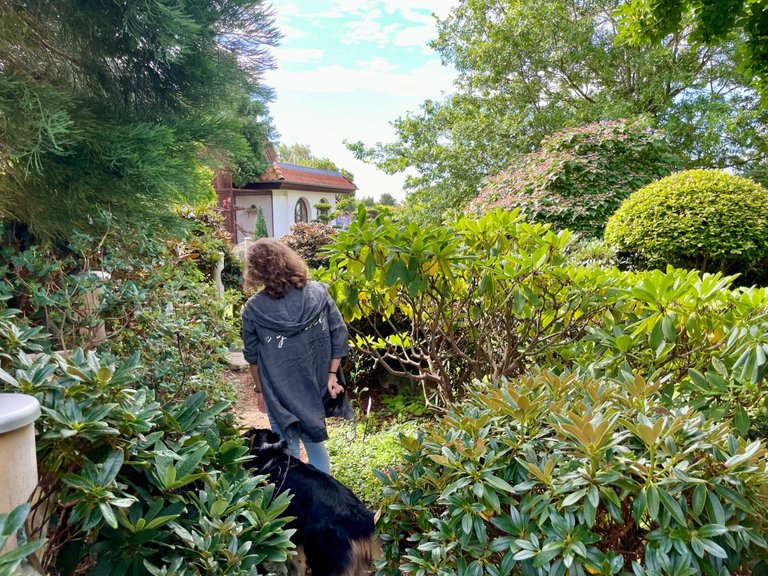 Jørgen has never worked according to a drawing, he has created everything according to free imagination. Jørgen's great passion is Japanese koi carp, which can be seen in the garden's 4 ponds. The garden has one of Europe's largest koi facilities with a total of 700 cubic meters of water. Several of the garden's koi carp have won international awards for their beauty.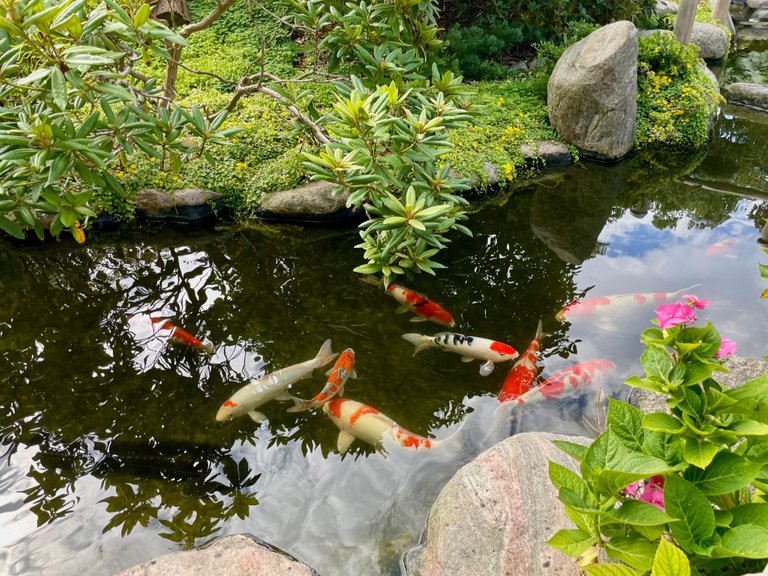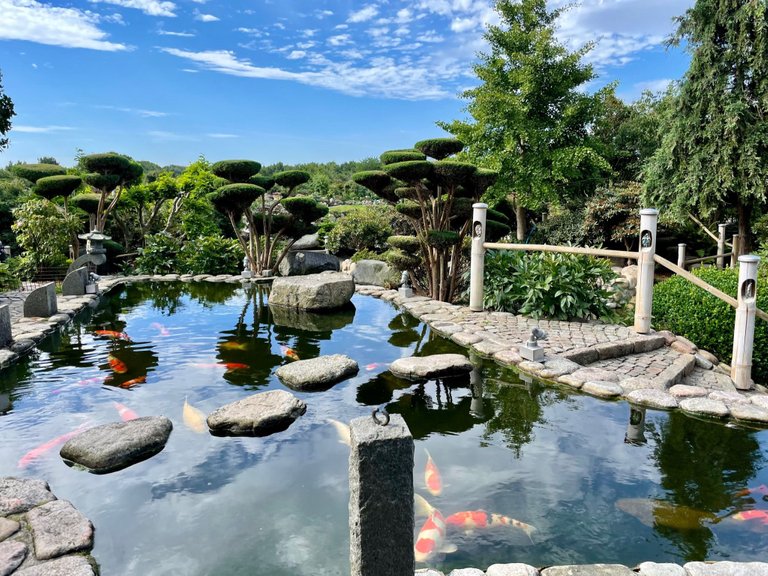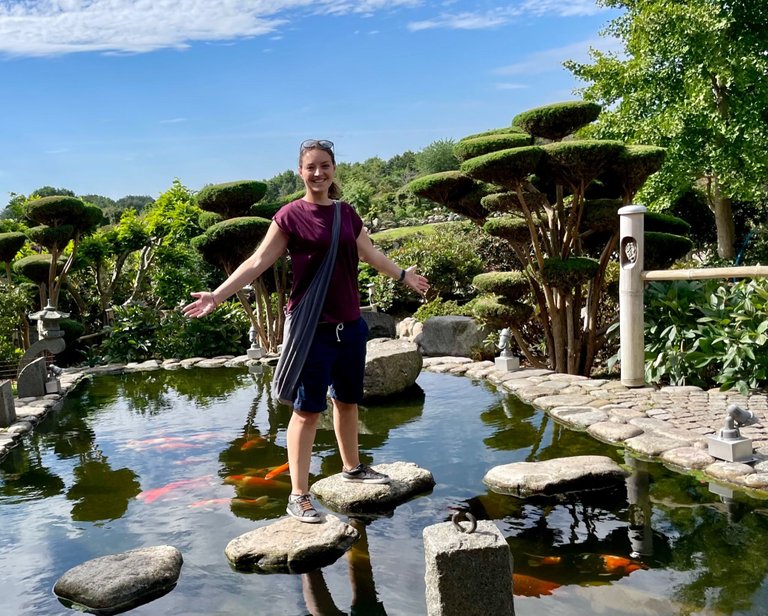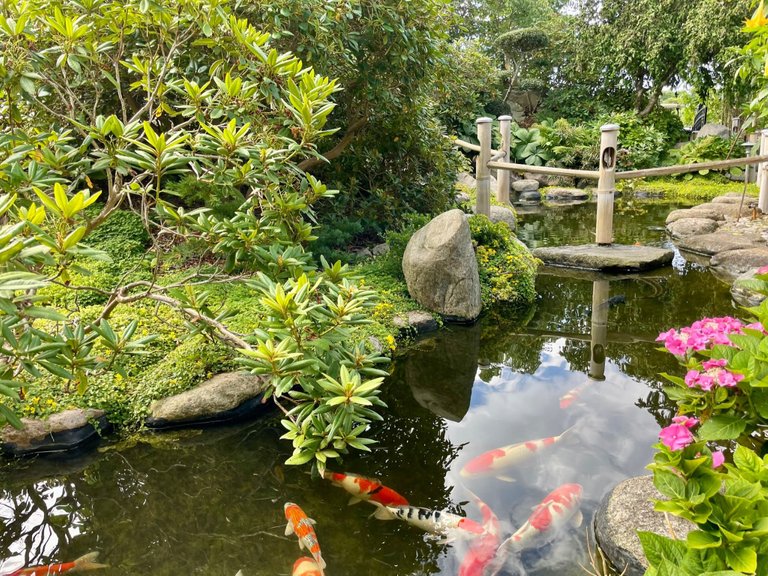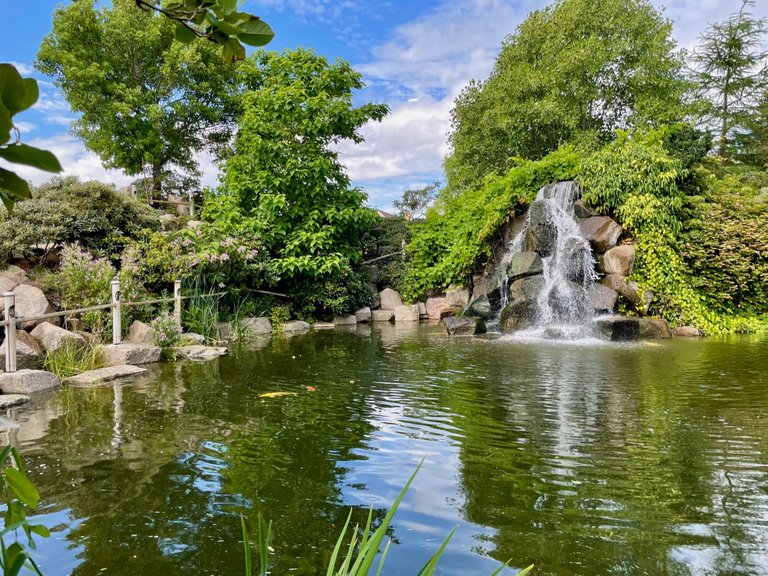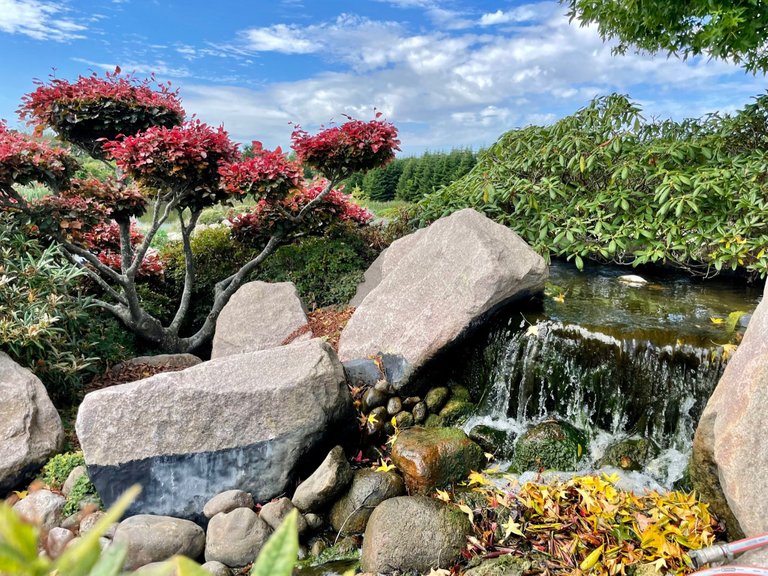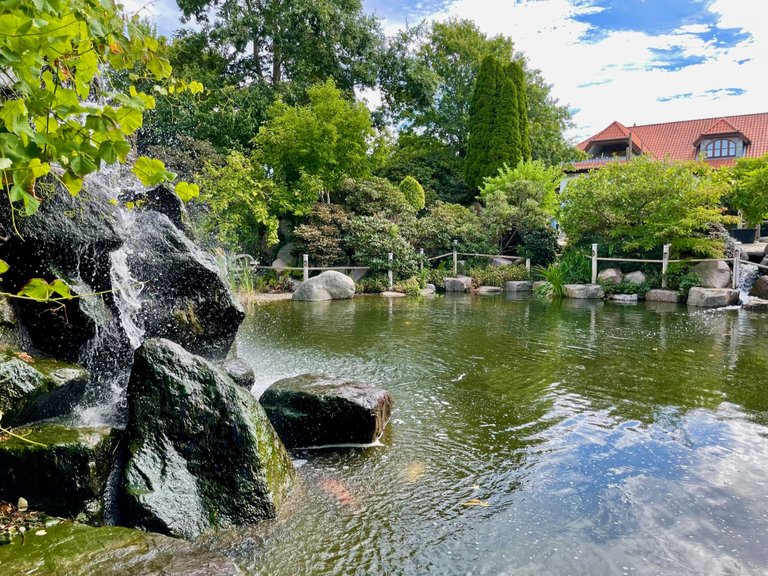 In the Zen garden, they love animals. They also have two pairs of beautiful macaw parrots and a pair of Inca cockatoos.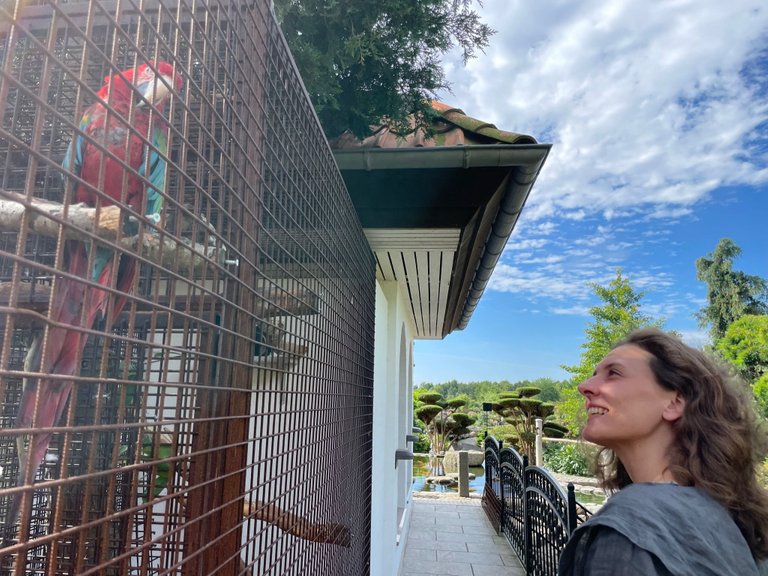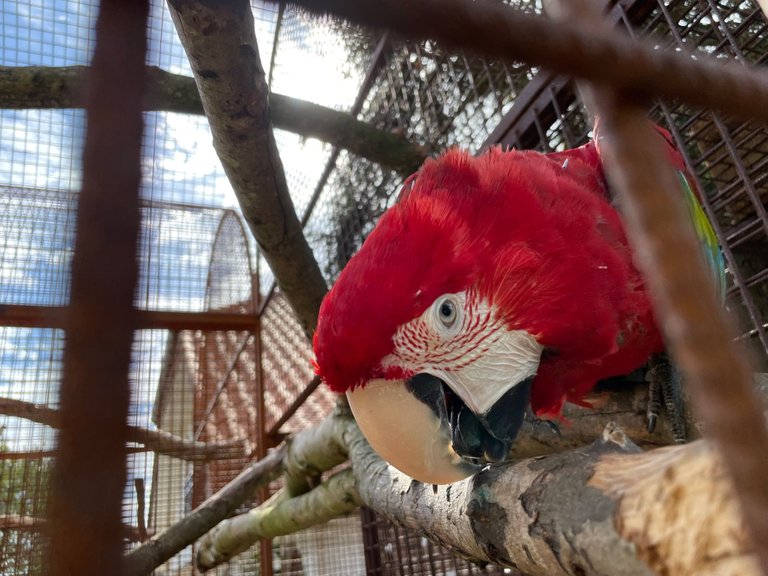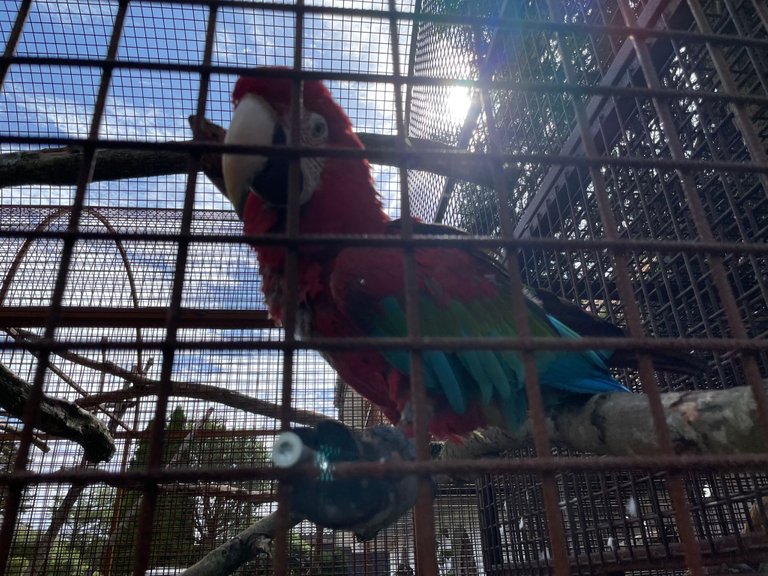 After checking out the wonderful "old" Zen garden, we went back outside to the parking, from where we started to take a walk in the "new" Zen garden.
Jörgen started building the garden that they call the new garden in 2008 and it is still under development. Here they play with roses, dahlias, perennials, peonies and many other plants and exciting trees.
Of course, there you can also find a little lake and lots of stones on the way.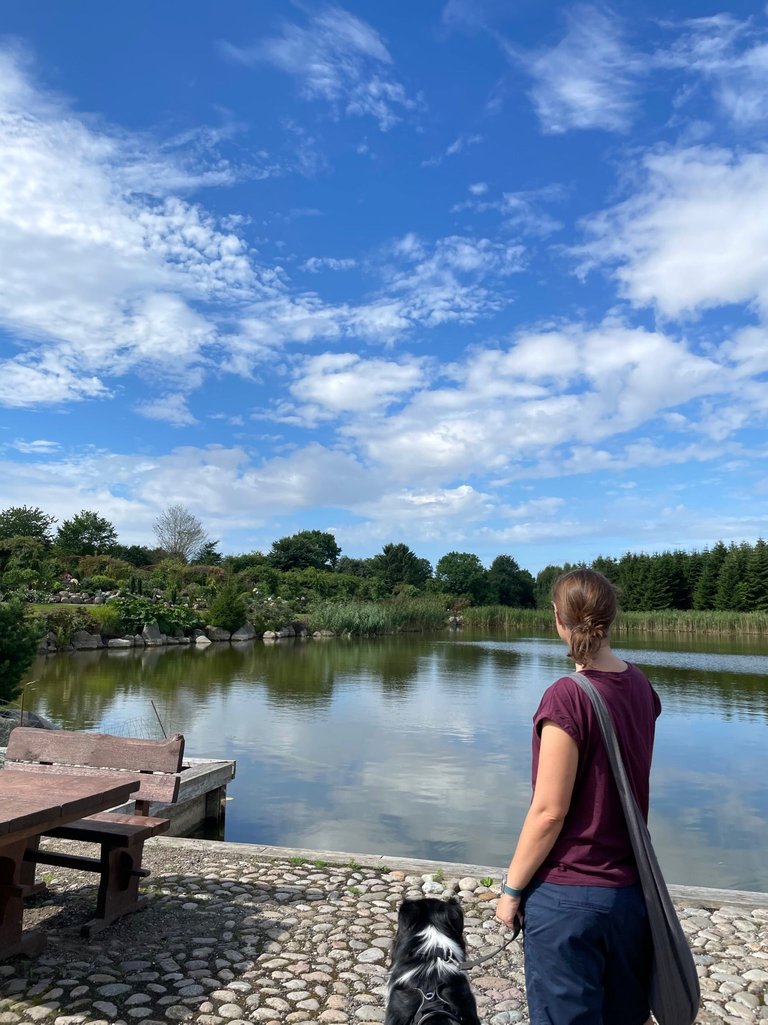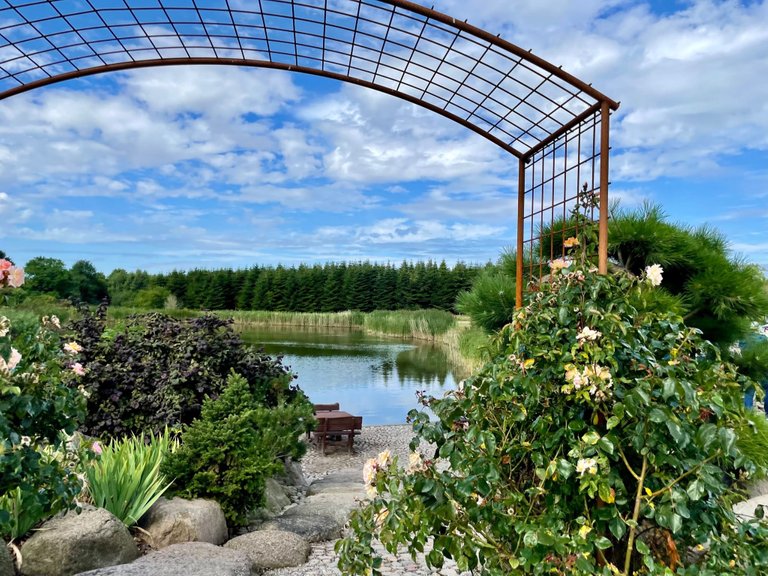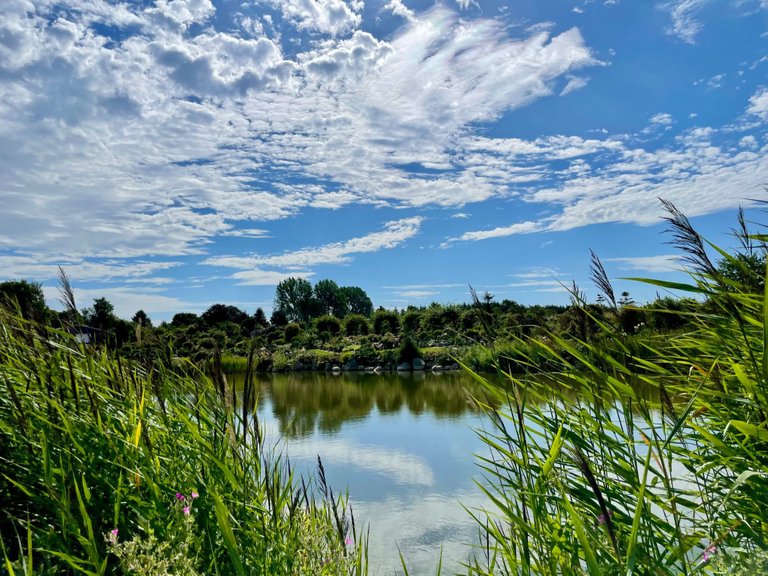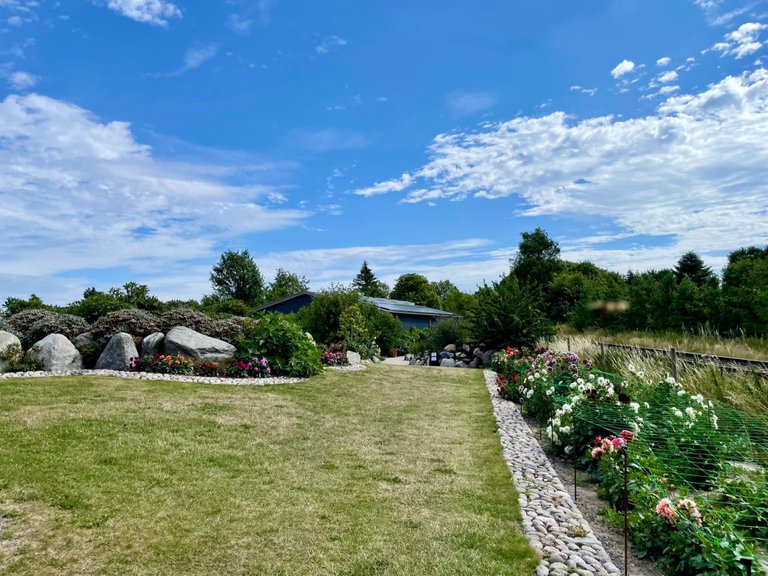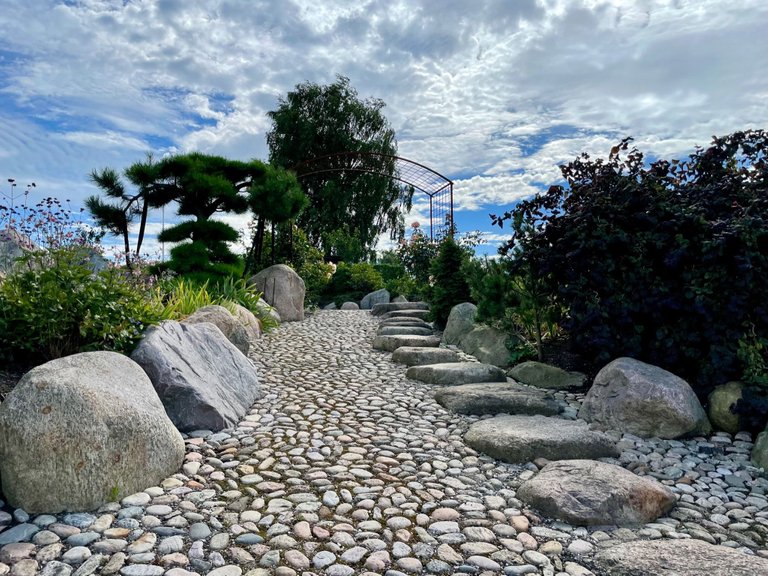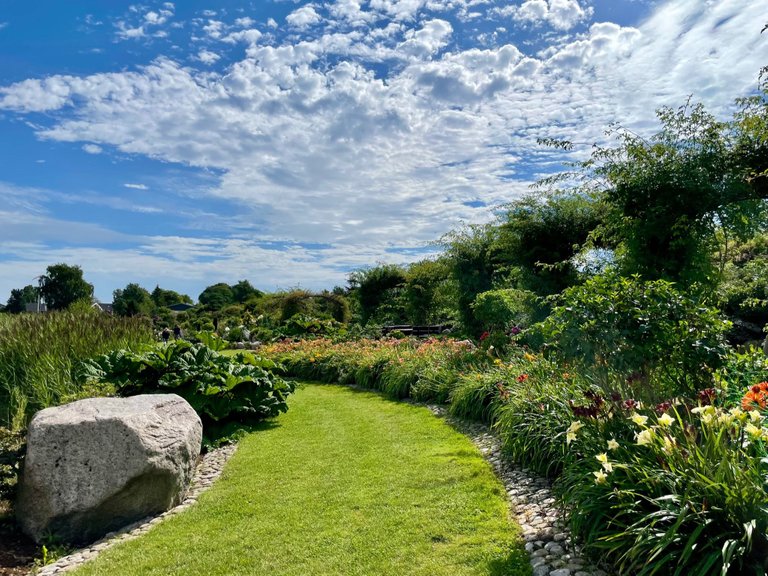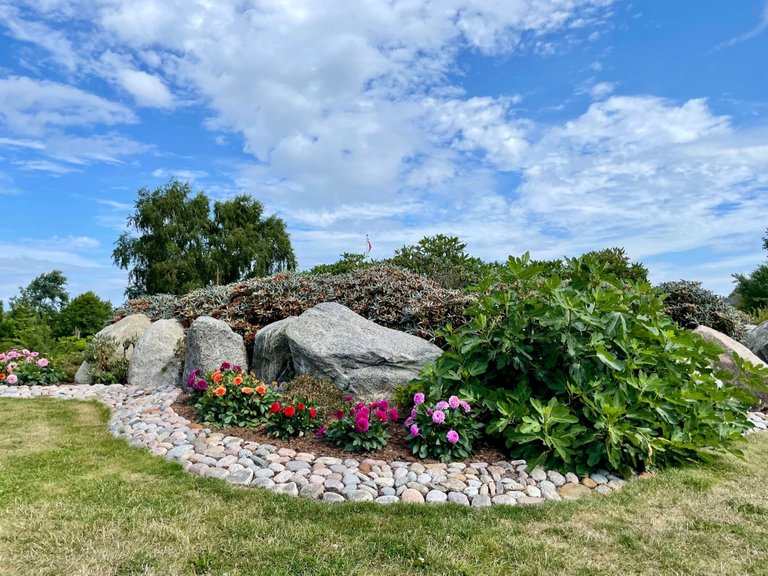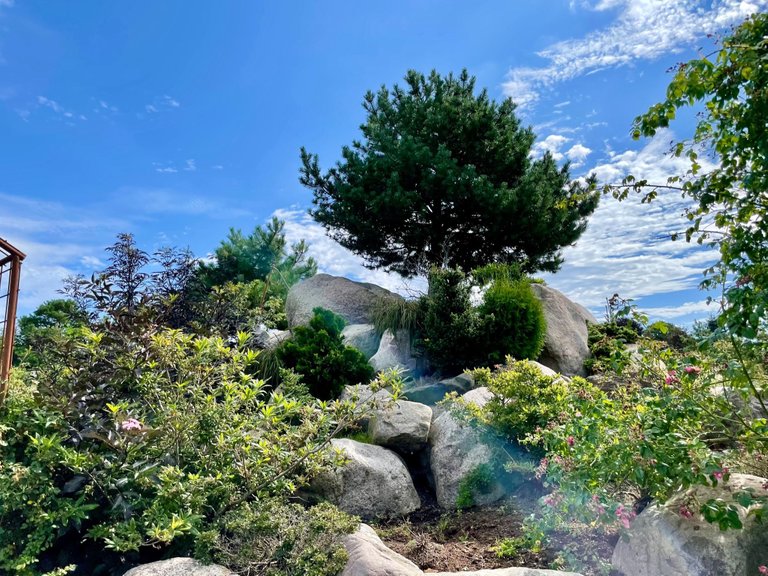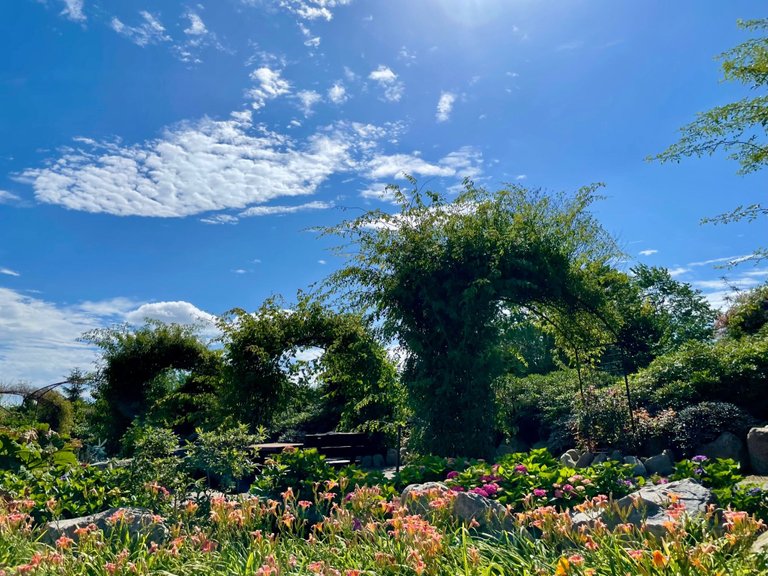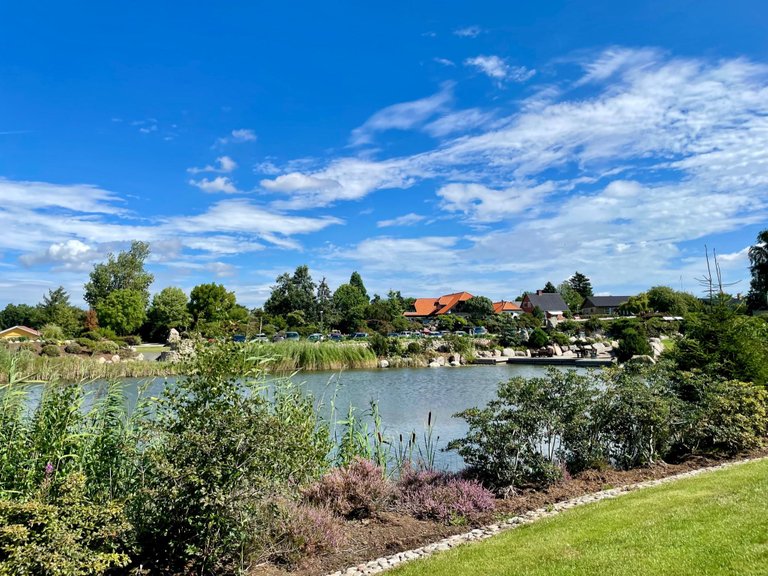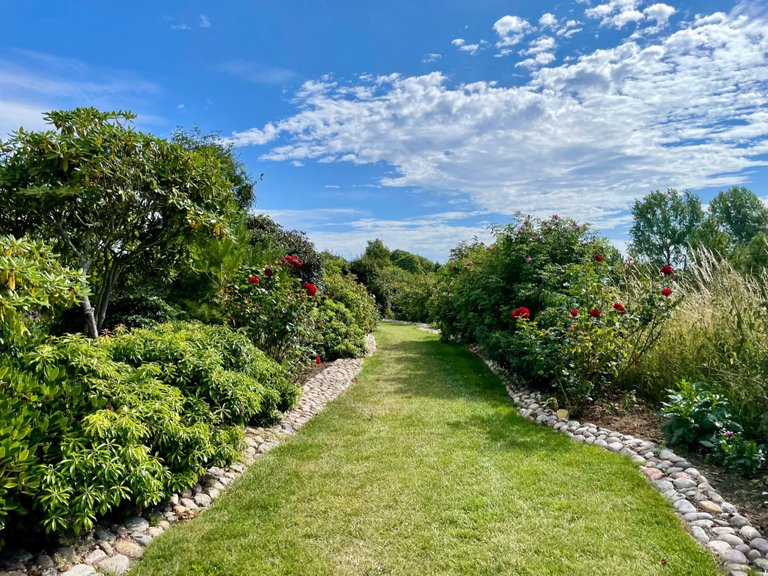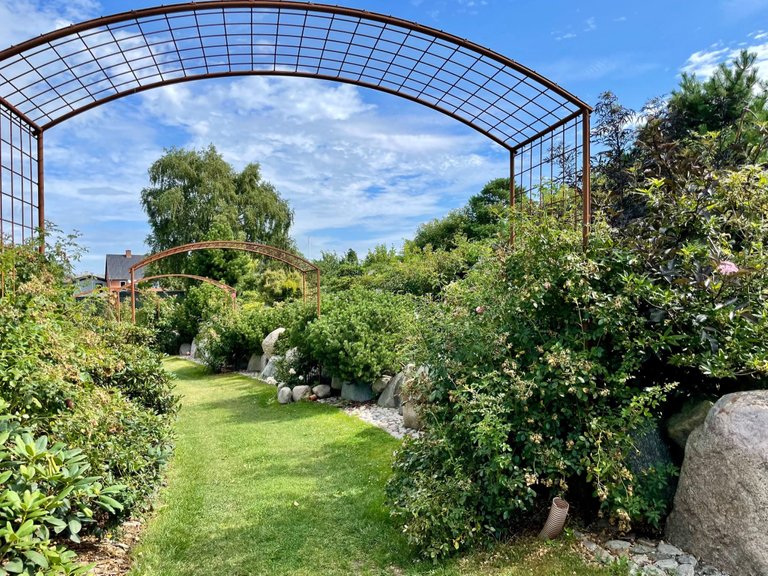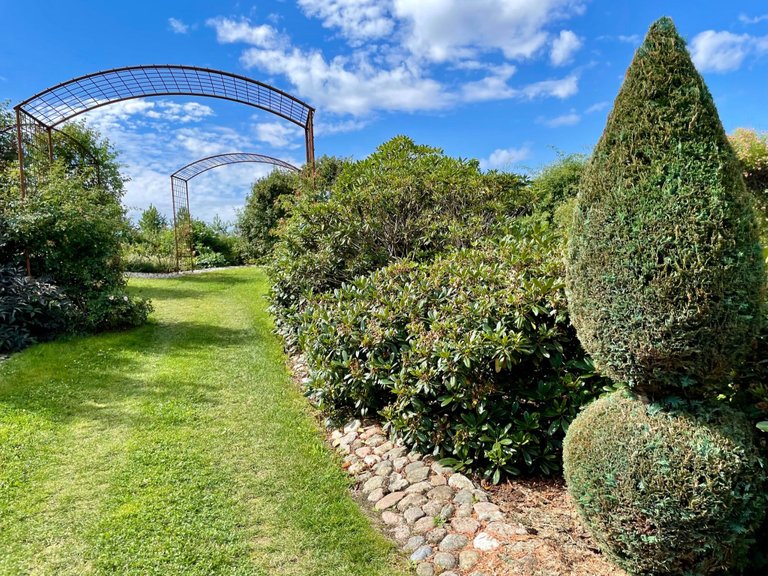 The number of different flowers is just stunning and we were lucky that some of them were still out and beautiful!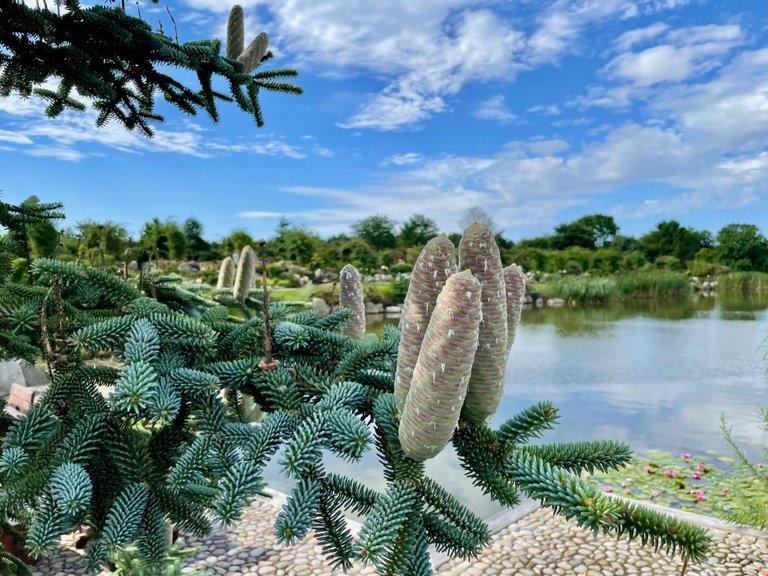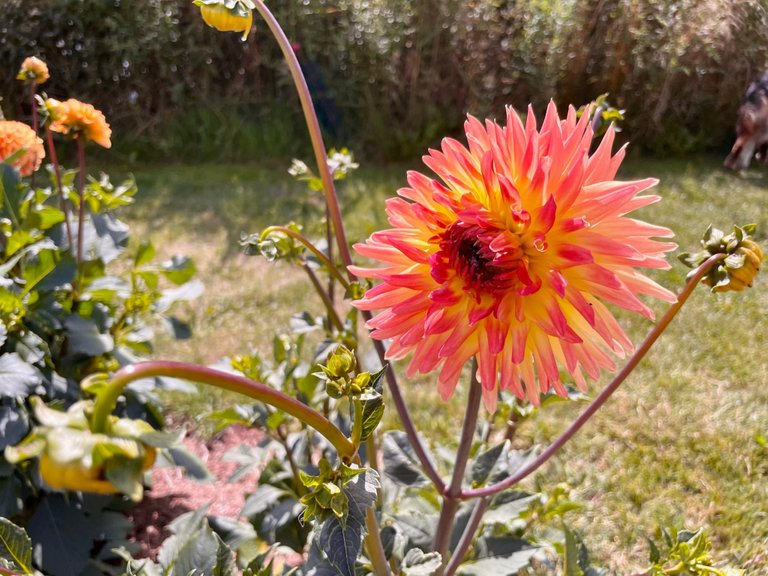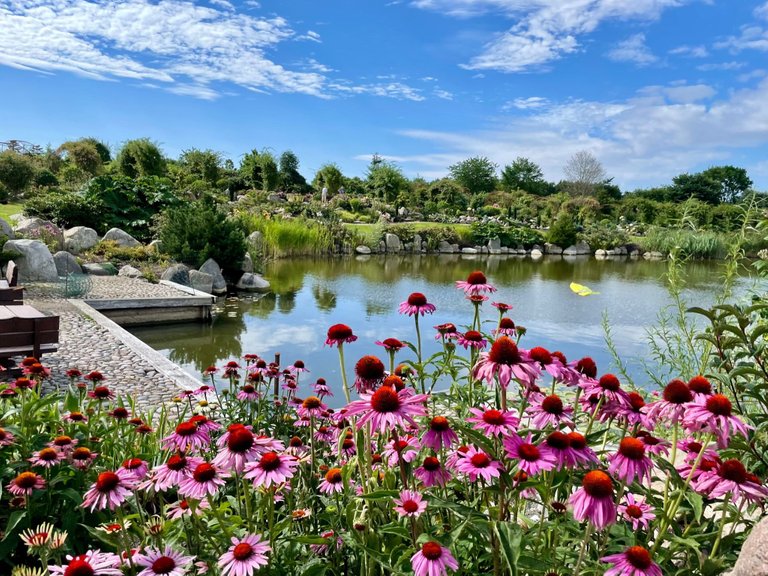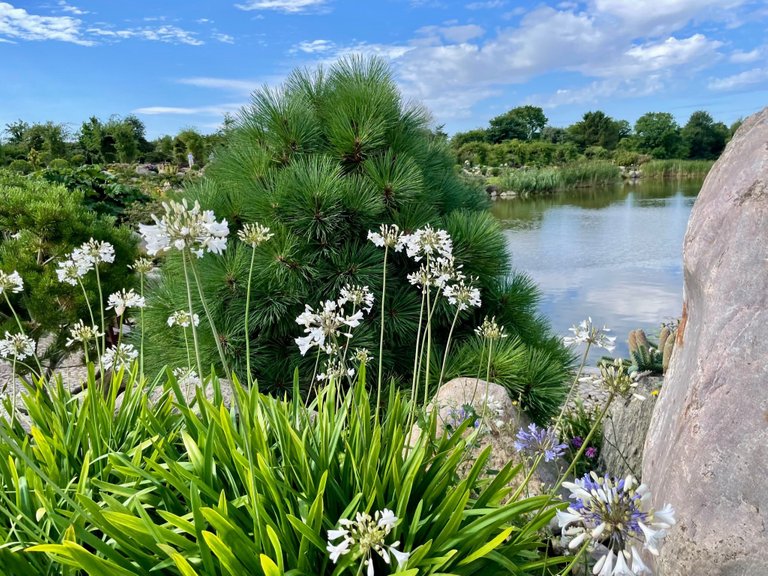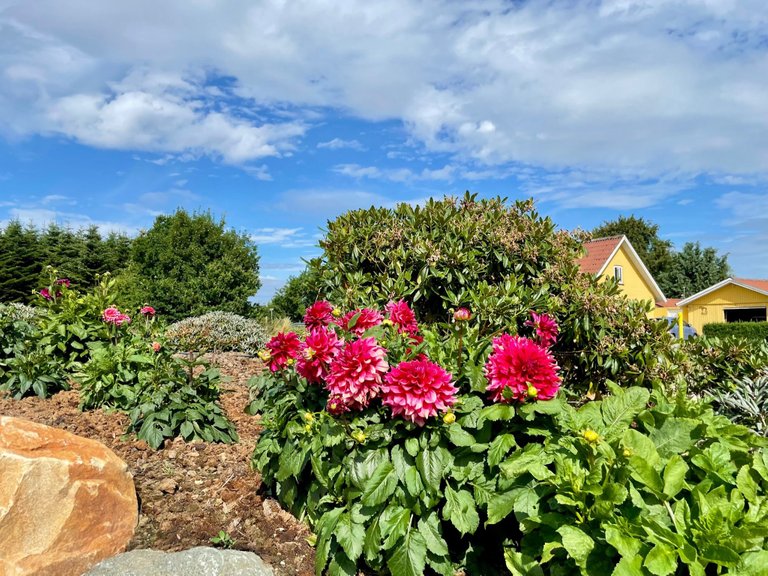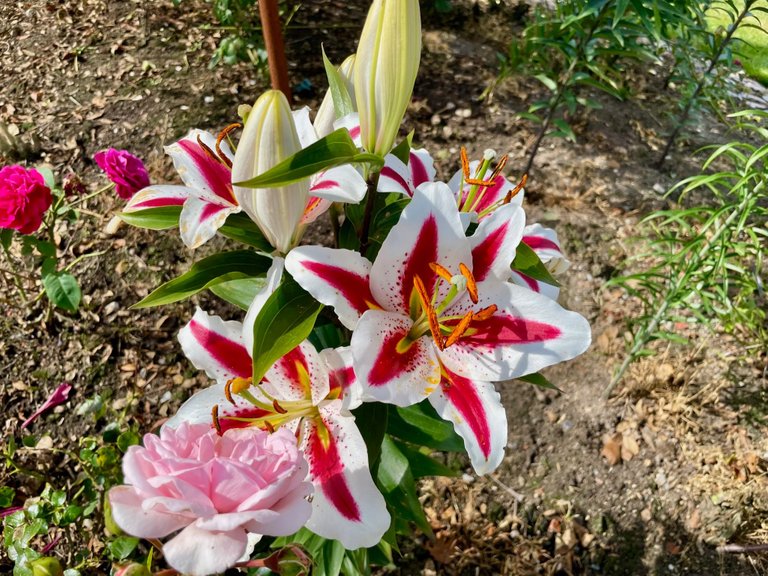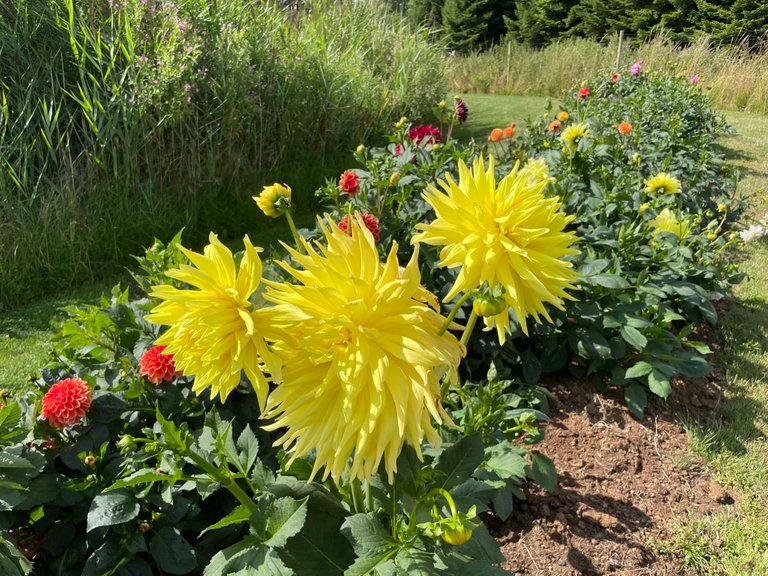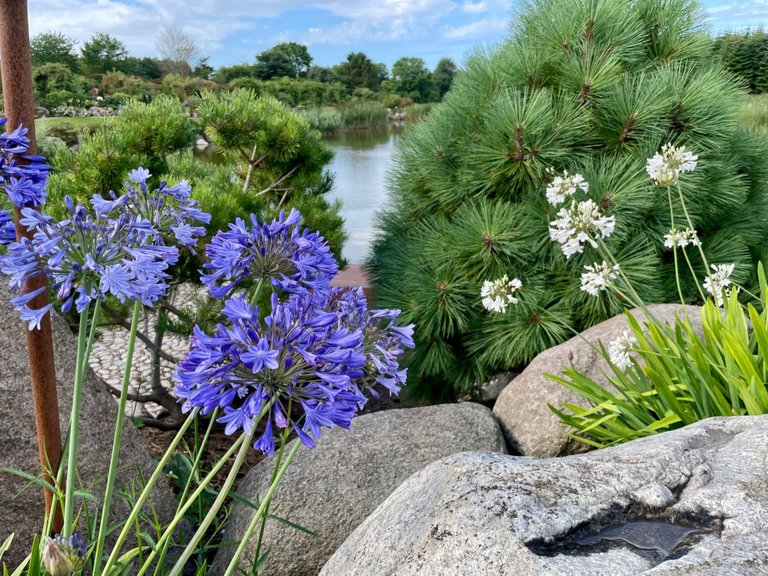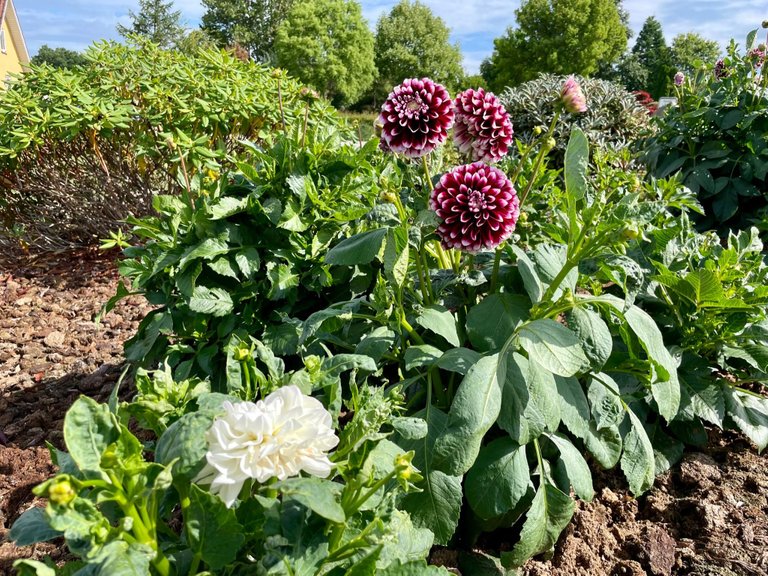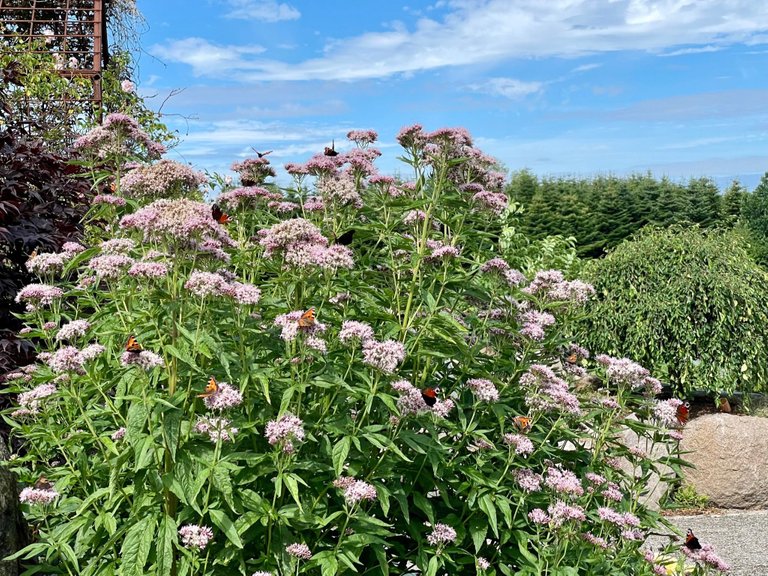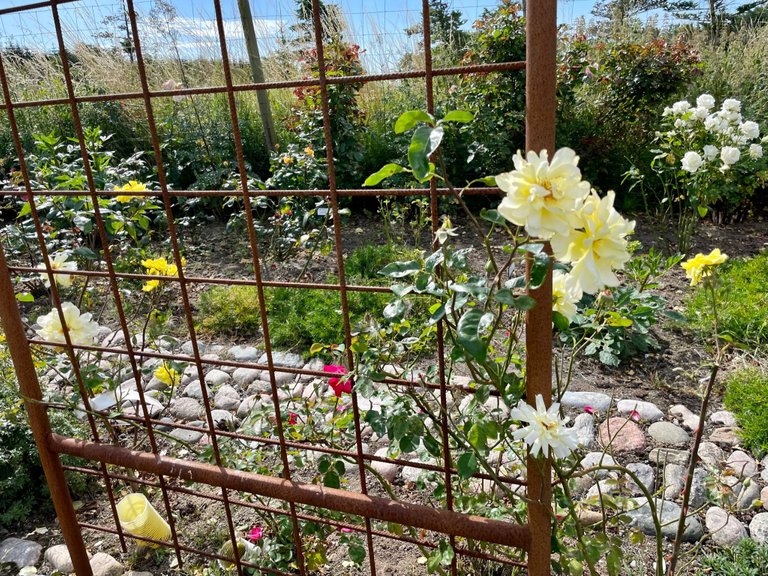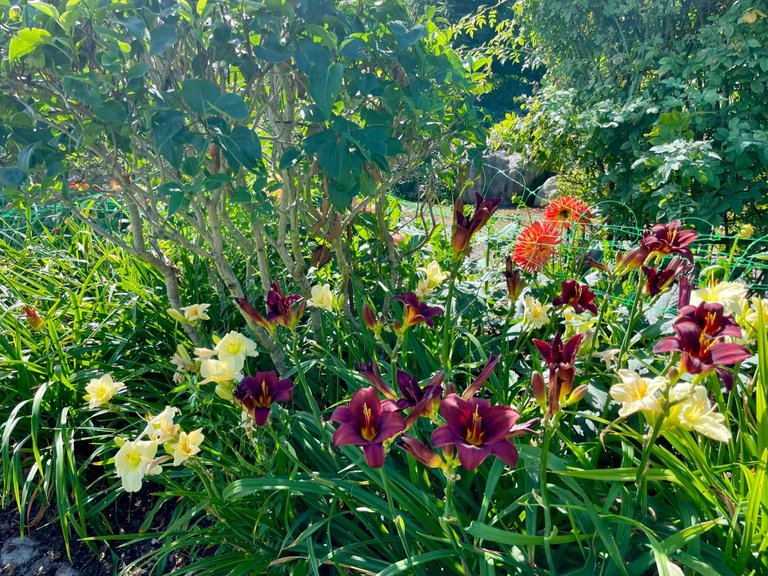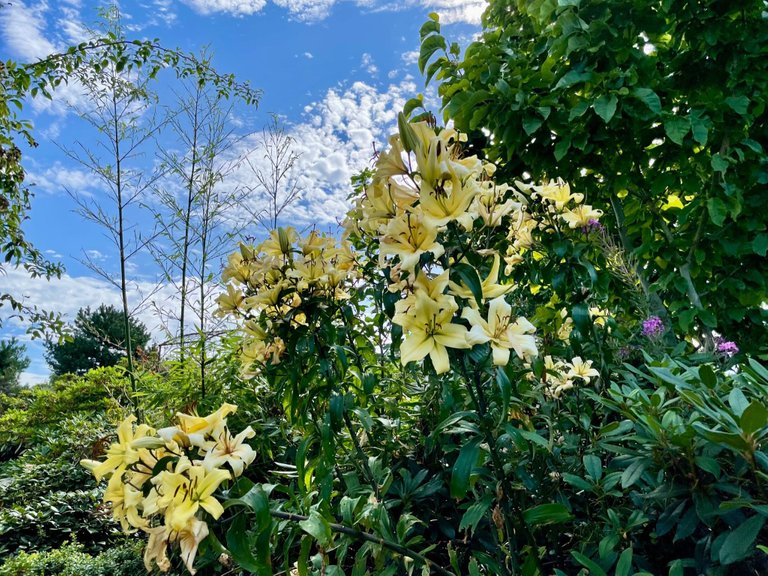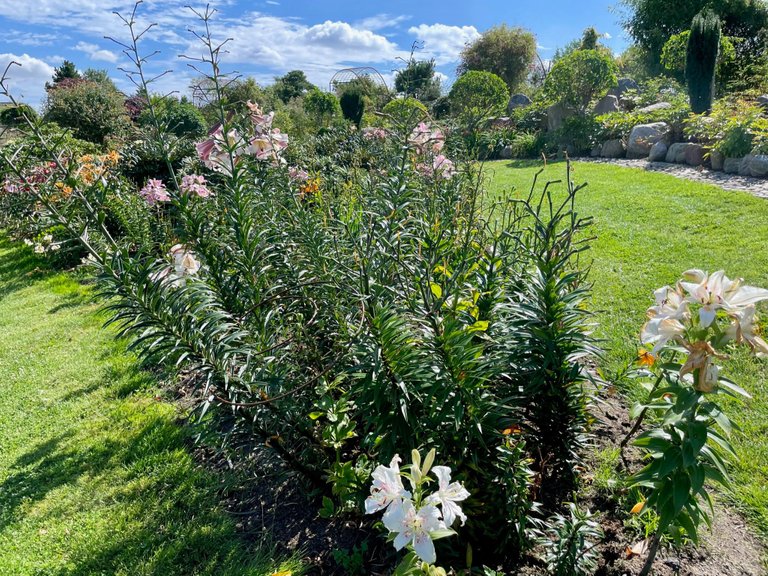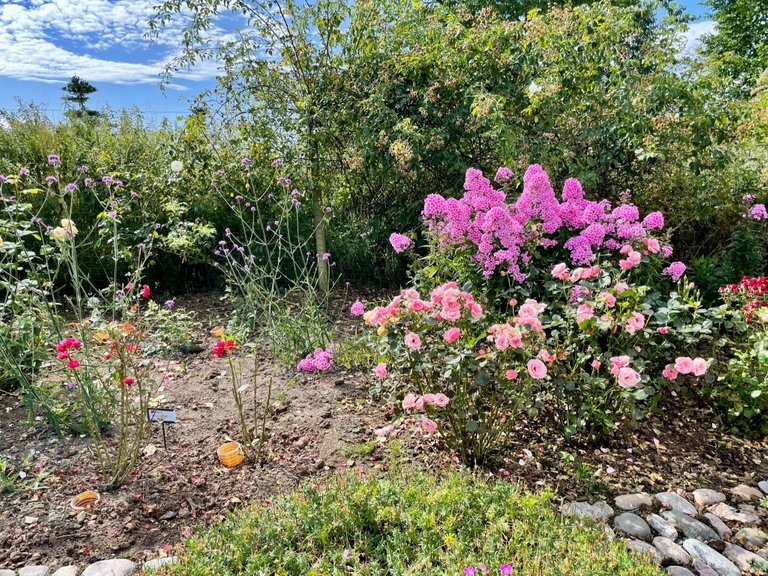 I was very happy that we picked that spot for our first tour, as it was very calming and just chilling to be here. We could easily recharge our batteries and were ready for more adventure!
But more about that soon.
Cheers,
Liz