Hi all 👋🏻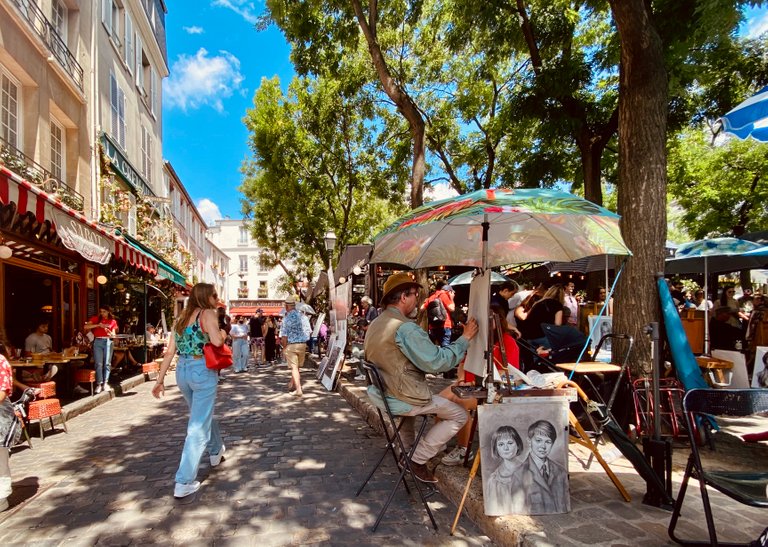 With this post I'm joining in at the Wednesday Walk challenge and Make me Smile challenge. That are hosted by @tattoodjay and @elizacheng every week on Wednesday.
‼️Have a look: Here in the Wednesday Walk Community if you want to join in! or at @tattoodjay 's Post here: "Wednesday Walk along East Beach"
It tells you also the rules of joining in, at the end of his post 😁
Of course you know by now I have been in Paris, France 🇫🇷 Beginning of the month of July.
As I made over 1700 photos, some days more than 500 photos, I continue to only post some #highlights per day and when there are too many… LIKE TODAY… it will be in 2 parts 😉🤩 so today I show you PART 1 of the THIRD day. And it will take you to the famous district of: MONTMARTRE in PARIS FRANCE 🇫🇷
Today's selection will be of 30 photos, where I take you further through some busy areas and off the beaten paths in Paris 😎 in the 18th Arr. /District.
On Google maps we see this district mapped out:

My Photos are all taken with my iPhone on 3 July 2022
I will follow the time stamps on them. So it looks like you are walking along with me 💃🏻💃🏻💃🏻 Through the streets of this romantic city of Paris 😊
The first day and second day you can find here if you missed it:
Walk around Paris ~ highlights of day 1 - Part 1 🇫🇷
Walk around Paris ~ highlights of day 1 - Part 2 🇫🇷
Walk around Paris ~ highlights of day 2 - Part 1 🇫🇷
Walk around Paris ~ highlights of day 2 - Part 2 🇫🇷
Let's start our walk for today… are you joining me?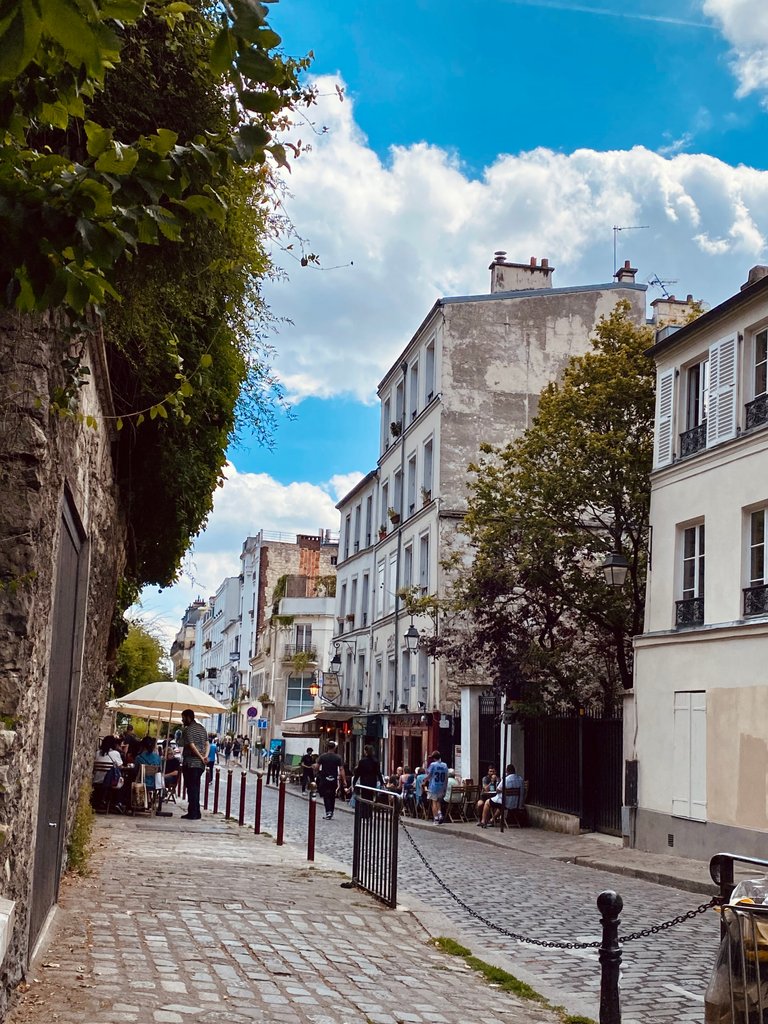 Coming from off the beaten paths into the Montmartre district we see this side street.
We walked up some steps and look back to have this gorgeous view over Paris 😎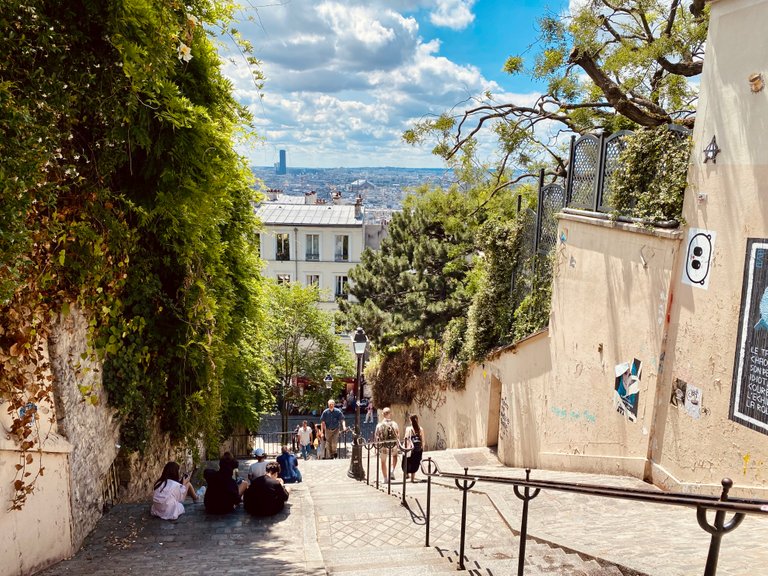 Not much further we reach this square were we see artists present their paintings and will paint you for some euros too 🎨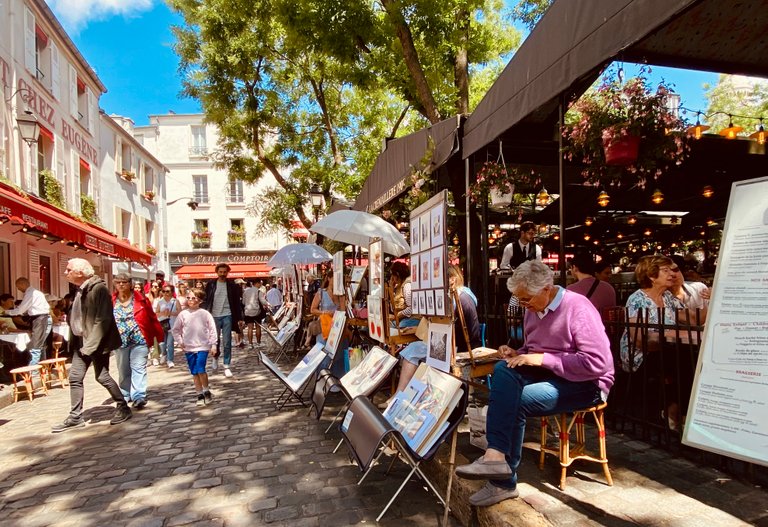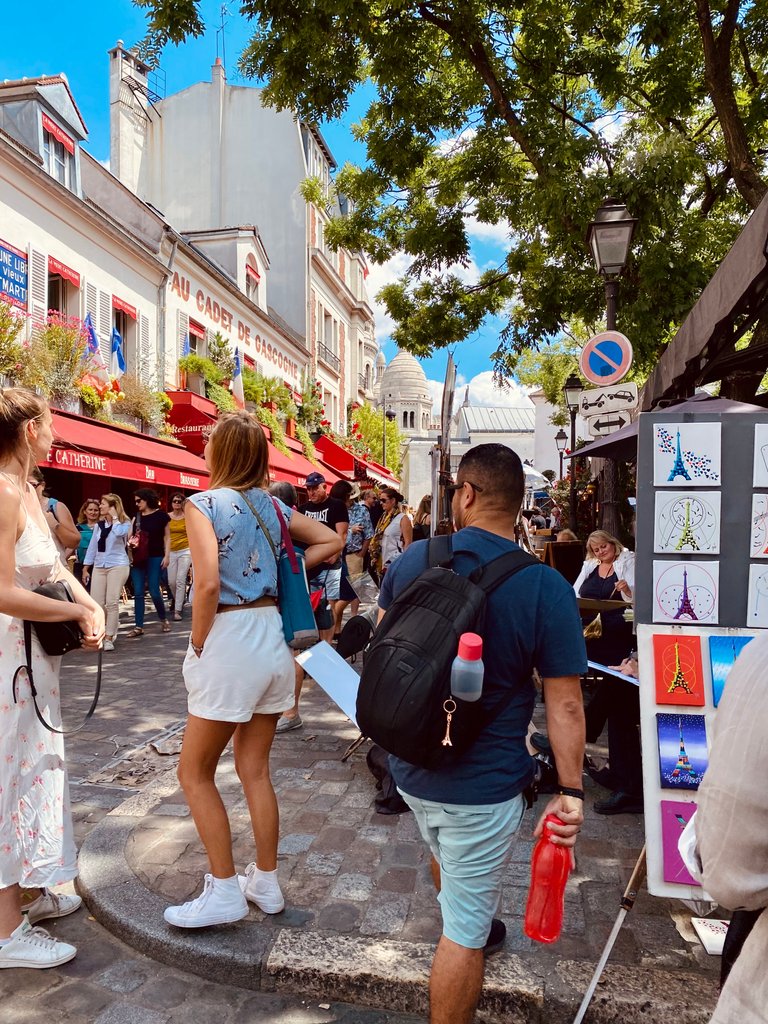 As you can see it is rather busy in this square… I don't like business so we walk further to reach the side streets again 😉
We pass by some cute little café's and restaurants 😎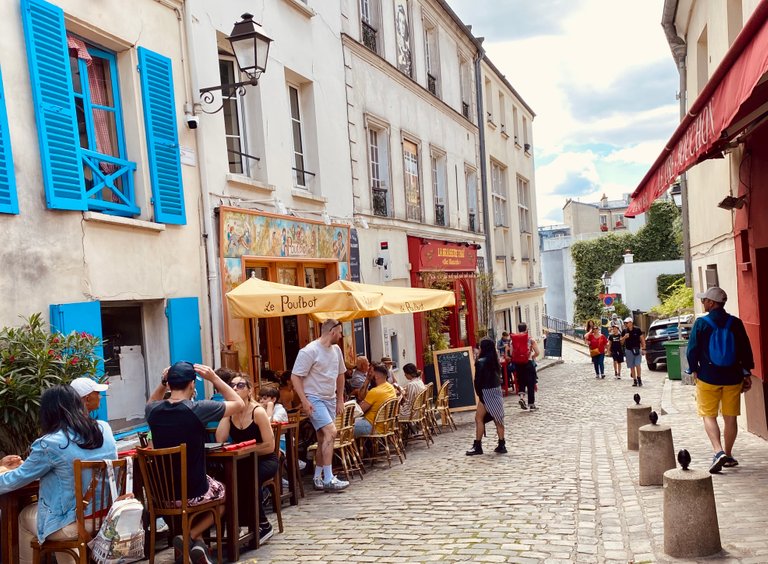 This one stands out with it's old school lettering on the façades 🤩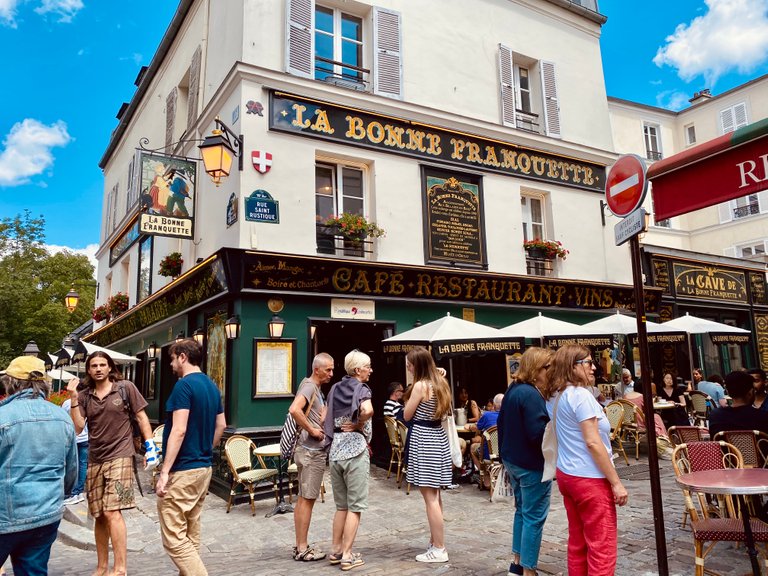 And beautiful images all framed up.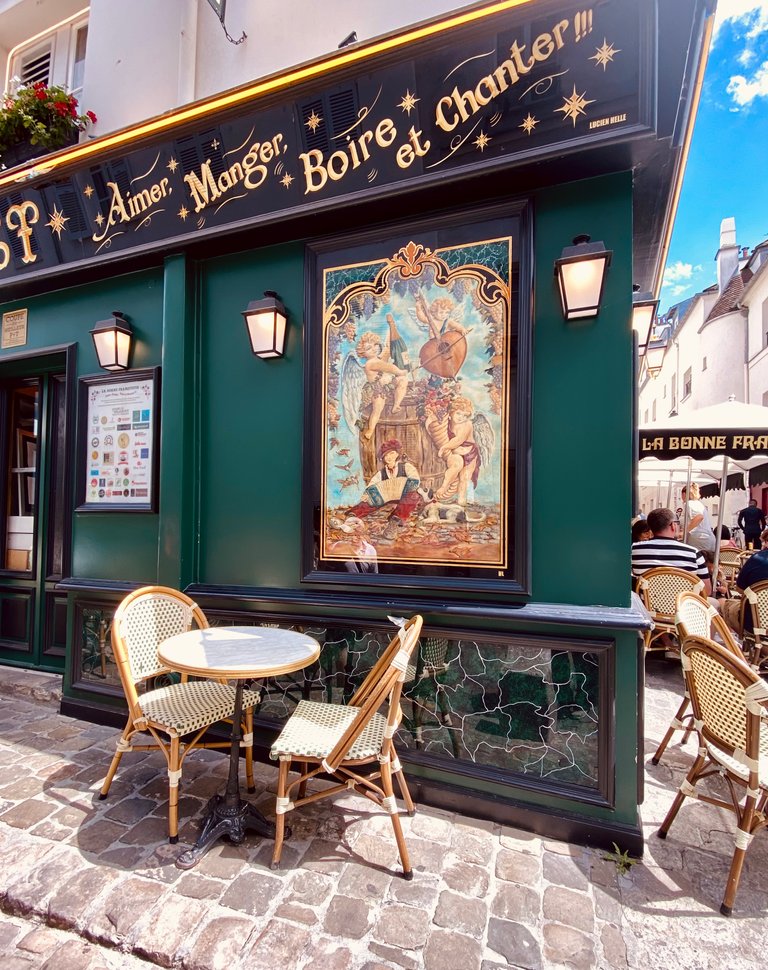 This area is known for it's artists that display their creativity everywhere. 🎨😎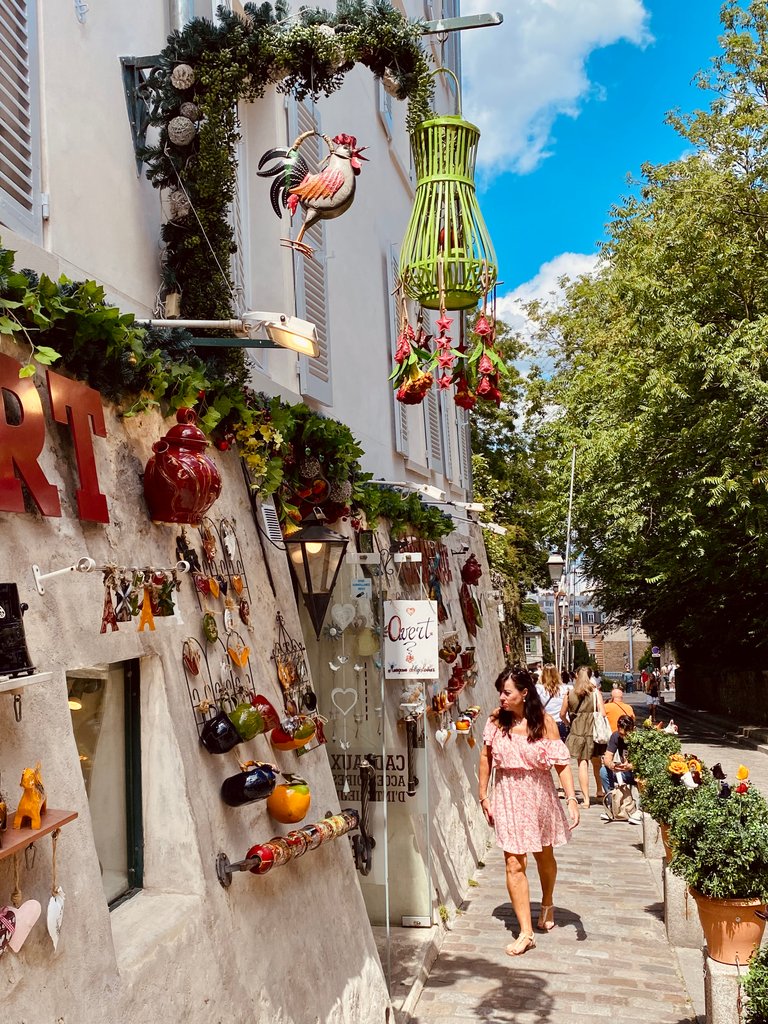 Some more artworks on the walls of a restaurant. With beautiful red flowers 🌺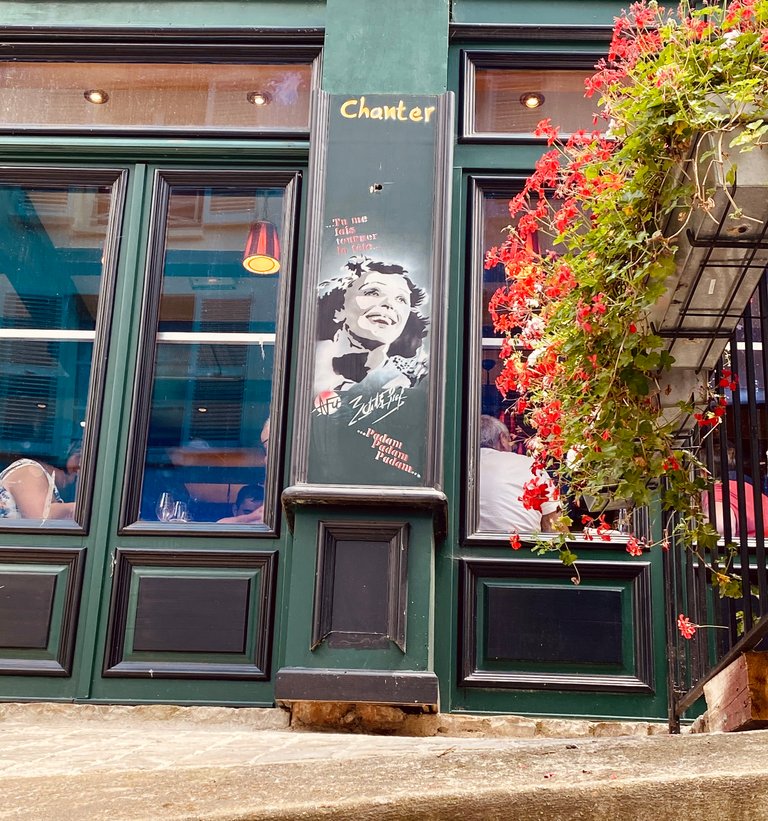 #alwaysaflower
As we walk further we reach much quieter streets. Yep… more to my liking. I think yours too 😊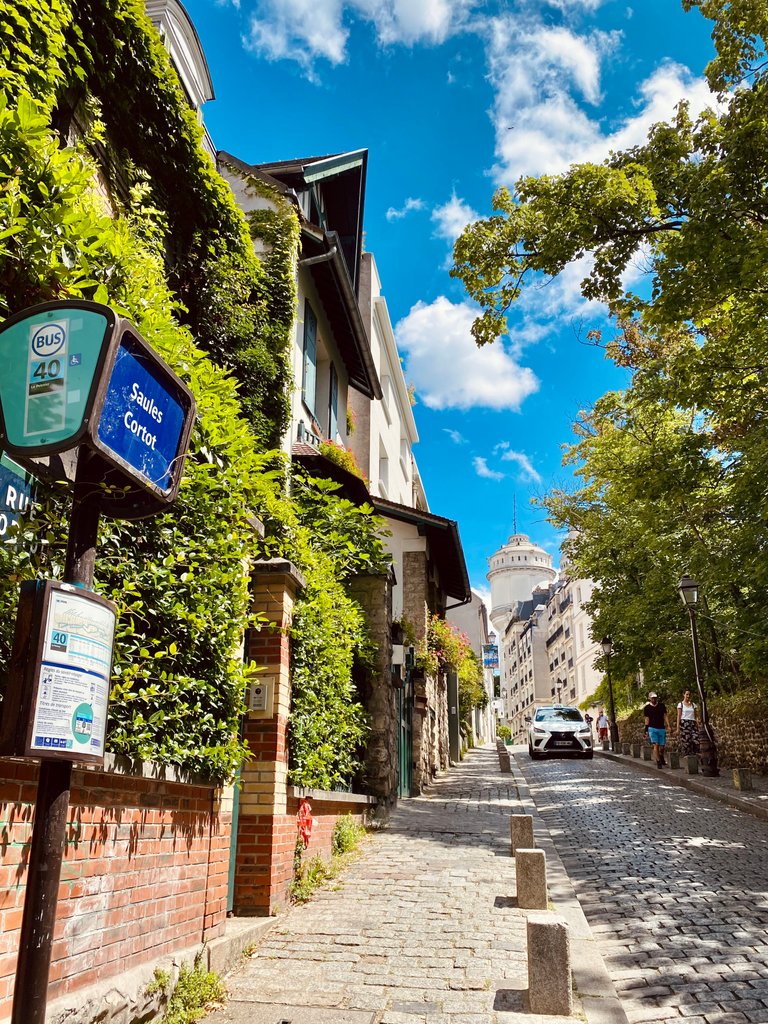 On one of the corners we see this cute pink restaurant, well known by travellers. One place most tourists take photographs from. So why not… I take a few for you 🥰😎 it does look romantic.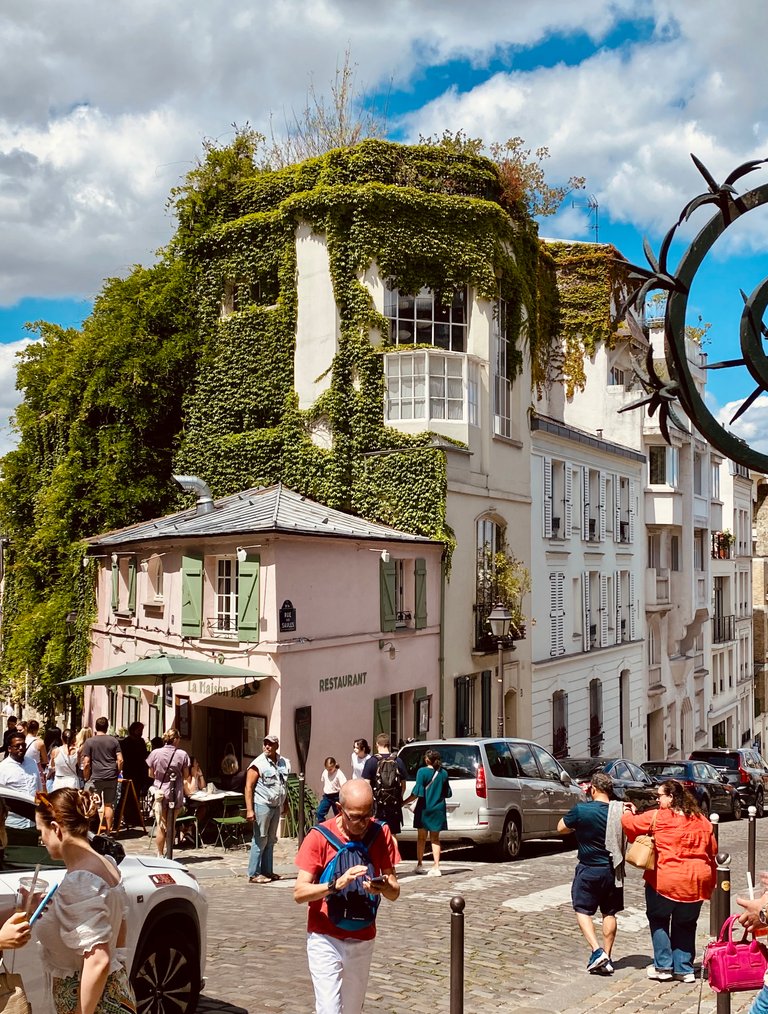 We decided to walk into a side street to see what's up there.

Cute cobble stones and more green.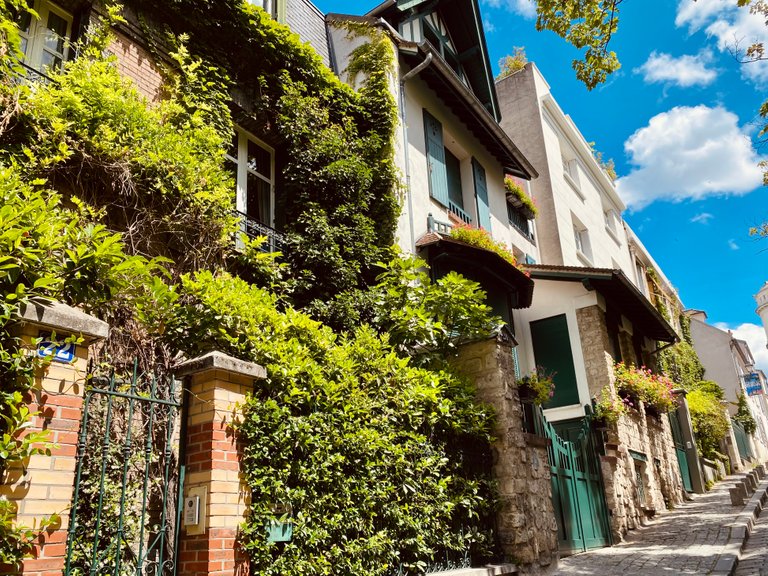 We turn around at the top and walk further down. Past this pink cute little building again. 😊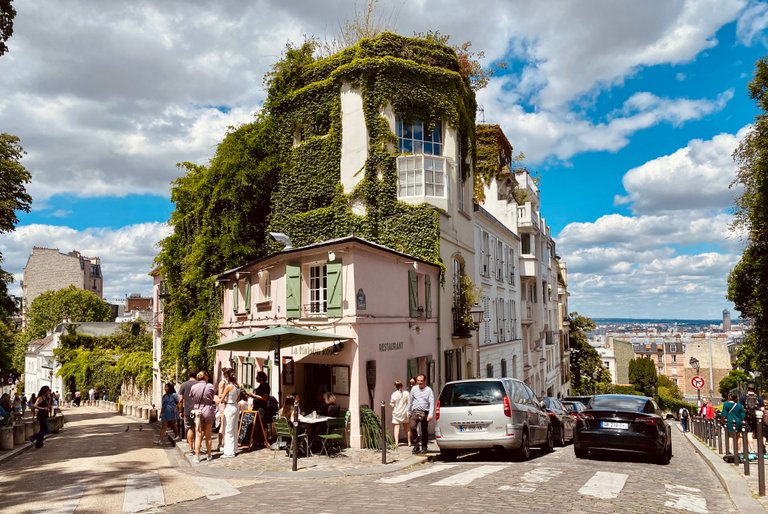 Next we pass by this sign. It tells us, in front of us we see the oldest vineyard of Paris.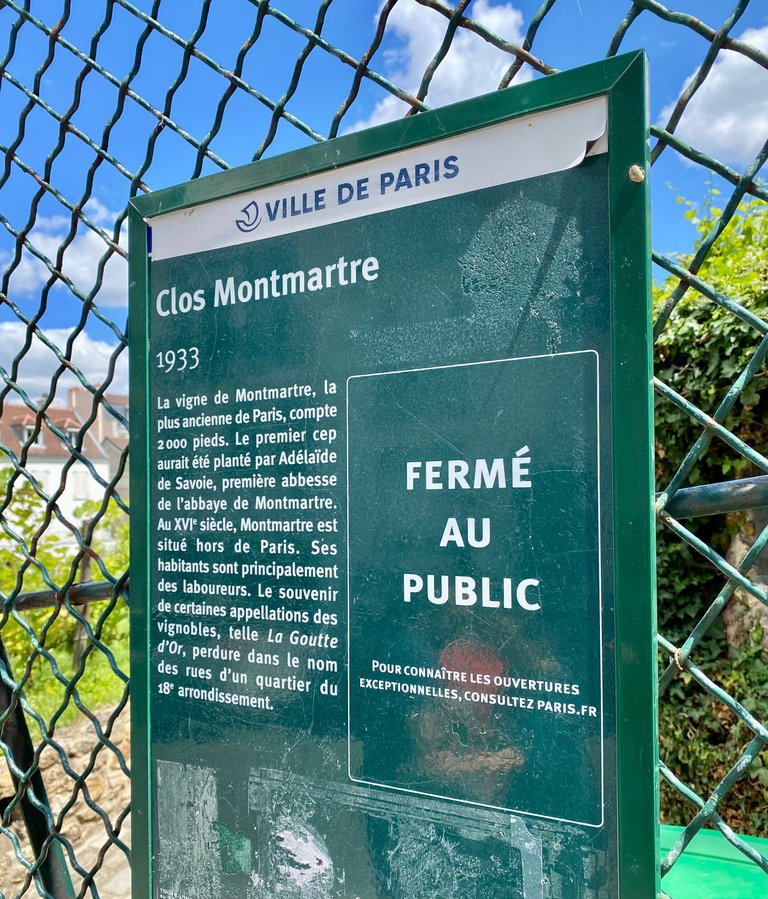 Sadly it is closed for the public but I try to capture some photos through the gate and fence walking past it. 😎
Look how cute this area is. Can you imagine a vineyard in the middle of a large city like PARIS? Special… for sure. 🥰🍇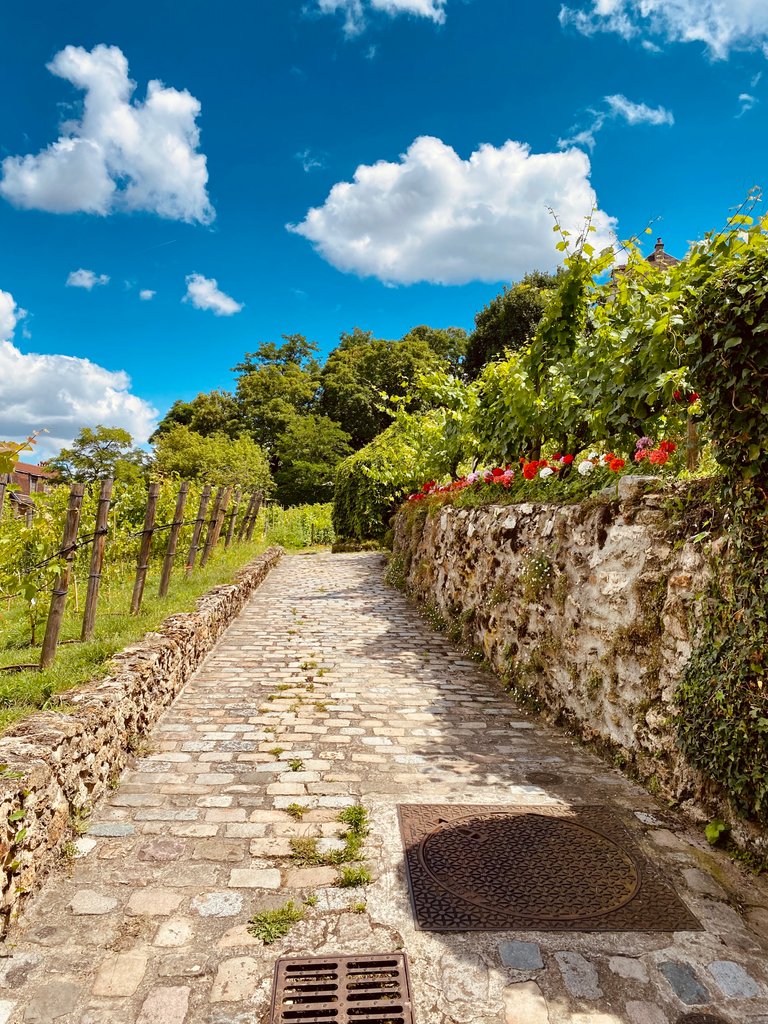 Do you see the vines?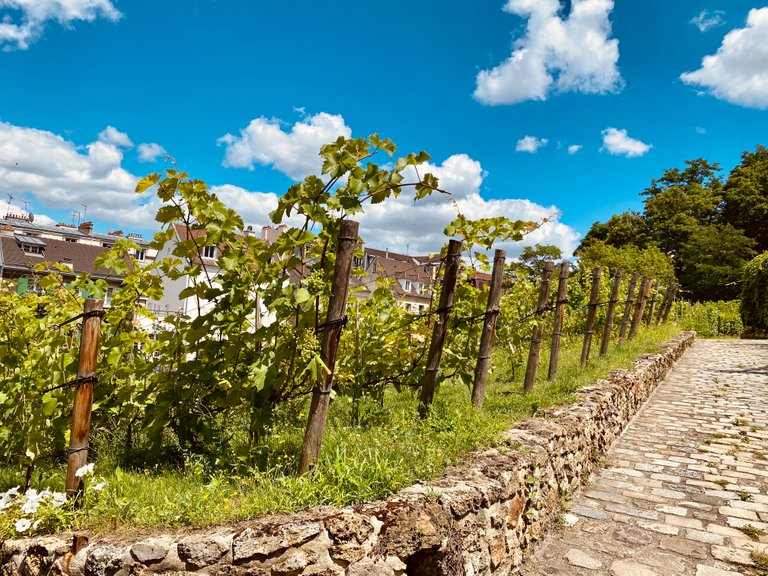 We see also other plants and a plaque.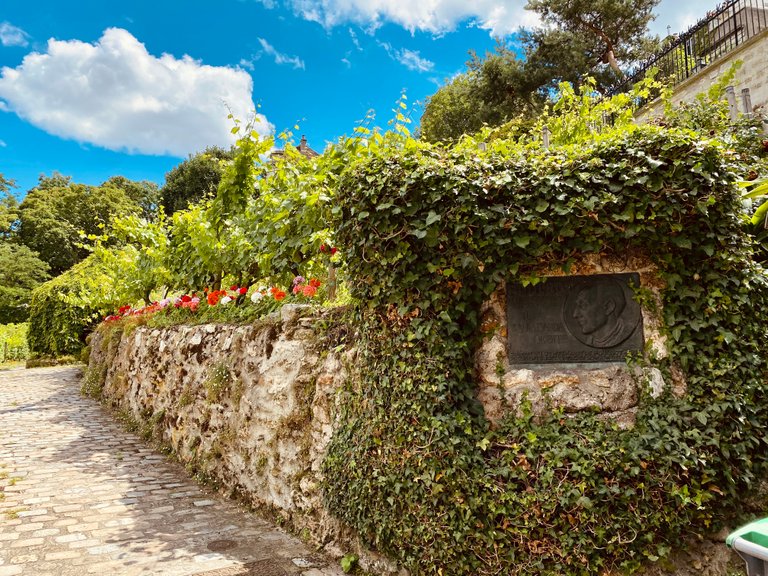 I can imagine walking through it… it is well kept as you can see 😊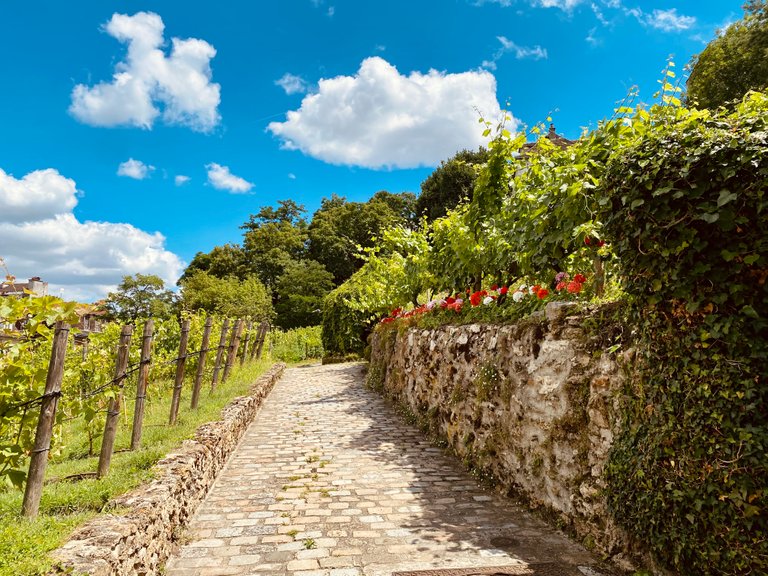 I take a close up for you to see some little grapes 🍇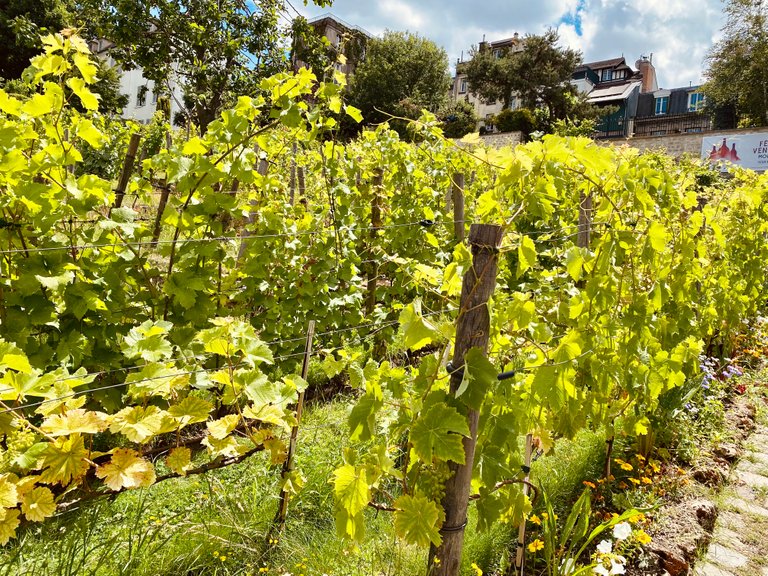 At the bottom of the pole you can see them clearly.
Taking another side street… now we see no tourists anymore. Just a wanderer here and there 😎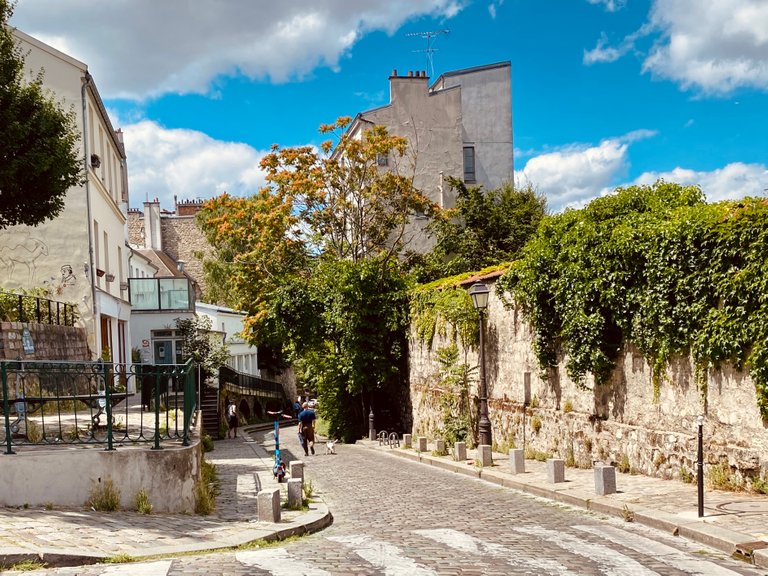 I love how green this area is. Even if it is a large city. It is so pretty.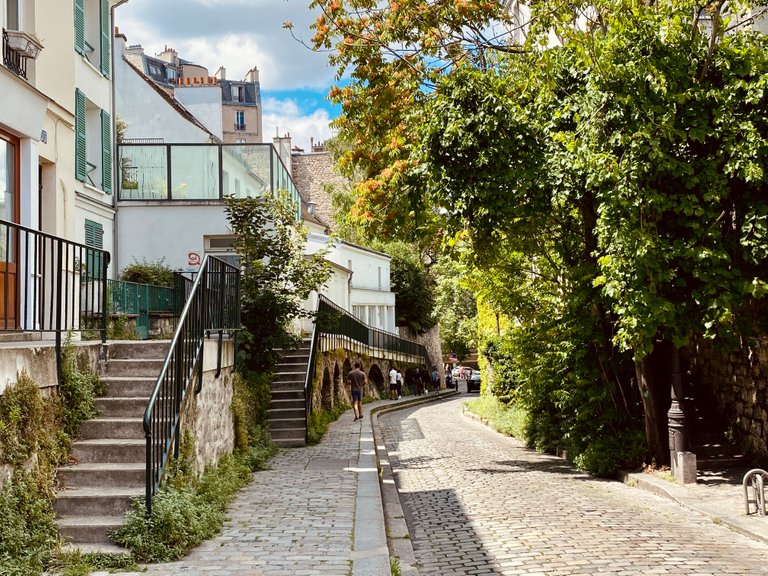 This orange building pops out on the corner.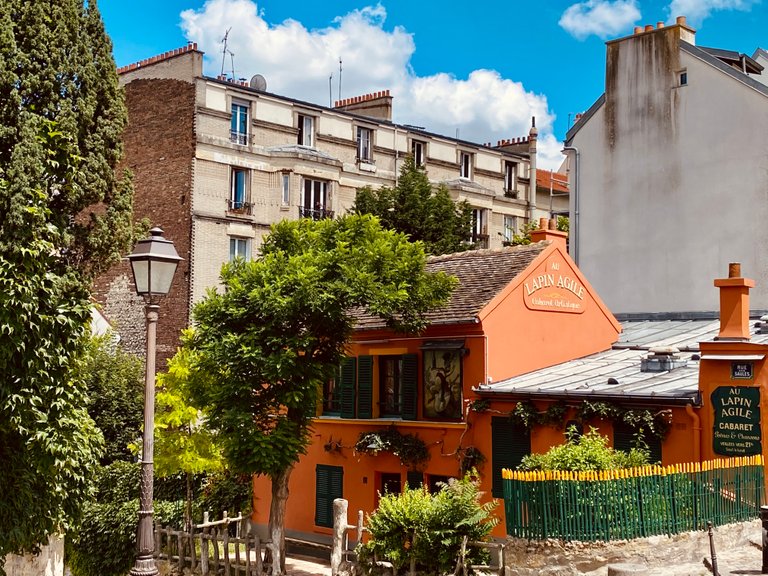 It's famous for it's cabaret shows… and has been holding them a very long time.
On this corner we look up and see the vineyard again.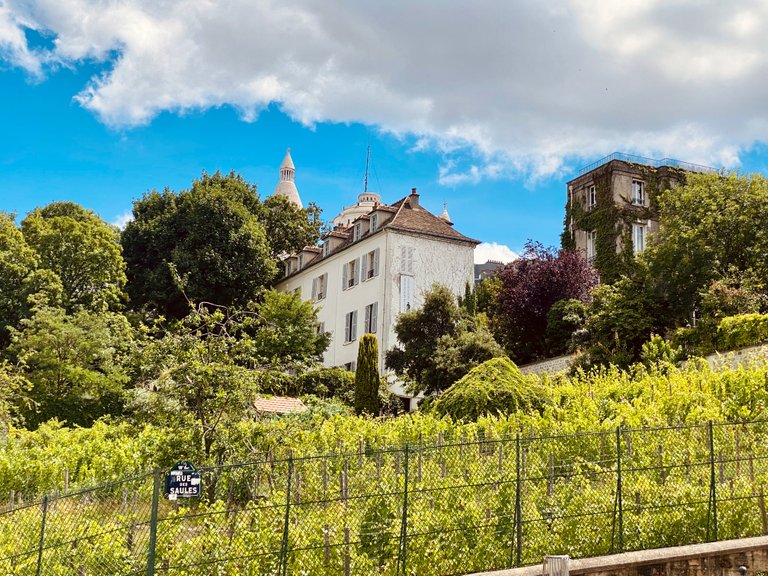 Walking through cute streets some buildings stand out.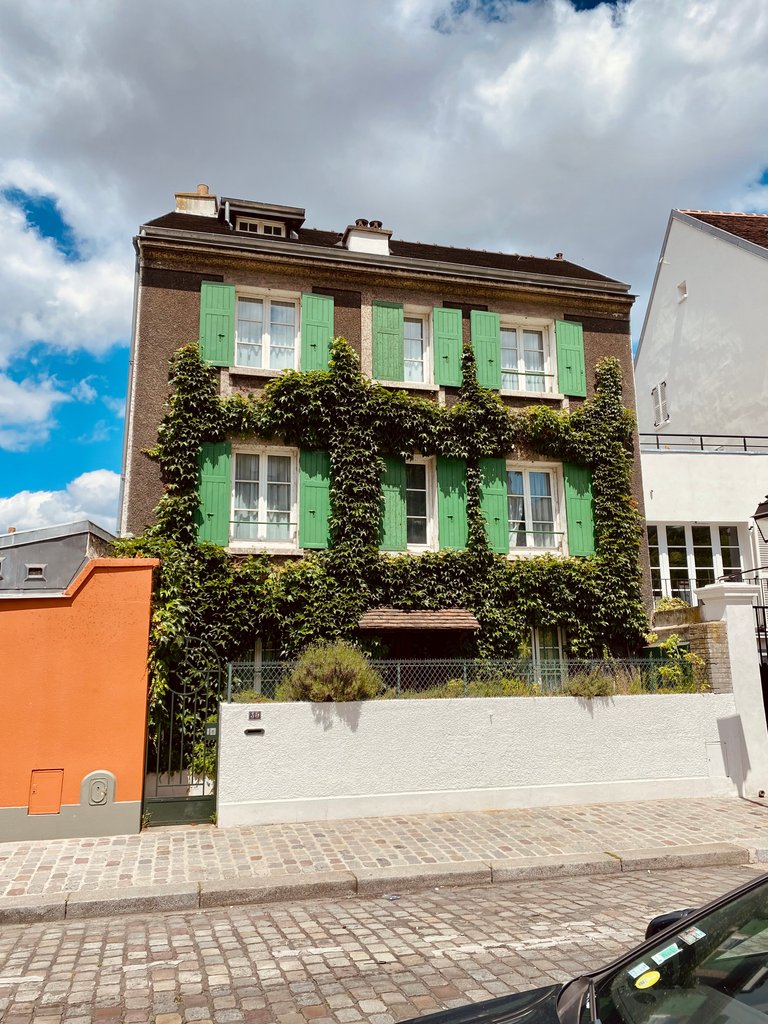 The next one is pretty cute 🥰

I surely wouldn't mind living there hehehe 🤭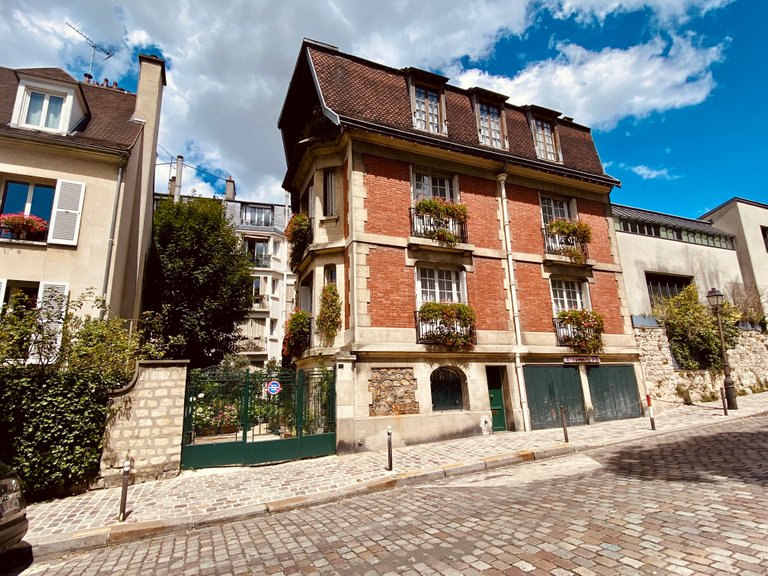 Next we look down some steps you find every where in the Montmartre 🤓

And walking further, this building captures us… in the distance, with it's lines running down the façade and the green ivy climbing up. 😎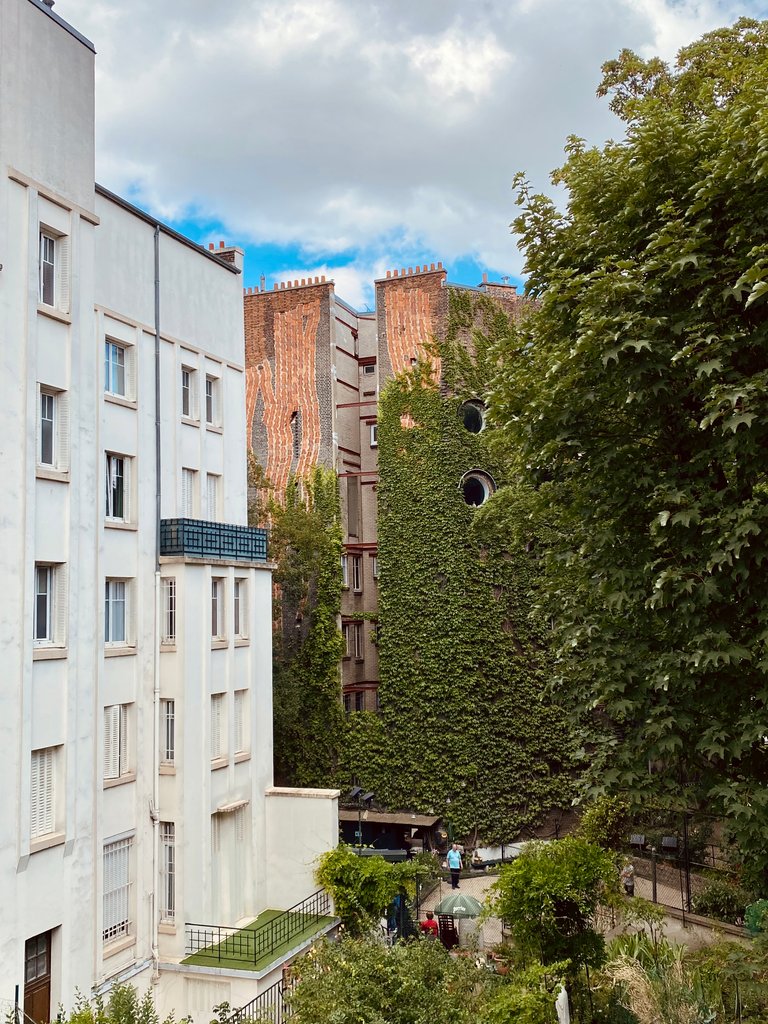 Here we say good bye 👋🏻 Now and go our own ways again 😉😁 until we meet again for part 2 of this day 3 in Paris.
Hope you enjoyed going along with me on this first part… I enjoyed for sure our time together 😊 thanks!
And that's all for today! Stay tuned for more Paris related content 👋🏻😁and join me next time for more #adventures, #stories and #photographs 😎👋🏻 Even some #artworks once in a while will come by 🎨
Thank you so much for looking, and reading. And if you liked my post, an upvote or re-blog is always welcome 🙏🏻
Any questions or comments, let me know. Always happy to help.
Have a great Wednesday all 😎
Grtz Jackie
The divider is Created by SilverFish / @ mondoshawan
Unless stated otherwise: All art and photos used in my posts are taken, created and owned by me. If you wish to use any of my photographs, please contact me first. As I have used some commercially myself. We don't want that you or somebody else gets into trouble 😉 So please don't use them without my consent.
🖼 My PRINTSHOP: for the purchase of all kind of prints in many sizes from my Artworks 🎨 and Photography 📸 Which come on different objects too. Have a look in My Prints Shop!
!pinmapple 48.88671 lat 2.34009 long Walk around the MONTMARTRE Paris ~ highlights of day 3 - Part 1 in Paris, France 🇫🇷 d3scr