And so begins our three day Andorra hike in the Pyrenees Mountain range.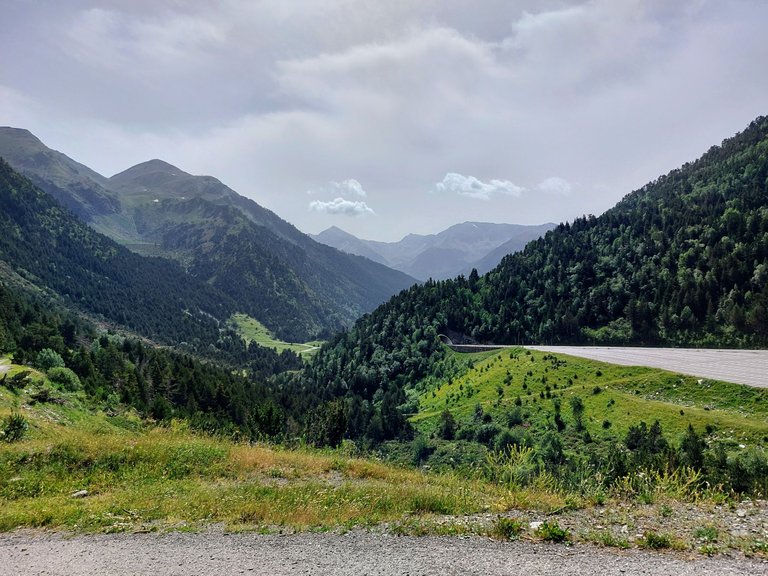 After arriving at the train station in L'Hospitalet France we took a pre-arranged taxi across the border, into the country of Andorra. It only took us about an hour to cross most of the entire country by car, which sort of gives you an idea of just how small the country of Andorra is.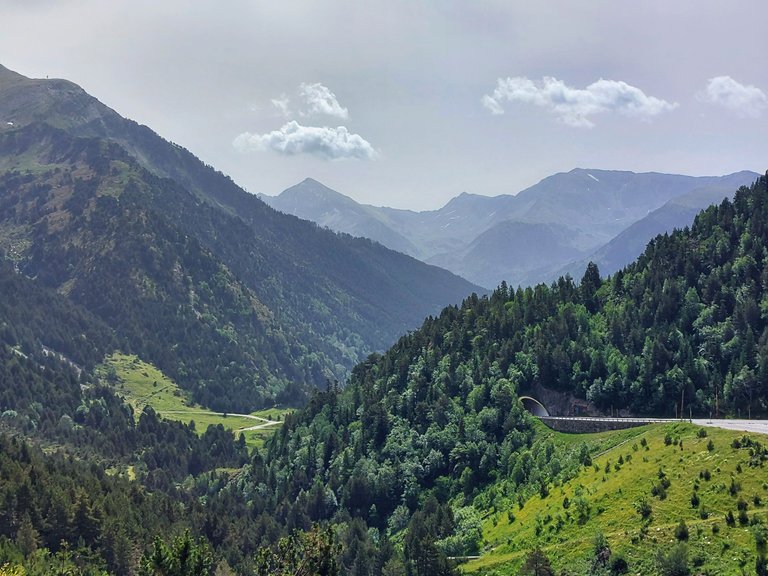 Andorra is located drectly within the Pyrenees mountains on the border of France and Spain. It is one of the smallest countries in Europe and has a population of only 80 thousand people. Source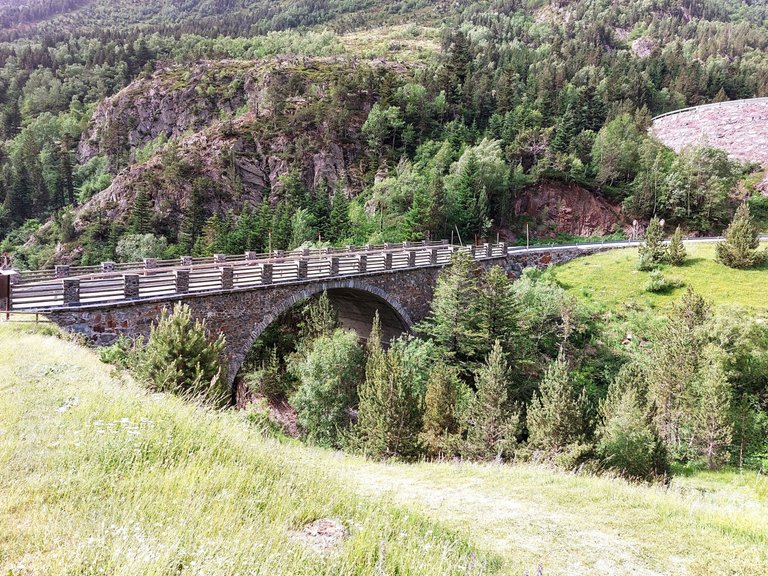 Skiing and hiking are probably the biggest pastime activities in the country (I'm guessing), based on how things looked while driving through each town and village.
Many of the towns were ski villages and they all sort of looked exactly the same to me. They were all made up of modern grey stone buildings, ski shops and chalet style restaurants and almost everyone that we saw had at least one chairlift heading up a mountain.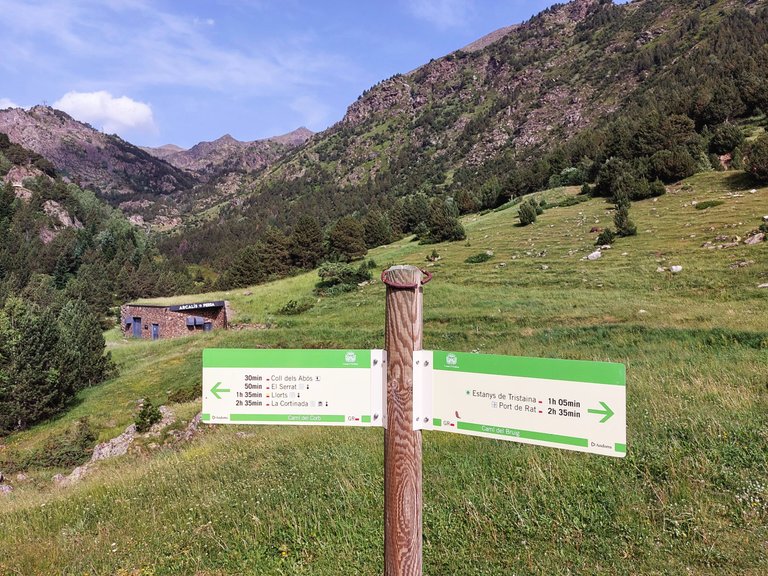 Our cab dropped us off around 11am a little ways past the town of El Serrat where we originally planned to begin our journey. We actually ended up hitchhiking a little further up the mountain with a Spanish couple and their friend. They dropped us off at a ski resort near Estanys de Tristaina.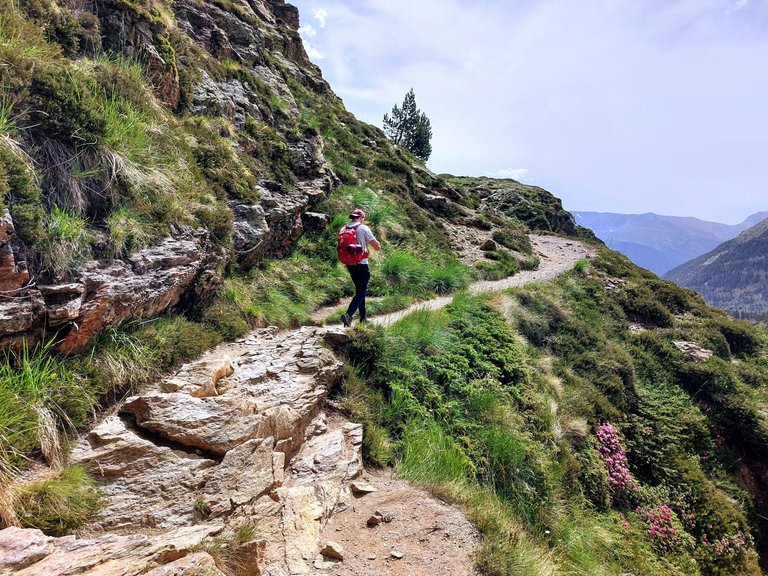 The elevation was between 2200-2400 meters at that point and I remember being tired almost immediately upon starting out.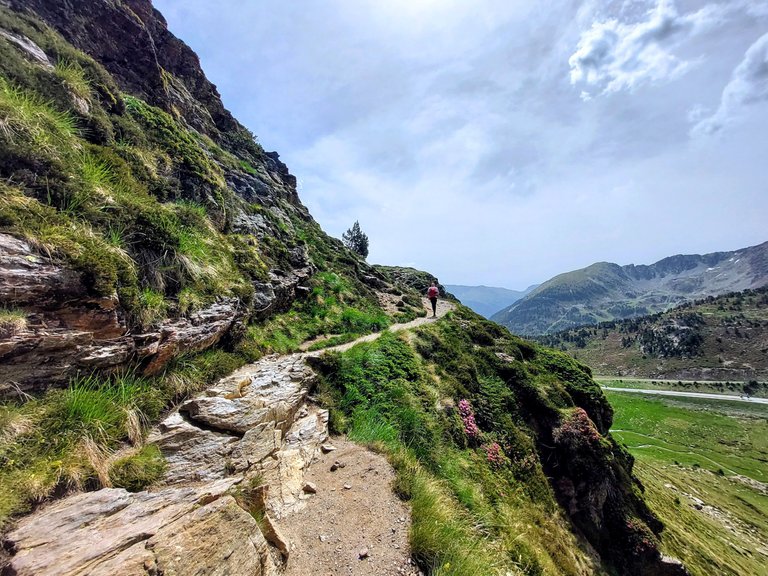 I chalked it up to not sleeping at all in the train the night before, and not having a coffee or breakfast that day. In hindsight, the elevation probably played a role in it as well, along with me not being in as good of shape as I needed to be.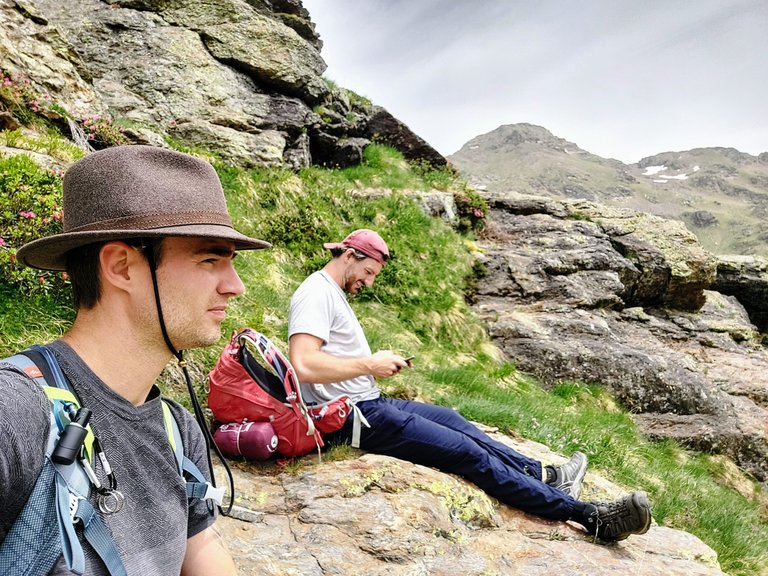 The pretending to be candid but actually posing photo... (Obviously)
We stopped after about 15 minutes into the hike to scarf down some trail mix, energy bars and electrolyte water and I actually did feel quite a bit better after that.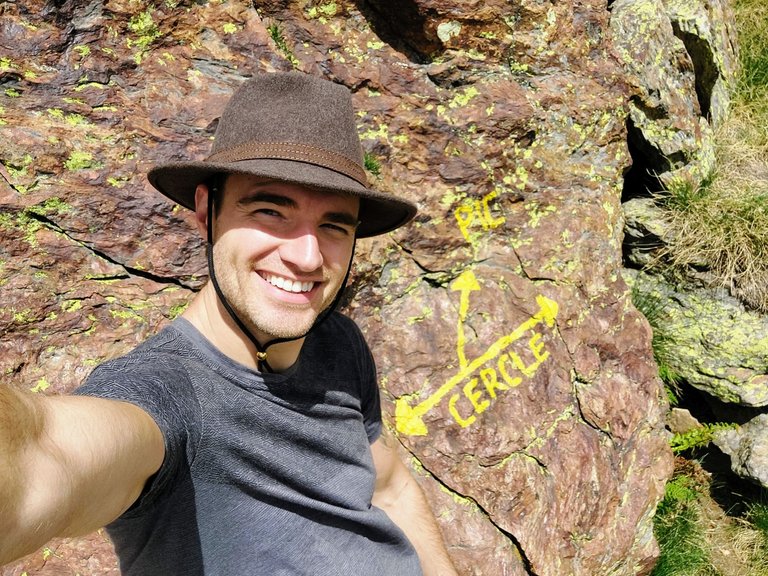 The squinting into the sun selfie
Our first first sightseeing stop that day was to Lake Tristaina, a small body of water created by glacier melt off.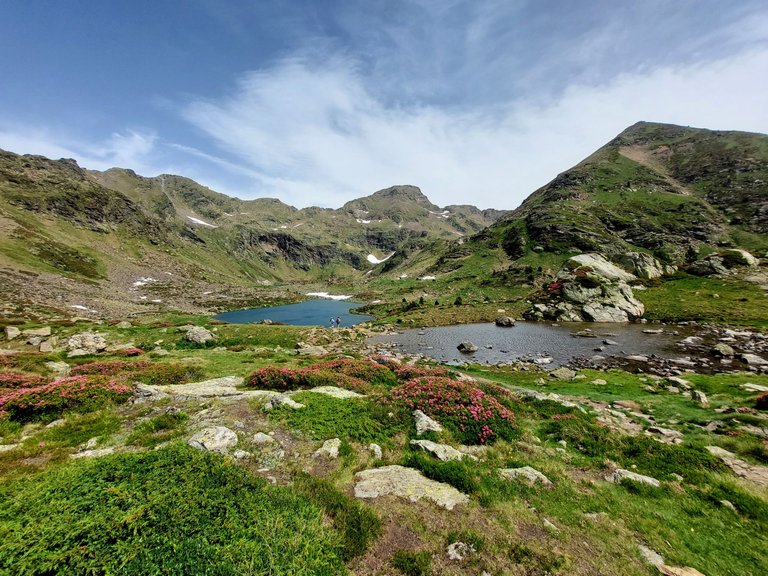 The standard path went around the lake and then headed in a different direction,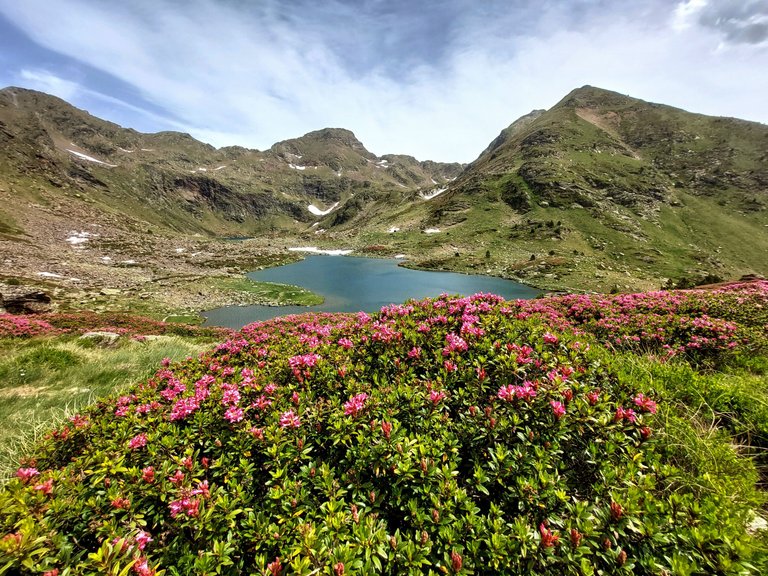 but the lake wasn't far from where we started, so we decided to veer off the path and try to reach one of the mountain peaks a little in the opposite direction from where we were going.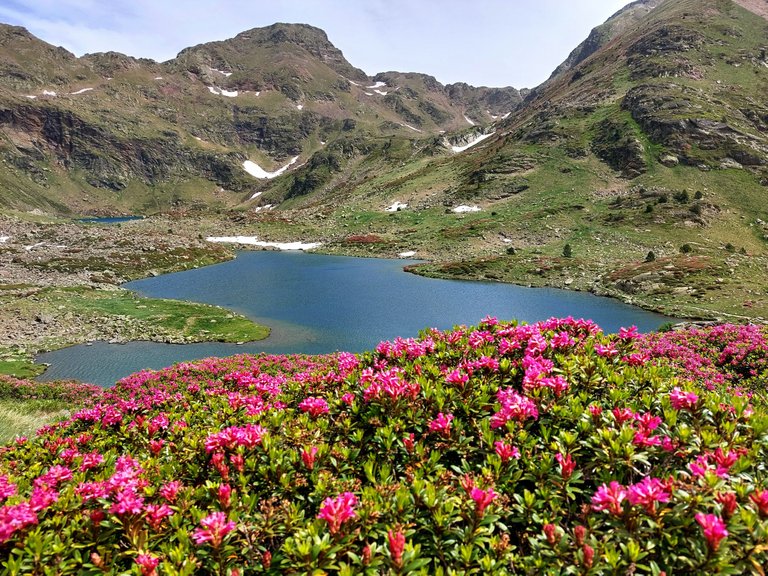 Before traveling to Andorra we made a high level plan for each day of the hike with some main destinations to ground us along our journey. But we also left a lot of leeway for improvisation based on time, especially that first day since we didn't know exactly when we would be arriving.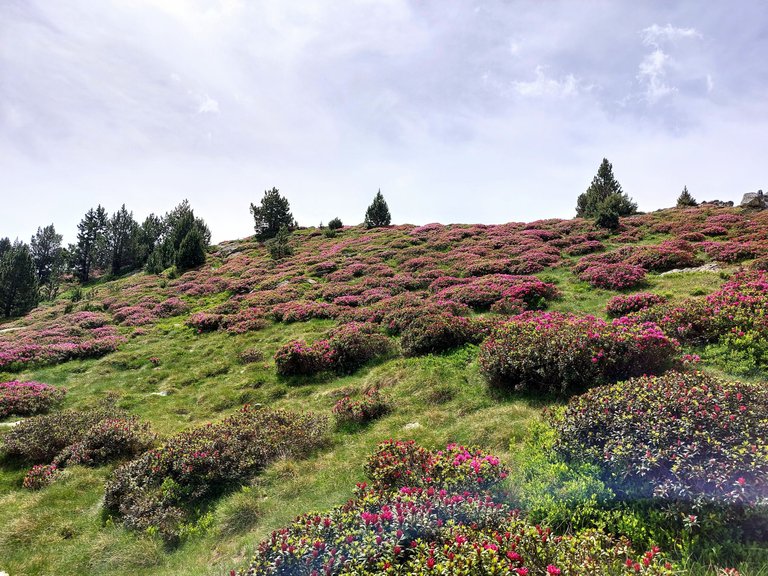 Overall, we found it really difficult to plan the hike from home because there weren't a lot of pre-made trails online for where we wanted to go. My hiking companion ended up splicing a few different hikes together to make it work for us and for the most part it worked out in the end.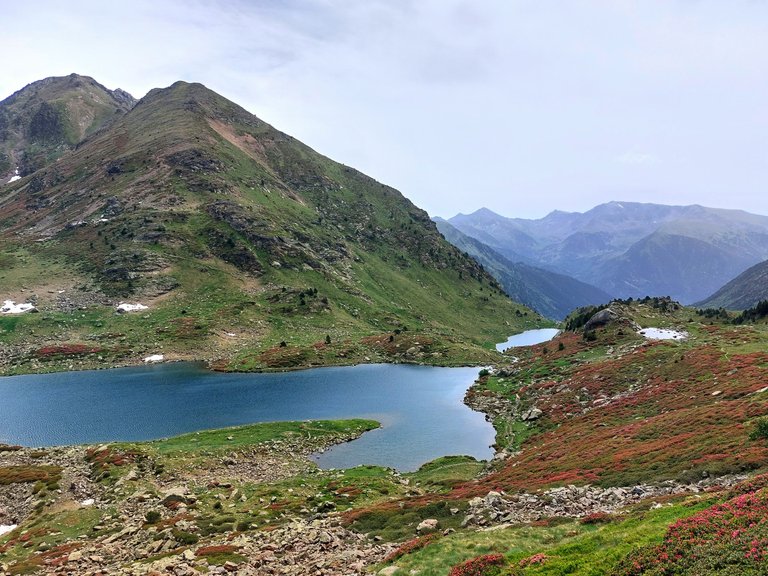 During the hike itself we found that the trails were somewhat hard to follow at times. The trails were marked, but not always well, and the color of yellow paint that they used actually matched the yellow rock lichen that grew in the area. In some places the lichen grew in a circle that was roughly the same size as the circular spray paint dot used for the trail marker, so at times it was hard to tell which was which from a distance.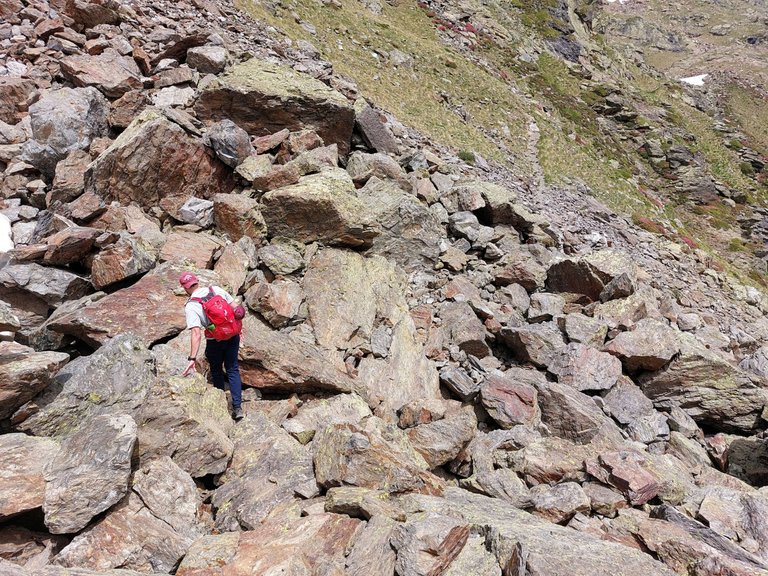 In the photo below you can see the trail marker beside my friends hand. That one is pretty clear because the lichen is smaller and growing more sporadically on the rock. In that same photo you can see some of the yellow lichen growing on the rocks as well, which might give you an idea of what we were dealing with when cases were a little less ideal.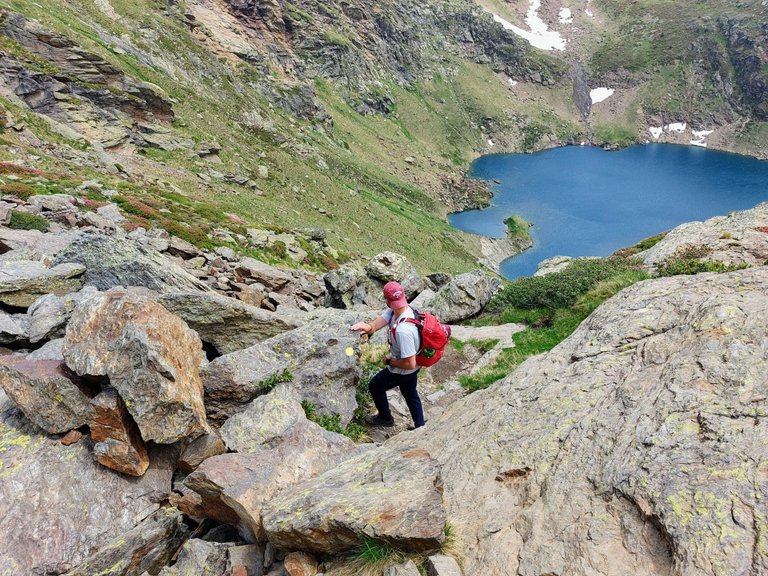 Anyway, we made a few wrong turns along the way and had to double back to find the path.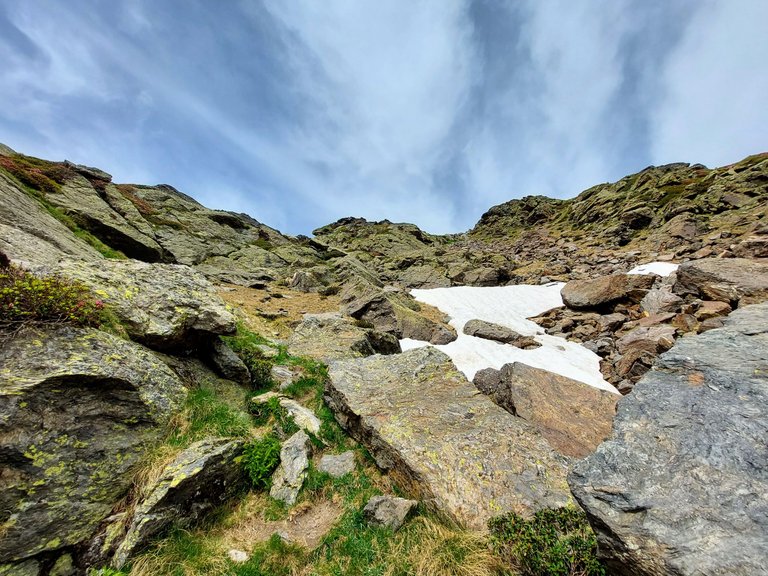 One thing that we were a little worried about when planning the trip was whether or not the peaks would still be covered in snow in the month of June. Neither of us were all that familiar with the Pyrenees so we really weren't sure what to expect when we got there.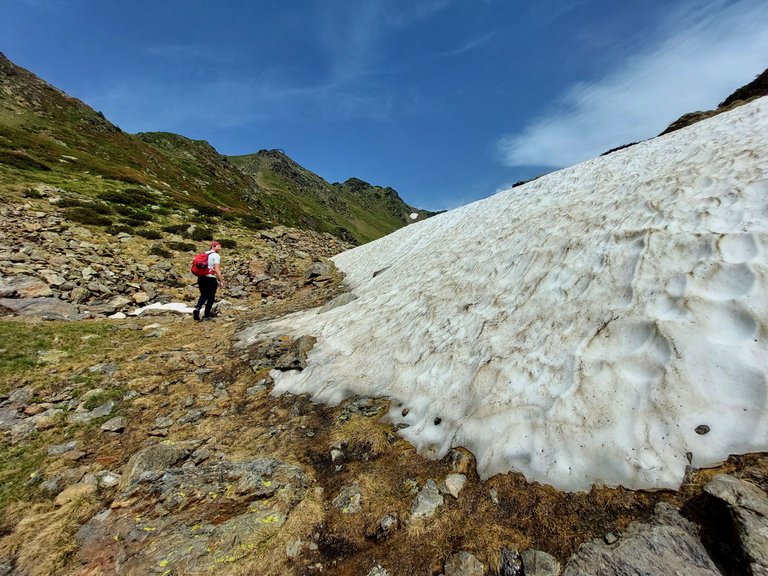 Most of the snow was melted by that time but there were still a few patches here and there, scattered across the landscape.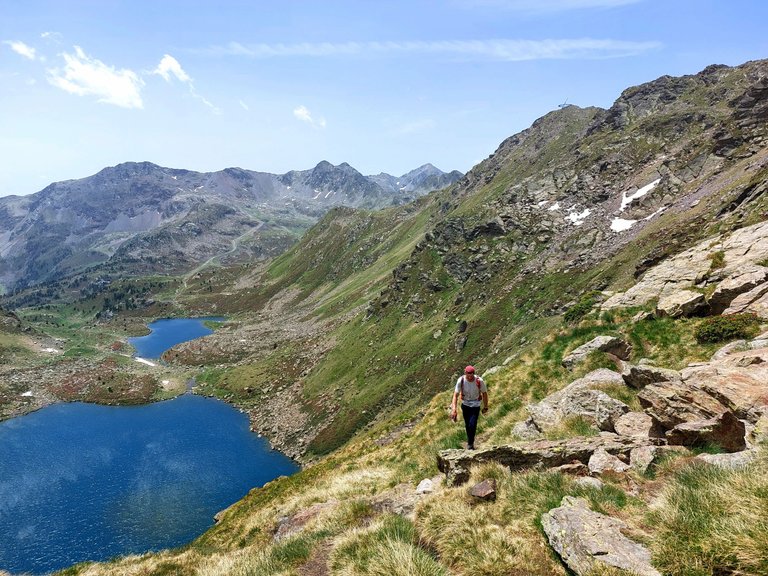 We took a few much needed and much deserved breaks along the way. Basically after any push up a steep incline.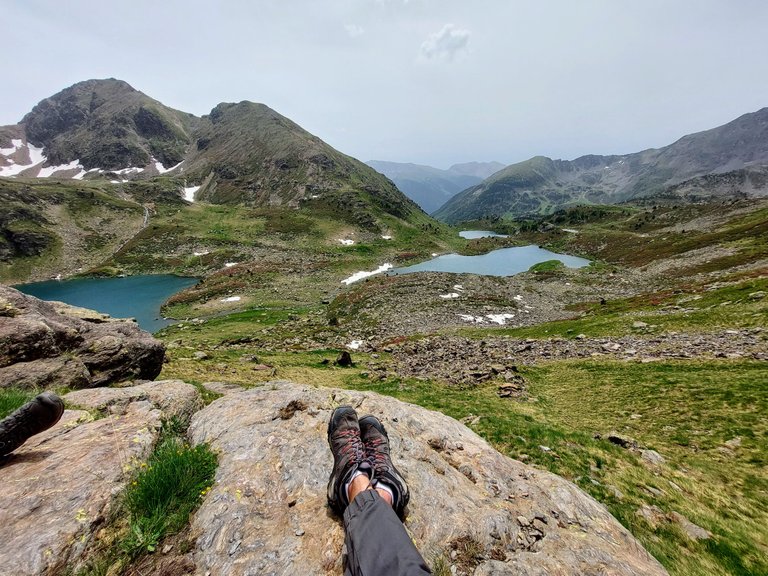 We also stopped periodically for a quick photo op now and again.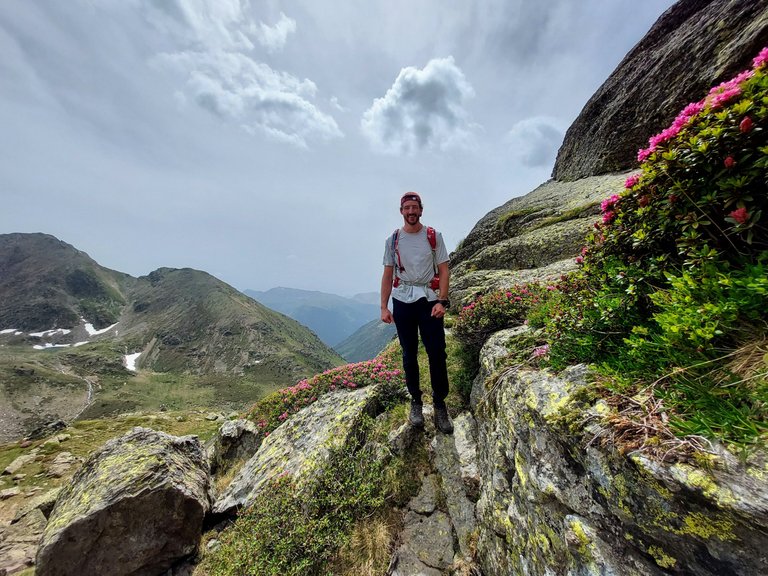 I hope he's okay with me posting photos of him on here...
in his case it was "for the Gram,"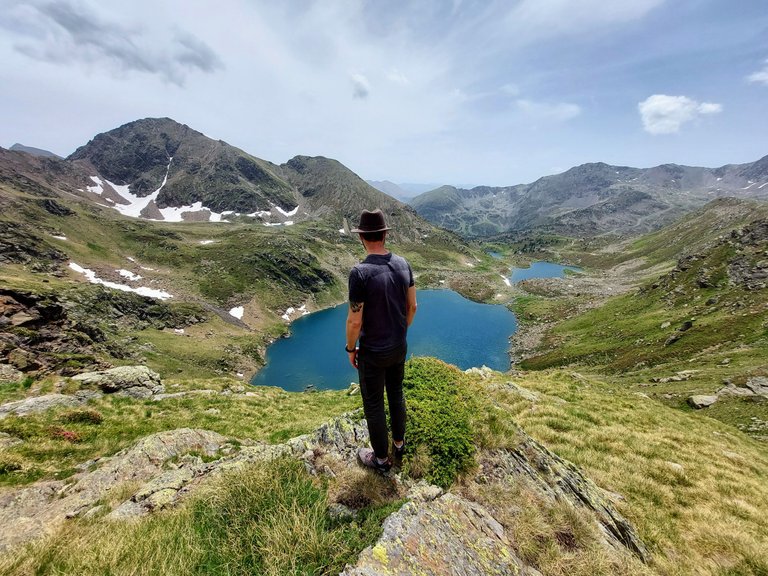 I call this my "horrendous backpack posture."
and in my case it was "for the Hive."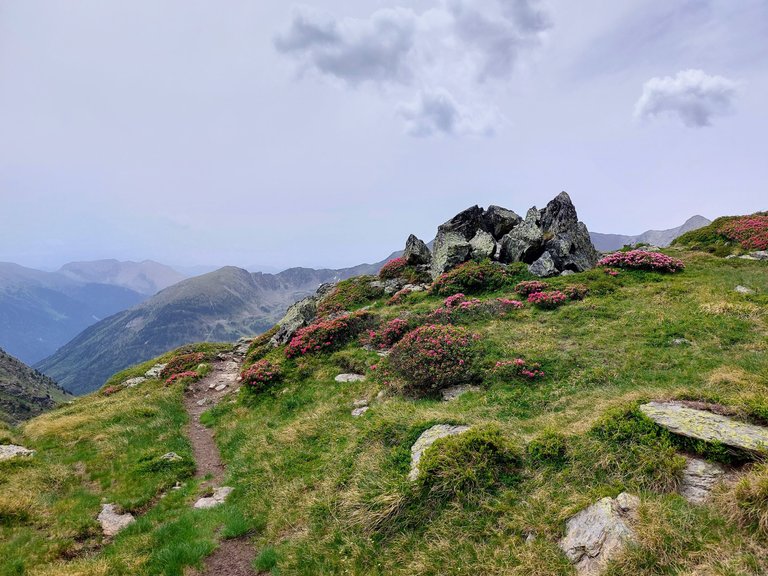 We hiked passed the lake and all of the pink flowers, up to a mountain pass that I believe was near the Peak de Tristaina.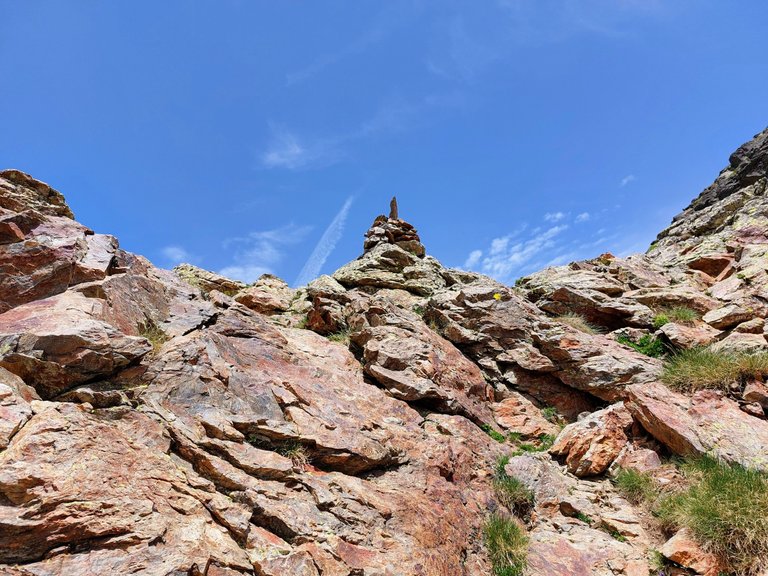 The photo below it of the trail markers located at the pass. I believe that the peak was another hours away in a direction not towards the refuge where we would be spending the night.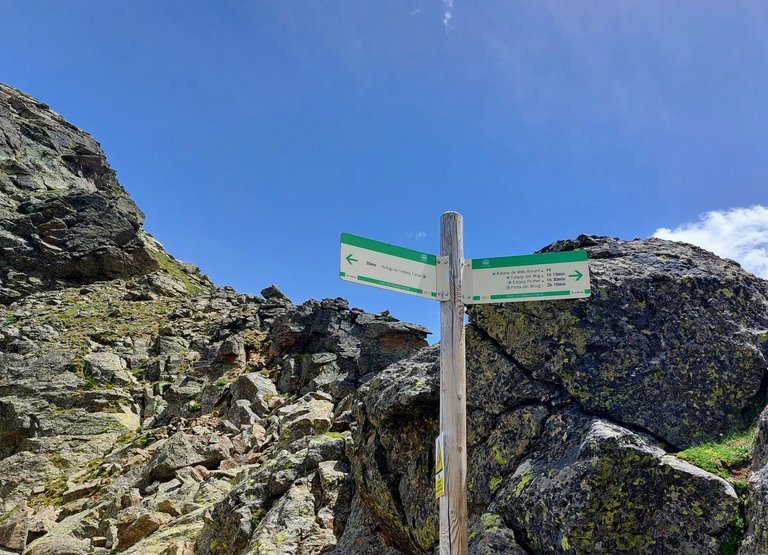 Regardless, we decided to just spend a few moments at the pass and then head back down to the lake and continue on our way. We had at least 5 more hours left of hiking to get to where we would be staying the night.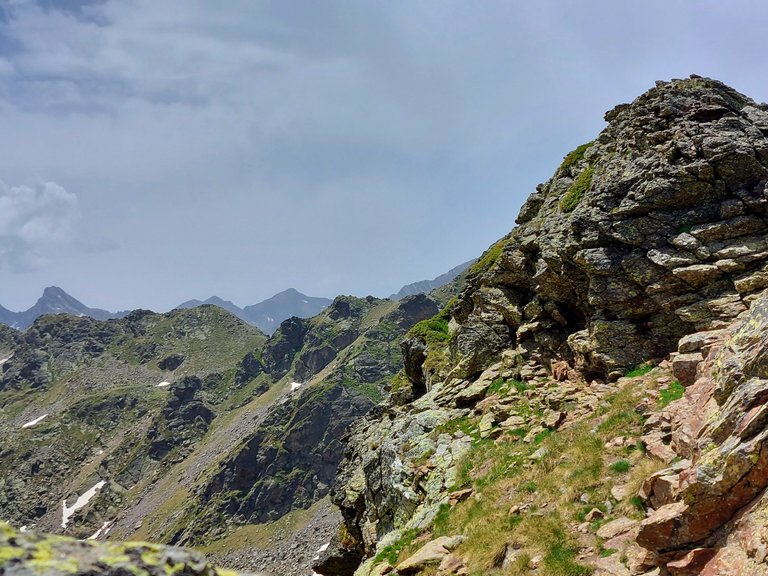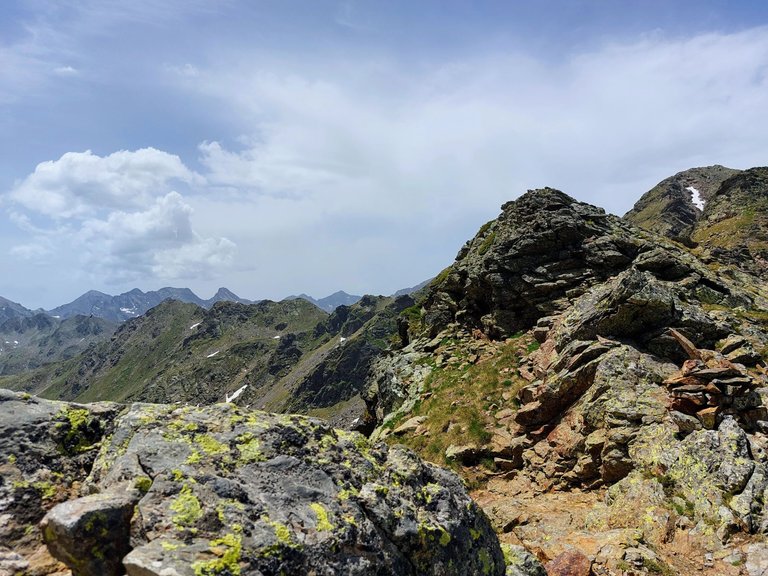 The views up there were pretty awesome as you could imagine.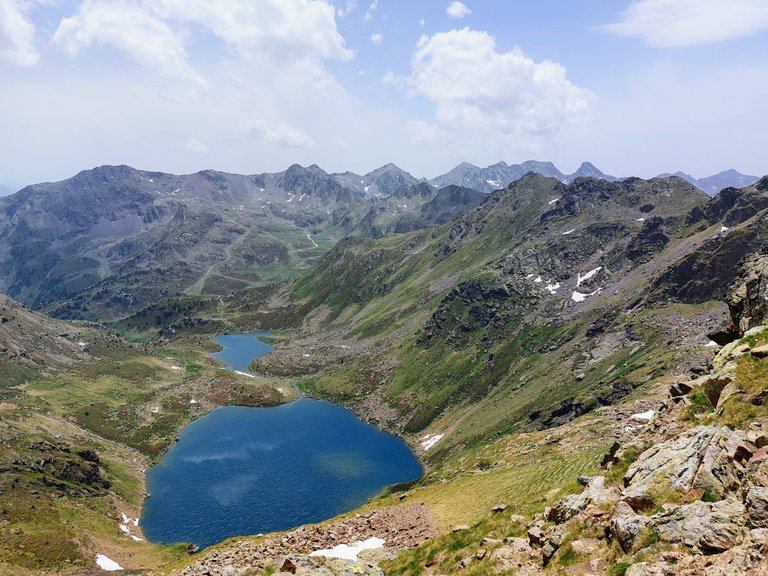 Estany de Mes Amunt and del Mig
There were lakes on both sides of the pass, though I don't know the name of the one on the opposite side from where we came from.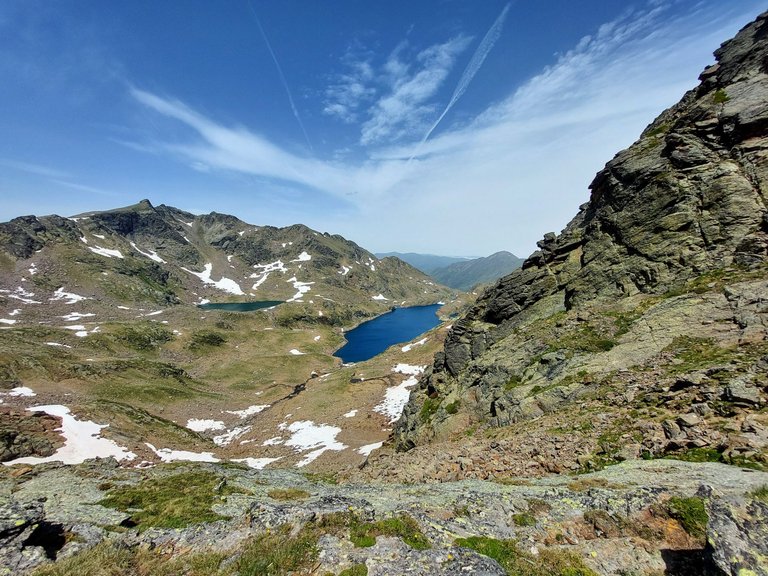 It was extremely windy up there as you might expect and my friends hat blew off his head unexpectedly.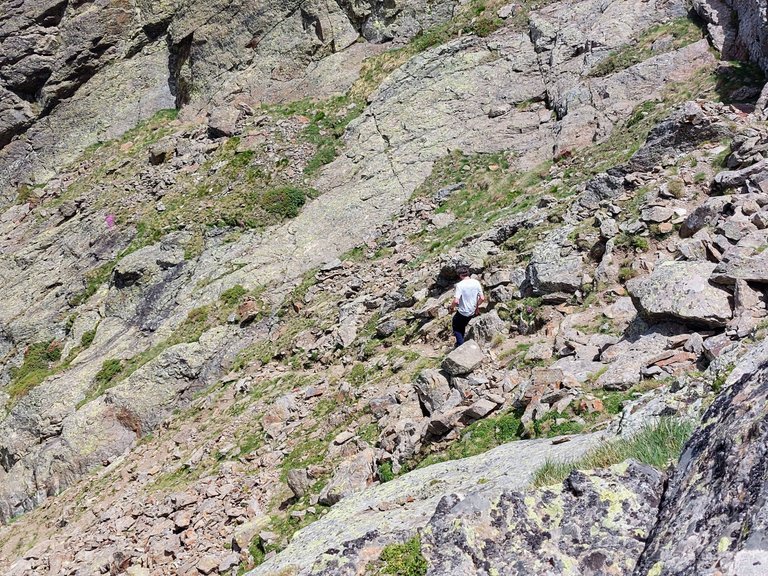 I was like, "Damn, well I guess thats gone forever," but he was like "Fuck that. That was my favorite hat!" and proceeded to run down the opposite side of the mountain from where we were going to retrieve it. To my surprise, he was able to find it pretty quickly. It only took him about 10-15 minutes (maybe even less).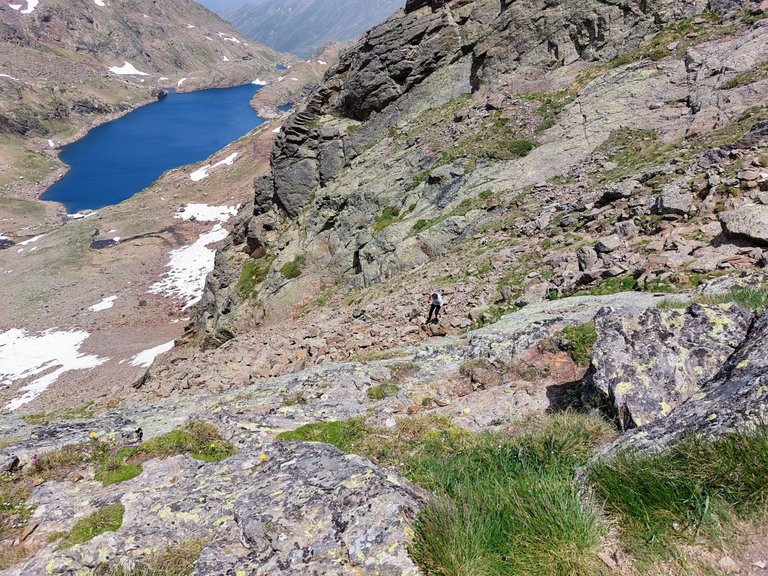 The same thing ended up happening to him again the very next day and again to my surprise he was again able to go and get it.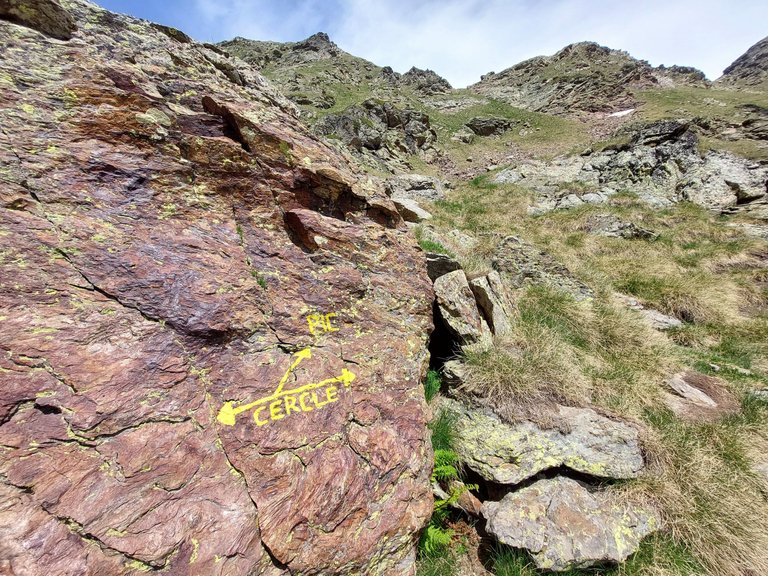 After the minor ordeal at the pass we took another short break and then headed back down the mountain, on to our next location.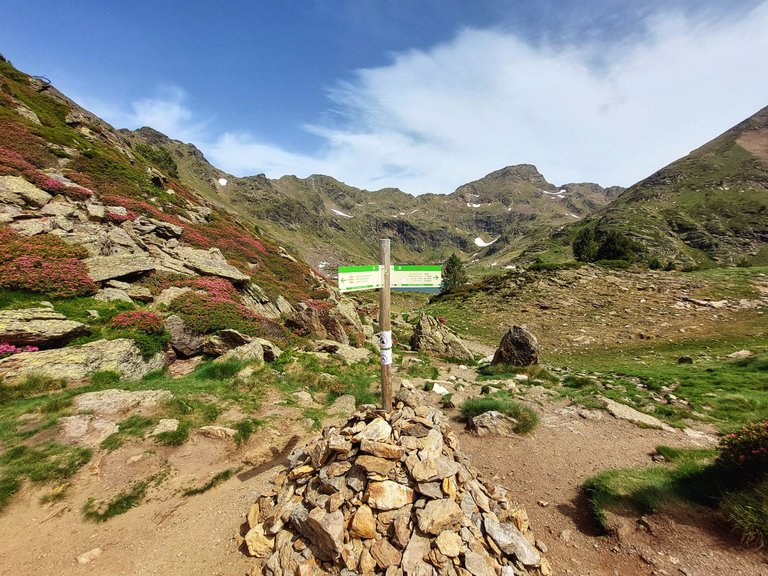 Well thats it for now. If you are interested in seeing more of our Andorra Pyrenees Hike than stay tuned, there's more to come. Until then, thanks for stopping by.