If you are looking for a quiet place in the middle of nature for your holidays, without a doubt the province of Córdoba has to be on your list of possible destinations. And it is that this province has everything: mountains, rivers, reservoirs and also small towns with typical gastronomy, crafts and also some nightlife. Every time I'm out for a walk in Córdoba I like to find a place exactly like the one my dad and I visited on our last walk: a spa on the banks of a small river where you can get your feet a little wet and get lost in the greenery of all the surrounding vegetation ❤️.
Si para tus vacaciones estás buscando un lugar tranquilo en medio de la naturaleza, sin dudas la provincia de Córdoba tiene que estar en tu lista de destinos posibles. Y es que esta provincia tiene todo: montañas, ríos, embalses y también pequeños pueblos con gastronomía típica, artesanías y también algo de vida nocturna. Cada vez que estoy de paseo por Córdoba me gusta localizar un lugar exactamente como el que mi papá y yo visitamos en nuestro último paseo: un balneario a orillas de un pequeño río donde es posible mojarse un poco los pies y perderse un poco entre el verde de toda la vegetación que lo rodea.
---
---
After visiting the great El Cajón Dam, one of the main attractions of Capilla del Monte, my dad and I still wanted to keep walking. The weather was pretty unsettled: dark clouds threatened to rain, but that wasn't going to make us miss a day of our walk. After all, a little water wasn't going to hurt either of us 😅.
Después de haber visitado el gran Dique El Cajón, uno de los principales atractivos de Capilla del Monte, mi papá y yo aún teníamos ganas de seguir caminando. El clima estaba bastante inestable: las nubes oscuras amenezaban con llover, pero eso no iba a hacer que nos perdamos un día de nuestro paseo. Después de todo, un poco de agua no nos iba a hacer mal a ninguno de los dos 😅.
---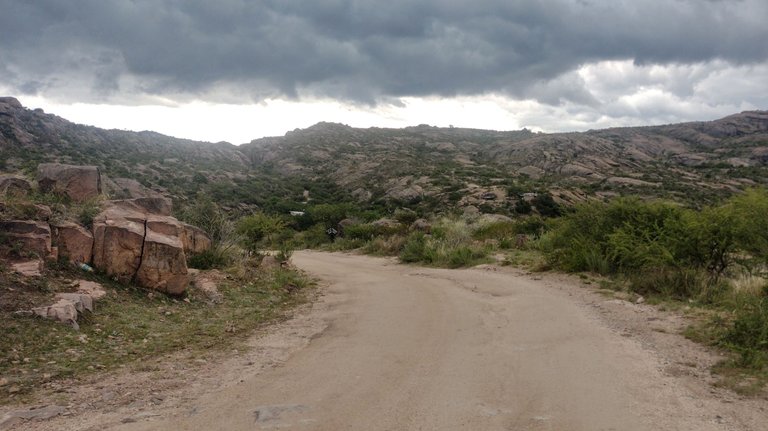 ---
While we were at the top of the dam looking at how on one side was the large mirror of water and on the other a small stream, we could see that there were people on both sides. Getting to the shore of the lake required a car because you had to drive several kilometers to get to the bottom, but the locals told us that accessing the river side was a bit easier. We just had to retrace our steps a bit and take a shortcut that was somewhat hidden among the vegetation. In this way we would reach the main street that left us right at the door of the small spa on the river called "El Paraíso". It sounded pretty good so that's what we did ❤️.
Mientras estábamos en lo más alto del dique viendo como de un lado estaba el gran espejo de agua y del otro un pequeño curso de agua, pudimos ver que había gente de los dos lados. Llegar hasta la orilla del lago requería tener auto porque había que dar una vuelta de varios km para llegar hasta abajo, pero los lugareños nos dijeron que acceder a la parte del río era un poco más sencillo. Solo teníamos que volver un poco sobre nuestros pasos y tomar un atajo algo oculto entre la vegetación. De esa forma llegaríamos a la calle principal que nos dejaba justo en la puerta del pequeño balneario en el río llamado "El Paraíso". Sonaba bastante bien así que eso fue lo que hicimos ❤️.
---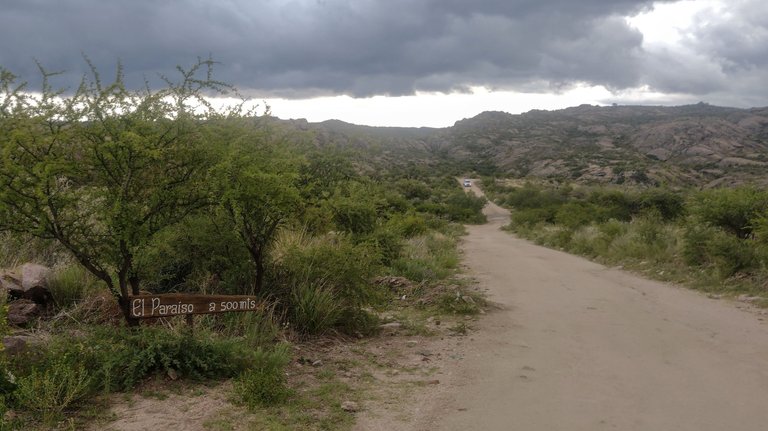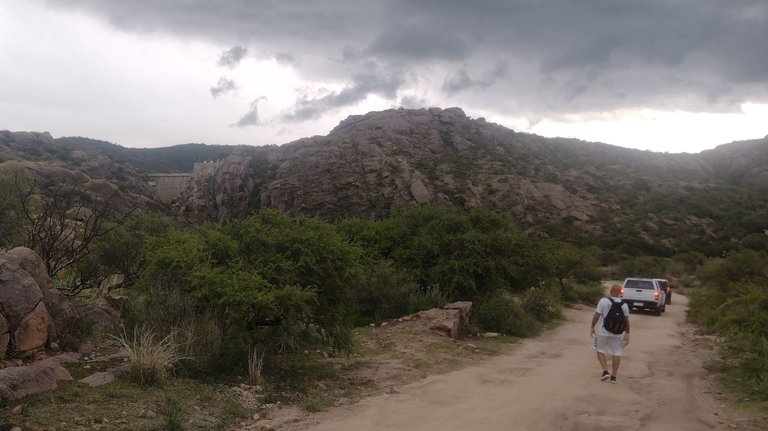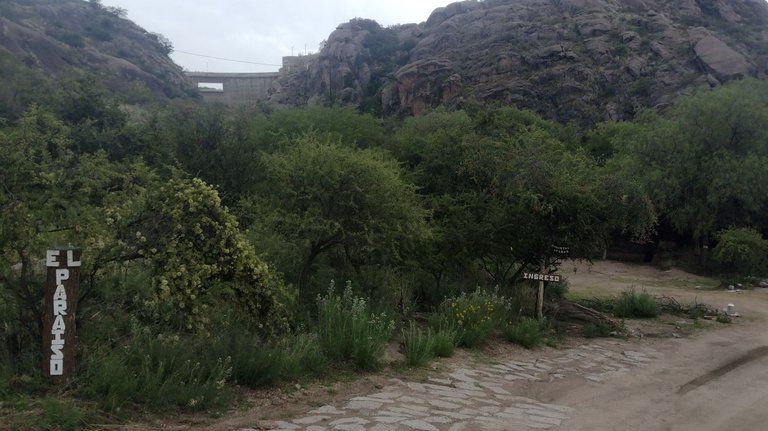 ---
I would be lying if I said that we didn't get lost when we were walking there: the truth is that the "hidden path among the vegetation" was quite difficult to spot but after a while we found it. At one point a terrible wind began to pick up and it began to rain, just when we were at the entrance of the place. However, none of this prevented the owner of the place from charging us admission under the water. The entrance was at will so we paid 2 USD each and we ran to take refuge in the grocery store of the spa 😶.
Mentiría si dijera que no nos perdimos cuando estábamos caminando hasta allá: la verdad que eso del "sendero oculto entre la vegetación" estaba bastante difícil de divisar pero después de un rato lo encontramos. En un momento se empezó a levantar un viento terrible y empezó a llover, justo cuando estábamos en la entrada del lugar. Sin embargo, nada de esto impidió que el dueño del lugar nos cobrara la entrada abajo del agua. La entrada era a voluntad así que le pagamos 2 USD cada uno y corrímos a refugiarnos en la proveeduría del balneario 😶.
---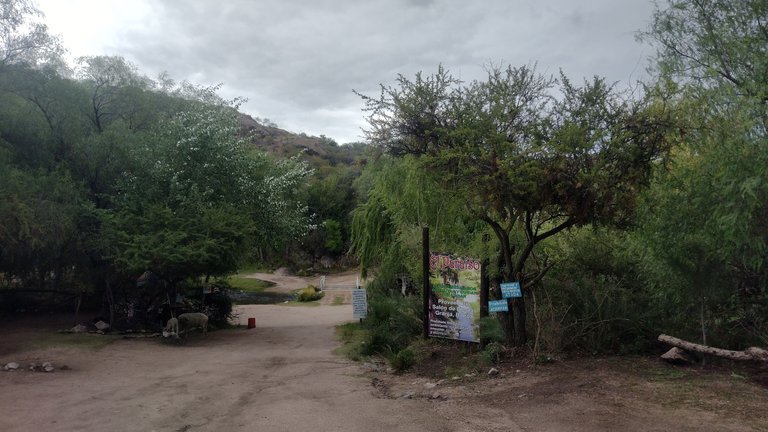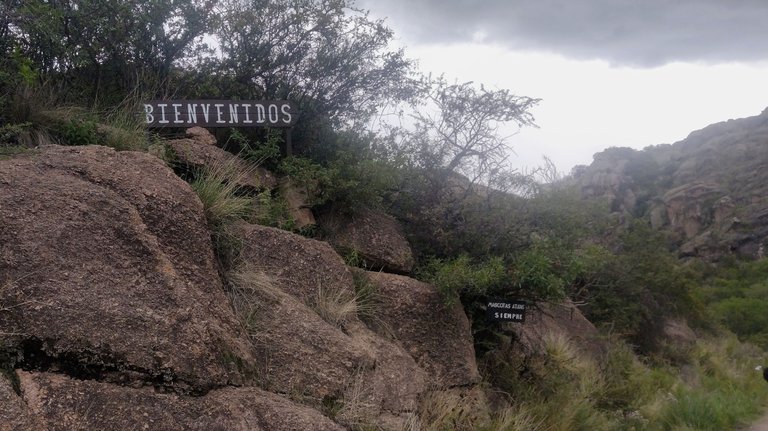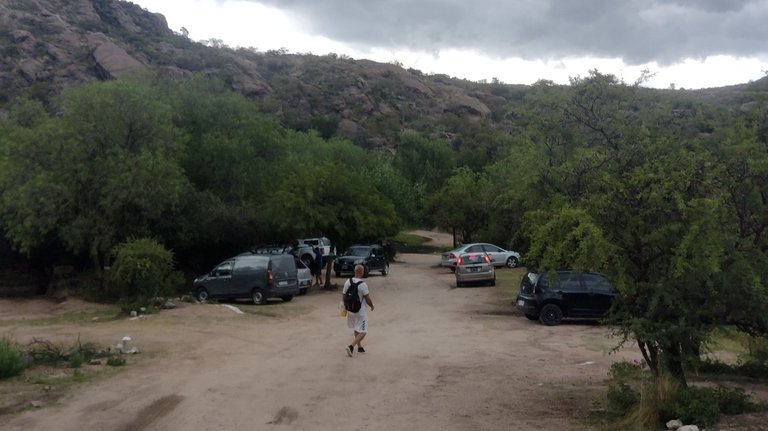 ---
What had been a threat since the early hours of the morning had no mercy: it rained almost torrentially for more than half an hour. Everyone who was in the spa was in there, almost praying that the rain would stop so they could go out and get some air. Inside I was glad that the heavy rain hadn't caught us halfway, because that would have been real chaos. Luckily, the bad weather didn't last that long and in a matter of a while, we were able to go out again to explore the place ❤️.
Lo que venía siendo una amenaza desde las primeras horas de la mañana no tuvo piedad: llovió casi torrencialmente durante más de media hora. Todos los que estaban en el balneario estaban ahí dentro, casi rogando que la lluvia parara para salir a tomar un poco de aire. Por dentro me alegré de que esa lluvia tan fuerte no nos hubiese agarrado a mitad de camino, porque eso sí que hubiese sido un verdadero caos. Por suerte, el mal clima no duró tanto y en cuestión de un rato, pudimos volver a salir para explorar el lugar ❤️.
---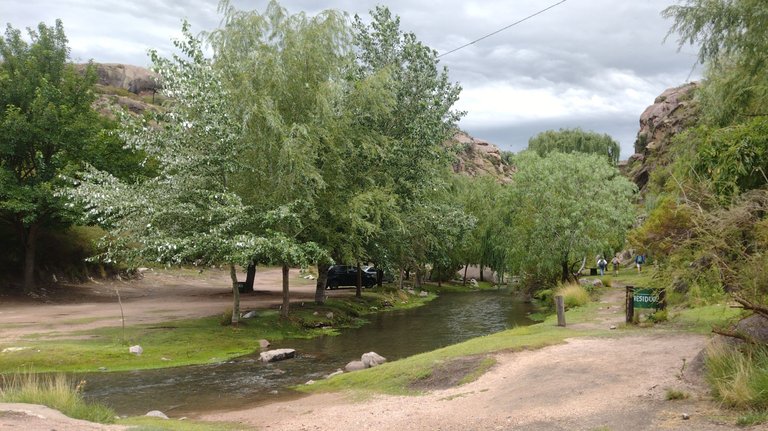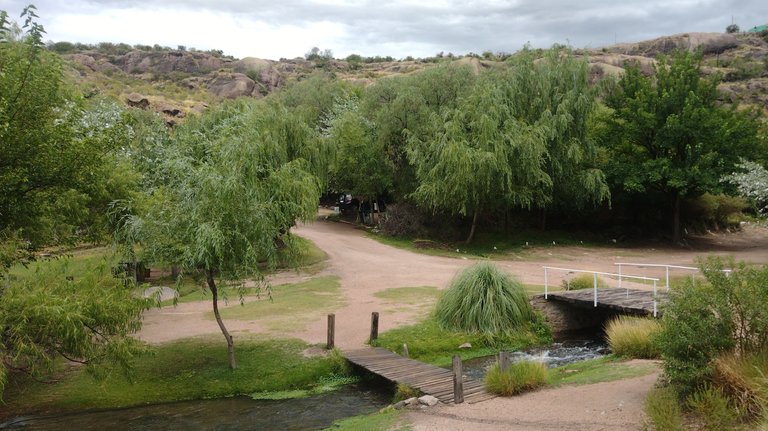 ---
This place was really nice and quiet. Its two main attractions were its free-ranging animals, mainly sheep and ducks, and the possibility of approaching the dike wall from below. It also had tables, chairs and grills to spend the afternoon. This spa also had a grocery service and bathrooms, but it was not a sector for camping, so it can only be enjoyed during the day 💞.
Este lugar era realmente muy lindo y tranquilo. Sus dos atractivos principales eran sus animales en libertad, principalmente ovejas y patos, y la posibilidad de acercarse a la pared del dique desde abajo. También contaba con mesas, sillas y parrillas para poder pasar la tarde. Este balneario también tenía servicio de proveeduría y baños, pero no era un sector para acampar, por lo que solo se lo puede disfrutar durante el día 💞.
---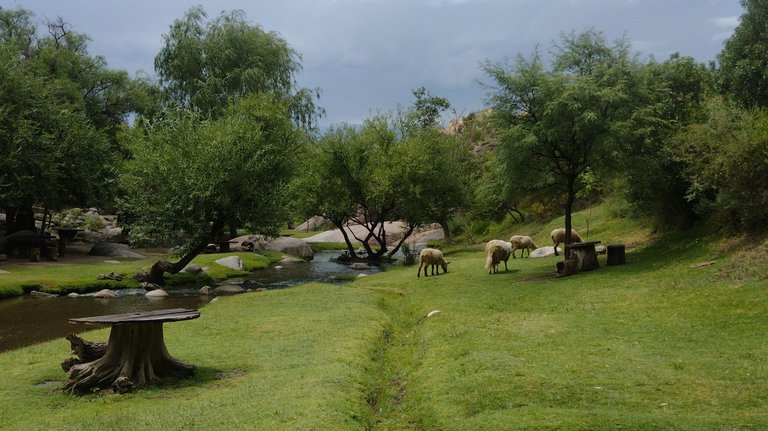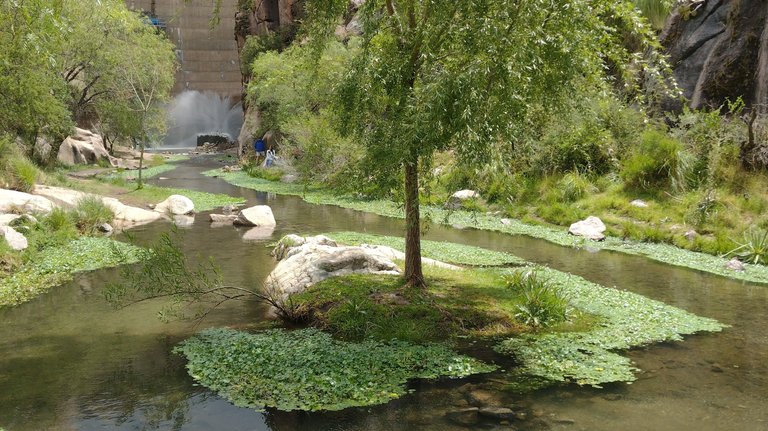 ---
Since we had already seen the dam from above, the view of the wall from this spa was something great. From there we were able to measure the true magnitude of this work: you could get quite close to see how the valves regulate the flow of water and even splash a little to cool off. The construction of more than 40 meters high was really impressive ❤️.
Como nosotros ya habíamos visto el dique desde arriba, la vista de la pared desde este balneario fue algo genial. Desde ahí pudimos dimensionar la verdadera magnitud de esta obra: te podías acercar bastante a ver como las válvulas regulan el paso del agua e incluso salpicarte un poco para refrescarte. La construcción de más de 40 metros de alto era realmente impresionante ❤️.
---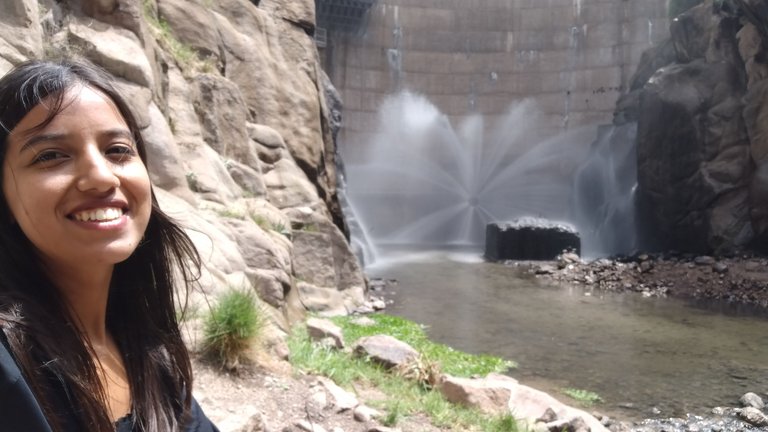 ---
On the other side of the great cement wall, you can see all the green of nature. This contrast is also quite interesting because it looks like two completely different places are right here. If you wish, you can move a few meters away from the river and you will continue to find grills and tables and chairs, you just have to ask the animals for permission, who are the main protagonists of this space ❤️.
Del otro lado de la gran pared de cemento, puede apreciarse todo el verde de la naturaleza. Este contraste también es bastante interesante porque parecen dos lugares completamente diferentes que se encuentran justo acá. Si lo deseas, puedes alejarte sobre el río unos cuantos metros y seguirás encontrando parillas y mesas y sillas, solo hay que pedirle permiso a los animales quienes son los principales protagonistas de este espacio ❤️.
---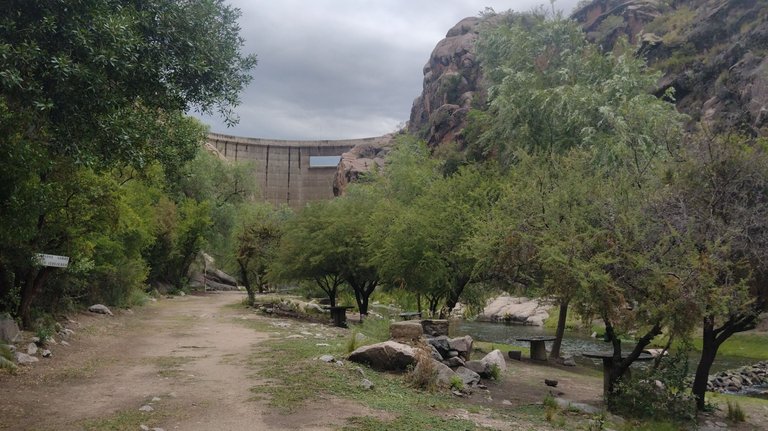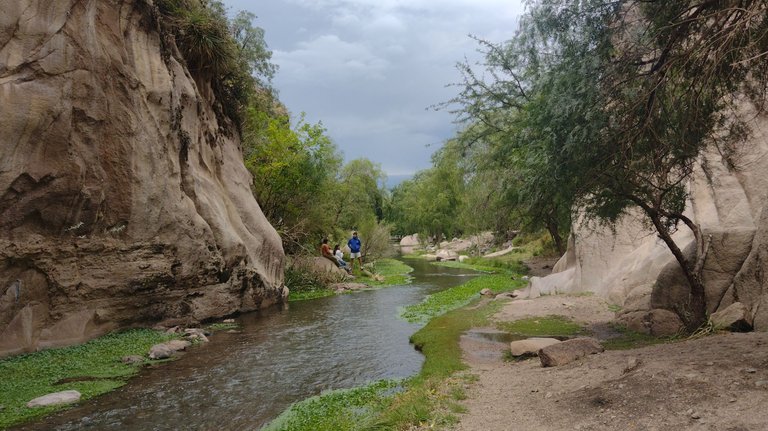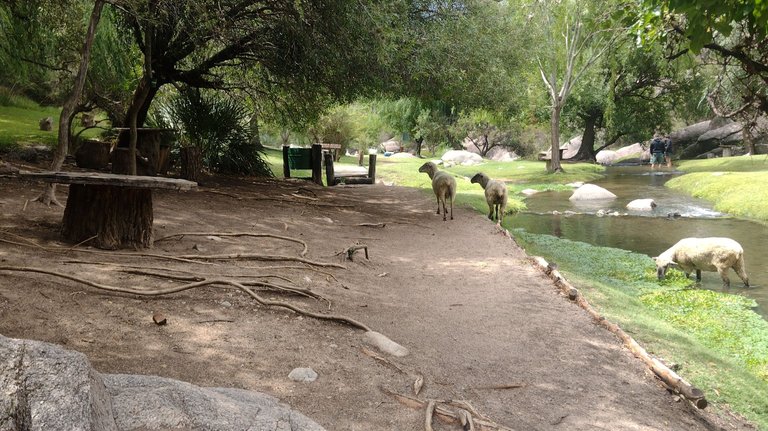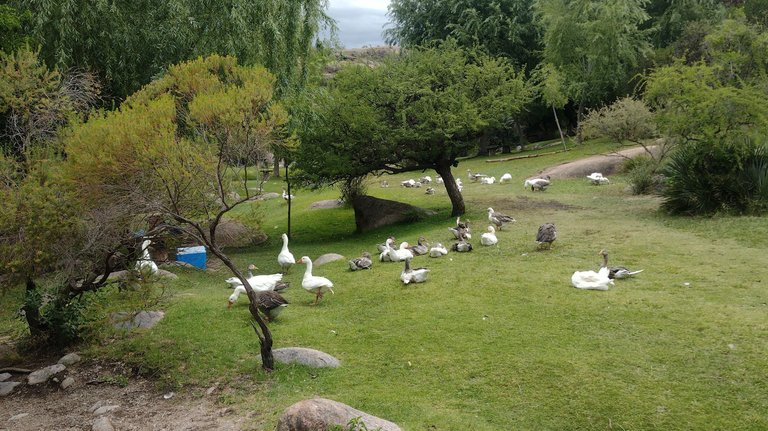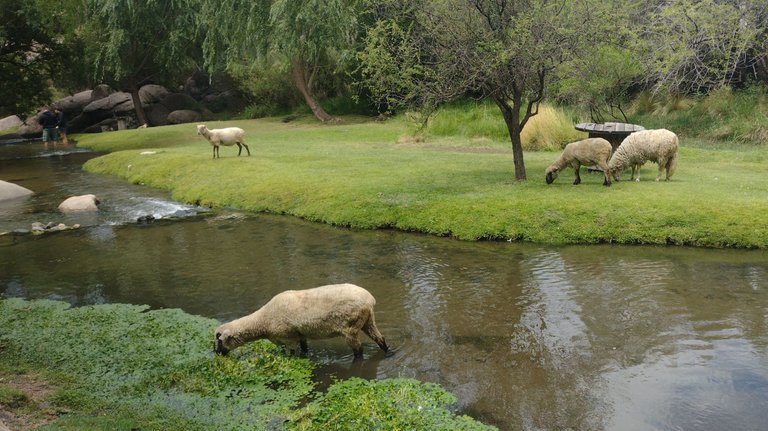 ---
I liked that this place has loose animals: you could tell that they are already used to people walking everywhere because the truth is that they didn't even flinch at our step. Perhaps some of them looked at us curiously, but after a while they lost interest. I guess they were thinking "ok, more tourists" 😒.
Me gustó que este lugar tenga animales sueltos: se notaba que ellos ya estan acostumbrados a la gente paseando por todos lados porque la verdad ni se inmutaban a nuestro paso. Quizás algunos nos miraban curiosos, pero después de un rato perdían el interés. Supongo que ellos pensaban "ok, más turistas" 😒.
---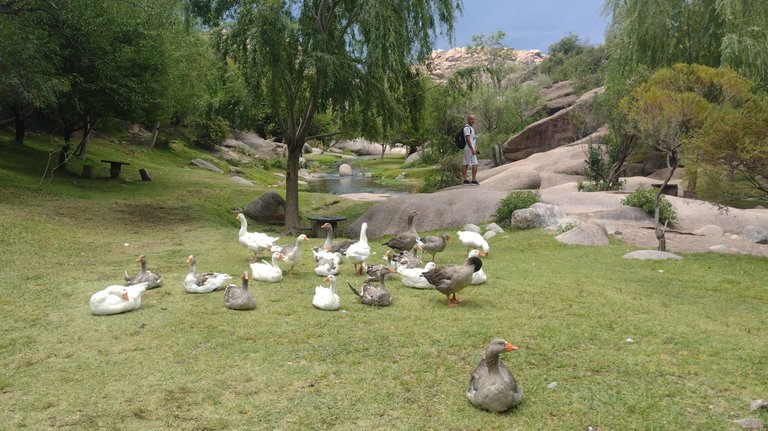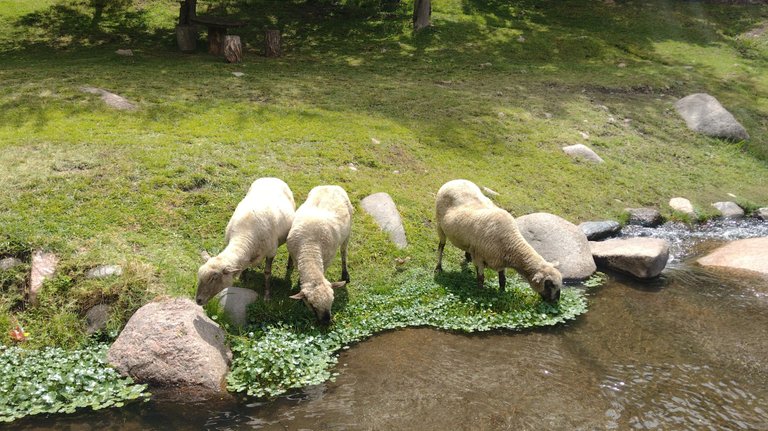 ---
After walking a few meters we arrive at a part free of animals. In this space there was so much silence that we stayed there for a while resting. We would have kept exploring further, but the river was a bit high and we didn't want to risk ending up any wetter than we had from the rain. This is the typical image that I like to see when I go to Córdoba: water, greenery and mountains, you couldn't ask for anything more typical and beautiful ❤️.
Después de caminar unos cuantos metros llegamos a una parte libre de animales. En este espacio había tanto silencio que nos quedamos un rato ahí descansando. Hubiesemos seguido explorando más allá, pero el río estaba un poco alto y no queríamos arriesgarnos a terminar más mojados de lo que habíamos quedado con la lluvia. Esta es la típica imagen que me gusta ver cuando voy a Córdoba: agua, verde y montañas, no se puede pedir nada más típico y lindo ❤️.
---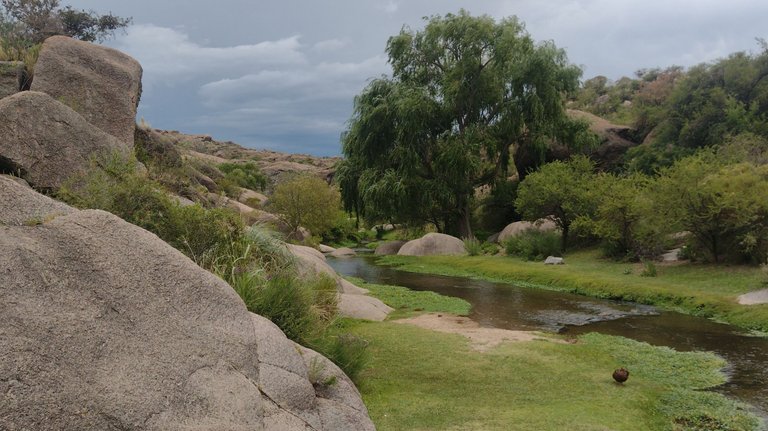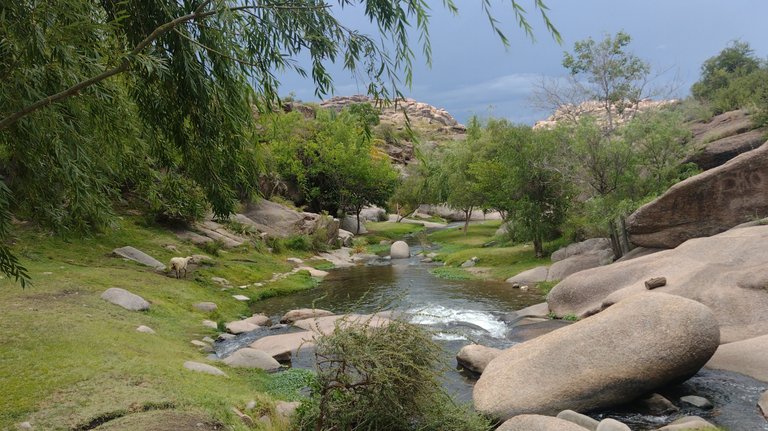 ---
---
When it seemed that the weather had calmed down a bit, the black clouds returned and we decided to start the return trip before it got worse. That day was very productive: we visited several beautiful places and walked a total of about 10 km. My dad is a mail delivery man so it was nothing for him, and I don't walk that much every day but when the motivation is to get to a new place I don't have any problem. Unfortunately the rain caught us on the way back and we arrived drenched at the hotel, but none of that matters after having had an absolutely great day ❤️.
Cuando parecía que el clima se había calmado un poco, las nubes negras regresaron y decidimos emprender el viaje de regreso antes de que se pusiera peor. Ese día fue muy productivo: conocimos varios lugares hermosos y caminamos en total unos 10 km. Mi papá es repartidor de correspondencia asi que no fue nada para él, y yo no camino tanto a diario pero cuando la motivación es llegar hasta un lugar nuevo no tengo ningún problema. Lamentablemente la lluvia nos agarró en el camino de regreso y llegamos empapados al hotel, pero nada de eso importa después de haber tenido un día absolutamente genial ❤️.
---
---
❤️ Hope you liked this post! Thanks for reading. ❤️
❤️¡Espero que les haya gustado este post! Gracias por leer. ❤️
---
---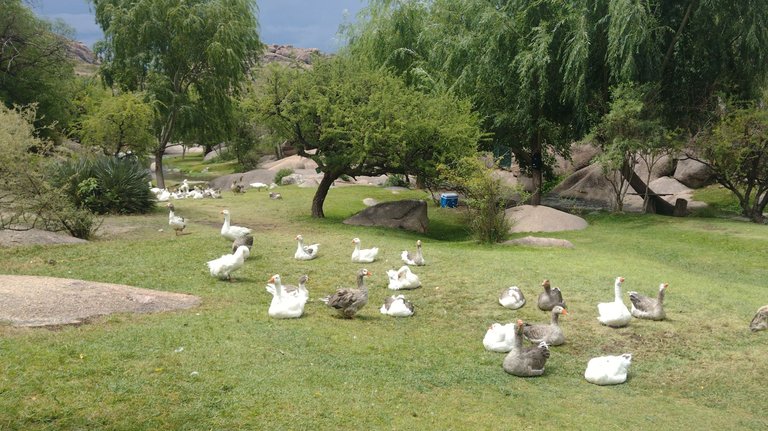 ---
With lots of love. / Con mucho amor.
Lau 💕.
---
📸 Cover created with Canva. All the images are my property 💕.
📸 Portada creada en Canva. Todas las imágenes son de mi propiedad 💕.
---