There's a reason why travel blogs should be written as soon as possible, and I am suffering from the consequences of my negligence. Thankfully, I have my Google Sheets file for that trip, it has all our planned itineraries, some notes, reminders, and all that I need to be reminded of the things that happened on our second full day in Seoul.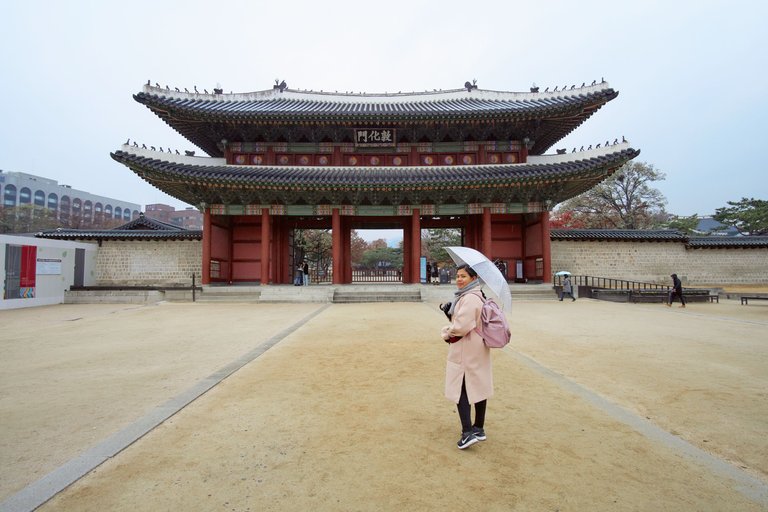 Donhwamun Gate
This time, we planned a walking tour around the Insa-dong area, just around where our hotel was.
We thank my husband's colleagues who traveled to Korea before us for recommending this hotel, they mentioned it to be just nearby palaces and museums so we decided to book in the same hotel. It's the Petercat Hotel Insadong and so we dedicated a whole day to walk around this area. It was not the best time though because it was raining but we have to brace for the cold weather even if we wanted to just lay down in bed the whole morning, if we don't get up and walk, we would miss a lot of opportunities!
There were three areas that we went to for the walking tour, the first one was Changdeokgung Palace Complex.
Changdeokgung Palace is the second UNESCO World Heritage Site in Seoul. It was selected as a representative palace for its notable beauty in the history of palace architecture in East Asia and for its excellent arrangement with the surrounding natural environment. Changdeokgung Palace was built by King Taejong in 1405. Changdeokgung was used as the royal palace of Joseon for about 270 years. - english.visitseoul.net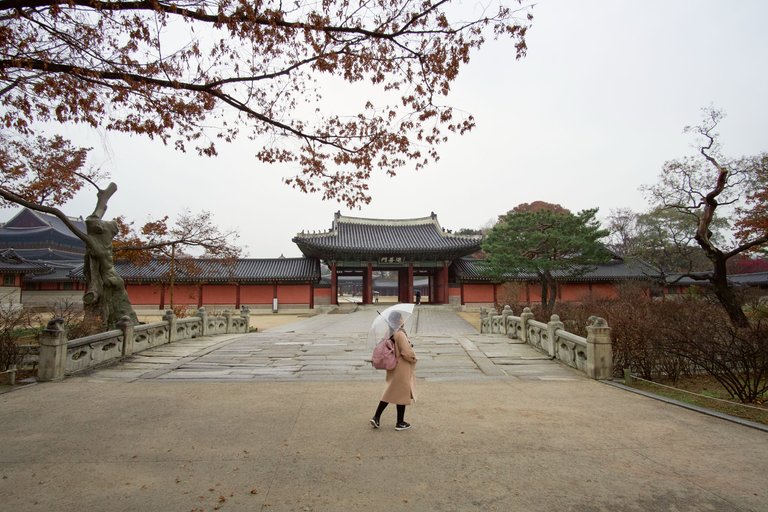 Forest of Pagoda Trees at Changdeokgung Palace
We paid only 3000 won for the entrance, that's roughly around Php 123.5 or 4.25 Hive which for me is really cheap! If one is wearing a traditional hanbok, there will be zero fees for you! Too bad, we didn't have time to rent a hanbok at that time. It was one of the goals but because of the failure to claim our DSP voucher from Klook, we just ditched the idea.
Since we came in the morning, there were only a few visitors in the palace. According to online resources, this palace is the simplest and most compact of all the palaces in Seoul. Aside from Changdeokgung Palace, there's also Changgyeonggung, Deoksugung, and Gyeongbokgung. However, this one is surrounded by a forest with about 50,000 trees including Japanese apricot, zelkova, maples, cherry, and peach trees.
Since we have not been to the three others, we can't really compare them but they surely have similarities, especially the architecture, Changgyeonggung Palace is just next to this one though but accessible through a different entrance gate. In the photo below, we believe we have a long way to walk toward the main palace.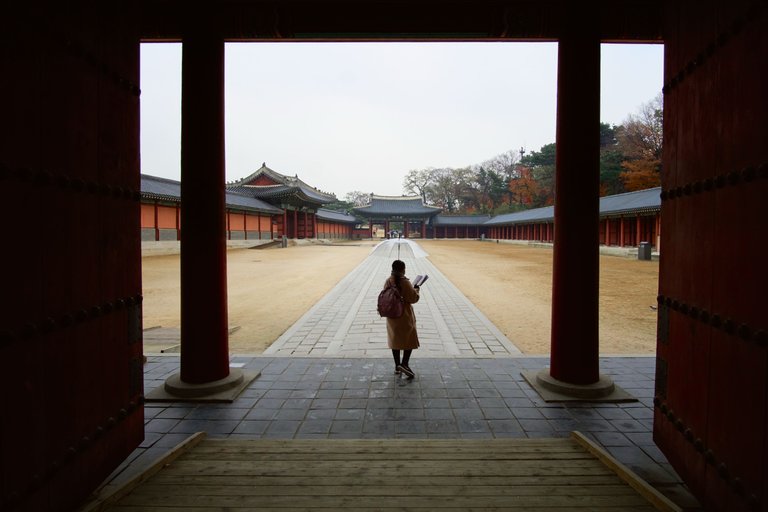 In-jeong-mun Gate
There's a secret garden within but you have to pay extra to visit and is accessible by guided tour only. We didn't book that so we just have to check the main attraction only. I guess it would have been a nice experience to see the secret garden however, with how huge the place was, we were overwhelmed and we just have to go together with the flow and appreciate the architecture and its beauty!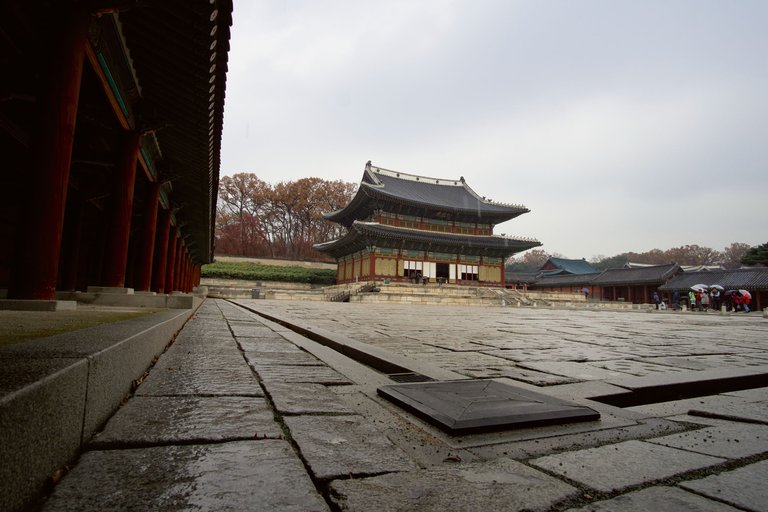 Visitors can go up to see the palace, however, this was just empty but it's quite interesting to see such especially for those who are into Korean dramas and shows which show their history and how royal families live. In this view below, I could literally imagine the King getting out of the huge door and his guards or soldiers bowing to him in this huge square!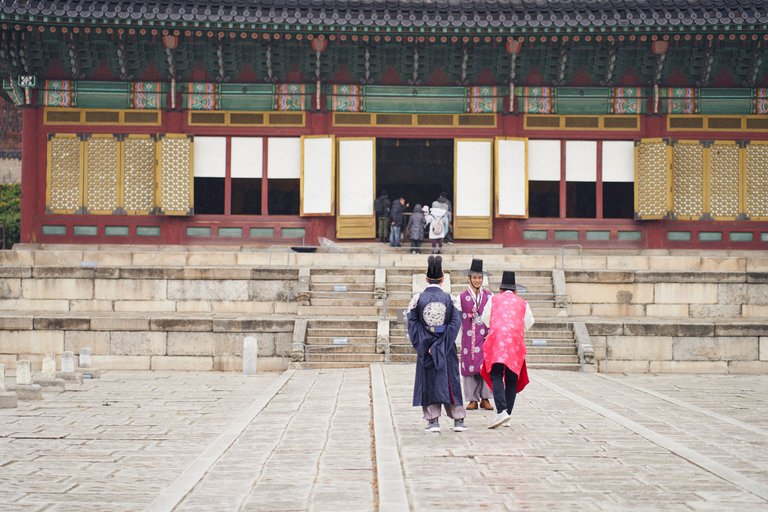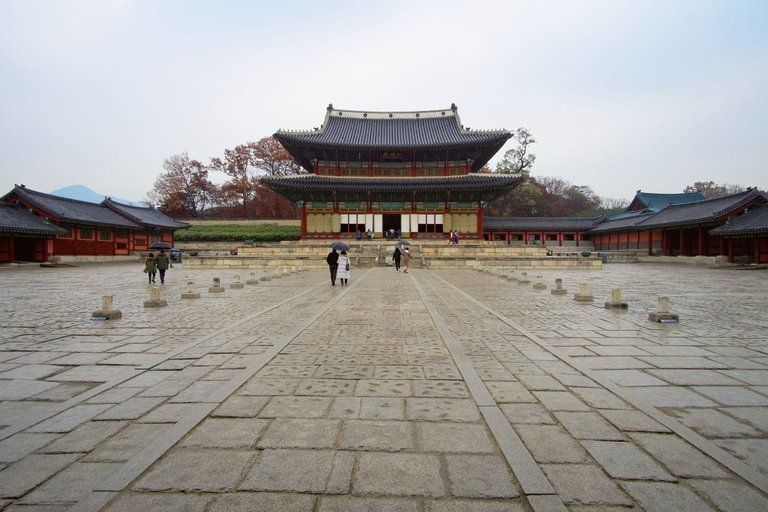 Just look at how vast this area! The grounds for sure had witnessed several actions. I could only imagine though but for sure some Kdrama have been filmed here too!
There were only a few visitors who wore the Korean traditional hanbok and a lot of other tourists were asking to take a photo with them.
This massive palace is really beautiful with the green, yellow, and red combination. Its architecture, roof lines, and gargoyles were all pretty!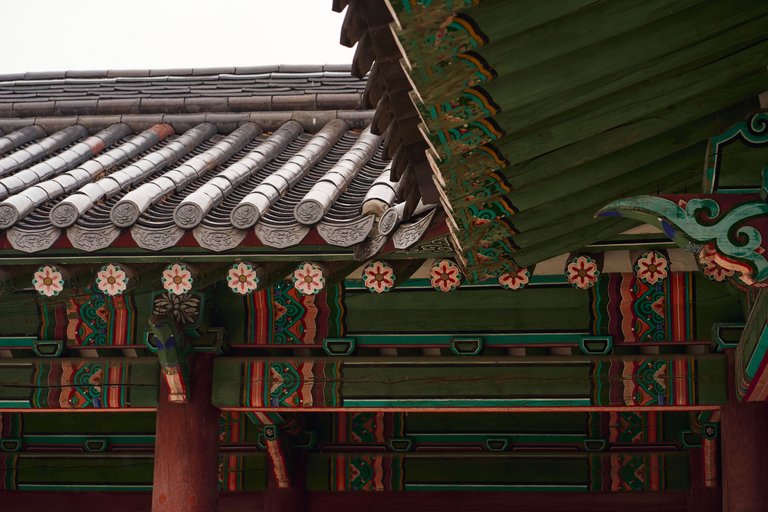 I can only imagine the hard work they have all exerted in building this. Look at the thick wood pillars here and the painting they meticulously did into the woodwork! I know these were not the old paintings though because the palace was somehow reconstructed in the 1960s.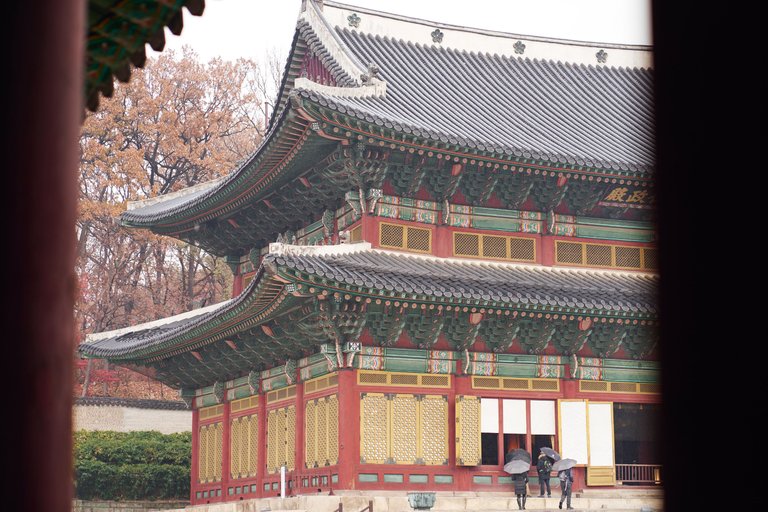 It was pouring so my husband and I took shelter and took photos while waiting for the next move, we were thinking of moving to the next corner of this palace but we were hesitant as well because of the rain.
We saw more and more tourists coming in. Some of them were on their traditional hanbok so I guess the tourists were just taking time with their dresses or perhaps they came from the other palaces already!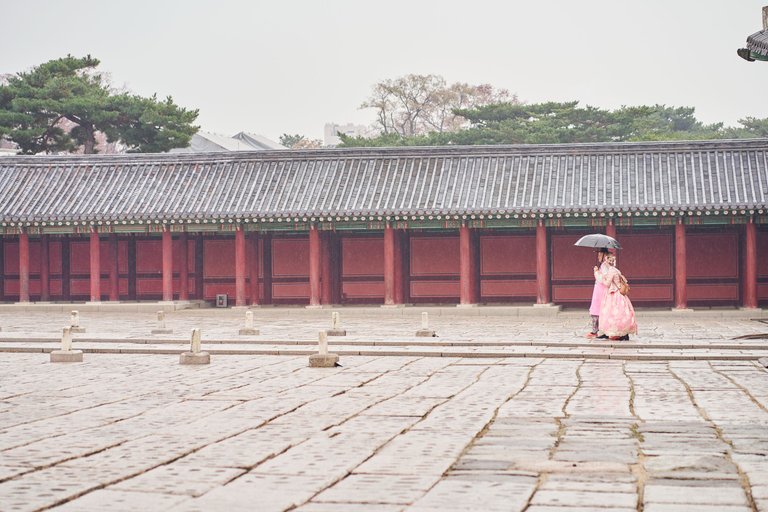 Finally, we moved our butts and headed to these Korean ancient historical buildings. It's like we traveled through time and found ourselves in the Joseon Dynasty.
Wheile the structure is really interesting, we were a bit disappointed that we couldn't get a peek of what's inside. They say these were just empty so we ended up taking photos of ourselves with the buildings as if we were part of a Kdrama film.
Disclaimer: narcissistic photos ahead!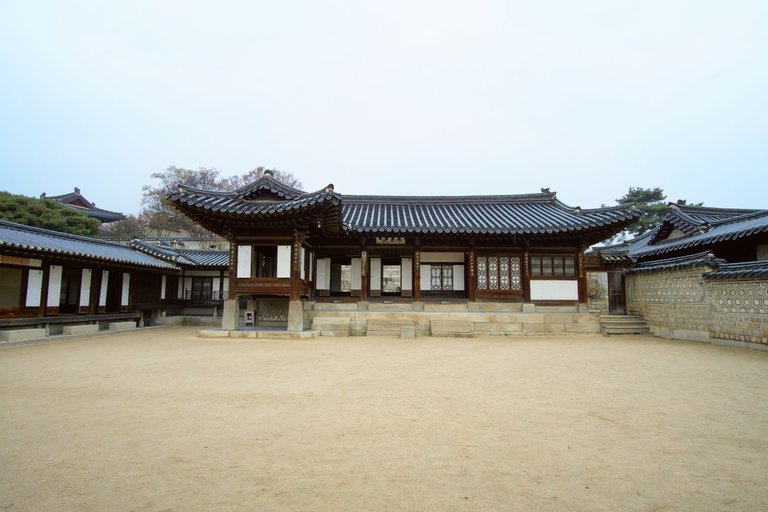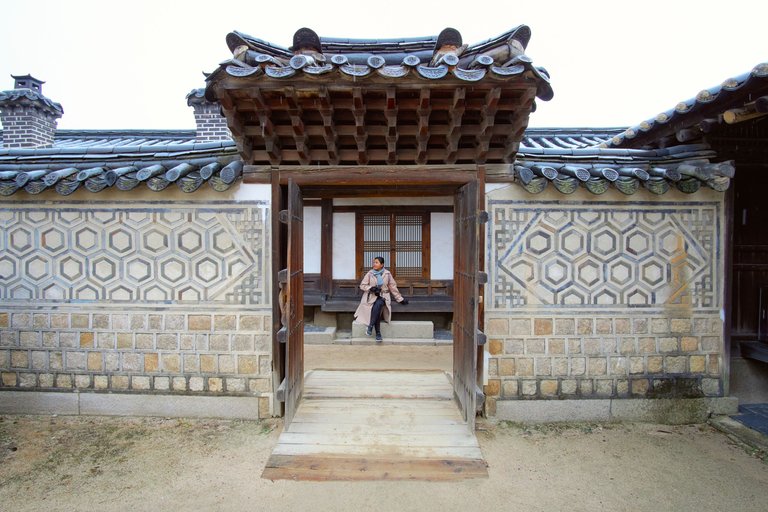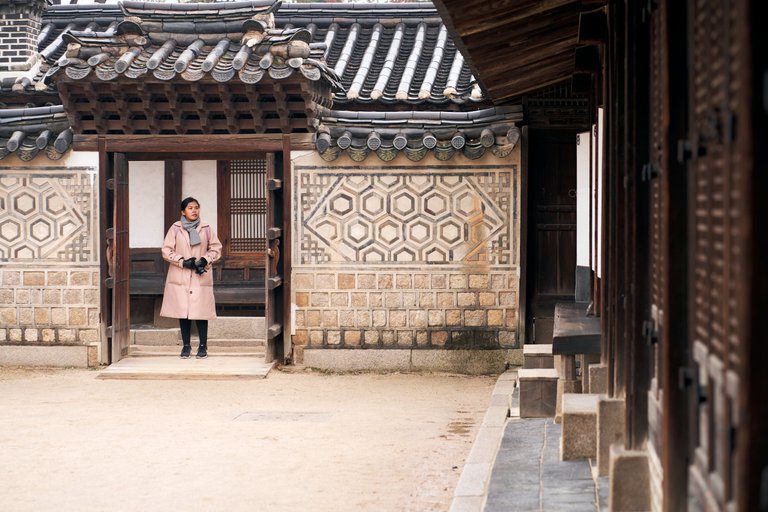 I look into the roofs and the details are just amazing, they say these roofs were originally shiny blue in color which is unique of Korea! I also adore the windows! I wished we could have seen the inside too though!
Even if this is a restored one though, I can say that they have made a great effort in restoring and making it look like the original one.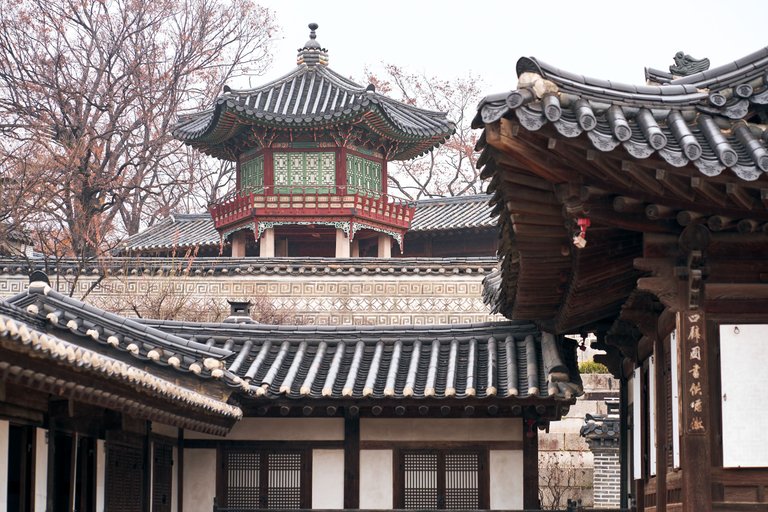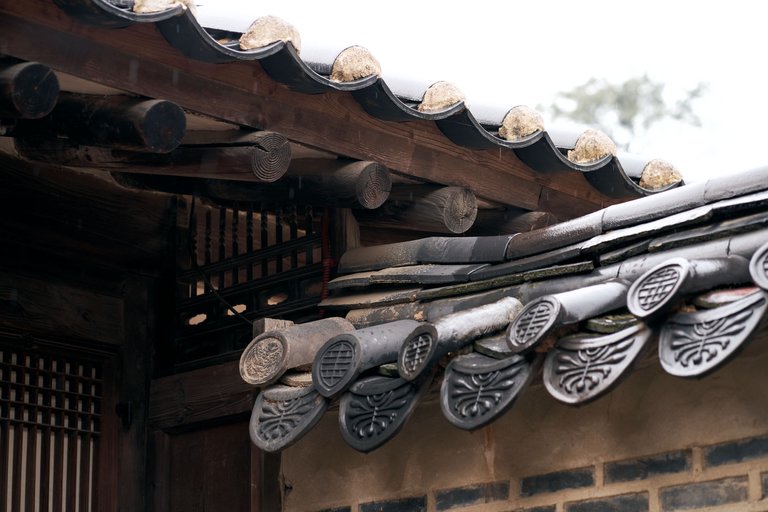 More and more visitors in their hanbok came and we have to give them space so we move on and check the next corner of this huge palace! I was kidding my husband that we could play hide and seek and I guess it would take hours before we will get one another because of the several corners and it felt like going into a maze in fact!
Prepare for more photos below!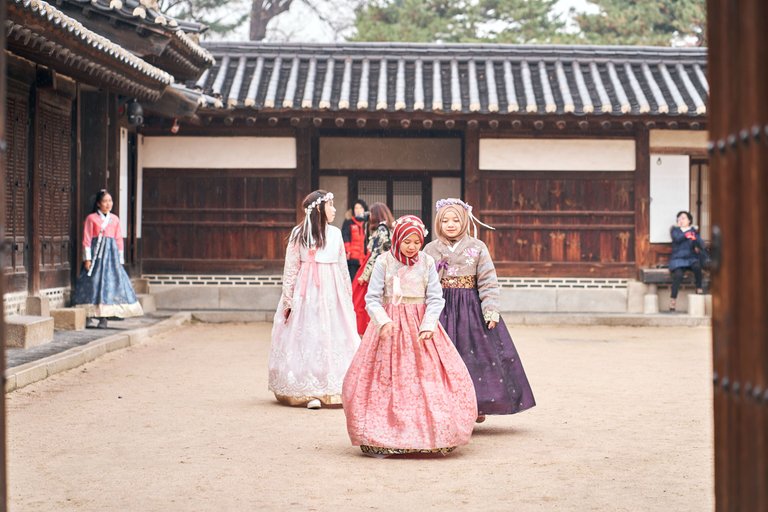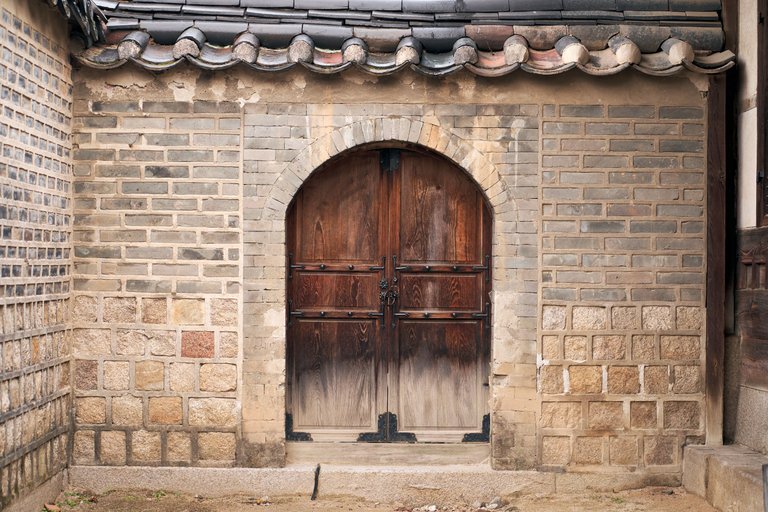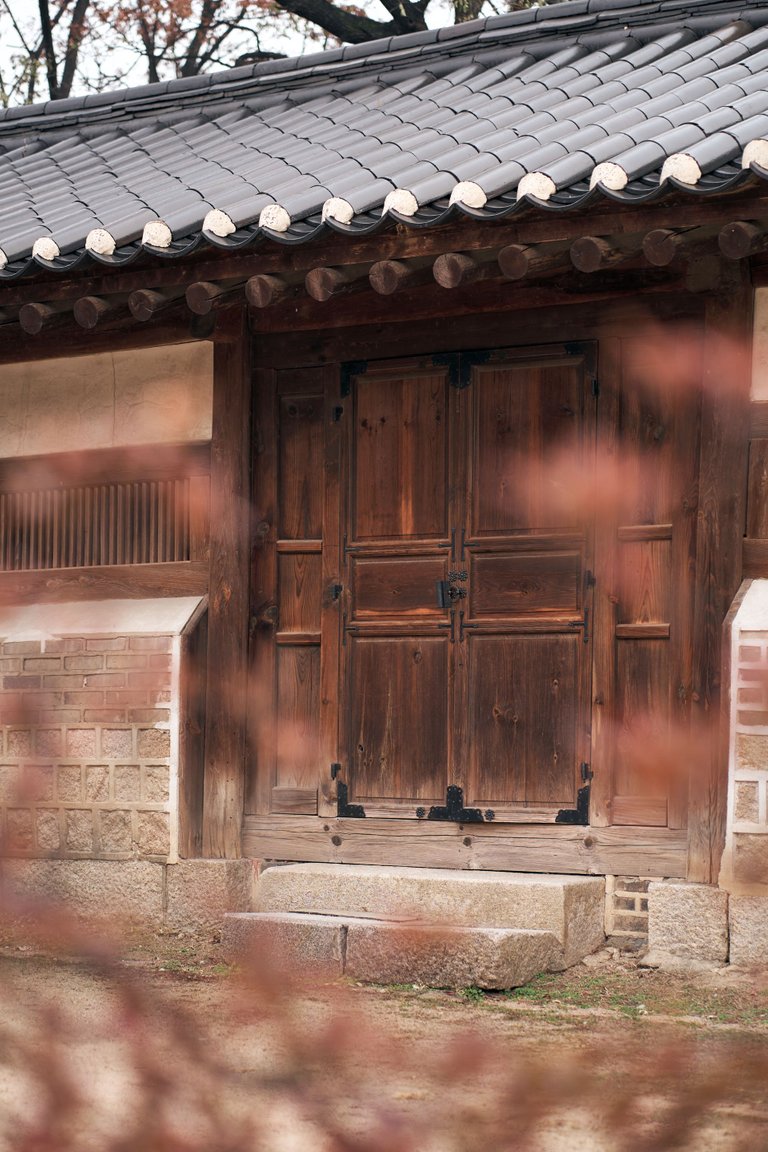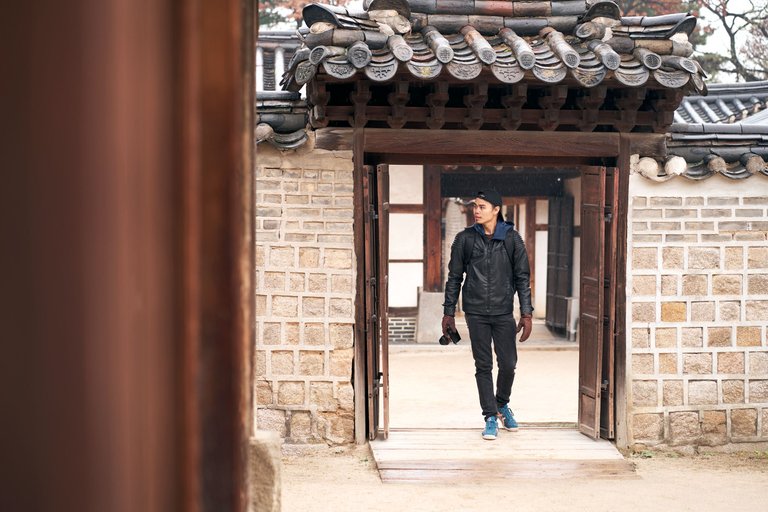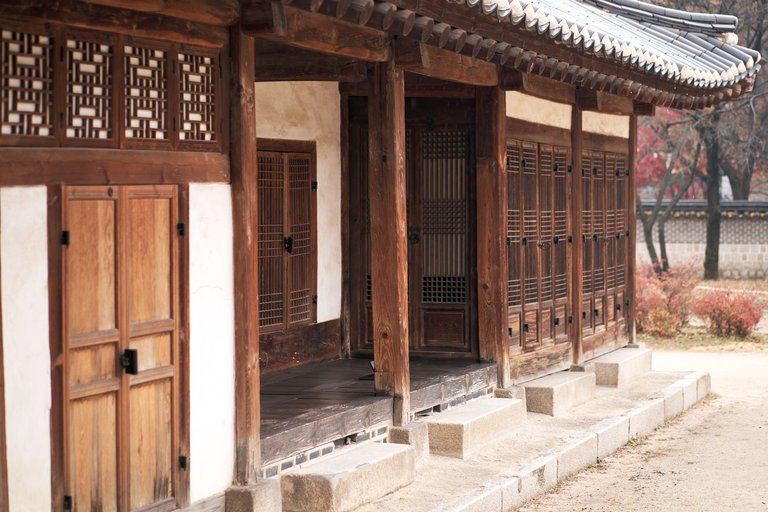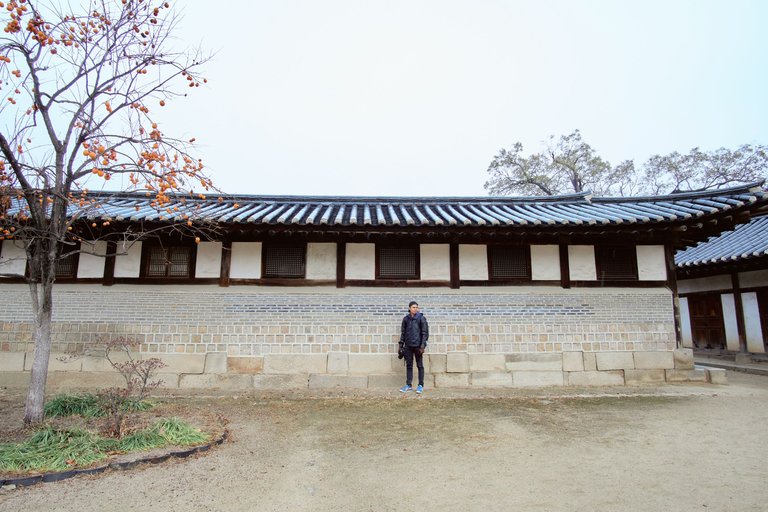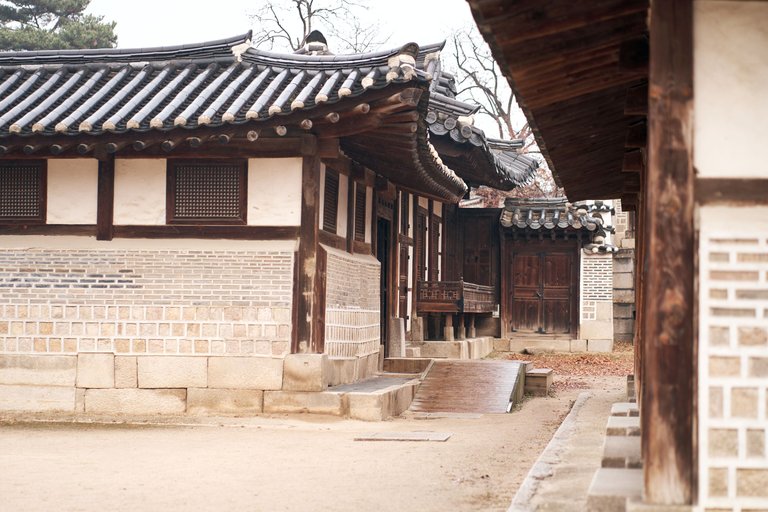 Since we didn't have any guide for this tour, we were just going to random areas. For me, it would have been better if we had a tour guide so we could understand how Koreans design the palace and its gardens.
But nonetheless, it was still a nice experience indulging in this historical place. They say the unique thing about this palace is its garden and I can say that it surely would be good to come here by mid autumn when the trees are changing their colors and the leaves start to fall!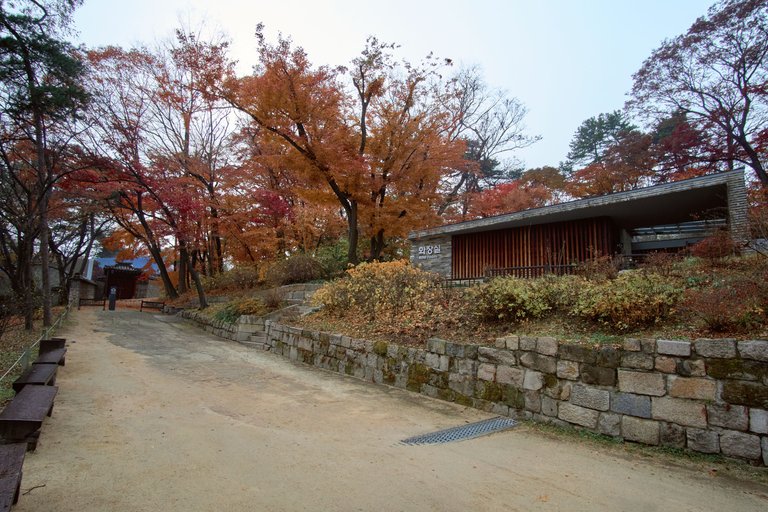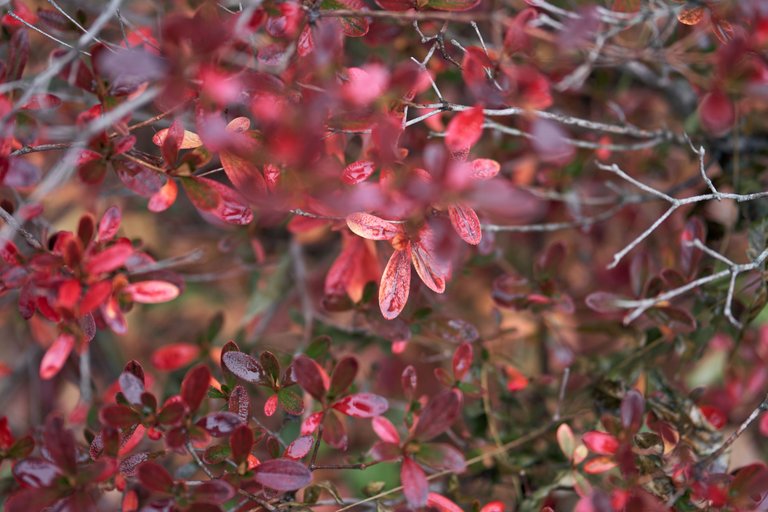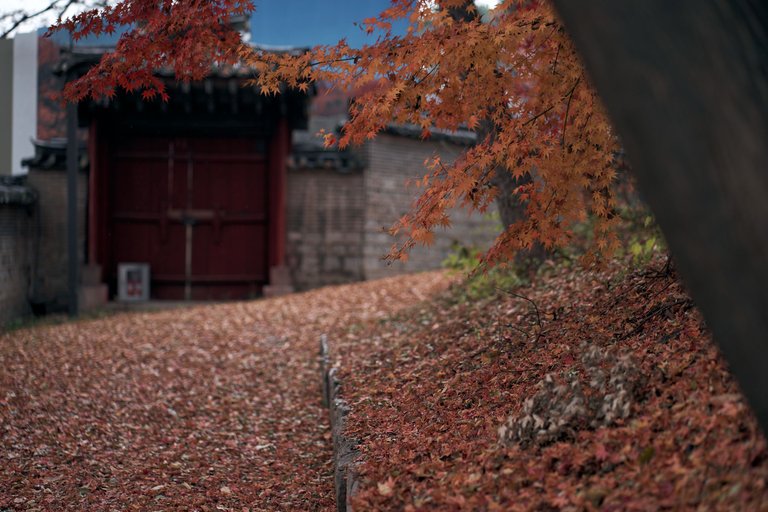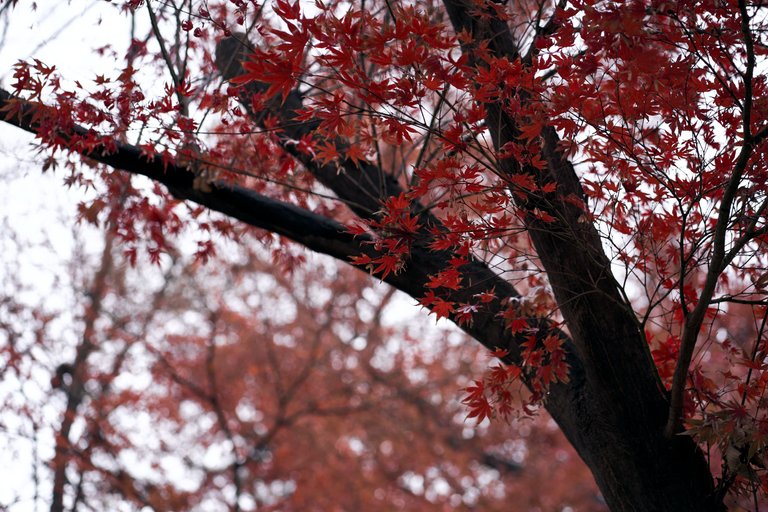 Nonetheless, we found ourselves admiring in the beauty of autumn even if this was at the tail end of the season, we were blessed to still see a glimpse of it. The rain had pulled most of the red and orange maple tree leaves to the ground too and I caught myself just taking more images of these leaves under my feet! These trees don't grow in my country so I have to just adore it here while there's a chance!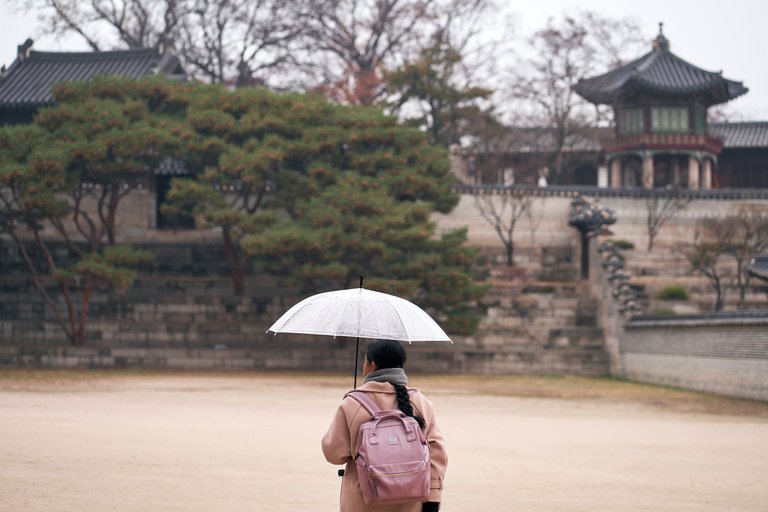 After more than two hours of the Changdeokgung Palace Complex tour, we were ready to go but we met a cute visitor along the way and she was busy with her monopod taking selfies! She was such a doll! We looked around to see where's her companion but it looked like there was none, perhaps they were at the cafe nearby and just watching over her.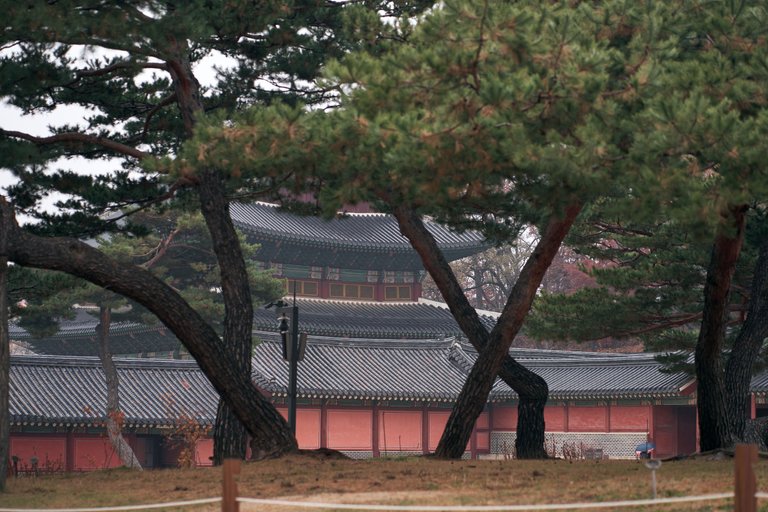 If there's a next chance, it would be nice to go on a royalty tour around the four palaces in Seoul and be in traditional hanbok, witness the changing of guards in Gyeongbokgung which is the main palace, find the secret garden in Changdeokgung and explore the rest of the other two palaces. These are good reasons to be back in Korea! I would want to have a guide too so to help me understand the history even more. But, this experience although cold and wet was still something that I enjoyed a lot!
Now we brace ourselves with more rain and walking! I'll share with you the next destination: Bukchon Hanok Village. Thanks for coming with me in this walking tour!
---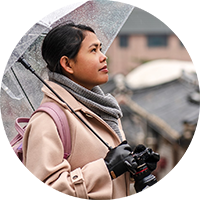 J U N E B R I D E
Boholana | Cebu | Philippines | Travel | Photography Enthusiast | Calligraphy | Art
• • •