Hi hivers - Hola hivers
How is my dear Hive community? I hope very well, today I want to talk to you about a place that I visited a few days ago, this beautiful cafe was the first of its kind to be declared a cultural interest by the Municipality of Montevideo, also the place is located on the ground floor of a building that is architectural heritage.
All this without mentioning the fact that what we decided to eat was very delicious, in this post, I have left you in great detail the flavors and prices of the food at the Cafe Brasilero.
¿Como se encuentra mi quierida comunidad de Hive? espero que muy bien, hoy quiero hablarles sobre un local que visite hace unos dias, este bonito cafe fue el primero de su tipo en declararse como interés cultural por la Intendencia de Montevideo, ademas el local se encuentra en la planta baja de un edificio que es patrimonio arquitectónico.
Todo esto sin nombrar el hecho que lo que decidimos comer estaba muy delicioso, en este post , les he dejado con lujo de detalles los sabores y precios de la comida en el Cafe Brasilero.
---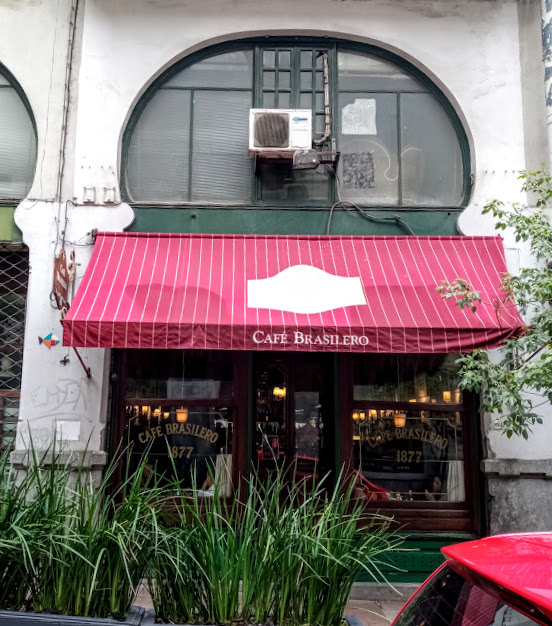 ---
The facade of the premises conveys a possible sense of calm, its wood tones combined with the fonts of letters in gold on the glass give an excellent combination, it is incredible that this cafe was founded in 1877 and 145 years later even It preserves the original façade and a lot of furniture from its founding date.
La fachada del local, nos transmite una posible sensación de calma, sus tonos de madera combinados con las fuentes de letras en dorado sobre los vidrios dan una excelente combinación, es increíble que este café fue fundado en el año 1877 y 145 años mas tarde aun conserva la fachada original y mucho mobiliario de su fecha de fundación.
---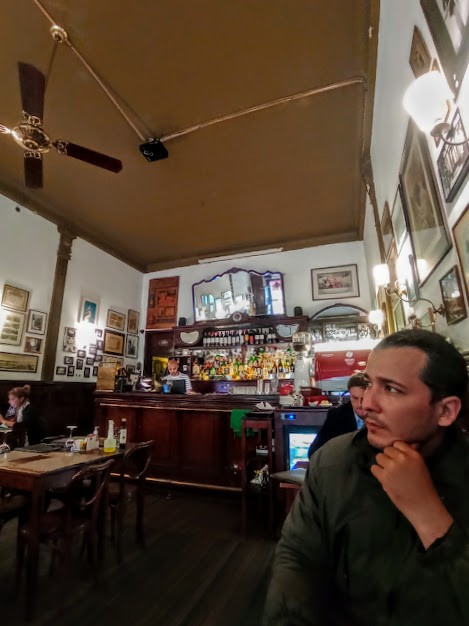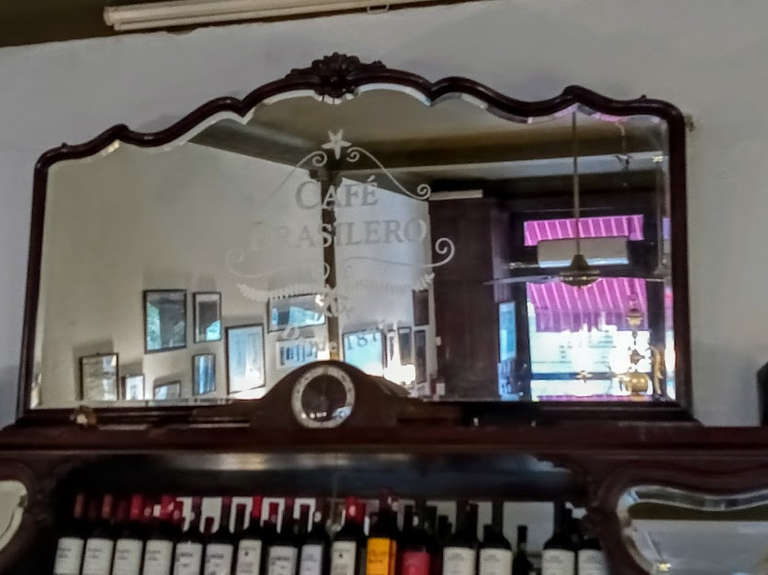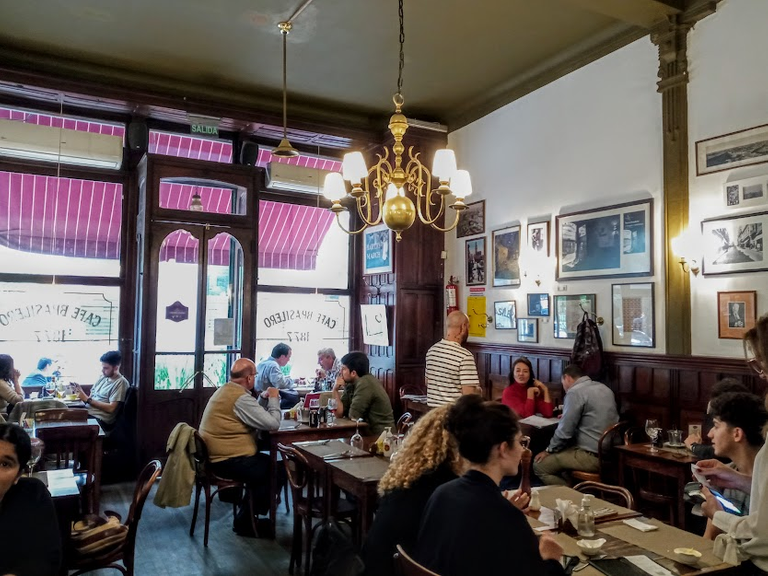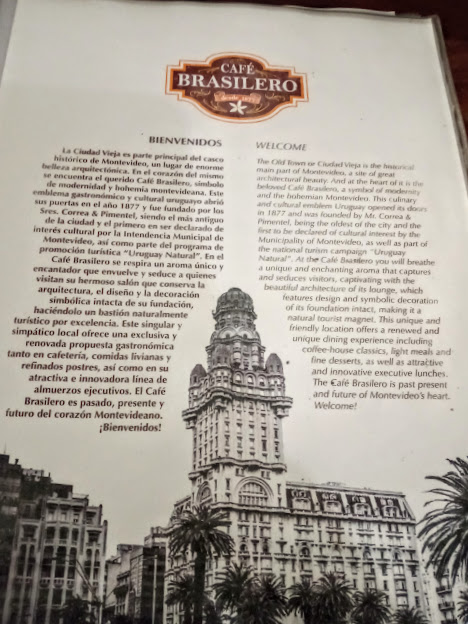 ---
Upon entering the premises, a very faint aroma of coffee is felt, the decoration with artistic, historical and literary references on the walls, could leave you hours learning from them or trying to decipher their origins, great personalities such as Mario Benedetti, Juan Carlos Onetti, Idea Vilariño, Eduardo Galeano, José Enrique Rodó, among others, were frequent visitors to this cafe a few decades ago and in some cases their tables were witnesses to some of their writings.
Al entrar al local se siente un aroma a cafe muy tenue, la decoracion con referencias artisticas, historicas y literarias en las paredes, te podria dejar horas aprendiendo de ellas o intentando descifrar sus origenes, grandes personalidades como Mario Benedetti, Juan Carlos Onetti, Idea Vilariño, Eduardo Galeano, José Enrique Rodó entre otros, eran visitantes concurridos de este cafe hace algunas decadas y en algunos casos sus mesas fueron testigos de algunos de sus escritos.
---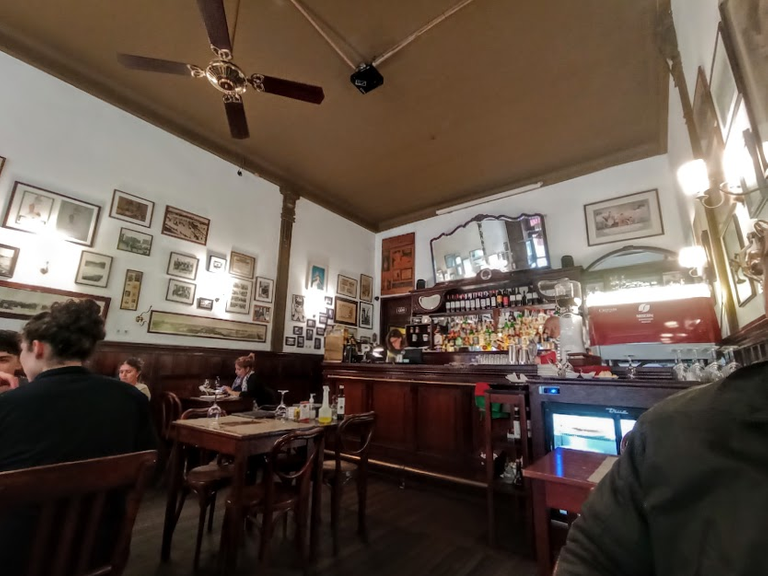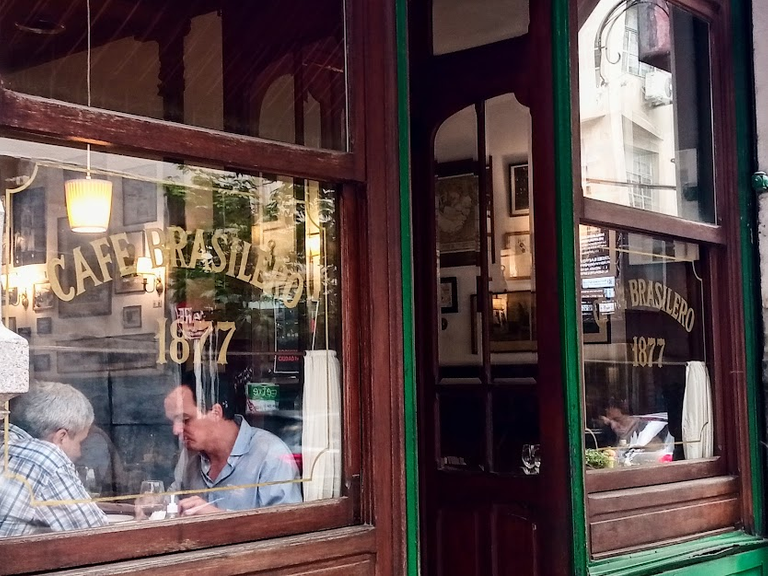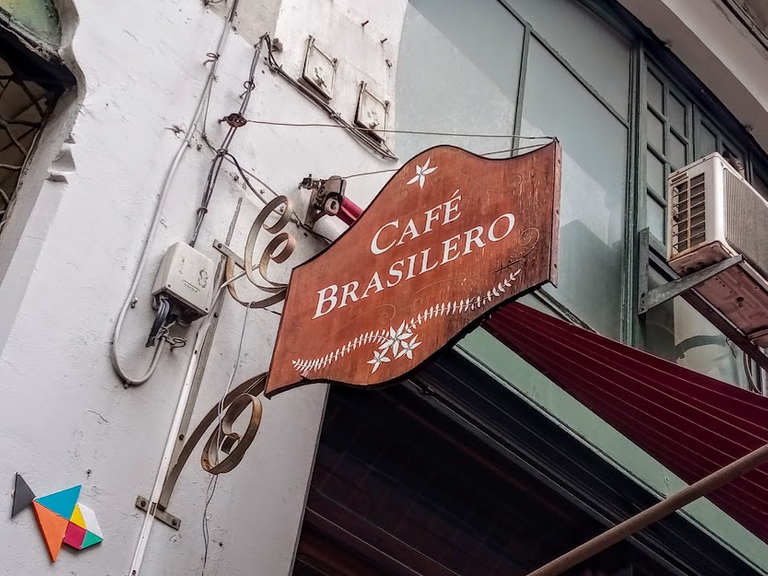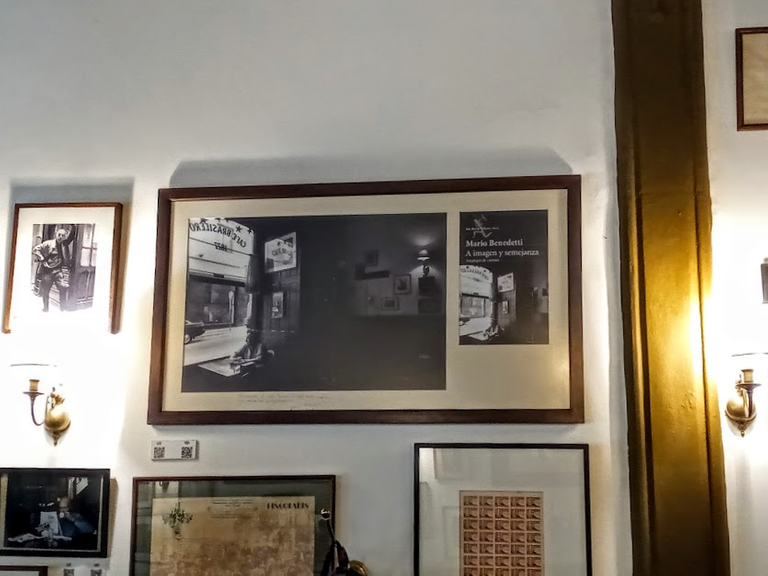 ---
In addition to the decoration of the walls, we can see that the main protagonist of the furniture of the premises is wood, in some cases it is combined with marble or bronze and together with chandeliers illuminating with dim yellow lights added to the calm atmosphere inspired by music, its decorative style of modernism makes you feel in the last century.
Además de la decoración de las pareces, podemos ver que el principal protagonista del mobiliario del local es la madera, en algunos casos se combina con marmol o bronce y junto con candelabros iluminando con luces amarillas tenues sumado a la atmosfera tranquila inspirada por la musica, su estilo decorativo de modernismo te hace sentir en el siglo pasado.
---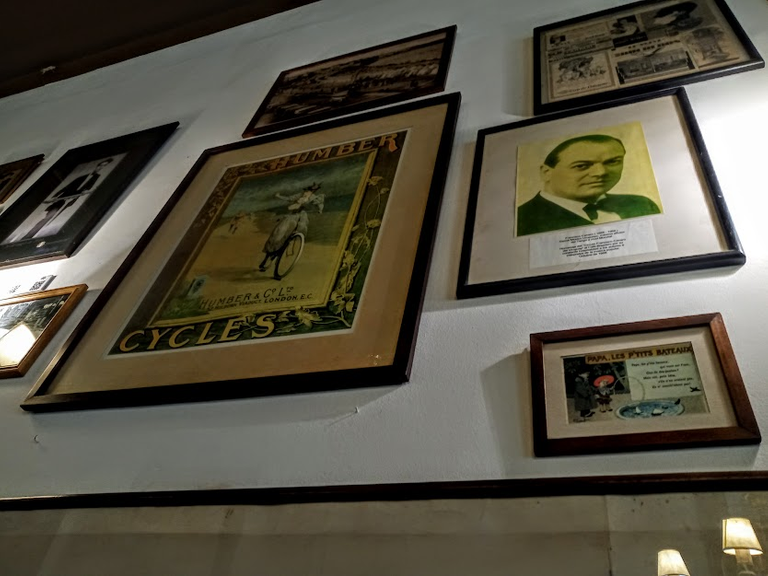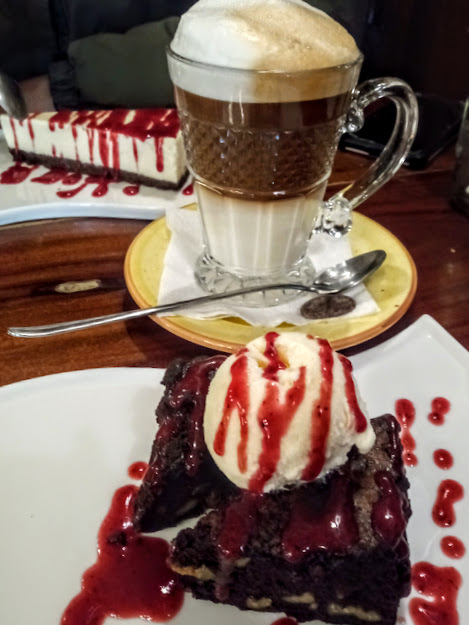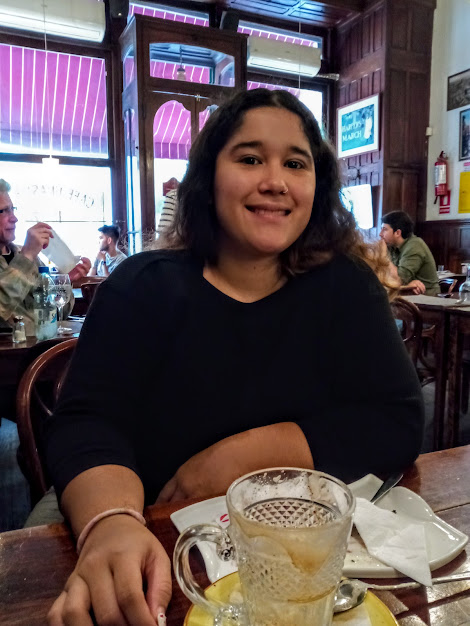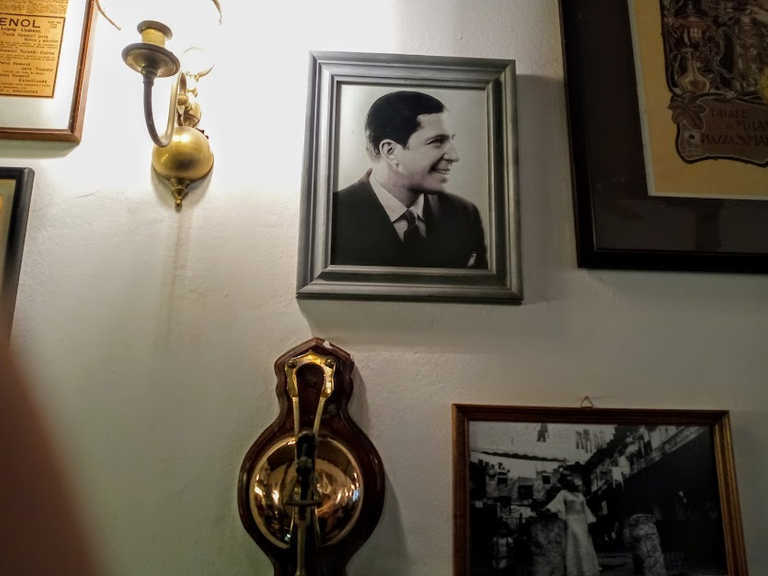 ---
If you want to visit the place when you are in the Uruguayan capital, you can find it at Ituzaingó 1447 street, in the Ciudad Vieja neighborhood, its opening hours are from Monday to Saturday from 10:00 a.m. to 7:00 p.m., although it is not necessary to reserve a table To attend the local, you can do so by contacting their phone or email, here on their web page you have all the information about it.
Si te apetece visitar el local cuando estes en la capital Uruguaya, lo puedes encontrar en la calle Ituzaingó 1447, en el barrio de Ciudad Vieja, sus horarios de atencion son de Lunes a Sabado de 10.00 a 19.00, aunque no es necesario reservan una mesa para asisitir al local , puedes hacerlo contactando a su telefono o mail, aqui en su pagina web tienes toda la información al respecto.
---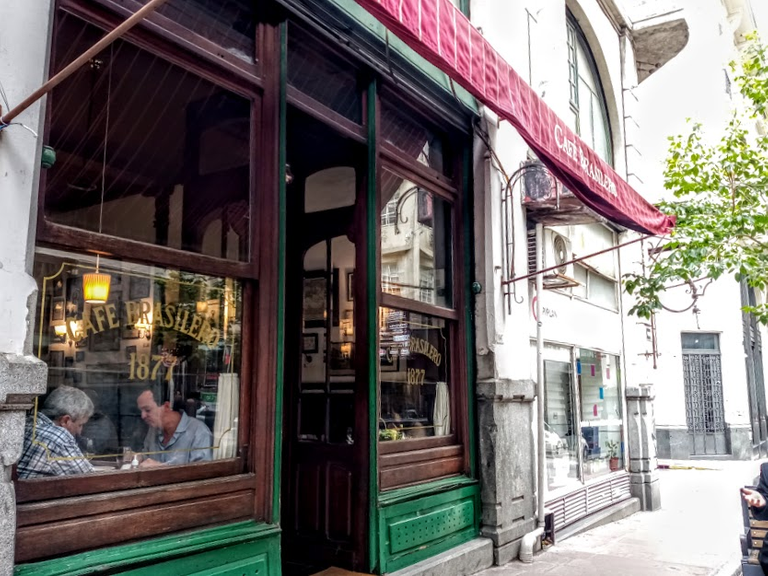 ---
Esto ha sido todo por hoy, si te gusta lo que hago, siente libertad de ayudarme a seguir
This has been all for today, if you like what I do, feel free to help me continue
Δ
https://www.paypal.me/carlagonz
Δ
El ingles no es mi idioma natal, me ayudo de traductores para realizar estos post
Todas las fotos son de mi propiedad tomadas con Xiaomi redmi 7
English it is not my native language, I help myself with translators to make these posts
All photos are my property taken with Xiaomi redmi 7

Muchas gracias por leer
Ten un bonito y feliz día
Con amor Carla Gonzalez Venezolana en Uruguay
Thanks so much for reading
Have a nice and happy day
With love Carla Gonzalez Venezolana in Uruguay