Read this post on TravelFeed.io for the best experience
---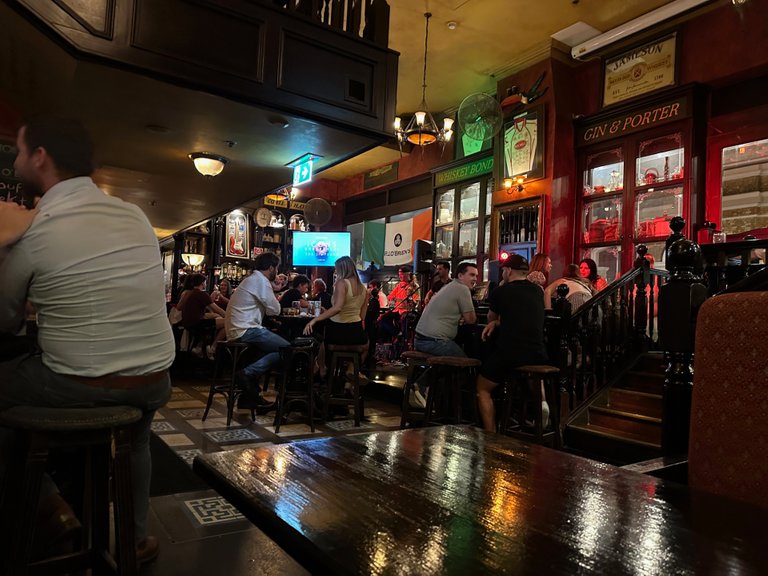 ---
This is a value for value post: see the explanation in the footer.
---
This is my post about The Grace Hotel in Sydney where I recently spent a week. As I'm sure I'll write about elsewhere I was in Sydney, Australia supporting @apshamilton and the Crypto Class Action lawsuit Andrew is bringing on behalf of all of us who were in crypto back to 2018 and pretty much anyone here on Hive.
Location
But this is a post about the Grace Hotel I picked. My primary requirement was proximity to the Federal Court of New South Wales in the centre of Sydney. The hotel was 500m down a slight hill from the court building.
My only previous experience of Sydney was a few days stay during my honeymoon in 2000, yes, coming up on 23 years ago. That time we stayed out in Double Bay and took a ferry in to Circular Key which is the dock between the Sydney Opera House and the Harbour Bridge.
This time the Grace Hotel was right in the middle of the CBD - Central Business District. That made Circular Key about a 10 minute walk to the south, a couple of minutes north is the Queen Victoria Building (QVB) which is a beautiful old building, gutted and turned into a shopping centre. Just north of that is the Town Hall and then Chinatown.
The Hotel
Sydney is an eclectic mix of shinny new mid size sky scrapers, a few concrete monstrosities and some really beautiful older buildings. The Grace Hotel is somewhere between. It's not the prettiest old building (to my eyes the QVB is pretty) but it's also got a lot of character.
It was originally built as an office building for Grace Brothers and is similar in style to the Chicago Herald Tribune's offices in Chicago (if I'm remembering what I read on the boards in the hotel correctly). But it came on stream just as the fall out from the 1929 stock market crash and Great Depression came around. As such it was beset with financial problems and never completely filled.
The Common Areas
The Lobby of The Grace Hotel has been renovated to the style of the building. It's not the swankiest but it does have some nice touches.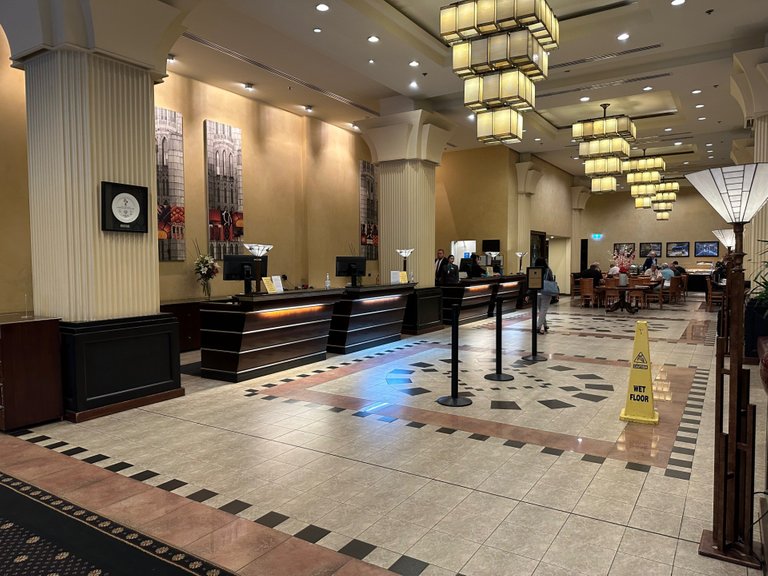 The hotel has entrances on the three sides, one direct into the lobby, the other two come past independent restaurants that are on the ground floor.
Lifts are on the fourth side, behind the reception desks. They require a guest key card to select a floor, something I always find somewhat annoying but not critically so. I guess the tiny added security is worth it.
My Room
Today the rooms has been nicely renovated to a simple modern style. I had a room near the south east corner on the 5th floor looking south. I suspect that some of the rooms look into a central atrium with natural light from above.
The room was a very good size, plenty of walking space all around the bed, easy to leave a suitcase open on the stand next to the cupboards. The only thing it lacked were draws and shelf space, lots of hanging room though.
Bathroom
My room had large bathroom with a good shower with excellent pressure from a rain head. That's all I need.
Working
I asked for an extra desk and chair (there would have been room) and I got a low table and a dining chair. It was handy but not really a working desk. We still used the room as an office for a day and a half as we prepared for court. Though I was fine sitting on the bed with my laptop while Andrew used the real desk.
Gym
The hotel does have a rooftop gym with a few machines, I only popped my head up there to take a look. It's also got a long, thin laps pool. Only meant for exercise really.
Minibar
The minibar had two bottles each of still and sparkling water, fruit juices and Pepsi. It was complimentary and restocked each day. Perfect. The in room tea was good (proper tea bags making proper English Breakfast Tea, something Israel finds impossible to recreate).
Food
I didn't pay extra for the hotel breakfast option and I'm glad I didn't. It looked to be a very lackluster affair and I think the price was $35 AUD (the only place in the world I consistently find hotel buffet breakfasts worth taking is Israel.)
X1 Xpress
However just next to the hotel breakfast area is an independent cafe T1 Xpress. I ate there every morning, granola with fruit, wrap with avocado and scrambled egg, eggs benedict on toast. I never paid more than $20 and I always had a tea or a coffee.
PJ O'Briens
I had a burger here on my day of arrival: I was shattered and didn't want to wander the streets looking for anything else. It's an Irish Pub and it's got all the look and feel of one. The food was ok, nothing to write home about (I'm writing about it...) but not overly expensive and they did charge it to my room in the hotel.
I came back a couple of times for drinks. After our first day in court we had a drink to decompress and one evening, having eaten somewhere else, there was some pretty good music belting out so I ordered a Jameson's Irish Whisky and sat down to listen.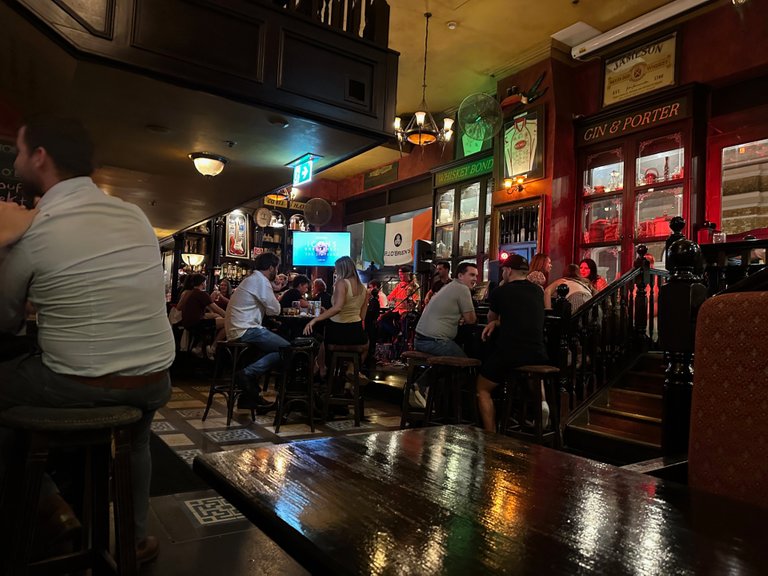 Vapiano
The final place on the ground floor was a basic pizza and pasta place. I had a decent enough pizza there one evening and a salad for lunch on another occasion. This was my first experience with something which seems to have become a bit of trend in Australia post Covid. You order and pay on your phone after scanning a QR code which tells the restaurant staff which table you're on.
Not a huge fan of this and certainly a bit of a pain if you want a second beer or to order desert. I didn't have a second beer or desert in that restaurant: they also loose all chance for upselling and tipping seems to disappear too. I can't see how this is a great idea.
Daruma
On the first floor of the hotel is an excellent Japanese restaurant. I ate here with Andrew twice, both of us having their lunch time menu with a selection of sashimi, tempura, miso soup and all the usual extras. Eating sushi also allowed Andrew to stick to kosher fish instead of some of the shell fish.
Cost and Value
I booked the hotel on hotels.com. I have no idea why I started to use that site but it nearly always offers zero fee cancellation right up to the last day or two before a stay. I love that. I stayed six nights from Monday to Sunday and the average price per night was $250 AUD ($173 HBD).
For a hotel dead centre of Sydney and 5 mins from exactly what I came for, I consider that to be reasonable.
I actually moved out of town for my last night into a pretty sub-par 3* hotel near the airport for an easier wake up. It was $145 AUD so not a great deal less than the cheapest nights in town.
Conclusion
---
Value for Value
For the last few months while building @v4vapp I was generously supported by the DHF. Going forward I have a much more modest support which covers direct server costs and a little of my time.
If you appreciate the work I do on and around Hive, you can express this directly: upvoting posts on Hive is great. Also consider a direct donation (there's a Tip button on Hive or a Lightning Address) on all my posts.
Support Proposal 244 on PeakD
Support Proposal 244 with Hivesigner
Support Proposal 244 on Ecency
Vote for Brianoflondon's Witness KeyChain or HiveSigner
---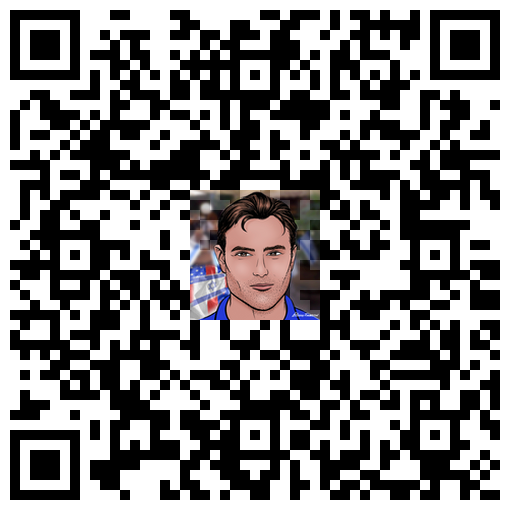 ---
View this post on TravelFeed for the best experience.