Nahargarh and Satyajit Ray
I have spoken to many of my friends who are born and brought up in Jaipur, Rajasthan, but never been to Nahargarh fort. Even during my recent trips to Rajasthan, I had experienced drivers from the city, who knows every street of the city, but didn't know where the 'walk-path' starts so that one can walk to the fort, in stead of driving! It is bizzare! Believe me it is the most visible landmark in Jaipur (at least to me, and many other folks from West Bengal). The Nahargarh Fort overlooks the city on a mightly hill and can be visible from virtually every corner of the central city. Why so many locals haven't been there? Or don't care much about it (it is changing, largely, and for the rest of us, it is perhaps not good!)? It is one of the worlds big mystery. Well, maybe not.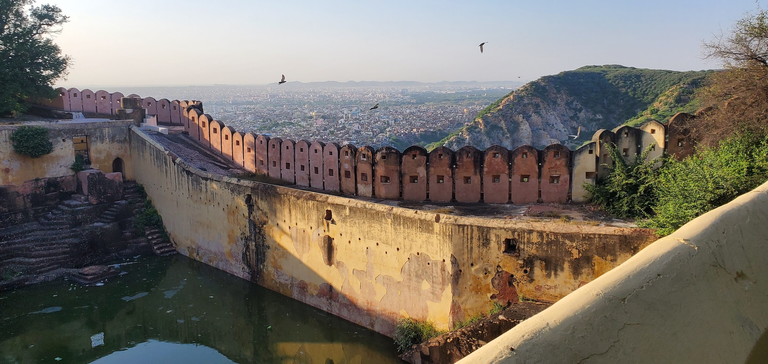 What put Nahargarh on the map for Bengalis was Satyajit Ray's Novel Sonar Kella, and the 1974 movie of that same name. Ray, as a novelist of children literature was incredibly popular well before he was popular as a film director. He was a best seller author well before, and even today, his novels and short story collection can be seen in virtually every educated Bengali house from West Bengal. Ray used Rajasthan as a backdrop in his earlier movie Gupi Gayen Bagha Bayen. Jaisalmer in particular is the location he used in that movie, but these were his early days of movie making and it was low budget and B&W. Yes, it was no B&W for art, it was B&W because it was cheaper to produce B&W back in those days. Ray liked Jaisalmer a lot, and Rajasthan in general. So when he decided to film Sonar Kella, the choices are obvious. The book directly describes, not just Jaisalmer, but several other forts of Rajasthan, including Bikaner (Junagarh), Jodhpur (Meherangarh) and of course Nahargarh Fort in Jaipur.
That book and the movie did magic to the tourism of Rajasthan back in the day. Folks from West Bengal is know to be travelers. Travelling during vacation was a thing for them for last 300 years, when no one in India knew what vacation is, and that you are supposed to go to places for vacation. Bengalis did that for a while. So when the movie came out, and the locations potrayed in that movie was so dramatic and spectacular, it was so remote and exotic back in those days, Bengalis literally flocked into Rajasthan! There was literally no infrastructure for tourism back in those days in the 70s in Rajasthan. Bengalis still went, and infrastructure slowly got built with them!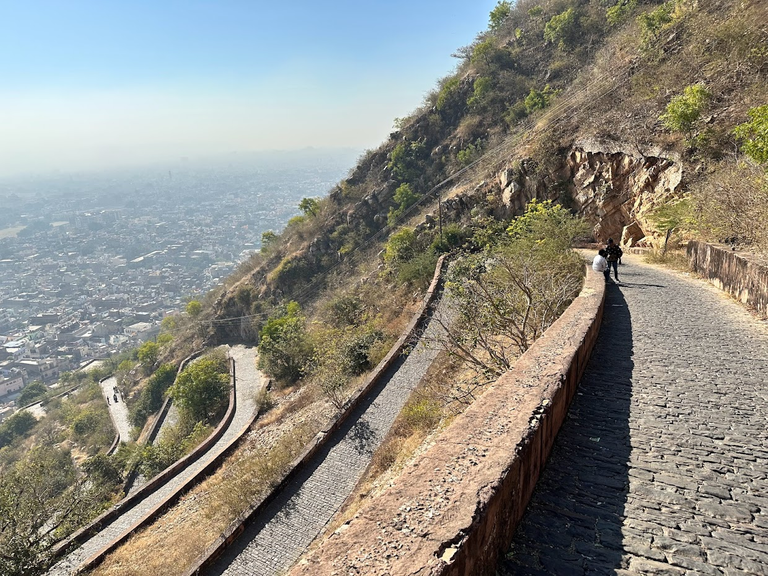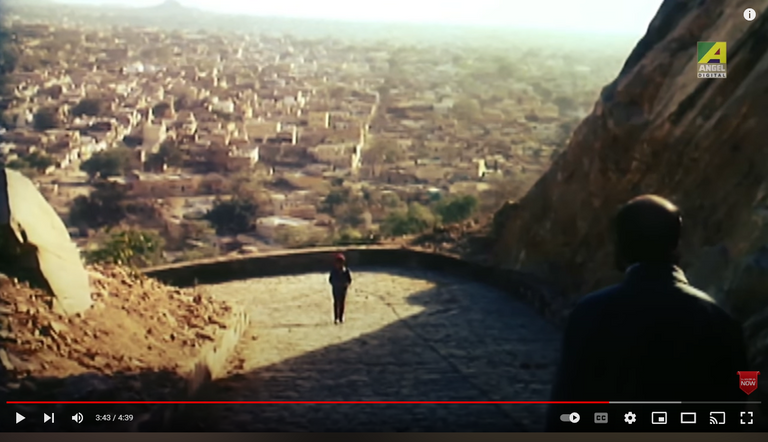 Screenshot from the movie showing the same cobblestone path
Such was the power of that Movie and the novel! This cobblestoned footpath with numerous switchbacks well above the city of Jaipur seen below you foot was first featured in that movie. I have visited Nahargarh many times. I have done geological field work around this area in the late 90s with my wife (then my class mate). So this time around when we went to Jaipur, we decided to give our kids an experience.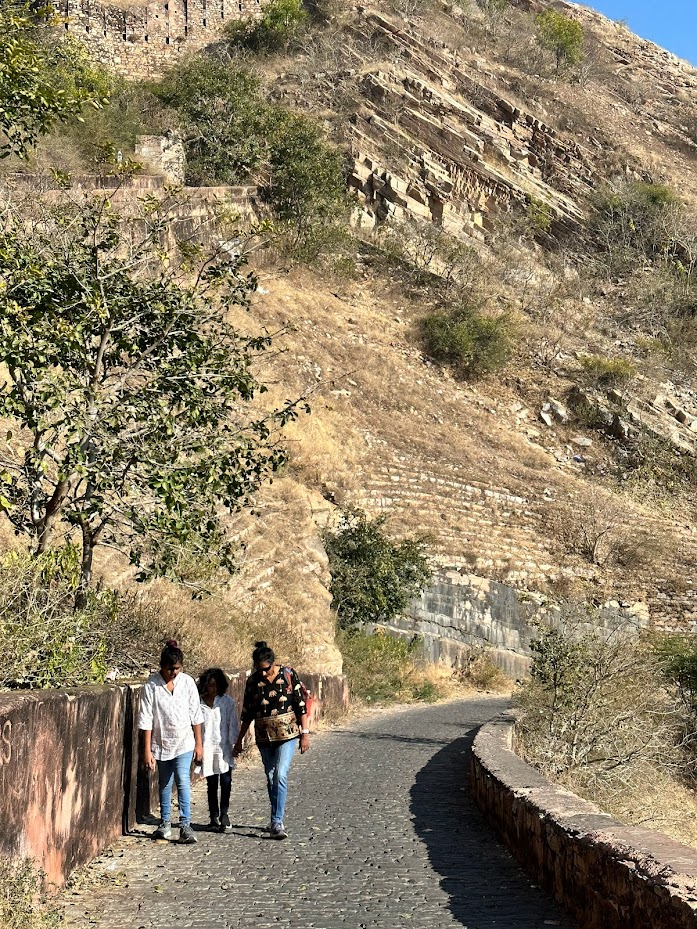 My kids get to walk the path taken by 'fake' Dr. Hajra, and real Dr Hazra and Mukul Dhar as featured in the movie Sonar Kella (the Golden Fotress). It is about an hour walk, if you take it slow, and you really should to enjoy the view. Even today, during the height of the tourist season, the path was empty. Either no one knows or cares, as there is another road where you can drive your car to the top of the fort, which is the way most people go today. Thank their lazy back side for that!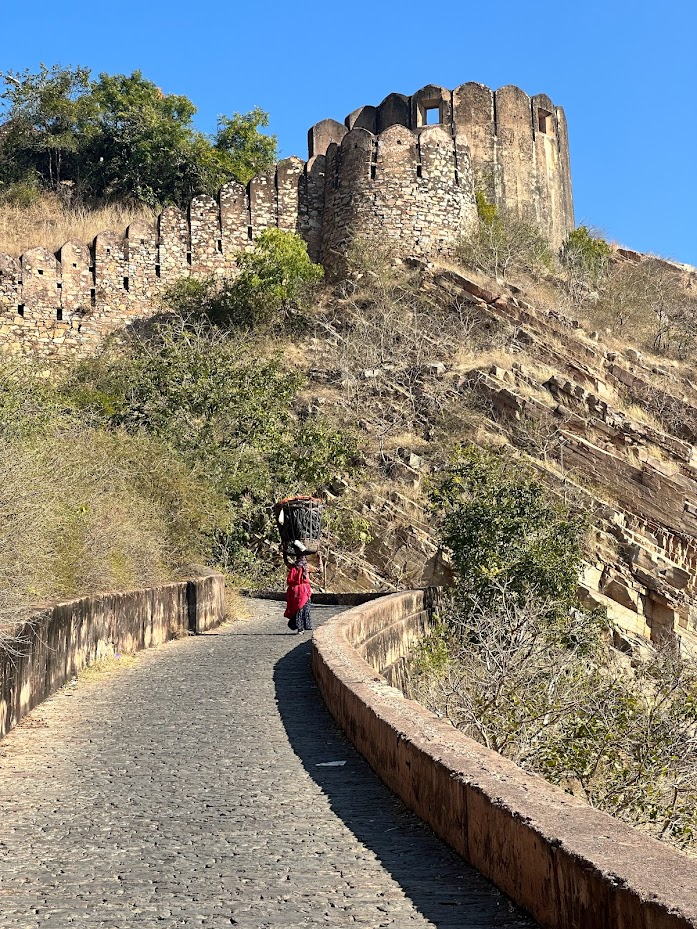 We shared the ancient path with this old lady carrying a heavy load up. That was the only other traffic we saw on the way up. We told the story of the book/movie to our kids. This is the place, this exact path, where fake Dr. Hajra and his assistant Mandar Bose, pushed the real Dr. Hazra off this path for an attempted murder and kidnaped Mukul to find Sonar Kella. Mukul who is supposed to be a kid who remembered his past life. He was originally taken by the 'real' Dr. Hazra, who was a famous parapsychologist and was doing fundamental research on the subject. As you can see the story is deep and complex. I don't know what my kids liked better the walk or the story, but they didn't complain the entire walk!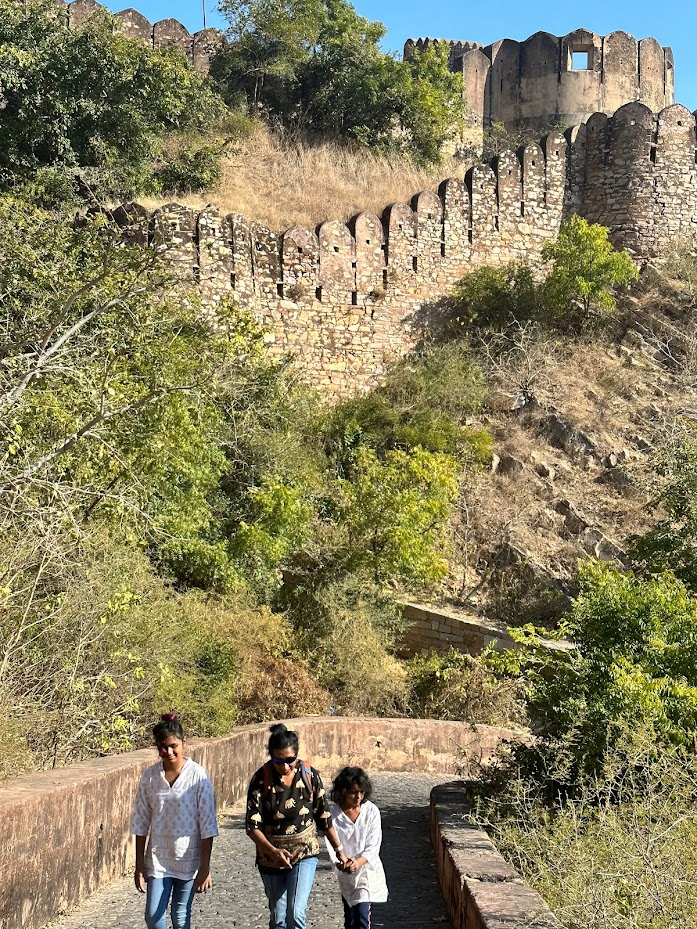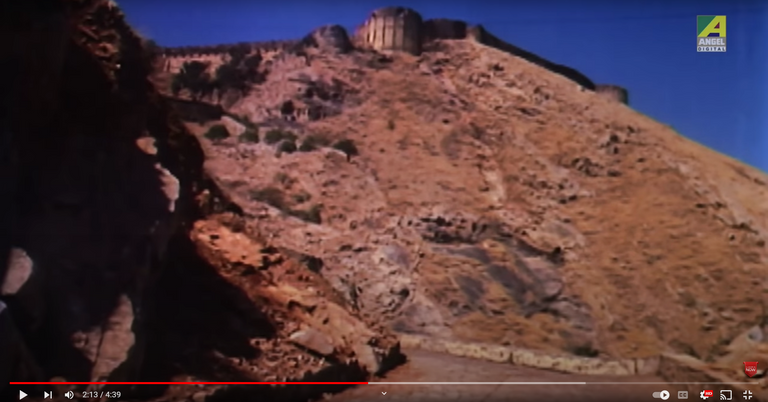 Screenshot from the movie showing the same turret
Once you get, up there, it is rather spectacular castle made out of yellow sandstone and limestone.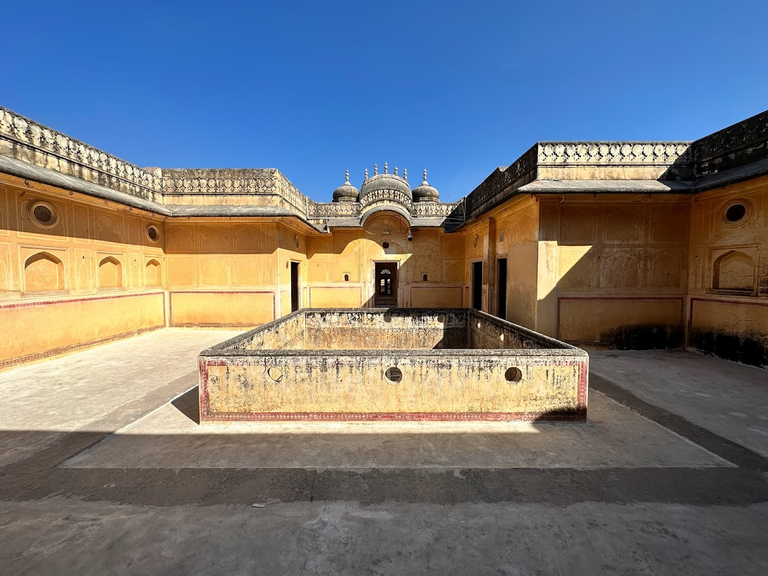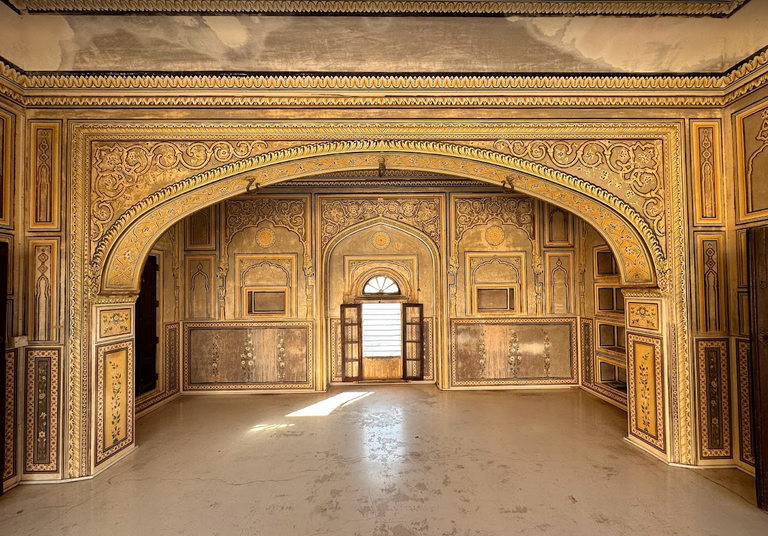 It is surprisingly well kept, and sparsely visited in Indian standard. If you have been to India you will know how hard it is to find a historical place in a popular tourist city devoid of people. There you have it, you have Nahargarh, still relatively pristine and full of its classical mystic.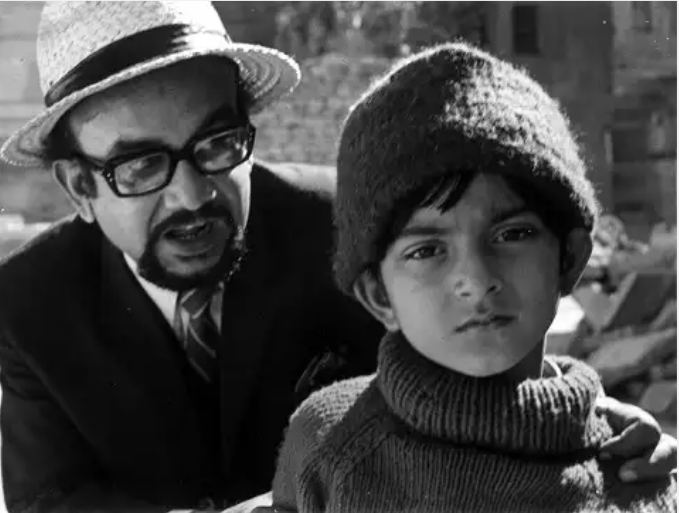 Source: A famous still from the movie