いくたびも雪の深さを尋ねけり
iku tabi mo yuki no fukasa o tazunekeri
repeatedly I ask
how high
is the snow
—Shiki
(trans. David LaSpina[1])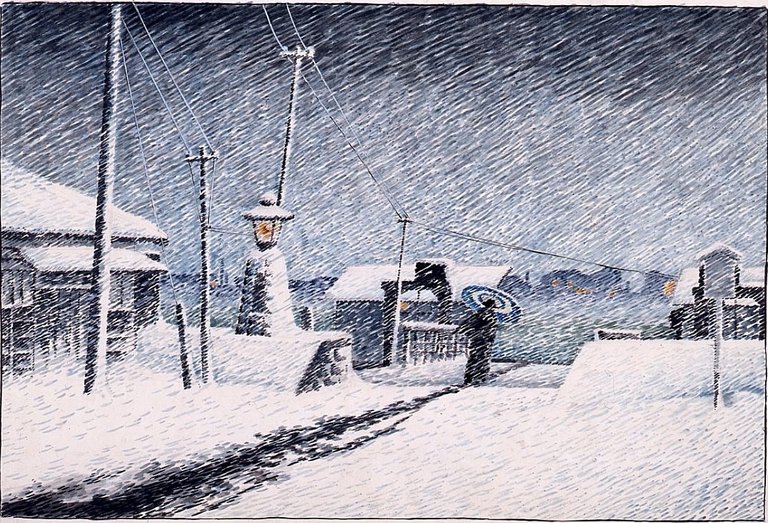 ("Snow at Tsukijima" by Hasui Kawase)
This is one of four haiku Shiki wrote in 1896 as he laid on his back, unable to so much as turn his head without incredible pain from the tuberculosis as it attacked his spinal cord.
We can feel his passion for the snow and child-like yearning to see it as he begs his mother and sister to give more details for his imagination.
❦
| | |
| --- | --- |
| | David LaSpina is an American photographer and translator lost in Japan, trying to capture the beauty of this country one photo at a time and searching for the perfect haiku. |
If this blog post has entertained or helped you, please follow/upvote/reblog. If you want to further support my writing, donations are welcome.
BTC: 1Gvrie5FDBNBb6YpGBiaTvA5AyvsP814BN
ETH: 0x2Ce5c2b5F3f1a888b50A7bA9002E4F742784dF9c
LTC: LUVLvatsFqCubrJAVmCNQaoUdFAdnUCysU
BCH: qrzdazep5xfxax0ydppun89cxfts2vup9q4wnfn025
Dash: XoGzWrhdgbLKBG5kn4GjWfaJDJ6AWkDiqU
---
That is, me! If you like this translation, feel free to use it. Just credit me. Also link here if you can. ↩