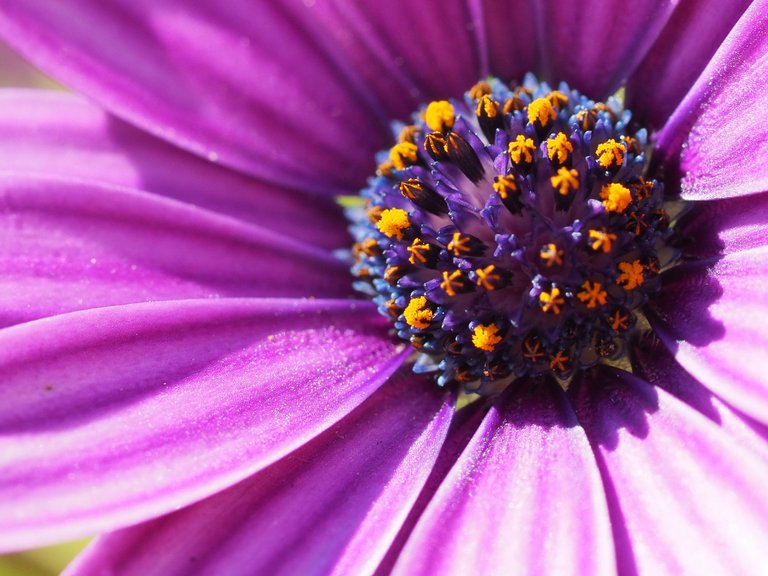 I pay no attention whatever to anybody's praise or blame. I simply follow my own feelings.
- Wolfgang Amadeus Mozart -
---
---
Over the, almost, six years I've been on the blockchain, Hive and it's unmentionable shitty predecessor, I've followed and unfollowed a lot of people although I think I've never followed more than about one hundred and twenty users at any one time. I feel that's a manageable amount and it gives me the ability to spread a good level of upvotes to my favourite authors and content creators.
I've followed users for various reasons: Their content, interaction, and common interest amongst them. Conversely, I've unfollowed users too: A decline in quality, shit-posting, spam-posting, excessive re-blogging, plagiarism, inactivity and other such reasons. Sometimes I've commented and let them know and other times I've unfollowed and moved on without a word. This, I think, is exactly how it's supposed to be; the freedom to follow or unfollow as one chooses and sees fit.
I was thinking about clicking follow on another user today and thought I'd ask the question of you folks about how you determine whether to follow someone and find out what your follow protocol is. But first, here's an insight into how I generally do it.
Firstly, there's exceptions to the below text like if I was to on-board a person I follow them immediately because if I've taken the time to on-board them they're someone I'm happy to follow. I don't on-board much though and there's other exceptions, but not many. Here's how I generally make the decision; a combination of most (or all sometimes) of these things below:
Interest
Posts: The user needs to capture my interest which can happen initially with the post image and catchy title on the post-feed and then the actual content, writing style and over-all tone of the post. I don't like posts with numerous post signatures, footers or links to other social media sites, gimmick-images or with lengthy uninspiring titles...it turns me off.

Engagement: Capturing my interest also happens through commenting on my posts. I always tell newbies to comment [outbound] on other people's posts after reading them fully; users won't generally come to them, they need to attract them. Interesting, valid and relevant commenting is very cool and certainly grabs my attention quickly. Of course, I then circle back to the user's post-feed to see what they're all about and that's where the interesting content element comes into play.
Consistency
This means consistency in posting and engagement with me and others. Starting with a flourish and good frequency then reverting to comments like, good post boss, and, keep going sir, or wow is certainly not going to work very well. A good level of continuity always does the trick and gains my respect (and interest) and that means in engagement and in the user's own posts. I usually scroll back several months and look at the content a user has produced and often ask around my network about any potential transgressions that may effect my decision moving forward. Sometimes I'll follow a person after a few weeks and sometimes it takes longer, but I always look for consistency.
Interaction
I always, always check on the user's comment/reply interaction with other people. If they comment a lot on other users, with relevance and validity, then I can assume they are doing so with me, for the right reason, and not just because I have a bit more stake and a larger vote value than them and they hope to get some of it. Observing how a user interacts in general can reveal a lot about them and their motives.
Common interest
This is an interesting one as a lot of the people I follow don't actually have that much in common with me other than being a human. What I mean here though, is common interest in thought and attitude, principles, sense of fun, hunger for knowledge and interesting conversation on various topics and to express themselves openly and honestly as their true self as much as one would dare on the interwebs. If that common interest is there, then it doesn't matter that we don't necessarily like exactly the same things.
That's the basics although there's other elements I bring into the mix and which helps make my decision.
There's no time frame for this process, the follow happens when it feels right. For instance, the last people I've followed, @p1k4ppa10 and @grindle, interacted with me for several weeks before I chose to click follow. When it feels right to make the follow I'll do so and when or if it feels right to unfollow I'll do so; it's a simple concept.
Bonus follow protocol element
Another technique I use is my favourites feed on Peakd.

Navigating to a user's post feed allows one to click the little star outline and add them to one's favourites feed when on a laptop (above image) and on a mobile phone it's possible by clicking on the three dots thing and adding them to favourites that way - (below image). Remember, this is on Peakd, the best and only front end I use.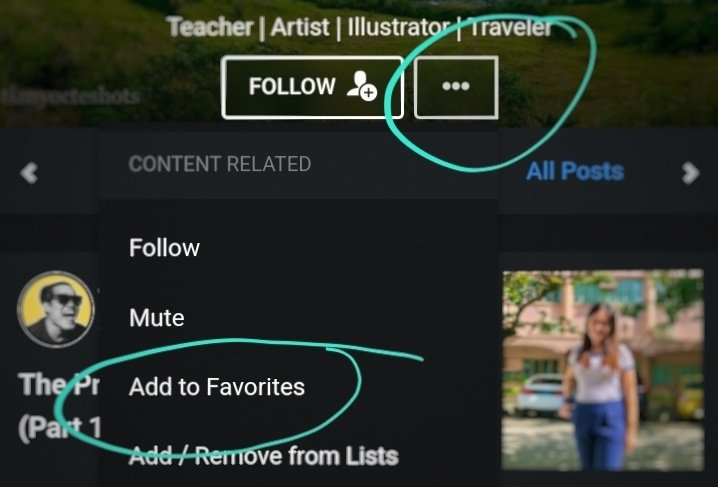 Using the favourites feed, I can get a list of all the people I like but do not yet follow. Some may stay there forever and some may move over to a follow at some stage. Either way, it's a great way to track people and see what's up with them. I'll not show my list because I also add people there (bad actors) that I need to watch for various reasons.
---
I know people follow others for many different reasons.
Sometimes it's the content, the interaction, the lure of potential upvotes, the follow me-follow you thing, because an account has a big stake, to be seen as associated with a larger account, because they are a friend or family member, simply because the account voted them, and sometimes even for a pretty face or a set of boobs. It doesn't matter why people follow others, it's their right to do so for any reason, although I like to keep my follow list to a manageable level so I'm not inundated with posts on my followers-feed that may not be all that interesting to me.
I think follows need to be approached with caution. My whole premise is to have fun here, to enjoy it, and I don't want a feed clogged up with loads of things I'm just not interested in or people who don't align with my values, a reason I don't think accounts should be able to reblog more than one post per day. My process isn't the only way to determine who to follow though, there's many others, mine is just my way.
Just on engagement, I began doing the #weekend-engagement concept in my WEEKEND EXPERIENCES community one hundred and thirty nine weeks ago to help connect people through posts and comments and initially many did so; I think maybe people don't use it to connect with others as much these days which I think is a little sad. Some even post there every week and fail to engage with me on any of my own posts at all which doesn't seem productive considering I vote and follow based on interaction and engagement.
I mention the above as some of these concepts, mine and others, are such great places to find new or interesting users and I believe people should be utilising the resource more.
With my concept and those who choose not to engage with me, I guess they're content with the small vote they might get on their entry post and are not interested in the big picture; we all do things in our own way and that's ok...although, I wonder how many of those people I'd be following (and regularly voting) now if they took the time and effort to engage.
I've always been of the belief that building relationships is the key to sustainability and enjoyment here, it helps grow accounts also, I built mine from nothing in this way. Engaging with others in the ways I mention in this post will gain a user some profile and followers and if they're nurtured the rest takes care of itself.
Anyway, back to my question.
How do you guys approach the decision of who you follow on the blockchain and is there a set process? Feel free to comment below with your process or comment about mine if you like.
---
Design and create your ideal life, don't live it by default; tomorrow isn't promised so be humble and kind - galenkp
Any images in this post are my own.