Hell ooo~
lovely creatures
: D let's bring some humor as usual by bringing to life a character from a series I like.
Blitzø from Helluva Boss
This is a cosplay makeup, not the whole cosplay -w- but I could definitely do this cosplay if I get the right clothes C:
: D traigamos algo de humor como siempre trayendo a la vida un personaje de una serie que me gusta

Blitzø from Helluva Boss

Este es un maquillaje de cosplay, no el cosplay entero -w- pero sin duda podria hacer este cosplay si consigo la ropa adecuada C: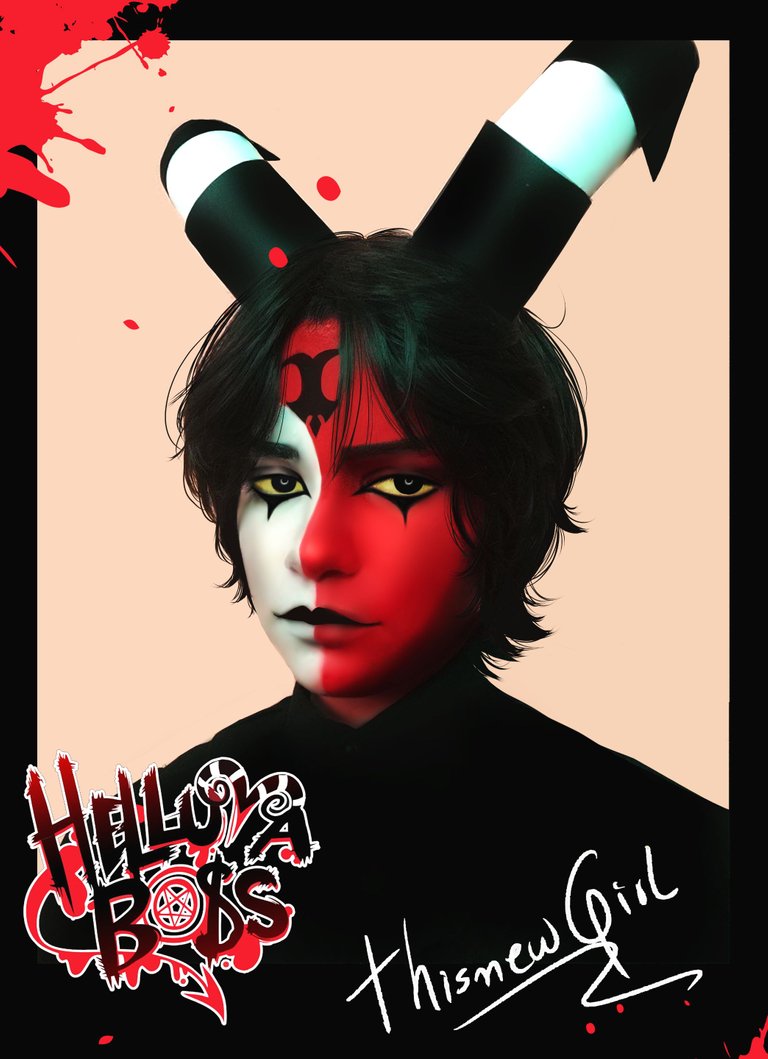 "Hi, there! I'm Blitzo (the "o" is silent), and I'm the founder of I.M.P!
Are you a piece of shit who got yourself sent to Hell?
Or are you an innocent soul who got

FUCKED over by someone else?!"
―Blitzo, advertising his company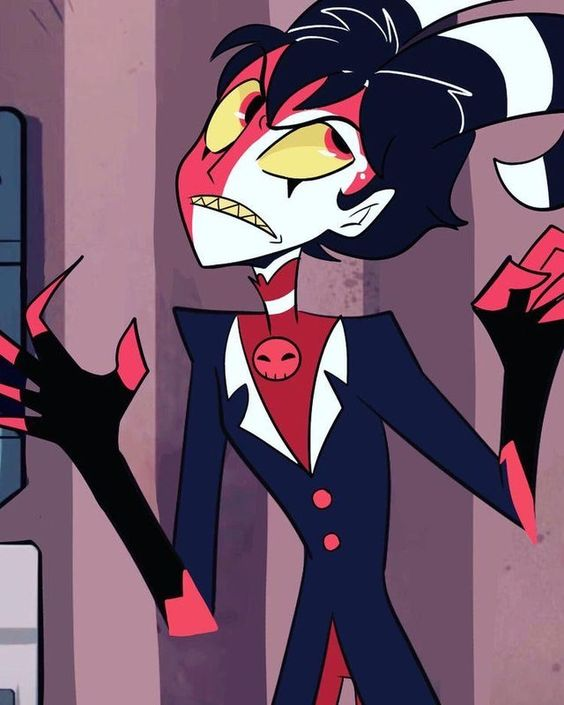 Inspirations and references
All right, first of all I had to find some reference images to use as a baseline to make a make-up of the human version of blitzo.
C: the image above was my base to start this process.
Inspiraciones y referencias
Muy bien, lo primero de todo fue encontrar imagenes de referencia para utilizar de referencia y hacer un maquillaje de la version humana de blitzo
C: la imagen anterior fue mi base para iniciar este proceso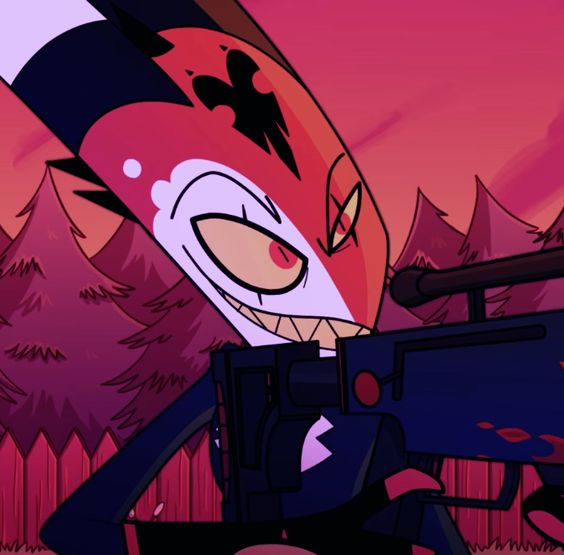 Materials:
athena oil-based makeup palette
colors to use: white, black and red
loose powder
a good pulse in your hand
make-up brushes.
Materiales:
paleta de maquillaje a base de aceite athena
colores a usar : blanco negro y rojo
polvos sueltos
un buen pulso en la mano
brochas de maquillaje.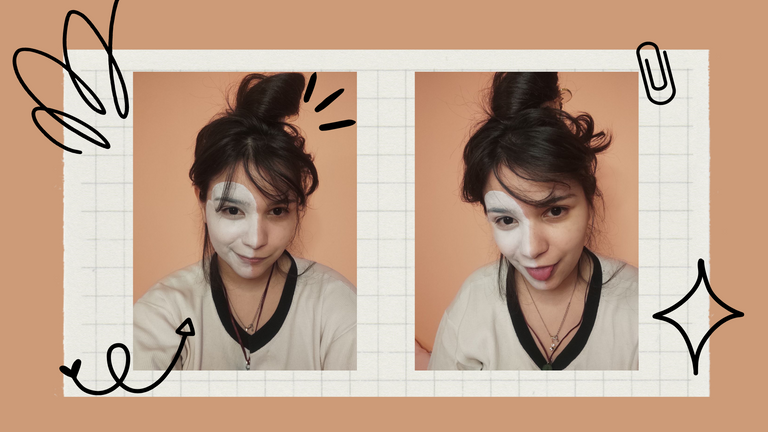 First things first
As a first step, I moisturize my face with a face cream, as my skin is sensitive to certain chemicals... it gets irritated and reddens easily, so I am not a fan of painting my whole face, however it is an activity that I enjoy and would enjoy more if my skin was not so sensitive AHAHAH
after this I proceeded to paint half of my face with oil based body paint from the athena palette, being careful with the shape and the space it occupies on my face.
Como primer paso, hidrato mi rostro con una crema hidratante, ya que mi piel es sensible a ciertos quimicos... se irrita y enrojece con facilidad, asi que no soy fan de pintarme todo el rostro, sin embargo es una actividad que disfruto y disfrutaria mas si mi piel no fuera tan sensible AHAHAH
luego de esto procedi a pintar la mitad de mi rostro con pintura corporal a base de aceite de la paleta athena, cuidando la forma y el espacio que esta ocupa en mi cara.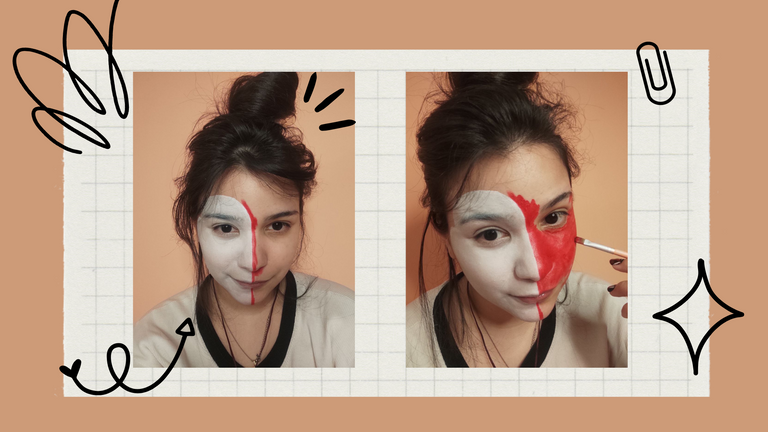 Brushes and color
the red color has been the most difficult to use on my face, because I was using a small brush and the material is quite thick, sometimes it accumulated in certain areas, my recommendation for this is to use a red brush.... don't use sponges or brushes, they absorb too much material and leave a mess on your face, use your fingers. i'm not saying it, science is saying it lol, but as i always tell: do what works best for you.
Brochas y color
el color rojo ha sido el mas dificil de utilizar en mi rostro, debido a que estaba usando una brocha pequeña y que el material es bastante espeso, a veces de acumulaba en ciertas areas, mi recomentacion para esto es ... no usen esponjas o brochas, absorben demasiado material y dejan un desastre en la cara, usen sus dedos. no lo digo yo lo dice la ciencia lol, pero como siempre digo que cada quien haga lo que mejor le funcione.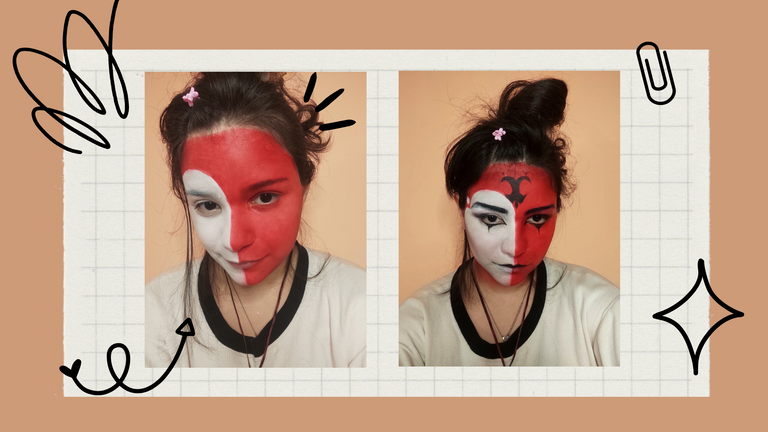 final touches
after painting the rest of the red color and the mark that blitzo has on his forehead, it was time to seal the whole product with loose powder and take a couple of pictures to start the editing process... the makeup as such took about 3/2 hours approximately, since you have to have a lot of patience placing the makeup on the face ... in addition to this I had to repair a mistake that cost me part of the makeup that was already done e.g.
The editing is quite simple, the color modification because the camera depending on the background and the type of light exposure it has will make the colors look different.
blend and that's it.
toques finales
luego de pintar el resto de color rojo y la marca que blitzo tiene en la frente, fue el momento de sellar todo el producto con polvos sueltos y tomar un par de fotos para luego iniciar el proceso de edicion... el maquillaje como tal tomó unas 3/2 horas aproximadamente, ya que hay que tener mucha paciencia colocando el maquillaje en el rostro ... adicional a ello tuve que reparar un error que me costó parte del maquillaje que ya estaba hecho e.e
La edicion es bastante simple, la modificacion del color ya que la camara dependiendo del fondo y el tipo de exposicion a la luz que tenga va a hacer los colores verse diferentes.
difuminado y ya esta.
unedited photo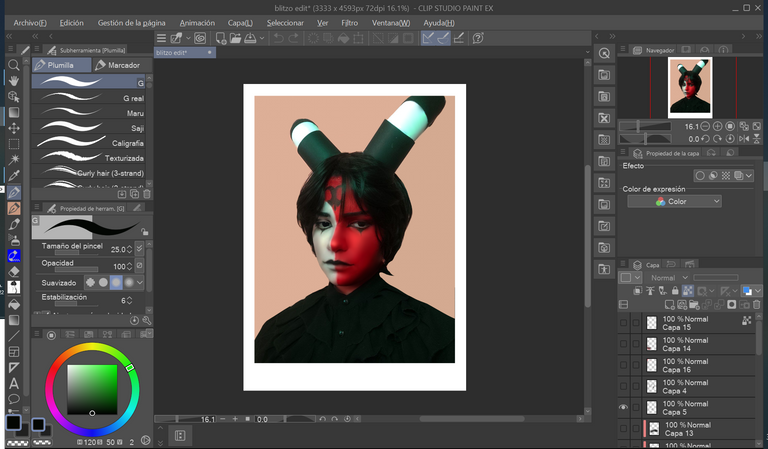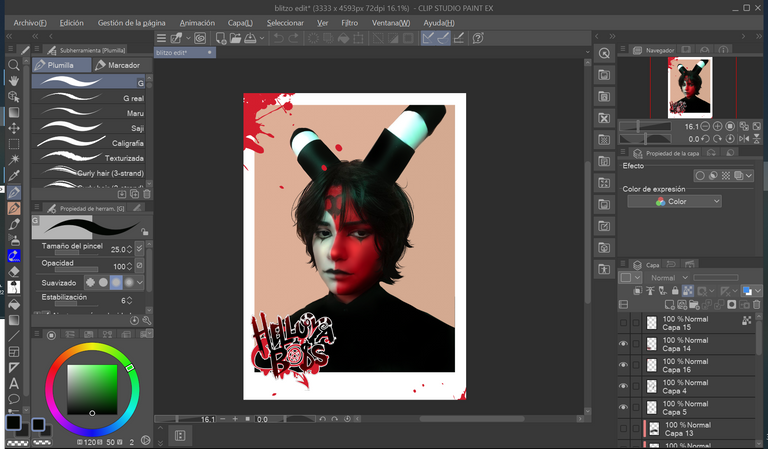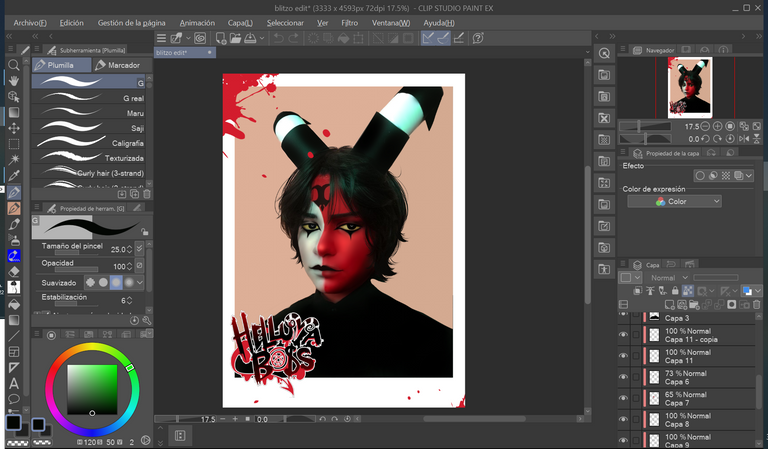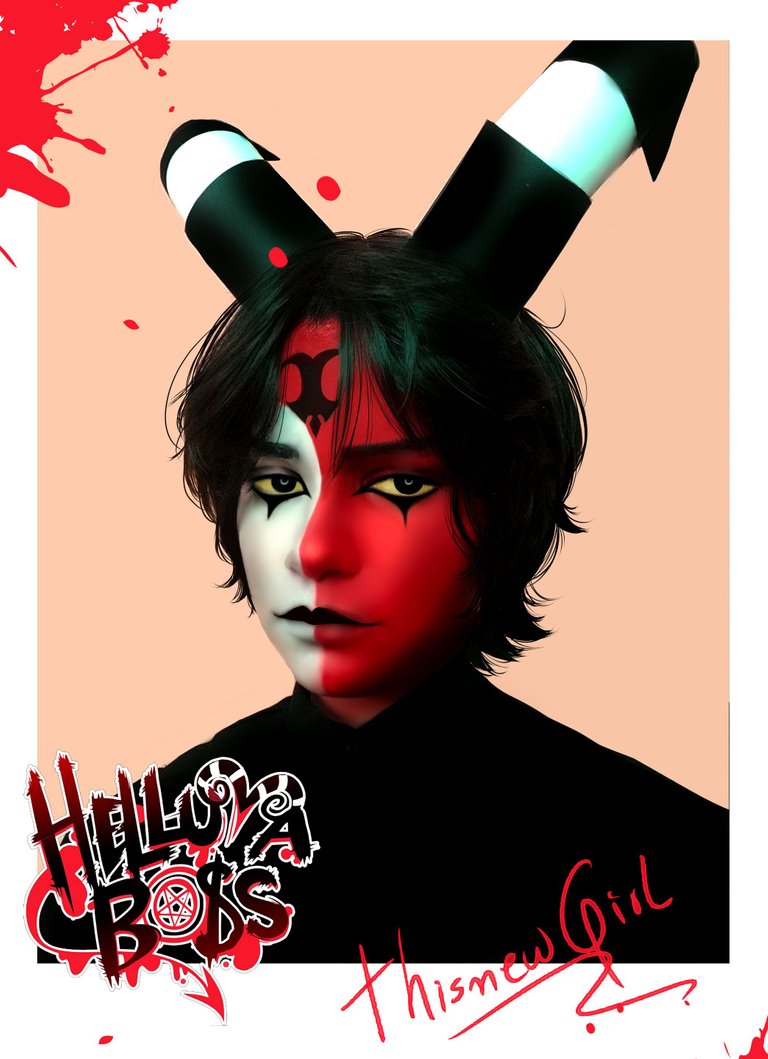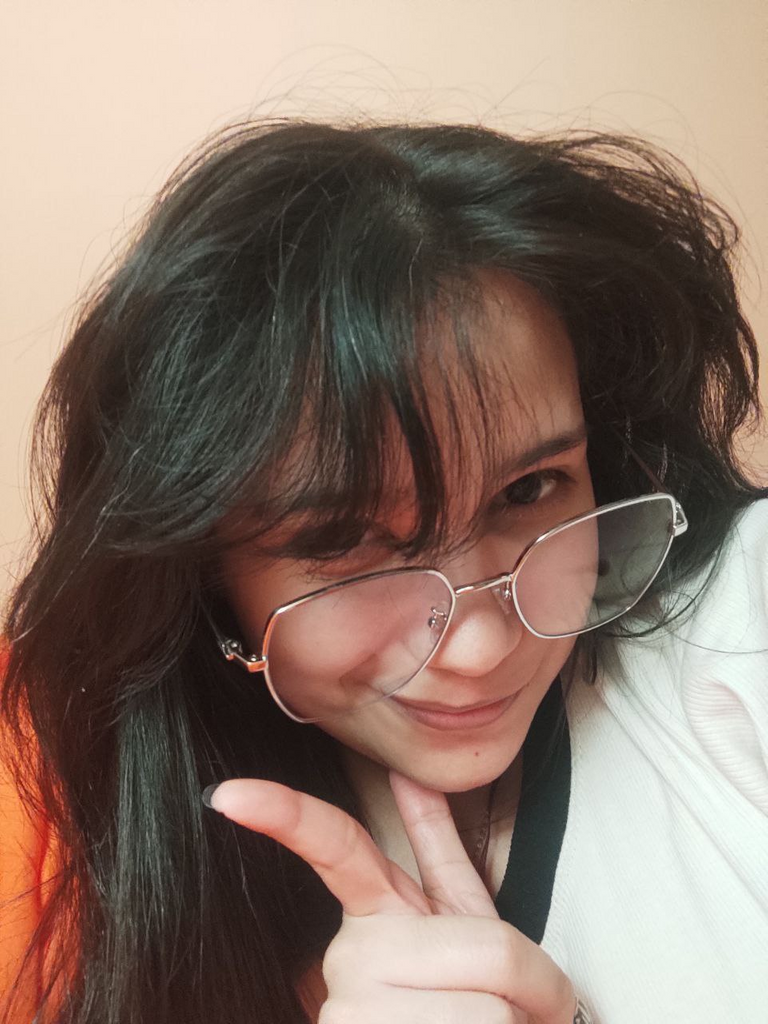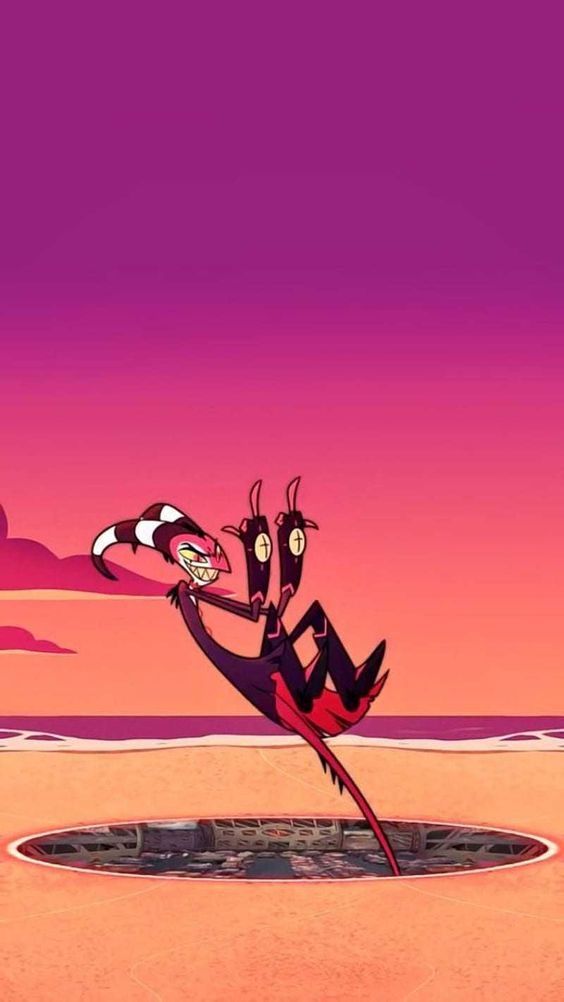 well that's all C: I hope you liked the final result :3
see you next time bitches
:0 btw The next episode came out today!!!!
:3 so if you're up to date go check it out
My commissions are open
so here below I will leave you my socials so in case you are interested you can write me there.
My showroom:
https://nftshowroom.com/thisnewgirl/gallery
My twitter:
https://twitter.com/Thisnewgirl
My instagram:
https://www.instagram.com/this.newgirl/
---
---
---