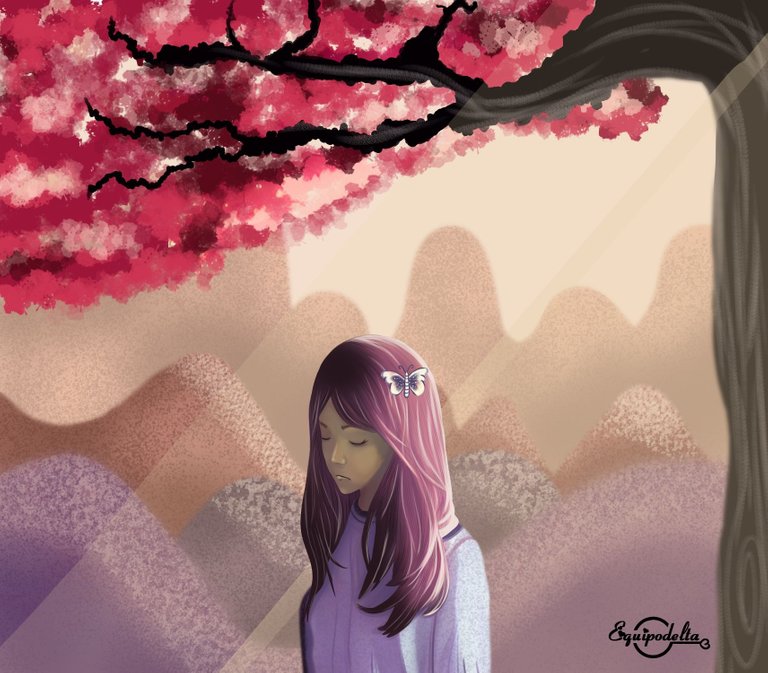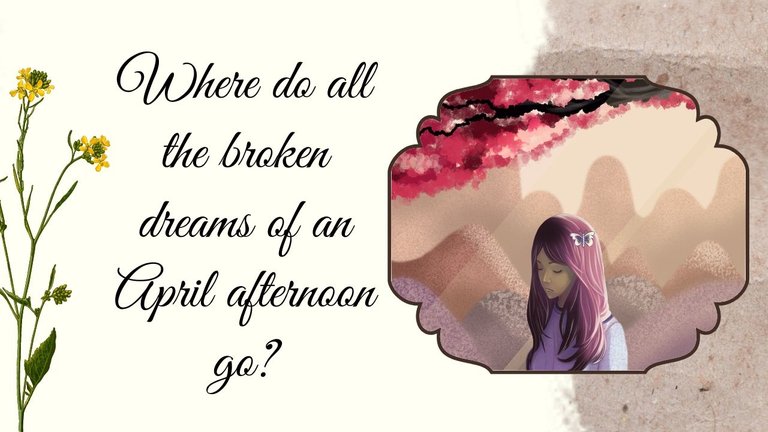 ¿A dónde van todos
los sueños rotos
de una tarde de abril?

Greetings artistic community and in general, thank you for your visit. Today I present you another drawing inspired in landscapes, I hope you like it.
I was thinking of drawing a sad landscape, the colors I chose were perhaps not so sad, so I drew the character with an expression of sadness or nostalgia. I will elaborate a writing inspired by my design, a story that complements it, nothing personal.
Saludos comunidad artística y en general, gracias por su visita. Hoy les presento otro dibujo inspirado en paisajes, espero sea de su total agrado.
Pensaba dibujar un paisaje triste, los colores que elegí quizá no lo eran tanto por lo que dibujé el personaje con una expresión de tristeza o nostalgia. Elaboraré un escrito inspirado en mi diseño, una historia que lo complemente, nada personal.

[ENG]
A sad April afternoon
That afternoon I said goodbye, I had to open my wings to fly and chase my dreams, I told you I would come back later, but when I came back I couldn't find you, where did you go, why aren't you here?
The time I was away, made me value you more in your absence, every day your memories kept me strong, I had the hope that when I came back, everything would be the same or better than ever, but I erred.
I searched for answers to your disappearance in the whole town, but I did not find them, it is as if you never existed, only in my memories, in stories elaborated by my mind of a yesterday that never was. Although I found success when I left, now when I return I don't know what to do, because you are not with me, with whom I wanted to enjoy my achievements. Where have you gone?
It took me many years to pursue my dreams, while you were alone here, you must have gotten tired and decided to leave. No more coffee afternoons, I was so excited to see you, to wake up and have you be the first thing my eyes saw at dawn, Oh! I missed you so much.
My spring is confused between my autumns and predicts a cold winter without you. I came back, I came for you, now reality hits me hard because you're not here.
What a sad April afternoon! Loneliness eats me from inside, your absence wrinkles my heart and my eyes become cloudy, tears begin to fall without the slightest control.
Maybe I won't see you again, wherever you are I hope you'll be happy, I'll be waiting here, maybe one day you'll come back, maybe it was a mistake to leave alone, but I couldn't take that trip with you, it would have been wonderful.
My dreams have broken, their shards fall into my heart, Where do all the broken dreams go? I have no answer, will they go to you?
I've lost you, I don't know where you could be, in the meantime, I'll take your picture, I'll print it as many times as necessary until I find you, I'll write on it that I've lost you, if someone finds you, I'll tell you how much I love you and I've suffered for your absence.
[ESP]
Una tarde triste de Abril
Esa tarde me despedí de ti, tuve que abrir mis alas para volar y perseguir mis sueños, te dije que volvería luego, pero al regresar ya no te pude encontrar. ¿A dónde fuiste, por qué no estás aquí?
El tiempo que estuve lejos, me hizo valorarte más en tu ausencia, cada día tus recuerdos me mantenían fuerte, tenía la esperanza que al volver, todo sería igual o mejor que siempre, pero erré.
Busqué respuestas de tu desaparición en todo el pueblo, pero no las encontré, es como si nunca hubieras existido, solo en mis memorias, en cuentos elaborados por mi mente de un ayer que nunca fue. A pesar que al partir éxito encontré, ahora al regresar no sé que hacer, pues no estás conmigo, con quien deseé disfrutar mis logros. ¿A dónde te has ido?
Tarde muchos años en perseguir mis sueños, mientras estuviste en soledad aquí, te habrás cansado y decidiste partir. Ya no más tardes de café, venía tan entusiasmada por verte, despertar y que fueras lo primero que vieran mis ojos al amanecer, ¡Oh! Te echaba tanto de menos.
Mi primavera está confundida entre mis otoños y augura un frio invierno sin ti. He vuelto, vine por ti, ahora la realidad me golpea fuerte porque no estas aquí.
¡Qué triste tarde de abril! la soledad me come desde adentro, tu ausencia arruga mi corazón y mis ojos se nublan, comienzan a caer lágrimas sin que tenga el más mínimo control.
Quizá no vuelva a verte, estés donde estés espero seas feliz, estaré esperando aquí, quizá un día regreses, tal vez fue un error irme sola, pero no podía emprender ese viaje contigo, hubiera sido maravilloso.
Mis sueños se han roto, sus esquirlas caen en mi corazón, ¿A dónde van todos los sueños rotos? No tengo respuesta alguna ¿Irán junto a ti?
Te he perdido, no sé dónde podrás estar, mientras tanto, tomaré tu fotografía, la imprimiré las veces que sean necesario hasta que te encuentre, en ella plasmaré que te he perdido, si alguien te encuentra, te diga lo mucho que te amo y he sufrido por tu ausencia.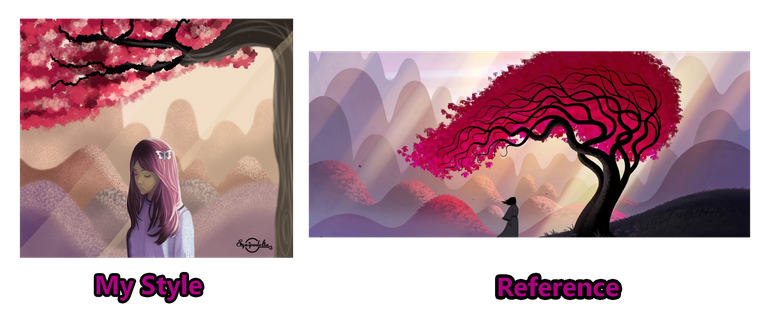 Step by step / Paso a paso

Step 1️⃣ / Paso 1️⃣
[ENG]
I found a reference image that I really liked the color palette, the theme, everything in itself, which I wanted to recreate in my style, doing it in my style was like adding that subtle effect of semi-realism in something and that "something" should be the character to make it stand out and that is what I have been practicing the most.
I make the sketch, a very simple silhouette.
I proceed to apply the base color. What I liked most of the design are the mountains, all those separate layers that give dimensional effects, I looked for a brush in Medibang that gave me effects of leaves but I didn't like many, I ended up using this one by chance, I found curious its texture, with it I applied the foliage of the tree. With the branches, I used a brush very difficult to manipulate, no matter how hard you try to make its stroke follow where you want, it will go where it pleases, but I knew that this brush would make some very curious effects of texture on the branches of the tree.
[ESP]
Encontré una imagen de referencia que me gustó mucho la paleta de colores, la temática, todo en sí, la cual quise recrear a mi estilo, hacerlo a mi estilo era como agregarle ese sutil efecto de semirealismo en algo y ese "algo" debía ser el personaje para que resalte y que es con lo que más he estado practicando.
Realizo el boceto, una silueta muy sencilla.
Procedo a aplicar el color base. lo que más me agradó del diseño son las montañas, todas esas capas separadas que le dan efectos dimensionales, busqué un pincel en Medibang que me diera efectos de hojas pero no me agradaban muchos, terminé usando este por azar, me pareció curiosa su textura, con ella apliqué el follaje del árbol. Con las ramas, usé un pincel muy difícil de manipular, por más que trates de que su trazo siga por dónde quieres, él irá donde le plazca, pero sabía que ese pincel haría unos efectos muy curiosos de textura en las ramas del árbol.

Step 2️⃣ / Paso 2️⃣
[ENG]
I must say, how much I was enjoying drawing this landscape, it gave me a lot of peace, calm, serenity and relaxation. It was an excellent catharsis.
In the next step I worked on the background layers, for this I used airbrushing and spraying and rough brush, that way I achieved crayon effects in gradient tones.
Then I worked on the foliage of the tree, I did it with the same Rough brush, working in layers, applying the shading in color gradients, makes it look great.
Next step, I apply lines of wood marks on the tree.
To then work on the girl's shirt. That from the beginning and as in my previous design, I'm working with glowing lights.
[ESP]
Debo decir, lo mucho que estaba disfrutando dibujar este paisaje, me proporcionó mucha paz, calma, serenidad y relajación. Fue una excelente catarsis.
En el siguiente paso trabajé en las capas del fondo, para ello usé aerografía y pulverización y pincel áspero, de esa manera logré efectos creyón en tonos degradados.
Luego trabajé en el follaje del árbol, lo hice con el mismo pincel Rough, trabajando en capas, aplicar el sombreado en degradados de color, lo hace lucir estupendo.
El siguiente paso, aplico líneas de marcas de madera en el árbol.
Para luego trabajar en la camisa de la chica. Que desde un principio y como en mi diseño anterior, estoy trabajando con luces resplandecientes.

Step 3️⃣ / Paso 3️⃣
[ENG]
In this step, I applied the skin shading with the watercolor brush and blurred to integrate the colors that I applied in gradient for shading and light.
The hair was fantastic and easy at the same time, taking care of the detail of the light, it consisted of applying airbrush in a dark tone, from top to bottom on the side where his back is to the sun, then with the brush draw hair by hair, to separate strands and enhance, then apply my custom hair brush to continue generating loose hair, I loved the result. With the butterfly in the hair, I just added a simple detail with the acrylic brush and bordered the image with a dark tone.
I positioned a few layers in front of the background of the design and in front of the tree, applied some light lines and manipulated the opacity of the layer, with that I was able to create the effects of sun rays.
I hope you like my practice today, I enjoyed it and had an amazing time, thanks for sharing with me in reading this post and in the comments. I appreciate it very much.
[ESP]
En este paso, aplico el sombreado de piel con el pincel acuarelas y difumino para integrar los colores que aplico en degradado para sombreado y luz.
El cabello fue fantástico y fácil a la vez, cuidando del detalle de la luz, constó en aplicar aerografía en un tono oscuro, de arriba a bajo por el lado donde está de espaldas al sol, luego con el pincel dibujar pelo a pelo, para ir separando hebras y realzar, luego aplico mi pincel personalizado pelo para seguir generando cabellos sueltos, amé el resultado. Con la mariposita en el cabello, solo agregué un detalle simple con el pincel acrílico y bordeé la imagen con un tono oscuro.
Me posiciono unas capas frente al fondo del diseño y frente al árbol, aplico unas líneas de luz y manipulo la opacidad de la capa, con eso logré crear los efectos de rayos de sol.
Espero que sea de su agrado mi práctica de hoy, yo la disfruté y lo pasé increíble, gracias por compartir conmigo en la lectura de este post y en los comentarios. Lo aprecio mucho.

Credits / Créditos.

Program: MediBang Paint Pro.
Graphics tablet: Huion (Usb Pen Tablet). Model 420.
Pinceles: Acuarela, Rouge, , Borroso, acrílico, lápiz, pulverización, áspero.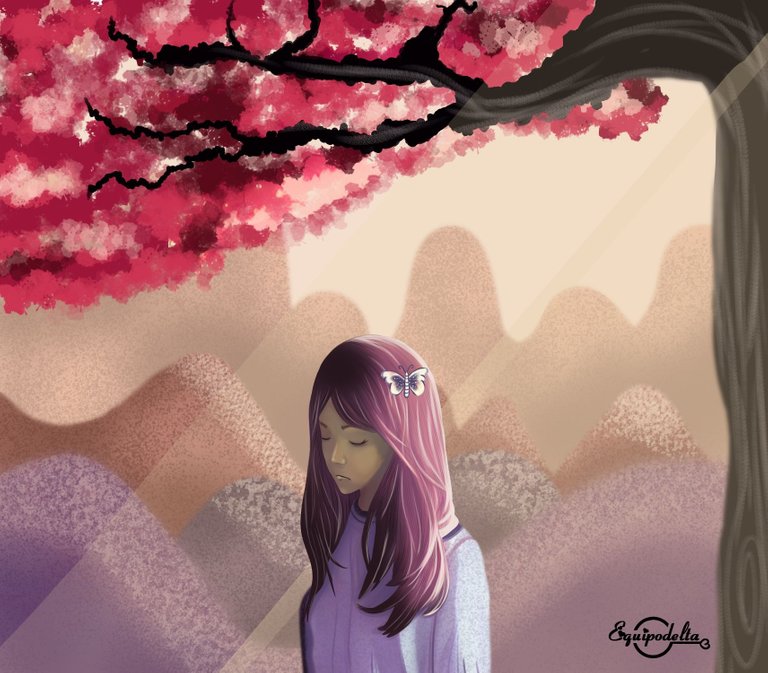 Vote la-colmena for witness
By @ylich



Hacks, DIY, Crafts, handmade arts Community