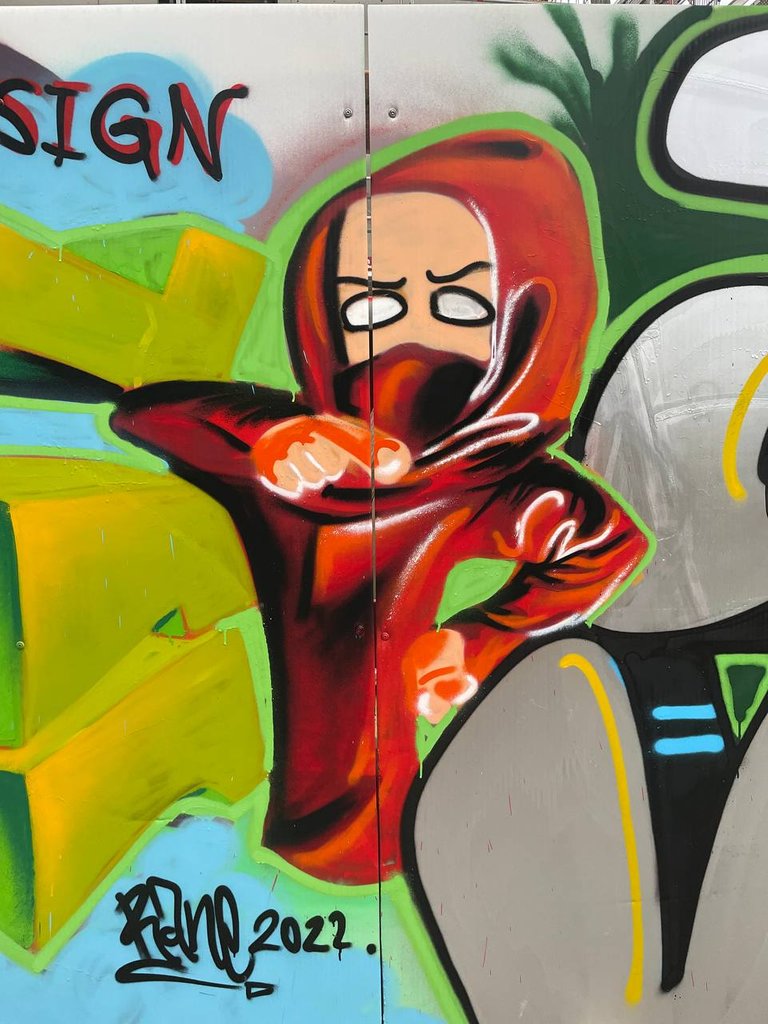 Rane, Glaubten, Zürich Affoltern, Switzerland
Practice Session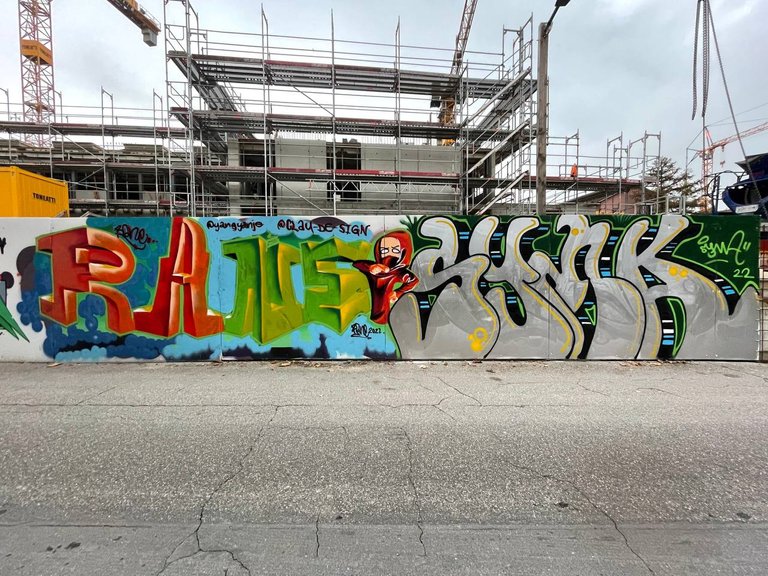 Recently, I had a strong urge to paint more. Specially because I only had very little time before the weather would get colder.
Session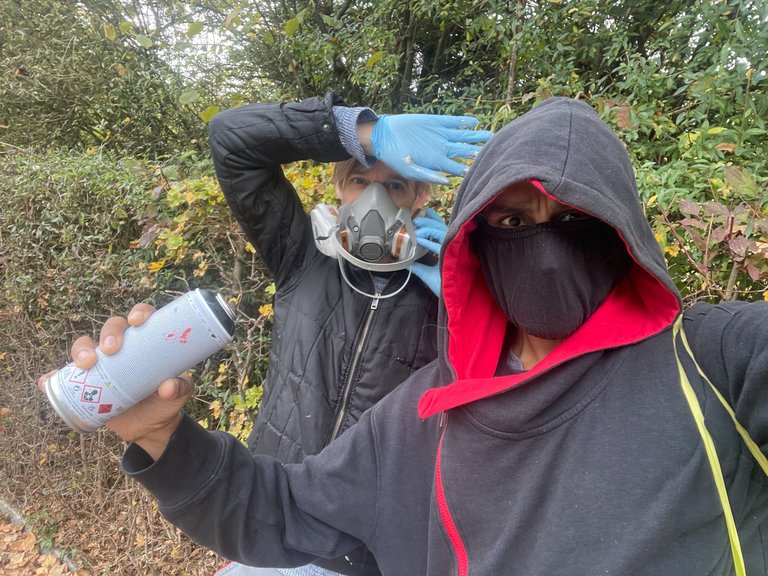 @syma and me hug out at a construction site. We painted a piece literally in the middle of the street. At times it got a bit challenging because the space was already two tight for a two way street. Cars had trouble to pass by due to the site extending further into the road.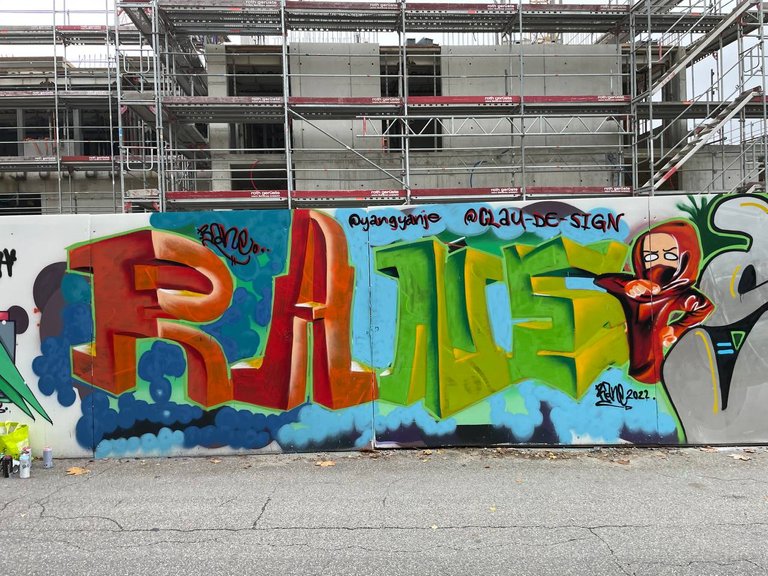 There was a lot of moisture and not a wall I really enjoy painting on, due to the surface. The traffic kept me quite busy changing positions and the spot was something you'd want to finish quickly. I still decided to do a Rane character
The Process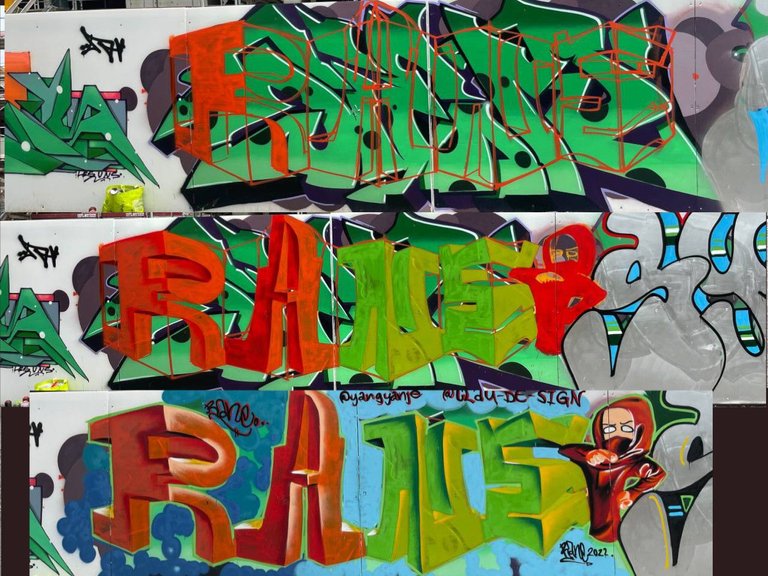 A rather quick piece, I kept this process simple.
Looking forward to new sessions and a colorful season.
Thanks for stopping by
Amitābha
Rane

Previous Illustrations, graphics or paintings I made and posted on Hive: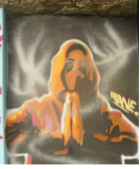 Graffiti of vanishing
Dong Chang 东厂
aka Rane

"Grains of matter reforming and reshaping into what we manifest. The only obstacle to create anything is the limit of our consciousness. That it is we, who orchestrated the reality we see. Being aware, and the extent to which we are able to control it, is reaching a state of mind over matter and spirit over time, realising that we are more than our bodies. To overcome deterministic concepts is ascertaining that the illusion of time was merely created by humans to explain movement we are all a part of." -@yangyanje

Feel free to tip Wallets for support:
Bitcoin
3Mvofn1VynU168DuYtMsDqnUMSw7nQ8JEQ
---
Ethereum, XDAI, Polygon, Binance Smart Chain...:
0x0398edefB9d18A6a7c9fe573bdeedB7797283Ae5
---
Tezos:
tz1iSv5gWfPqUqaGChhfX8Vj3yquj36fad2Y
---
Cosmos:
cosmos1l66z8kxxgvftw7cprz5dlzvzm4tyefhrvm3w03
---
Solana:
9AmMfaerhNgsz2maByDUGrPMKYQRVeYQXJvCe9n48Fti
---
Terra
terra1ccka0wd9v9eva3y5ljmjne2nc823rggdect0wp
---


Member of the Swiss Hive Community. Here's the curation project.


Feel free to delegate Hive Power to @badge-107955 to support the Swiss Hive




Delegate to the Mind Force Gathering @mind.force and support 92 artist, growing by the day. Official launch of @hive-127039 on the 28. March.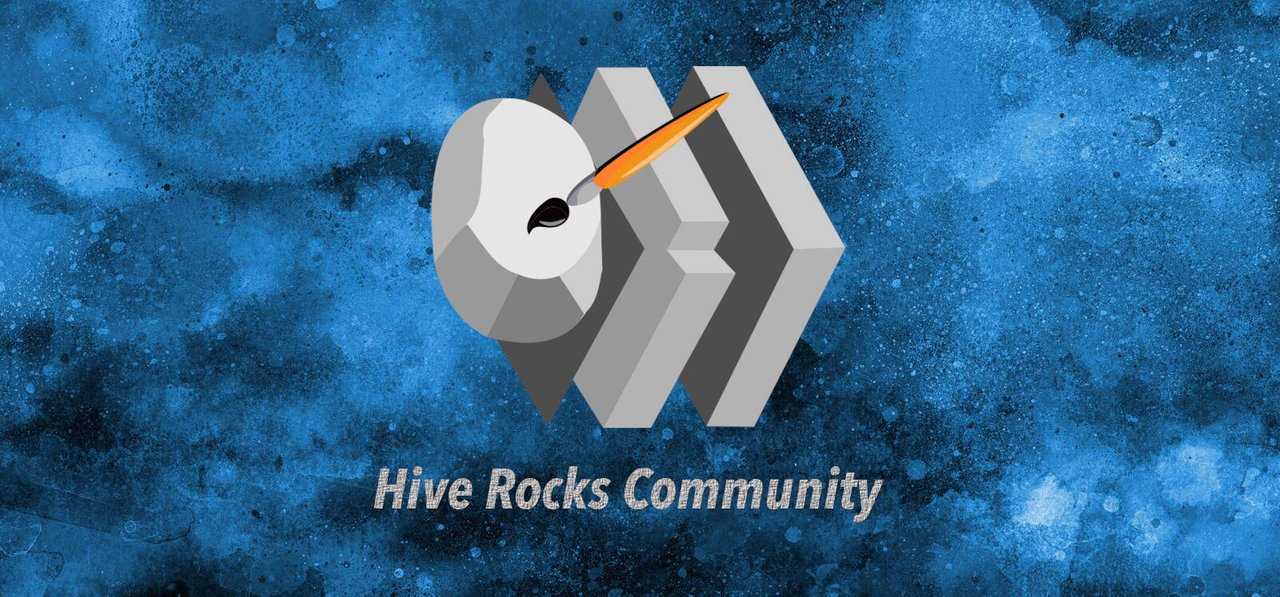 Admin of the Hive Rocks Community

Odysee
Twitter