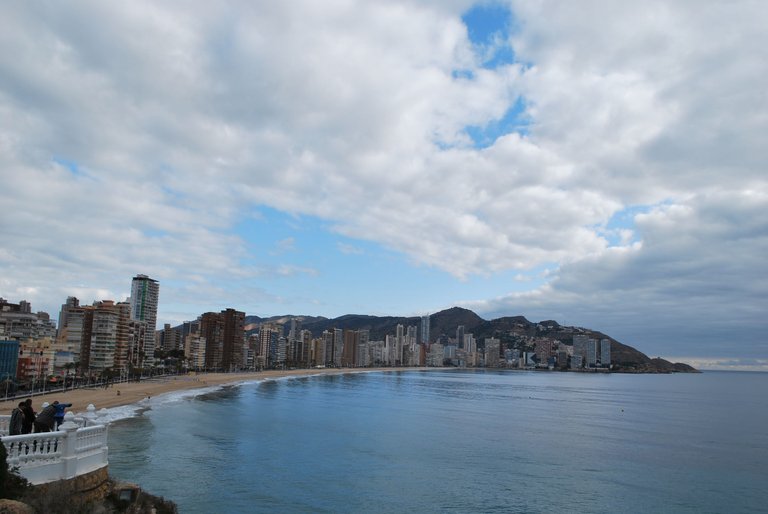 It's Wednesday, very early in the morning. Everyone around me is still asleep and I am writing this post, because Wednesday is the association for one interesting activity - #WednesdayWalk. What can I tell you...? These last days before the Christmas holidays have a crazy rhythm. There is practically no time for walks, I write evaluations, hold lessons, help my friends in shopping and other stuff, run my household, have some medical checks every day and everything else is HIVE. Unfortunately, not to the extent that it usually is, a lot less than I would like to... but soon and there will be more time for everything as winter holidays are approaching.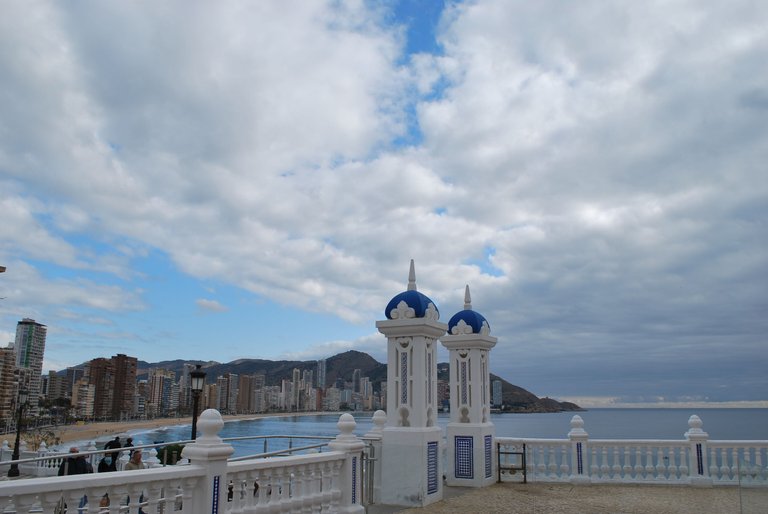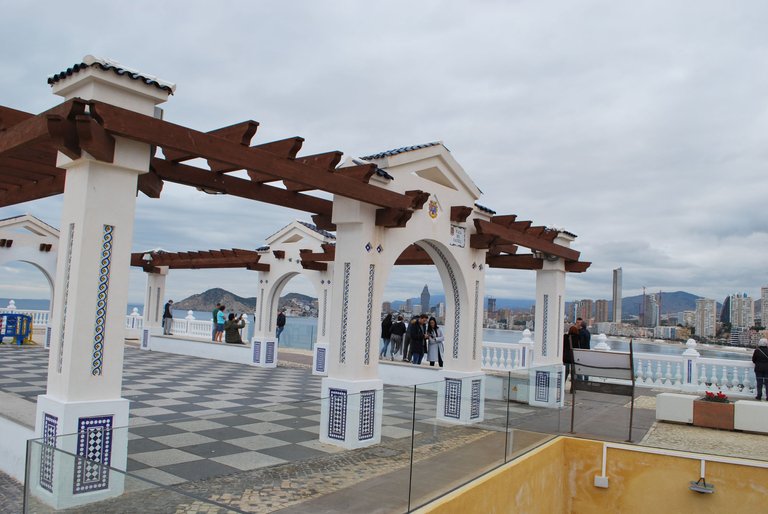 Although the working days are crazy, as I described to you, the weekend was free. On Sunday morning we went to Benidorm, which is close to our town. I know that Benidorm is known not in the best light, even here on the hive platform, those who heard of it were not thrilled when I mentioned it. I know, I know all that, as a place of residence I think I would never choose this city, which is often called BeniYork, judging by the number of skyscrapers it owns. But, despite that common image of it, it also has some charms.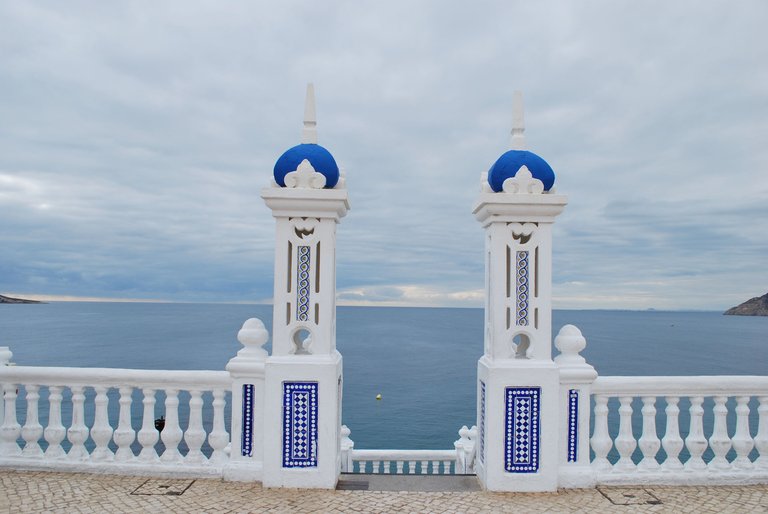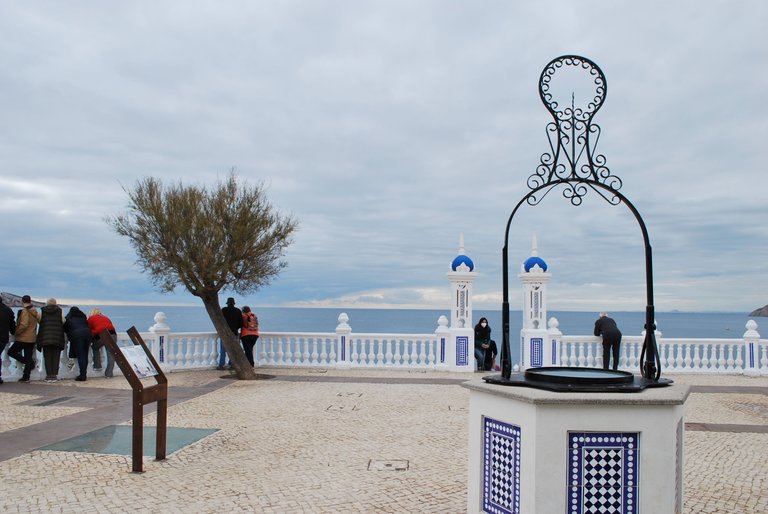 We went to its old part... if anything here can be considered old. Well, the settlement existed for a certain time, it was a small coastal place and the main activity was fishing. Somewhere in the middle of the XX century, tourism started to flourish, especially foreign people started to invest here. Huge areas were sold to investors from the United Kingdom and buildings started to pop up everywhere. In just a few decades, the area that once was covered just with olive, almond, orange, and pine trees and really nothing else, changed completely the image. A concrete jungle was built.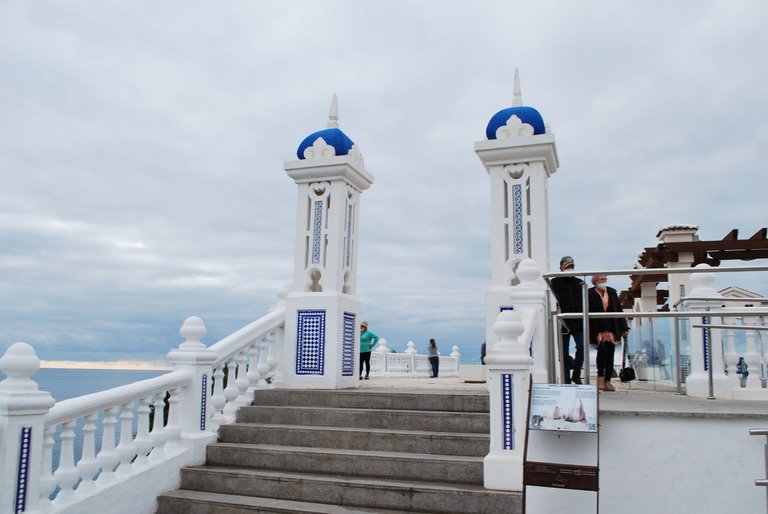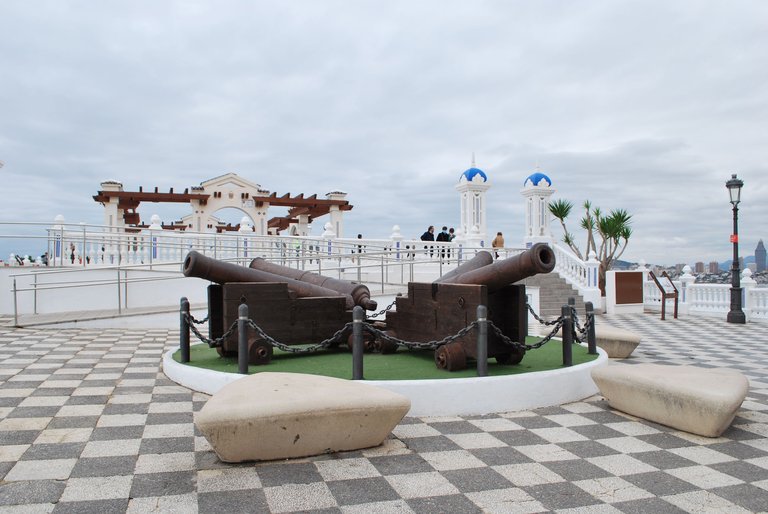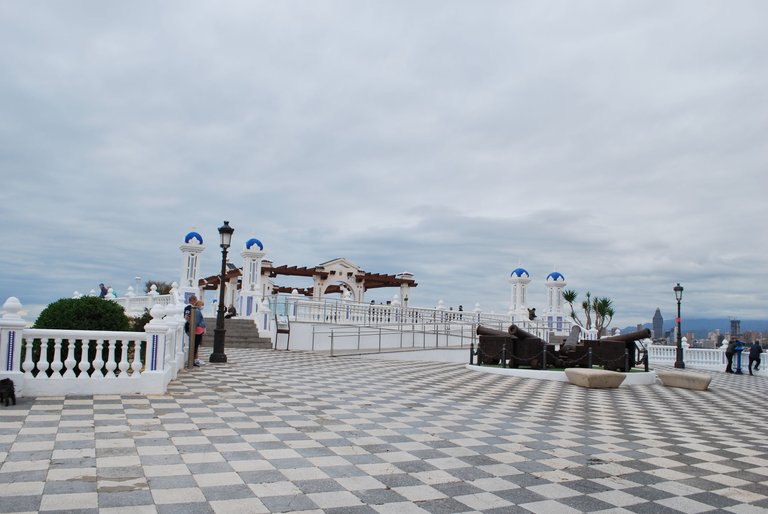 Still, this place, where once Castillo de Benidorm was placed, is a nice spot to visit. Even in this cloudy morning, as it was this Sunday. You know, when it is summer, it is not so pleasant to do any tour or a longer walk on the hot sunny day. It was just perfect to do this visit this last weekend when the temperatures dropped a bit, and we could enjoy at least wearing some jackets. You can also see from the photos that people were wearing some Spanish winter stuff... well, we are not speaking about some Scandinavian winter here...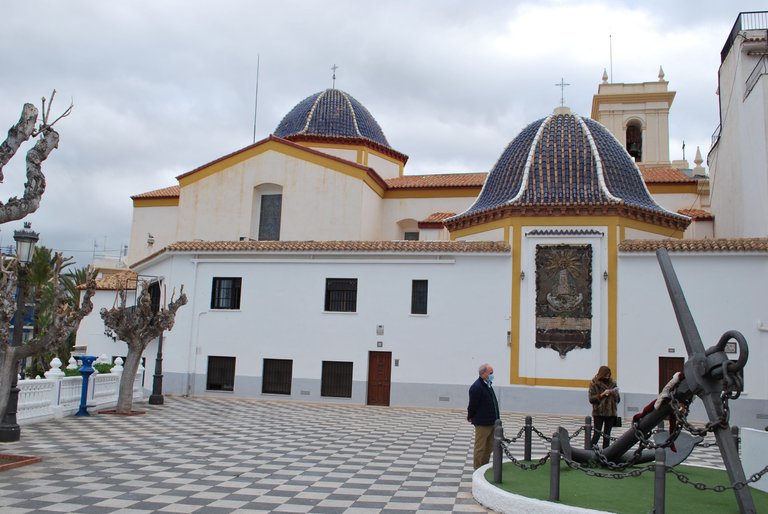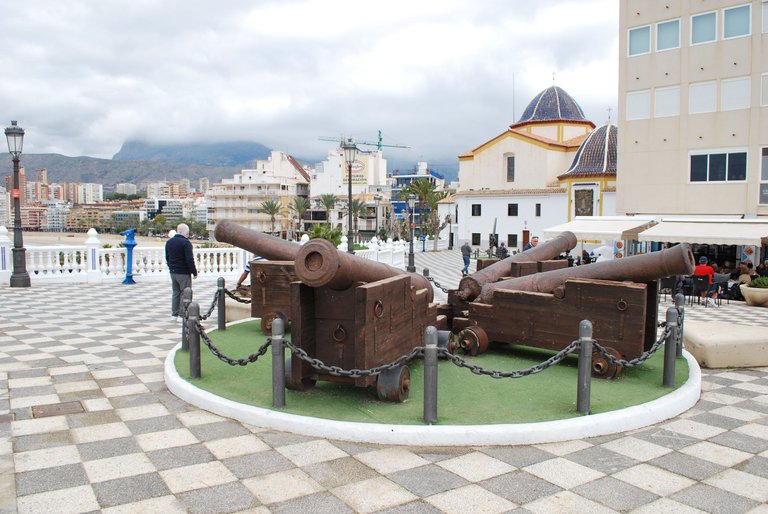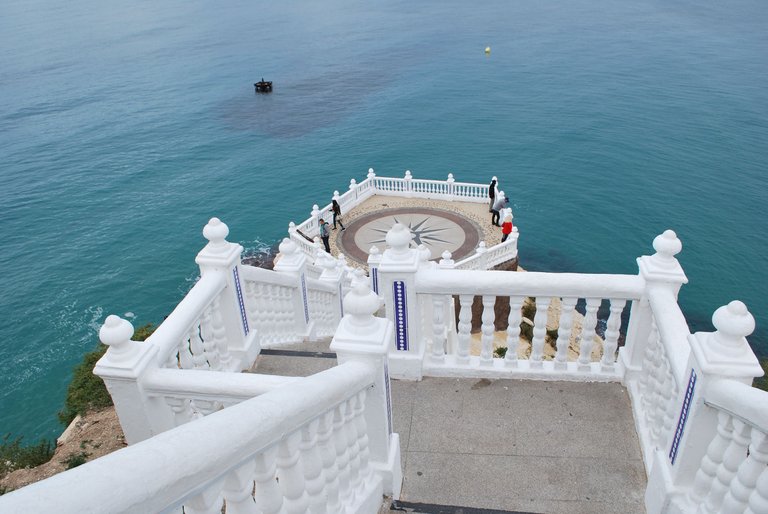 Apart from people enjoying that Sunday morning, we also met some feathered friends. This seagull was talking to us :) There was a woman who also came this close to it as me, and was repeating what the seagull was saying. It was an interesting dialogue, believe me, this time I was not the one who was talking to plants, mushrooms, or animals. I was there only to take some photos of this photogenic guy.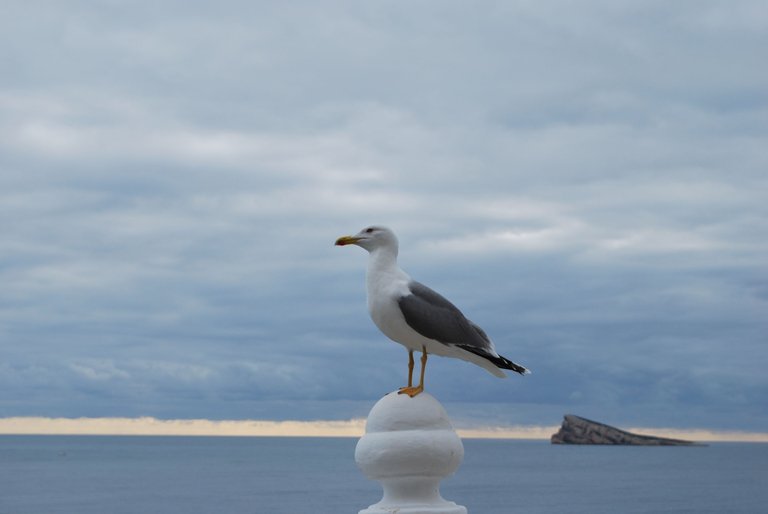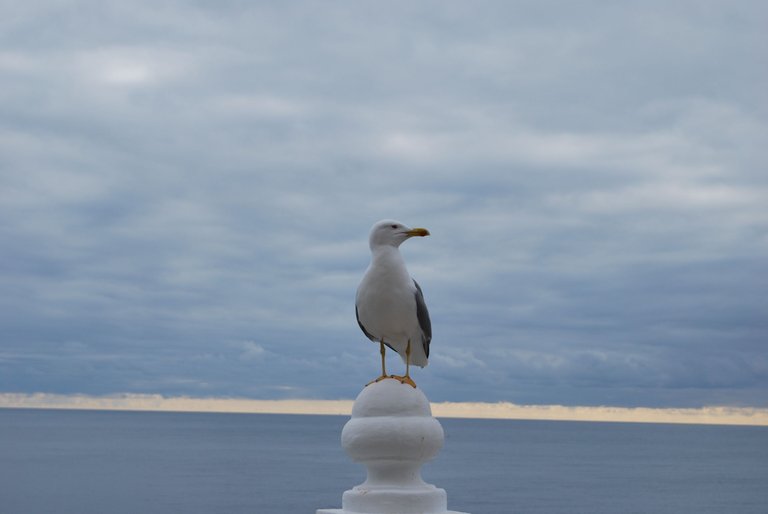 I bet he was watching the two different parts of Benidorm that can be observed from that point. He took the best seat for it. If you dont believe what can be seen, look at the next two photos taken from there. One represents the Levante part of the city and the other one is called Poniente. Poniente is the part we like more, although, at first sight, they are the same, just too many tall buildings. However, Poniente is less touristic than Levante.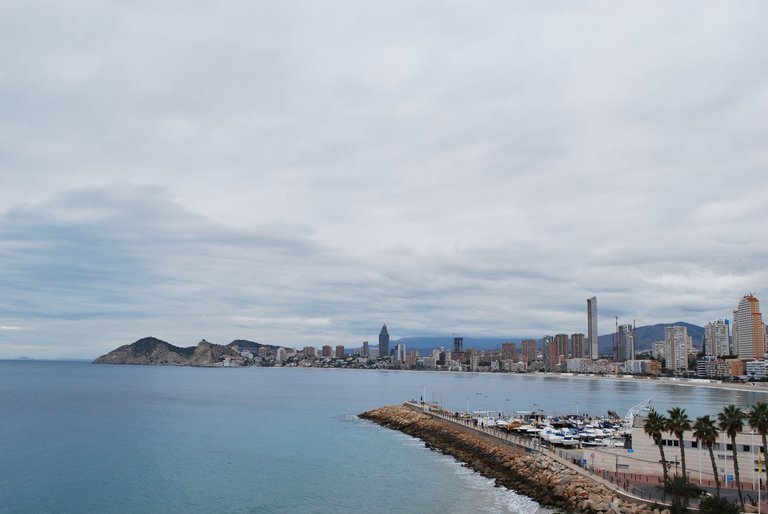 One of the features, why Benidorm is so popular among tourists, is the long sand beaches. It is so nice and calm, during a day like this cloudy one. Almost nobody, just here and there some random soul enjoying the soft touch of the sand. It is way too crowded during the summer... the only inconvenience now in December is the colder water. Not for swimming... at least, not for me!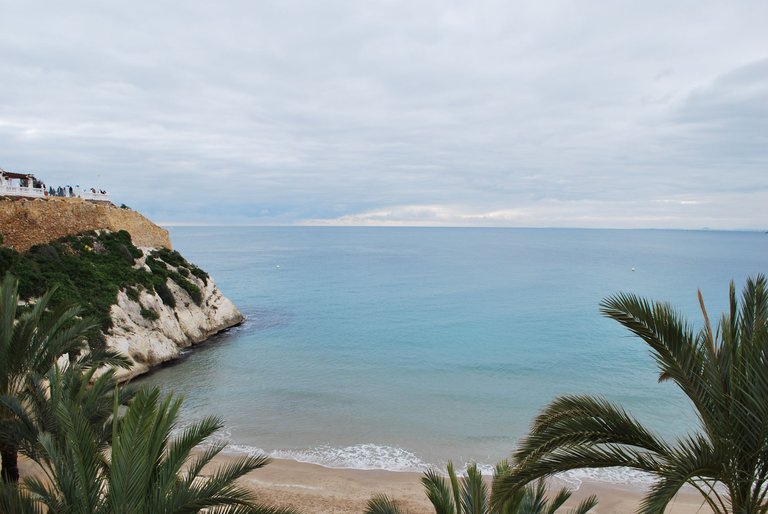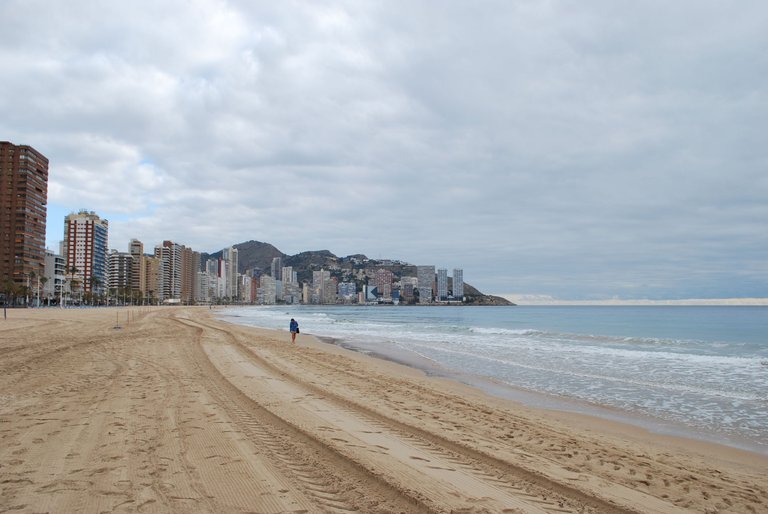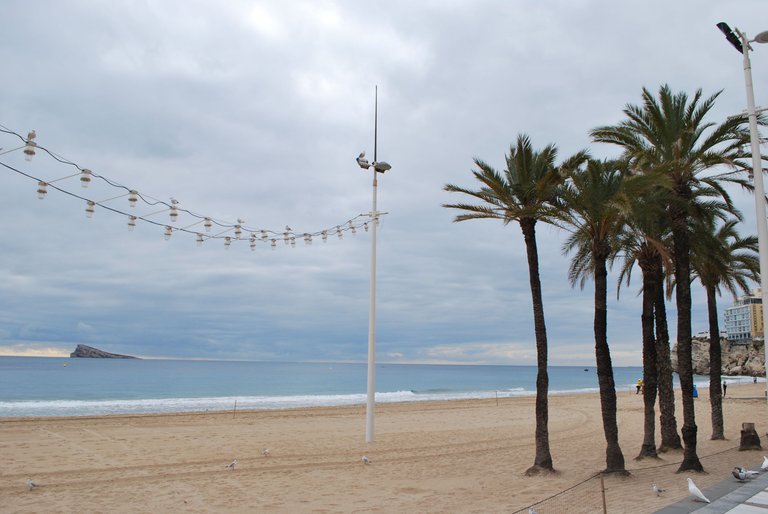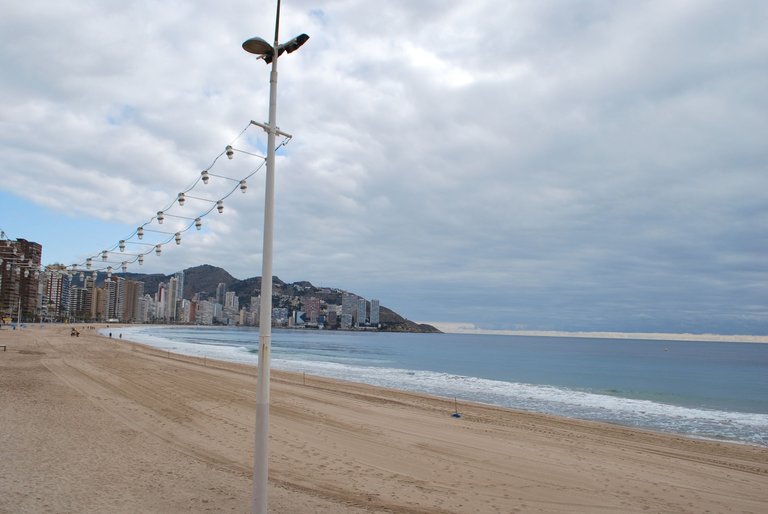 To my most utmost surprise, there was an inscription on the sand. Someone knew that I will walk there, and wrote my hive username... Or was it just me who wrote it, hoping for that warm reception? Well, probably it was the case, but anyway, this mipiano is greeting you and wishing you many happy moments this Wednesday, wherever you walk today on this planet.