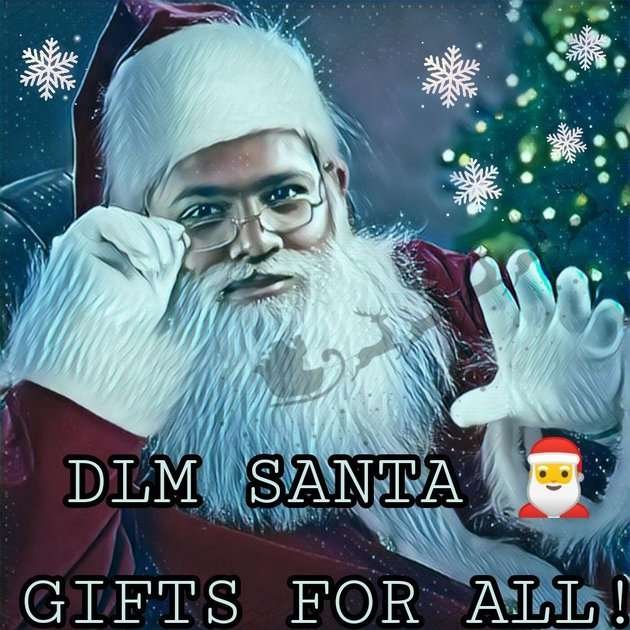 SOURCE

BE SANTA FOR SOMEONE:
DLM Santa was returning to the north pole in his reindeer. He met a boy who told him that he wants to gift his friend something but he don't know what or how. DLM Santa thought to himself that maybe there are some people who want to gift others but didn't gift for any reason.
After helping that boy, He came to the north pole and ask an ELF for a cup of coffee. Some elves gathered around him and ask him why DLM Satna is in deep thought. DLM Santa said I want to give others a chance to be Santa for someone. Elves asked so what's stopping you? I gifted most of my gifts, now what should I do?
One Elf Burlarj came forward and said, "Take my car (5 Hive) from my side to fund this campaign to give others a chance to be SANTA".
Rosecane and Arkasz were playing with two balloons, stopped playing, and generously gifted their 20 Hive (each balloon worth 10 Hive) for giving others a chance to gift. Since these were the gifts they got from DLM Santa, tears of happiness were seen in DLM Santa's eyes. They all hugged him.
One Elf Bhattg who packs gifts, came forward to contribute his candies (10 hive) for this adventure.
Elf Kronias and Elf Prayzz also gave their chocolate bars (10 Hive each) to give others a chance to be Santa. Elf [Dadspardan] also liked the idea and gave them his watch (10 Hive).
When Santa wrapped the packet one Elf Bruno-kema came from the door toward him. He said, "Add this too (showing a pair of gloves (10 Hive))" and he was still breathing heavily cause of running. Santa Smile and added his generous gift too.
DLM Santa smiled and added more candies (to reach 100 Hive total) and wrapped this in a beauty pack.

HOW TO BE SANTA FOR SOMEONE?
Tag 2 friends in the comment section below and write at least 50 words for each friend.

We will gift them on your behalf from our side. Thanks to all the Elves who made this possible.

Please don't try to game the system or in serious cases, you might get heavy downvotes.

Gifts will be delivered using peakd tips on their last blog. We will look back to this event as a beautiful memory one day.

Our intention in hosting this short event is to spread the love far and wide. Anyone should feel free to tag 2 people of their choice with 50+ words specially written for them from the heart. :)
Reblogs for awareness of this event are appreciated! Upvote comments you wanna appreciate. We will gift in order till the funds last.

Consider Supporting me by using my referral links:
Release your inner Rock Star with RisingStar! #playforfree #play2earn


A new era of card battle games, Try Splinterlands! #play2earn


Put your idle Splinterlands cards to auto-renting with Splex.GG! #automation


Become a Digital farmer with dcrops and grow your own NFTs! #play2earn