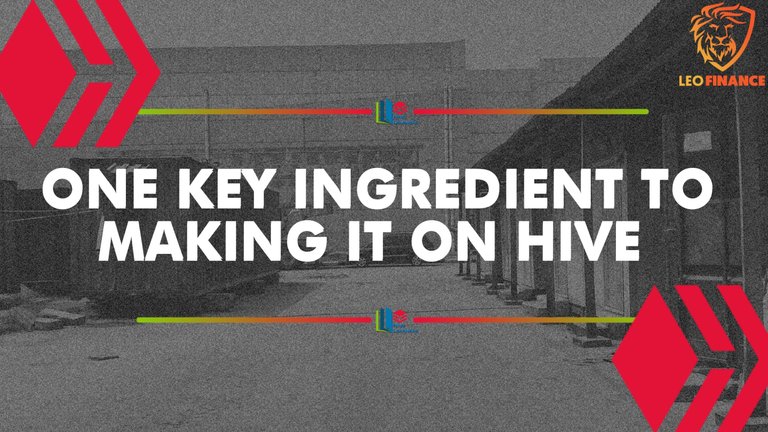 But if you're doing something, show up every day and something good might happen_Randy Newman
---
I had just had a hectic day indoors, the sun wasn't friendly and there was no power supply, so you can imagine how hot the whole place was, but I still had to clean up the house. I really had a busy week last week and most of the days had been spent away from the house and whenever I got back home I was either so tired or in the wrong state of mind to do anything. That was more of the reason I decided to do some work, cleaned the floors, washed the dishes and also some of the used clothes including anything that needed washing.
When I finished I was too tired to cook anything so I just strolled all the way to one of the food vendors in my street. The moment she saw me her face lit up and she held my hand with so much enthusiasm then she immediately went on to engage me in a conversation. It was shocking and at the same time surprising. After the long talk which engaged in with so much ease I finally made my order, after she brought in the food I had to ask her if it was my food because it was double what I asked for but she just smiled and told me it was. I ate to my satisfaction and handed her the bill on my way out.
She politely declined asking me not to worry that this one was on the house and she brought out another packaged food to go. I was speechless, and I kept wondering what had happened, was I a lot more handsome than before or did something change? I still insisted on atleast paying for the packaged food but she still refused, using the term "I was her regular customer". I walked home a lot happier than I was when I left the House. But the big question is...
What Really Happened??
I asked myself this same question but the answer is a very easy one. Apparently, after my gas finished, I sort of got lazy to fill it up and chose instead to buy food from the vendors around my area. I ended up at her shop one day to eat and I sort of thought her food was okay and decided to always go there. So everyday for almost a month, I didn't eat anywhere except at her stall. On rare occasions when I didn't feel the urge to eat real food, I took a break and ate whatever I felt like, but I was always showing up whenever I could.
After some few days I noticed she started to treat me differently, whenever I came she'll smile and nod at me, then I'll smile back. I wasn't the kind of customer who was too much to please, I just asked for whatever she had and ate the one that conformed to my taste without any stress. From slight nods, she started to make slight remarks, some of which I'll laugh at or reply to. Showing up everyday did something, it made her warm up to me and it also made me valuable, I was getting my hunger satisfied and she was getting paid to satisfy me, it was a win win situation and one that brought about a strong relationship.
How does this relate to Hive?
Over the months I've been on Hive, I've tried to pay very good attention to how things work. Truely there's no clear definition for how things work here, it's a big system one that is broken down into various subsystems, so it'll be very hard to know exactly how every system works but there's something that doesn't change, showing up everyday pays off, It's as simple as that.
I used to wonder why some sets of people always get so much votes, you'll ask yourself why isn't @appreciator or @ocd seeing my posts, what's really going on?, Is it that my post isn't good enough? Am I bad at writing or do I just have bad luck? It's normal to ask yourself these questions but then instead of asking yourself so many questions why don't you try out something else, show up everyday.
Take time off to check out a list of some of big names on Hive today, you'll notice a pattern that never changes no matter what, they always put out quality posts everyday, no matter if it's a sunny day, or a snowy day or a rainy day, you'll see their post on your feed. I really don't know how they do it but they actually do it, sometimes they even make two posts a day. If you're looking to grow, you can start small, try as much as possible to make one post everyday.
It might seem impossible at first but then it is very possible. If you're not able to make a post everyday don't beat yourself over it, just make sure you at least show up, you can instead use that time to engage and read contents other authors put out there because I know for sure that they're days when you run out of ideas and forcing yourself would only result in a low valued post. Don't stress, take time to learn and gather inspiration for your next content.
Just be yourself and be as creative as you can be. The whole Hive ecosystem works with adding value, if you're not adding value with your posts then choose to add value by engaging. Whenever a comment comes up on your post, try as much as possible to atleast take one action, with a smile on your face drop a nice reply then hop on to another author's post and drop an encouraging comment. If you keep doing this back to back for as many days as possible you'll earn the tag "Regular Customer" and you'll be surprised at the rate at which you'll grow.
Try as much as possible to show up, put yourself out there, you'll be seen. Give people a reason to remember your name, give others a reason to want to associate with you, there's so much to offer in a space like Hive. Keep at it, it's going to pay off one day. I'm also still a work in progress, I certainly still have a long way to go, especially in the #Leofinance community and this post is as much for as it is for you.
---
If you found this post helpful in any way do well to reblog so more people will see it and Upvote as you dim fit.
---
Thank you for reading this, if you enjoyed it or it connected to you in a way, I invite you to drop a comment, I'll be glad to reply ❤️