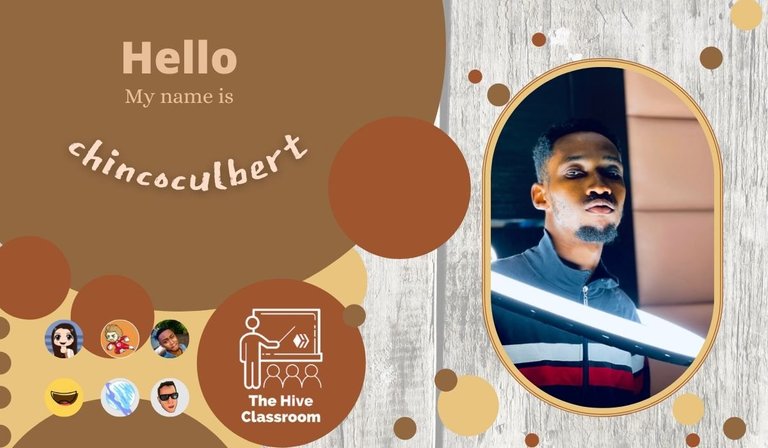 Designed by @projectmamabg
I can't believe it's three months already...ohh wait, it was way longer, but I still feel a little overwhelmed. I had always wanted to be part of the #newbiesinitiative since I heard about it and even though I wasn't lucky enough to be part of it the first time, the second time I was successful. That goes to say that there's no harm in trying even after you've failed, there's always a guarantee that you'll make it one day.
It's beautiful to be part of something so we'll thought out and encouraging. I used the word encouraging because it's been nothing short of that especially with the inclusion of the @hivelearners community and the likes of the likes of @theycallmedan, @appreciator, @aliento @starstrings01 and the rest of the team and moderators.
My thoughts about the Newbies Initiative and how it's been beneficial to me?
There's nothing as sad as getting lost in a community as big as Hive. I always felt that way before, even if I had some little help and the support of the #proofofbrain Community, there was still a lot I didn't know about Hive and needed to figure out. The Newbies Initiative helped me find my way, they helped me understand a lot about how Hive works and what is required to remain relevant in am ecosystem like this.
The Newbies Initiative to me should be top priority in Hive, I think a lot more support should come in if we're looking to encourage more people to stay in this space. I think it is quite productive in a lot of ways, and it gives newbies a chance to be seen, to be able to engage and make friends and also to learn from mentors. I surely would hope the #Leofinance community would pick up an idea like this to help the newbies find their way in the community, I think it'll go a long way to improve both Hive and the Leofinance Community as a whole.
The Initiative has been able to help me find myself, I know I've improve a lot in so many ways. I used to be scared to set goals, or take up challenges as well as enter contests but now I'm seeing myself do that without ease, there's no way I am the same man I was before. Plus I've increased my connection, I know and have met a lot of more people than I did when I joined Hive, coupled with that I've been able to build up my reputation and Hive power, though slowly but steadily.
How the tasks has been helpful to me
One of my favorite tasks was learning about Markdowns and I was really very happy to learn from that very exercise. I had seen a lot of people use nice markdowns on their posts that always kept me wondering, it felt like they were performing magic but little did I know that just a few codes can beautiful your post. I learnt how to make a text turn
RED
, how to add a 🅵🅰🅽🅲🆈 font and how to do a lot of other cool stuffs, it was beautiful.
Then, I was also taught how to secure my account, very important stuff and I'm sure a lot of Newbies know little to nothing about how the securing of their accounts worked, it's dangerous not to have such knowledge. Learning how to use #3speak was also another great help to me, I've been on the know how for a while and I'll be making nice videos as soon as I get a better phone, but before then I've been learning some video editing tricks and trying to improve my skill, it all started with the initiative.
I got to also learn about plagerism the hard way, lol but I'm glad I had that knowledge, it isn't something to toy with. Being original is the best way to go, you're always the best version of yourself as long as you keep trying to discover and develop yourself. Learning about the use of #hashtags and tribe tokens like #neozag #pob #Leo has been helpful in a lot of areas.
What needs to be improved?
I don't think there's really anything that needs improvement more than the team. I think the team needs more hands or a sort of backup team incase any team member is indisposed. The Initiative should have run for three months but it took longer because of personal issues that cannot be avoided. But I think after every initiative they should be two or three people that had been so outstanding enough to be incorporated as rookie members of the team, they should act as a support system incase need be.
I also believe that each task should come with like a list of people who did great and the ones who need to step up so that newbies can know when they're actually falling short, there could be rewards but I don't think it should be any thing too fancy, just something to appreciate the best performers of each task and to push others to work harder.
Apart from that I think it'll be only fair for the newbies even after the initiative to be kept under watch, just in case any one of them might end up falling short in the long wrong. Then they should be ways to help them, surely hive rewards hard work but they're some people who aren't as bright as others. I'll also hope that the initiative can get more support because I know it's going to get a lot more demanding as more and more newbies would be looking to join the initiative.
Goals ?
Well, like I said before, the initiative actually helped me push myself enough to set goals. Though I started off setting very light goals in order not to over push myself and avoid any disappoinment at the end, still it was worth in all extents. I am glad I was able to set the goals Here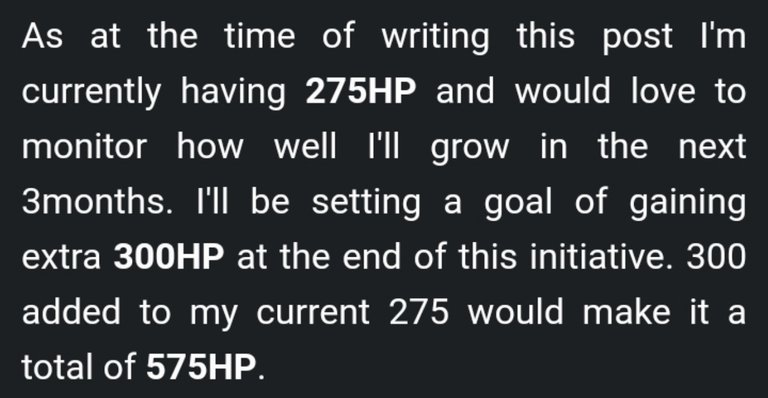 I was looking to grow 300 more HP at the end of the Initiative but then it ran a lot longer than was expected, for the short additional period I was able to push from the goal 575HP to 664HP.

It isn't too much growth but it shows that I've been putting in the work at least. I've been able to push myself to set monthly goals and I'm hoping to keep pushing to achieve them.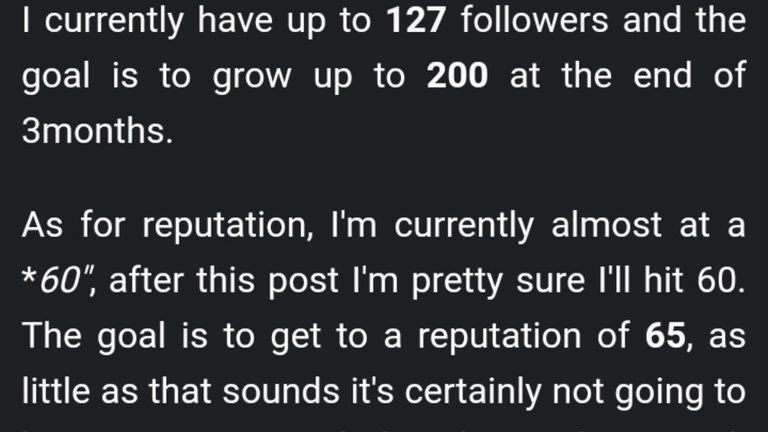 Looking at my present reputation, I am not far from the goal as I have a present reputation of 64.82 which is almost 65, but I'm surr it'll hit that mark after making this post.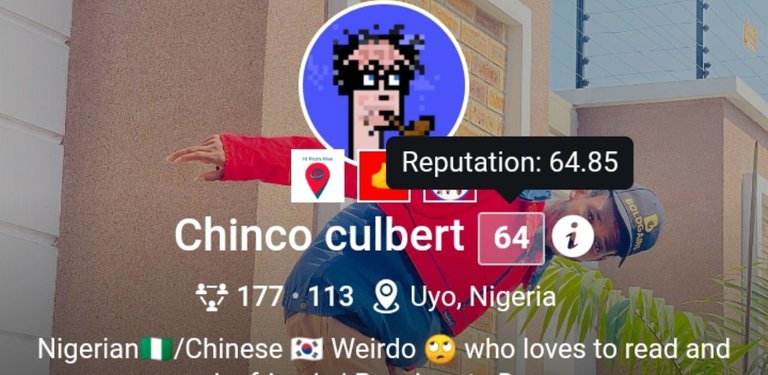 My followers goal wasn't really achieved and I know it's been as a result of low engagement from my part owing to the bad condition of my phone. But then there's still room to attain 200 eventually. I think I have made more comments than I set the goal for and it's still low on my part because I'm sure I can do better. I'll push towards getting a new phone and improving my engagement activity because I know how much profitable engagement can be.
---
Thank you for reading this, if you enjoyed it or it connected to you in a way, I invite you to drop a comment, I'll be glad to reply and Upvote for more content ❤️