Weekly🗞️ Litecoin Cryptocurrency Price Prediction Contest - The 15th Phase 🎟️Activity Tickets, ⭐Jackpot Reward, 💠Tasks.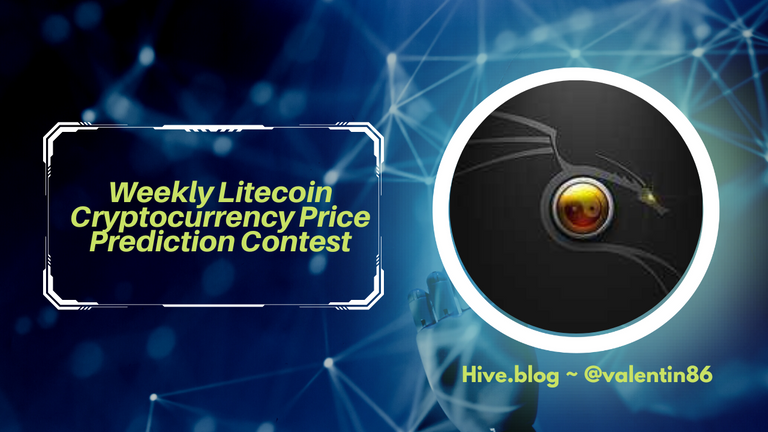 Summary of the participants of the previous competition
Yep, we are already entering in the 15th phase. So a new week - a new unique chance to get your hands on certain bonuses on offer. So let's start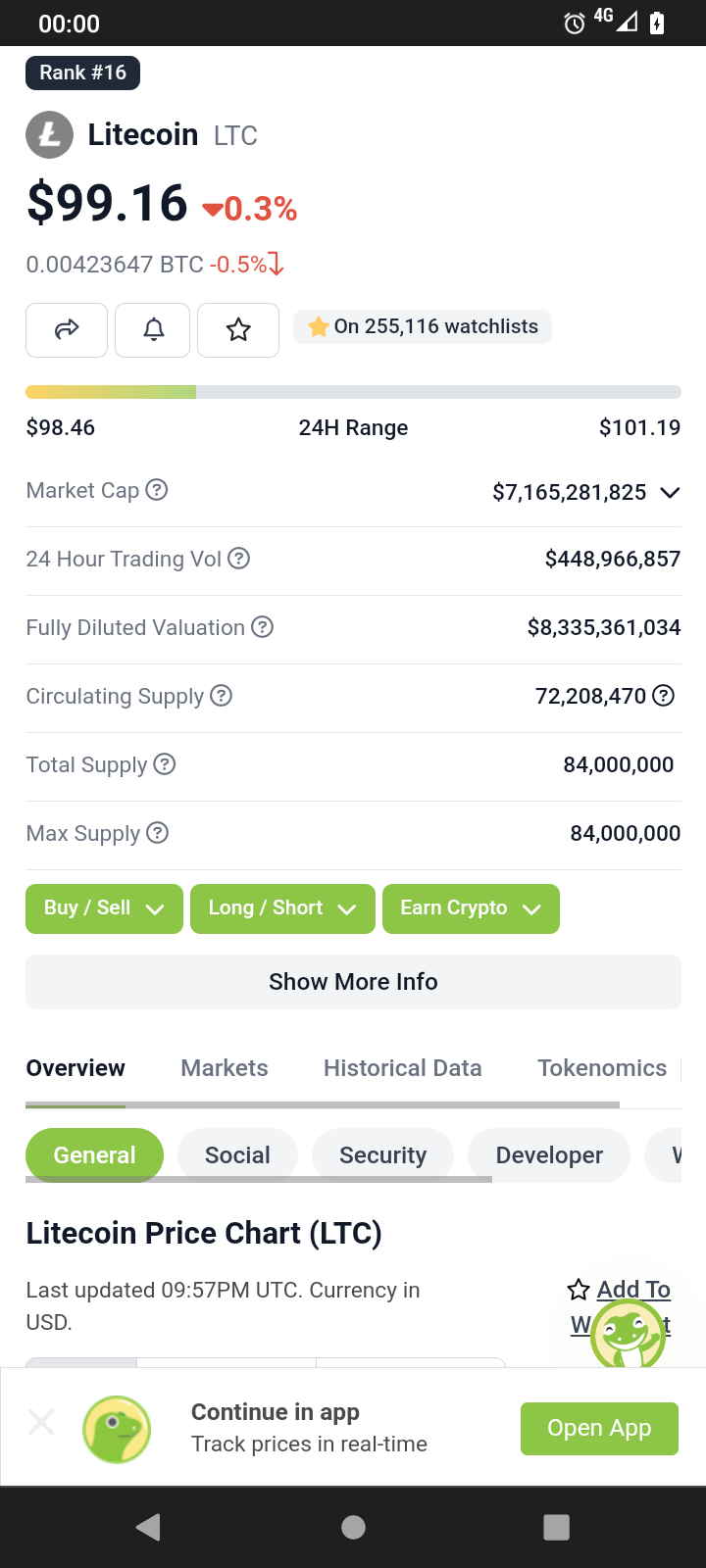 In the previous competition only 11 people managed to register with their precious comments - and the winner according to the value of #Litecoin cryptocurrency registered is none other than💁 @tokutaro22 - Congratulations🙋✌️


Ok,😊 on the second ranking is our lucky💁 @twicejoy - Congratulations🙋✌️ for the performance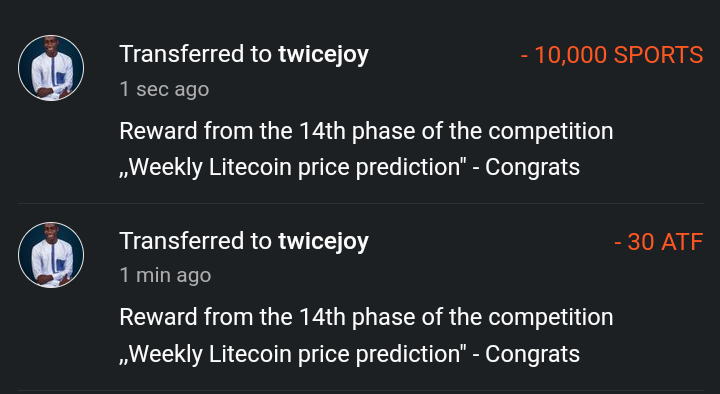 And finally, on the third ranking is our new participant💁 @ferod23 - 🙋✌️Congratulations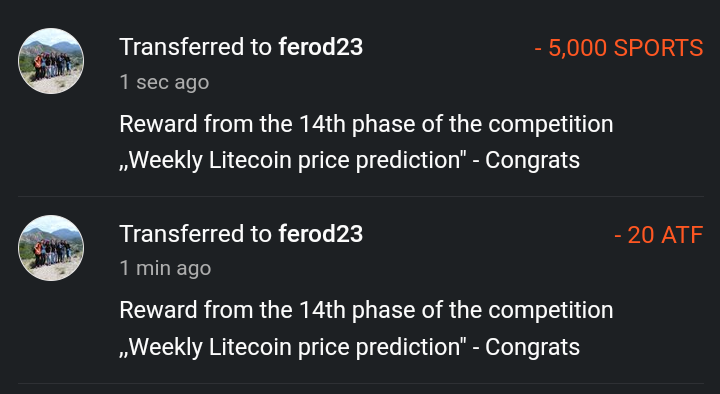 @tokutaro22 - 101,33 $ 💠3 #Hive & 50 #ATF
@twicejoy - 96,10 $ 💠10000 #SPORTS & 30 #ATF
@ferod23 - 95,71 $ 💠5000 #SPORTS & 20 #ATF
@monsterbuster - 94,94 $ 💠1000 #SPORTS & 10 #ATF
@yeckingo1 - 94,60 $ 💠1000 #SPORTS & 10 #ATF
@mein-senf-dazu - 94,33 $ 💠1000 #SPORTS & 10 #ATF
@eii - 93 $ 💠1000 #SPORTS & 10 #ATF
@dk1trade - 92,50 $ 💠1000 #SPORTS & 10 #ATF
@adacardano - 92 $ 💠1000 #SPORTS & 10 #ATF
@pulubengdugs - 90,15 $ 💠1000 #SPORTS & 10 #ATF
@servelle - 89,89 $ 💠1000 #SPORTS & 10 #ATF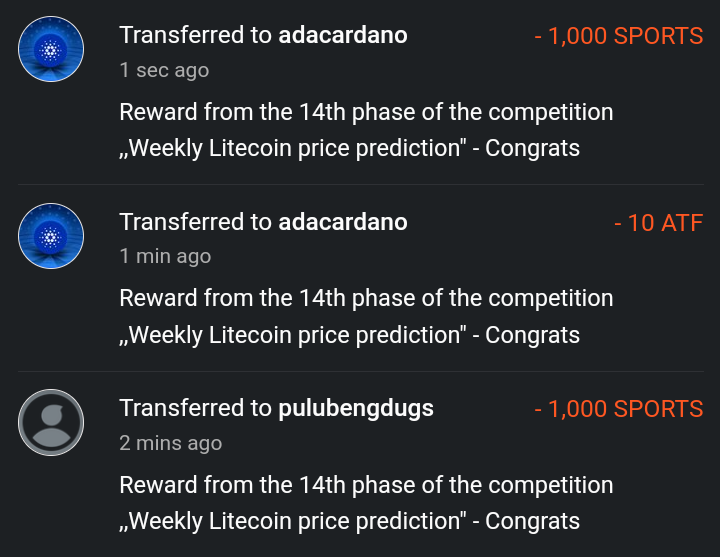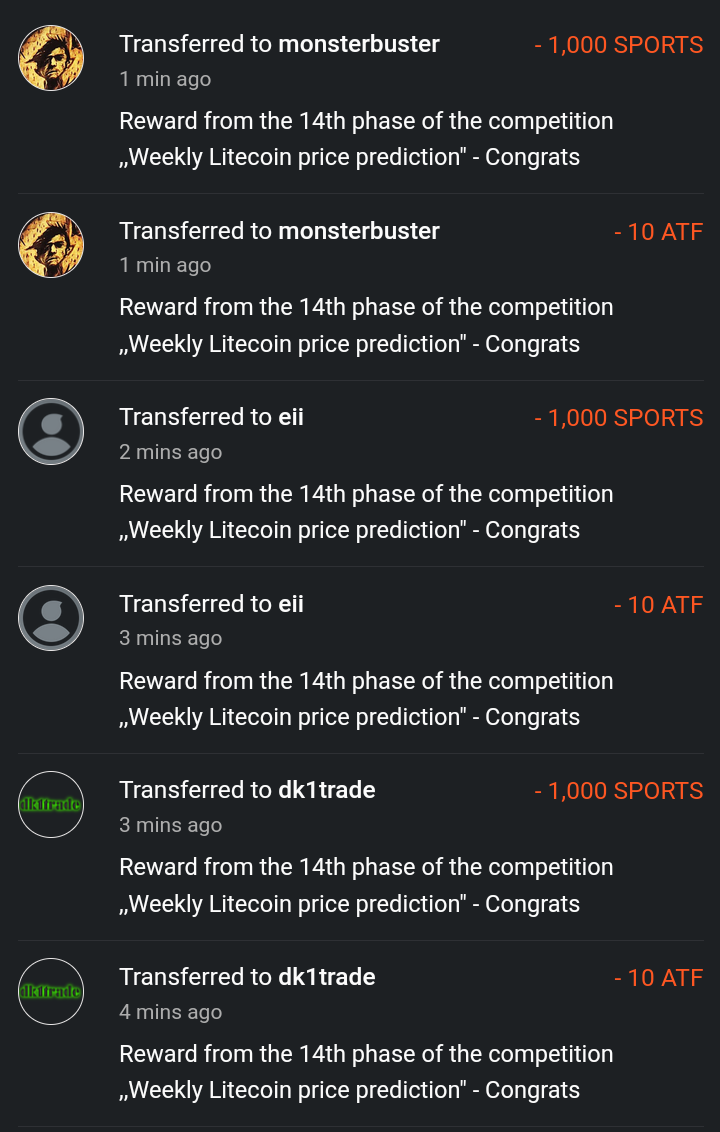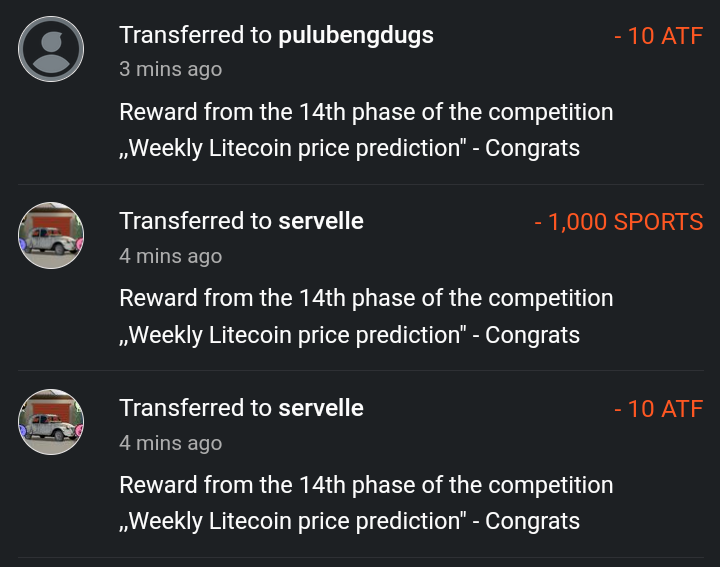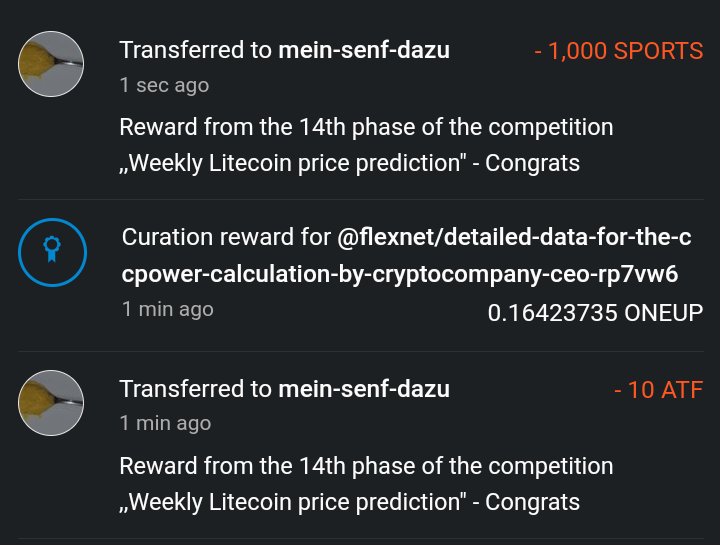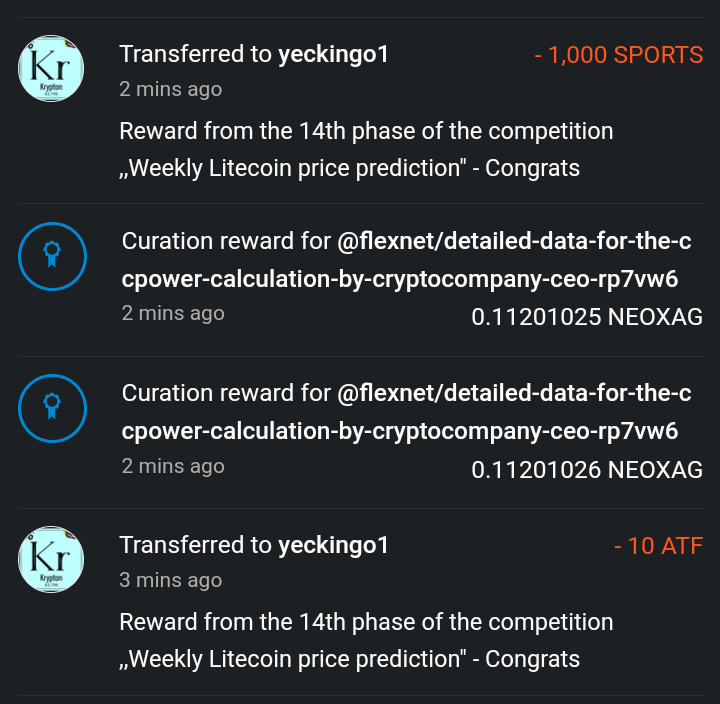 Completed Tasks, Related Rewards & Activity Tickets ( A.T🎟️ It secures your position for upcoming airdrop ).
1) @yeckingo1 💠 T.1 ( 10 #ATF ) & 14 A.T🎟️
2) @r1s2g3 💠 6 A.T🎟️
3) @eii 💠 T.1 ( 10 #ATF ) & 10 A.T🎟️
4) @azj26 💠 10 A.T🎟️
5) @ferod23 💠 T.1 ( 10 #ATF ) & 13 A.T🎟️
6) @bitandi 💠 10 A.T🎟️
7) @servelle 💠 T.1 - T2 ( 15 #ATF ) & 10 A.T🎟️
8) @monsterbuster 💠T.1 ( 10 #ATF ) & 13 A.T🎟️
9) @yorra 💠 8 A.T🎟️
10) @twicejoy 💠T.1 ( 10 #ATF ) 7 A.T🎟️
11) @tokutaro22 💠 11 A.T🎟️
12) @metapiziks 💠 1 A.T🎟️
13) @otuyanancy 💠 5 A.T🎟️
14) @adacardano 💠T.1 ( 10 #ATF ) & 💠 7 A.T🎟️
15) @invest-time 💠 1 A.T🎟️
16) @dk1trade 💠T.1 ( 10 #ATF ) 4 A.T🎟️
17) @mein-senf-dazu 💠 T.1 - T.2 - T.3 ( 20 #ATF ) 3 A.T🎟️
18) @pulubengdugs 💠 T.1 - T.2 - T.3 ( 20 #ATF ) 2 A.T🎟️
19) @steemstreems 💠 1 A.T🎟️
Thanks for participating - stay tuned for new updates on this little competitive thing and the #ATF token that will continue to interfere with those default bonuses to some extent.
Note that as long as the rules set in this phase of the competition are followed, anyone can participate and of course submit their own predictive opinion on the pre-set cryptocurrency and more..ok i hope everything will be fine and there won't be a little bit confusion about this aspect of the competition
Ok, this week will have as Jackpot prize a minimum of 50 #Leo #Tokens - let's see Yep, keep calm, have faith and of course keep your optimism - Everything will be fine. Thank You For Your Time.
A small summary of the prizes you can win this week by participating in this type of competition, which is in full swing on my personal #Hive Blog.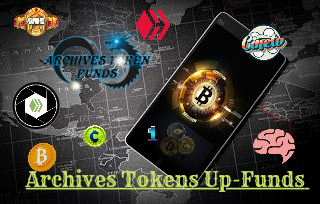 If you are just curious and want to know more details about #ATF token see the following link https://peakd.com/hive-152804/@valentin86/archives-token-fund-atf-the-last-update-of-this-year-of-the-supporting-token-related-to-the-accumulation-of-funds-of-the-persona - in general, #ATF token is a small special personal project that at this time i decided that i will interfere with this type of competitiveness). The 50 #LEO Tokens represent the Jackpot prize in this event and if that no one succeeds in taking possession of this predetermined prize this week - the amount of tokens put into play will be doubled in the next phase of the competition.

⏪⏹️⏸️⏩
Ok, just pay attention to the following words - from this week in this type of post, a new section will be exposed that will simply be called Tasks. Thanks to this section you will have the chance to win a certain amount of #ATF Tokens weekly. Yep, tokens that you can collect in your portfolios present in #Hive-engine #Tribaldex and of course #LeoDex. You can sell them or keep them in your portfolios to earn small weekly rewards from what i manage to accumulate in my @archives-upfunds account.

⏪⏹️⏸️⏩
Ok, let's look at the first Tasks - Please keep in mind, rewards from these types of tasks will be traded no later than Friday of each week. The tasks are exclusively for the participants of this type of competition - #Litecoin value prediction at the predetermined dates.
Micro💠Tasks
Nr.
Requirement
Reward
1💠
Expose the predictive comment in the first 24 hours
-
10 #ATF Tokens as reward.
2💠
Re-Hive and upvote this post after publishing the predictive comment
-
5 #ATF Tokens as reward.
3💠
Follow @archives-upfunds and @hive-152804 account
-
5 #ATF Tokens as reward.
The important rules of this second phase of the competition.
1) From today, the winner (with the fastest correct or closest tip) will win 3 #Hive and 50 #ATF tokens and maybe ++ from me. Of course, during this type of competition, the value of the winnings will continue to vary depending on the evolution of this type of competition. So one of the aspects that will influence the value of the winnings depends on the number of people who will expose their prediction regarding the value of this pre-determined cryptocurrency.

2) Normally, each competition will start every day on Sunday and of course it will end on Saturday at the latest, and on the following day the winner of this type of competition will be announced and of course rewarded. If you want to participate in this kind of challenge, please leave a comment with your Litecoin price forecast for the end of 11 February 2023 CET (so for this end of this coming Saturday). Please be careful - the prediction comment must be left no later than next Thursday.

3) Please round the estimate to whole dollars (eg: $98.21). The reference price will be taken from Coingeko and only Coingeko and the winners are announced in the next post of our competitive game

4) You can submit your estimate now through the end of Thursday. Litecoin price in USD - as a comment until Thursday 23:00 CET ( Super Important ).

5) Note that no editing is allowed. Re-editing the comment will disqualify you - calmness, patience and attention.

6) Please note that only one value prediction is allowed per account for each individual user. This means that users with multiple accounts will only comment with one account. Note that multiple comments will result in disqualification.

7) The tip prediction that comes closest to the reference price will win the weekly contest's top prize.

8) If there are two equally predictions close to the winning value, the earlier one is the winning one. Prizes are transferred directly to the winning account before the next weekly post is published.

9) 🌟Please be careful 🌟- Thursday will be the last day when anyone can leave their Litecoin price prediction to enter the weekly challenge and early Sunday the winner will be announced.

10) Ok, keep in mind that in order to take possession of the 50 #LEO Tokens, the value of the Litecoin cryptocurrency offered in your comments must be equal to the value published on Coingeco at the predetermined date and time. Of course, if your exposed comment will have a margin of differentiation of 0.03 cents against the registered value - this will be the maximum limit that i will consider for winning the weekly Jackpot prize. Ok, so for example:- if you publish a value of 54.15 and on Coingeco it will show 54.12 or 54.18 (you can already be considered almost the winner of the Jackpot prize - the closer the better for you )
A small update about #ATF Tokens and the tokenized prizes up for grabs.
What it is and what opportunities the #ATF token can offer you by keeping it in your personal portfolio, you will find out by accessing the link next to it. Note that as long as the rules are followed, anyone can participate in this type of competition. Yes, as long as the rules are followed, I promise to be fair to each of you. The last update of this 2022 year -https://peakd.com/hive-152804/@valentin86/archives-token-fund-atf-the-last-update-of-this-year-of-the-supporting-token-related-to-the-accumulation-of-funds-of-the-persona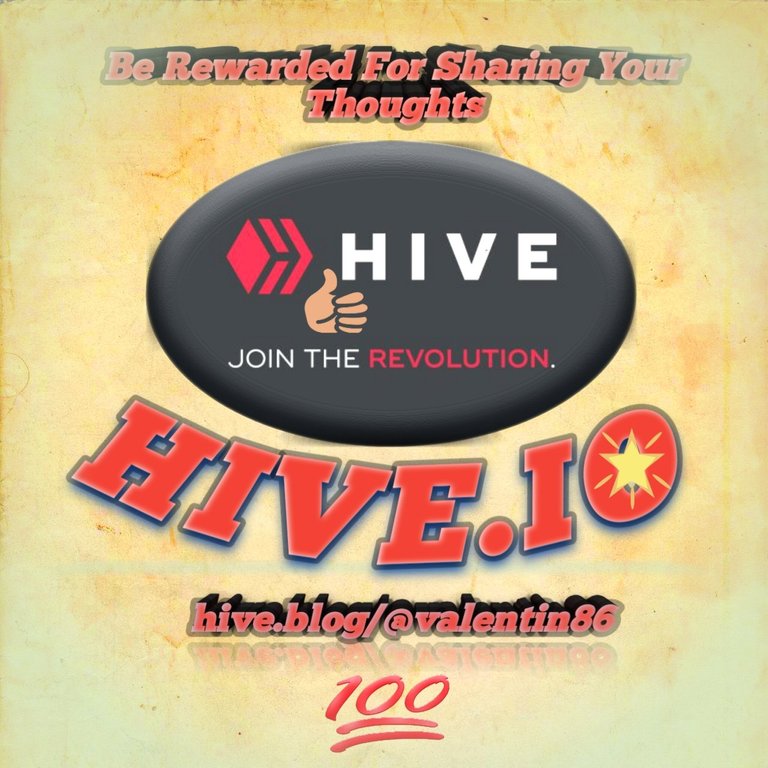 Take😊 care of your precious life - Cheers 🙋