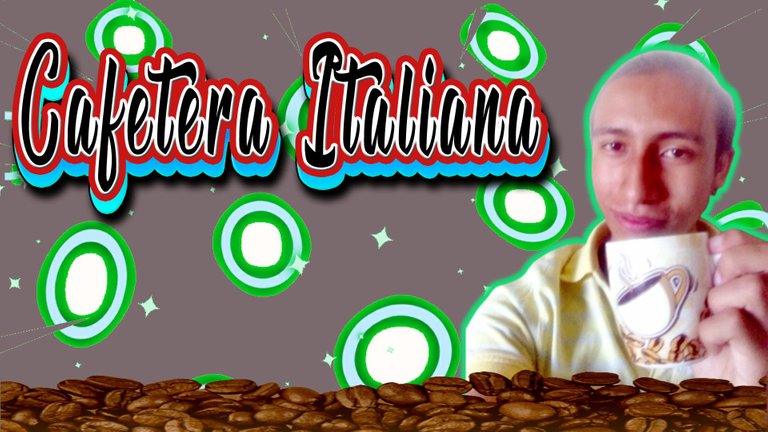 Buenos dias amigos amantes del #coffee
Espero que todos esten teniendo un dia genial y que este día este lleno de muchas cosas buenas para todos y cada uno de los que leen este post
Antes de continuar decirles que logre comprar mi Teléfono con las ganancias que logre obtener de mis publicaciones acá en hive, esto lo comento ya que de seguro recuerdan que en mis primeros post para esta comunidad de #CinnamonCupCoffee les comentaba que no tenía un móvil para sacar las fotografías de mis post, pero llego ese dia que tanto espere y ya lo tengo, mil gracias a todos por el apoyo
Para el post de hoy les hablaré un poco sobre la cafetera moka, una cafetera de origen italiana de la que estoy seguro de que muchos de ustedes ya conocen
Good morning #coffee lovers friends

I hope you all are having a great day and that this day is full of many good things for each and every one of you who read this post.

Before I continue to tell you that I managed to buy my phone with the profits I managed to get from my publications here in hive, this I comment because surely remember that in my first post for this community #CinnamonCupCoffee I commented that I did not have a mobile to take pictures of my posts, but the day came that I waited so long and now I have it, thank you all for the support.

For today's post I will talk a little about the moka coffee maker, a coffee maker of Italian origin that I'm sure many of you already know.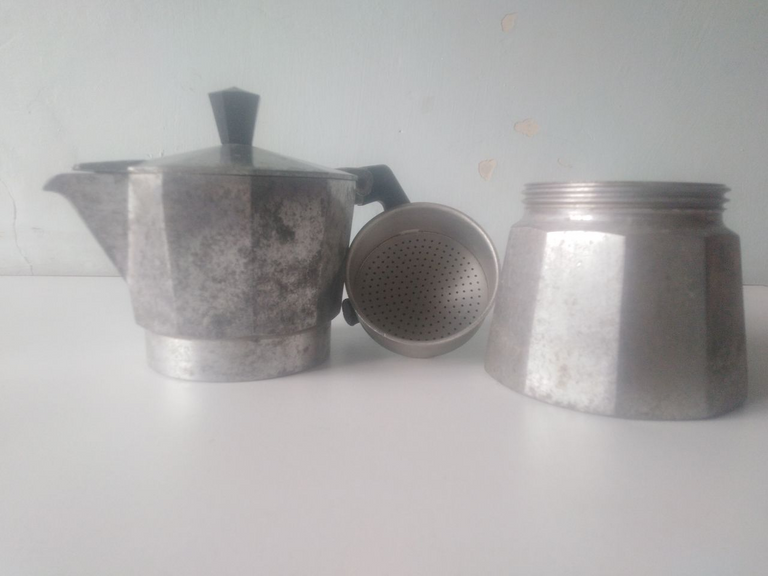 La cafetera Moka o Italiana o también llamada greca o macchinetta, tiene cierta similitud a una cafetera expreso y hoy día es el icono perfecto que representa el café en América Latina y Europa
Debido a su modelo simple también es apreciada en muchos lugares como pieza de museo, una cafetera histórica, ya que este modelo es muy usado por muchas personas, tanto en la antigüedad como hoy día, porque acá en la casa encontré una de estas cafeteras y acá te la muestro
Creo que acá la mayoría la conocen, pero quiero explicarles un poco su funcionamiento, ya que algunos no entienden como funciona este sistema
The Moka or Italian coffee pot or also called greca or macchinetta, has a certain similarity to an espresso pot and today is the perfect icon that represents coffee in Latin America and Europe.

Due to its simple model it is also appreciated in many places as a museum piece, a historical coffee pot, since this model is very much used by many people, both in ancient times and today, because here in the house I found one of these coffee pots and here I show it to you.

I think most people here know it, but I want to explain a little of how it works, since some people do not understand how this system works.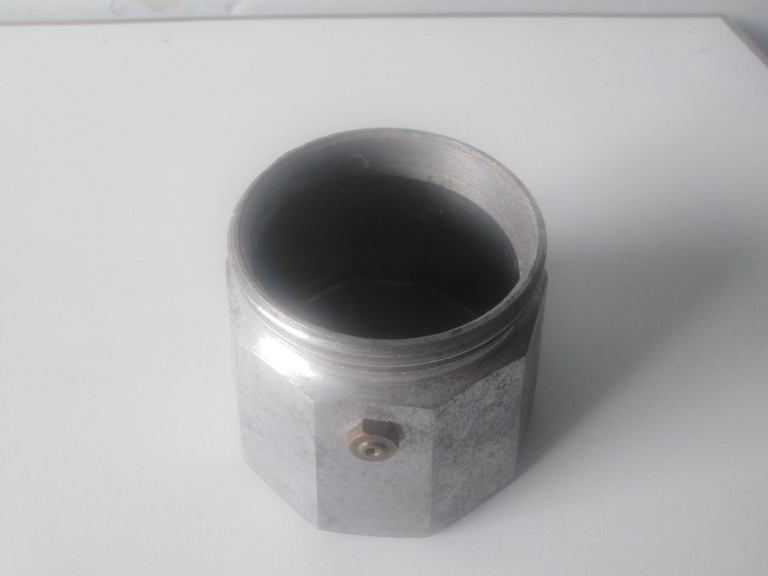 La imagen que ven arriba de este texto es el contenedor de agua, acá es donde colocamos el agua que hervirá, según lo que investigue esto se llama técnica de Goteo por vapor
Que consiste en calentar el agua y que el vapor se encargue de hacer subir el agua a la parte superior de la cafetera
The image you see above this text is the water container, this is where we place the water that will boil, according to what I researched this is called steam drip technique.

This consists of heating the water and the steam is in charge of making the water rise to the top of the coffee pot.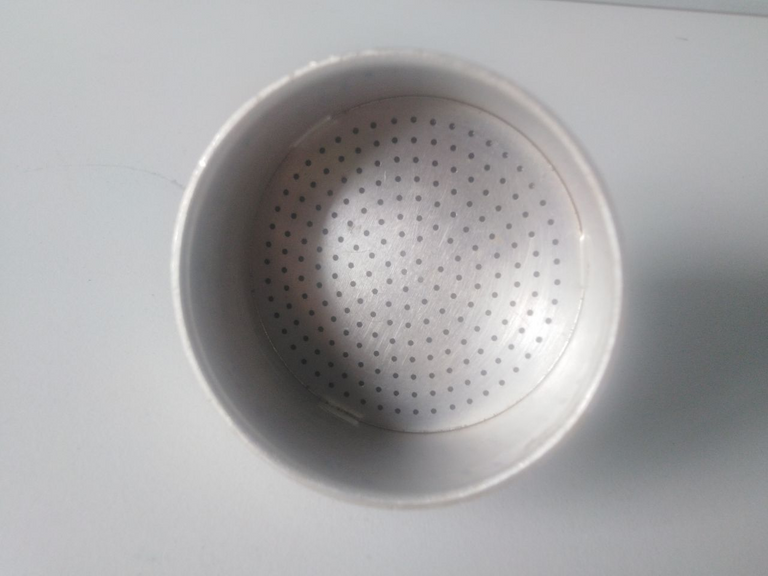 Luego es momento de colocar el filtro con café, este es el que funciona como una cápsula para mantener el café y esperar que el agua suba para mojar el café molido
Es un depósito pequeño, claro que esto también depende mucho del modelo de la cafetera, ya que también podemos encontrar otras más grandes que la que yo tengo, pero esta tiene un depósito de café pequeño, así que se le agrega poco café
Then it is time to place the filter with coffee, this is the one that works as a capsule to hold the coffee and wait for the water to rise to wet the ground coffee.

It is a small deposit, of course this also depends a lot on the model of the coffee maker, since we can also find others that are larger than the one I have, but this one has a small coffee deposit, so little coffee is added.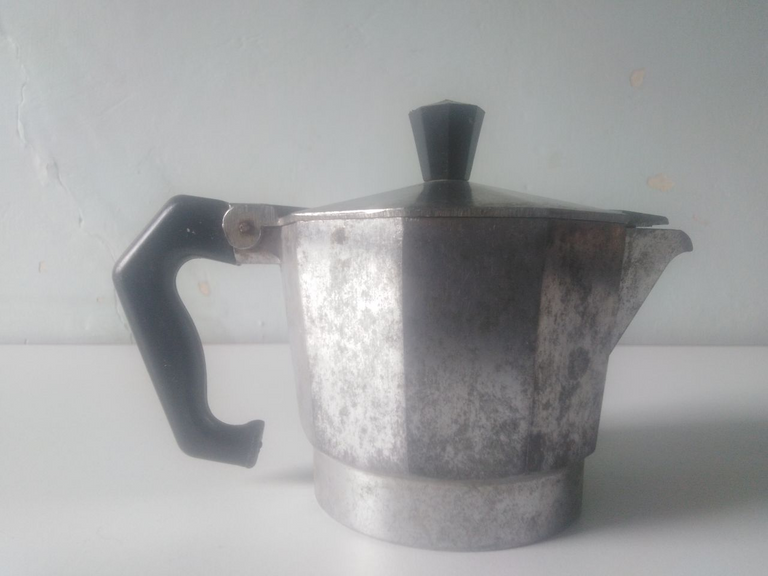 Y por último está el depósito de café listo para beber, imagina esto:
El agua va en la parte de abajo, cuando hierve sube y entra en el depósito del café molido y el vapor luego se encarga de hacer subir el café a la parte de arriba y listo para tomar nuestro café
Es algo simple, una cafetera fácil de usar que solo consta de tres piezas que podemos armar y desarmar para limpiarlas, acá les dejo una imagen para que vean el sistema de una forma más gráfica
And finally there is the coffee tank ready to drink, imagine this:

The water goes in the bottom part, when it boils it rises and enters the ground coffee tank and the steam is then responsible for raising the coffee to the top and ready to drink our coffee.

It is something simple, an easy to use coffee maker that only consists of three pieces that we can assemble and disassemble to clean them, here is an image so that you can see the system in a more graphic form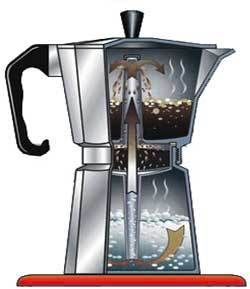 Fuente

Todo depende del tamaño de la cafetera, pero con la que tengo en casa solo salen dos tazas de cate y se usa una pequeña cantidad de café, acá les muestro una foto más
Pueden ver un paquete pequeño de cafe que representa la cantidad de cafe que se gasta para esta Cafetera Moka, y al lado unas galletas con las que luego me tomare el cafe
Everything depends on the size of the coffee maker, but with the one I have at home only two cups of coffee come out and a small amount of coffee is used, here I show you one more picture.

You can see a small package of coffee that represents the amount of coffee that is used for this Moka coffee maker, and next to it some cookies with which I will later drink the coffee.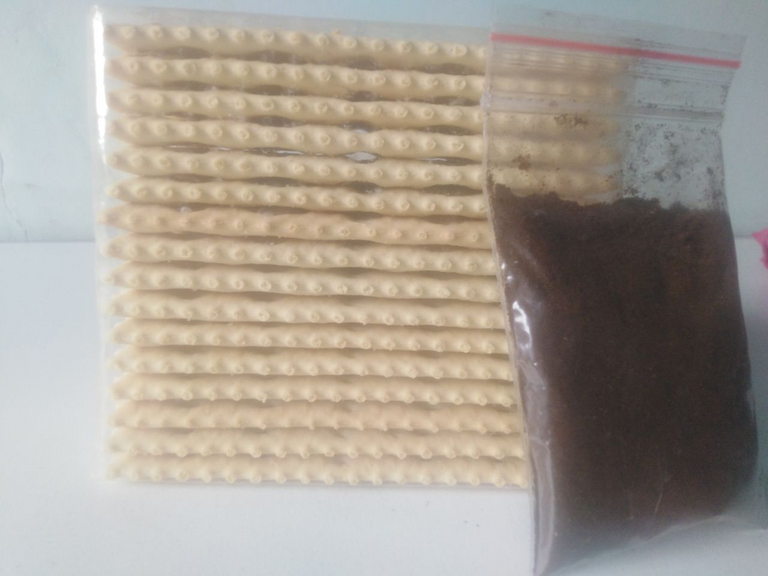 Es una cafetera muy útil, fácil de llevar y la historia la hace más interesante
Creo que la mayoría tiene una de estas en casa, es muy común y su modelo llamativo y muy práctico le da ese toque de especialidad, una total reliquia tener una de estas en mi casa
Espero les gustara este pequeño post
Dime, ¿Tienes una de estas en tu casa?
It is a very useful coffee maker, easy to carry and the history makes it more interesting.

I think most people have one of these at home, it is very common and its striking and very practical model gives it that touch of specialty, a total relic to have one of these in my house.

I hope you like this little post

Tell me, do you have one of these at home?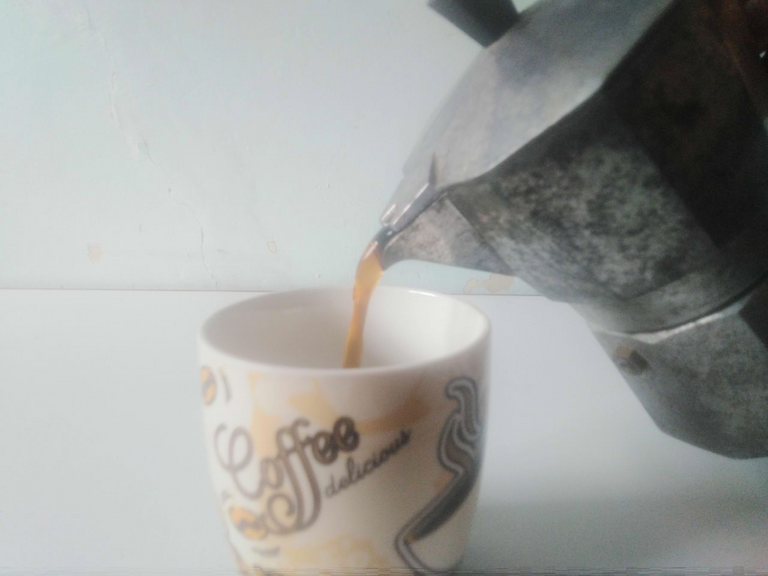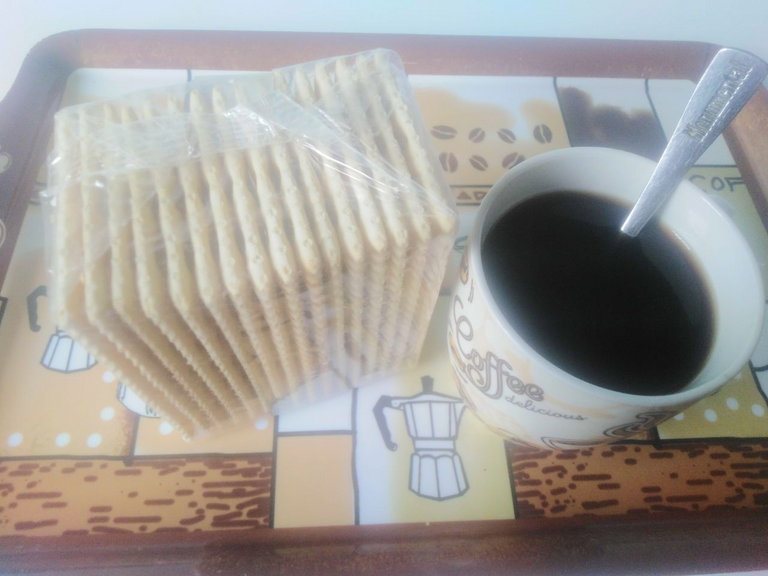 ---



Creditos
Recursos Digitales Usados para la Creación de Esta publicación
Contenido de Imagenen Portada: Creada en Photoshop CC
Contenido de Gif Animado : Creados en Giphy