I need some new bookshelves. Seriously. I don't say that in jest. It's on the "to-do" list. There's a trip to IKEA in my near future… probably next week because that place is crazy on the weekends…
But I digress.
I really have run out of space on my current shelves, largely due to an influx of art books! As I was leaving my day job to pursue art full time I went on a bit of a book buying binge with those last couple steady paychecks. Now it seems I've got more reading, studying and learning to do than I could accomplish in a lifetime!
---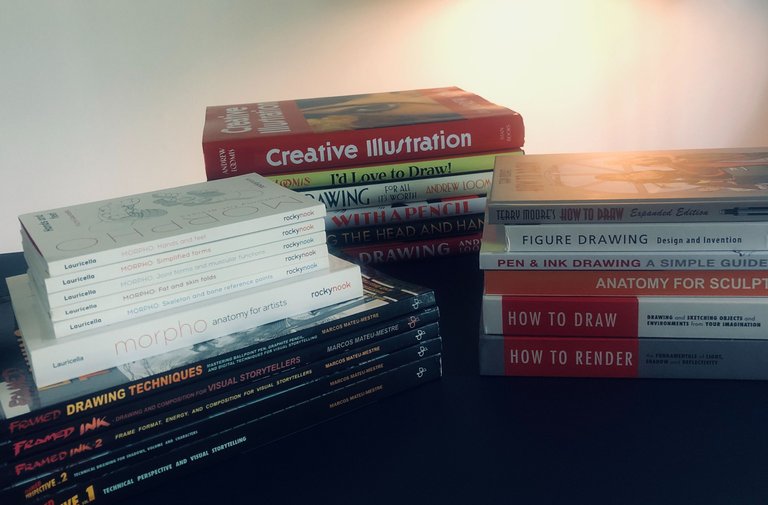 ---
Not everything here is a brand new acquisition, but I wanted to showcase some of my "completed sets" of fantastic art resources. I'm afraid that completionist desire has carried over from my comic book hobby, urging me on to get them all! This tabletop assemblage is just the tip of the proverbial iceberg, an iceberg of books! Once I get my shelves reworked I'll give you all the full tour.
I love books, I love art, and I love sharing and discussing them both. While I haven't had a chance to study everything here in depth, I've certainly seen enough to know that everything here I wholeheartedly recommend to other artists and creators. If you're looking for some great resources on illustration and creating comics, consider this a great overview to get you started.
---
First up are the books of Andrew Loomis. I finally completed my set! Every time I needed to order something strange off of Amazon I'd just tack on an extra Loomis book to the order until I had them all.
Andrew Loomis was an incredible illustrator and educator during a golden age of American illustration. These texts were originally published in the 1940's and are still incredible tomes of knowledge today. I first became aware of Loomis through the comic artist Alex Ross who cited Loomis as a strong influence on his work. At that time in the early 2000s these books were out of print and very hard to come by secondhand. Thankfully in recent years they've all been put back into publication and are readily available to a whole new generation of artists.
When I was first studying anatomy and illustration I primarily had the books of Hogarth and Bridgeman to turn to, and while they are fantastic in their own ways, I do wish Loomis had been available at the time. I don't think anyone from beginner to advanced levels could go wrong in picking up and studying the texts of Andrew Loomis.
---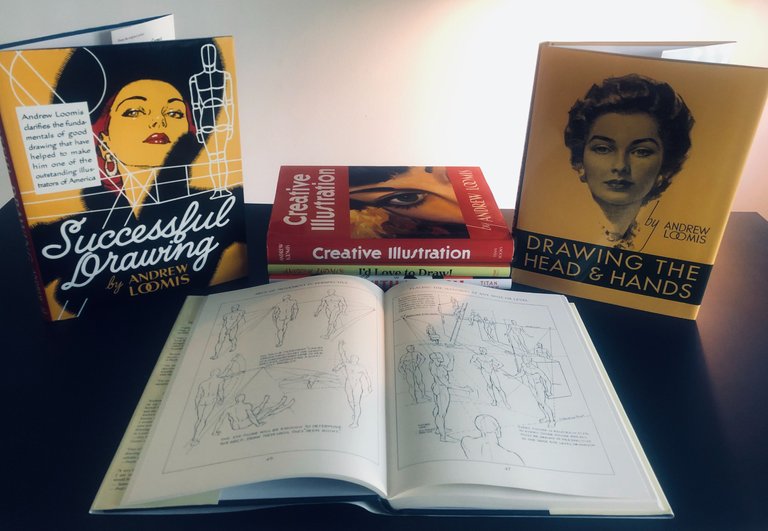 ---
A little while back I caught a glance online of some interior pages of the MORPHO book series by Michel Lauricella. I promptly ordered them all in one fell swoop. Thankfully they're not too expensive as art books go, as they're smaller pocket size guides focused on the study of human anatomy. There's the larger and heftier "core" book which is then supplemented by five smaller volumes which each bring a more detailed focus to different elements of figurative illustration.
With just a glimpse of the instructive interiors I knew these were presented in a way that I could learn from and the quality and clarity of the drawings is exceptional, thus an instant purchase!
---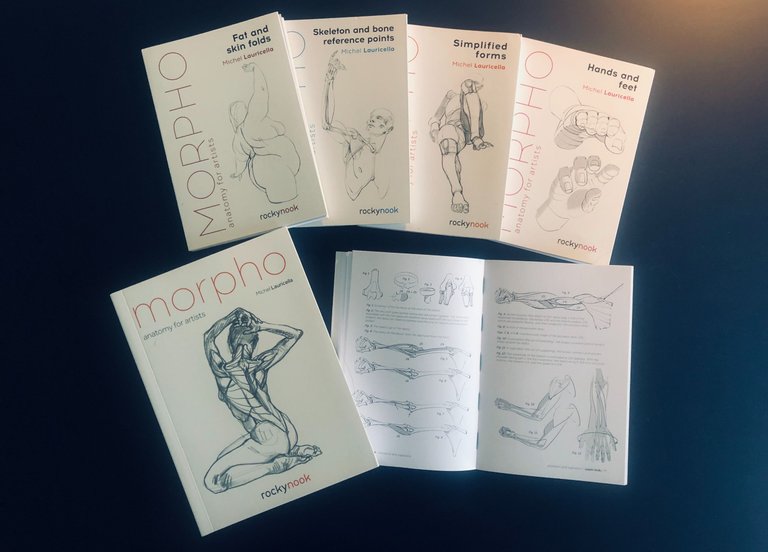 ---
Loomis and Lauricella can teach you how to draw people and single illustrations, but if you're involved in any kind of narrative art form such as comics, storyboards, or games, then the FRAMED book series by Marcos Mateu-Mestre is pretty much required reading. The prime focus of these books is on the principles of composition and visual storytelling, with two of the volumes also featuring a heavy focus on the technical intricacies of drawing in perspective, one of the most difficult, and most important skills to master.
These are the kinds of books that reward repeat readings and careful study as it is impossible to absorb their lessons quickly. These are skills that take a lifetime to master… but with mentors like Mateu-Mestre you might just be able to shave a couple decades off that learning curve!
---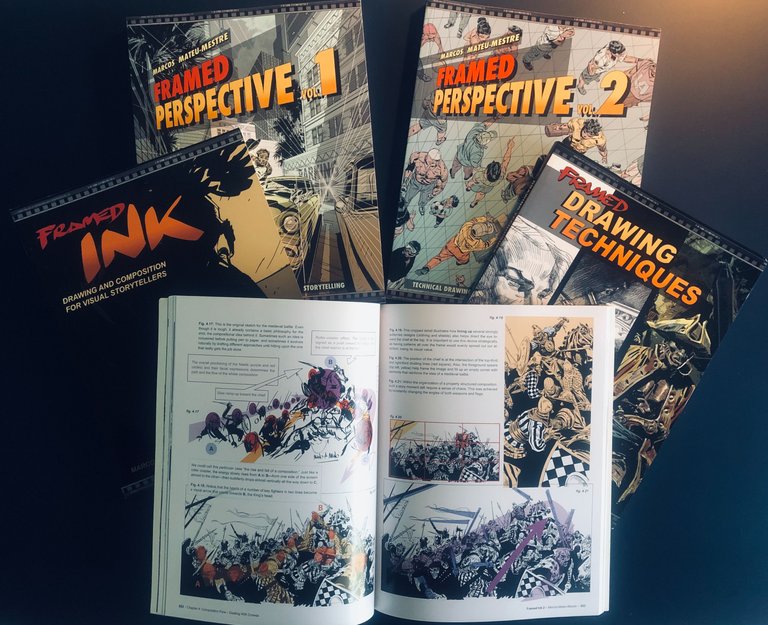 ---
Circling back to studying the figure, there are two standalone books that I find to be a must have for any illustrators library. Hampton's Figure Drawing: Design and Invention is an excellent text on understanding the figure and being able to construct it from imagination rather than slavish copying of references.
But speaking of references, Anatomy for Sculptors is one of the best references I've found for studying the human form. Don't let the title fool you, this is just as wonderful a volume for 2D artists as it is for 3D. It has an excellent combination of illustrations, 3D models, and photographs to help understand the human anatomy from every angle. It was the priciest volume of any shown here though, so if you're building your own learning library it might not be the first volume to grace the shelves.
---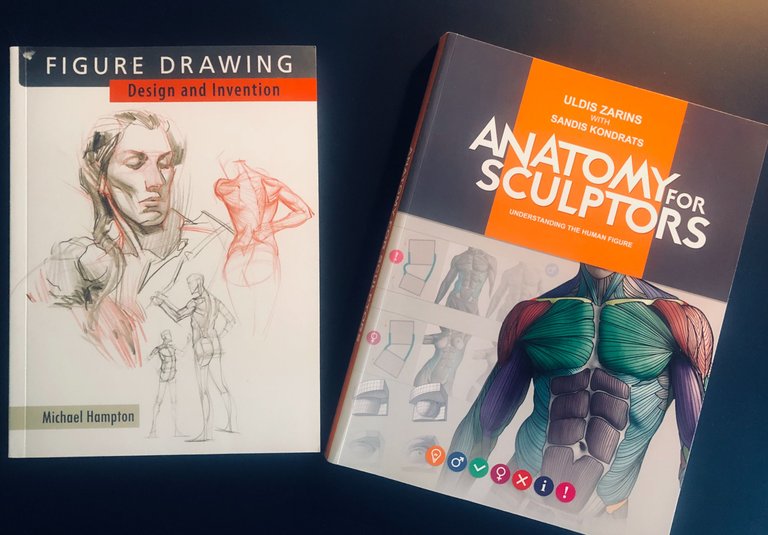 ---
How to Render by Robertson and Bertling came highly recommended by comic colorist K. Michael Russell so I snapped it up as I was attempting to improve my skills in that aspect of comic creation, and the book's quality quickly sold me on grabbing the companion How to Draw book as well.
These are both insanely informative advanced texts, let's call them college level… in fact I'd be surprised if they weren't being used in some art university curriculums around the world.
Sadly I didn't realize I was ordering the paperback version of How to Draw when I already had the hardback version of How to Render… my OCD is rage screaming at me now!
---
---
Rounding out this particular book tour is Terry Moore's How to Draw: Expanded Edition, and Pen and Ink Drawing by Alphonso Dunn. I already had the "normal" edition of Terry Moore's book but just had to have this pretty hardbound edition with even more pages of masterful insight inside! As the creator of beloved long running comics like Strangers in Paradise, Moore is an expert in cartooning, conveying emotion, and narrative storytelling and shares that here.
There was some hubbub last year when the founder of "Inktober" released his own book on inking techniques which was just a bit too similar to Dunn's previously published work, inspiring some conversation around the topic of plagiarism. Well, it certainly worked on me as a marketing tool as when I saw a bit of Dunn's text in a YouTube video I knew I wanted a copy.
---
---
Creating comics is an incredibly tough job, as it requires knowledge from across the art spectrum. This selection of books on my dining room table covers that full spectrum. Composition, anatomy, perspective, rendering, drawing and inking techniques, you name it and it's here.
I love love, love, having all this knowledge surrounding me, if only I could learn the lessons passively through osmosis! But sadly that's not the case.
Buying stacks of books was some easy retail therapy… now comes the hard work of study and practice. If you are also looking to study and practice your illustrative craft you won't go wrong with this book list as a starter kit.
---
If any of the books above have piqued your interest and you have any questions, please don't hesitate to ask. If I can provide an answer or give more detailed reviews of individual texts I'd be more than happy to do so, in fact that's another thing on my long "to do" list… right after IKEA.
-Bryan "the Imp" Imhoff
---
Follow me for more behind the scenes looks at the creation of "I Thought It Would Be Zombies..." Your votes help support its production! Also look for limited edition digital artwork for sale on NFTShowroom.com