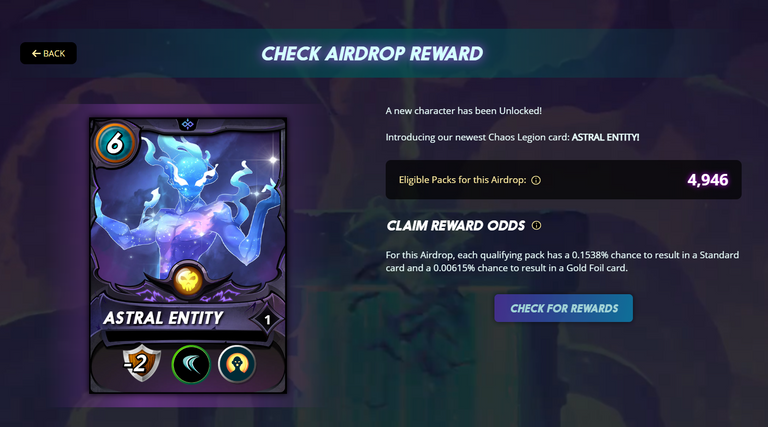 The new Airdrop has just been released! The new Death Summoner card Astral Entity is an exciting Death Summoner with -2 Shield at the opponent but also brings Dodge to the own cards and once revives a friendly unit.
In my Airdrop I had 2 cards more than thought or rather calculated. With my 9 airdrop cards I now need to get 2 more on the market so I can play the Summoner at the MAX level. The price per card is currently around 20 US dollars per card.
This means I will have to invest another 40 US Dollars in the near future to be able to play the Summoner and its full potential.
Soeben wurde der neue Airdrop freigegeben! Die neue Death Summoner Karte Astral Entity ist ein spannender Death Summoner der mit -2 Shield beim Gegner auftritt aber auch Dodge den eigenen Karten bringt und einmal eine befreundete Einheit wiederbelebt.
In meinem Airdrop hatte ich 2 Karten mehr als gedacht oder eher als berechnet. Mit meinen 9 Airdrop Karten muss ich mir nun noch 2 weitere auf dem Markt besorgen, damit ich den Summoner auf dem MAX Level spielen kann. Der Preis pro Karte liegt derzeitig bei ca. 20 US Dollar pro Karte.
Heißt, ich muss in Kürze nochmal 40 US Dollar investieren, damit ich den Summoner und sein volles Potential spielen kann.
---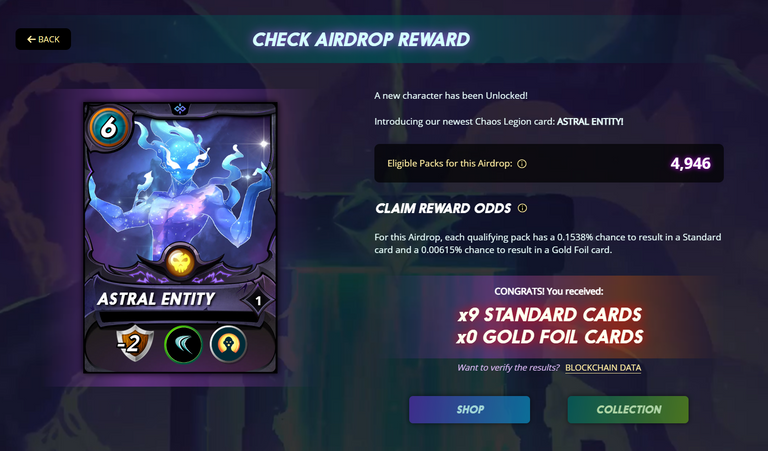 ---
Our past Brawl was also very successful! We, the Legendary Dragons were once again able to finish in first place in the guild brawl, bringing in the maximum possible rewards. Each player received 11,143 Merrits and 279 Staked Brawl SPS! That's already something to be proud of. I'm excited to see how we do in the upcoming Brawls.
Unser vergangener Brawl war auch sehr erfolgreich! Wir, die Legendary Dragons konnten uns erneut auf dem ersten Platz des Gildenkampfs schlagen und somit das Maximum mögliche an Rewards hereinholen. Jeder Spieler hat 11,143 Merrits erhalten und 279 Staked Brawl SPS! Das kann sich schon sehen lassen. Ich bin gespannt wie wir in den kommenden Brawls abschneiden werden.
---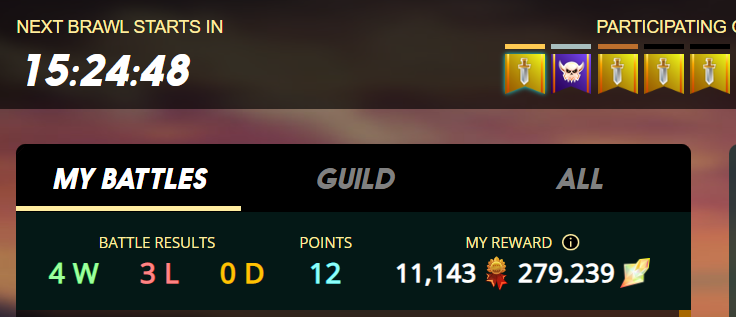 I had collected a total of almost 24k Merrits with the Season End Rewards and the Brawl Rewards and of course I immediately threw the Merrits into Gladius boxes. I bought 11 Gladius boxes for 22k Merrits and 55 Legendary Potions for another 7590 DEC -> 5,27 USD to have a higher chance to get a Legendary card.
Ich hatte mit dem Season End Rewards und den Brawl Rewards eine Summe von fast 24k Merrits gesammelt und hab natürlich die Merrits gleich in Gladius Kisten geworfen. Gekauft habe ich 11 Gladius Kisten für 22k Merrits und dazu noch 55 Legendary Potions für weitere 7590 DEC -> 5,27 USD um eine höhere Chance auf eine Legendary Karte zu haben.
---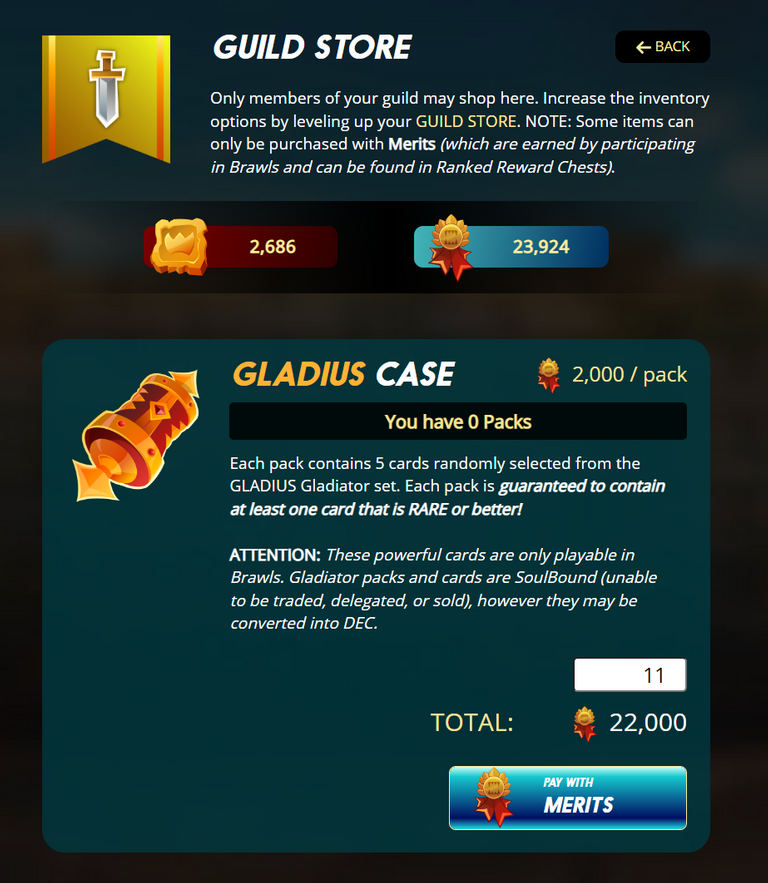 I didn't expect to get a Legendary card, but the first card I got was the Larissa Kerato. So now I have 3x the card and can make it one level higher. To the Legendary card just came a lot of other cards that I need anyway and just collect me the cards further and further until I can use them soon in the Diamond League to go to you when playing really on the balls.
Ich hab eigentlich garnicht erwartet das ich eine Legendary Karte erhalte aber gleich als erstes kam die Larissa Kerato zum Vorschein. Damit hab ich nun 3x die Karte und kann diese ein Level höher machen. Zu der Legendary Karte kamen einfach ganz viele weitere Karten die ich ja eh brauche und sammel mir einfach die Karten weiter und weiter bis ich diese dann bald in der Diamond Liga verwenden kann um euch beim Spielen so richtig auf den Sack zu gehen.
---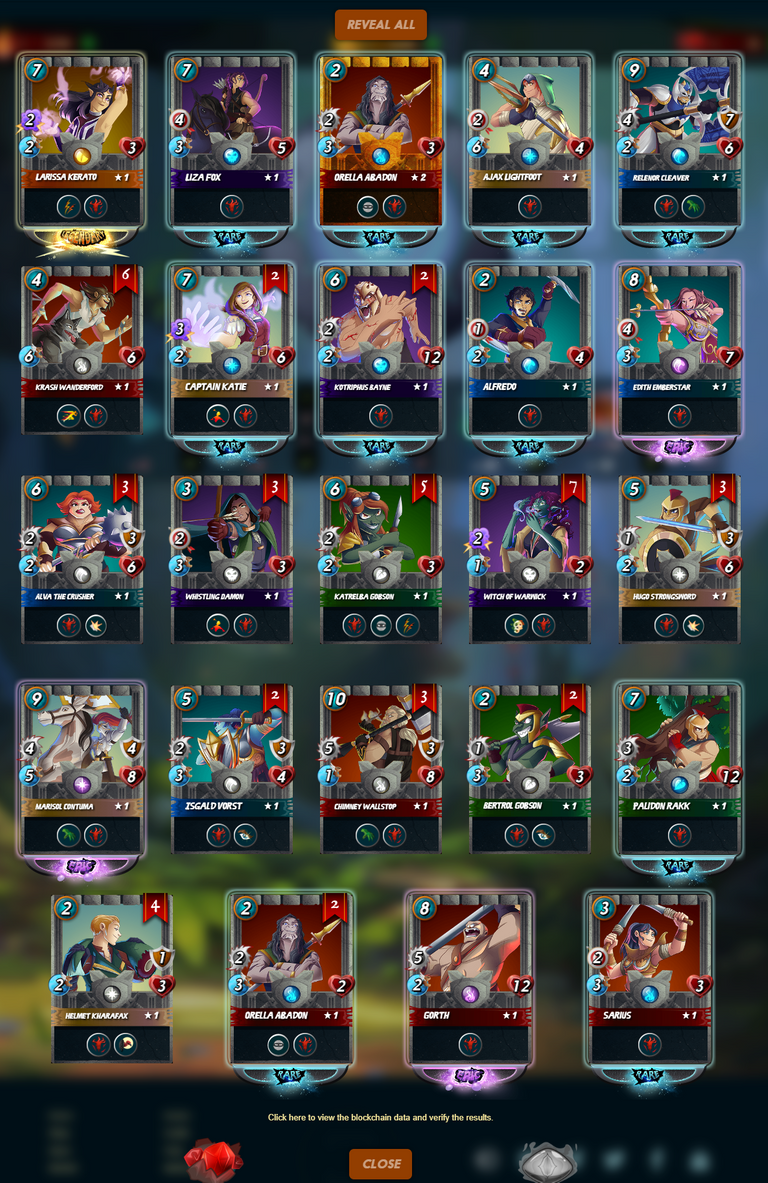 New higher level Cards
KRASH WANDERFORD -> Level 6
LARISSA KERATO -> Level 2