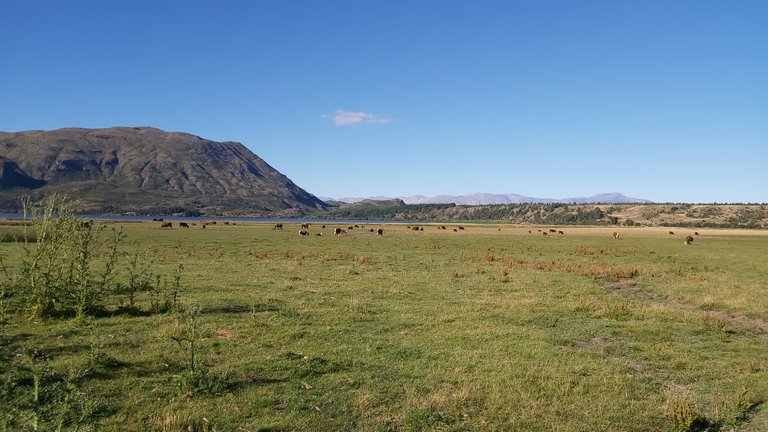 Último día de pesca, ya nos vamos luego de más de 2 semanas paseando y disfrutando de los bellos paisajes de la Patagonia.
Solo una salida corta por la tarde, el clima se ha comportado de manera excelente durante los últimos 10 días y el calor es fuerte, no se puede estar todo el día bajo sus rayos. Las 17:30 fue la hora elegida para salir de Esquel camino al parque aunque en esta oportunidad solo llegaríamos hasta la laguna Terraplén, 8 kilómetros antes del portal de entrada al Parque Nacional Los Alerces.
En años pasados esta laguna le ha dado muy buenos resultados a mi amigo, yo lamentablemente no había tenido ninguna suerte en las pocas oportunidades en las que lo acompañé, pero la esperanza nunca se pierde en esta actividad, si así fuera no pescaría más.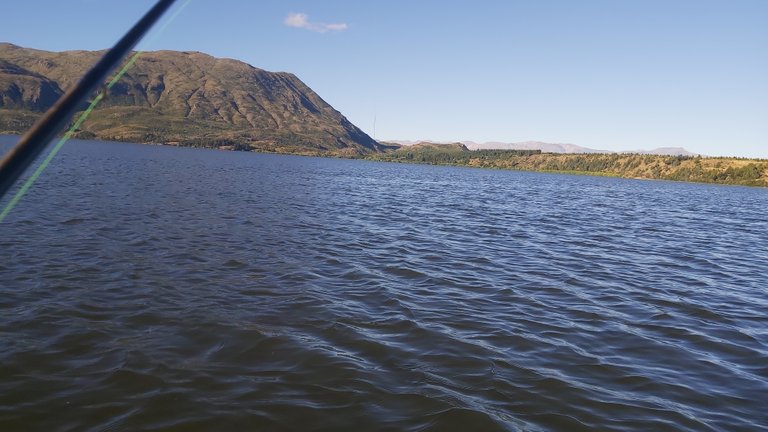 Llegamos y la laguna se ve baja, en pleno verano su altura va disminuyendo, hay poco aporte de agua de lluvia y menos aun de deshielo, prácticamente no queda nieve en los picos más altos que la circundan, solo algunos escasos y dispersos planchones de hielo en los sectores donde menos da el sol.
Las vacas pastan tranquilamente en sus costas y los terrenos aledaños, dejamos el automóvil sobre un costado de la ruta y bajamos con todos nuestros equipos colocados, waders, botas de vadeo, chaleco, cajas de moscas, reeles y red por si alguna grande se prende de nuestros anzuelos. ¡Cuántas cosas llevamos encima cada vez que vamos a pescar! Nos fuimos acercando al ganado porque estaban en el camino que debíamos transitar y comenzaron a mirarnos inquietas y desconfiadas, los mugidos y resoplidos se escuchaban por todas partes, pero a medida que nos íbamos acercando se retiraban rápidamente. Si bien jamás me ha ocurrido, conozco casos de personas que han sido atacadas por estos pacíficos animales, ignoro el motivo aunque sospecho que algunas tienen mal carácter, como los seres humanos.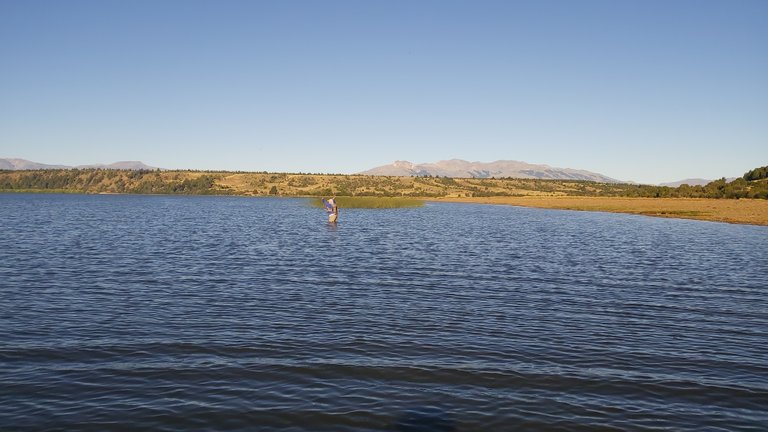 Finalmente, luego de una larga caminata llegamos y comenzamos a pescar, no sacamos nada, no tuvimos ni un solo pique y tampoco vimos actividad. Como si estuviera desierta, salvo los patos que andaban por todos lados. No creemos que no tenga peces, es enorme y siempre ha dado resultados, seguramente es por el intenso calor y por lo baja que estaba en la zona elegida, no pudimos ir hacia otros lugares más profundos porque hubiera exigido una muy larga caminata y tiempo y ganas que no teníamos.
Justamente ese es el problema principal de esta laguna, hay un solo lugar de acceso y es por el lado más bajo, si no hiciera tanto calor y con más tiempo quizás hubiéramos caminado un poco más. Mi amigo ha ido en varias oportunidades transportando al hombro un bote inflable que ya no tiene, el nuevo es muy pesado, imposible de llevar portándolo todo el largo recorrido entre las vacas. Con el inflable hizo pescas memorables.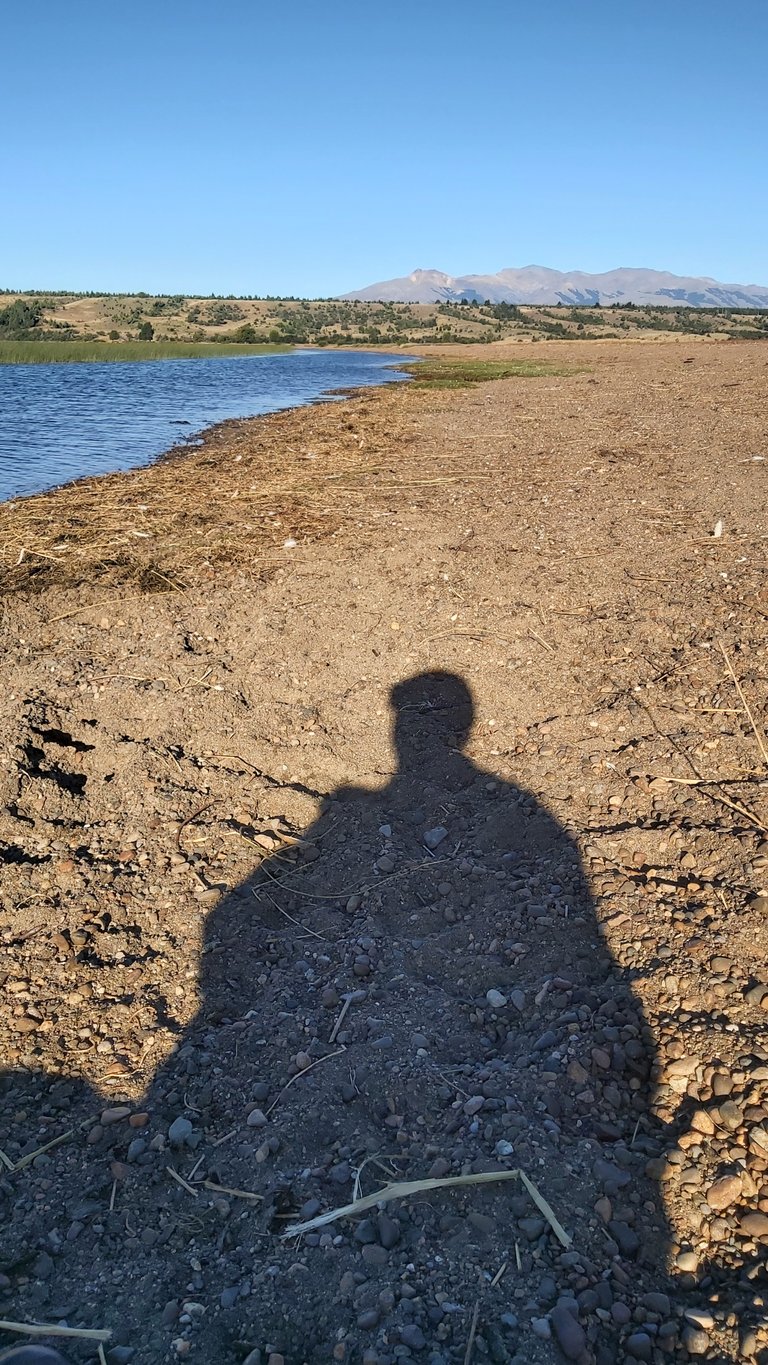 Entonces me dediqué a tomar algunas fotografías que ahora les comparto, nada impide disfrutar del entorno, aunque las truchas estén esquivas.
Hasta tomé una selfie de mi sombra, como las que suele publicar mi amigo @jlufer en ese espacio de cazadores de sombras.

fishing among the cows
Last day of fishing, we are leaving after more than 2 weeks of walking and enjoying the beautiful landscapes of Patagonia.
Just a short afternoon outing, the weather has behaved excellently for the last 10 days and the heat is strong, you can't spend all day under its rays. 5:30 p.m. was the time chosen to leave Esquel on the way to the park, although this time we would only get as far as the Terraplén lagoon, 8 kilometers before the entrance portal to Los Alerces National Park.
In past years this lagoon has given my friend very good results, unfortunately, I had not had any luck in the few opportunities in which I accompanied him, but hope is never lost in this activity, if it were, I would not fish anymore.
We arrived and the lagoon looks low, in the middle of summer its height decreases, there is little rainwater contribution and even less snowmelt, there is practically no snow left on the highest peaks that surround it, only a few and scattered sheets of ice in the sectors where the sun shines less.
The cows graze peacefully on its shores and the surrounding land, we leave the car on the side of the road and go down with all our equipment placed, waders, wading boots, vest, fly boxes, reels, and a net in case a large one catches on of our hooks. How many things do we carry with us every time we go fishing? We got closer to the cattle because they were on the road that we had to travel and they began to look at us restlessly and distrustfully, the mooing and snorting could be heard everywhere, but as we got closer they quickly withdrew. Although it has never happened to me, I know of cases of people who have been attacked by these peaceful animals, I do not know the reason, although I suspect that some of them have a bad temper, like human beings.
Finally, after a long walk, we arrived and started fishing, we didn't catch anything, we didn't have a single bite and we didn't see any activity. As if it were deserted, except for the ducks that were everywhere. We do not believe that it does not have fish, it is enormous and it has always given results, surely it is due to the intense heat and the low altitude in the chosen area, we could not go to other deeper places because it would have required a very long walk and time and desire that we did not have.
That is precisely the main problem of this lagoon, there is only one access point and it is on the lower side, if it were not so hot and with more time we might have walked a little more. My friend has gone on several occasions carrying an inflatable boat on his shoulder that he no longer has, the new one is very heavy, impossible to carry carrying it all the way between the cows. With the inflatable he made memorable fishing trips.
So I dedicated myself to taking some photographs that I am now sharing with you, nothing prevents you from enjoying the surroundings, even if the trout are elusive.
I even took a selfie of my shadow, like the ones my friend @jlufer usually posts in that shadow hunter space.
---
Las fotografías son de mi propiedad.
Héctor Gugliermo
@hosgug