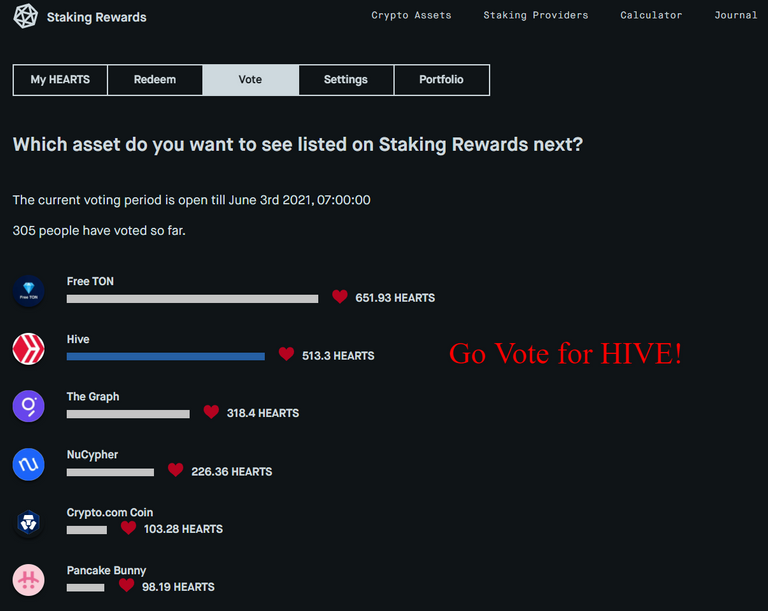 Are you in it for the long haul? Then you probably understand what staking rewards are and may even be familiar with this site. This came across my desk this morning from @latino.romano and has already been publicized in a post from fellow witness @guiltyparties. This is the second time in three days I've visited this place as I was talking to an old friend (@jatinhota) about different tokens we hold. We both have this place bookmarked, and for good reason.
What is Staking???
Some of you may not even realize it, but when you are powering up your HIVE here on this blockchain, you are literally staking it to earn slightly over a 3.3% APR. Without having to do anything! That's about ten times the interest you're going to get at any centralized bank. Staking simply means 'keeping it here'. Consider it a temporarily frozen asset which takes you 13 weeks to fully unthaw. 😉 Plus, there is also a 3% interest rate on your HBD you have in savings! We have two tokens here at Hive that are worth being on their list.
Community Strength
Guilty put some good words out there. We want mass adoption and Hive to be a household name as this cryptowinter comes to an end. Every small step forward is a greater distance from the starting line. To get Hive listed on Staking Rewards, you'll have to do three things:
Create your account - click/tap here to do that😉
Wait a few seconds and the website give you your first 10 HEARTS tokens
Once you have your hearts, vote for Hive!😝
Easy peasy. It takes all of about 30 seconds to complete the process. I will be visiting the site later today to see if that number has gone up from 305 - which I hope it at least doubles in the next few days. Pass this post around, pass Guilty's around, hell, make your own and tweet it out everywhere! (ahem - @nathanmars & @traciyork 😋) I've seen us do amazing feats like this in the past and know we can continue to accomplish even greater things. Just, ya know, when you do it, REMEMBER TO BE YOU! I always am, even when I'm one of the 3 Amigos.


Is Voting #WITNESSES difficult?
Let me do it for you!
Set Witty as your --->PROXY VOTER!<---