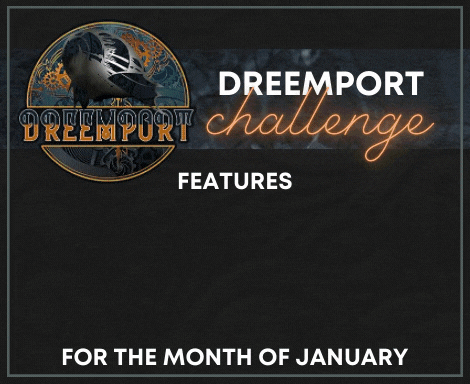 The first DreemPort Challenge of the year has gone beautifully!
We had lots of entries and now I think it's time to give out lots of rewards! hehehe
Everyone who wrote a post for the DreemPort Challenge with the Ink Well prompt will be receiving 75 Dreem tokens! And for our top 5 - they will be getting 200 each!
Why? Because this year is going to be special! I just can feel it in me bones! hahaha So I want to start it off with something nice! (Will that continue for next week? hmmmm I don't know. Have to wait and see!)
TOKENS ARE DISTRIBUTED WEEKLY - USUALLY ON TUESDAYS - SO CHECK YOUR WALLETS THEN!
I hope you all had a WONDERFUL time using your imaginations for that prompt of "Unlikely Hero". Don't worry I still have one day to think of mine. This one is a tricky one for me! hahahaha I'll have to think while I drEEm tonight!
Ok - let's get right onto the winners, shall we?? oh - and by the way... you winners should really all update your profile pictures hahahahahaha
Click on the image to read their posts! 😁
Congratulations to @davidbright, @l337m45732, @warpedpoetic, @abmakko, and @maryjacy !!! You were all most favored in this challenge! Take a look at your scores to see if you have reached an All-Time-High yet? If so - GREAT JOB! and if not... hehehe there is always another day with DreemPort to tantalize those readers and get higher rankings!
Thank you to @theinkwell for the awesome first week! We are so happy to see more users in the Port, and thrilled to see you challenging their creativity with your prompts!
For all of you who would like to join in for next week - You can check out THIS POST to get all the details! The Ink Well usually drops their prompt for the week on Monday evening! Feel free to write it WHENEVER you feel inspired - but DO NOT DROP your post into the DreemPort site until Thursday!
(CHECK THIS POST FOR ALL THE DETAILS!)
See you this coming week for the next prompt from @theinkwell!!!
What do you think? Sound easy enough?
Hope to help you connect with MORE readers through DreemPort!

All DreemPort images property of DreemPort and designed by the amazing @jimramones. Please do not use without permission from DreemPort.
For more info - feel free to grab a TESTER ROLE in the DREEMPORT DISCORD SERVER. Ask as much as you like!