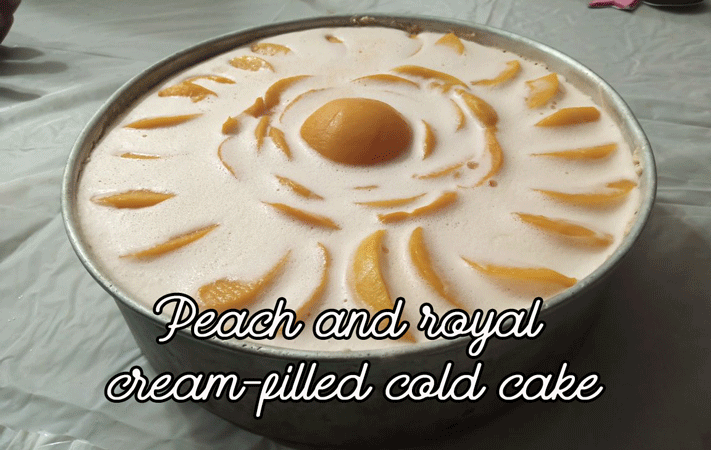 Hola amigos de mi querida comunidad de foodies, hoy quiero enseñarles a preparar una rica torta fría rellena de crema real y decorada con melocotón, estoy aprendiendo hacer está delicia con mi mamá, el día de hoy estuve en la casa de mis padres y mi mamá me dijo que podíamos preparar una deliciosa y exótica torta pues mi hermana de 10 años está de cumpleaños y mi mamá aprovecho que tenía unos melocotones y además tenía 2 papeletas de gelatina, así que no tuvimos necesidad de salir a comprar nada y aproveché para enseñarles a mis amigos de hive a preparar está delicia de torta fría.
Hello friends of my dear community of foodies, today I want to teach you how to prepare a delicious cold cake filled with royal cream and decorated with peaches, I am learning how to make this delicacy with my mom, today I was at my parents' house and my mom told me that we could prepare a delicious and exotic cake because my 10 year old sister has a birthday and my mom took advantage of the fact that she had some peaches and also had 2 jelly papers, so we didn't need to go out to buy anything and I took the opportunity to teach my hive friends how to prepare this delicious cold cake.

Leche el polvo.
Crema de leche.
Leche condensada.
Gelatina de naranja.
Melocotón en almibar.
Bizcocho de vainilla.
Milk powder.
Milk cream.
Condensed milk.
Orange jelly.
Peach in syrup.
Vanilla sponge cake.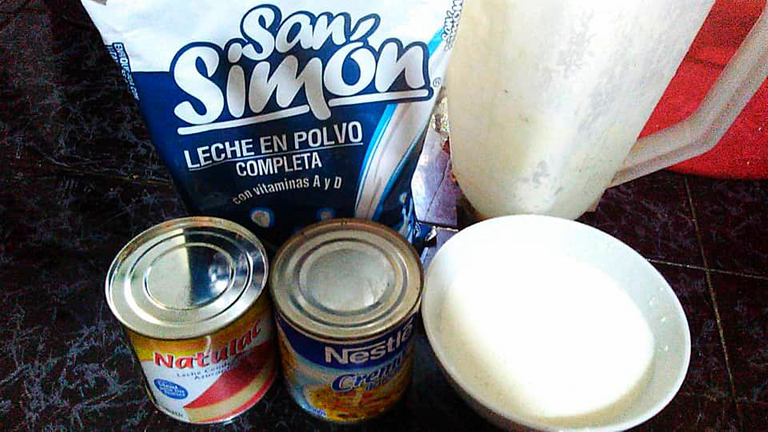 Empezaré explicando los pasos desde el momento en el que ya el bizcocho está preparado y frío, esperando para ser rellenado y decorado, no les explico la preparación del biscocho por que ya anteriormente les he explicado.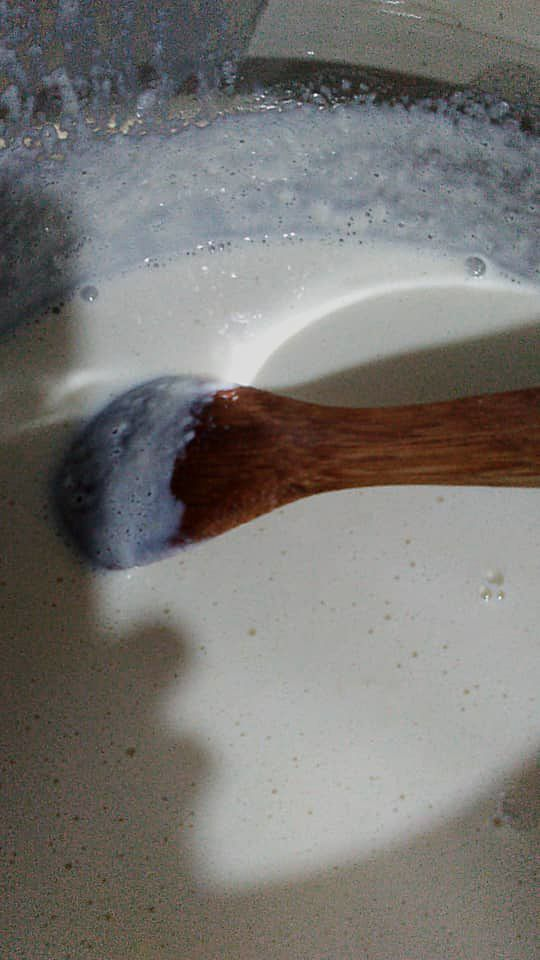 Paso 1
Realizamos un bizcocho de vainilla, muy sencillo y luego de tener el bizcocho preparado procedimos a realizar una leche evaporada preparada en casa. vamos a utilizar tres tazas de leche, con cinco tazas de agua y esto lo dejamos hervir por un lapso de 50 minutos luego que nuestra leche se evaporó la vamos a meter al refrigerador hasta estar fría.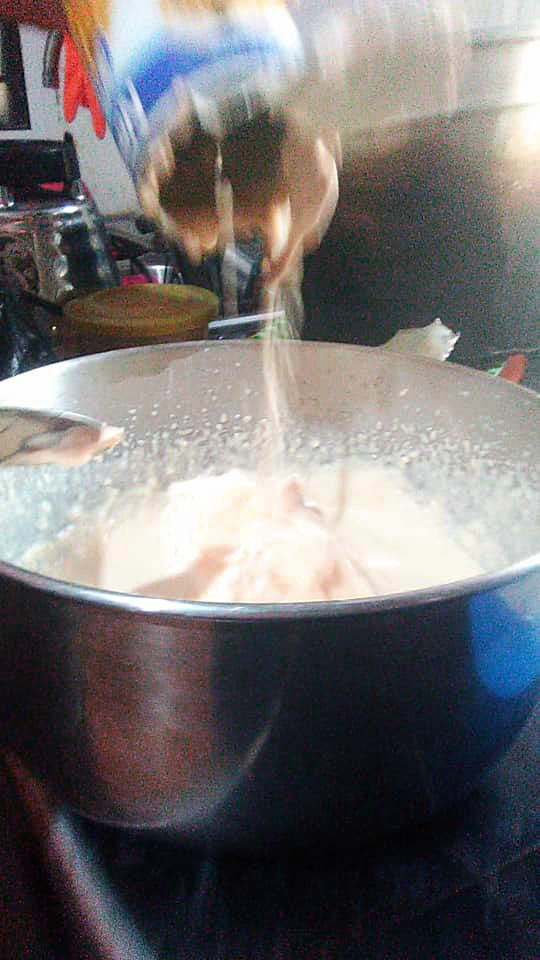 Paso 2
Para el relleno de crema real, vamos a batir por 5 minutos una lata de crema de leche con una lata de leche condensada, mezclamos bien hasta que queden completamente mezcladas cuando ya está casi lista le echaremos 2 papeletas de gelatina con sabor a naranja y nos quedará una deliciosa crema con un sabor muy parecido al helado de crema real es una deliciosa mezcla.
Paso 3
La colocamos en el congelador con la leche evaporada, esperamos al menos 30 minutos para que se puedan enfriar y procedemos a cortar nuestro biscocho a la mitad.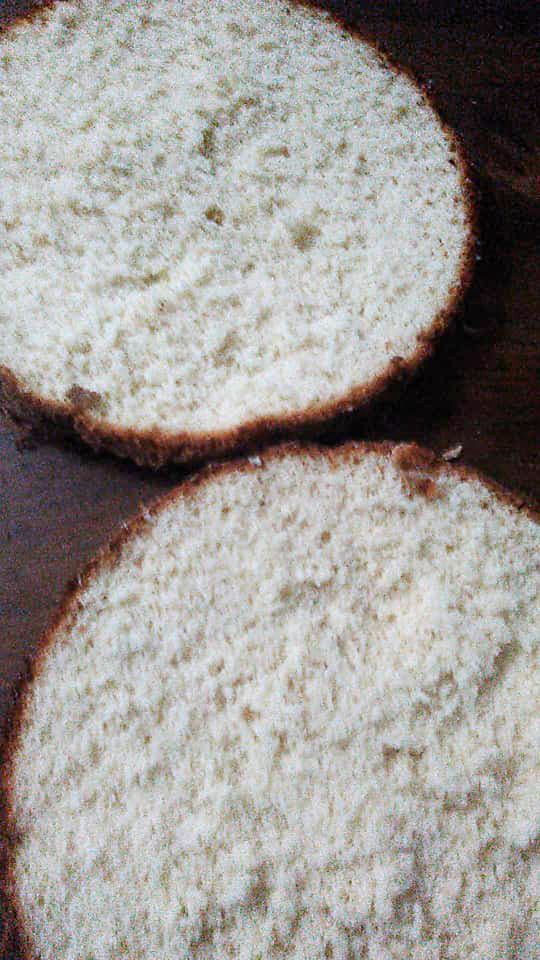 Paso 4
Vamos a echarle la mitad de la leche evaporada para humedecer nuestro biscocho y luego vamos a echarle nuestra crema real.
Paso 5
Colocamos la tapa de arriba del biscocho y también vamos a humedecerlo con la leche evaporada restante y procedemos a colocarle otra capa de crema real y para la decoración tenemos unos ricos melocotones en almibar, decoramos nuestro biscocho y quedó así de hermoso.
I will start explaining the steps from the moment the cake is ready and cold, waiting to be filled and decorated, I do not explain the preparation of the cake because I have already explained it before.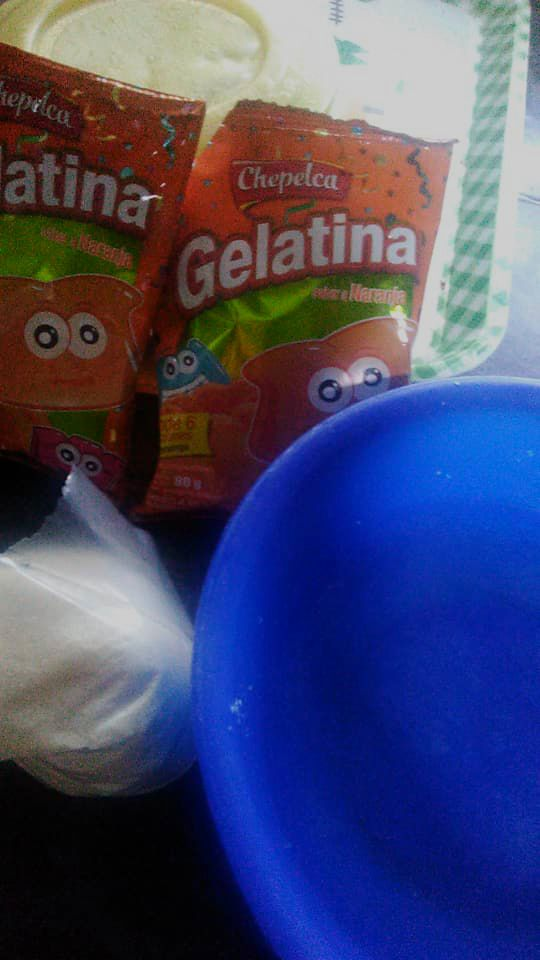 Step 1
We made a vanilla sponge cake, very simple and after having the cake prepared we proceeded to make an evaporated milk prepared at home. we will use three cups of milk, with five cups of water and this we let it boil for a period of 50 minutes after our milk evaporated we are going to put it in the refrigerator until it is cold.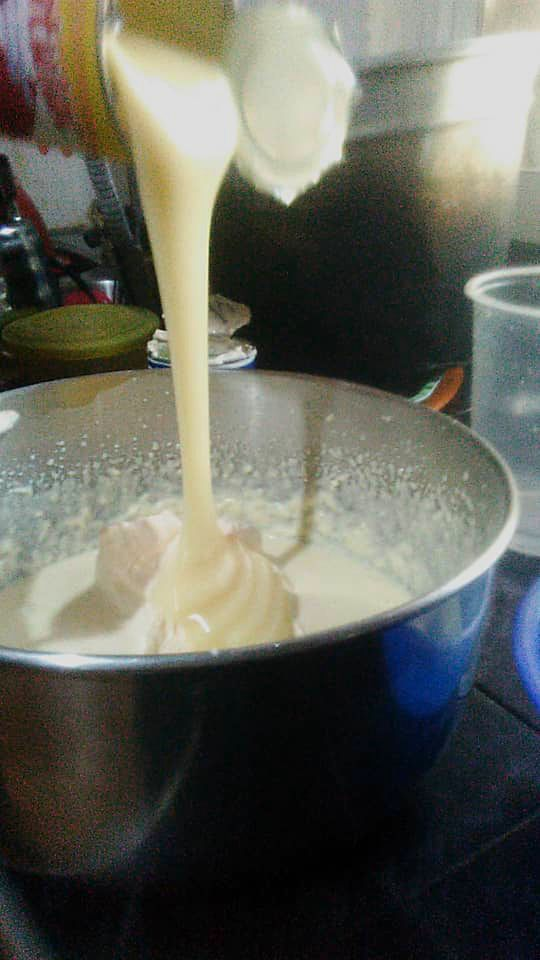 Step 2
For the real cream filling, we will beat for 5 minutes a can of cream with a can of condensed milk, mix well until they are completely mixed when it is almost ready we will add 2 orange flavored gelatin slips and we will have a delicious cream with a taste very similar to the real cream ice cream is a delicious mixture.
Step 3
We place it in the freezer with the evaporated milk, wait at least 30 minutes so they can cool and proceed to cut our biscuit in half.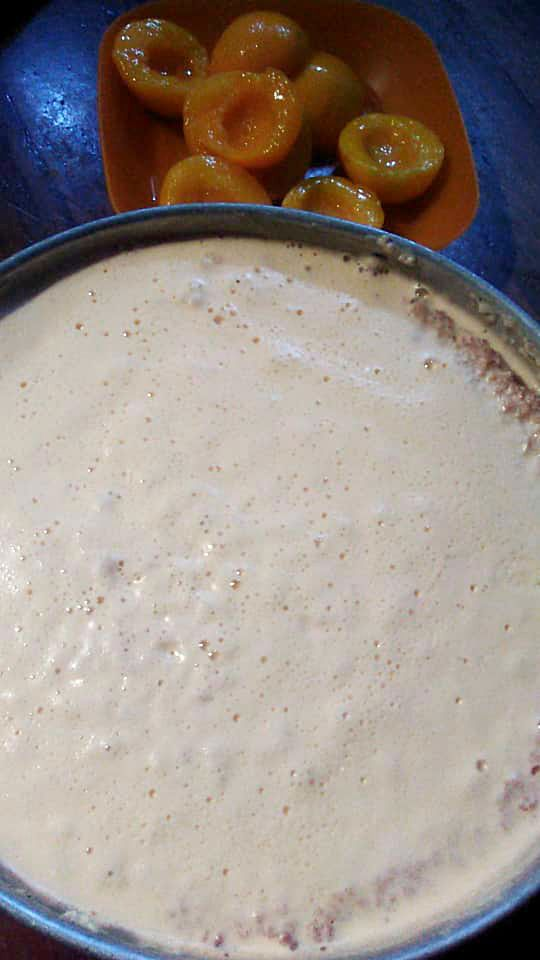 Step 4
We are going to pour in half of the evaporated milk to moisten our biscotti and then we are going to pour in our royal cream.
Step 5
We place the top cover of the cake and we will also moisten it with the remaining evaporated milk and proceed to place another layer of royal cream and for decoration we have some rich peaches in syrup, we decorate our cake and it was so beautiful.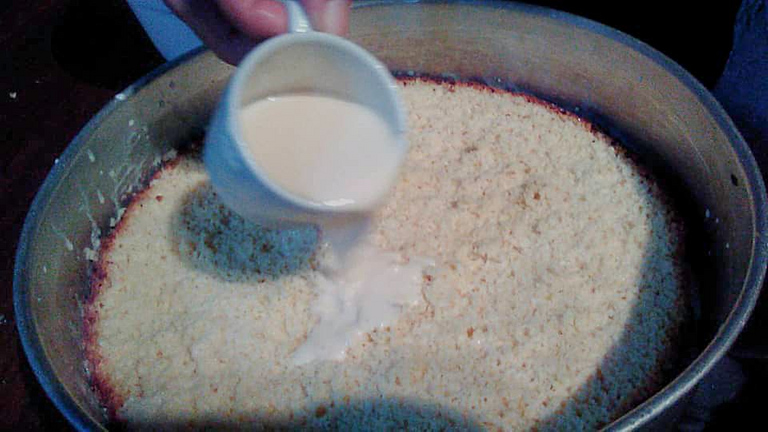 Es una receta sencilla de realizar y muy deliciosa, espero se animen a probarla y me comenten que tal les pareció.
It is a simple recipe to make and very delicious, I hope you are encouraged to try it and let me know how you like it.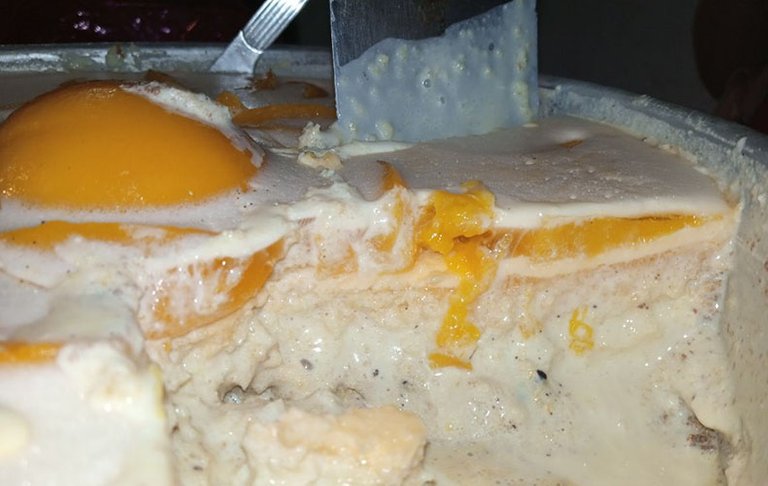 Recursos Utilizados | Resources Used
La imagen del banner y el divisor fueron realizadas y editadas con Photoshop Cs 6 | The image of the banner and the divider were made and edited with Photoshop Cs 6.

Todas las imágenes fueron tomadas por mi con mi celular Realme C3 | All images were taken by me with my Realme C3 cell phone.

Traducido con www.DeepL.com | Translated with www.DeepL.com/Translator.