Hello HODLers!
Intro to #OpinionToEarn:
2022 hasn't started in a bullish way for stocks and crypto: the fears of high inflation and then those of a world war are causing a dump in all markets, including the crypto market.
moments like this one, when every asset goes down, even projects with good fundamentals, it's good to accumulate crypto enjoying the current discounts on the market.
But for those who have already bought the dip and no longer have liquidity, what to do now? Many platforms allow their users to earn crypto without having to invest money. Lunar Crush is one of these platforms and allows its users to earn crypto by sharing their own opinion answering short questions like the ones you see in the photo below:
Does Bitcoin Magazine create valuable content?

How does this post impact Bitcoin?

Answering questions like those, you will receive points that will be converted into LUNR everyday at 00.00 UTC.
#OpinionToEarn: How To Earn on Lunar Crush
Lunar Crush is a social intelligence platform for crypto investors that allows users to earn LUNR (the native token of the ecosystem) sharing your opinion about crypto social posts.
Users earn LUNR daily based upon the number of points earned each day. Points can be earned by using LunarCrush each day, providing opinions, holding Lunr, and inviting friends to participate. Points are calculated at the end of each day and distributed as Lunr, which can be claimed into your wallet.
As a user completes their profile on LunarCrush, they achieve a higher Profile Strength. There are five tiers of strength, each with their own limits in terms of how many Lunr a user can receive each day. Based on Profile Strength and user's activity on Lunar Crush, users can earn different amount on Lunr each day.
Additionally, 50,000 Lunr will be distributed every 7 days in a weekly rewards drop to all users who remain in Level 2 or Level 3 all week as well as those with the highest points in those levels.
I share with you my referral link so you can start earning on Lunar Crush now! If this article was useful and you want others in the future, please use my link to sign up on Lunar Crush: https://lnr.app/s/MxvZkq
Introduction to Torum – SocialFi Metaverse Pioneer of the Crypto Space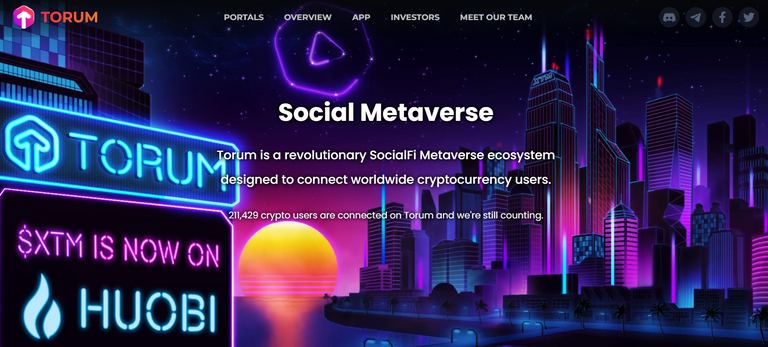 Torum is the world's largest SocialFi (Social + NFT + DeFi + Metaverse) ecosystem that is specially designed for cryptocurrency enthusiasts and projects.
The Web3.0 ecosystem is built on a social media platform, coupled with a yield farming platform for DeFi players, an NFT marketplace for crypto artists and Avatar NFT for Metaverse enthusiasts.
XTM is the multichain (Ethereum + Binance Smart Chain + HECO Chain) utility token of Torum ecosystem and it's now listed on Kucoin, Huobi, Uniswap and Pancakeswap.
Read Torum Whitepaper to discover XTM token utilities and the potential of the ecosystem (Crypto-social platform + DeFi platform + NFT marketplace + Metaverse + Airdrop section + Smartphone App + News & Data aggregator): https://whitepaper.s3.us-east-2.amazonaws.com/torum-whitepaper-V4.0-EN.pdf
✅#SocialFi Metaverse Pioneer
✅Backed by Huobi & Kucoin
✅Big community of 200,000 users
✅Get rewarded daily in XTM for your social engagement
✅Sign up with my referral link and complete identity verification to earn 7,5 XTM airdrop: https://www.torum.com/?referral_code=makeitreal