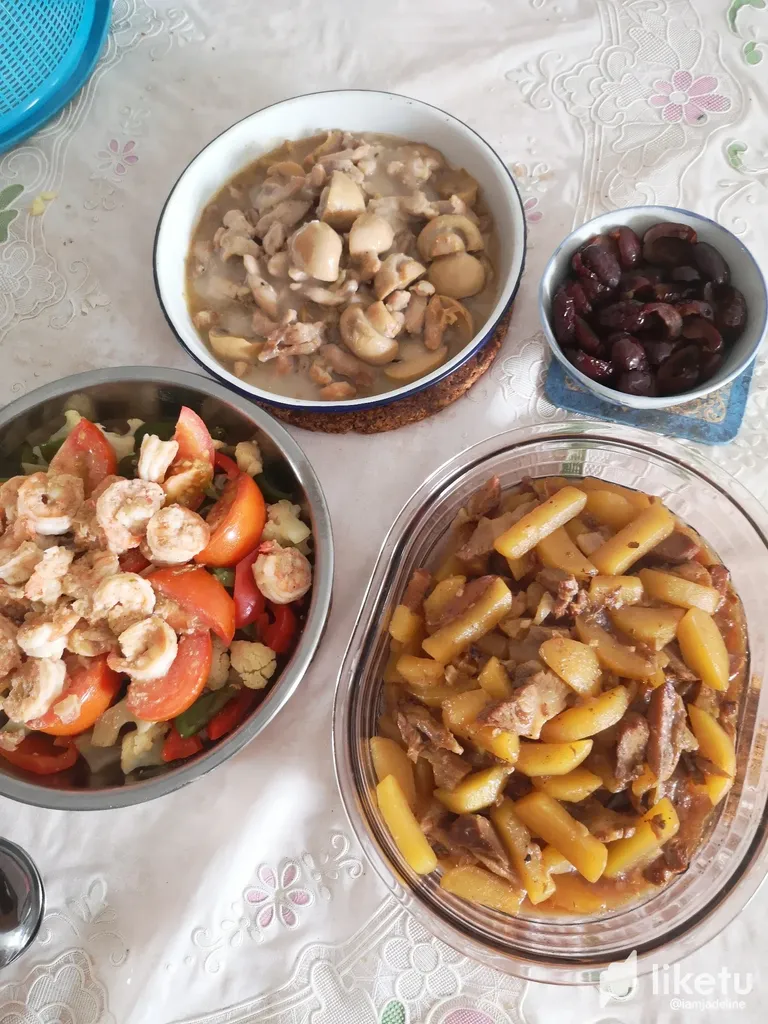 Super sumptuous lunch prepared by my Aunt, altogether 4 dishes; chicken with canned mushrooms, potatoes with pork slices, prawns with mixed vegetables and steamed red dates! Yums!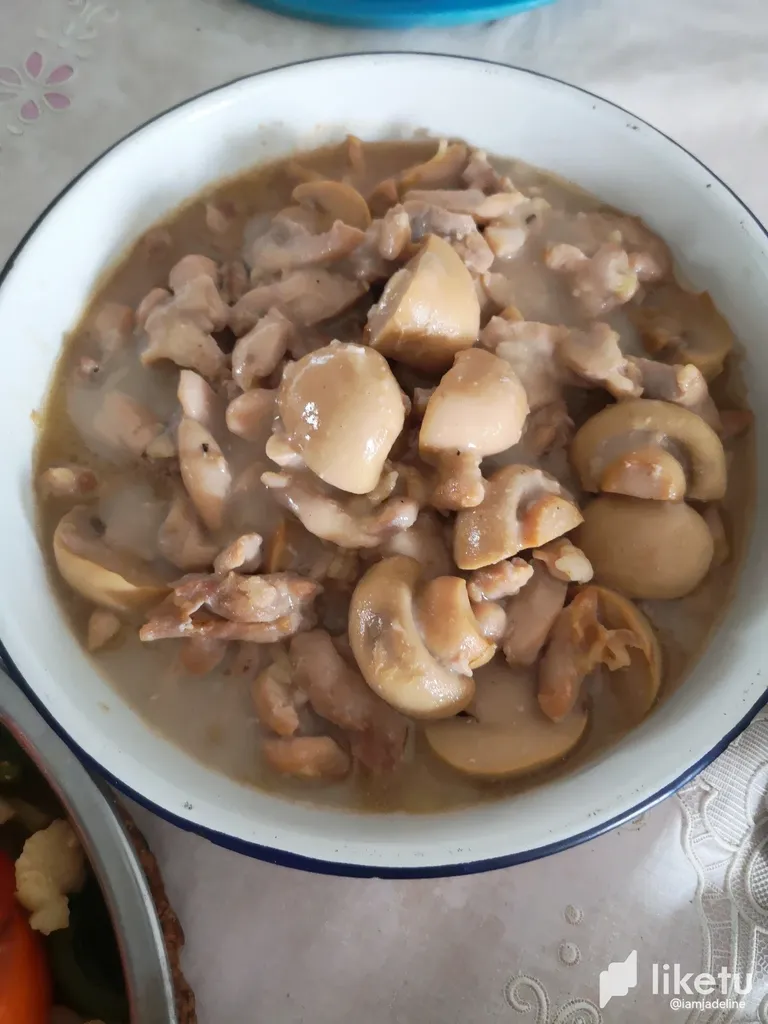 Stir Fry Chicken with Canned Mushrooms using own chicken bones broth as based. Very healthy and delicious meal.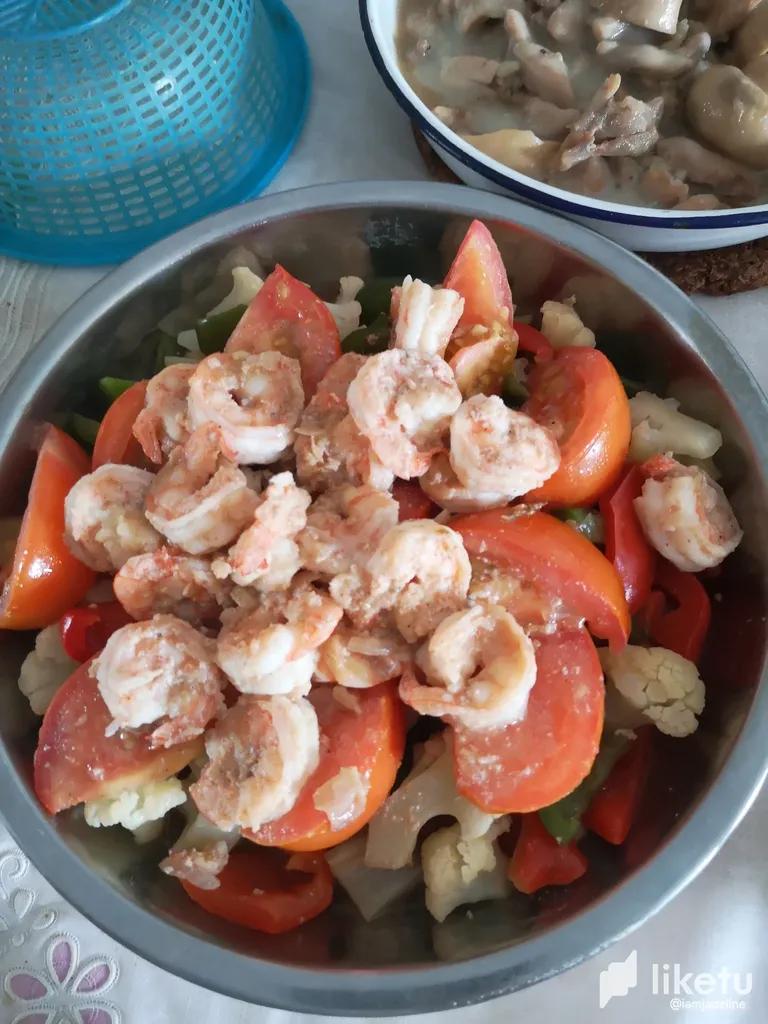 Stir fry prawns with mixed vegetables of tomatoes, celery, cauliflower and capsicums. Super flavourful.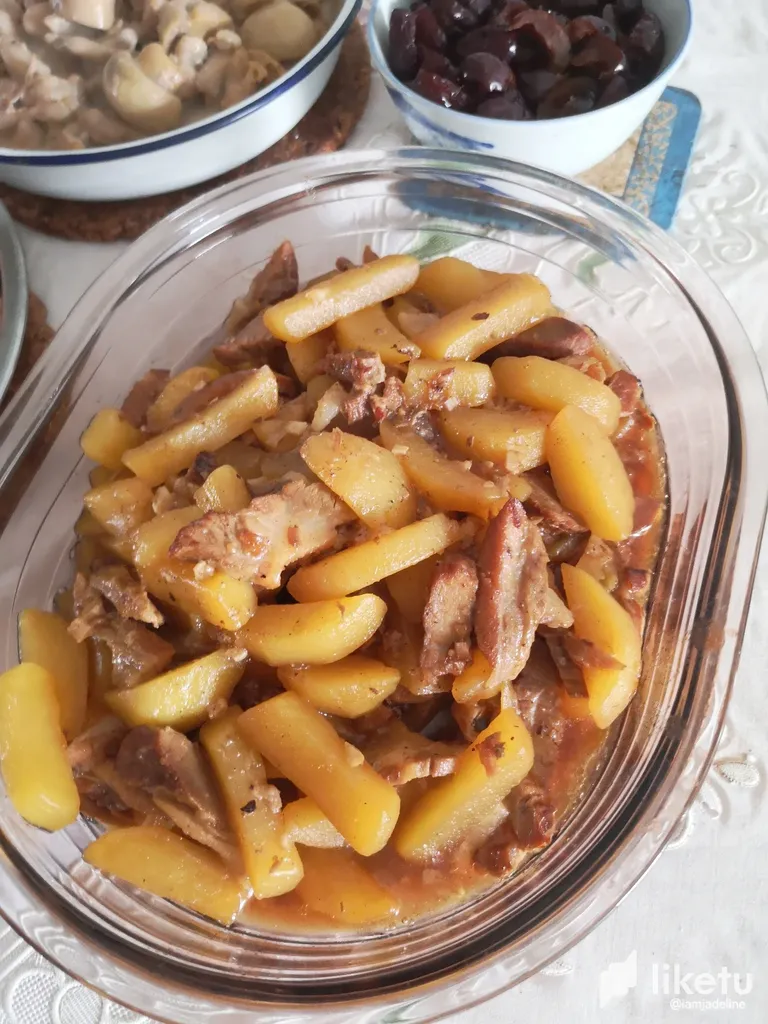 Stewed potatoes with pork slices
Steamed red dates. Very very natural sweetness, and super addictive. A good kind of addiction.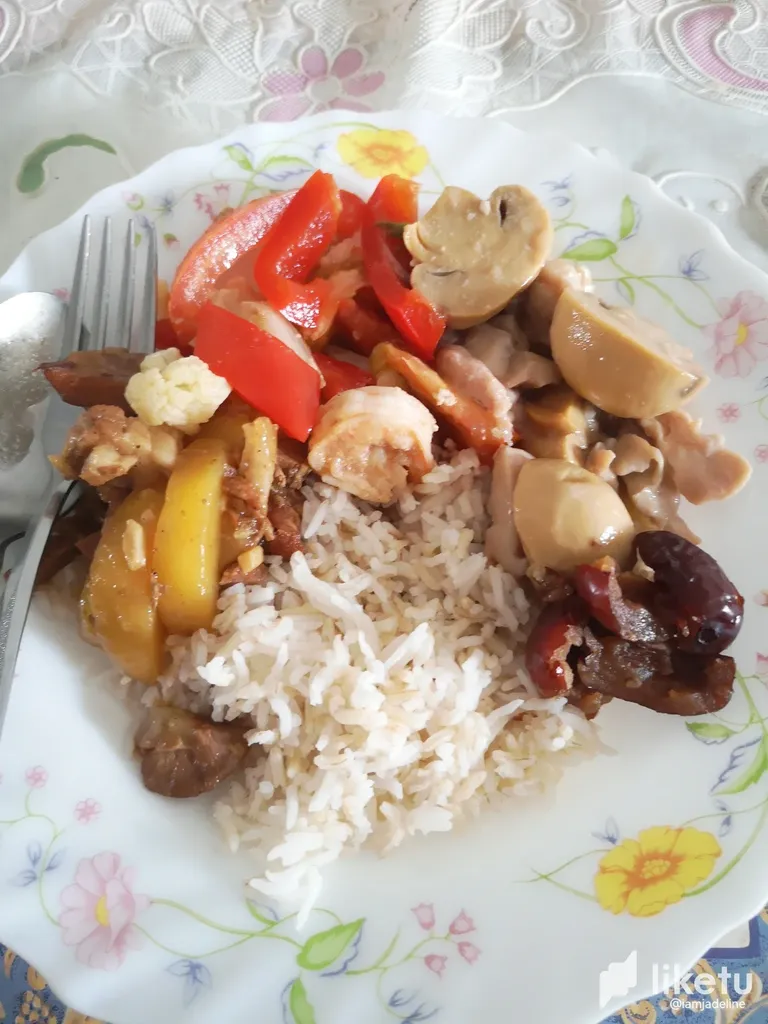 My plate of delicious lunch. I was so blessed.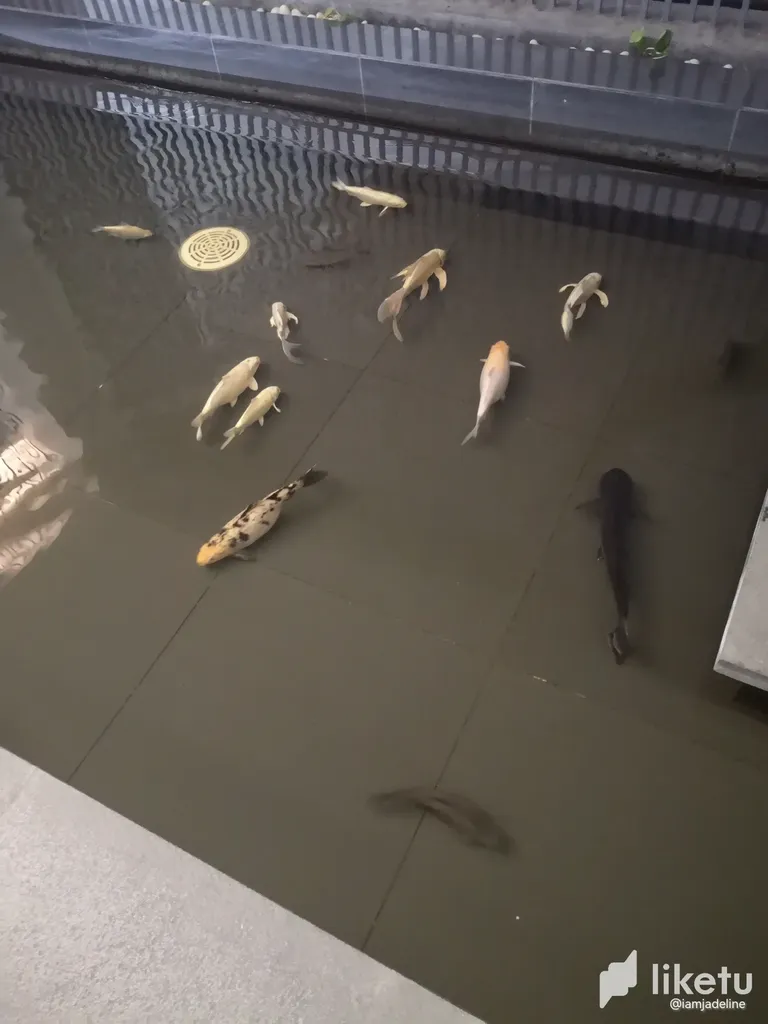 Fishes at the 'pond' in front of the lobby were greeting me while I waited for my student's mother to come down to bring me up to her unit for tuiton. My first job after so many years stopped tutoring. Let's hope I can help the girl in her English.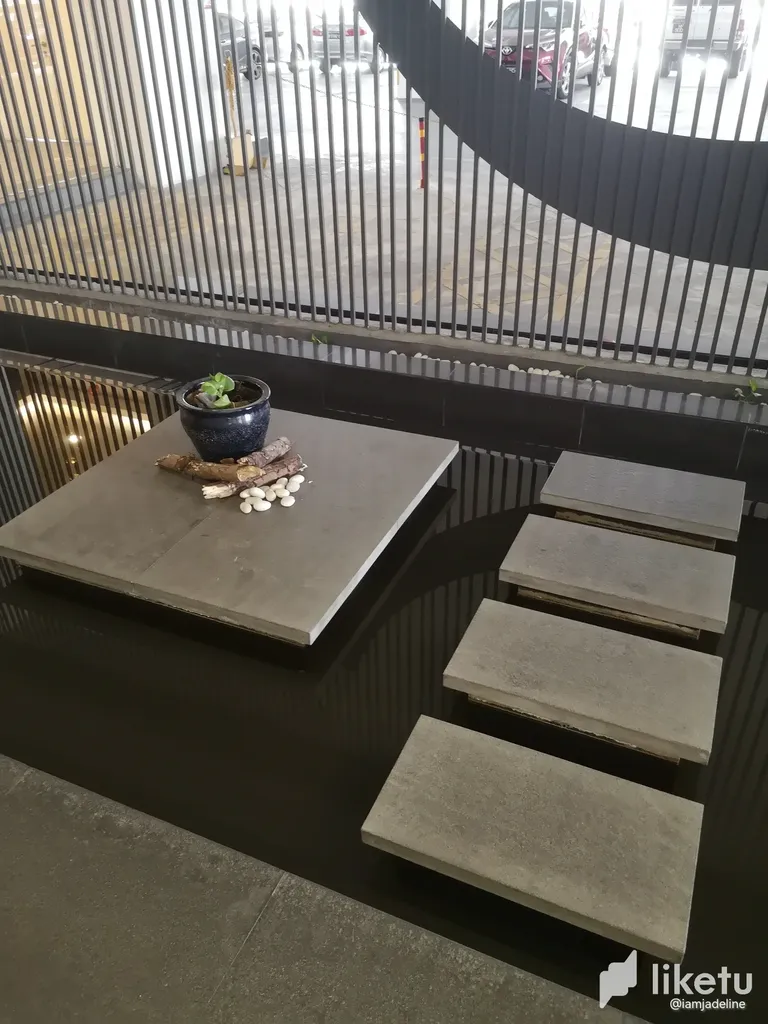 Very beautiful place at the lobby.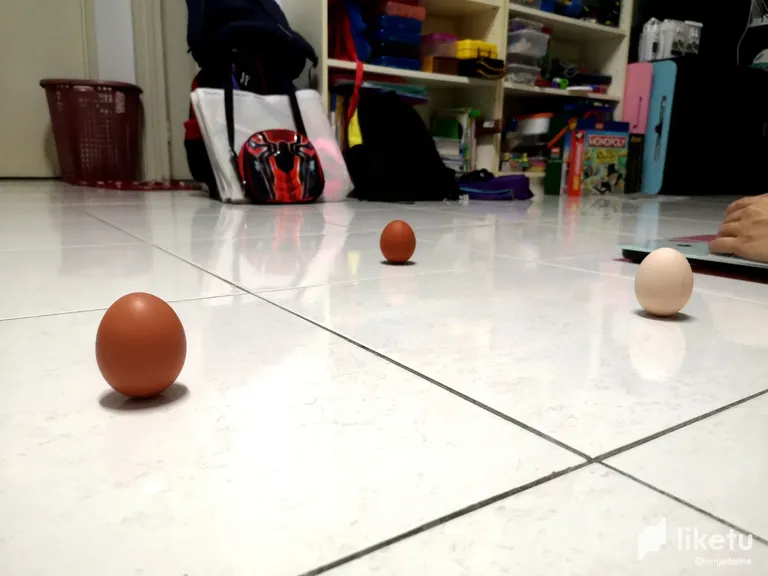 Activity on Saturday night - - - let's stand the eggs.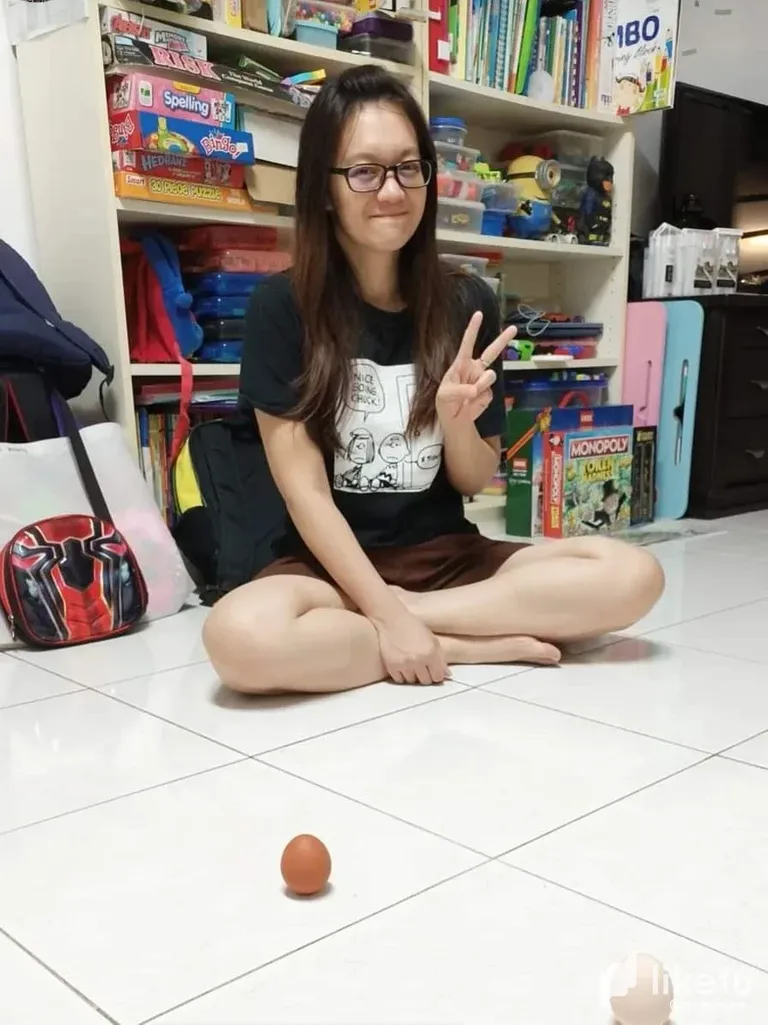 I successfully stood an egg up while my husband did 3. He was so good at it. While my egg kept humpty dumpty. Finally, I got it!
Another Saturday!!!
It was another precious day to visit my Aunt. Yesterday, I called her to inform that I needed to go to her house earlier because I have a new job — home tutor at 2pm. She immediately told me not to worry, that the food would be ready by 11:30am. True enough, today this morning, she called me at 11:30am and said the food was ready, that I could go any time at my convenience. I felt overwhelmed by her thoughtfulness and love. Melting....
Sumptuous Lunch!
Just look at the sumptuous lunch she prepared. I asked her actually what time she woke up to prepare all these. She brushed away my question without answering while changing topic to hurry me to go take rice. Three dishes of meat-based. Let's see what she cooked with a short description of her simple Chinese-Hakka cooking. In a nutshell, she cooked a chicken dish, a pork dish, a prawn dish and a sweet snack. Why so many meat dish? She said she did not want to keep those meat too long in the freezer.
Chicken with Canned Mushrooms
She told me this one was delicious. "Of course!" Occasionally, she loved to cook lighter color dish. Eventhough it was lighter in colour, it was flavourful because the base was her own chicken bones broth. So this one basically was cooked by stir frying garlic and ginger, tossed in the mushrooms and chicken, added the broth and seasoned with salt. And oh yes, for this one, she used sesame oil. Super delicious. I actually took a lot and ate on its own.
Stir Fry Prawns with mixed vegetables
For this dish, she stirred fry the prawns with garlic, took out the prawns to keep aside, then used the remaining garlic oil juice to cook all the vegetables like tomatoes, cauliflower, celery and capsicums. Last part would be adding in the prawns. Want to guess how many prawns inside? 25!!! To me, those were a lot! The dish became so delicious due to the prawns. It became a seafood-based mixed vegetables dish. Yummy!!! The prawns — so fresh and juice.
Stewed potatoes with pork slices
This was the dish loved by my children. Hence, she cooked extra more. Simple cooking by using garlic and onions oil, added in potatoes and pork, seasoned with soy sauce and oyster sauce and let it simmered until soft and cooked. Honestly, if she just cooked this one dish, it was sufficient for me and my family.
Steamed red dates!
I learned something new today. I did not know dried red dates could be steamed. I mean, I know but it never occurred to me to cook this way. I always used red dates for boiling soup. She said she received too many dried red dates from us (one of the us was me) and figured out to just steamed them and ate for snack. I tell you, this totally blew away my mind. Super natural sweetness and a super healthy snack loaded with nutrients and antioxidant. She even joked with me saying I did not need blusher after consuming this. My children loved it too. They ate non-stop, till not enough somemore.
Then, she quickly packed all the food for me to bring home for the family. I got to rush abit because I needed to go home first, brought up the food. And headed out to pump petrol before I went to tuition. My aunt blessed me with the saying, "Bless you with smooth tutoring job after taking a break for so long taking carw after Jansen. You will do great!" Thank you, Aunt!😍
At tuition and then egg-stand!
My first student was a condominium nearby. It was my first time here at this condo. And really loved the lobby setting. With a small 'pond' with fishes. I had a great time with my student and her mother was so sweet too. Today is also Day 14 of Chinese New Year. Many people are attempting to stand the eggs on the floor. I mentioned to my husband that I could never do it. He suggested us to try together. Reluctantly, I tried. At the back of my mind, failure is my default. However, he being patient taught me how to feel along the center point of the egg, patiently adjusted the egg and eventually the egg would stand. I failed for few rounds. Finally, I got my first egg stood up solid and proud!!! My achievement of my life. Yayyy!!!
---
For the best experience view this post on Liketu