Buon pomeriggio a tutti e ben ritrovati.
Approfittando di un giro a caccia di negozi di ottica, per farsi fare dei preventivi per un paio di occhiali che, a seguito della visita oculistica di ieri, appaiono ormai necessari, eccomi approfittare dei tempi morti, per buttare giù queste mie poche righe per il mio consueto post dedicato ai risultati delle mie missioni giornaliere su Splinterlands.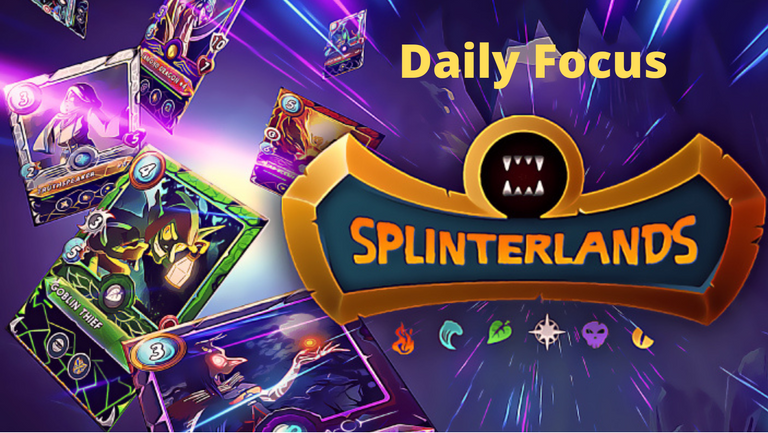 Purtroppo mi ero già accorto da solo che qualcosa, nella mia vista, non andava, quella sera, di qualche giorno fa, durante la quale mi sono ritrovato in autostrada, con mia figlia, diretto all'aeroporto di Bergamo Orio al serio per recuperare mia moglie, di rientro dalla Moldavia, dove era andata a trovare i suoi genitori.
Durante il viaggio in notturna, infatti, accompagnato, tra l'altro, da un po' di pioggia dovuta ad alcuni temporali trovati lungo la strada, mi ero reso conto di vedere in maniera molto sfuocata le macchine che avevo di fronte a me, soprattutto, se oltre una certa distanza.
Durante la visita di ieri, purtroppo, come temevo i miei timori sono stati confermati, e, di conseguenza, d'ora in avanti non mi basteranno più, semplicemente, un paio di occhiali da indossare solo per leggere, ma dovrò direttamente abituarmi, o a due paia di occhiali separati da alternare, oppure ad un modello multifocale, unico, che mi consenta di evitare, continuamente, il passaggio da un paio all'altro.
Ovviamente avrei fatto molto volentieri a meno di trovarmi in questa situazione, ma, purtroppo, che mi piaccia o meno, le cose stanno così, ed eccomi, quindi, costretto a girovagare, da un negozio all'altro, nella speranza di trovare dei prezzi accettabili per poter andare all'acquisto di ciò che mi serve.
Devo ammettere, infatti, che, stando ai primi preventivi che mi sono stati fatti, la cosa non è esattamente una passeggiata, visto che i prezzi per un paio di occhiali, almeno decenti, sono di tutto rispetto.
Ma queste sono solo mie divagazioni personali, che fin troppo spesso finisco per utilizzare anche come valvola di sfogo, che nulla c'entrano con il reale argomento di questo mio nuovo post, e, di conseguenza, direi che è arrivato il momento di iniziare a parlare della reale protagonista dello stesso, ovvero dell'ultima missione da me completata su Splinterlands.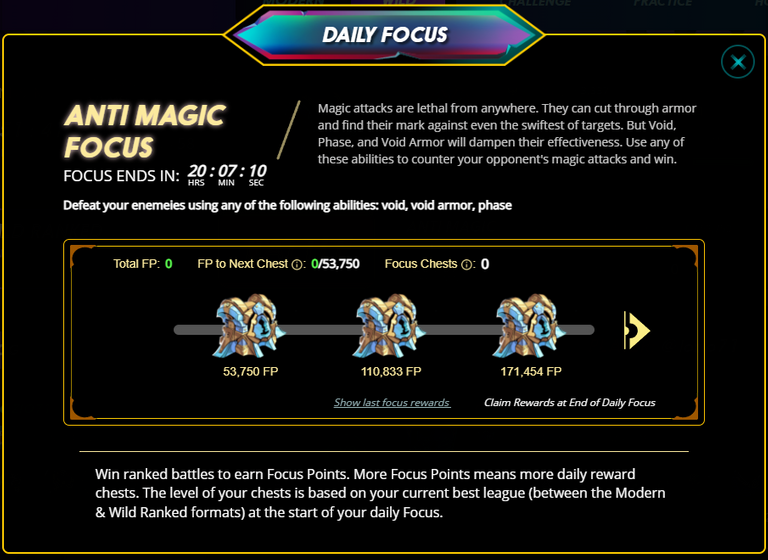 Il Focus di giornata era, in questo caso, di tipo Anti Magic, ovvero una delle quattordici nuove sfide, aggiunte qualche giorno fa al gioco, per dare più varietà allo stesso, che portano il totale delle missioni giornaliere sorteggiabili, a ben venti, rispetto alle sei iniziali.
In questo caso, per poter ottenere un numero di punti maggiori ,quando si vincono gli scontri contro i propri avversari, si dovrebbero, durante l'arco di 24 ore a disposizione, utilizzare carte, all'interno dei propri schieramenti, con le abilità Void, Void Armor e Phase.
Grazie alla novità, introdotta qualche giorno fa, assieme a tutte queste nuove sfide, però, per raccogliere i punti necessari per poter ricevere degli scrigni giornalieri, non è più strettamente necessario l'utilizzo delle carte indicate dal tipo di missione che ci viene assegnata giornalmente, ma bensì è possibile riceverne da qualsiasi vittoria ottenuta, rendendo le cose un pò più facili.
Grazie ad un mix di vittorie, ottenute, sia riuscendo a sfruttare le abilità richieste oggi, sia in maniera completamente diversa, mi è, comunque, riuscito di ricevere, a fine giornata, un totale di ben dieci scrigni, che si è rivelato, alla fine, un risultato abbastanza soddisfacente, che, se paragonato, poi, a quello di ieri, pari ad un solo scrigno, risulta addirittura stratosferico.

Purtroppo, però, se, rispetto a ieri, il quantitativo dei bauli è decuplicato, le ricompense trovate all'interno degli stessi non si sono rivelate affatto un granché interessanti, andando, per l'ennesima volta, a confermare un trend, che va avanti ormai da troppo tempo, grazie al quale sono praticamente sempre ridicole.
All'apertura degli scrigni, infatti, mi sono trovato davanti a 80 Merits, che sinceramente avrei evitato volentieri, visto che non so assolutamente di cosa farmene visto che, probabilmente sbagliando, non partecipo alle Brawls, 144 DEC, una Gargoya Lion delle cosiddette carte neutrali, una Pelacor Bandit dell'elemento acqua, due Pelacor Conjurer dell'elemento vita, e, per concludere, unica carta leggermente più degna di nota, una Venari Wavesmith, carta rara dell'elemento acqua.
Insomma, tanto per cambiare, il bilancio della giornata è, per l'ennesima volta, decisamente negativo, e le rewards ricevute sono praticamente al limite del risibile, facendomi sentire, nuovamente, come se avessi sprecato il mio tempo.
Purtroppo la situazione sta diventando, via, via, sempre più insostenibile, e trovo assurdo che gli sviluppatori del gioco non se ne rendano conto, e che non facciano nulla per porvi rimedio, mettendo mano alle regole relative alla distribuzione delle ricompense, rendendole un po' più eque ed appetibili.
Continuando per questa strada, infatti, giocare quotidianamente a Slinterlands, si sta rivelando, sempre di più, solo un'emerita perdita di tempo, visto che non c'è modo di riuscire a ricevere ricompense che possano considerarsi appetibili, e possano stimolare, gli utenti, a continuare a giocare.
Personalmente, ad esempio, è da tempo, ormai, che ho deciso di dedicare, a questo gioco, solo gli eventuali ritagli di tempo che dovessero rimanermi una volta completate tutte le altre cose alle quale ho deciso di dare maggiore importanza, tra le quali ci sono anche altri giochi Play to Earn, che da tempo, ormai, stanno iniziando a piacermi molto di più.
La scelta, del resto, era praticamente impossibile da evitare, visto che non ne potevo realmente più di sopportare la continua, e crescente, richiesta di tempo, da parte di questo gioco, a fronte di ricompense che stanno diventando ogni giorno più ridicole.
E badate che mi scoccia parecchio essere costretto a scagliarmi, in questo modo, contro un gioco che io ho sempre amato, e che ho sempre considerato uno dei migliori in circolazione, per lo meno per quanto riguarda il settore Play to Earn, ma ormai sto cominciando a non sopportarlo più, da quando è stata inserita questa nuova modalità di gioco, che finisce col premiare solo i grossi player, che ormai hanno mazzi di carte praticamente imbattibili, o i vari bot che continuano, impunemente, a girare, a discapito degli utenti normali, macinando ricompense, poiché, a differenza degli umani, hanno tutto il tempo che vogliono per giocare, e gestire i parametri ai quali si deve prestare attenzione.
Ovviamente queste sono solo mie mere opinioni personali e nulla di più, ma, da accanito fan di Splinterlands, non posso voltarmi dall'altra parte, e fare finta di niente, quando vedo che ci sono delle cose che, secondo me, non stanno andando nella direzione giusta, peggiorando l'esperienza di gioco degli utenti.
Ora, però, non vi voglio annoiare ulteriormente, e, di conseguenza, per il momento, non mi resta altro da fare se non, augurarvi un buon pomeriggio, ed una buona serata, ed invitarvi, sempre che ne abbiate ancora voglia, a continuare a leggere i miei post ed a seguirmi.
P.S. Se non siete ancora iscritti a Splinterlands e volete iniziare anche voi a giocare a questo splendido gioco potete iscrivervi da quì : Splinterlands
---
Good afternoon everyone and welcome back.
Taking advantage of a hunt for optical shops, to get estimates for a pair of glasses which, following yesterday's eye examination, now appear necessary, here I am taking advantage of the downtime, to jot down my few lines for the my usual post dedicated to the results of my daily missions on Splinterlands.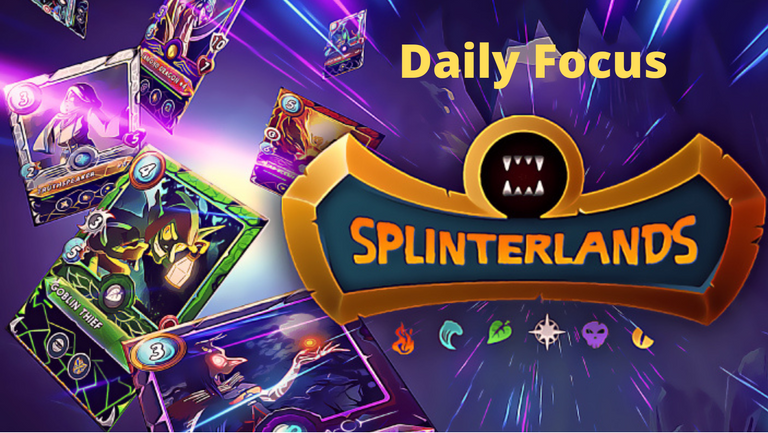 Unfortunately I had already realized by myself that something, in my sight, was wrong, that evening, a few days ago, during which I found myself on the highway, with my daughter, headed to Bergamo Orio al serio airport to recover my wife, returning from Moldova, where she had gone to visit her parents.
During the night trip, in fact, accompanied, among other things, by a bit of rain due to some storms found along the road, I realized that I saw the cars in front of me very blurry, especially , if over a certain distance.
During yesterday's visit, unfortunately, as I feared, my fears have been confirmed, and, consequently, from now on, a pair of glasses to wear just for reading will no longer be enough for me, but I will have to get used to it directly, or to two separate pairs of glasses to alternate, or a multifocal, unique model that allows me to continually avoid switching from one pair to another.
Obviously I would have very gladly done without being in this situation, but, unfortunately, whether I like it or not, that's the way it is, and here I am, therefore, forced to wander, from one shop to another, in the hope of finding prices acceptable to be able to go to the purchase of what I need.
I must admit, in fact, that, according to the first estimates that were made to me, it is not exactly a walk in the park, since the prices for a pair of glasses, at least decent, are very respectable.
But these are just my personal digressions, which all too often I also end up using as a relief valve, which have nothing to do with the real topic of my new post, and, consequently, I would say that the time has come to start talk about the real protagonist of the same, or the last mission I completed on Splinterlands.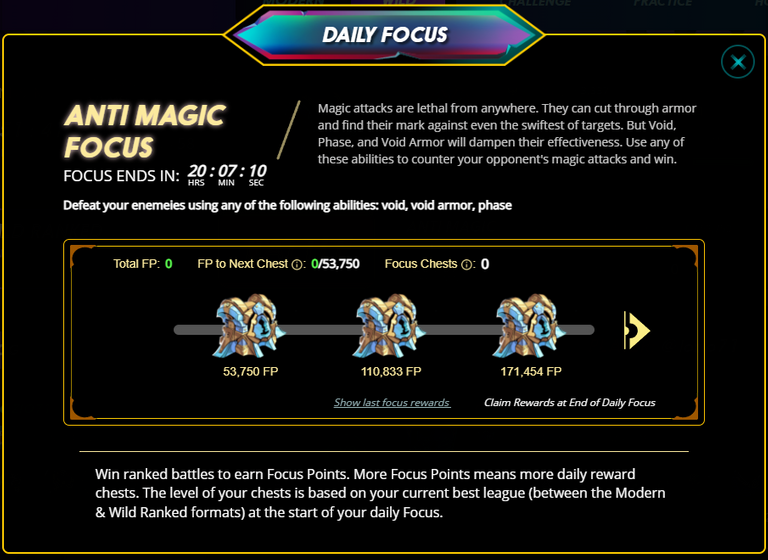 The Focus of the day was, in this case, of the Anti Magic type, that is one of the fourteen new challenges, added a few days ago to the game, to give more variety to the same, which bring the total of the daily missions to be raffled, to twenty, compared to at six early.
In this case, in order to get a greater number of points, when you win fights against your opponents, you should, during the 24 hours available, use cards, within your camps, with the Void abilities , Void Armor and Phase.
Thanks to the novelty, introduced a few days ago, together with all these new challenges, however, to collect the points necessary to be able to receive daily chests, it is no longer strictly necessary to use the cards indicated by the type of mission that is assigned to us daily. , but it is possible to receive it from any victory obtained, making things a little easier.
Thanks to a mix of victories, obtained, both by being able to exploit the skills required today, and in a completely different way, I was, however, able to receive, at the end of the day, a total of ten chests, which turned out to be, at the end, a quite satisfactory result, which, if compared to yesterday's, equal to a single casket, is even stratospheric.

Unfortunately, however, if, compared to yesterday, the quantity of the trunks has increased tenfold, the rewards found inside them have not turned out to be very interesting at all, going, for the umpteenth time, to confirm a trend, which goes on. for too long now, thanks to which they are practically always ridiculous.
At the opening of the chests, in fact, I found myself in front of 80 Merits, which I honestly would have gladly avoided, since I absolutely don't know what to do with them since, probably wrongly, I do not participate in the Brawls, 144 DEC, a Gargoya Lion of the so-called cards neutral, a Pelacor Bandit of the water element, two Pelacor Conjurers of the life element, and, finally, the only slightly more noteworthy card, a Venari Wavesmith, a rare card of the water element.
In short, for a change, the balance of the day is, for the umpteenth time, decidedly negative, and the rewards received are practically on the edge of laughable, making me feel, again, as if I had wasted my time.
Unfortunately the situation is becoming, gradually, gradually, more and more unsustainable, and I find it absurd that the developers of the game do not realize this, and that they do nothing to remedy it, putting their hand to the rules relating to the distribution of rewards, making them a little 'fairer and more palatable.
Continuing on this path, in fact, playing Slinterlands daily, is proving, more and more, only an emeritated waste of time, since there is no way to be able to receive rewards that can be considered attractive, and can stimulate, the users, to continue playing.
Personally, for example, it is a long time now that I have decided to dedicate, to this game, only any leftovers of time that may remain once I have completed all the other things to which I have decided to give greater importance, including are also other Play to Earn games, which for some time now, I have been starting to like a lot more.
The choice, moreover, was practically impossible to avoid, since I could not really bear the continuous, and increasing, request for time, by this game, in the face of rewards that are becoming more ridiculous every day.
And mind you, it bothers me a lot to be forced to hurl myself, so, against a game I've always loved, and that I have always considered one of the best around, at least as far as the Play to Earn sector is concerned, but now I'm starting to not stand it anymore, since this new game mode was introduced, which ends up rewarding only the big players, who now have practically unbeatable decks of cards, or the various bots that continue, with impunity, to run, to the detriment of normal users, grinding rewards, since, unlike humans, they have all the time they want to play, and manage the parameters to which you must pay attention.
Obviously these are just my mere personal opinions and nothing more, but, as an avid Splinterlands fan, I cannot turn away, and ignore it, when I see that there are things that, in my opinion, are not going. in the right direction, making users' gaming experience worse.
Now, however, I do not want to bore you further, and, consequently, for the moment, there is nothing left for me to do but wish you a good afternoon, and a good evening, and invite you, if you still feel like it, to continue. to read my posts and follow me.
P.S. If you are not yet subscribed to Splinterlands and you too want to start playing this wonderful game, you can subscribe here: Splinterlands