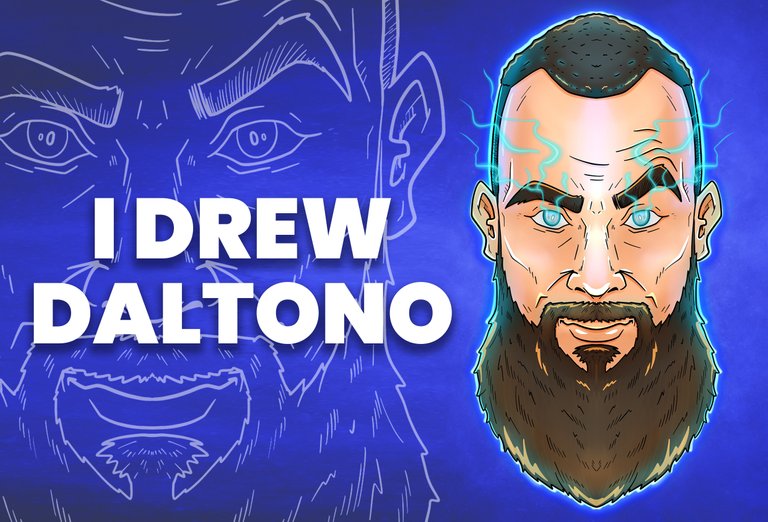 Hello everyone, after drawing the profile photo of @fedesox which I thank again, I made a new drawing in the same style, in fact I made an illustration that portrays @daltono, if you are passionate about video games I suggest you follow his profile .
Before starting the drawing I examined some of his photos to understand how to make the drawing. This phase is very important, thanks to the vision of some photos you will be able to discover important details that will give character to the final result. Below you can see the black and white drawing consisting of lines only.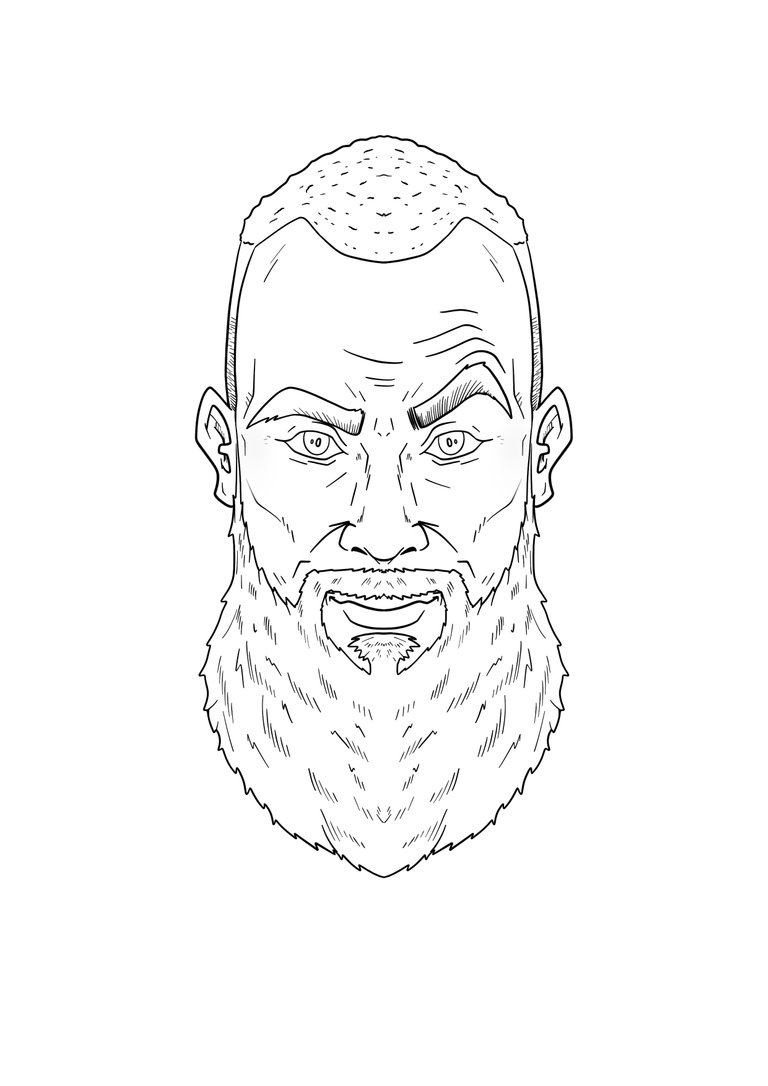 Illustration created by Astrocreator
The black and white illustration, in my opinion, always has its own charm, but it is thanks to the colors that the image comes to life. As always, the first step in coloring is to fill all parts with spot colors. During the second phase I added lights and shadows, in this case I wanted to insert a lot of blue and blue lights, and lightning bolts coming out of the eyes, I added these blue and blue elements because this is the predominant color on the @daltonous profile. Below you can see the three stages of coloring, if you look closely the image transforms, changes completely, gains energy.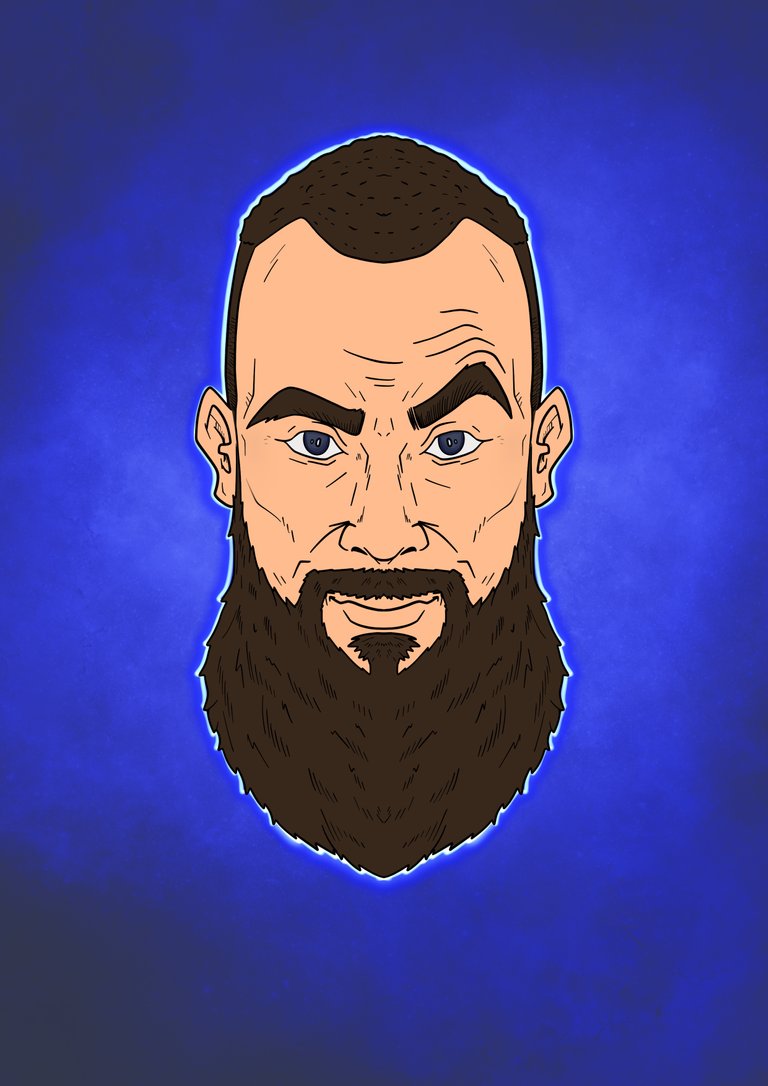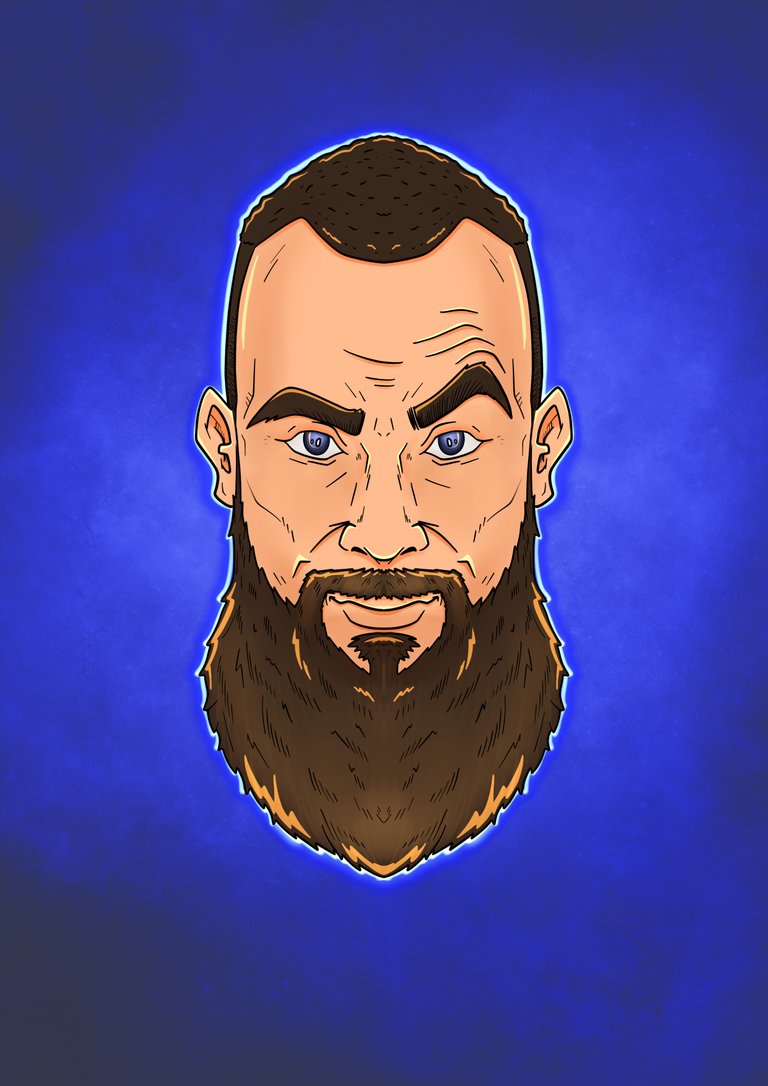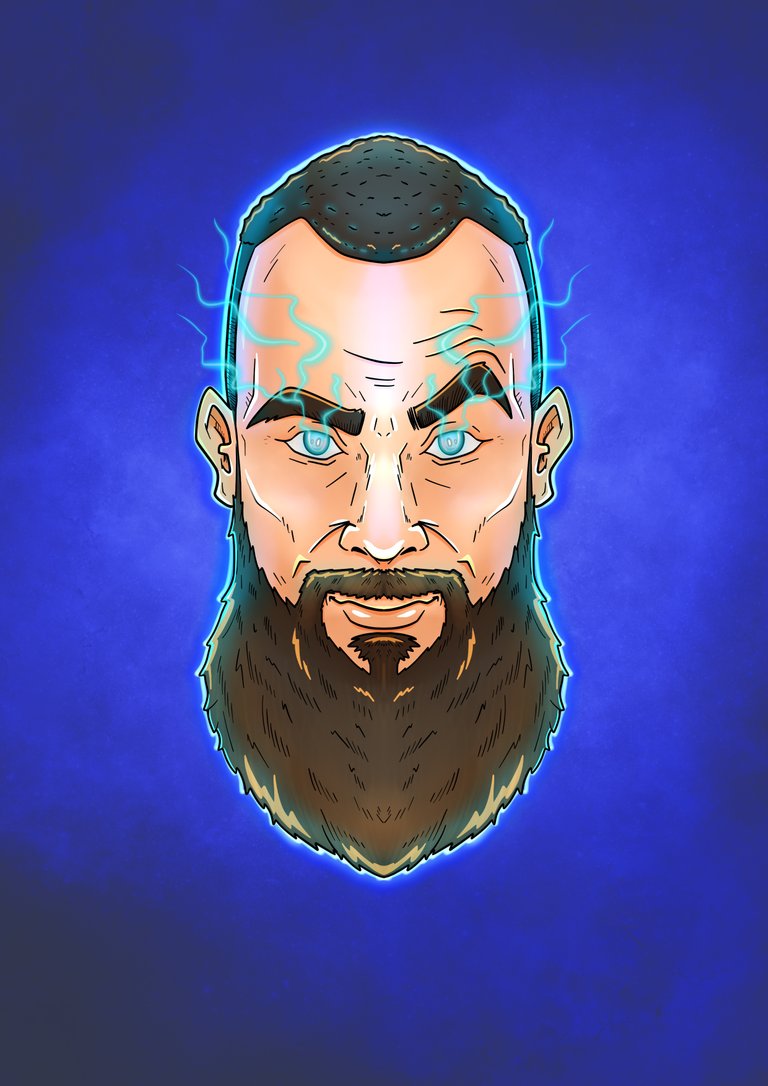 Illustration created by Astrocreator
Once the image was sent, @daltono was extremely satisfied with the work done and this made me very happy. I sent him the original files and he enjoyed changing the background, adding waves (a very present element in his profile graphics).
I was happy to note that he immediately updated his profile picture.
I hope you like this new illustration, as always I invite you to let me know your thoughts below in the comments.
VERSIONE ITALIANA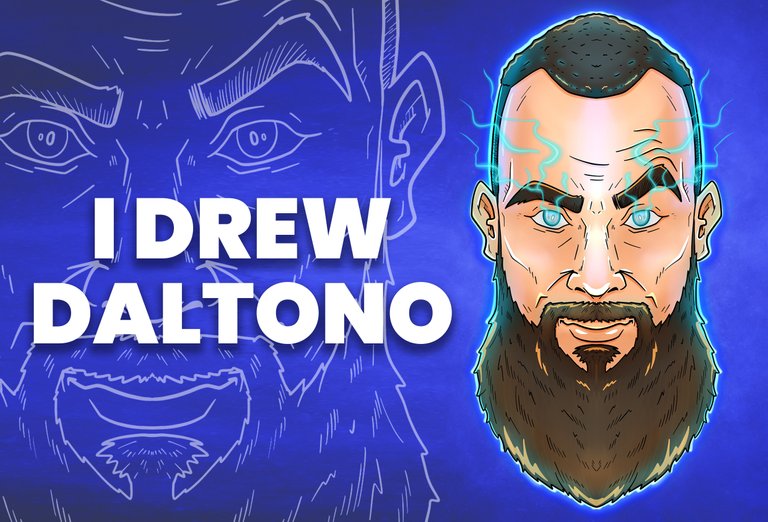 Ciao a tutti, dopo aver disegnato l'immagine di profilo di @fedesox che ringrazio nuovamente, ho realizzato un nuovo disegno sullo stesso stile, infatti ho realizzato un'illustrazione ritraente @daltono , se siete appassionati di videogames vi consiglio di seguire il suo profilo.
Prima di iniziare il disegno ho esaminato alcune sue foto per capire bene come realizzare il disegno. Questa fase è molto importante, grazie alla visione di qualche foto si possono scoprire dettagli importanti che doneranno carattere al risultato finale. Qui di seiguito puoi vedere il disegno in bianco e nero composto dalle sole linee.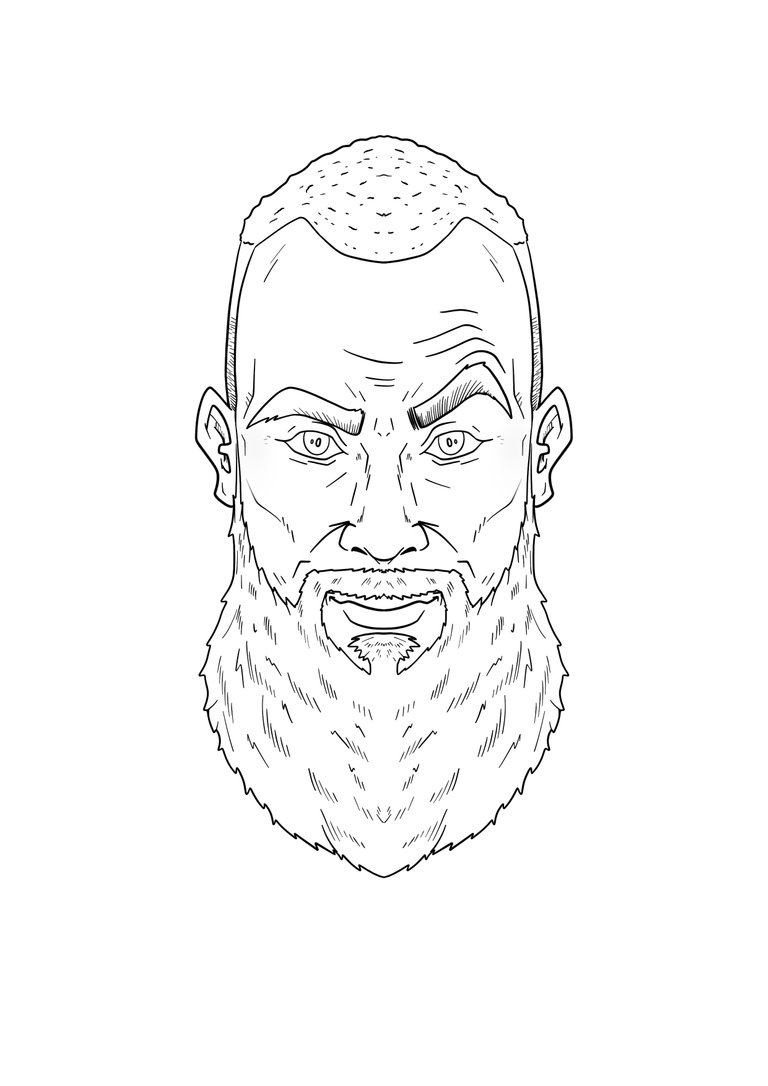 Illustrazione realizzata da Astrocreator
L'illustrazione in bianco è nero, a mio parere, ha sempre un suo fascino, ma è grazie hai colori che l'immagine prende vita. Come sempre la prima fase della colorazione prevede di riempire tutte le parti con tinte piatte. Durante la seconda fase aggiungo luci ed ombre, in questo caso ho voluto inserire molte luci azzurre e blu, e dei fulmini che escono dagli occhi, ho aggiunto questi elementi di colore azzurro e blu perchè questo è il colore predominante sul profilo di @daltono . Qui di seguito puoi vedere le tre fasi della colorazione, se guardi bene l'immagine si trasforma, cambia completamente, guadagna energia.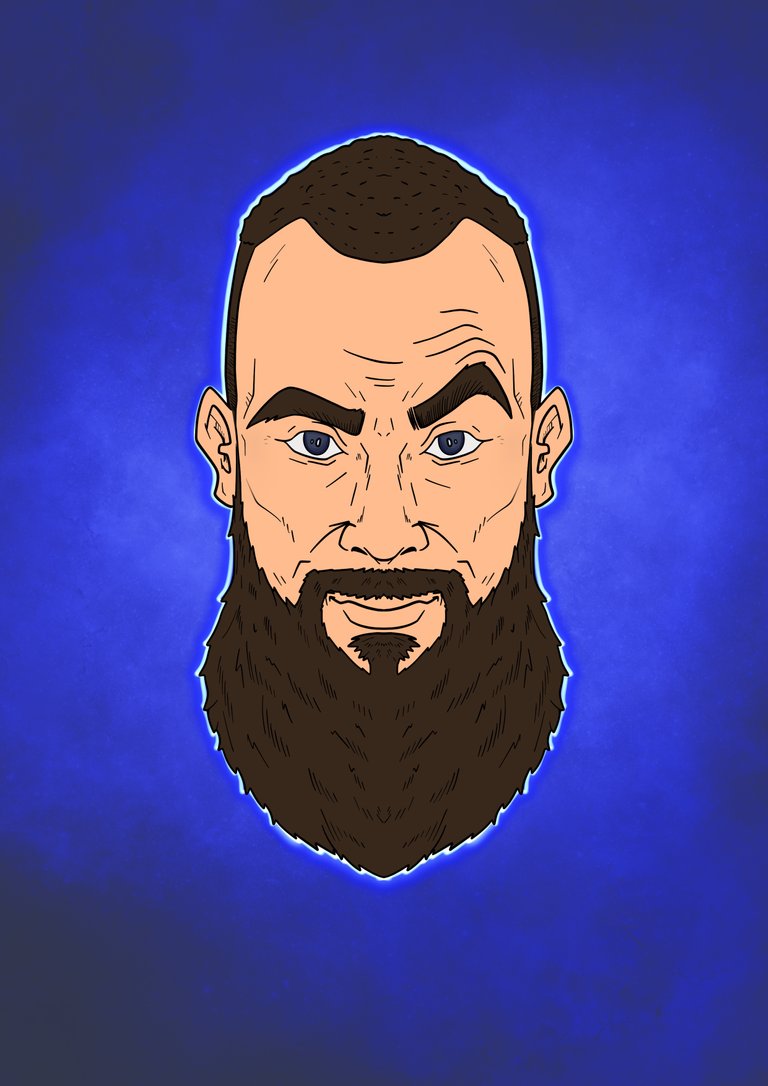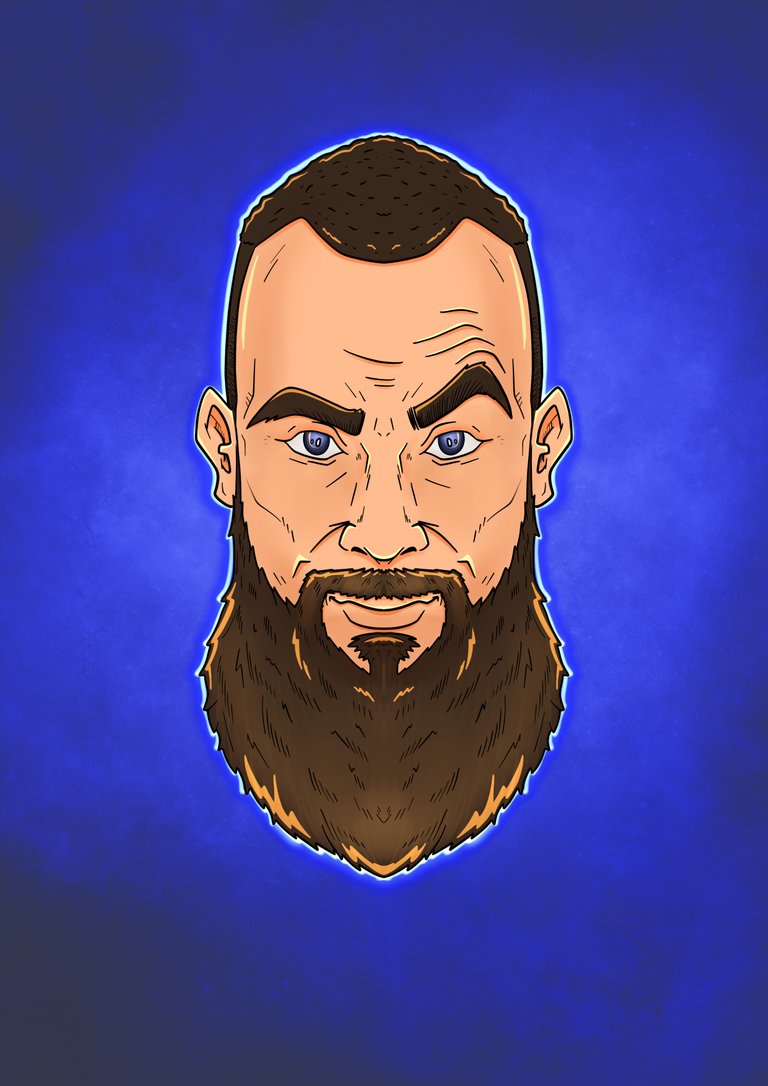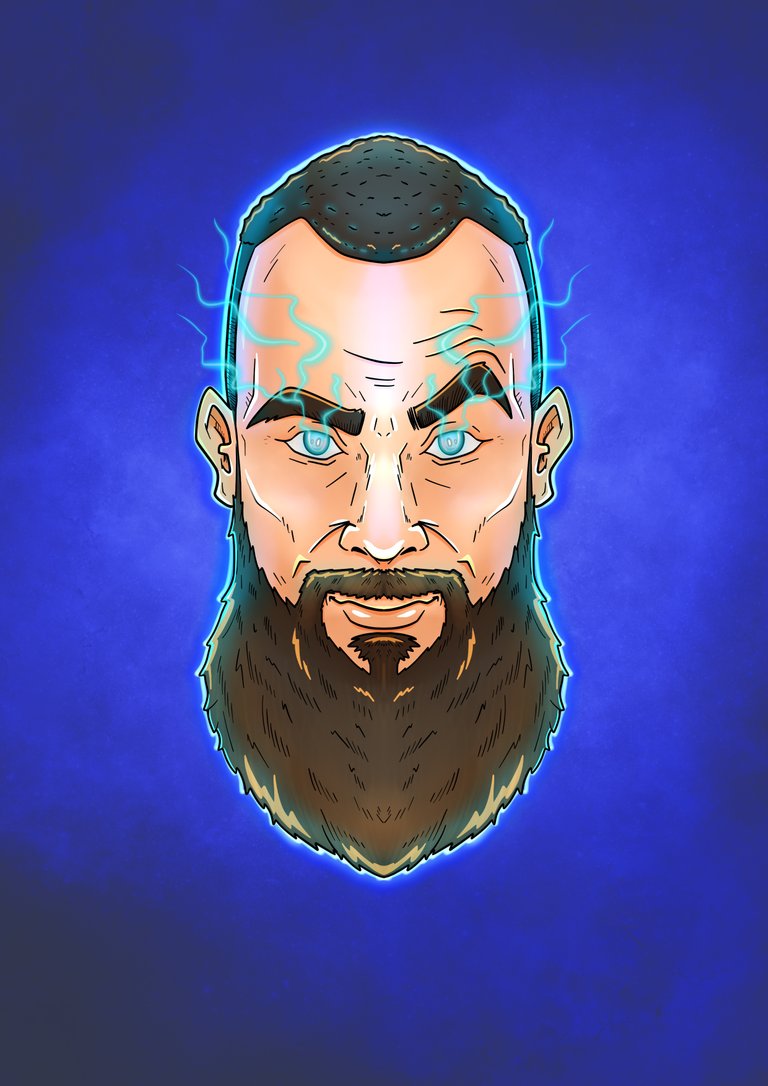 Illustrazione realizzata da Astrocreator
Inviata l'immagine, @daltono è stato estremamente soddisfatto del lavoro eseguito, e questo mi ha fatto molto piacere. Gli ho inviato i files originali e lui si è divertito cambiando lo sfondo, aggiungendo delle onde (elemento molto presente nelle grafiche del suo profilo).
Ho notato con molto piacere che ha aggiornato subito la sua immagine di profilo.
Spero che questa nuova illustrazione vi piaccia, come sempre vi invito a farmi sapere il vostro pensiero qua sotto nei commenti.