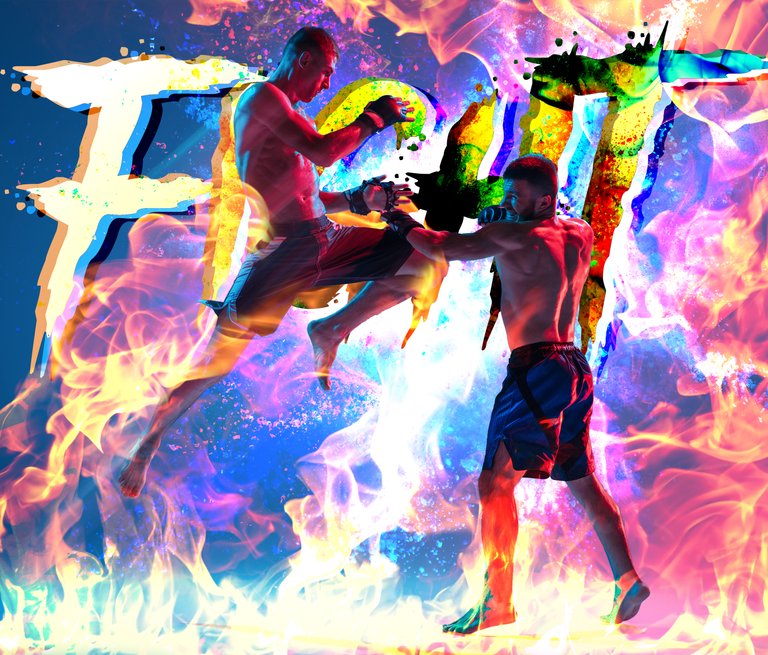 Illustration created by Astrocreator

Hello everyone, the work that I present to you today is the result of a graphic composition composed of elements purchased in an online gallery. In this work I wanted to mix some very elaborate visual effects with a fight scene, such as flames, fire, explosions, coloring. I have always found the promotional material used to advertise major combat sporting events, be it wrestling, pugliato, mma or ufc, very fascinating, the constant that is often found in this type of material is extremely elaborate and captivating. With this work I was inspired by the advertising material used for these great events. Obviously my work does not want to be a poster promoting a sporting event, but it wants to be a digital work for its own sake, created with the aim of practicing using new image processing techniques. Before illustrating the creative process, below I show you the material used to make this work.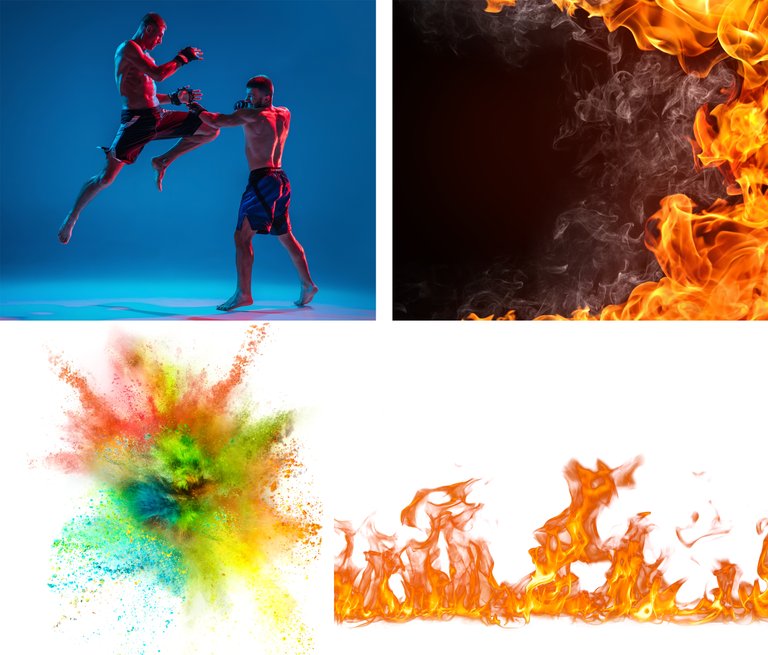 When I started working it was immediately clear to me what I wanted to achieve, first of all I cut out and cut out the two main subjects, in order to have them at a dedicated level, in this way I was able to insert many elements without problems, both in their level background than foreground. Adjusted the lights and chromatic saturation, I inserted flames and colored explosions, to these elements I attributed effects to make everything more unified and fluid. As a last step I created the writing in the background, also to this I added some effects. As often happens, also for this work I had fun creating a color variant that you can see below.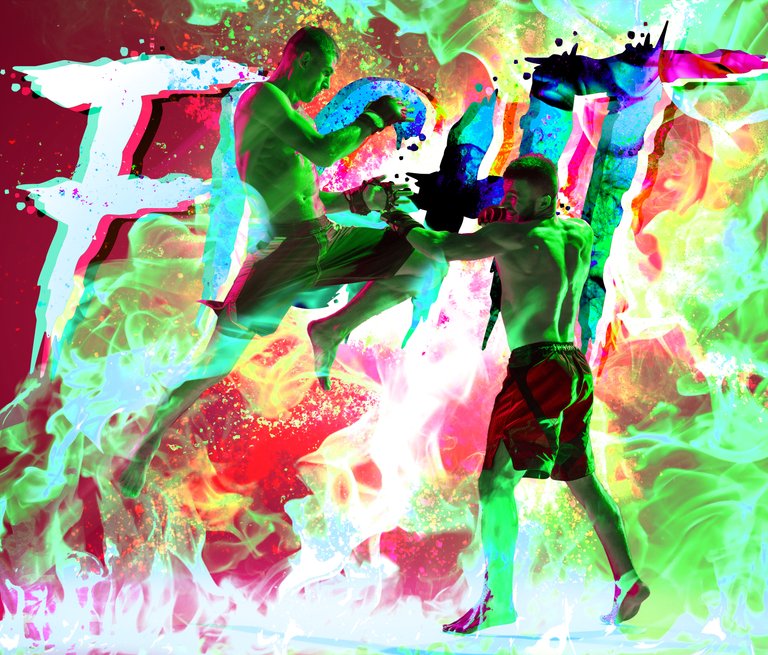 Illustration created by Astrocreator
I hope you enjoyed this work, as always, I invite you to let me know what you think below in the comments.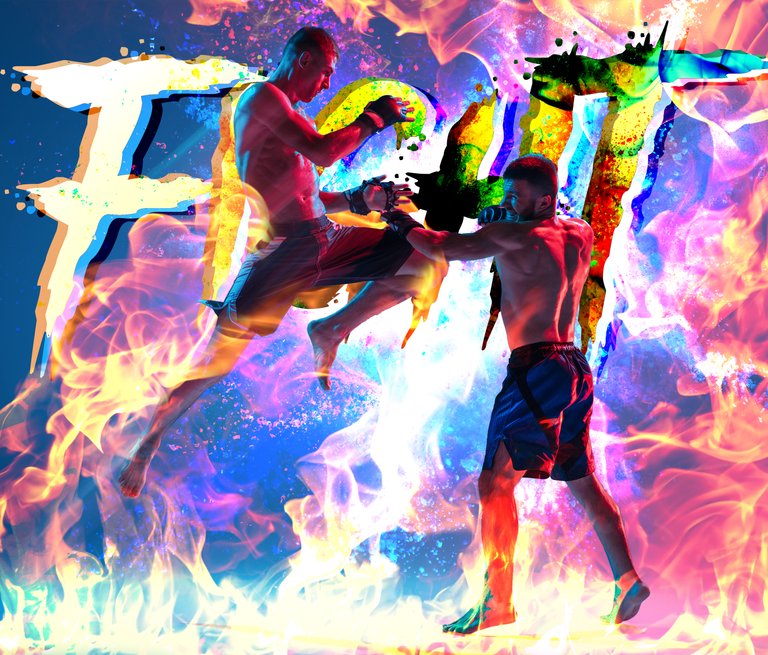 Illustrazione realizzata da Astrocreator

Ciao a tutti, l'opera che vi presento oggi è il risultato di una composizione grafica composta con elementi acquistati in una galleria online. In questa opera ho voluto miscelare ad una scena di combattimento alcuni effetti visivi molto elaborati, come ad esempio fiamme, fuoco, esplosioni colorare. Ho sempre trovato molto affascinante il materiale promozionale utilizzato per pubblicizzare i grandi eventi sportivi di combattimento, che siano essi wrestling, pugliato, mma o ufc, la costante che si ritrova spesso in questo tipo di materiale è estremamente elaborato e accattivante. Con questa opera ho preso spunto dal materiale pubblicitario utilizzato per questi grandi eventi. Ovviamente la mia opera non vuole essere una locandina che promuove un evento sportivo, ma vuole essere un'opera digitale fine a se stessa, nata con lo scopo di esercitarmi ad utilizzare nuove tecniche di elaborazione delle immagini. Prima di illustrarvi il processo creativo, qui di seguito vi mostro il matriale utilizzato per realizzare questa opera.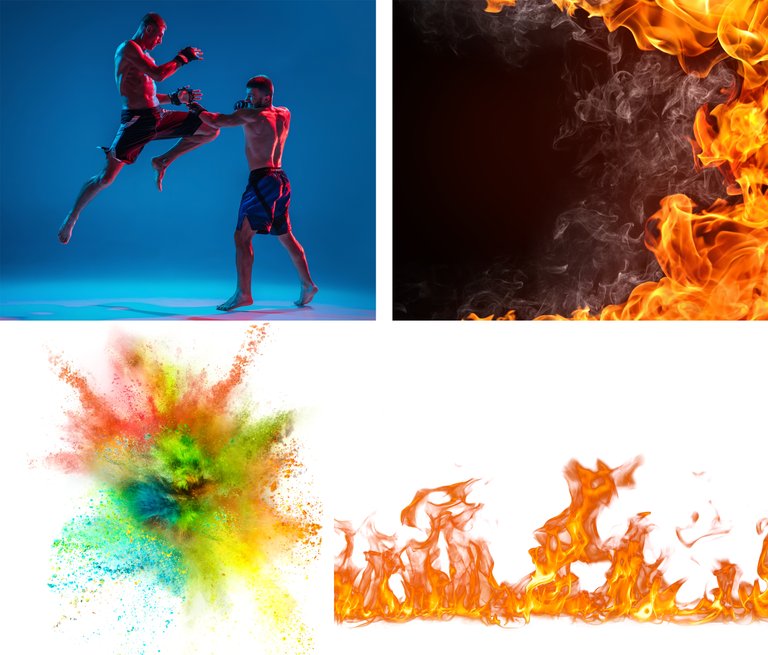 Quando mi sono messo a lavorare avevo fin da subito molto chiaro quello che volevo realizzare, per prima cosa ho scontornati, ritagliato i due soggetti principale, così da averli su un livello dedicato, in questo modo ho potuto inserire senza problemi molti elementi, sia nel loro livello sottostante che in quello in primo piano. Aggiustate le luci e la saturazione cromatica, ho inserito fiamme ed esplosioni colorate, a questi elementi ho attribuito degli effetti per rendere tutto più unificato e fluido. Come ultimo passaggio ho creato la scritta sullo sfondo, anche a questa ho aggiunto degli effetti. Come spesso accade, anche per questa opera mi sono divertito a creare una variante colore che potete vedere qui di seguito.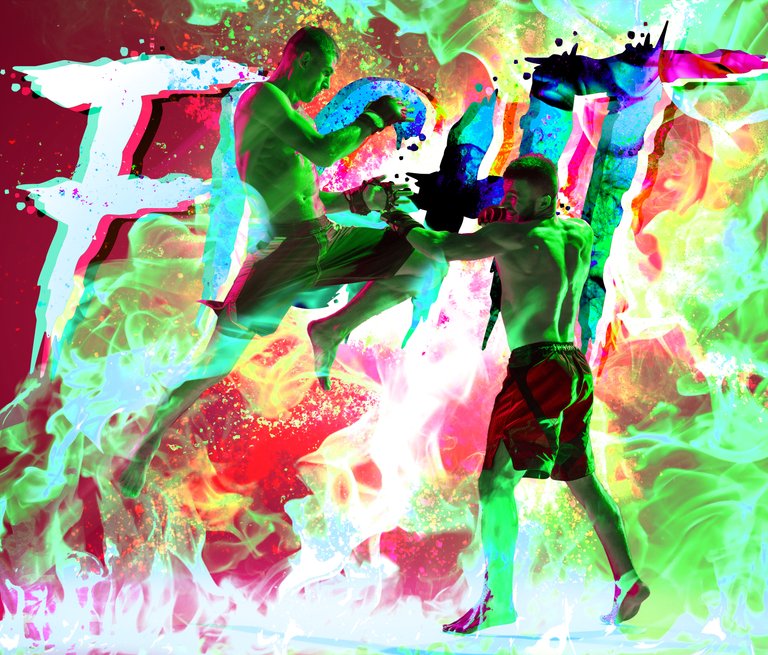 Illustrazione realizzata da Astrocreator
Spero che questa opera vi sia piaciuta, come sempre vi invito a farmi sapere cosa ne pensate qua sotto nei commenti.