In this post I want to share some tips and tricks on how to easily set up a scholarship in Axie Infinity. When I created my first scholarship account a few weeks ago, I was not completely sure what the right steps were and was looking for some best practice guides, but couldn't really find one so here we are.
---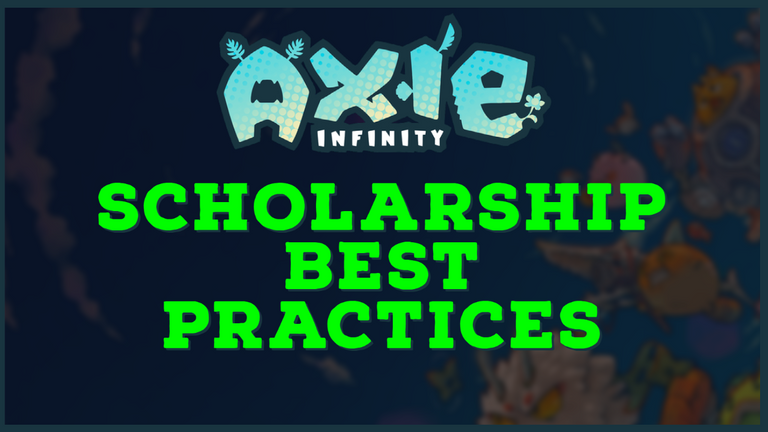 ---
Some general things that you will need, independent of the amount of scholarships that you want to do are these things:
MetaMask for creating Axie accounts (and getting in/out of the Ronin ecosystem)
Ronin Wallet for managing your Axies and tokens
It also doesn't hurt to use a dedicated browser for those extensions (so you don't mix them with your usual stuff)
An Excel sheet (or whatever tool you prefer) to do some management
---
Additionally you need these things per team of three Axies that you want to share with a scholar that plays the game for you:
E-Mail account (You can register multiple accounts with one email using a simple trick, explained later)
One account/address each in Metamask and Ronin Wallet
---
Setting up a management tool
Let's begin with setting up an Excel sheet that you will use to have an overview over your earnings and your accounts. For every account that you will later create on https://marketplace.axieinfinity.com/ you need an E-Mail account with a password, an Ethereum address and a Ronin address. Additionally you'll have to store the information of the scholar that plays this account (e.g. Discord tag, payment address). I recommend using some kind of IDs so that you can link the whole data more easily (you may even use an SQL (or whatever) database, but that may be a little bit overkill).
I also create a second table where I store the bi-weekly earnings of each of my scholars.
---
Tip for having less trouble with email accounts
You will need to manage a lot of E-Mail accounts if you plan to expand your scholarship system. I can only recommend using GMail (or any other email provider that offers the service describes below). The reason is that they allow you to create an infinite amount of different emails from just one GMail account. The way it works, is that after your email name, you can add a plus sign and add any additional characters after that and the emails will still reach you. Most websites, including Axie Infinity, recognize those emails as different emails and you can manage all your accounts from one central place.
This article: Create task-specific email addresses explains exactly how it works. Basically, let's say you create an email address "axiescholarship@gmail.com", you can use any of the following email addresses to register a new account:
axiescholarship+vault@gmail.com
axiescholarship+scholar1@gmail.com
axiescholarship+scholar2@gmail.com
---
Setting up your personal Axie account "Vault"
The next step is to set up what I call a Vault account. It's the account that you use for storing unused Axies and tokens. It's also where I send my part of the earnings that the scholars earn to.
---
Defining your rules
Before you start working with scholars you first need to define some basic rules that you want to use. For example I use the following rules for my scholarships:
We split the earnings 50/50 (others also give a bigger cut to the scholar)
The earnings are paid out in SLP once every 15 days (you can only claim your rewards once every 15 days)
The scholar needs to earn at least 1400 SLP very two weeks
At this point you are basically done with the initial setup and you can start looking for someone that wants to be your scholar. When you found someone, which is not very hard, as people in different Axie related Discord servers are looking for scholarships basically all the time, you can continue with the next step.
---
Setting up a new scholar
When you found a player you have a few steps that you need to do, so he can start playing:
Create a new account/address in your Metamask. Call it something like "Scholar x" for the sake of clarity.
Create a new account/address in your Ronin wallet. Also call it "Scholar x".
Go to https://marketplace.axieinfinity.com/login and login using the Metamask account that you just created (you may need to disconnect older accounts (from the website), so that you don't get any problems with logging in to the right account). Once logged in, link the new Ronin address that you just created. Generate a password and link a new email address (like axiescholarship+scholarx@gmail.com) to the account.
Make sure to write all passwords, addresses, scholar info etc down in you Excel sheet.
Now depending on whether your scholar will be playing using a PC or a phone you either give him the E-Mail/password combo (for that specific scholarship account!!!) or you send him the QR code that is either generated on the marketplace website or the Mavis Hub. Those QR codes change from time to time, so you'll have to send him the new one periodically.
---
So that's it. Now your scholar is playing the game with your Axies and you can start profit sharing in 15 days. I hope that I have written down all the things that I think are useful for people that are just starting out with giving scholarships in Axie Infinity.
If you find anything that I forgot to mention here or wrong information I would be glad if you left a comment. Also make sure to ask any questions that I could answer.