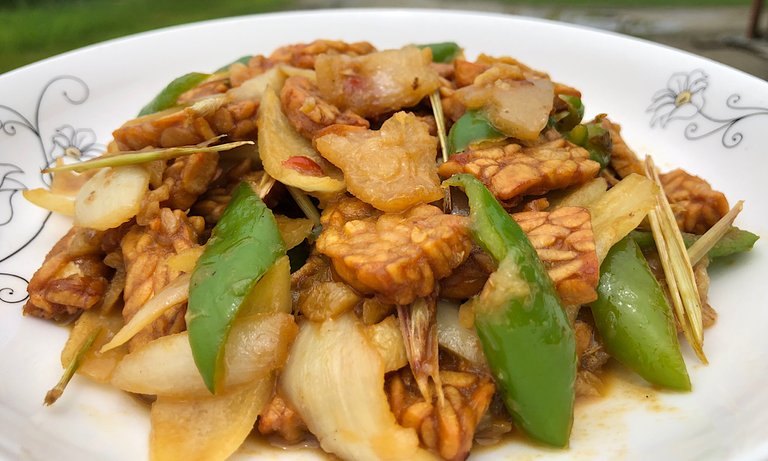 Happy Saturday everybody! Today I have a tempeh and pickled lime stir-fry recipe to show you all. It's easy to make and fast, but difficult to find ingredients here in Suriname. I need to make my delicious lime pickle by myself and to get lemongrass I need to find it from the people that live in my area.
But in my country (Cambodia) these are simple ingredients easy to find at all the markets or most people have them at home. Normally, this recipe is made with chicken or duck and some people add vegetables. Some people use only meat also. Because Cambodian food doesn't have tempeh, this recipe is maybe new for some people. Hope you like it.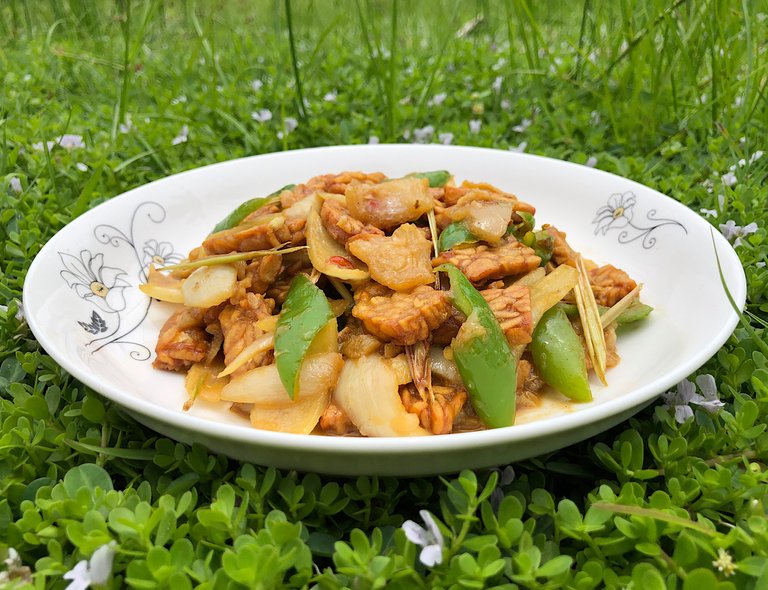 👩‍🍳 Tempeh & Pickled Lime Stir-Fry (Ital) Recipe 🔪
វិធីធ្វើឆាក្រូចង៉ាំង៉ូវជាមួយថីមពេបួស

Ingredients
1 pickled lime
3 tbsp water from pickled lime jar
1 package of tempeh
3 cloves garlic
1 stalk of lemongrass
6 slices galangal
1 long green chili (not spicy)
1 onion
10 small chilies (spicy)
1/2 tsp salt or taste
1 1/2 tbsp soy sauce
1 tbsp brown sugar
1 tbsp nutritional yeast (optional)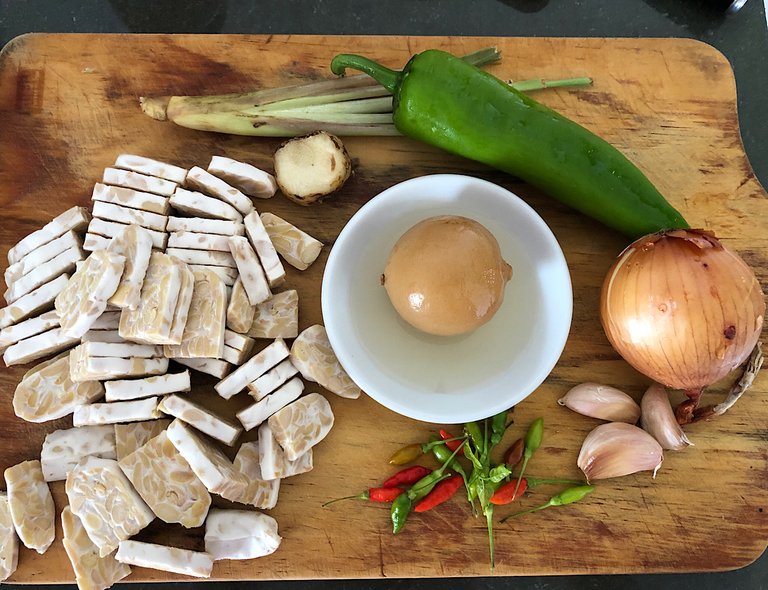 Cut and fry tempeh.
Crush the pickled lime and remove the seeds. Chop garlic and cut everything like I have.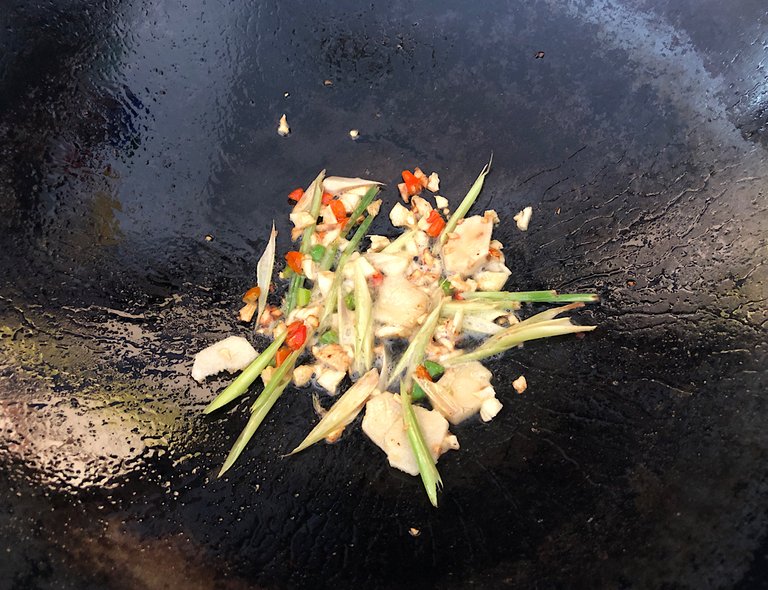 Heat oil and fry garlic a little bit, then add lemongrass, galangal, chilies and stir fry until it smells aromatic.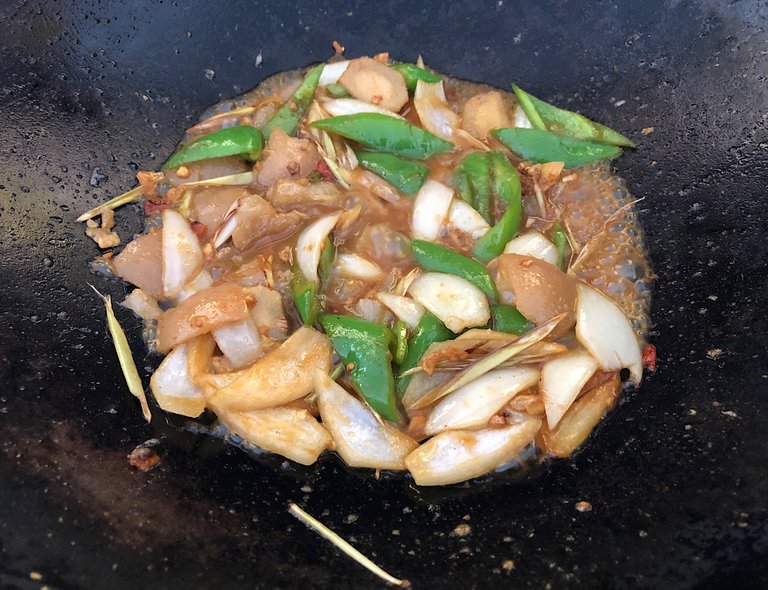 Then add the green chili, onion, and fry them a bit. Now add salt, sugar, soy sauce, and nutritional yeast, then stir fry it a bit more. Then add pickled lime with its water and fry it again and taste it.
Finally add fred tempeh and turn off the stove. If you have green onions you can add also. I do not use them because I do not have green onions today.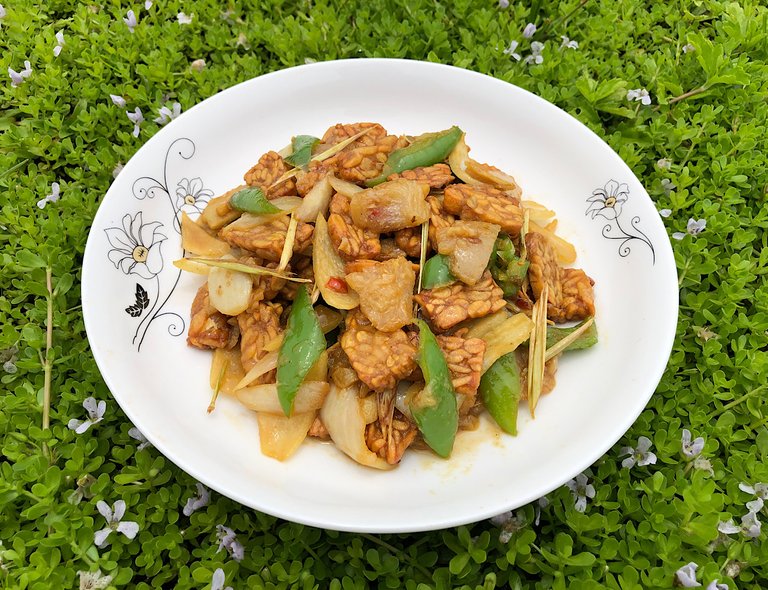 Oh, it's tasty good with rice! My family loves it so much. They watched the pickled limes on my plate and my husband stole some pickled lime with his spoon. Then Srey-Yuu said, "I do not yet to take one." That made me laugh 😁. Have a great weekend everyone 🙂.
CLICK HERE TO JOIN HIVE AND START EARNING CRYPTO LIKE US