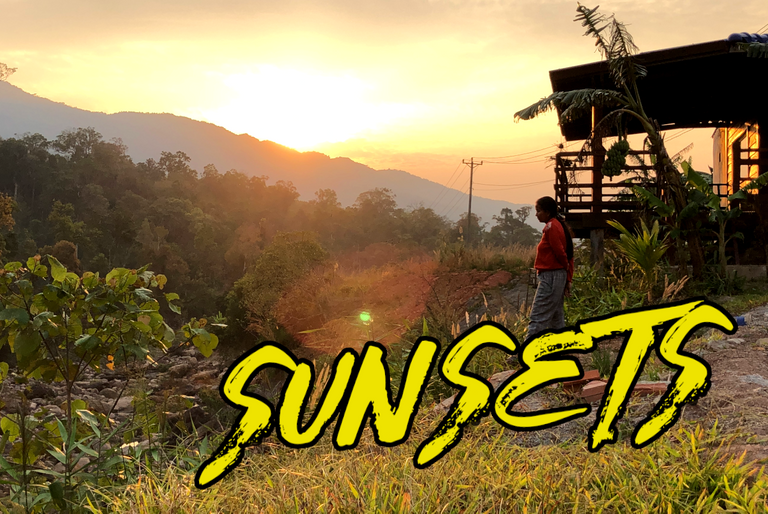 The sunsets here in the Cardamom Mountains are always a pleasant distraction the from the stress of daily life, and this evening I happen to be outside with my phone in hand.
Off To School 🏫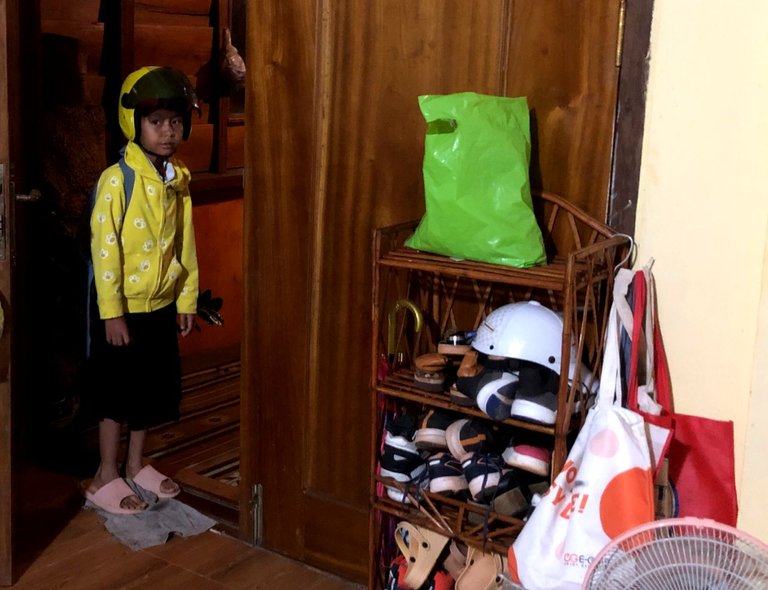 The girls leave to school very early in the morning, and at this time of the year it is still dark when they leave the house. It's so cold here in the mountains that they Monkey-B usually wears a hoody over her school shirt and some long pants under her skirt for the moto ride.
Hug Your Sister 🤗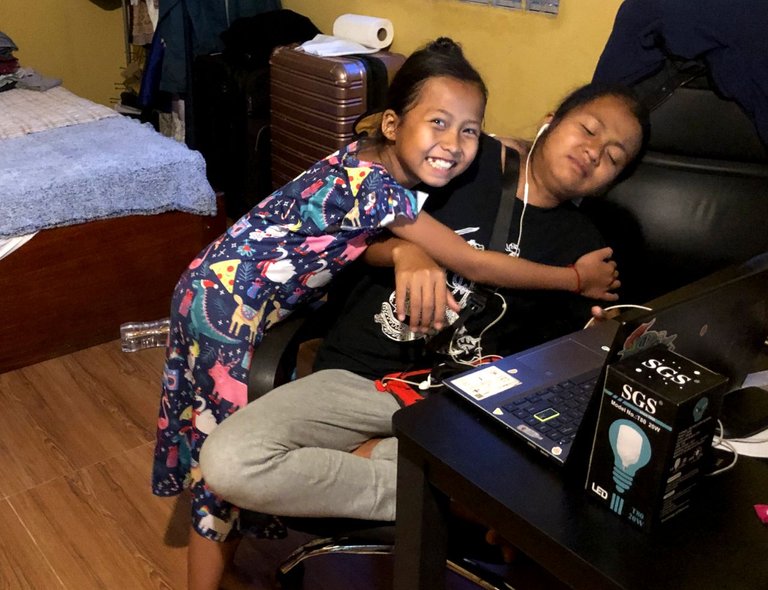 After getting home from school, the girls did a little homework and some household chores. Srey-Yuu hates hugs more than anything, and her little sister loves hugs more than just about anything, so I asked Monkey-B to give big sister a hug, and you can see the very teenage reaction she has to this genuine show of affection. Monkey-B is completely unhindered by her big sister's efforts.
Dinner For Two 😊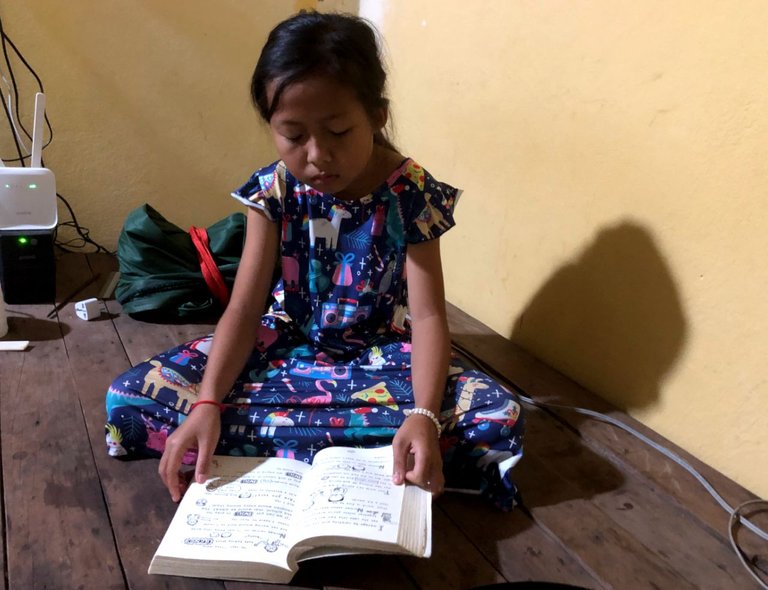 One of Monkey-B's favorite dishes is rasam with pasta, a bit of India meets Italy in a pot, but somehow pasta lends itself well to this watery and spicy soup. Monkey-B decided to hang around the stove and keep me company while I was cooking, and she also read a bit of her Tom Gates book.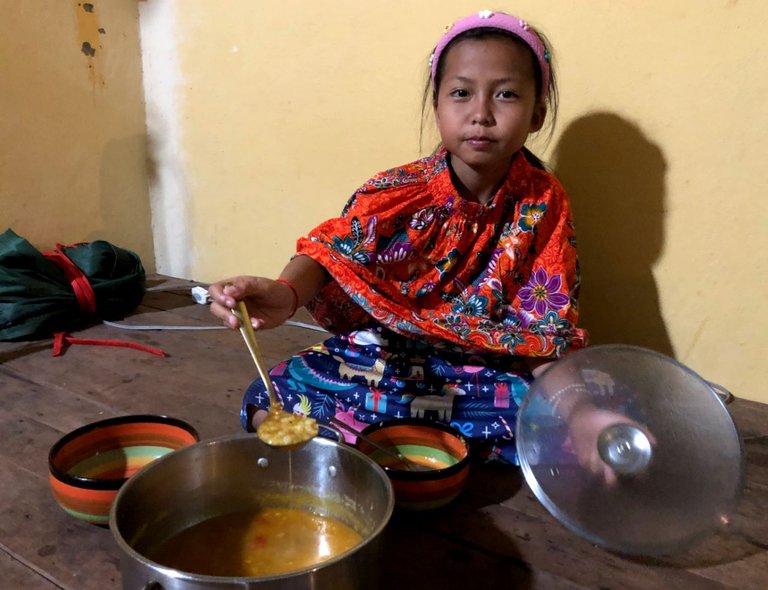 It gets chilly at night here, and by the time the rasam and pasta combo was ready, Monkey-B had put head through a skirt to create a Cambodian pancho. That's quite a creative and stylish way to stay warm while awaiting for the rasam to heat her from the inside.
Pensive Sunset 🌅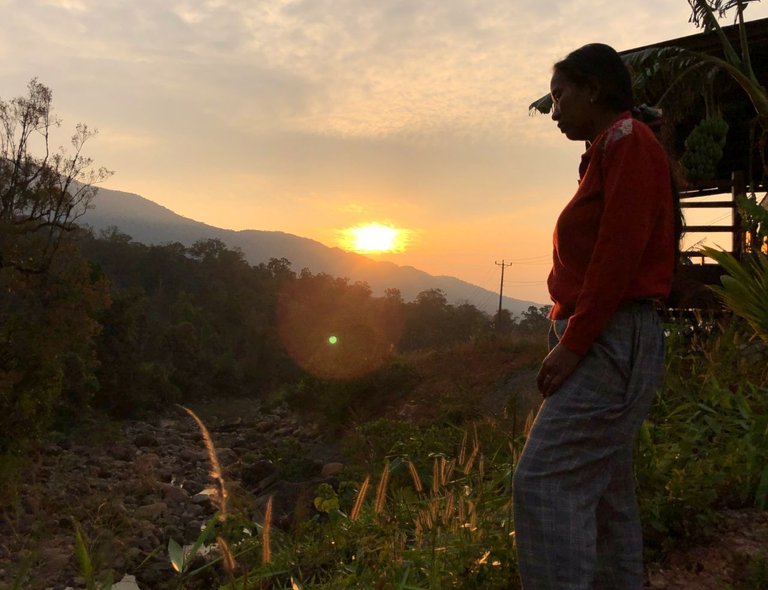 We thought we'd escaped the nightmare of being stranded abroad, and after being back in Cambodia for over a year, I wasn't able to renew my one-year visa. My wife attempted it in the capital a week ago, but the government now wants me to pay several years of fines not having a work permit, even though I haven't worked in Cambodia for many years, since the last time I had a work permit.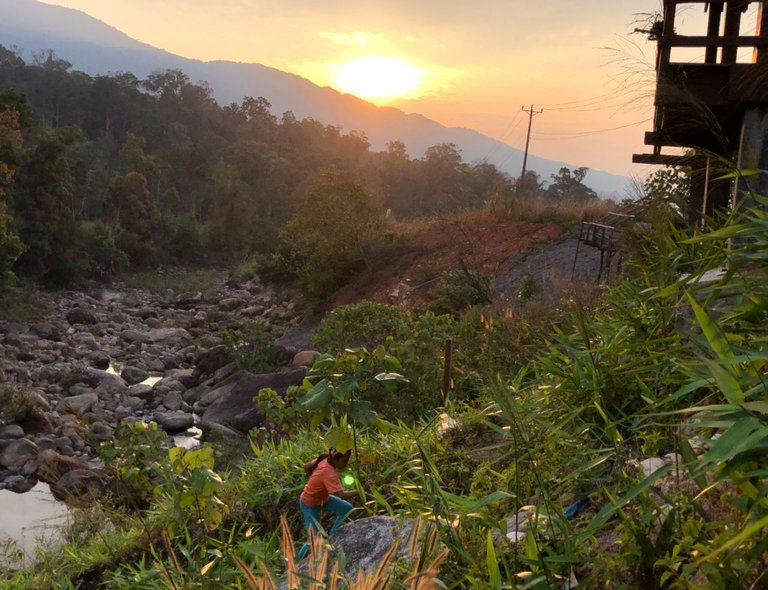 The government is now placing huge fines on people now, and it's nothing short of corruption. Even the year I had a work permit I wasn't made to pay fines for previous years of not having one. That's all ancient history now, and it seems I am supposed to have maintained a work permit even while stranded abroad in Suriname when Cambodia wouldn't allow me to return with my family.
Monkey-B Smiles 🥰
     I don't fully understand what incompetency caused this situation, it could've even be something as simple as the government here is too stupid to look at all our visa entry and exit stamps and determine I've not lived here for several years. The end result was that my visa was about to expire, and we had planned for another one-year renewal without issues. Instead I now have a 3-month extension, and must leave the country after this timeframe with my future longterm visa situation in limbo.
Future Unknown 🤷‍♂️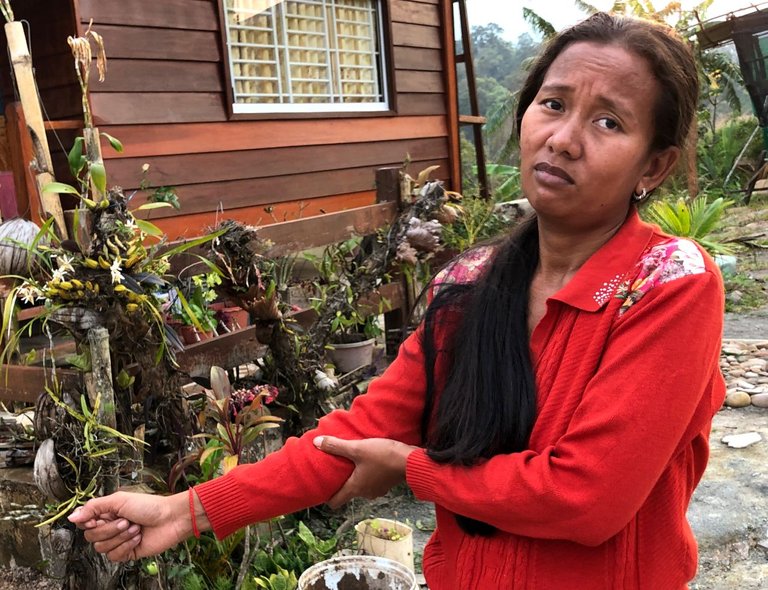 I have been trying to enjoy my time with the family now that I know I must leave. It sure is a kick in the ass to be asked to pay fines for not having a work permit for a country that wouldn't let me in and for years before it was implemented. This is the third forced family separation, and I really thought all this crap was behind us and we were going to focus on a future, building up our land and repaying the loan. Now it all seems like a dream that can be so easily flushed down the toilet by bureaucrats, and on top of this, my wife's arm hurts.
     I'm likely off to the USA because my parents are getting older and it seems hopeless that we will ever proceed any further with our USA visa process. It's been nothing but denials for years and years now, and my American family won't be coming to Cambodia. I have to start wrapping my mind around my daughters potentially growing up into adults and starting lives of their without ever having met a single member of my family. My wife and I are both ashamed of our countries, but we are prisoners of borders and passports, so what can we do?

CLICK HERE TO JOIN HIVE AND START EARNING CRYPTO LIKE US