You know the lyrics to this Grandmaster Flash song? Nor do I, except the first verse:
It's like a jungle sometimes, makes me wonder how I keep from going under
And that's exactly what we sung when we entered our garden after a month away in Tassie.
Sheesh. The unseasonal rain had encouraged the weeds to grow like an evil garden gnome telling the snails to eat baby seedlings. Freakin' heck. Where's the machete?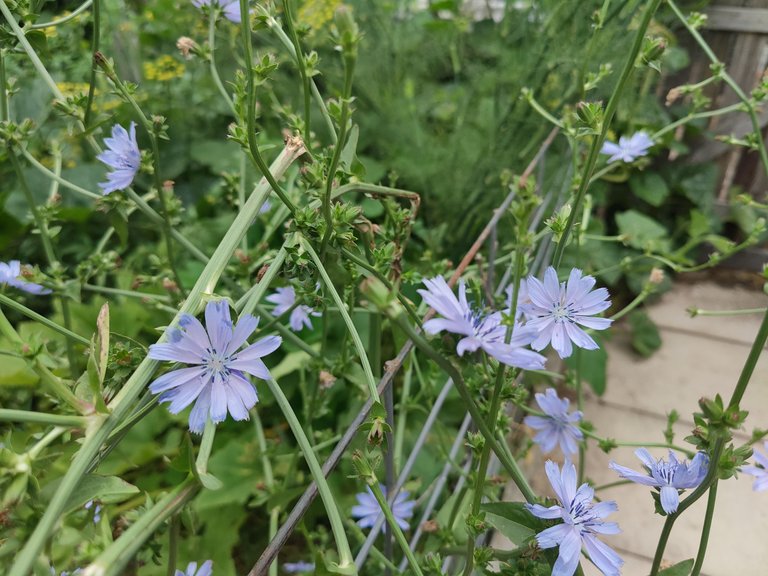 No kidding. I had to push my way through plants to find the fork. The gorgeous mauve flowers on the plant above were unidentified until Google Lens identified them as a type of chicory. Did they blow in on the wind or were they in the green manure mix? Very pretty but I'm not sure what else they are for. They were right next to the chamomile which had self seeded in the path. I'd told my daughter in law to pick the chamomile and throw it in the drying rack but she was so busy with the baby that she forgot.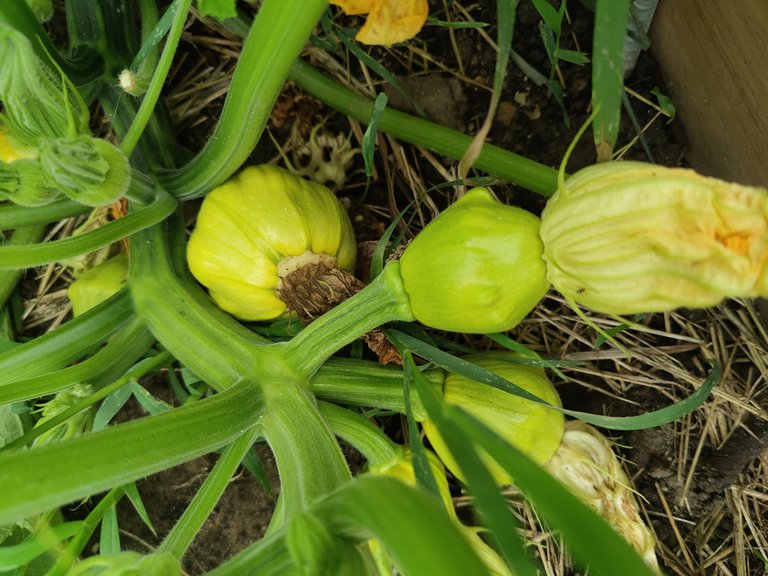 Looks like I'll be eating squash for weeks. In curries, in salads, in, well, everything. They ARE good fresh. And of course, it's zucchini season, so it's squash a-rama around here.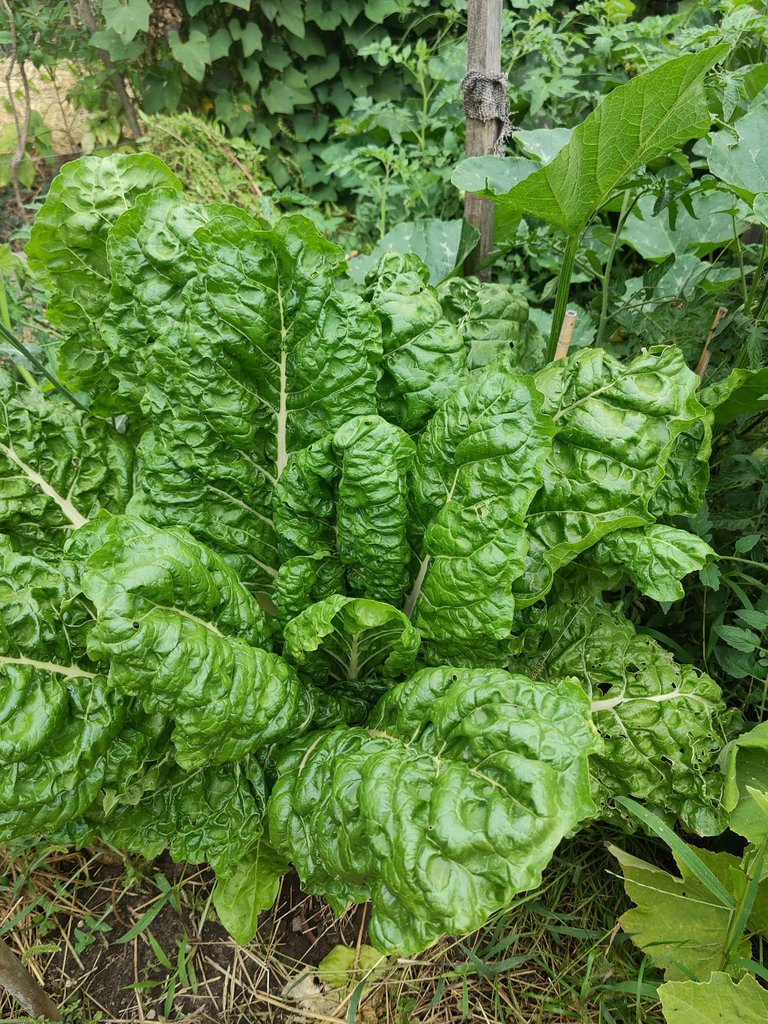 What a beautiful bunch of silverbeet! That's going straight in a palak paneer, along with some kale. Just divine.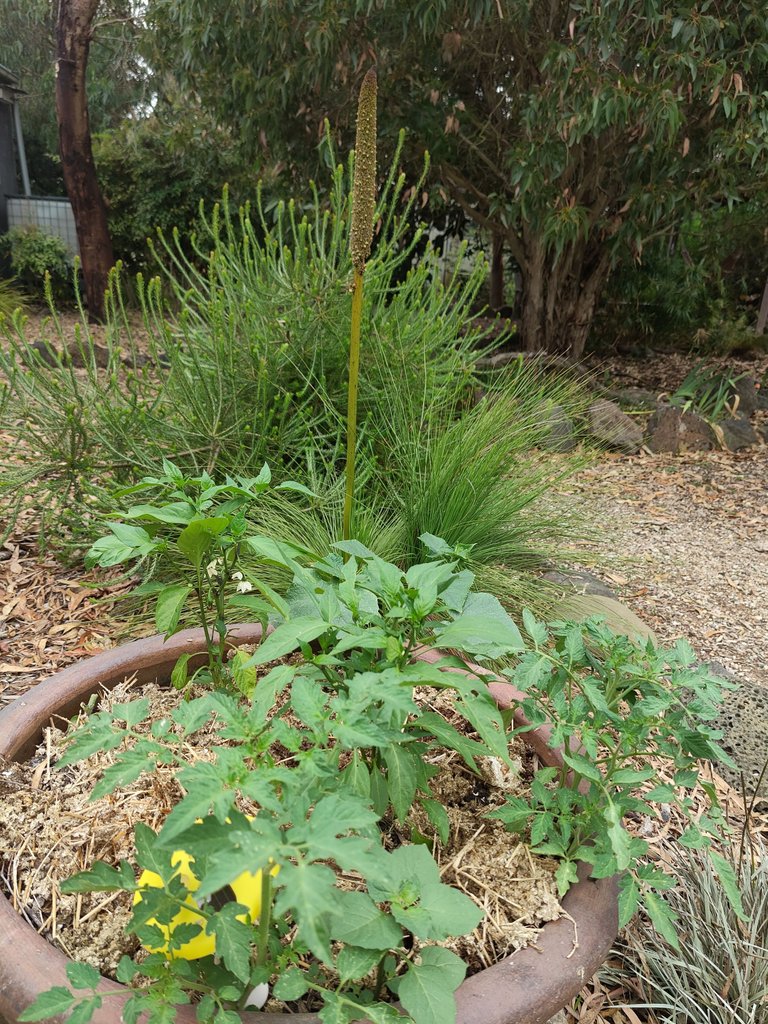 There were even weeds in the pots - I planted two chillis in this large pot, which actually was a bird bath and Jamie drilled holes in it so I could change it into a planter. I had put a heap of logs at the bottom and lots of straw, then the soil, so the plants are loving the extra moisture in the hugelkulture. A cucumber and four tomatoes grew from the compost - I've left one tomato and the cucumber and we'll see how they do. There are already chillis on the plants - so let's hope for some warm weather to extend through to Easter. It's not been the warmest summer, but that's coming with El Nino I reckon where I'll be complaining about drought instead.
I did find more cucumbers half hidden by a huge amount of borage, which I've been fighting bees for to throw some flowers on my salads.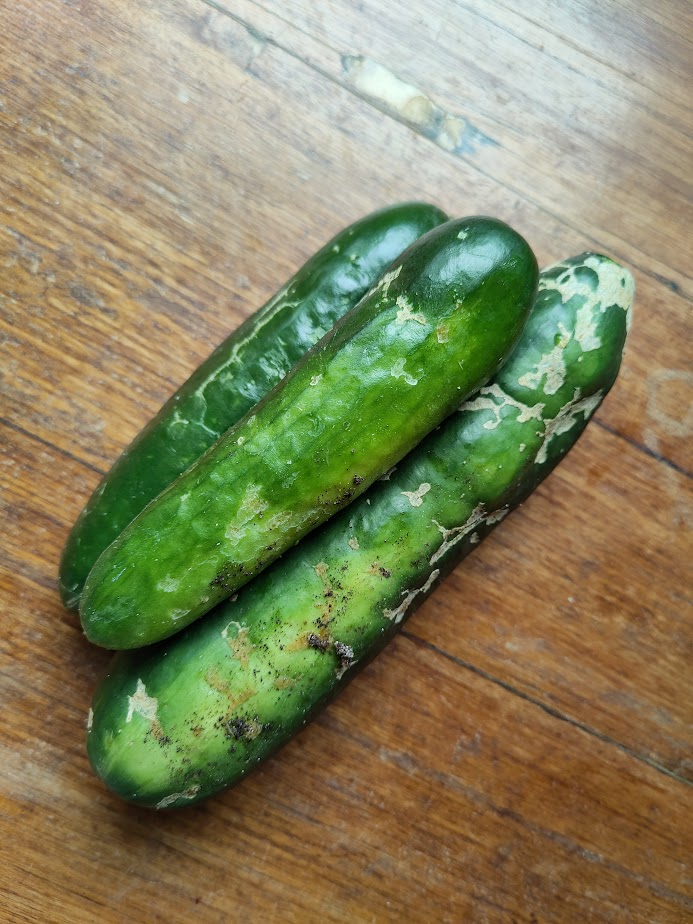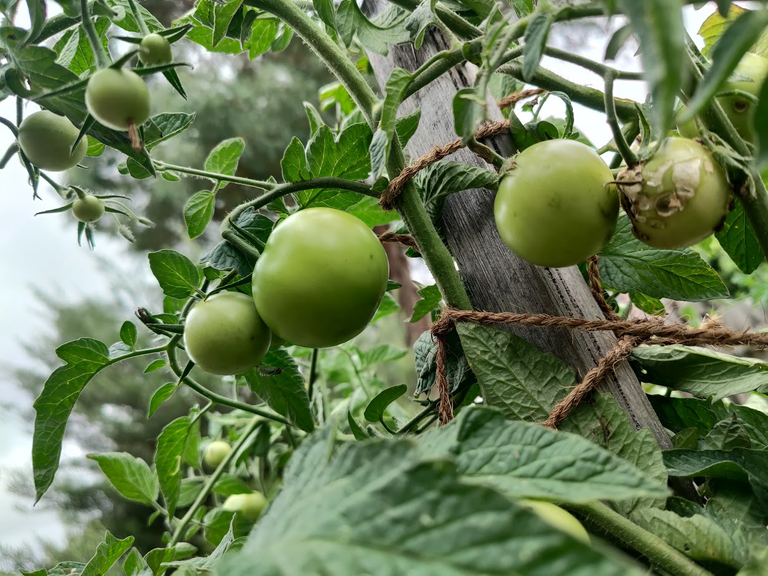 Tomatoes of course were all a tangle. I had to tie them up and try to keep the chooks away from them as well. The Apollos seem to be doing well. I am just glad SOME survived because there was a bit of black soot on some of them, which I pulled out. Can you also see the choko vine in the background? No chokos as yet, but soon I think. And in there is also pumpkin, and a ton of weeds. Oh and another dill. And perhaps an eggplant. I haven't had much luck with eggplant.
I've loved the strawflowers - they're all seeding now so hopefully I get tons next year! And the pink yarrow too is thriving.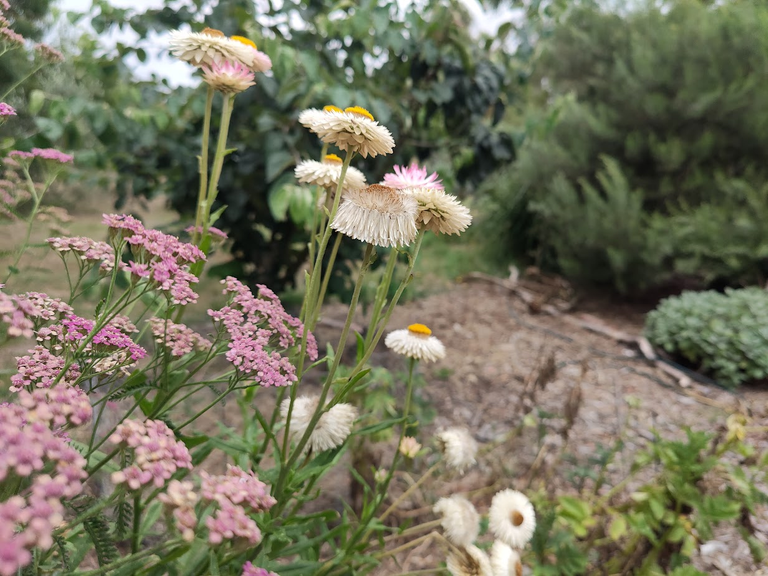 And how pretty and big is this clary sage? The flowers have amazed me this year!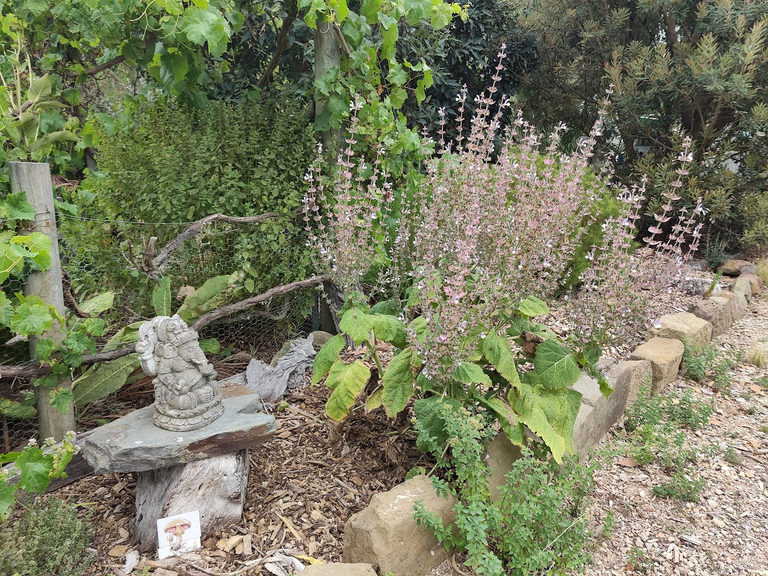 The thai basil is doing beautifully in the greenhouse, as is the other basil. Yum yum double yum.
We've had a lot of plums apparently but the kids and the cockies ate them before I got a chance. I had to quickly net apples and quinces when I got home - the nets aren't big enough so it's a bit of a pain but I think I netted enough. And the pears too.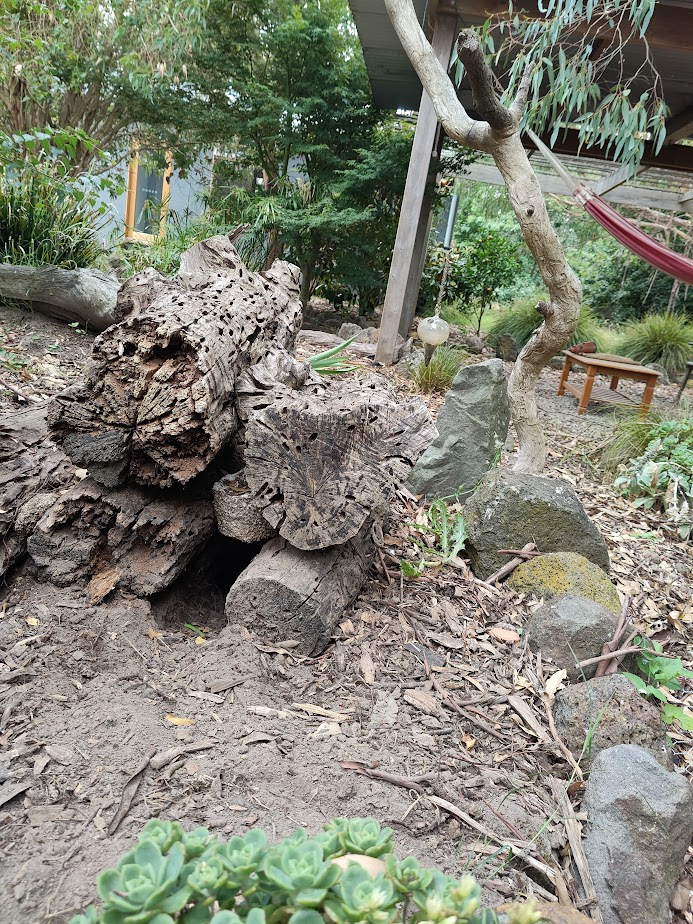 There's rabbit holes everywhere, as the kids obviously ignored that instruction too. Don't get me wrong, I am grateful they housesat, but no one can maintain a garden like yourself. I don't know what I'm going to do when I go to Europe. Any gardener here want to housesit for a year? You'll have to pay the bills, but it'll be cheap rent in exchange for maintaining my garden....
We managed to fill two huge green council bins with weeds and there's still parts of the garden I am yet to weed. I need a heap of papers so I can utilise that huge pile of pine mulch that the council left in the reserve next to us.
The elder trees had also gone crazy. I have tiny seedlings still popping up that I need to weed - grrr - but they do provide good shade for the chooks. I had to trim a lot of them so I could even get in there.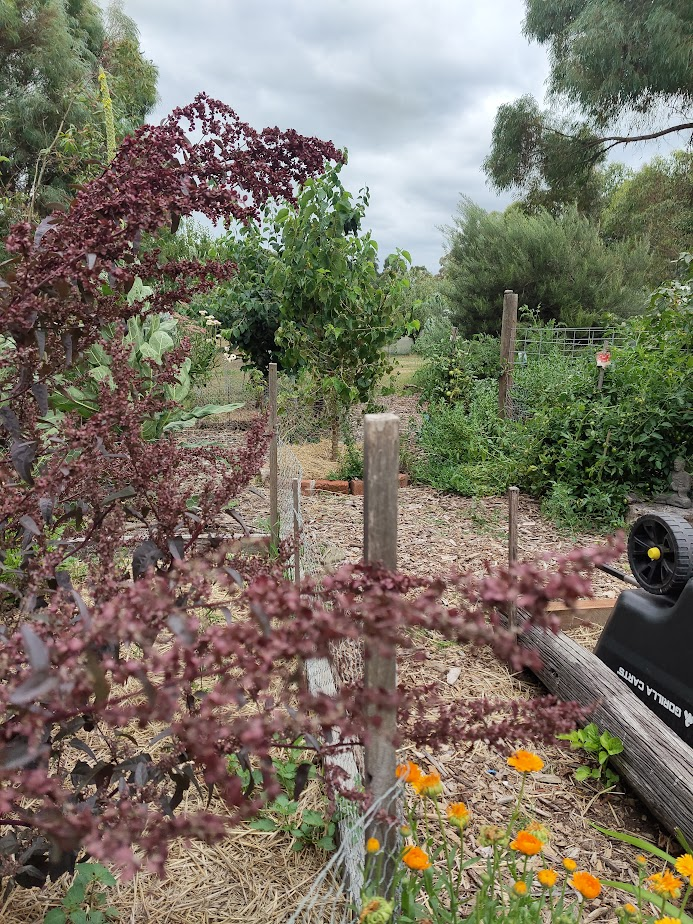 The hops is also going mad. Last year a colleague of Jamie wanted some and I traded him for a pack of oats for my chooks. This year he gave Jamie a pack of oats and wants more, but I thought that was a bit cheeky. Inflation, right? I have to harvest them after tending the vine, dry them, package them - and all he gave me was a dollar bag of oats? Hmmmm. Not feeling too generous especially as he didn't even give us a home brew as promised!
I'm feeling a bit over the whole garden if I'm honest. It's so much to manage. Sometimes I think I'd prefer a quarter acre block and a neat veggie garden, but then I'd have to deal with neighbours. The house feels like it's falling down around me, but at least we kinda own it and have no mortgage, so that's something. With the economy as it is we should be pretty happy. So many people are paying ridiculous interest rates currently and tightening their belts. We are even feeling the pinch on one wage, and so I'm trying to grow as much food as I can so I don't have to go to the grocers as much, and eat seasonally too. I'll willing everything to self seed and create abundance without me doing much. The lettuce is having a red hot go at that.
So much food is wasted here I guess. We don't net the grapes and the birds eat them. The plums are unruly and I don't know which is root stock and grafted anymore, but it provides good shade. There's things I don't even eat like amaranth and rhuburb, but would if it came to it. I guess I just like to grow lots of stuff just in case.
The bees are going mad for the flowering plants and I let them go for them. I try to pick herbs and flowers to throw in meals for the nutrition too - calendula, tons of oregano, fennel flowers. I always think that if it was a zombie apocalypse and I stumbled across a place like this I'd be happily munching away.
Anyway, I could write forever as there's so much going on out there. But for now I can hear my chooks outside the door as the wind blew the gate open, so I guess I better go save my tomatoes!
With Love,

Are you on HIVE yet? Earn for writing! Referral link for FREE account here