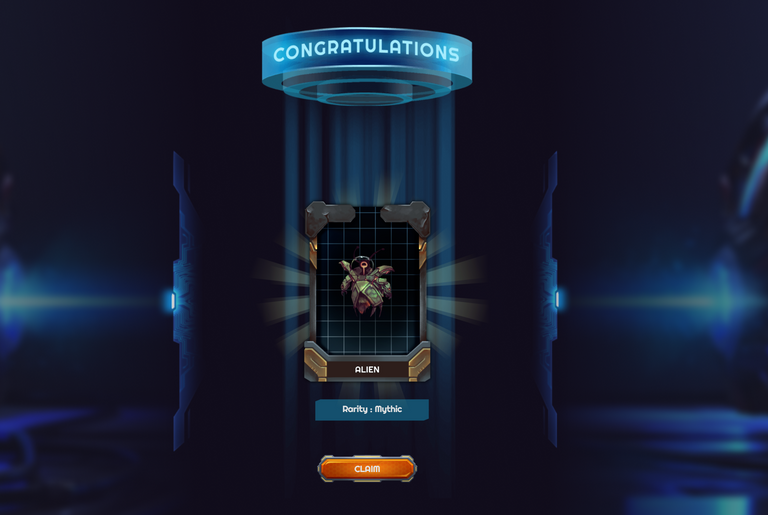 What can I say... I have waited a long time for it and have almost given up hope that I finally pull a Mythic NFT. Two days ago the elements Space and about 1,5 hours later Alien were found. Some time ago a new system was introduced, where now no longer the first 600 Crafts get a NFT, but you now make the Craft, and then get a ticket. By chance it will be decided (after 24 hours craft time) if you get a NFT, or the craft was lost and you go empty away.
I did 2x Space and 2x Alien. I got a NFT from both. For the Space Ticket I got an Uncommon Space, which staked for about 2k Aether per hour.
This morning I quickly checked if I also got an Alien NFT... and look - I was lucky and could get a NFT.
I opened it directly... I still say so... oh come, that will be again only a Common NFT... Click on Reveal... look away again - look again and say... What? A fucking awesome Alien Mythic NFT, staking for 197,000 Aether per hour! Wtf... what a great sunday. Today is my lucky day :)
German
Was soll ich sagen... ich habe da sehr lange drauf gewartet und habe die Hoffnung schon fast aufgegeben, das ich endlich mal ein Mythic NFT pulle. Vor Zwei Tagen wurden die Elemente Space und ca. 1,5 Stunden später dann Alien gefunden. Vor einiger Zeit wurde ein neues System eingeführt, wo nun nicht mehr die ersten 600 Crafts ein NFT erhalten, sondern man nun den Craft macht, und dazu dann ein Ticket erhält. Per Zufall wird dann entschieden (nach 24 Stunden Craft Zeit) ob man ein NFT erhält, oder der Craft umsonst war und man leer ausgeht.
Ich hab 2x Space und 2x Alien gemacht. Habe von beidem jeweils ein NFT erhalten. Für das Space Ticket hab ich ein Uncommon Space erhalten, was für ca. 2k Aether pro Stunde staked.
Heute morgen dann noch schnell geschaut, ob ich auch ein Alien NFT bekommen habe... und siehe da - Ich hatte glück und konnte ein NFT bekommen.
Das hab ich dann direkt aufgemacht... ich sag noch so... ach komm, das wird eh wieder mal nur ein Common NFT... Klicke auf Reveal... gucke wieder weg - Gucke wieder hin und say.. What? Ein fucking geiles Alien Mythic NFT, was für 197,000 Aether pro Stunde staked! Wtf... was ein geiler Sonntag. Heute ist mein Glückstag :)