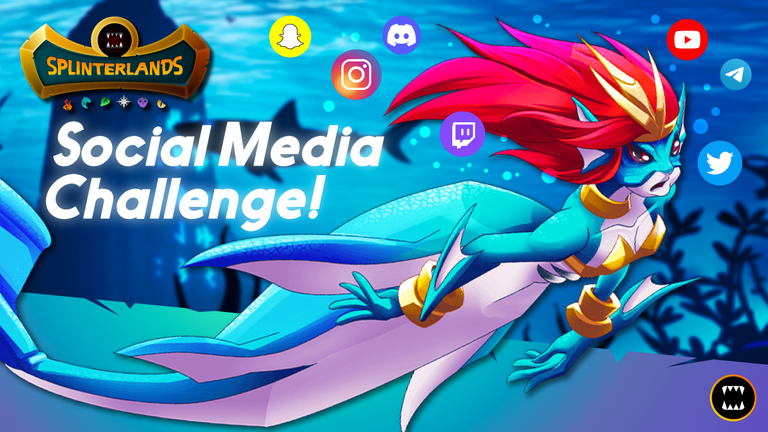 Greetings everyone, how is everybody doing this week? The season had just passed us and right after the end of season, we saw the emergence of the new soul bound reward cards. I am excited as this will bring a new dimension to the game play significantly. So without further ado, time to share my account growth and also the brawl report of the latest brawl for PIZZA 2.
Let's start things off with how my collection power increased since the last update.
Owned Card Power (CP)
Week Start CP: 24155
Week Ending CP: 24560
CP Additions:
Rewards
Vampire Bat x 8
Ever-Hungry Skull x 4
Blood Maker x 4
Merdhampir x 4
Imperial Knight x 1
Venari Seedsmith x 1
Gargoya Devil x
Exploding Rats x 1
Vulgine x 1
Naga Assassin x 1
Revealer x 1
Djinn Chwala x 1
CP: 405
Gladius Pack
Accumulating in progress. Currently only 4 packs. Will open at 8 packs like previous.
CP: NA
Delta to Silver 2: 15440
No complains, a rather decent CP growth because it include end of season for this week. And just last night, I gotten a new soul bound reward card added to my arsenal. And starting next week, hope I can get my hands on more of those soul bound cards to strengthen the choice of cards I can play.
End of Season Rewards

A good amount of cards gotten this EOS with 2 epic cards. SPS is a little on the low side. Total value for this end of season is $0.56, let's hope it will get even better next season end.
Brawl Report
Time for some brawl action! Let's take a look look at the matches I played this brawl. As usual, I am anchoring Fray 3 for my guild which is the Novice Chaos Legion Fray, so cards will be at lowest form without additional levelled up stats/abilities.
Brawl 1
Link: https://splinterlands.com?p=battle&id=sm_59WkgJ6YlsAkOhUpfiRg&ref=vaynard86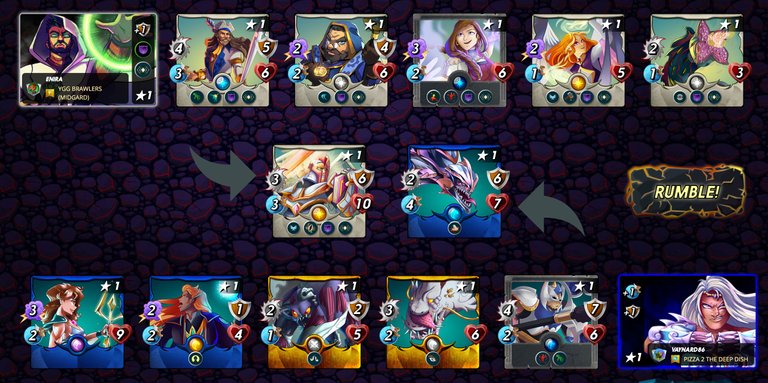 Oh my, I am facing a very strong deck especially Rathe boosting defence in all aspect for my opponent's lineup.
Outcome: Lost. Some learning to be done and also to put into consideration of owning a copy of Rathe.
Brawl 2
Link : https://splinterlands.com?p=battle&id=sm_riaQg6se0kcGIim9VKAU&ref=vaynard86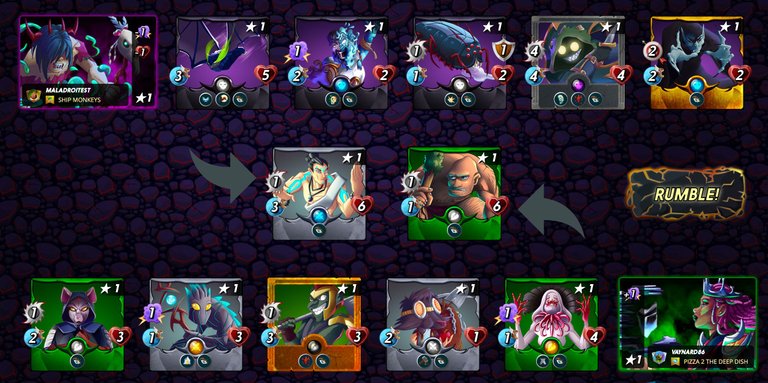 Little league, I cannot deploy Quora. I am not hopeful for this match.
Outcome: Lost. Trapp with opportunity is not a force to reckon with, really very strong.
Brawl 3
Link : https://splinterlands.com?p=battle&id=sm_KCYJSgFsxznjLn7T6cd8&ref=vaynard86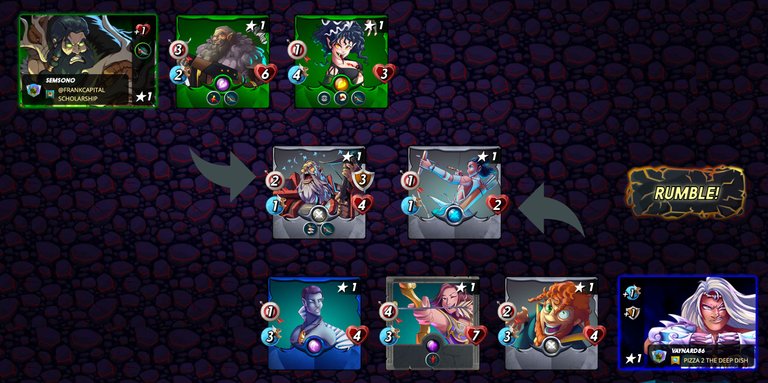 New ruleset, desperation move. In this match, I went through my inventory and find the splinter with most range monsters and dump it out. Suddenly I realize I really lack choices on range monsters.
Outcome: Win! I don't how I did it, but a win is a win. Especially when I picked based on whatever I can click on.
Brawl 4
Link : https://splinterlands.com?p=battle&id=sm_Fru7936jfKfmadPc5ECW&ref=vaynard86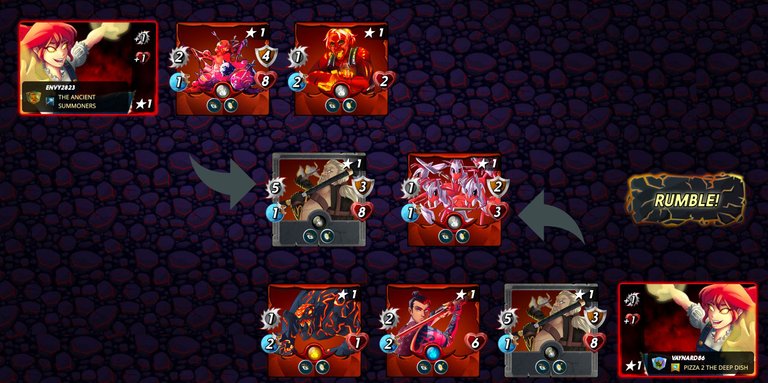 Fire vs fire. Chimney vs Chimney. But the other cards are slightly different.
Outcome: Win! Speed is key, I manage to take out my opponent card before it can do harm to me.
Brawl 5
Link : https://splinterlands.com?p=battle&id=sm_OwWf3GA9ALeqX2K0CUCo&ref=vaynard86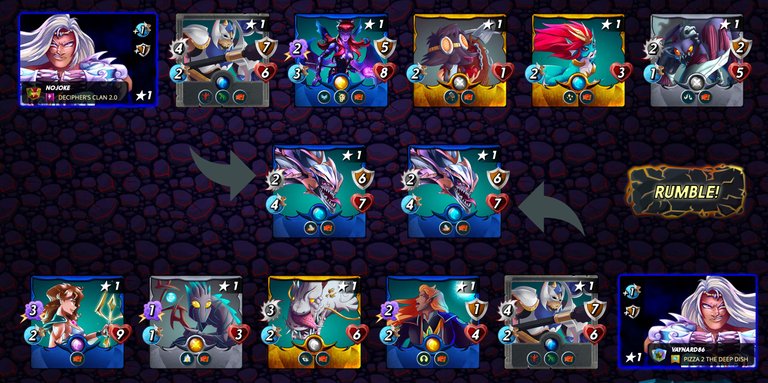 I used a heavier output driven lineup vs my opponent whom opted for repair and heal.
Outcome: Win! Out damage and overpower was the key. Heal or repair did not happen fast enough.
Guild Final Tally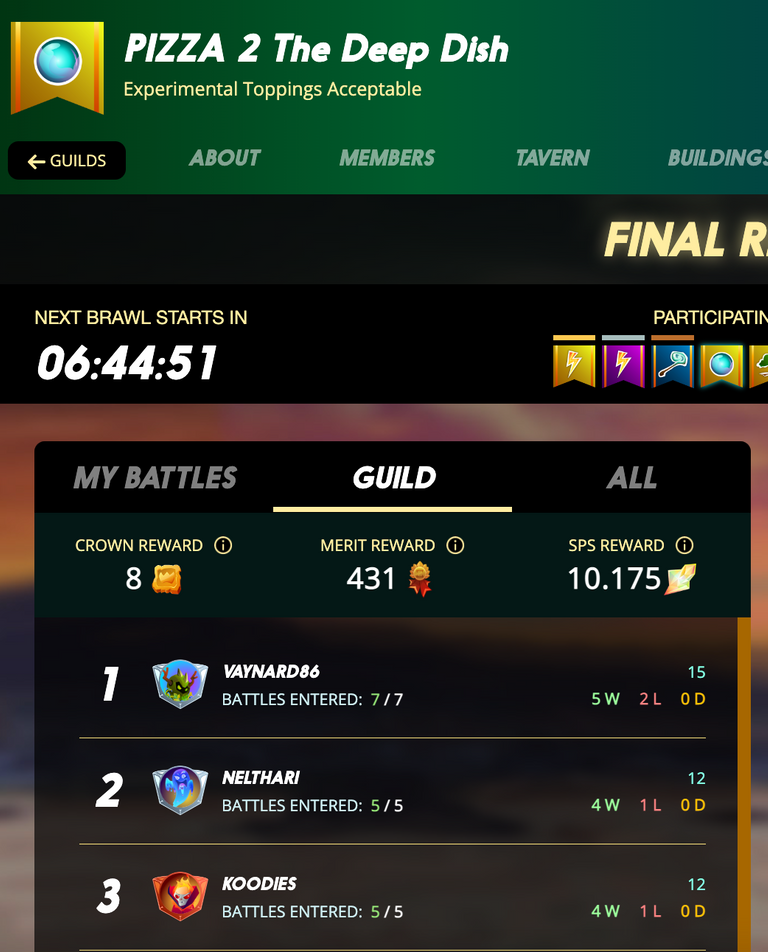 I am assigned 7 matches this brawl, I won 5 of them (which included 2 fleeing case) and lost 2. Brawl is getting harder especially with multi variate ruleset of up to 3 at one go. I will continue to seek expansion to my inventory. Surprisingly, this week's brawl there is no match that I can use Quora but I still did rather decent in the results.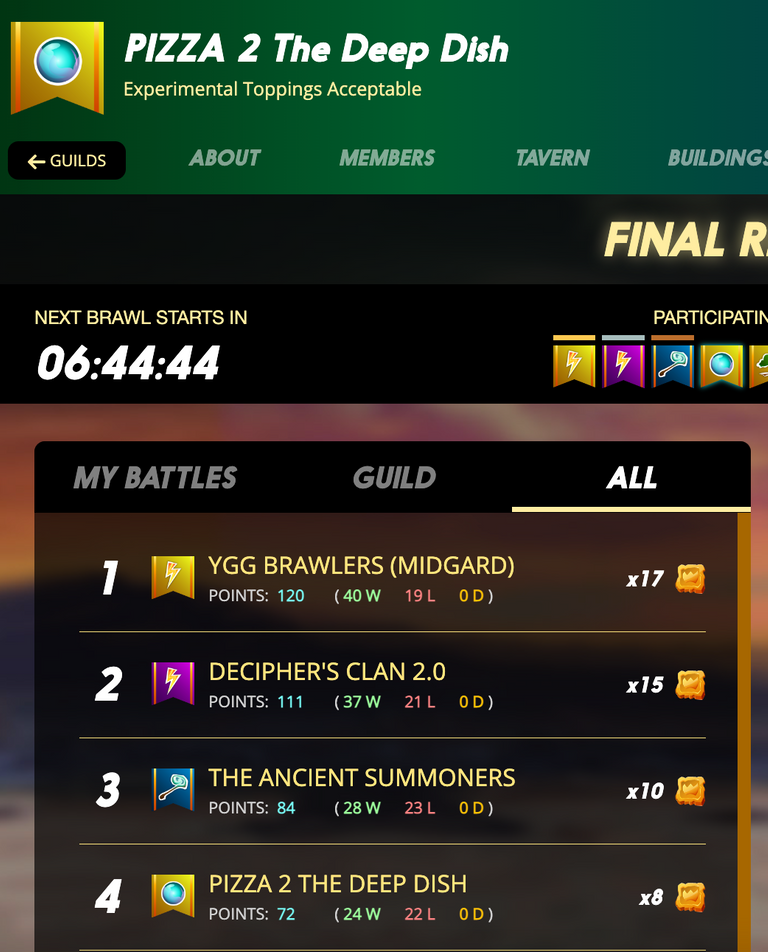 Unfortunately, we dropped to rank 4. I think everyone is adjusting to the new ruleset and the multi stacking ruleset. Let us regroup fellow guild members and claim back placement in the podium. Keep fighting and go PIZZA 2!
Thoughts about Splinterlands Journey
The reward cards that I've mentioned last week is finally here. Though I only have 1 copy, that is the start to many in the future. Let's continue to monitor and shortlist good cards to be used and also to adapt them to suit the new formed meta.
Exciting times of rediscovery, such changes to meta breaks stagnancy and challenges us to think and optimize our current favoured lineups to do better.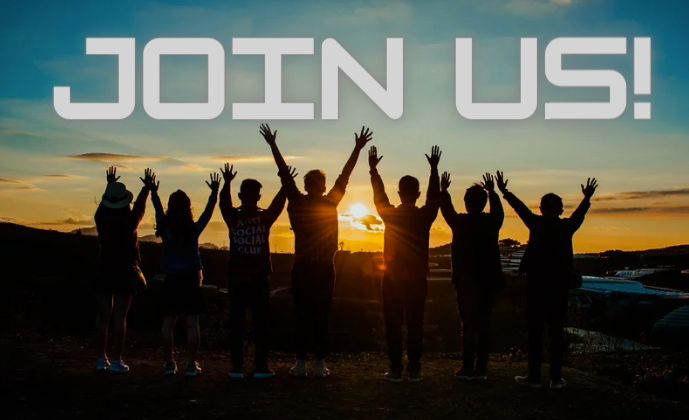 Call to Action
Splinterlands is a game that made me change my whole perspective of mobile gaming. The community and non-fixed gameplay is what attracts me and I believe will be something you wish to experience.
If you wish to join me, click on the link below and join me in this adventure.
https://splinterlands.com?ref=vaynard86
Do drop me a comment/message if you've joined Splinterlands through my referral link and I will transfer you some DEC to help you begin your Splinterlands journey.
I am currently also part of PIZZA community and also a part of the community's Splinterlands Guild. PIZZA is an active gaming and creative arts crypto community on the HIVE blockchain. Popular cryto games such as SPLINTERLANDS, RISING STAR and HASHKINGS are actively discussed here. Plenty of other things are being discussed there with many good information.
Many events are being organized from time to time. Join the PIZZA DISCORD. This is a place filled with 💰🍕🎁GIVEAWAYS & AIRDROPS💰🍕🎁 and most definitely consisting of a friendly community to be in.
Thank you for reading post about my journey thus far. I would really appreciate it if you liked and/or comment to let me know what are you thoughts.
Let's keep up this community spirit to allow more learning and sharing.
Until next time, stay safe and have fun!