When I first got into the game Splinterlands I enjoyed the battles, got excited about advancing in my ranks, and payed close attention to the various cards, which I tried to get as many as I could my hands on. At that time Beta packs were still being minted, and the game had just introduced reward cards. A lot has changed since then. The game itself has become much more complex, and I have shifted away from actively playing, to profiting passively by renting out my cards. Initially my hopes were limited, seeing the marginal profit I got, but over time even in this regard I had to realize the amazing potential of this game. By now, my overall Splinterlands assets are worth more than all my second-tier coins on HiveEngine combined (including such gems as LEO and ECOBANK).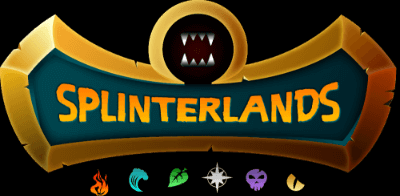 Cards And Coins of Various Types
Granted, most of this astounding wealth came to me via the year-long Splintershards (SPS) airdrop, which just ended recently. But even that was based partially on my staked SPS, which is why I made sure to stake it all as frequently as possible. In the meantime I kept renting my Beta cards for the other game token Dark Energy Crystals (DEC). I remember at one point, probably towards the end of last year, this was super lucrative, earning me close to a thousand DEC a day - which also happened to be worth a lot more too back then. I even sought out less pricey upgrades to my Beta cards to spend my DEC on, though the major increase in cards came with the introduction of the Chaos Legion packs. Later of course, as it usually tends to happen, DEC prices dropped, and the rental market became more competitive, driving my daily earnings down to 500 DEC, and further. Most recently I got about 250 DEC a day at the most, if I managed to rent out all my cards.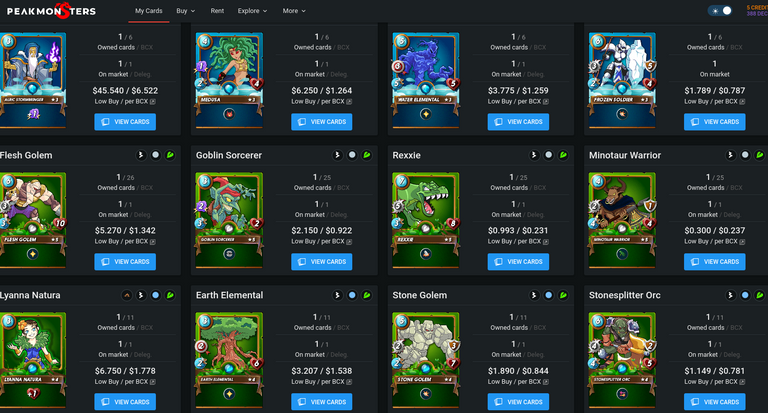 Conservative, Aggressive, or Simply the Lowest?
Obviously, I only spent so much time chasing the best rental prices. If my card would not be rented, I would compare my price to the going rate, and realize that I was asking too much for it. So little by little I would lower my prices to stay competitive. All this came to an end when I noticed the modified rental calculator on PeakMonsters, offering you not only the most competitive rates of each card, but also the daily max, min, median rates, as well as a conservative (50th PCT), and an aggressive (80th PCT) rate. Testing them, I adjusted all of my cards to what was calculated as conservative for that day, with a few exceptions of my best cards, which I changed to aggressive. As soon as the transition period of rental adjustment was completed, my daily income rose to over 500 DEC. Naturally, the prices keep fluctuating, so checking and readjusting them every day is as important as ever.
Unstaking My SPS
Even though I earned most of my SPS from staking, and still today I'd get around 20 SPS for my 5k staked SPS (plus a bit of VOUCHERS), I have decided to unstake all my SPS and put it into liquidity pools instead. So far I have unstaked the first quarter, and combined it with what I used to have in the SPS:SPT pool, totaling about 2.3k SPS. At the current rate it is already bringing me 10 SPS a day. Rates fluctuate of course, and it's hard to say how much it will yield me in three weeks, when the remaining 3.75k SPS are unstaked too. Still, I feel pretty confident it will be worthwhile in the end. And finally, when the time comes to move my assets elsewhere, I'll be able to leave the pool much faster than having to wait weeks for unstaking my SPS.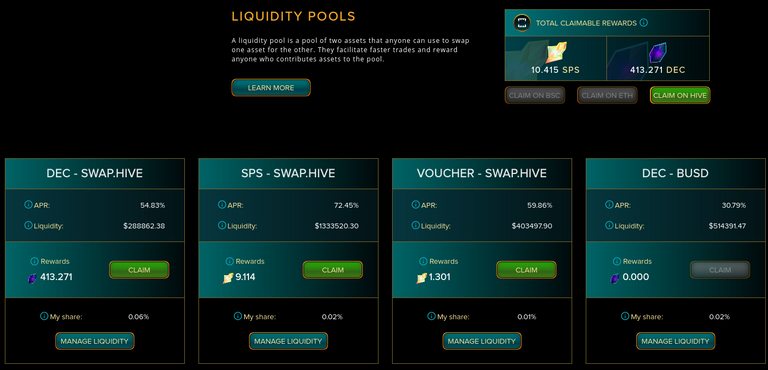 While the SPS-SWAP.HIVE pool is where most of my Splinterlands funds are, I also make good use of the DEC-SWAP.HIVE and VOUCHER-SWAP.HIVE pools, depositing my DEC and VOUCHER income into them every week. At the moment I have about 137 DEC and 41 VOUCHERs in them, plus the corresponding SWAP.HIVE. Let's see where all that takes me...
Other Potential Opportunities
I have to admit, as much I believe in Splinterlands (which I think is still the most successful blockchain game out there), I have always been a bit skeptic about its tokens. In comparison, I have a much better feeling about the cards themselves. This is why I feel I really should turn my profit into something more stable, something that has risen in value both dramatically and confidently over time. So buying cards would be THE thing to do. Here I am not even sure if Beta packs are still worth it, being out of print, and having gone up in price, or if I should rather level up my Chaos Legions. I tend towards the latter. Finally, there is the great prospect of Land Plots, of which I have bought one so far, taking advantage of its low price... However, it hasn't increased by very much since then, so maybe I should buy another one. In the end, I believe this has incredible potential, maybe at least as much as the monster cards. And I know I'd be kicking myself if I missed out on acquiring as many as I can...