Splinterlands, the worldwide GameFi leader, has in the last 2 weeks sold out thousands of Card NFTs worth over $4 million in a low point in a very mean bear market. The Card NFts sold out comprised presale packs of Riftwatchers, Tower Defense and whitelist spots for Runicore generative NFT. This goes ahead to show the crypto-economic strength of the Splinterlands community beyond numbers.
It's incredible to have seen the pre-sale packs bought within seconds. For the records, 500,000 Riftwatchers sold out in 1 minute and 39 seconds, 250,000 Tower Defense sold out in 12 hours and 2,000 Runicore sold out in under 2 minutes. Such numbers are really hard to catch ordinarily let alone in a deep long bear season. This new work keeps distinguishing Splinterlands game among its contemporaries in addition to it being the most played blockchain game since August 2021 with over 10M battles daily.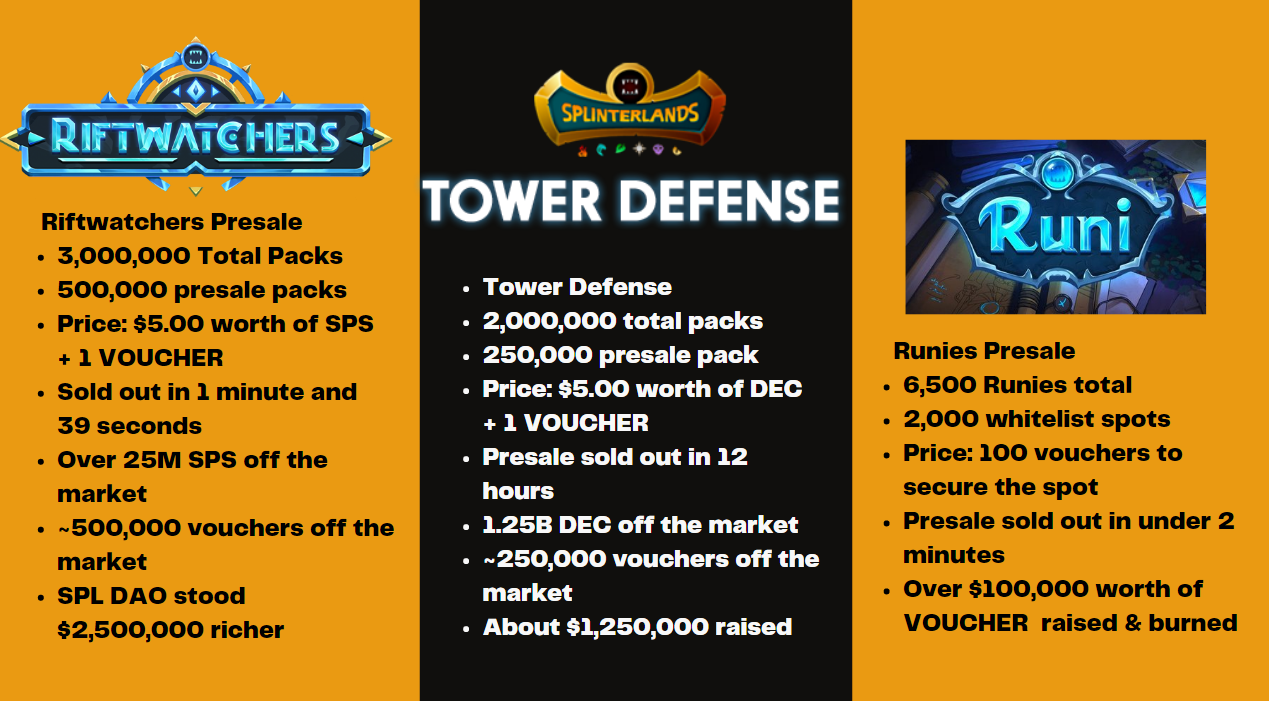 GameFi is the combining the two verticals: Gaming and Finance, and has come to stay as leading use case in the cryptoverse. The advent of GameFi has made playing games to evolve from just a fun and leisure activity to a worldwide venture employing millions of people around the globe. Several families are making a living from gaming earnings as well as recovering from the effects of covid-19 on economies.
Some of the GameFi projects built on hype unsustainable play-to-earn model have collapsed during this crypto winter, however, Splinterlands built on the Hive blockchain has been making some significant impressions in its development, marketing and advancing its frontiers into the sports sector with the launch of the Genesis League Sports platform.
The past two weeks have been nonstop engagement for the Splinterlands team and community. Selling out the Tower Defense, Riftwatchers and Runi presales so quickly was is beyond impressive in the current market. Below are the amazing details created.
Riftwatchers Presale Details
3,000,000 Total Packs
500,000 presale packs
Price: $5.00 worth of SPS + 1 VOUCHER
Sold out in 1 minute and 39 seconds
Over 25M SPS off the market
~500,000 vouchers off the market
SPL DAO stood $2,500,000 richer
Tower Defense Details
2,000,000 total packs
250,000 presale pack
Price: $5.00 worth of DEC + 1 VOUCHER
Presale sold out in 12 hours
1.25B DEC off the market
~250,000 vouchers off the market
About $1,250,000 raised
Runies Presale Details
6,500 Runies total
2,000 whitelist spots
Price: 100 vouchers to secure the spot
Presale sold out in under 2 minutes
Over $100,000 worth of VOUCHER raised & burned
It is very obvious that Splinterlands is ready to become a point of reference in GameFi as it stretches out into other blockchains. In a recent tweet Splinterlands questioned the readiness of the Ethereum blockchain to contain the growing Splinterlands invasion with surging transactions and deliverables.
The Splinterlands CEO, Jesse "Aggroed" Reich, has also expressed his satisfaction with the sale and calls it rapid success.
"We know that we've created a great game here, and that our community is enthusiastic about what we are building in the Web3 space," said Reich. "But even our greatest expectations have been surpassed in such a massive, rapid success in the Riftwatchers sale."... "GameFi is here to stay." source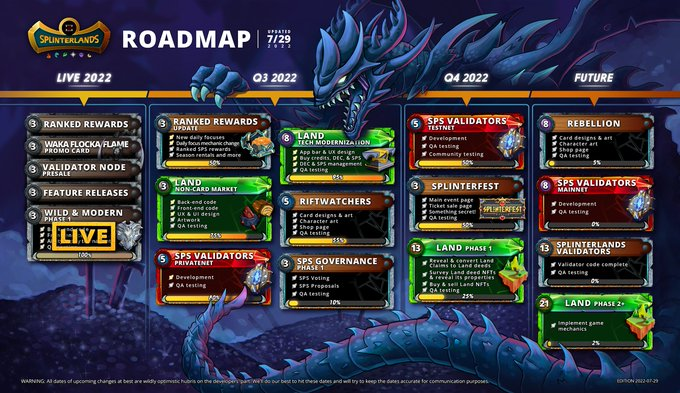 This remarkable success of the sale indicates the strong commitment and loyalty of the Splinterlands community to the game and economy. It can be inferred that with the company's ongoing victories, Splinterlands will lead GameFi as a serious contender in bringing Web3 technology into mainstream use cases.
The Splinterlands team have stated their resolve to expand the frontiers of GameFi and are committed to BUIDLing while the bear lasts. I'm sure that the next items on the Splinterlands Roadmap would be successfully executed. It's cool to join the train and not be left out.
It can only get better.

Splinterlands game is termed the "next generation of collectible card games" in which allows players to collect, trade, and battle with provably scarce digital collectibles with real-world value. Battles on Splinterlands Unlike most trading card games, are fast and furious, and are usually completed within few minutes. The Splinterlands gameplay is simple and easy to learn viz: reviewing combat rules, making and submitting of the team and watching the battle unfold.

Let's Connect
Hive: https://leofinance.io/@uyobong
Twitter: https://twitter.com/Uyobong3
Discord: uyobong#5966
---