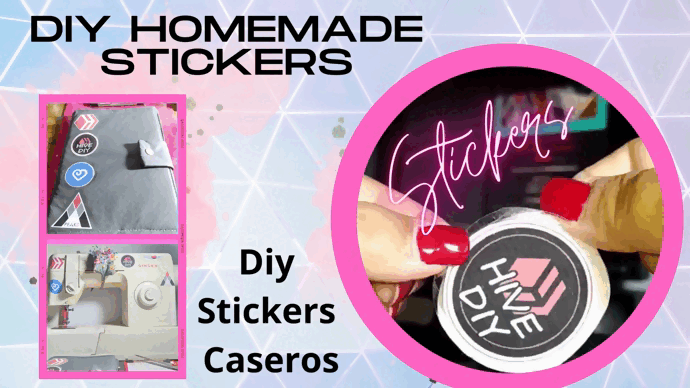 Today we are going to make some homemade Stickers, with little materials, great adhesion and very easy. I am so excited to be part of Hive, that every day I want to have it more and more present, it has a lot to do with the fact that I am currently trying to achieve the Content Creation Challenge for this month of February, where we are making publications every day in order to achieve the corresponding Badge, and it is very difficult but I'm doing my best to achieve it.
I want to make this version of stickers, to place them in various places and carry them with me always, I will show you how I did it.... Join me.
Hoy haremos unos Stickers Caseros, con poco materiales, gran adherencia y muy fáciles. Estoy tan emocionada de ser parte de Hive, que cada día quiero tenerlo más y más presente, tiene mucho que ver el hecho de que actualmente estoy tratando de lograr el Reto de Creación de Contenido para este mes de febrero, donde estamos realizando publicaciones todos los días con la finalidad de alcanzar la Insignia correspondiente, y es muy difícil pero estoy poniendo lo mejor de mi parte para alcanzarla.

Quiero hacer esta versión de stickers, para colocarlos en varios lugares y llevarlos conmigo siempre, te voy a mostrar cómo lo hice... Acompáñame.

To print the stickers, we will certainly use some technological resources such as the pc, the programs that I will mention below and the printer. Apart from that, physically we will only need:
Thick transparent adhesive tape
Waxed paper or the paper that we take off from the contact paper, which we discard after use.
Scissors
Para realizar las impresiones de los stickers, ciertamente vamos a utilizar unos recursos tecnológicos como la pc, los programas que te voy a mencionar más adelante y la impresora. A parte de eso, físicamente solo vamos a necesitar:

Cinta adhesiva transparente y gruesa
Papel encerado o el papel que desprendemos del papel contact, que desechamos luego de usar.
Tijera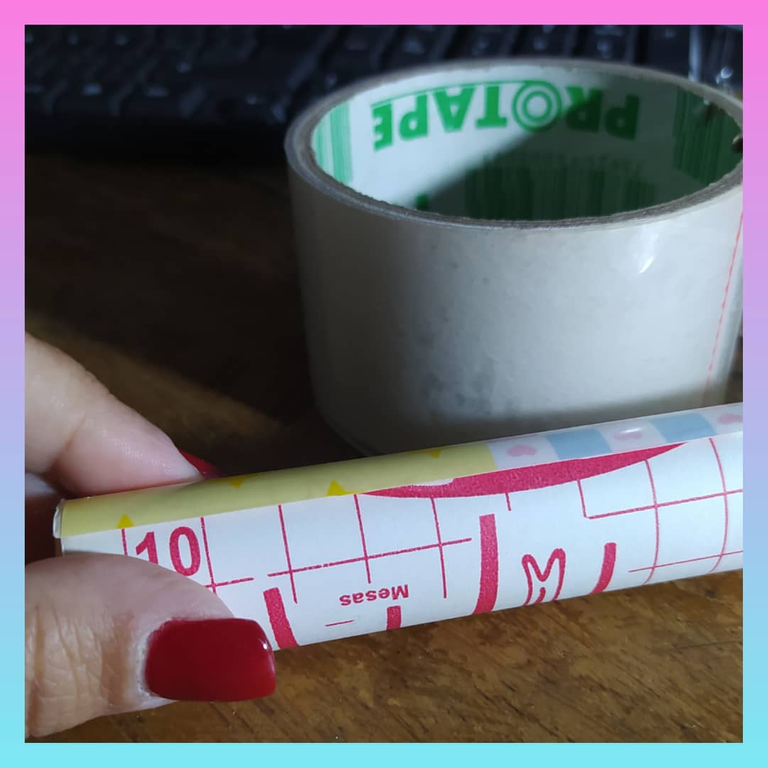 Sticker Design / Diseño de los Stickers
As I mentioned before, I want these Stickers to customize my PC, my sewing machine, notebooks, folder, cell phone; that is, all the equipment and tools I work with to create content for my Hive Blog. So, I started with the Logos of the main Frontend of Hive and my Niche Community which is Hive Diy, which I searched in the browser and saved them.
Como les mencioné anteriormente, quiero estos Stickers para personalizar mi Pc, mi máquina de coser, libretas, carpeta, celular; es decir todos los equipos y herramientas con las que trabajo para Crear Contenido para mi Blog en Hive. Entonces, comencé con los Logos de las principales Frontend de Hive y de mi Comunidad Nicho que es Hive Diy, los cuales busqué en el navegador y los guardé.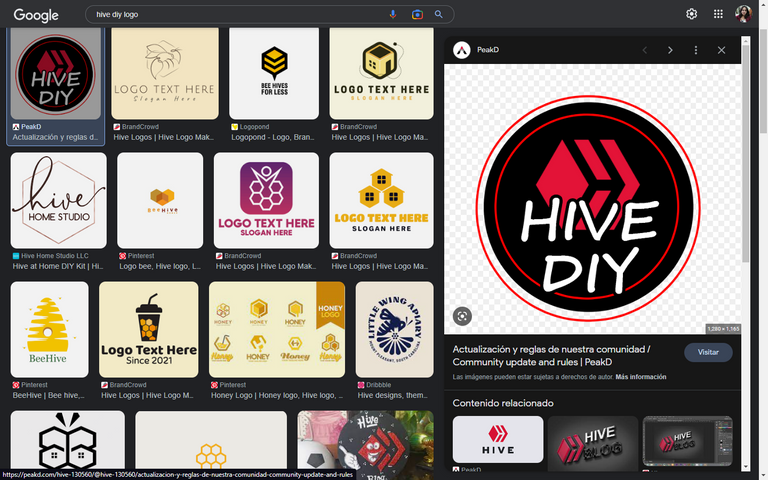 Then, to make sure that they were without background I passed them through the web page: remove.bg with which the background is removed, and I downloaded them with its option and again saved them in my pc.
Luego, para asegurarme que estuviesen sin fondo los pasé por la página web: remove.bg con la que se elimina el fondo, y las Descargué con su opción y nuevamente las guardé en mi pc.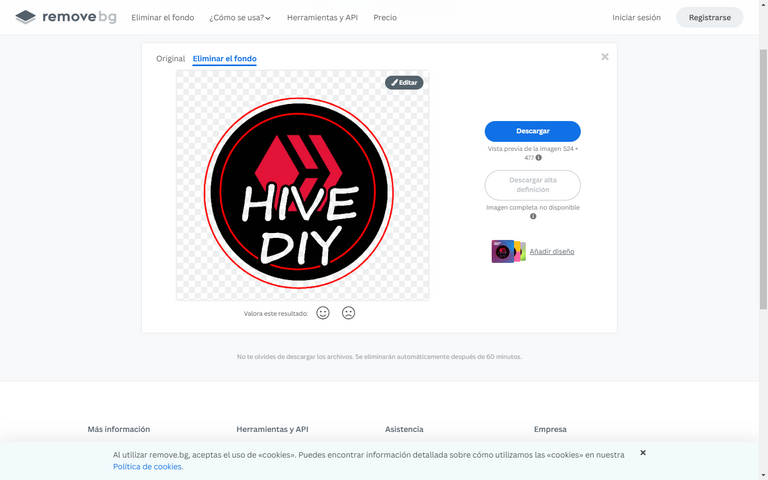 On the pc I used the Paint 3D Tool and loaded the 4 logos: Ecency, Hive Diy, Hive and Peakd. This I saved as an image.
En la pc utilicé la Herramienta Paint 3D y cargué los 4 logos: Ecency, Hive Diy, Hive y Peakd. Esto lo guardé como imagen.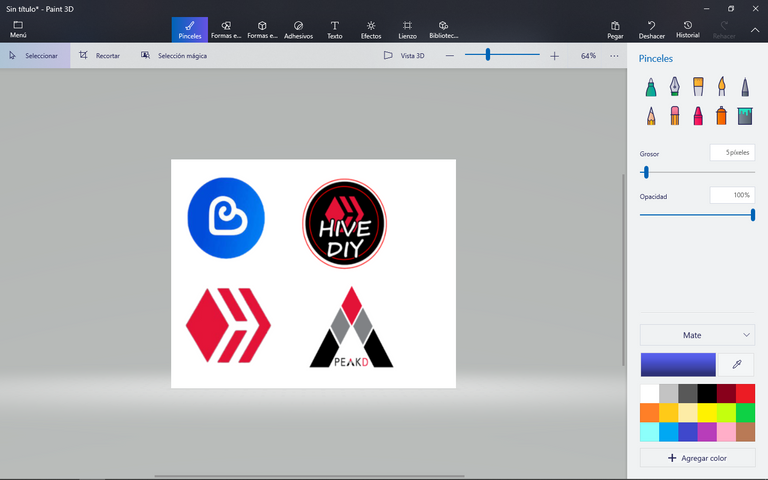 Now with my Epson Printer, on letter paper I printed the logos in color, indicating high printing quality and adjusting its size to 80% so that the size of the logos was not so big.
I printed 4 sets of logos, and I took advantage of the sheet of paper by turning it over so as not to waste material, we must always make the best use of the resources we have.
Ahora con mi Impresora Epson, en papel carta realicé la impresión a color de los logos, indicando alta calidad de impresión y ajustando su tamaño al 80% para que el tamaño de los logos no fuese tan grande.

Imprimí 4 juegos de logos, y aproveché la hoja de papel volteándola para no desperdiciar material, siempre hay que hacer el mejor uso de los recursos que disponemos.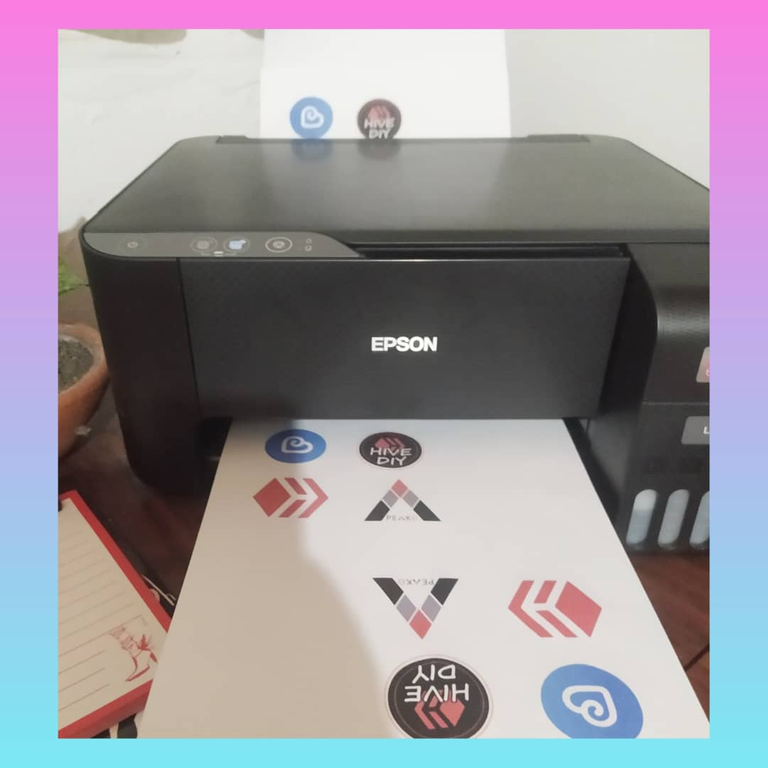 With a lot of patience I cut out all the logos, and I have to tell you that cutting out circles has its degree of difficulty, and I discovered it today... The logos that only require straight cuts are easier and are finished faster. I preferred to leave a small white border on each logo, to make them stand out even more.
Con mucha paciencia recorté todos los logos, y les cuento que recortar círculos tiene su grado de dificultad, y lo descubrí hoy... Los logos que solo requieren cortes rectos son más fáciles y se terminan más rápidos. Preferí dejarles un pequeño borde blanco a cada logo, para destacarlos aún más.
And this is how nice the cut-out logos look: ❤️❤️❤️
Y así de lindos quedan los logos ya recortados ❤️❤️❤️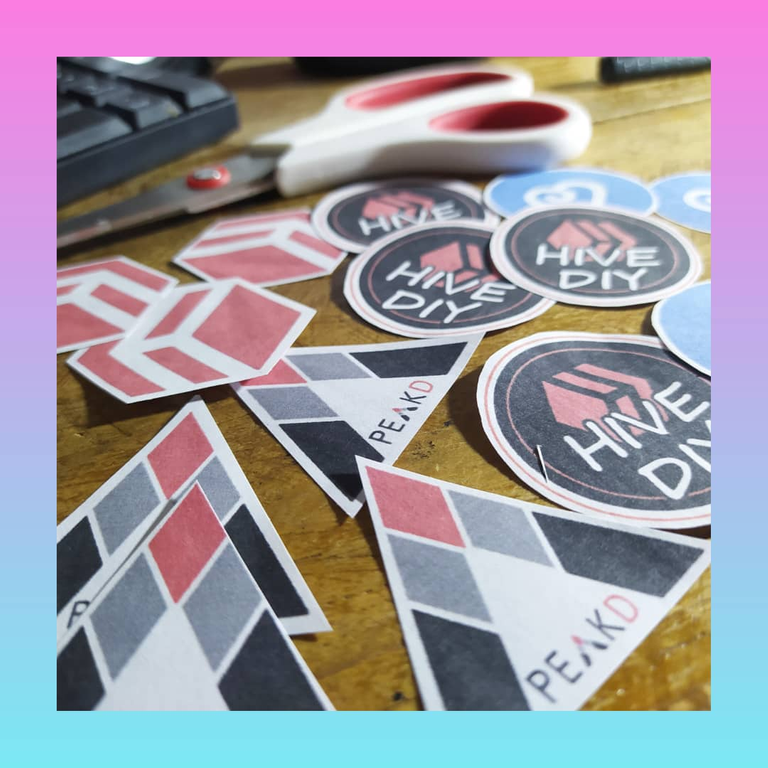 Homemade Sticker Making Trick
Truco Casero para hacer los Stickers
I cut a piece of masking tape that is slightly larger than the logo I want to make Sticker.

I place or stick it on the piece of contact paper that is discarded on the slippery side and press.

I place the logo on the adhesive tape.

I place another piece of tape over the logo, so that the logo will be in the middle of the two tapes as if it were a sandwich, with the printed part visible upwards.
Everything as shown below:
Corto una trozo de la cinta adhesiva que sea un poco más grande que el logo que quiero hacer Sticker.

Lo coloco o pego en el trozo de papel contact que se desecha por el lado que es resbaloso y presiono.

Coloco el logo sobre la cinta adhesiva

Coloco otro trozo de cinta adhesiva sobre el logo, de manera que el logo va a quedar en el medio de las dos cintas adhesiva como si fuese un sandwich, y con la parte impresa visible hacia arriba.

Todo como se ve a continuación: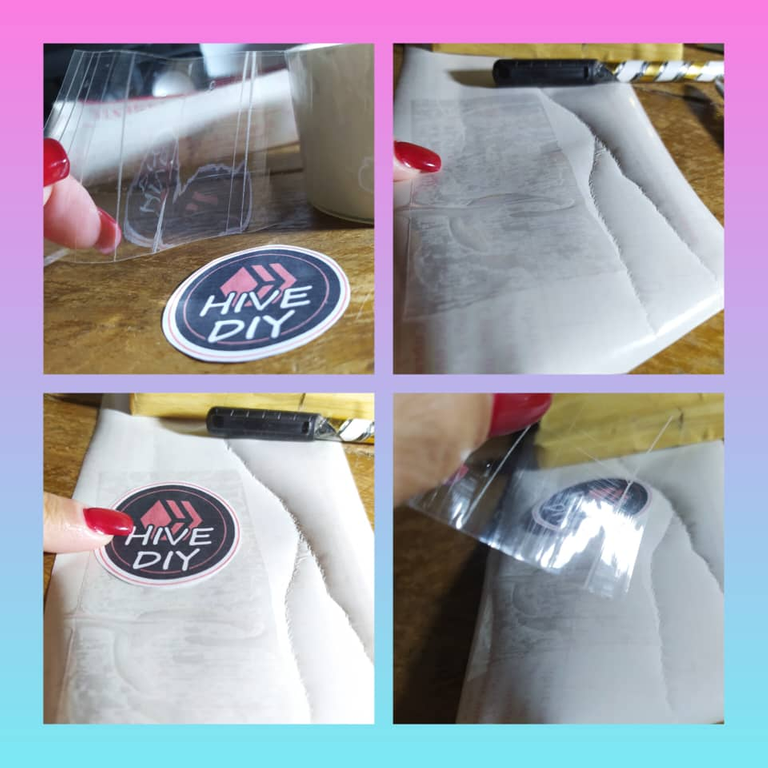 I press very well with my fingers, the sandwich I made with my logo, to give heat to the adhesive tapes and ensure that everything is well glued and cut everything leaving a border preferably.
You can see in the second gif, the logo with the lamination on top, and underneath the recycled paper, leaving everything as if it were a real sticker.
Presiono muy bien con mis dedos, el sandwich que hice con mi logo, para darle calor a las cintas adhesivas y garantizar que quede bien pegado todo y recorto todo dejando un borde preferiblemente.
Puedes ver en el segundo gif, el logo con el plastificado por encima, y por debajo el papel reciclado, quedando todo como si se tratase de un verdadero sticker.
Now you can see perfectly well that the sticker was achieved, since when separating it from the recycled paper, the logo has adhesive tape on the entire lower surface, that is to say that it is not simply placing the adhesive tape on top of the logo. The whole logo has adhesive tape all over its lower body, it is certainly a sticker. You can see the glitter of the glue when you take it out of the paper.
I can use it wherever I want and it will have very good adhesion.
Ahora puedes ver perfectamente que si se logró el sticker, ya que al separarlo del papel reciclado, el logo tiene cinta adhesiva en toda la superficie inferior, es decir que no es simplemente colocar la cinta adhesiva arriba del logo. El logo completo tiene pega de la cinta adhesiva en todo su cuerpo inferior, es ciertamente un sticker. Puedes ver el brillo del pegamento al sacarlo del papel

Ya lo puedo usar donde quiera y tendrá muy buena adherencia.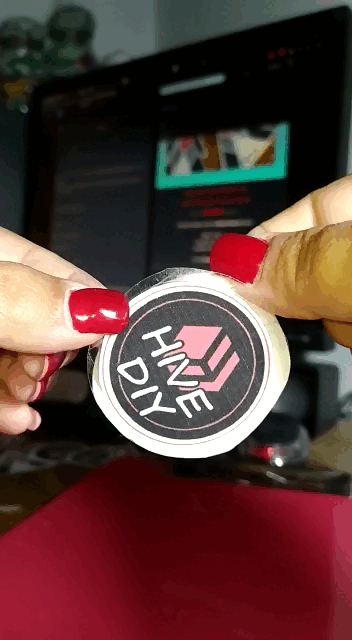 Once the stickers are ready, I can use them wherever I want, and I can also save them for later use. Here I used them on a document folder and on my check table.
Ya con los stickers listos, los puedo usar donde lo desee, y también lo pudiera guardar para utilizarlos luego. Aquí los usé en una carpeta porta documentos y en mi tabla de chequeo.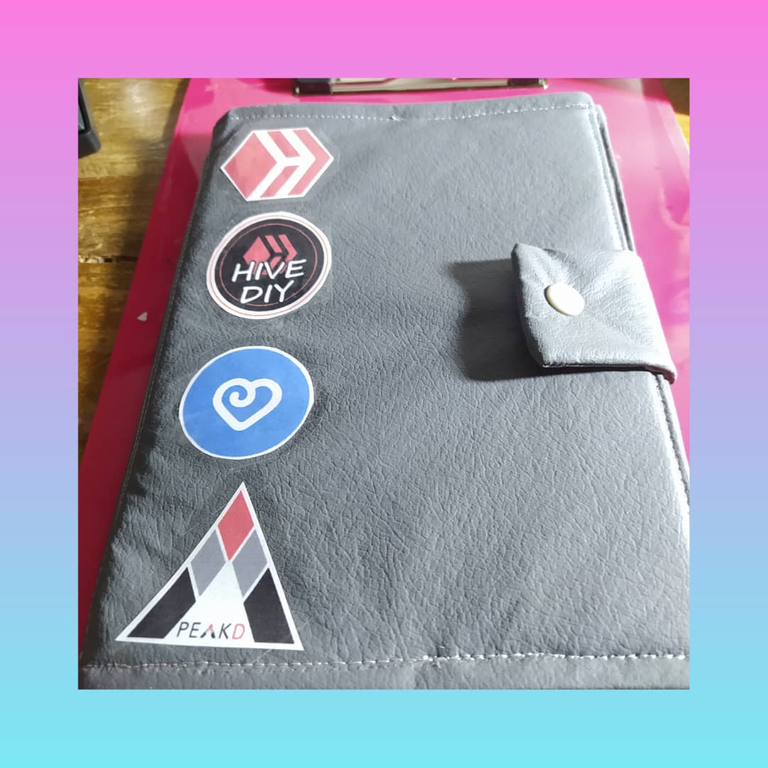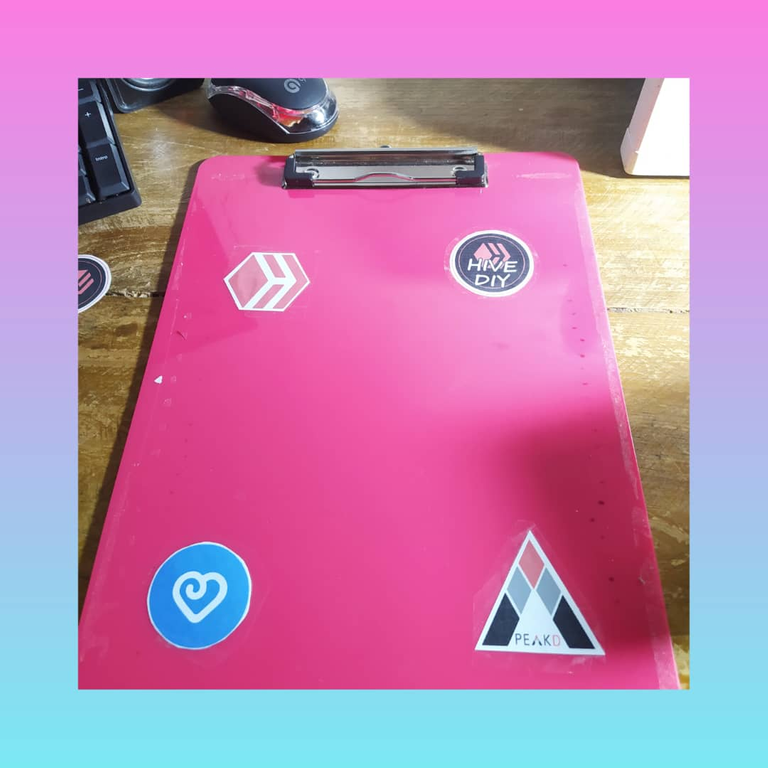 And of course on the tool I use the most, my sewing machine which is now fully institutionalized with the Hive Ecosystem.
Y por supuesto que en la herramienta que más uso, mi máquina de coser que ya está totalmente institucionalizada con el Ecosistema Hive.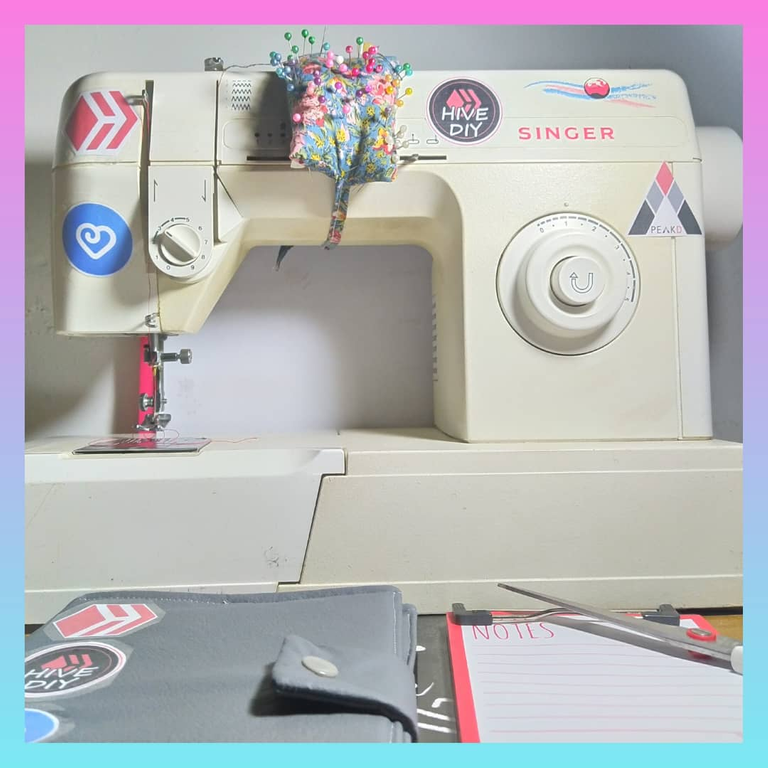 The quality of these stickers does not replace those that we can make printed on professional paper and special for it, but we can solve in a homemade way and with a minimum investment.
In another publication I will tell you my experience making them in another way, more commercial. But knowing and having access to an expeditious and economical solution is very convenient and works very well.
Until a future publication, I send you a hug 🤗🤗
La calidad de estos stickers no sustituye a los que podemos hacer impresos en el papel profesional y especial para ello, pero podemos resolver de forma casera y con una mínima inversión.
En otra publicación les contaré mi experiencia haciéndolos de otra forma, más comercial. Pero conocer y tener acceso a una solución expedita y económica, es muy conveniente y funciona muy bien.

Hasta una próxima publicación, les mando un abrazo 🤗🤗
---------- ❤️❤️❤️❤️ ----------
I took the photos with my Redmi Note 8 phone
Apps I used:
Canva for the Cover
Inshot for the Collage
Online-convert.com for Gifs
I used Deepl Translate
I used the Hive, Ecency, Peakd and Hive Diy logos.
---
My social networks:
Discord: YennysYaneth#0189
Twitter: @yennysferm
Instagram: @yennysyaneth
---------- ❤️❤️❤️❤️ ----------
Las fotos las tomé con mi teléfono Redmi Note 8
Apps que utilicé:
Canva para la Portada
Inshot para los Collage
Online-convert.com para los Gifs
Utilicé el Traductor Deepl
Utilicé los Logos de Hive, Ecency, Peakd y Hive Diy
---
Mi redes sociales:
Discord: YennysYaneth#0189
Twitter: @yennysferm
Instagram: @yennysyaneth