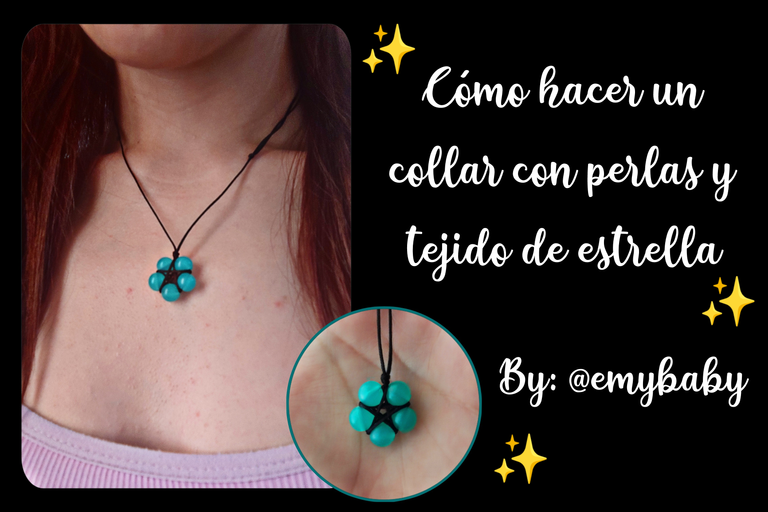 Hola amigos de esta linda comunidad✨
Hoy quiero compartir con ustedes el paso a paso de cómo hacer un collar con perlas y tejido de estrella👌🏻
De esta forma, obtendrán un lindo accesorio muy fácil de hacer...
¡Empecemos!✨
Hello friends of this nice community✨
Today I want to share with you the step by step of how to make a necklace with pearls and weaving from stars👌🏻
This way, you will get a nice accessory very easy to make...
Let's get started!✨
---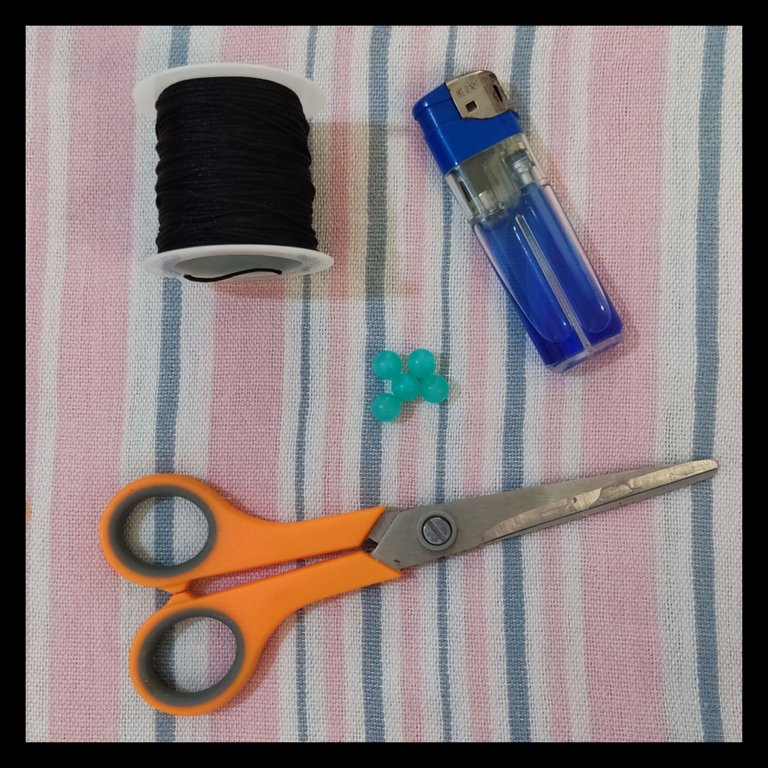 Los materiales que utilicé para crear este accesorio fueron:
1 metro de hilo encerado, en mi caso utilicé de color negro
5 perlas plásticas, yo las elegí turquesa
Tijeras
Encendedor
The materials that I used to create this accessory were:
1 meter of waxed thread, in my case I used black color.
5 plastic beads, I chose turquoise ones.
Scissors
Lighter
---
Para empezar cortaremos el metro de hilo del rollo, o si ya lo tienen cortado a la medida, sellaremos las puntas con el encendedor. para que estén duras y nos permitan pasar las perlas plásticas a través del hilo y ubicar las 5 perlas en el centro del hilo.
Luego, juntamos las perlas haciendo presión con los dedos como se muestra en la imagen y tomamos uno de los hilos sin soltar las perlas.
To begin, we will cut the meter of thread from the roll, or if you already have it cut to size, we will seal the ends with the lighter so that they are hard and allow us to pass the plastic beads through the thread and place the 5 beads in the center of the thread.
Then, we put the beads together by pressing them with our fingers as shown in the picture and we take one of the threads without letting go of the beads.
---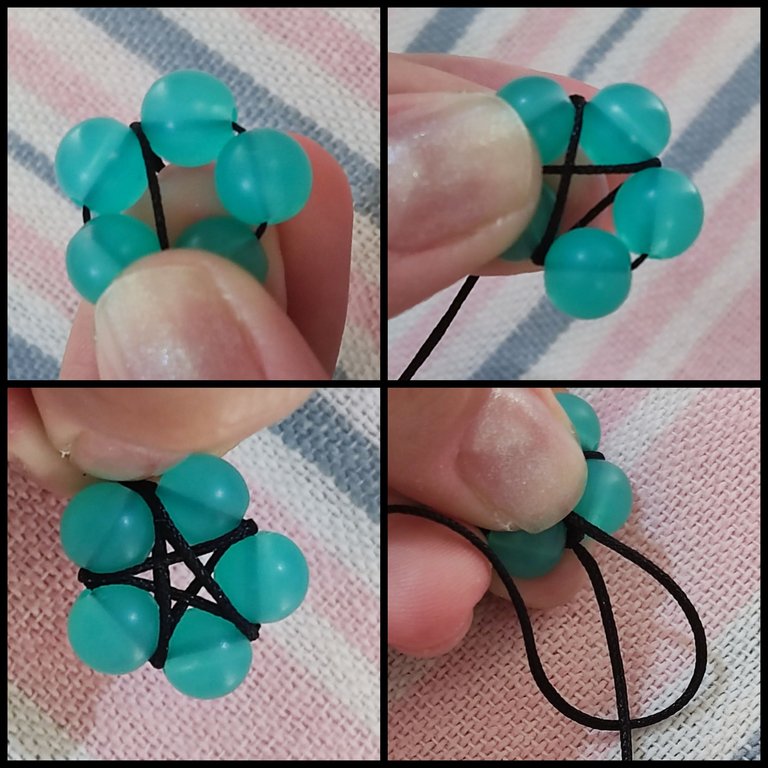 Pasaremos uno de los hilos por encima de las perlas y seguiremos el patrón como si estuviésemos dibujando una estrella de david, y volvemos al inicio para conectar con el otro hilo.
Lo importante es mantener la presión para que las perlas queden firmes y se pueda ver la estrella formada por el hilo.
Después, hacemos un nudo, para fijar el diseño de nuestro nuevo dije.
We will pass one of the threads over the beads and follow the pattern as if we were drawing a Star of David, and return to the beginning to connect with the other thread.
The important thing is to keep the pressure so that the pearls are firm and the star formed by the thread can be seen.
Then, we tie a knot to fix the design of our new pendant.
---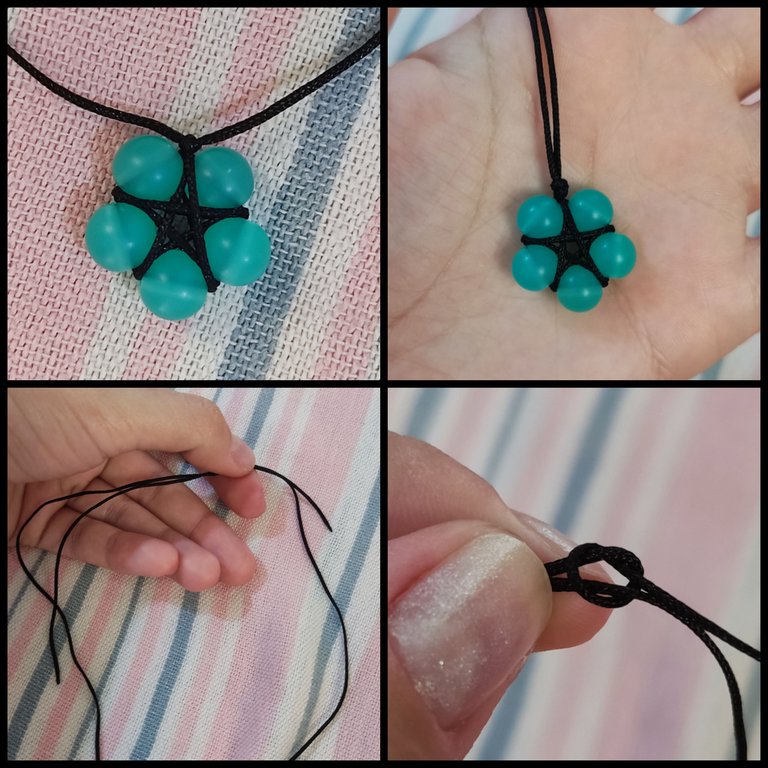 Para finalizar, uniremos los dos hilos de forma paralelas el uno del otro, y con cada punta haremos un nudo simple, para abrir y cerrar nuestro collar✨
To finish, we will join the two threads parallel to each other, and with each end we will make a simple knot, to open and close our necklace✨.
---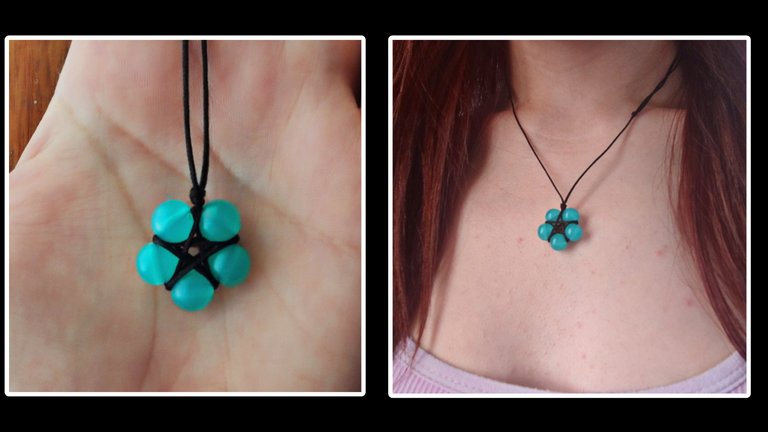 Este fue el resultado, espero les guste!!
Y puedan recrearlo con las piedras de su preferencia 👌🏻🦋
This is the result, I hope you like it!
And you can recreate it with the stones of your choice 👌🏻🦋
---

Todas las fotografías son de mi autoría tomadas con mi celular POCO X3 Pro
Ediciones elaboradas con PicsArt
Traducido en DeepL
All photographs are my own, taken with my POCO X3 Pro cell phone
Editions made with PicsArt
Translated at DeepL