Hola mis queridos amigos de la Colmena, espero se encuentren llenos de mucha salud…para mí siempre va hacer un honor compartir mis creaciones con toda esta hermosa comunidad, donde cada día recibimos y aportamos ideas en todo que hacemos con mucho amor.
Hello my dear friends from the Beehive, I hope you are full of good health…for me it will always be an honor to share my creations with all this beautiful community, where every day we receive and contribute ideas in everything we do with a lot of love.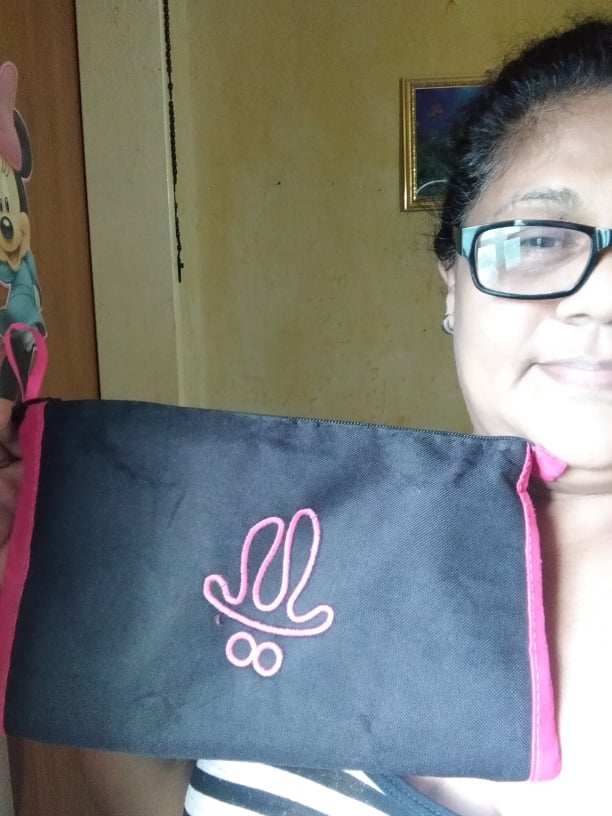 En este caso les quiero compartir el paso a paso de cómo realice este practico porta lápices o cartuchera, ideal para guardar y tener las cosas ordenadas en tu bolso. Siempre trato de guardar algo que me pueda servir más adelante y poder reciclarlo, así que tenía guardado la parte del frente de un bolso y el cierre. deseche lo que estaba roto y había guardado lo demás porque seguro algo iba hacer.
In this case I want to share with you the step by step of how to make this practical pencil holder or pencil case, ideal for storing and keeping things organized in your bag. I always try to save something that I can use later and be able to recycle it, so I kept the front part of a bag and the zipper. I discarded what was broken and had kept the rest because surely something was going to be done.
Ahora les muestro los materiales y como lo hice:
Now I show you the materials and as I did:
Materiales:
La parte frontal de un bolso, agujas, hilos, tijeras, cierre y un pedazo de tela azul para el forro.
Materials:

The front of a bag, needles, threads, scissors, zipper and a piece of blue fabric for the lining.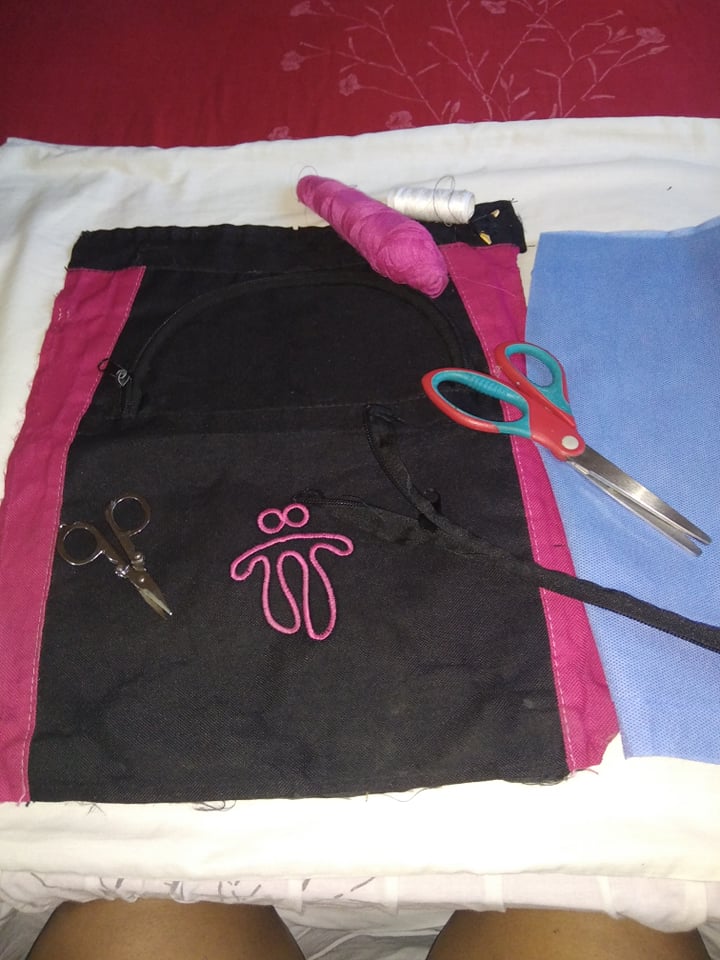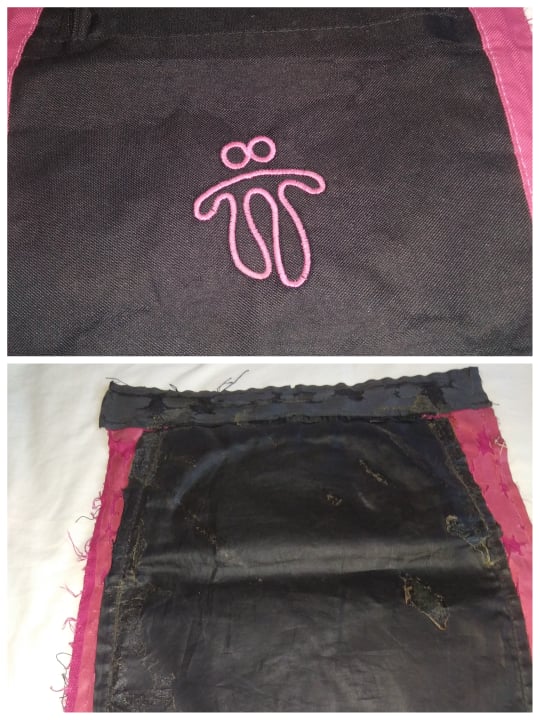 Pasos:
Steps:
Teniendo ya la parte de la tela del bolso que recicle, solo coloque la tela azul encima de él. Medí y corte lo que sería el forro de la cartuchera.
Having already the part of the fabric of the bag that you recycled, just place the blue fabric on top of it. I measured and cut what would be the lining of the holster.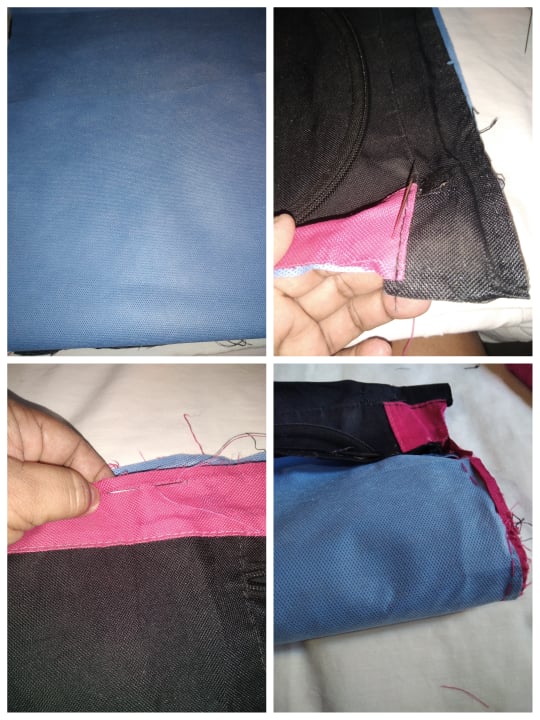 Después lo bastee a cada lado para que al doblar la tela no se rodara y fuera más fácil ( he visto que los forros lo hacen aparte, pero busque otra forma de hacerlo).
Then I basted it on each side so that when folding the fabric it would not roll and it would be easier (I have seen that the linings do it separately, but find another way to do it)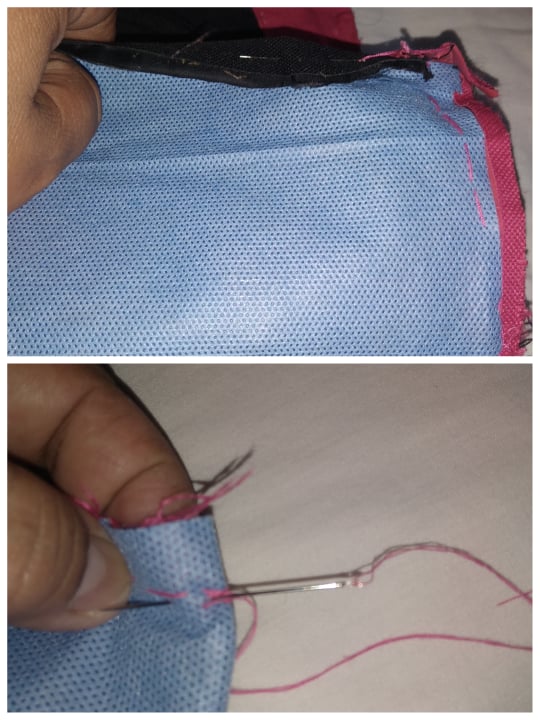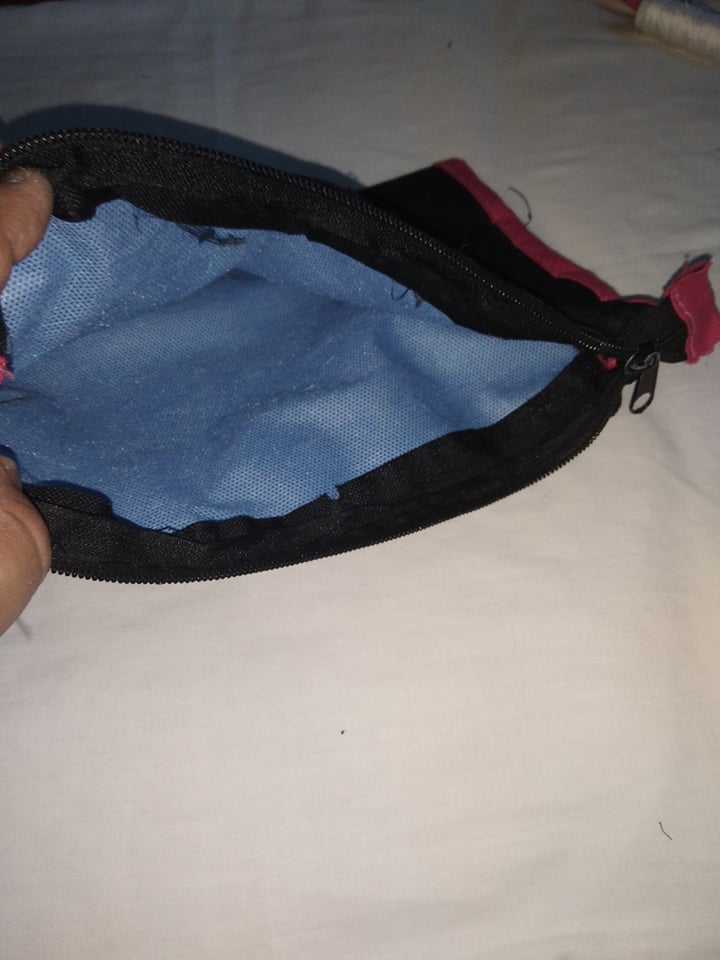 Luego doble y medí bien las partes que estuvieran iguales. Y procedí a coser cada lado con el hilo del mismo color de la tela, para que se viera más prolijo.
Then fold and measure well the parts that were the same. And I proceeded to sew each side with the thread of the same color as the fabric, to make it look neater.
Le di vuelta y podrecí a coser el cierre, midiendo que no sobrara mucho en las puntas ( disculpen las que son costureras, pero créanme que trato de hacerlo mejor)
I turned it over and was able to sew the zipper, making sure there wasn't much left over at the ends (sorry for those of you who are seamstresses, but believe me I'm trying to do better)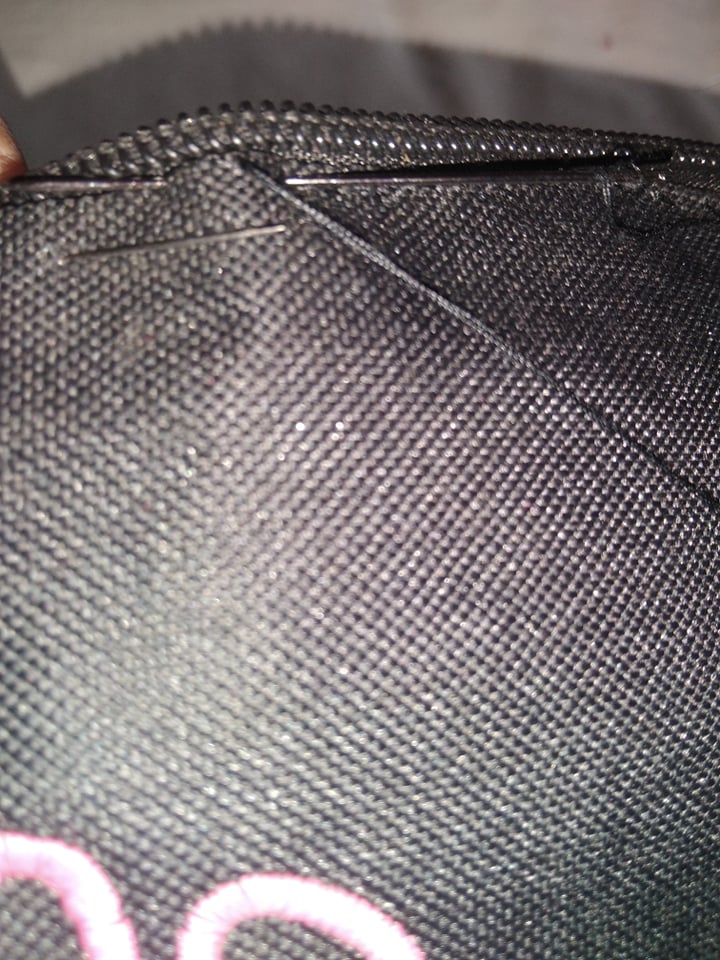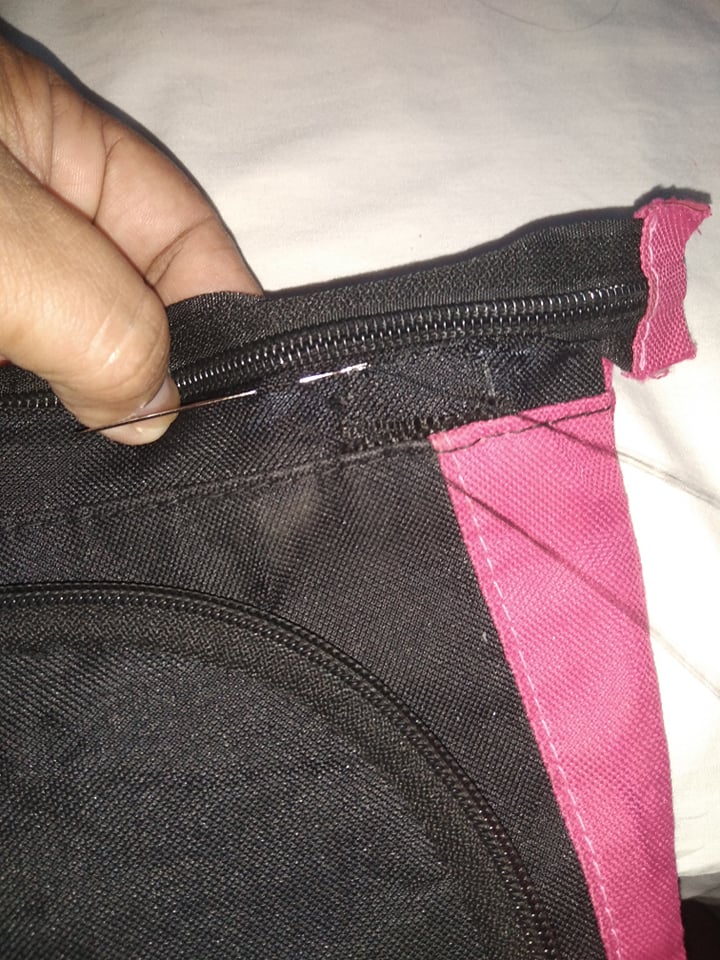 Después de coser el cierre y cortar el sobrante, decidí ponerle un pedacito de cinta que sirviera de agarre y tapar un poco la costura del corte del cierre.
After sewing the zipper and cutting the excess, I decided to put a little piece of tape to serve as a grip and cover a little the seam of the zipper cut.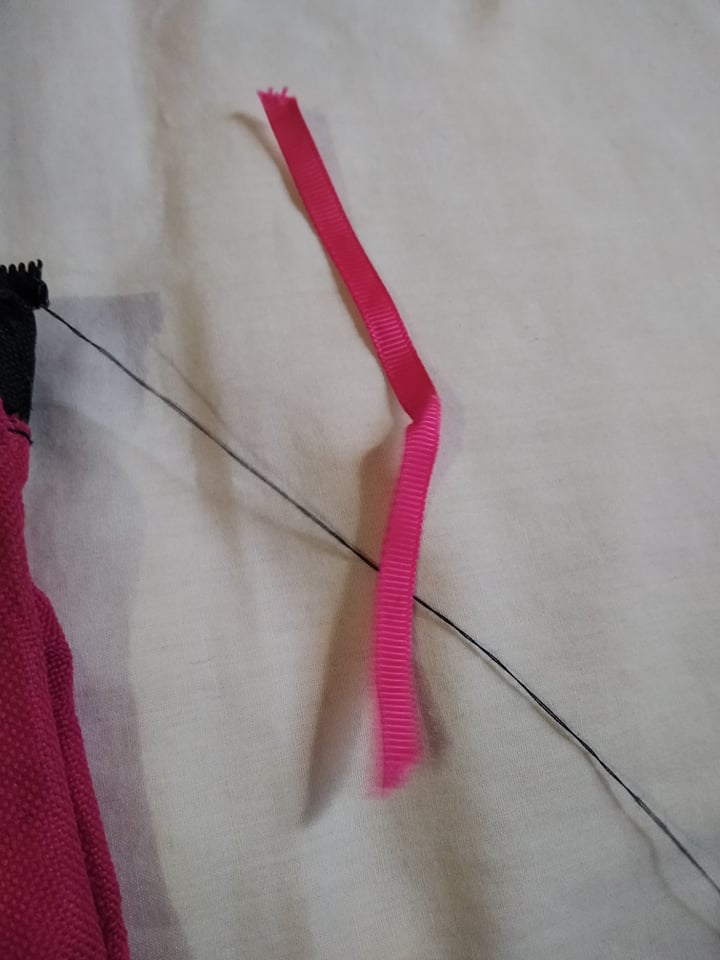 Y de esta manera transforme reciclando la parte de un bolso, convirtiéndolo en una cartuchera útil y practica para guardar y organizar…espero les haya gustado.
And in this way I transformed by recycling part of a bag, turning it into a useful and practical pencil case to store and organize... I hope you liked it.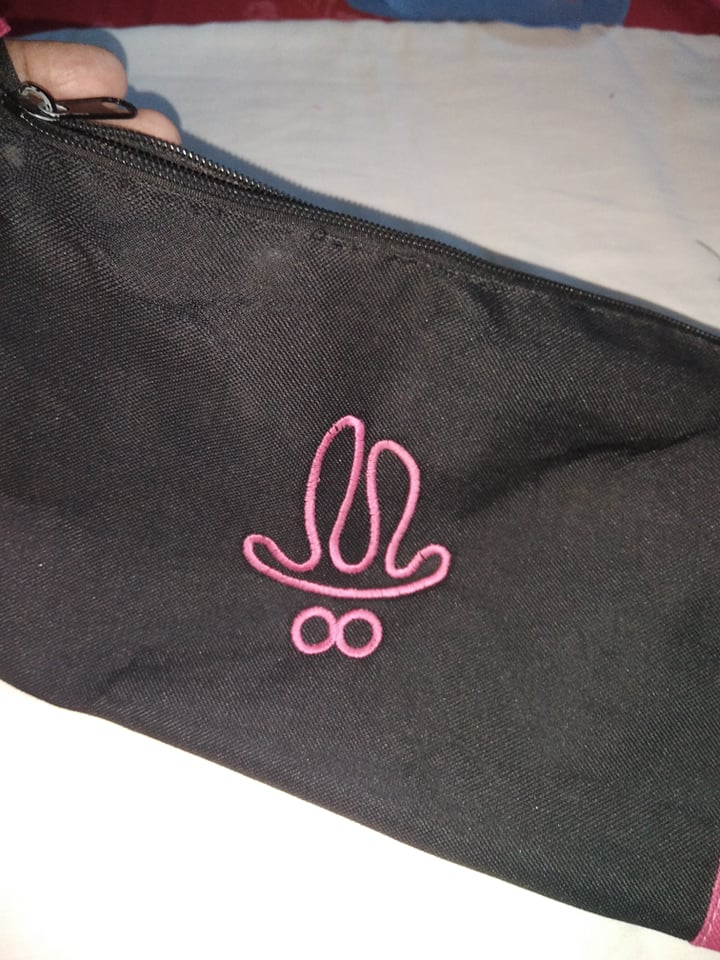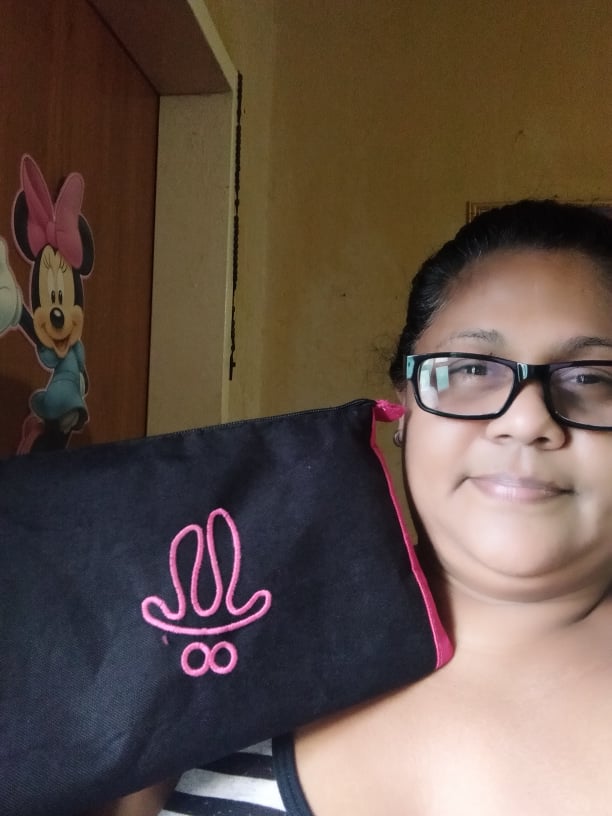 Gracias por leer mis publicaciones que las hago con mucho cariño y respeto…
Thank you for reading my posts that I make with much love and respect..
Dios nos bendiga.
God bless us.
The photos are my authorship taken from my phone Redmi 8a